Free 2022 calendar templates
The upcoming holidays announce the beginning and exciting New Year! And believe me, I know how exciting New Year can be for all the people that deeply love organizing! I'm telling you there's so much to plan ahead! The holidays in the summer, the work you want to accomplish, the new skills you want to learn, what books to read, what movies to watch, and there are many more, trust me. So the only thing left to do is to design your 2022 calendars.
But you don't need to worry about designing your calendars from scratch. Rest assured, as every year, Flipsnack is here to delight you with free 2022 calendar templates that you can easily customize, share, download, and print. And the best part? They are FREE!
So without further ado, let's jump straight to Flipsnack calendar templates for 2022.

Free 2022 calendar templates
Before taking a look at some free calendar templates, you need to know that each calendar template is fully customizable, and you only need to log into Flipsnack and create a free account. Also, our online design tool – also known as Design Studio, is very intuitive and doesn't require any design skills background. In fact, the whole process of designing is with an easy drag and drop. You are able to edit your favorite template according to your own needs. Maybe add some illustrations, shapes, texts, your own images, and many more.
The best part when you customize a template is that you can easily make it your own, and add your personal touch and make it original. Don't mistake templates for lack of creativity, because just like in a design made from scratch, you can transform any of these calendar templates and make them your own.
Remember that our professional designers pre-made these calendars so all templates follow the best design practices and rules to ensure you'll achieve the most pro-looking calendar! Also, after you finish the design process, simply download the template as PDF for print to save your calendar design at the highest resolution quality and then just hand it over to a print studio. And there you have it; your own customized calendar for 2022.
Ok, now let's see some calendar templates to rock your new year!
2022 Yearly calendar template
This 2022 yearly calendar template I'm going to show you is a beautiful colorful one. Each month has a different and vibrant color combination. If you're into bold and visually intriguing color combinations, then this calendar template design is perfect for you. If not, be carefree because you can easily customize this template with different backgrounds or even add texts, images, and shapes to make it more accurate to your style.
In Flipsnack, you can also upload your own photos, so if you want to add your favorite image as a page background for a specific month, you can easily do that. Don't forget to print it and stick it in your room, on your desk, on your fridge wherever is more useful to keep yourself organized from day to day.
2022 Calendar template with photos
This 2022 calendar template with photos is perfect for those who love to have representative images for each month. Of course, this template has beautiful nature photos, but in Design Studio, you can upload your images, and with just a drag and drop, you can replace them.
As I previously mentioned, you can personalize each template to make it more suitable for your style. Add your own images, maybe with the holiday destinations you want to visit or your favorite activities each month. I'm telling you, the options to design a great calendar for 2022 are endless. So have fun while designing, let your creativity flow and add your personal touch to your calendar design.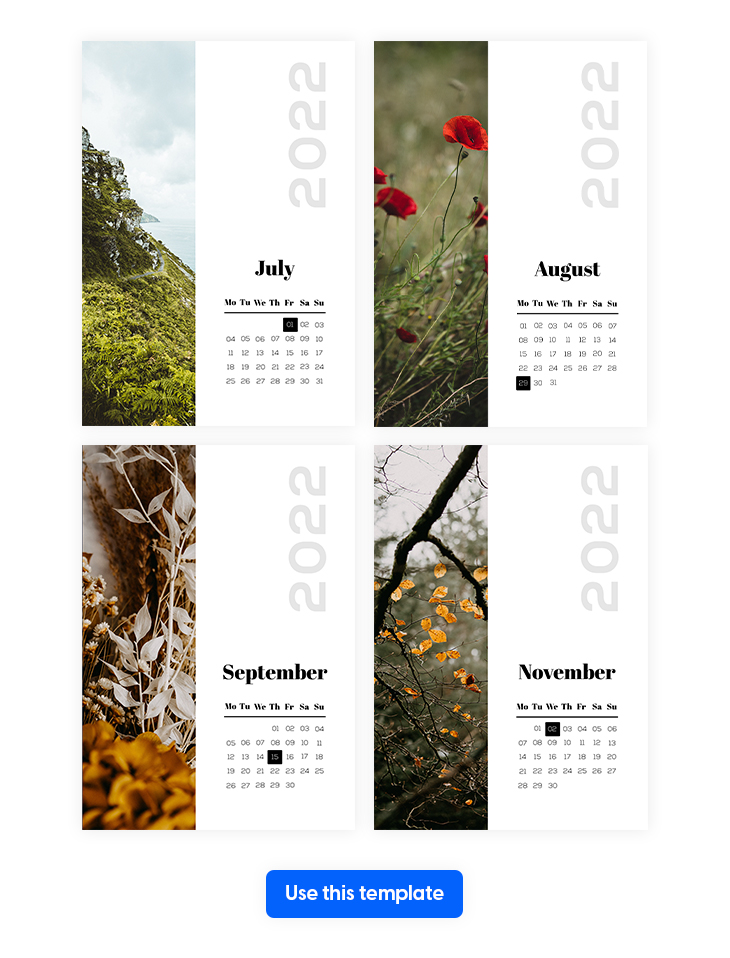 Artistic 12 months calendar template
Next on our list is an artistic 12 months calendar template that would be great for all the people that love minimalistic and black and white designs. It has a different design for each month but feel free to replace them with your own images and add some colorful design elements if you want to. If you have friends that you'd think would love a calendar template design like yours, simply share your template on your social media platform or send them an email with the link. Or even better, print them yourself and offer them as a gift.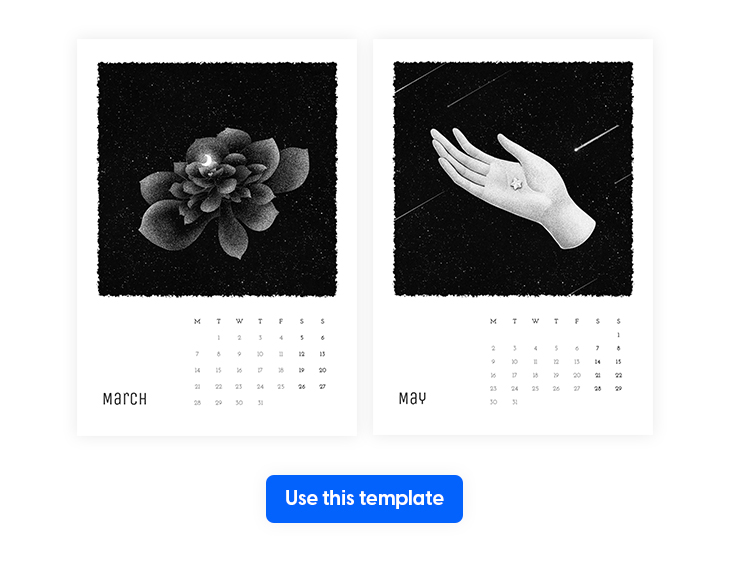 April monthly calendar template
If April is the month with lots of courses and new skills to learn, then this April monthly calendar template below is the right choice. It has a fun and simplistic design. But do you notice the goals and notes sections? That would make the calendar perfect for a school or college calendar as well. And let's be honest, crossing off completed tasks with a pen is very therapeutic, right?
However, the great part when designing a monthly calendar template is that you can edit each month more specifically to your needs. It gives you enough time to plan ahead of what you need to do and reflect that in the monthly calendar design. For example, let's say that the month of May is full of upcoming birthday parties, then make your calendar design with lots of balloons, birthday cakes, or even add pictures with the people you'll go to celebrate.
Tip: Having a yearly calendar template for 2022 can help you to better organize and schedule events like birthdays, weddings, work-related events, or any other passions or interests.
So even though this template is for April month, you can open it in our Design Studio and duplicate the page to make one for each month. Maybe make every page with a different style, pattern, or change the texts, colors, fonts style, and so on.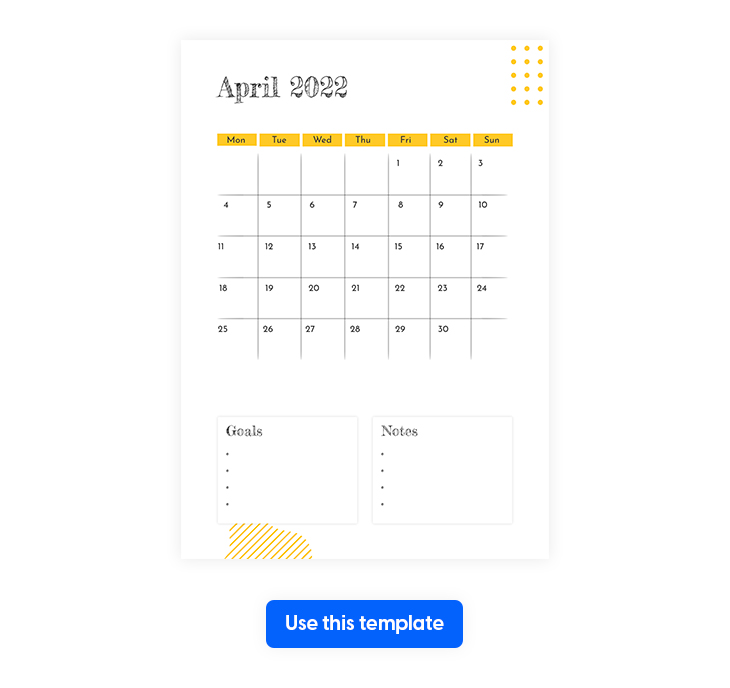 Printable yearly calendar template
If you thought about what promotional materials to offer your employees at the end of this year, printable calendars are a great idea. Firstly, they are easy to design; you'll be done within minutes, especially if you start with a template. And don't worry; you can keep your brand consistency even in this printable yearly calendar template. Wonder how?
Open this template in our Design Studio, upload an image with your brand's logo and change the background colors with your brand's style. There you have it! Once you've finished with that, all you have to do is save it as a PDF for print and send it to your trusty print studio. Now you have a fun and practical promotional material to offer your employees.
Oh, and even though this is a template for 2021, you can simply edit it for 2022.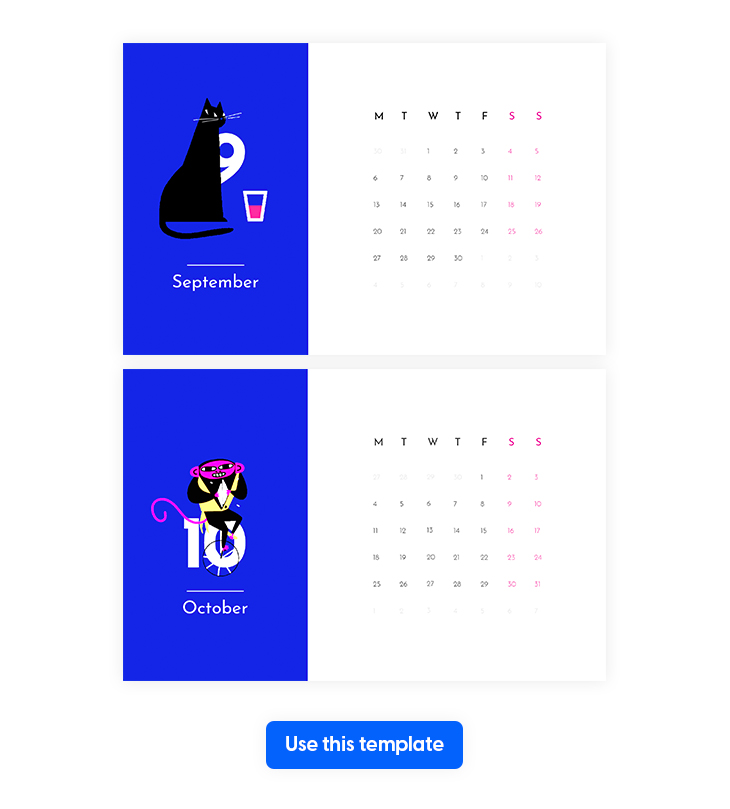 12 Months colorful calendar sample
You have no idea what gift to make? Printable and colorful calendars can be your solution. This 12 months colorful calendar sample is bright and brings so much cheerfulness and positive vibes for the upcoming year. If you feel like making it more your style, then simply customize it to your needs. If you're into quotes, then, for each month, pick a different encouraging one.
Tip: Whenever you feel that you don't resonate with a template or agree upon a certain design element, feel free to customize it and add your own ideas.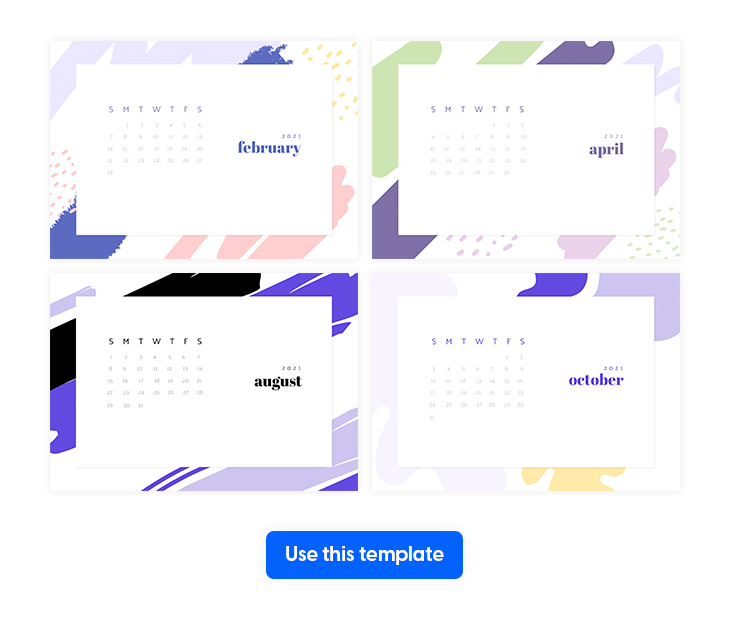 Yearly floral calendar design template
This yearly floral calendar design template is so feminine, and I'm sure ladies would love to have it printed on their work desks, in their rooms, or in kitchens. Especially for all moms out there, this would also work out pretty well as a gift. However, if you don't enjoy the floral vibe, delete the element and add some shapes or illustrations to make it more suitable for your style.
As I mentioned above, simply change the text with 2021, and copy a 2022 calendar from a website and paste it into your calendar template. It's really easy to make this so try it out.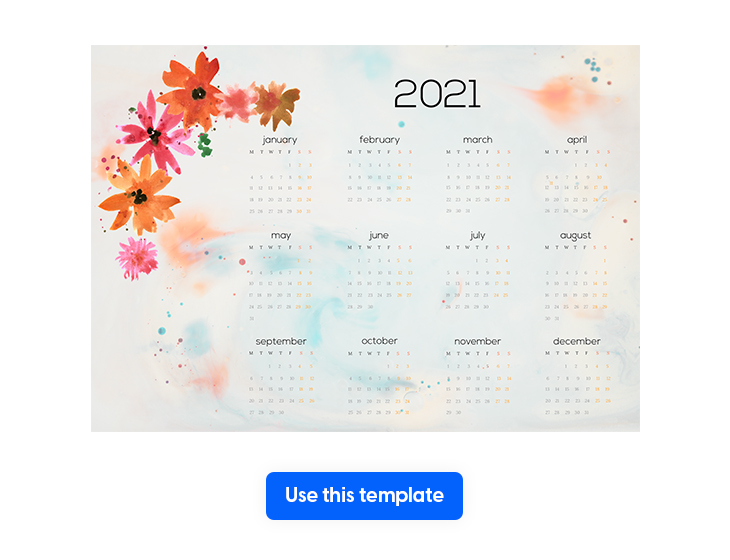 In motion online calendar template
Moving on, take a look at this in motion online calendar template. I'm sure you'll agree with me that this design is perfect for all the photography lovers out there. It has beautiful and professional images for each month. The minimalist touch of this template is given by the elegant fonts that look almost written by a talented calligrapher's hand.
Having a simplistic yet beautiful design doesn't mean a lack of inspiration. Sometimes, all you need when looking at your calendar is to see an image that boosts your mood and gives you positive vibes to get through the day. Also, this calendar template is special because it's interactive and has videos on each page – from there comes the name "in motion". So if you just want to keep your catalog design digital, download it as a Gif and each time you open it, the beautiful videos will automatically play.
Again, take this template and make it your own by adding your favorite images, texts, and font styles. Then, after you print it, place it in your home office or on your office desk, and every time you take a look at it, enjoy the little piece of art you made.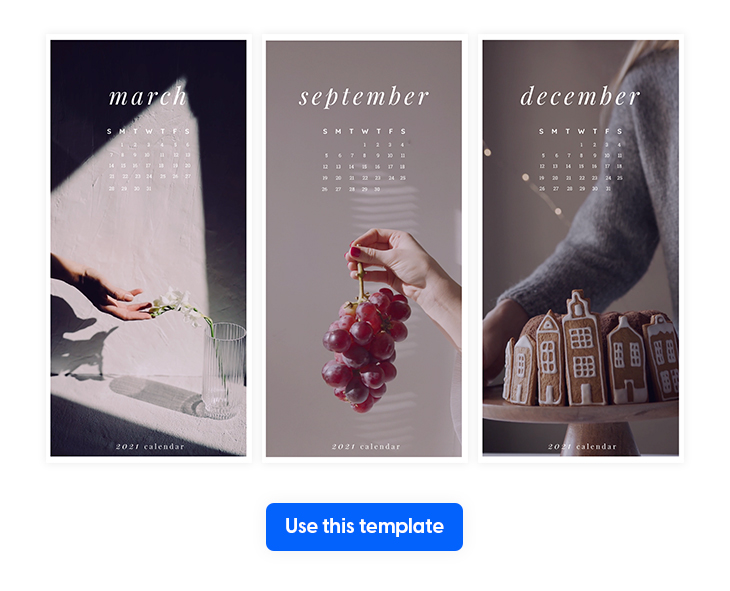 Pink save the date calendar template
Can I just say that this pink save the date calendar template just made me remember my wedding day? Yes, it was the month of May, and yes, it was on the 28th, and yes again, it's also my birthday then. I mean, if that was not meant to be, I don't know what was. So now excuse the "getting to know me" intro, and let's go back to describing this super cute design.
I think any girl that is planning to marry next year should go for this template. Instead of going the old-fashion way to announce your wedding, step out from the crowd and tell your guests the exciting day with a modern and beautiful calendar design.
Open it in Flipsnack and change the texts with your own wedding date, and even upload an image with you and your loved one. It's super useful to have a calendar like this when you plan your wedding because you can write down what you have to do in some days prior to your wedding day. So see how Flipsnack can help with your wedding stationery and get things done in a smart and fun way. Enjoy every minute of it!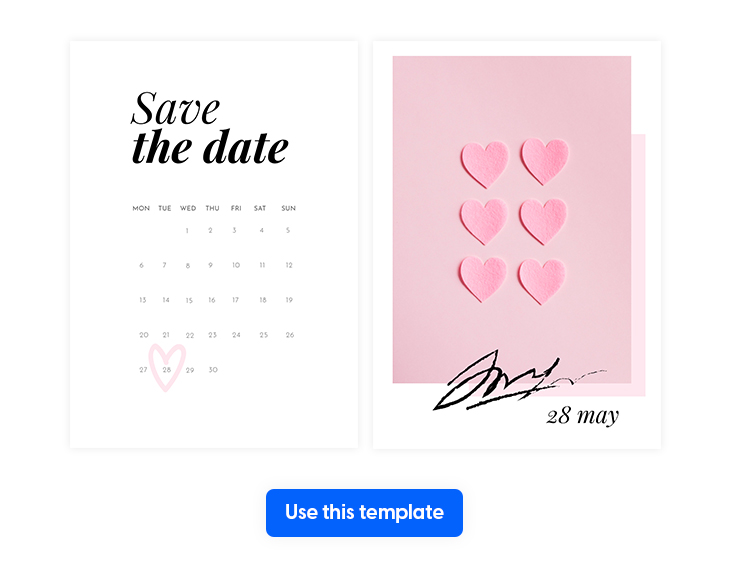 12 months calendar design template
Are you into paintings? Then this 12 months calendar design template is the right choice for you! It has abstract and colorful images that basically represent each month. Let's look at it this way: the month of January starts with black and white colors, so it refers to the snowy and cold days of winter, right?
Of course, throughout the upcoming months, the colors change to reflect the specific weather of each season.
And do you know what I love most about this calendar design template? The fact that images look as if you could touch them and even feel those textures and combinations between colors.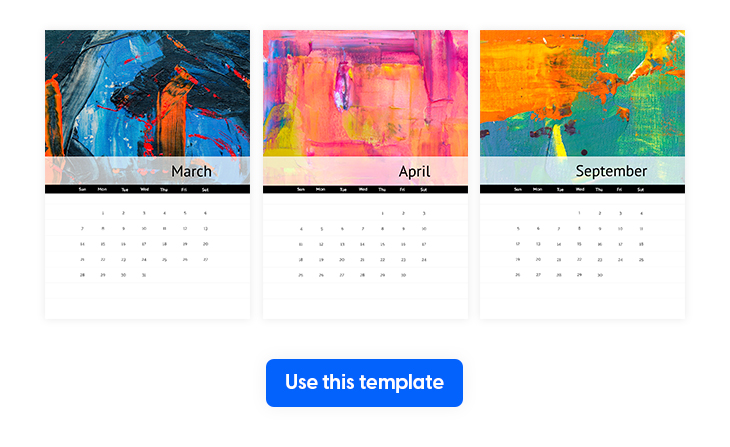 So there you have it. A list of calendar template designs that you can customize however you want and add a sparkle of personal touch. Hope you enjoyed this, and we'll hear again soon – actually, next year. But 'til then, have a sparkling New Year everyone!