How to make a custom calendar – DIY Guide + 2021 Calendar templates
Have you ever experienced having too few hours in a day in order to get everything done? Welcome to our group of people who solemnly swear by using a calendar for different purposes.
Instead of struggling to stay afloat, feeling like your tasks are piling up and are never fully completed; try using a calendar to start organizing the clutter of things of which your daily schedule is made up. If you've already had this idea, but asked yourself "How to make a custom calendar?" then you've stumbled upon the right article.
Before diving into step-by-step instructions on how to make your own calendar, there is another useful thing to mention. You should detach yourself from the idea that for a calendar to be practical you have to start from January 1st. Whether you're two months in or 5 months in this year; you can begin creating your calendar and see how the little changes appear in the schedule every day.
Maybe choosing or buying calendars was time-consuming precisely because there were too many options and somehow; neither of them made you excited to embrace this practice. We understand the hassle of going through the process of organizing the layout and so; we want to offer you free calendar templates which you can use as inspiration or as they are shown originally.

Today's article will teach you how to make a custom calendar online by yourself in Flipsnack. But it will also be your guide in choosing the perfect calendar template; so that you can become more organized and thus, less chaotic.
What other incentives do you need? Let's go ahead and learn how to simplify the course of organizing; which is a big part of completing your tasks.
Why do you need a calendar?
To stay productive
In order to better organize yourself
To prioritize tasks
In order to use it as a reminder to take breaks
There are so many great reasons to start using a calendar, that I'm having a hard time prioritizing them. Firstly; one of the main incentives for learning how to make a custom calendar is to stay productive even when your motivation is at an all-time low. Ticking each task after you've completed it offers a sense of satisfaction; which is the driving force behind crossing off the next one.
More than that; it helps you prioritize tasks and activities when it feels like every single thing you have to do is just as important. This goes hand in hand with better organizing yourself through the analysis of your tasks. You'll notice how not all of your work emails need to get an answer at once and how cooking first thing after work would save you a lot of time. So stick with me for clear steps on how you can make your own calendar and at the same time; get a wave of serotonin from the pictures you can choose to include in it.
Another reason is that having a calendar reminds you when to take a break and how beneficial it is to do so. Sometimes not only do we feel overwhelmed by the multitude of tasks at hand; but we also notice we can't function as well when our minds long for a break. Before making the most of these reasons and experiencing the joy of using a calendar; you should first see which type of calendar design works best for you.
Popular types of calendar designs
It's common knowledge that every individual is unique and different from another. Just go shopping and you'll notice how many options there are for every single person. The same principle applies to calendars, as silly as that sounds. But think about it. There are countless options for customizing and editing your calendar. It's also very helpful to know where to begin and between what you can choose from. Starting with weekly calendars and continuing with one-page yearly calendars; there's a variety of elements and layouts which you can add or modify until you reach your desired calendar design.
The great thing about designing it yourself is that there are no compromises to be made; since you can control what goes into your calendar and what you take out from it. Here are the most popular types of calendar designs, to use in creating your own custom calendar:
Weekly calendar
Monthly calendar
Yearly /one-page yearly calendar
Fillable calendar
Illustrated calendar
In motion online calendar
I'll explain each of them in a more comprehensive manner and during that time; you can learn how to personalize the template you'll choose. Keep in mind that in order to become more organized; you can either learn how to make a planner online or keep track of your progress through a calendar.
1. Weekly calendar
The first design on my list is a weekly calendar, perfect for tracking your objectives and goals, week by week. With enough space for each day; this type of calendar helps you stay on top of your tasks and have them all in one place. This design is a stress reliever because you don't have to do a thousand things in a whole month; reducing them considerably when you only take one week at a time.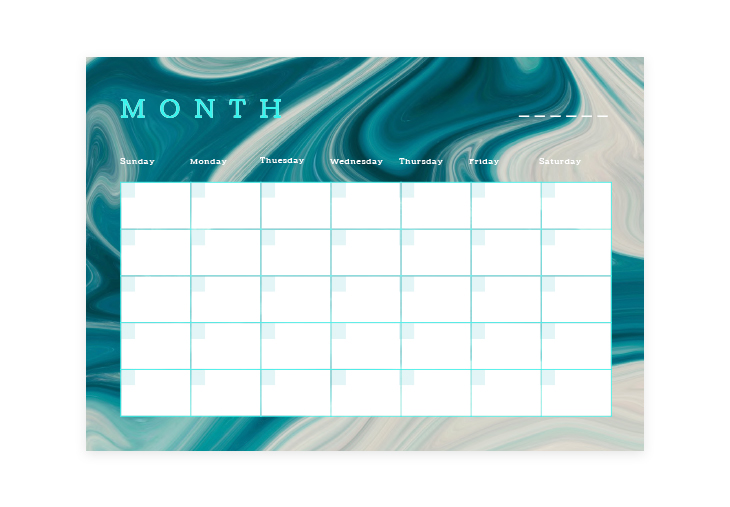 This template is for busy people, who like to add notes to each day. This is something you can't do if you choose a yearly calendar template. The days are squeezed and there's hardly any space for comments.
Feel free to add a different background image, depending on how personal you want to make your calendar. I would advise you to choose either from your pictures or to browse over our free stock images. I am convinced that you will find something, regardless of your taste and preference; while also keeping in mind the intended use of it.
One use for this design is an exercise log, where you can add specific workouts and include a snack idea. Just to have something to look forward to after you're done with moving your body. This little thing motivates me to eliminate any thoughts of skipping a workout because I don't feel like doing that on a particular day.
2. Monthly calendar
Are you interested in getting a better grip on your daily tasks and responsibilities? Are you one of those people who had trouble managing and tracking her budget? Then stick around because I'm going to get into more details regarding the monthly calendar design.
Try using a monthly calendar template in order to arrange the aspects of your day, in terms of activities. This is especially useful if you have kids and they are involved in a number of extracurricular activities. It helps to have everything noted down.
Maybe you just got married and now there are two people that have to keep track of your finances. This is where a monthly calendar template comes in handy and saves the day. It's a simple way of being more careful with your finances and avoiding to struggle until the end of a month. You can add a teeny-tiny table next to your calendar; where you should include a "remember this month" section and "upcoming next month". This way, you won't be caught empty-handed when there are some irregular expenses and you won't be stressed.
I hope you will keep this monthly calendar template in mind next time you find yourself in a situation where it could be of use. Remember, there is a wide variety of calendar templates from which to choose. With Flipsnack, it's easy to learn how to make a custom calendar by yourself.
3. Yearly/one-page yearly calendar
Did it ever happen to you to miss or forget about an important anniversary/birthday? I know how that feels like and I'm here to help change that. You can become that has-it-all-together type or person by adding this small helper into your day-to-day life: a yearly calendar. Having many options of templates in our Design Studio, it's guaranteed that you will discover one for your liking.
After that; I would advise you to add every important birthday or any event that requires your presence and think carefully about it; as to not leave anything out. When you're done adding everything in your calendar; play around with the colors, fonts and explore the shapes you can insert seamlessly in your design.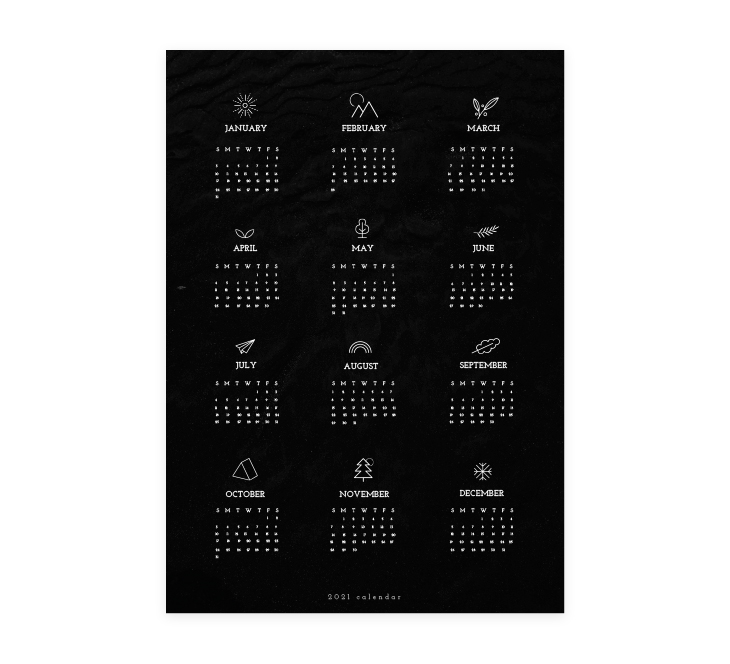 In order to make the most out of this calendar template; download it as a PDF for print and place it somewhere you can access it easily. There's no use going through the process of customizing it and so on; if you're gonna forget about it because it's somewhere on your computer or maybe in a drawer.
4. Fillable calendar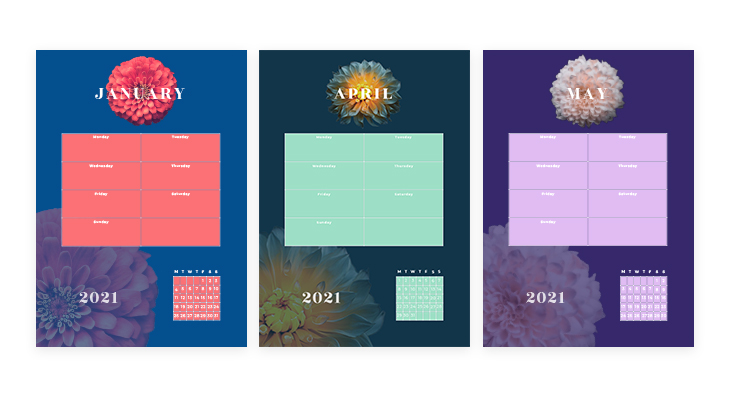 Sometimes; all you need is a pick-me-up by using a pretty fillable calendar template to make it to the end of the month. This tip works especially well for us, girls and women; who usually have an eye for seeing the beauty around us and also surrounding ourselves with it.
When the workload gets too much; it would be advisable to take a moment to remind yourself why you do what you do every day. This is one of the reasons why keeping a gratitude log as a calendar can be very useful with the overall clear-mindedness of every one of us. There is scientific evidence that through a grateful mind, you can easily improve the satisfaction in your life.
Another important use of this calendar template is for meal planning. The process of how to make your own custom calendar for this purpose is just as easy. We all know how tiresome and exhausting it is to think about what to make for dinner every day. This concept of meal planning is a life-saver for working people because it helps them juggle the busy schedule of a full-time job; and possibly married life or mom life.
Once you have the meals all planned out, it's much easier to go once a week for grocery shopping. This way, you make sure you have all the ingredients for the whole week. It saves you a lot of time while relieving you of the stress when it comes to cooking. This is something we all struggle with at some point in our lives.
So, are you still wondering how to make a custom calendar? See for yourself by personalizing this template. Then, let me know what you think in the comment section below the article.
5. Illustrated calendar
If you're like me, you probably enjoy illustrations; but you can barely draw anything even in the context of the board game Activity. You're in luck and I have you covered! Our talented designers team has put together multiple options of eye-pleasing illustrated calendar templates; which guarantee to help you live out your artist dreams through these gorgeous samples.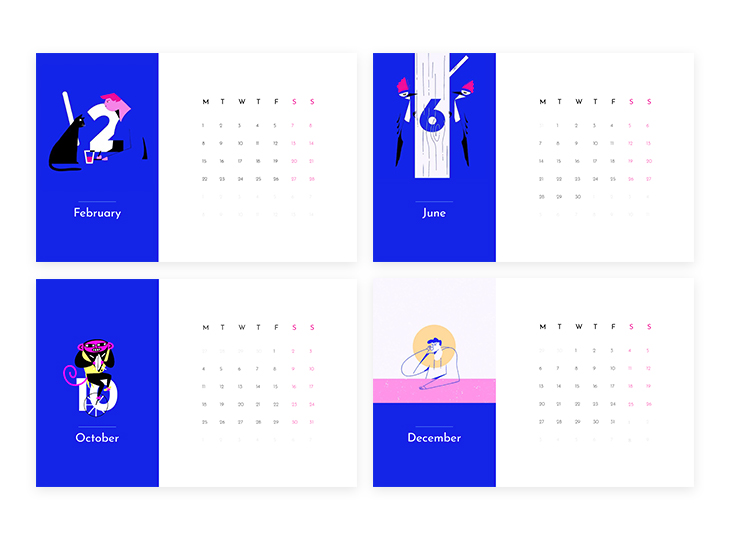 They have various purposes, such as future planning, work/school calendar, and even reminders for different social media posts. If you're interested in future planning and are about to get started with this practice; you can try adding small notes to important dates. This will serve as a visual reminder and you'll be ready to attend every meeting, event, or birthday party with an already bought present.
On the other hand; it's needless to say that a work calendar or a school calendar is also a necessary part of organizing your schedule or class. Simplify your workflow by dividing it throughout the week or even month. Make time to prepare the assignments and pop quizzes and then circle the dates on which they'll take place.
6. In motion online calendar
In motion calendars are all the rage at the moment and for a good reason, too! They're a digital calendar, but updated and taken to a whole new level. I'm sure you're gonna love it as much as I do for all its neat features; brought to life in our Design Studio. There are almost no limits to what you can include in your calendar template and I recommend you use this sample as inspiration.
Some of the perks of having an online calendar are the option to add interactive elements; such as videos, gifs, links to a certain event, and many others. For instance; the tangible feelings transferred through the videos attached to each month, create anticipation and make you excited to open your digital calendar daily. But the motion doesn't stop here; you can marvel at the beautiful video edits; from added frames to change in brightness in order to help immerse yourself in the vibe of every season. Give this a try and notice a change in your state of mind related to how you tackle the tasks in a day.
See? Learning how to make a custom calendar has never been easier.
How to make a calendar online – DIY with Flipsnack
I'm really thankful that you've made it this far and I appreciate your determination. I hope you see the bigger picture regarding how to make a custom calendar and have found the best type. More than that; I believe that you can see their practicality. And you are convinced to learn how to make a custom calendar by yourself if you haven't done that already.
However; I will stick with you and show you how easy it is to create a calendar in a few steps, with an outstanding result; exactly how you pictured it before starting. It might seem challenging, but I'll guide you through every change you might want to make to your calendar template. Are you ready? Let's dive right in.
Step 1 – Log into Flipsnack
How to make a custom calendar? The first step is to make sure you have a Flipsnack account. Then, choose the option to create from scratch, and browse through our available sizes; I recommend opting for A4 or Letter, depending on what sort of pictures you want to include in your calendar. Feel free to try different sizes; because after all, it's your calendar and you can create and customize it however you see fit.
Step 2 – Browse through our wide collection of templates
The second we are able to see an example/sample of something we haven't done before; it's like the process is cut in half. This is why we put so much effort into making as many templates as we can; so you'll have what to choose from. Besides the different calendar designs; there are a number of various templates available when it comes to color schemes, themes, and the level of interactivity.
Step 3 – Explore our Design Studio and try out the cool features
Color paradise
A colorful calendar makes for an eye-catching design and you will want to keep coming back to it. Flipsnack allows you to add whatever colors you want; just make sure you add a pop of color to draw that serotonin hormone from your calendar, as well. Play around with the background color of texts when highlighting the name of a month. You can also select the color palette of your dreams. There is, of course, the option of adding your own hex code of any desired color. This is especially helpful if you want to customize calendars for your business and print them for your office. Having inserted your branded colors; you make sure to respect your brand's guidelines and have the same design even in a calendar.
Interactivity feature
Have you heard of in motion calendars? They take the game to the next level by offering you a different experience from what you've had before. Through the interactive elements that you can add to your template; such as embedding a short video as background, instead of an image. This way, you get to experience a certain atmosphere specific to every month of the year. Prepare yourself mentally by anticipating every holiday through the visuals of each month. Keep that feeling in mind so you can go back to it in moments of stress or overload. Make sure you know from the beginning if you want to keep your calendar digital; or if you want to print it and then personalize it accordingly.
Make use of typography to the fullest
The next thing to tackle is typography with its many editing options. Some of which are uploading your own favorite fonts. And since a calendar can have a lot of text added to it, you may want to choose the one you like. Whether you pick a funky style or a more serious, business-like layout; you have the option of adding your own font and setting a specific typography style. By discussing every aspect of making a calendar one by one; I hope things are now clear for you. Regarding this easy process, you are now prompted and encouraged to start making your own from scratch.
Step 4 – Download, share and save your DIY calendar
It's time to get to the next step; which is downloading your calendar so you can start using it right away. You can do so by saving it as a PDF for a web format, PDF for print, PNG, or JPG. Here at Flipsnack, we try to be as comprehensive with our features as possible. You can save your creations as templates and come back to them next year only to change the dates. A great gift would be a personalized calendar; where you can use your saved template calendars and simply make the change in pictures. It's that easy. That being said; we want to help our users have the best experience while creating their publications through our tool.
Step 5 – Print it and keep it as a visual reminder
To optimize the purpose of a calendar even further; there's the option of printing it and having it as a visual daily reminder. Whether you choose to have a paper calendar or keep it digital; don't forget to add any changes, because I can tell you that memory is not as reliable as we think. However, when printing it, select a high-quality paper to maintain the same design on-screen and off-screen.
Reasons to have a paper calendar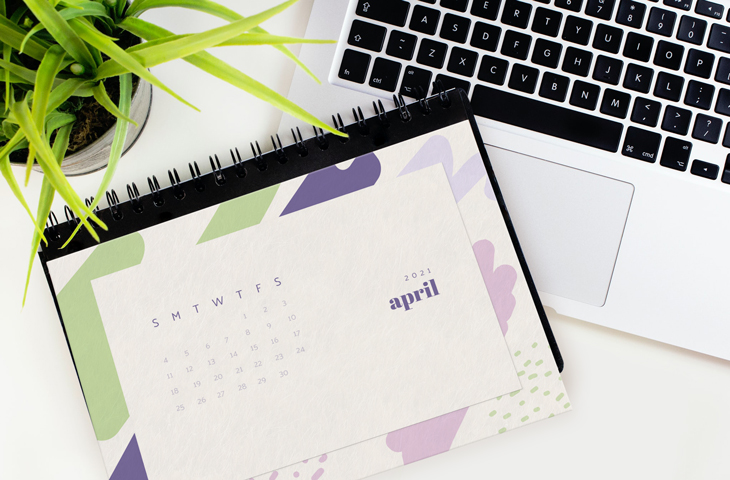 How to make a custom calendar? That's something we've already learned at the beginning of this article. Now, getting to the end of this article, I want to take matters a step further. I'd like to present a few reasons that support the utility of having a paper calendar. I hope this will serve as a prompt to use it yourself.
Here is a short list of reasons:
Increased memory rate
Have every task and meeting in the same place
Keep calendars ready for use
Find past events easier
I'm really excited about getting into more details, seeing how much owning a paper calendar helped me. Indeed, we're moving towards an era of digitalization. Fewer and fewer businesses encourage you to print your work and actually have it in your hands. While we're all for saving the planet; we also understand that we can benefit from having a physical calendar in front of us.
Using an old-fashioned method for modern organizing
Your remember rate will increase significantly
For once; it's almost impossible to remember all the birthdays of your close friends and family. Start here and add each of them to your calendar. This way, you don't have to rely on your memory; when there are so many other things that take up space.
Having everything in one place
With a paper calendar, you don't have to worry about misplacing different folders of yearly or monthly calendars. And so, it saves you the time of searching for them on your PC. The focus on the written word raises awareness for yourself, as a user.
Keep calendars accessible
For example; having your gym wear put aside for the morning, will increase your chances of going to the gym that day. The same principle applies to any new habit. For this habit to take root, it's an immense help to have it someplace accessible to you. Be it your work desk, your fridge, or your home office; the important thing is to see it and be encouraged to use it daily.
You can find past events easier
Let's say you're interested in finding out how much time has passed since your last raise. You don't want to go through the hassle of searching for that specific information on your computer. Instead; opt for a classic paper calendar, where you can simply flip through the pages and find what you're looking for.
Coordinate with online calendars
If you're like me, you prefer having a clear delimitation between your work and your home. In this case, you can keep a digital calendar for work, and a paper calendar for home. This one is for activities ranging from your kids' training to meal planning. You can fit everything in the calendar and make as many notes as you like!
Buckle up and get ready for the ride
We have reached the end of this learning process. I'm so excited for every calendar that you will create, with your knowledge base covered. Truly all that's left to do is to apply the steps I explained. Surprise yourself with a professionally made custom calendar, without having the designer skills to help you along. It's a great sense of accomplishment and I recommend you challenge yourself through this task. You'll see how fun it is to expand your skills and try something new. Keep in mind the benefits of using a calendar app and discover other efficient tools which help in this sense.
There's no time like the present to get started on learning how to make a custom calendar. Don't waste any time by continuing in the same non-practical manner of work just because change can be scary. We guarantee that you will like this one so much, you won't want to go back to your old ways! As a closing statement, remember that there are only as many days in a calendar as you make use of.