Best Issuu alternative: Flipsnack
Issuu provides a complete solution for digital publishing, helping you to upload, share, and potentially sell your digital content online. But like any popular platform, Issuu has its disadvantages. They can take quite a while to offer support when needed. Also, their prices are quite high compared to the features they offer.
So today I want to let you know why Flipsnack is the best Issuu alternative. It might be even more suitable for your digital publishing needs.
Flipsnack is a complex digital publishing platform that transforms your PDFs into beautiful digital publications and allows you to distribute them worldwide easily. All you have to do is to upload your PDF on the platform, and with just a few clicks you can have a professional interactive catalog to share with your readers.
Advantages of using Flipsnack
1. Branding
Consistency is a key element of brand design. Flipsnack offers complex customization options so that you can control the appearance and functionality of your publications. They will look professional and will be in perfect accordance with your brand identity.
Do you want to share your catalogs online, but you don't want to host them on your own website? With Flipsnack you can create a custom domain for your catalogs collection. Like this, all Flipsnack branding will be removed, and you can easily share your online gallery through a branded link. All hosting costs will be supported by Flipsnack.
2. Powerful Design Studio 
Beautiful catalogs are good, but interactive catalogs are even better! With Flipsnack you can make your catalog interactive by adding links, videos, or call-to-action buttons on each page. It has never been easier to sell your products and engage with your customers at the same time.
Also, Flipsnack has another unique feature that Issuu doesn't provide. If you need an online tool to create a new flyer, brochure, or magazine quickly and easily, Flipsnack is the right platform to look at! You can use its powerful editor to create a stunning brochure from scratch, or you can personalize your favorite design from their 300+ ready-to-use templates.
The next great feature you can find in Flipsnack but not in Issuu is the shelf widget. With this option, you can group more catalogs together on a virtual shelf, which you can embed on your website. This is an excellent way to present your catalogs in a professional format and also to provide a unique reading experience to your targeted audience.
4. Great live chat support
In case you have any questions or requirements you can simply message Flipsnack support team directly on the live chat existing on their web page. They are very dedicated and friendly, committed to providing the best support for their customers. Also, they usually reply in under 5 minutes. This sounds a bit too good, but it's true.
5. Fair prices
Both Issuu and Flipsnack offer you the possibility to test their platform as a free user, but to unlock more features, you'll have to upgrade to a premium plan.
Now let's compare their premium plans and prices.
Issuu and Flipsnack Starter
These plans unlock basic digital publishing features. They are mostly suitable for small companies, local businesses, or users who only need to create a few digital publications.
Issuu Starter costs $22, billed monthly or $228, billed yearly
Flipsnack Starter costs $32, billed monthly or $144, billed yearly
The main features they include are the following: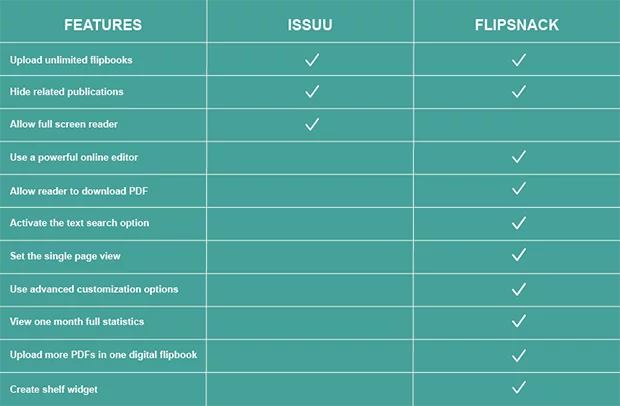 It seems that Issuu Starter is very basic. The cost is quite high compared to the features offered. It doesn't offer statistics, customization options, or the possibility to allow your reader to download the catalog as PDF. The only extra feature it has is the full-screen reader.
The Issuu alternative Flipsnack Starter on the other hand offers a lot of features for a great value. Besides the beautiful templates, you can use from their editor with this plan, you can also make your catalog interactive by inserting links and captions in it.
Issuu Premium and Flipsnack Master
These are the next plans in range. They are designed for large companies, international organizations, and marketers who use digital publishing as the main tool in their marketing strategy.
Issuu Premium costs $39, billed monthly or $420, billed yearly
Flipsnack Master costs $38, billed monthly or $288 billed yearly
Both plans include the following features and allow you to: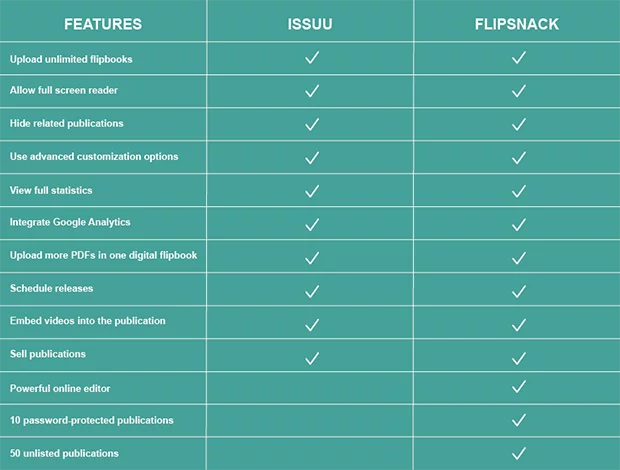 The notable advantage of Flipsnack Master plan is that it allows you to publish 10 passwords protected publications and 50 unlisted. With Issuu, on the other hand, you have to pay extra for unlisted publications and you don't have the password-protected feature at all.
Also, Flipsnack offers you the online editor where you can organize the pages of your catalog, delete old versions of PDFs and upload new ones easily, while Issuu doesn't provide this important workspace to modify the publication according to your needs.
Last but not least, by choosing the Flipsnack Master yearly plan over Issuu Premium you could save $132, which is quite a deal.
Issuu Optimum and Flipsnack Team
The last two plans offered by each company have similarities, but unique features, too, as both plans include all features existing in the previous plans.
Issuu Optimum costs $299, billed monthly or $3228, billed yearly
Flipsnack Team costs $59, billed monthly or $576, billed yearly
What Issuu adds extra for the Optimum subscription is the possibility to create a flat plan for your publication in collaboration with 25 colleagues. Flipsnack Team in the meanwhile is designed for a different purpose. The valuable extra features provided by this plan are the unlimited private documents that you can create as a team user.
The premium plans include the following extra features:

Flipsnack Team is mainly suitable for users who publish many flipbooks or for large businesses. It allows them to create a lot of catalogs and documents that they want to keep private. Considering the option of publishing unlimited unlisted and password-protected publications, this plan is a great tool that companies can use to share internal documents with their employees. Either if it's the monthly newsletter or the company's brand book, Flipsnack sharing private documents internally becomes very easy.
Also, a unique feature provided only by Flipsnack is the HTML5 download. This feature allows you to download your catalog offline and have it as a digital publication for a lifetime.
In conclusion, though Issuu is a good publishing platform, Flipsnack is sure to be taken into consideration as an awesome Issuu alternative, when choosing the digital publishing platform which suits your needs best.
Lots of people choose Flipsnack for a reason. Join them and give it a try.