Flipping through history. A brief story of the catalog
Introduction
Ever since we can remember, catalogs have been an essential part of the shopping experience. They are so deep-rooted in our daily lives that people easily forget that there was a time when the catalogs were black and white and looked like old-fashioned and cheap newspapers. It's really hard to recall that, right? Especially nowadays, when all the catalogs we're flipping through are multicolored and very well organized. But trust me, there's a lot of history when talking about the first-ever published catalog. Wondering why? Well, the story of the catalog began long, loooong time ago; so long that not even our great grand grand grandparents could tell us. But we can. No, we are not thaaat old, we just did a lot of research about the story of the catalog and want to share it with you.

Keep on reading to find out when and why the first catalog was created, which ones are the longest-lasting or most popular catalogs; and also to see how they developed from the past till present.

Once upon a time…there was the first catalog ever published
Believe it or not, the story of the catalog began in Venice, in 1498! Aldus Pius Manutius – an Italian humanist, scholar, and educator – published the first catalog ever. He founded his company "The Aldine Press" at Venice in 1495 and wanted to accurately print the first editions of many Greek and Latin classics.
But his biggest desire was to present and sell these books to the Venetians; that's why he chose to publish a catalog of all the books he was printing. And this, ladies and gentlemen, this is why and when the first ever catalog appeared. Interesting, right?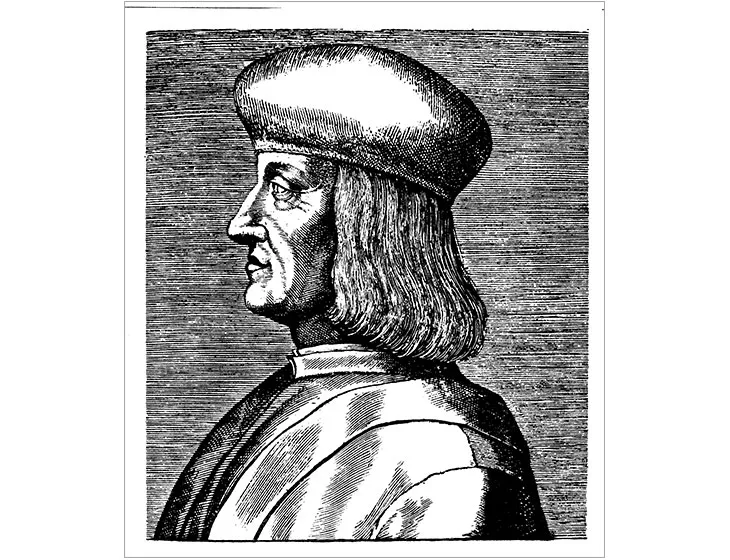 The story of the catalog started with the seed companies

I know it might seem strange and unbelievable, but the seed companies had a great impact upon the story of the catalog. Thanks to them, the catalogs started to develop progressively.

Everything began in 1667, when a simple English gardener, William Lucas, decided to publish a catalog with seed prices for his clients. He created a real trend that became popular even in the colonial America, where William Prince of the Prince Nurseries * published a catalog of fruit trees in 1771.

*nursery in this context refers to young plants

Here we have an extract from a Prince Nursery catalog from 1843. It looks like an ancient piece of paper, right? You wouldn't think that it's actually a page from a catalog.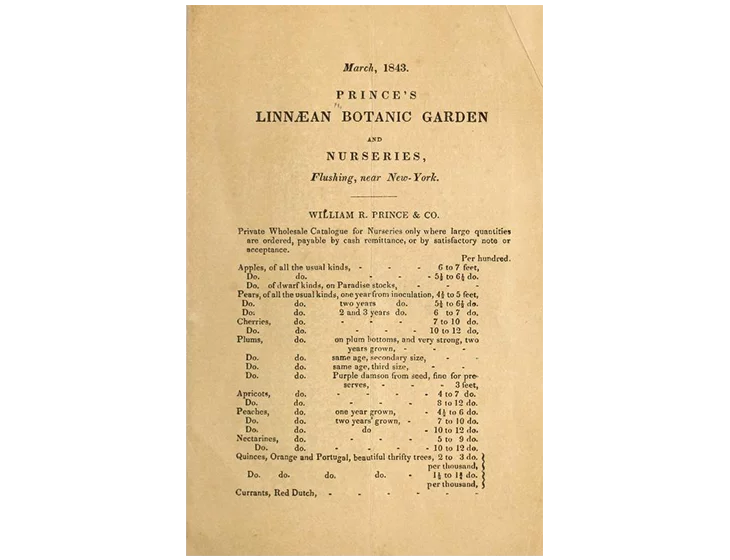 The mail order concept invented by Benjamin Franklin
Yep, you read it correctly the first time. Benjamin Franklin is usually known for his politician and scientist skills, and only a few people know that he also invented the mail order business. Let me briefly explain to you what this concept is all about and why is it so important for the story of the catalog.

The mail order concept represents the process of selecting an item through a catalog, and also of sending the company the client's order together with money for the product plus shipping through post. The customer would receive his order by post in the next weeks. It does sound familiar, right? We still use this mail order process nowadays.

In 1744, Benjamin Franklin published a catalog of science books. Its name was "A Catalogue of Choice and Valuable Books, Consisting of Near 600 Volumes, in most Faculties and Sciences", and the first page presented the terms of sale for the books he wanted to sell: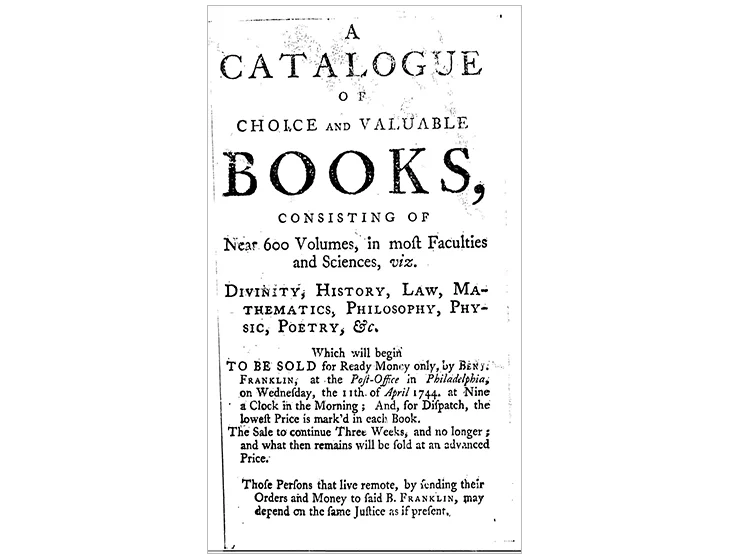 What's really important on this opening page is the fact that Benjamin Franklin made it possible for people to acquire his books without visiting the stores: "Those Persons that live remote, by sending their Orders and Money to said B. Franklin, may depend on the same Justice as if present." This is what mail order catalogs do.

The mail order catalogs industry increases more and more
The story of the catalog becomes more and more fascinating, especially around the 1830s when mail order catalogs increased significantly in popularity. Both in North America and Canada. The very first mail order catalog that appeared in 1845 in North America is the "Blue Book" catalog. Few people know that Tiffany & Co. released this catalog. I bet you didn't expect that either! This famous luxury jewelry and specialty retailer has existed for that long!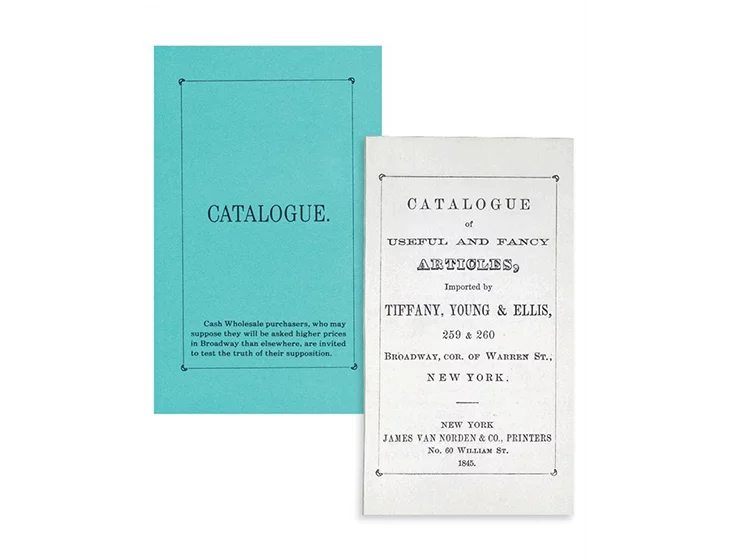 Does 18th of August say something to you? Well, if you're passionate about catalogs, you should celebrate this day from now on. It's the National Mail Order Catalog Day! Wondering why? Because the first mail order catalog meant for the general public was produced on August 18, 1872 by the Montgomery Ward, a distinct American retail enterprise popular in that period.

The golden-era of mail order catalogs
Normally, the wars tend to worsen the political, financial and economic conditions; but surprisingly, both World Wars had a positive impact on the use and distribution of catalogs. It even marked a rise in consumerism. And also a rise in the way the story of the catalog has developed.

The mail order catalogs started to turn into colorful and vintage pieces of paper. We can say that's a really great improvement compared to the way they looked in the 1800s. For instance, the annual Sears Christmas catalog that became a real American icon in 1944 looks very similar to a modern catalog. (The Sears company is an American chain of department stores that sold almost everything; starting from clothing and furniture to housewares and electronics.)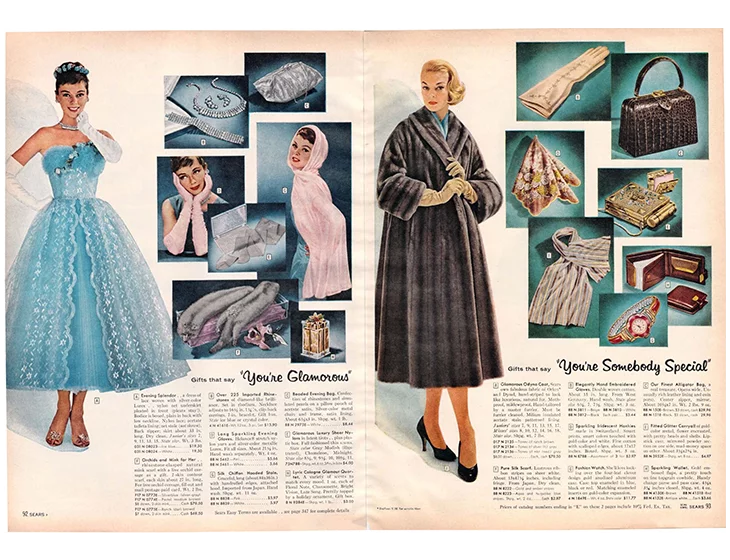 Fast forward to the 1980s, the catalog evolved into a crucial main tool of direct advertising. There were many companies that increased their business with the help of catalogs. In 1982, the spring/summer Victoria's Secret catalog was a huge success. Apparently, 55% of their $7 million annual sales came from this catalog sales. Nicely done, right?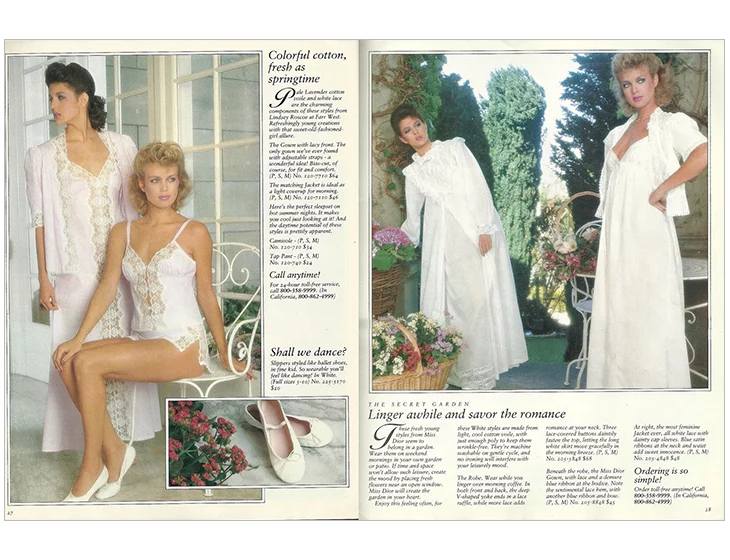 The future of catalogs
We could say that the story of the catalog is still being written these days. Especially the story of the digital catalog that becomes more popular and requested by people. Nowadays, customers all over the world have this great opportunity to flip through an online catalog. With the high rise of technology at this time, it's no wonder that the digital catalogs have this great success.

But print is not dead and will never be, and some people still prefer the printed catalogs. There's no need to expand on this fight between printed and digital catalogs now, 'cause it's a battle that will never end. Regardless of someone's choice, the main point is that catalogs developed increasingly well since the 1800s till present days and are still doing a great job in the sales field.

One great example of a modern digital catalog is this February's catalog from Lazybones. Lazybones is a stylish Australian brand that decided to publish their catalogs online with our help.
There's a lot of historical information above, so we've decided to summarize everything with the help of an infographic. Hope you like it and consider it useful, too!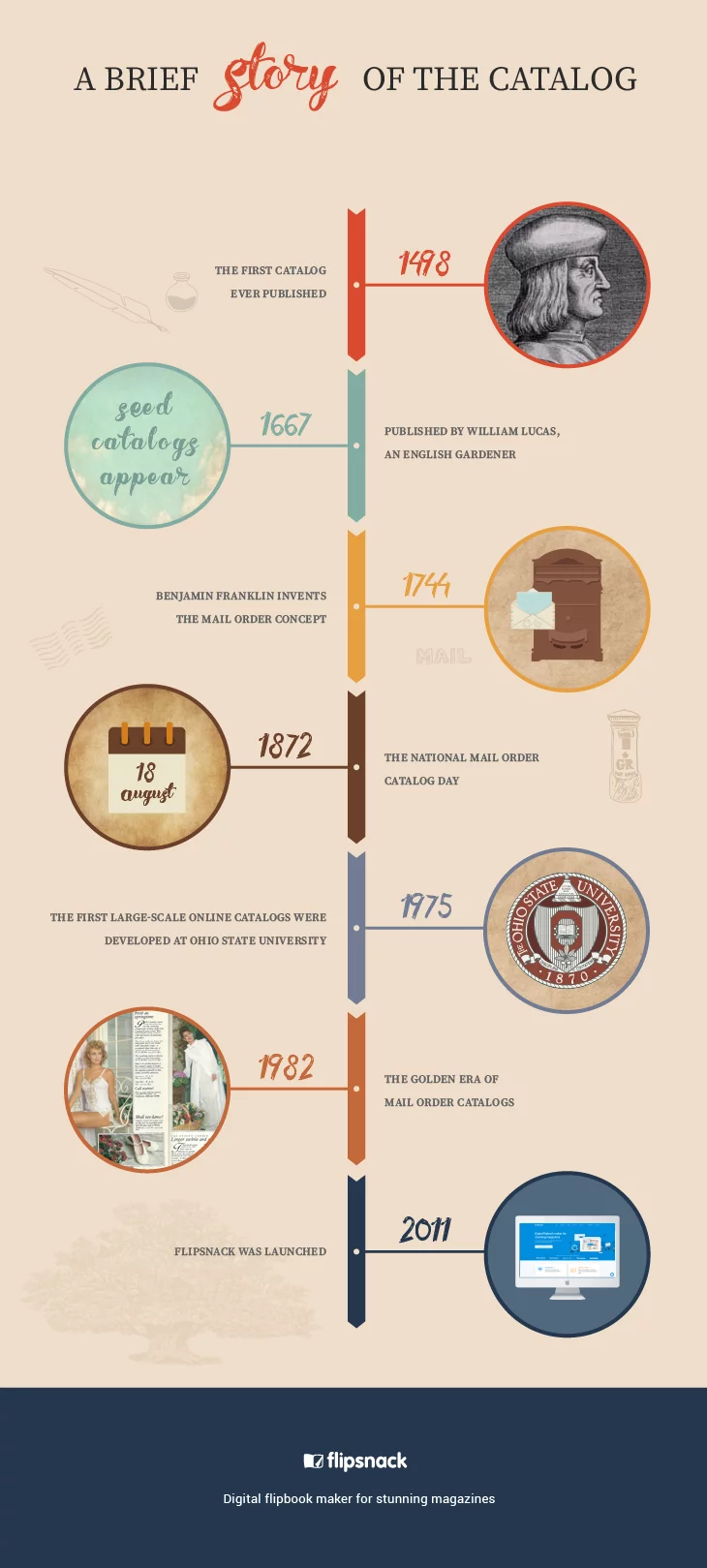 Conclusion
Today's article has been quite a ride, but it was an enjoyable and informational one. It really helped us all to gain a better understanding of the story of the catalog and the history behind it. Because we are so fascinated by this subject, we've decided to go the extra mile and created a specific video in this regard.
Hopefully, you'll enjoy both the video and the information we've put to create this article about the history of catalogs. Let us know what you think in the comments section below!