How to design a price list with Flipsnack
A lot of business owners, vendors and freelancers come to a point in their life when they realize the value of a well-made price list. It can boost your marketing and get you more clients.
Surely, you can simply display the pricing on a page on your site, but if you don't do anything else, you might miss out on an opportunity. Here's what you should do instead: double the effects of your website's pricing page with a stylish digital price list that can be used for marketing and which can be easily shared online. It's a huge opportunity to take control of the price conversation and to convince people to buy.
This article will cover design tips, tools, templates and examples of price lists. By following our tips, anyone can make beautiful pricing guides, without a designer. Sounds great? Keep reading!
The structure of an effective price list
Before we dive into details, let's talk about the purpose of the price list, because the purpose prescribes the content. Regardless of your opinion, there's (or should be) one common purpose for all price lists: to assist or facilitate sales. The best way to boost sales often requires a mix of promotion and information. In that case, a single pricing chart or pricing sheet might not be enough, but you can use a more detailed pricing flyer to convince viewers of the worth of your services or products.
Think about it before you decide what goes into your price list. Another thing to consider should be your client base and the distribution.
A complete price guide should have the following contents:
The about you section is a great place to introduce yourself / your business / your team in a way that is appealing for your customers. Be purposefully friendly, or professional, business-like, depending on what suits your audience. For example, a nail salon price list can use a friendly, girl-next door approach, while a B2B service has to present itself in a more formal way.
Compelling photography / images

Images make your price list more attractive, so you should use some. They can be a great help for the client in visualizing your offer. Use colors along with images to set a mood. For a massage & spa pricing list you might want to use warm colors, soft hues, that help people envision feeling relaxed.
List of products/ services and prices

Don't just make a pricing chart. Write a few short captivating descriptions and informative specifications, so the reader will know exactly what's included in each pricing package. If you're making a pricing guide for products, include all the product details in your guide.
It would be a shame to make a beautiful price list without a proper call to action. It's like preparing a wonderful meal for your friends, but forgetting to invite them over. Don't be like that. Invite people to buy your product or book your services and make it extra easy for them, by placing links along with the call to action.
Testimonials are a great way to make your business seem trustworthy and emphasize the best features of your products/ services. This about it this way: each testimonial counts as a vote of confidence for your business. If you have a few great testimonials, be sure to use them in your next price guide.
Price list design
These are a few principles that should guide your price list design.
Clean layouts – One of Dieter Rams rules of design is that good design is as little design as possible. In other words, less is more. Don't go crazy with complicated layouts. Instead focus on making each of your pages easy to scan and easy to comprehend.
Hierarchy – Visual hierarchy is a big deal in design. There is a set of techniques that can be used to can make certain elements from the page appear more important: placement, size and shape. You have the power to make certain things grab the attention of the customer, but don't try to make everything stand out. Stick to the most important things and you'll achieve a great visual hierarchy.
Consistency – Be consistent. Don't try to make each page look different. It's important to use a single style throughout your price list design: use the same pair of fonts and a similar design style.
Keep it short – Your price guide should be short and informative, so you should be able to condense all the details in under 10 pages.
Create a price list online using templates
Sometimes the best way to make a flyer that looks good is to start from a template. That way, you don't have to think about layouts, grids and other design principles that seem complicated for a beginner. We know that the design can be such a challenge for non-designers, so we wanted to make the process easier for you.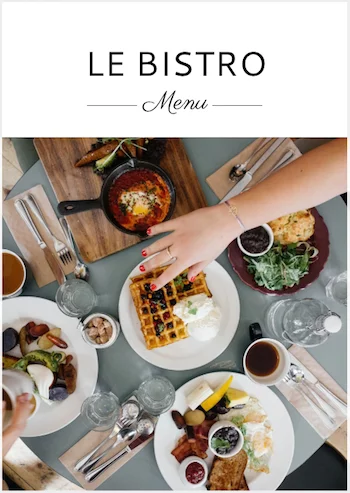 Edit this menu price list template >>
That's how we decided to make some price list templates that anyone can easily customize. Our online price list maker is packed with over 100 page templates, some of which can be easily customized to create stylish price guides.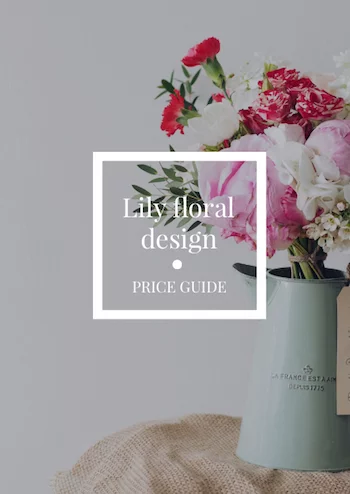 Edit this price guide template >>
You can view more price list templates in our online brochure maker which helps you design an entire price guide from scratch. Most of the templates are free, so you can easily design a full price guide that looks professional and is very easy to share online.
One other thing that should be mentioned, is that with a premium subscription you can download your price list as a PDF file on your computer. The downloaded price list PDF is high quality, so it's printable. This way, you can make a price list for both online and offline use!
Price list examples
Our online price list maker is a very powerful tool. Use it to create a price list from scratch, or by customizing templates. You can also use it to convert a ready-made pricing PDF into a stylish looking online brochure or menu. The price guide examples that you see below were designed outside of Flipsnack, but they were converted into digital page flip guides with the help of our online price list maker.
We decided to show you these price list examples because we want you to feel inspired. Sometimes you get great ideas just by looking at a few examples.
We chose to show you a few price lists and guides from various industries, so below you will see a photographer price guide, a salon / beauty / spa price list, a catering price menu and a designer rate list.
Let's take a look at them!
Photography session price guide


This photography price guide is actually a little brochure and the photographer uses it for marketing purposes. It's not limited to pricing packages, it features a short welcome message and 2 paragraphs about the photographer.
Beauty SPA price guide

This beauty price guide is packed with useful information about SPA treatment packages and beautiful inviting photos!
Catering price list

If you want to make a catering price list take a look at this example, because it's a good one. The food is beautifully photographed and it looks delicious! Click on the image to view the entire pricing brochure.
Designer sample pricing menu

This is a one page sample pricing menu. You can create a basic, simple price guide with Flipsnack. It's easy!
Web design pricing guide example

Here's another simple web design pricing guide. This proves that simplicity is often a great solution for effective design.
Now that you've seen these examples, you should start making your own price list or price guide using our tool.
It's easy, it's free and it's fun!