E-commerce trends, statistics, and predictions for 2023
E-commerce is one of the fastest-growing industries, and this shouldn't come as a surprise. It was on an ascending path for a while, but the situation of the past couple of years accelerated its progress. It has many advantages: it is diverse, safe, fast. Nowadays, you can purchase almost anything online, and many retailers offer same-day delivery. All from the comfort of your home.
E-commerce is also one of the fastest-changing industries, as new technologies and trends appear constantly. For any online retailer, whether big or small, with a history in the domain or new on the market, keeping up with the latest e-commerce trends is paramount.
If you want to remain competitive, you must be aware of the upcoming changes and adapt to them quickly.
In what follows, I will offer some information on the e-commerce trends, statistics, and predictions for 2023, so if you own an e-commerce business this article is for you.
2023 e-commerce trends
Let's take a look at some of the most important trends in e-commerce for the year 2023.
Mobile shopping
Due to advancements in technology, mobile devices have gained lots of popularity. A majority of people rely on phones and tablets to perform tasks that a few years ago would have been possible only on a laptop or desktop computer. Shopping makes no exception.
Mobile commerce, which is shopping made through a mobile device, is on the rise, and it seems that it is here to stay. In fact, in the US alone, the expected revenue from mobile e-commerce is expected to be around $431 billion. In 2025, the expected revenue is around $710 billion.
This means that if you build an e-commerce website, you should make your website mobile-ready. You should take certain steps to offer a better user experience and maximize your potential earnings.
The site should be mobile-friendly from a web development perspective. Mobile users are more visually oriented, so the content should focus on that. To make your website mobile-ready, consider including SMS or push notifications and even creating an app for your website.
In 2023, mobile shopping is the new norm. If you want to capitalize on this trend, mobile-friendly web development is a must.

Slava Vaniukov, web development expert and CEO at Softermii
Social commerce
Social commerce is a part of e-commerce, and as the name suggests, it involves buying a product directly from a social media platform: Facebook, Instagram, TikTok, and so on. This move really shouldn't come as a surprise. A person spends an average of 2h 27 m on social media daily, and companies already use social media for marketing purposes. It is a match made in heaven, so many companies now use social media to sell their services and products.
It makes sense if you think about it. Social commerce eliminates a step from the purchasing process. Customers can now search, find, and purchase products directly through social media. There is no need to see the product and then go on the website to buy it. It is a win-win situation for both parties. Social commerce is on an ascending path, and it is expected to triple to $1.2 trillion by the year 2025.
Social media allows businesses to reach customers more efficiently and more directly, and there are different ways to ensure this. For example, businesses can hire influencers to gain an audience. They can also use the increasingly popular live shopping method to engage with customers.
Digital catalogs
Digital catalogs are on the rise, and many online retail companies use them for different purposes. They offer advantages no other medium can reproduce. They are perfect for attracting browsing customers. Almost half of the online customers visit an online store just to browse.
A digital window shopping if you will. This is where online shopping catalogs come in handy. They display products more efficiently than a website, so the customer is more likely to browse for a longer time. A catalog controls the customer's journey, while a website can't do that.
When visiting an online shop, the customer either searches for a product or browses for a while and leaves. Catalogs are perfect for promoting specific products and services and can introduce customers to products they weren't aware of. The strategy might not work all the time, as the customers could simply ignore the recommendations.
However, companies can also use catalogs for personalized advertising. Businesses can send different catalogs to different types of customers, increasing the odds of a customer being interested in the promoted product. Catalogs are easy to share by email, social media, or embed directly into the website or hosting service similar to Ubuntu VPS. Digital catalogs are also interactive, offering a more engaging experience for the customer.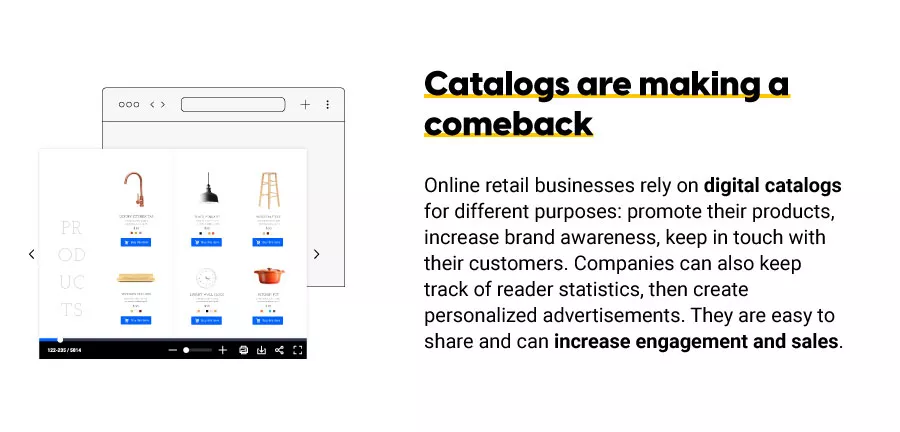 Flexible payment options
Nowadays, people are interested in flexibility, and when it comes to payment options, things are the same. It might not seem like much, but offering different payment possibilities might make the difference between a purchase and an abandoned shopping cart. If your e-commerce business accepts transactions only through debit or credit card, or check, then chances are you are missing lots of business opportunities.
Besides the ones I mentioned above, nowadays there are different other ways to pay.
Mobile or digital wallets are constantly growing in popularity. Statista predicts that by 2024 more than 50% of e-commerce transactions worldwide will be made through one of the two. That is a five percent increase from 2020. The same source mentions that credit cards had a 23% market share in 2020, and it still is on a constant decline.
This means that if businesses want to stay competitive, they should include mobile and digital payment possibilities, such as ApplePay, GooglePay, Revolut, PayPal, and others of the like.
Another popular payment option, which is also gaining popularity, is BNPL (buy now, pay later). Through BNPL, the customer can either delay the payment for a while or divide the total price into smaller payments with no extra fees. Customers who can't afford to pay the full amount can buy the product, and the stores sell it.
Finally, another popular payment method is 1-click, the method patented by Amazon. Through 1-click buying, the customers don't have to input the billing and shipping information for each purchase. Instead, they do it once, and the website saves the data. It is a time-saver, and this is why customers appreciate it.
All of these payment options could make a difference for your business, so try to implement them on your website if possible. When choosing an eCommerce platform, consider the availability and ease of integration for these payment options.
Different shipping options
More and more e-commerce businesses are trying to accommodate the customer's needs regarding shipping. Customers are interested in speed and in impeccable service. Does your courier service offer same-day delivery? When it comes to local shipping, does it guarantee 30 minutes or less delivery? What do they use for international shipping? These are the types of questions customers ask.
E-commerce businesses compete for faster delivery times, assuring various delivery carriers and methods. If the first carrier service has a problem, the second or third one will surely get the job done.
Sometimes it's not even about the delivery speed. For instance, maybe a customer has had numerous bad experiences with a particular delivering company, so offering them the possibility of choosing a carrier will make a lot of a difference. Simply put, relying on a single carrier service is no longer productive.
E-commerce is cross-border now, and 96% of purchases come from ten marketplaces. International shipping is more popular than ever, so customers are interested in tracking their products accurately.
However, according to a study made by Deloitte, costs are the most important factor in shipping. 85% of customers prefer free shipping over fast shipping. People would rather spend more on a product if they receive free shipping than spend less but pay for shipping even if the costs would be the same. Why is that? Because they don't assign any value to shipment.
When it comes to shipping, customers care about price, speed, and quality.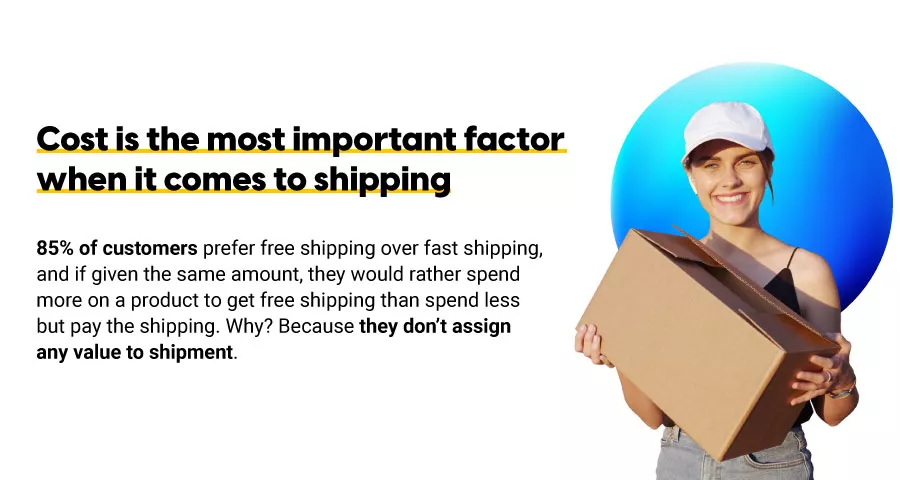 Better return management
Better return management is also an important e-commerce trend for 2023. Customers return around 30% of online-bought products. The reasons often vary: the product arrived damaged, it did not match the description, the quality was inferior to what was promised, these are the main reasons.
Businesses need to have a well-established return policy, as 50% of customers would not buy from a retailer with an unclear return policy. This means that the policy should be 100% transparent. The customer should precisely know what the return entails. If the customer has any doubts about the return, it could be a deal-breaker.
The return price also influences customers, and more than 30% of customers base their purchase on that. Almost 90% of customers consider that the merchant should pay for the return.
It might seem counterproductive for a company to be very lenient when it comes to product returns, but it will help them in the long run. The more trust customers have in a business, the more money they will likely spend in the long term.
More and more companies have started investing in automating the return process, eliminating the human factor where possible. Customers also base their decisions on the return time. The longer the return period is, the less interested they are in purchasing the product.
Voice e-commerce
Voice assistants are increasingly popular. You can find them on your mobile devices, smart speakers, smart hubs, even remote controls. As a result, voice search is increasingly popular, and voice-activated online shopping makes no exception. Around 43% of people with voice-enabled devices use Alexa, Bixby, Siri, and other similar voice-based search assistants for online shopping purposes.
The technology behind it could still use tweaks and improvements, but it is slowly getting there. People hesitate to use voice search mainly for privacy reasons, but given the stricter rules regarding access to user data, this is expected to change.
If you have an e-commerce business, you could do a few things to make it voice-search friendly. The most common information people search for is the location (either physical or online), the work hours, and the contact details. Make sure that at least this information is available for voice search results.
SEO is just as crucial for voice search as for written one. There are a few differences, however. First, people are more likely to use full sentences when searching for something through voice search. For example, they would use "Where can I find the best coffee shop near me?" instead of "Best coffee shop near me."
For this reason, long-tail keywords are better for voice search. However, you should also anticipate the customer's needs by answering their possible questions precisely. For instance, "Find the best coffee shop near you." is a great keyword and answer for the previous query. So remember to rely on natural language and optimize your website for local searches if you have a physical location, and consider using a residential static proxy for efficient data collection and analysis.
AI chatbots
We all know how annoying it is to wait for 10 or 15 minutes to get in touch with someone from customer support, and when you finally do get in touch, to feel disappointed by the service. Nevertheless, customer support is essential for a business, and its quality makes a huge difference. To be more precise, an excellent customer support service can generate leads and increase sales, while a poor one leads to financial losses—around $75 billion per year. This is where AI chatbot platforms and AI customer support come into play. 
One benefit chatbots offer is speed. The reply will come instantly if a customer asks about a certain product. With the advancement of an AI chatbot builder, creating these responsive and intelligent chatbots has become more streamlined and efficient. Customers are no longer patient to wait for an email reply, and many of them avoid contacting customer support by phone.
Chatbots can also be used on different platforms, not just on the website. A company can use a chatbot on an app, or on social media. This not only boosts social commerce but also allows companies to collect valuable insights and feedback. These insights can be processed through advanced summary tools to better inform strategic decision-making.
Chatbots are also great for lead generation, as they capture customer data directly from the chat. Here is a great example of a chatbot put to good use. Clicking on the download report button opens a chatbot pop up. If you want to get the report, you need to enter the email. Classic lead generation strategy. However, you can then download it instantly in the chat. It eliminates the need to verify your email address to download it.
Chatbots can also drive sales, by offering product suggestions in the chat based on the customer's queries. They can remember the user interactions, so they can offer personalized suggestions. Chatbots can also automate post-purchase support.
Simply put, chatbots save time and money, so there's no wonder they have an 87.5% customer satisfaction rate.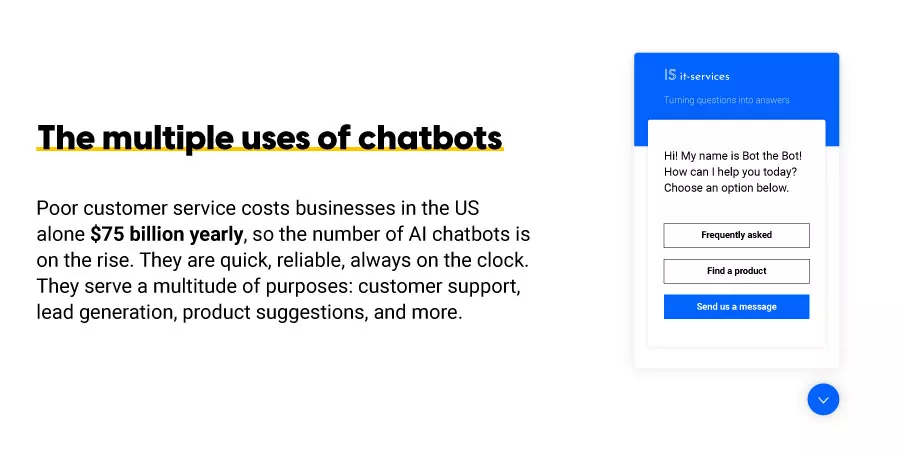 Personalized advertising
When it comes to online shopping, every customer wants to feel special. People receive personalized movie and series suggestions on Netflix, recommended playlists on Spotify, and they would like the same level of recommendations when it comes to their shopping experience.
Personalization creates a connection between the customer and the brand. It makes the customer feel appreciated, that he is more than a number. They want the same experience they get from a mom-and-pop store. A personalized experience eliminates wasted time.
It can be frustrating for a customer to receive offers for products they have zero interest in. On the other hand, most customers don't mind receiving emails or messages on their phones from businesses, as long as the messages target their needs. Around 80% of customers would like a more personalized shopping experience.
Personalization is beneficial for companies as well. For example, email campaigns, social media ads, or Connected TV ads lead to better results when they target the right demographic. However, it is sometimes a hit-or-miss situation because people don't necessarily have uniform shopping behavior. They sometimes buy from their mobile phone, others from the website, and others from the physical store.
This takes us to the next point.
Omnichannel strategy
The omnichannel business strategy is here to stay, whether we're talking about product offers, customer support, or purchasing options. Gone are the days when a business could operate on a single channel and be as successful as a business that operated on multiple ones.
To meet the evolving expectations of today's customers and provide them with a truly exceptional experience, businesses must also embrace the concept of an omnichannel customer journey. People desire a seamless experience across all platforms. For example, they might browse your physical store, then buy from your e-shop, and vice-versa. Contacting you should be just as easy via email, business phone system, or social media. They should have the same experience when visiting your website from a mobile device or a computer.
The omnichannel business approach sounds like a multichannel business, but there is a distinction between the two. Any omnichannel business is multichannel for apparent reasons. However, the reverse is not always true. Omnichannel ensures a connection between all the channels, while that is not the case for a multichannel approach. It ensures that the customers can reach you regardless of the medium.
One example of an omnichannel business would be a business that operates both online and has a physical store. The business could have a digital catalog, and it could promote it via email, through social media, on different channels. With the help of the catalog, the customers would know exactly what they can find when they visit the store.
The store could also offer some kind of reward system, a certain amount of points for each purchase, which the customer could use for discounts. The important thing would be for the physical store to be just as aware of the discounts as the online store. When the customer buys a product with a coupon from the catalog, the discount should be directly applied in the store.
AR & VR Shopping
Due to advancements in technology, augmented reality and virtual reality have made impressive progress. As a result, AR and VR shopping is on the rise. Their popularity took off during the pandemic, but it seems that the two are here to stay.
In 2020 32% of customers had used AR while shopping. In 2023 the percentage should increase by 17%. But what exactly is AR and VR shopping?
Augmented reality uses digital elements in the real world, while virtual reality represents a simulated environment. Both of them create an interactive experience for the user.
Some companies such as Amazon or IKEA allow you to place digital products in your home to see how they fit. With Sephora's app, you can test different makeup looks. Nike can determine the perfect shoe size simply by opening the Nike Fit app and pointing the camera at your feet.
BMW allows you to simulate a driving experience in their cars by using virtual reality goggles. There are many examples, each one more impressive than the other.
Both AR and VR shopping help customers save time, eliminating the need to go to a physical location. In addition, they lead to a decrease in product returns and logistics, which is a win for businesses.
Here is a nice infographic that covers some interesting e-commerce trends and statistics.
Now that I've offered some info about e-commerce trends, let's take a look at some of the biggest e-commerce statistics for 2023.
Top e-commerce statistics
2023 e-commerce predictions
I've covered the latest e-commerce trends and statistics. Now, let's take a look at some of the most popular predictions for this year.
Before going further, I want to present some opinions shared by people involved in the e-commerce industry. This is what they believe the future holds for 2023.
Some insider perspectives
According to Raluca Radu, the owner of Making Digital Happen, social commerce and voice search will be the rising stars this year.
Social commerce will become more and more important in digital communication for e-commerce companies because it opens new ways for e-commerce brands to engage directly with the consumer. The number of social shopping options has become more and more diverse with the launch of Instagram shoppable live streams in September 2021 and the launch of a similar option for Facebook is in the plan for this year.

Live Shopping will become a more and more attractive option for e-commerce brands and we will see lots of new options of implementation for live shopping – from live streaming directly on platforms and websites to live shopping sessions with influencers in social media.

Another trend that is related to social shopping is vocal search. As users all over the world have started using voice texts and voice search more and more in options like AI assistants (Siri, Cortana, etc) they will become more and more accustomed to use voice search as well. So it is high time for online shops to use this option as well.
Cosmin Coman, the owner of Dacobi, considers that the focus should be on customer satisfaction, and all else will follow.
Based on my experience, if an e-commerce business is driven by prioritizing customer satisfaction then that business will have high chances of succeeding, especially now, when the competition is quite fierce. Of course, this doesn't mean just handling customer support in a quick and easy manner (from the customer's point of view) but also things like designing a customer-friendly UI, fast loading times, or taking the time and resources to do extensive QA.
Let's now take a look at some of the most popular e-commerce predictions for 2023.
Increased competition and brand consistency
The number of online businesses has greatly increased starting with 2020. Many physical stores had to close down, so setting up shop in the virtual world was the solution. It has never been easier to start an online business.
It is a double-edged sword. Online sales have never been higher, and they will continue to grow in the following years. However, competition has never been higher either, making it more complicated to stand out, reach an audience, and convince it to stick with you in the long run.
Ad costs are predicted to increase; companies will have to pay more money to get the same amount of traffic. Privacy laws are making things easier, too. Customers do their homework. Many of them no longer directly buy a product they see in an ad. Instead, they research the products and, more importantly, the company that sells them.
It is predicted that brand development is the key to long-term success. Companies will need to decide if they want to invest in raising brand awareness and developing their brand identity, or if they want to increase the amount of money they invest in advertising. Brand consistency matters and companies must establish and share their core values.
The importance of going green
As the previous point mentioned, customers, have many options to choose from. They have high demands, they are willing to pay for these demands to be met, but they are also ready to switch brands if their values and needs are ignored. Nowadays customers are interested in more than the price and the quality of a product. Values matter as well.
Customers are more conscious than ever, and sustainability is one of the core values they currently care about most. Simply put, if a brand doesn't align with the customers, they move on to a brand that will. 83% of consumer activists consider it more important to support a brand than to boycott another. This means that companies have fewer chances to "get it right."
So what exactly is it that consumers desire?
A few things matter the most to consumers that companies should focus on: is the packaging plastic-free, are the products recyclable and reusable, are the materials renewable, what is the carbon footprint?
Second-hand shopping is also on the rise, for the same sustainability reasons. Companies could take advantage of this, by including second-hand sections in their stores, if possible.
Customers want to spend money on brands that care about the environment, so this is something that companies should take into consideration.
A new approach to gathering consumer data
As already mentioned, personalized advertising matters a lot for the customers. One problem companies face in this regard is that privacy changes have made it more difficult to collect user information. Browsers have blocked the use of third-party cookies, governments have issued laws regarding user data, and customers are reluctant to share their information. In fact, 57% of customers are worried about how brands will use their data.
Companies will have to change how they gather customer data.
SMS marketing is making a comeback, and companies will focus more on this strategy to gather user data directly from the customers. They can use SMS with the help of Mailerlite and Mailerlite Alternatives to promote products, offer discounts, and communicate with their customers. There is more to it than just sending mindless messages, though. Companies should have a clear marketing strategy, prevent spamming the customer, and make sure that the customer can always unsubscribe from receiving these messages.
Companies will also be forced to gather information through first-party data (information gathered directly from the customers). There are a few ways to do this. Quizzes, surveys, direct chat, custom mobile applications, all of these can be used to obtain information directly from the customer.
Adopting the subscription model
Software as a service (SAAS) companies are mainly the ones to rely on this subscription model. Think of Spotify, Apple TV+, or PS Plus. You pay a monthly or yearly subscription to have access to their services, and it comes with benefits: no ads, free games, access to content.
However, the subscription model can also be used in retail, and it is predicted that more companies will use it in the future. In fact, a number of companies already offer such a service. There are companies such as Munchpak that offer monthly mystery food boxes. Birchbox offers monthly beauty products.
Besides the advantages I already mentioned, the subscription model has some other extra benefits. For example, it can ensure access to products. Some products are hard to come by, so being a subscriber guarantees that you are first on the list.
However, for many customers, being a subscriber is all about the feeling of belonging to a group, or a tight-knit community. A subscription turns into a membership. Subscriptions are also beneficial for a company when it comes to user information because a subscription is also one way to gather first-party data.
In conclussion
As this article made it clear, the world of e-commerce is ever-changing. If you are an online business owner, keeping up with the latest e-commerce trends is a must in order to succeed. Not all of them might apply to your business, but you can discover which ones are suitable for you and implement them in your business.