Skip the print! How to create digital magazines today
The digital world has made leaps and bounds in recent years. Gone are the days of printed waste, here to stay are digital magazines!
In the world of magazines, what are the biggest obstacles that you have to overcome? Design? Distribution? Printing costs? What if I told you that all of that can be dealt with by creating digital magazines instead?
Creating digital magazines doesn't need to take hours. In fact, it can be done rather quickly nowadays. The idea of this article is to walk you through exactly how that can be done. But before we get started, there are some fundamentals that we need to discuss.
Magazines are more than entertainment while sitting at a doctor's office. They're not just used for ad placements and selling things. Many brands, like WIRED, create magazines simply to expand their content strategy. They use a digital magazine to bring stories and travel experiences to their customers.
As you can see in this embedded flipbook, Chef & Restaurant is using a digital magazine to promote its brand. They use stories from chefs and restaurants, insert products and ideas, and talk a whole lot about cooking. It's the perfect platform for them and many others for marketing.
There are many different kinds of digital magazines that readers can enjoy. A variety of genres, stories, ideas, and formats can be found.
What are the different types of digital magazines?
Depending on your preferences, you can find an online magazine that suits pretty much all of them. Interactions, functionality, and formatting are all things to take into consideration when choosing what type of magazine you want to go with, especially if you're the one creating the digital magazine.
For that reason, here's a short list of the different types of digital magazines that you can read or create.
Blog-style magazines
Mobile app magazines
As time goes on and more and more people create digital magazines, I'm certain that this list will grow. For now, however, this is plenty to keep most of us occupied.
The advantages of a digital magazine
As digital magazines continue to evolve and improve, a lot of people wonder if they're any better than printed magazines. After all, for a publisher that's been using print for years, it could be quite the leap to move everything to a digital environment.
As with most things, there are some pros and cons to consider. That being said, the pros greatly outweigh the cons. Making the move from print to digital magazines boasts a lot of advantages and benefits.
Here are 10 advantages of a digital magazine:
1. They're paperless, which saves you money
Did you know that the average employee prints about 10,000 pages per year? Or that 10-30% of potential savings are missed out on while ignoring printing costs? That's why so many big brands are going digital with their magazines.
The reality is that the average company spends a lot more on paper than they realize. Now imagine how much you could be saving as a magazine publisher. By going fully digital, you negate the need to print your magazine. You save money.
Is your company spending too much on paper? We've gone over how much your company (magazine publisher or not) could be saving by going digital. Be sure to check that out.
2. Digital magazines can increase brand awareness
Even if you don't want to make your digital magazines gated content, they can still prove to be quite useful for brand awareness. Remember how we talked earlier about using magazines to enhance your content strategy? Well, with that comes brand awareness.
Free digital magazines are a great way to gather an audience and garner attention through brand storytelling. You can easily connect with your audience without getting anything in return. It's great for getting your name out there. Using this narrative as an immersive experience can help educate and even entertain your leads as they make their way through the sales funnel, and even help move them along as they reach certain touchpoints.
A good idea here is to offer the first edition for free, and then offer a subscription for future issues. Or, perhaps you can offer all new additions for free, and the archived ones can be accessed through a paid subscription. Either way, offering a free digital magazine is a great way to increase brand awareness.
3. Digital magazines are easier to design
Flipsnack's Design Studio gives you all the tools you need to make a professional digital magazine, even if you don't have any design skills. Our drag-and-drop Design Studio makes it easy to add, remove, and arrange shapes, GIFs, images, videos, and more. All you have to do is point and click.
Having a digital tool to help you design and create magazines is way easier than printing one. Maybe you have an error like a typo, or maybe the printer smudges some ink while printing. All of these errors can be avoided with a digital magazine, making it a lot easier to design overall.
Flipsnack truly makes it quick and simple to come up with a powerful layout that is visually appealing and flows nicely. Both of these are very important aspects of magazines, digital or not. That being said, tools like this make designing a digital magazine a lot easier than a printed one.
4. Gain access to templates and professional magazine layout ideas
Even though it's easy to upload a PDF and design in Flipsnack, not everyone has the time. For that reason, we've created plenty of digital magazine templates that you can choose from.
Of course, these templates are exclusive to our digital platform, making it easier to get up and running with your magazine in a flash. All of them are completely editable. You can add and take away as you please, using the design as inspiration, or your go-to layout.
All you have to do is pick the template that you like most, click Use this template, and start adding your content. It really is as easy as a few clicks. That's definitely something you can't say for printed magazines.
5. You can add interactions to further engage readers
In a digital space, you can make your magazine interactive beyond simply reading words on a page. You can add links to direct readers to other resources, and use helpful or entertaining videos that they can play directly in your magazine.
Add audio, GIFs, slideshows, QR codes, and even conversational lead forms directly to your magazine. The possibilities are limitless. This is a massive advantage that digital magazines have over printed ones, because it adds that extra level of entertainment. Interactivity takes a simple magazine beyond the norm and transforms it into something else entirely.
6. Digital magazines are easier to share and distribute
With a printed magazine, you have to either attract the customer to you in a physical location, or you have to mail it out, which costs more money. They are not all that easy to share or distribute, as it requires extra effort on your part.
Switching to an online magazine allows you to not only save money on postage, but allows you to distribute online, too.
Take Flipsnack, for example. You have loads of sharing options that all revolve around the digital space. Share it privately or publicly through email right from your DMARC protected email domain, social media, or embedded on a website. They can even be password protected if you want to publish your magazines privately, and only give reading permissions to those with the password. Something like this just adds an extra level of security.
7. Easily navigate the magazine with a table of contents
It may seem like a simple benefit, but having a table of contents can help readers quickly navigate through dozens or even hundreds of pages with a simple click.
True, even printed magazines have a table of contents, but you still have to manually flip through the pages once you find the page number you want to be on.
Why is this important? Think about how much friction there would be if a viewer is only interested in a certain topic or page, but they have to navigate through the entire magazine to find it.
Instead, with a digital magazine through Flipsnack, you can incorporate a table of contents. Readers can click and instantly be taken to the topic they find most interesting.
8. Create and sell from the same platform
Although you may not want to sell your magazine through Flipsnack, you certainly have the option to. Flipsnack makes it easy for anyone and everyone to design, create, and sell, all from the same platform.
Manage and sell your subscriptions through Flipsnack through a simple and easy-to-use dashboard. Or, if you so choose, you can sell an individual issue. It's all in your hands with Flipsnack.
9. You can easily track the performance of a digital magazine
Let's say that you release a printed magazine that you're really proud of. You spent lots of time and effort meticulously designing and laying out the pages one by one, but you'd like to get some feedback from the readers to see if it's worth doing that process again. How do you do that?
You could send out a survey, asking people to take time and give some feedback. You can even take to the street and ask people as they're reading your magazine what they think. No matter what you choose, with a printed magazine, it will be tough.
With a digital magazine in Flipsnack, not only can you create and distribute with ease, but you can also track the performance of each and every magazine. With our built-in statistics, you can track helpful metrics like impressions, views, average time spent reading your magazine, and downloads. You can do this for all of your interactive flipbooks, or for individual flipbooks all within your dashboard.
Take it a step further by breaking down the stats per page, checking the engagement stats, devices used to view, and countries it's being viewed from. Check on the forms you've embedded in the magazine, and even check the selling stats. Try doing that with a printed magazine.
10. Digital magazines can be used as a lead magnet
Remember just above when we talked about adding lead forms directly to your magazine? The truth is that magazines can make excellent lead magnets, but only if they're digital.
As readers flip through your magazine, they can be prompted with a simple lead form. Have them sign up for your subscription-based newsletter, digital magazine distribution, and more. All you have to do is insert a form through the Design Studio, and all they have to do is fill it out. Add as many or as few fields as you'd like.
In fact, one of the most unique properties of digital magazines is that they can be used as lead magnets in your marketing strategy. This is something that not a lot of people think about, both readers and publishers.
Creating a digital magazine takes coordination, dedication, and a touch of patience. It's definitely not a quick strategy. You have to be prepared with resources to follow through with the lead conversion process.
Things like ebooks and webinars have proven to be amazing at generating some niche, high-quality leads, but they're not something that you can rely on. They are temporary, and once they're gone, they're gone and won't be generating many leads for your business.
Digital magazines, on the other hand, can be set on a schedule, giving your readers something to look forward to. They're something that, if you remain persistent, can become a massive part of your marketing strategy, and rope in some nice, high-quality leads. On a scheduled and much more predictable basis.
With this tool, even digital magazines can be turned into powerful marketing materials that generate quality leads. This is definitely something that you couldn't do with a standard, printed magazine.
How do you make a digital magazine?
If creating a digital magazine is something that you're interested in, then you'll want to get started off on the right foot. We've mentioned the benefits above, but now let's talk about what you need to do to prepare.
There are a lot of steps here, but don't panic. Let's dive into each one with a little more detail.
1. Carve out a niche
In order for your digital magazine to have any sort of authority, you will need to carve out a niche that you are familiar with and set some goals. Like traveling and a good hike? Then a travel magazine might be right for you. What about cars and motorcycles? Automotive might be the way to go. Your objectives should all revolve around bringing the best experience to the table that you can.
Whatever you're passionate about should be the focal point of your online magazine. Anything and everything within the front and back covers should be direct, valuable information that users will come to you and only you for.
If your magazine is for business, then you have to make sure that whatever topic you discuss can lead back to your brand. It's all about standing out and providing the readers with something that they'll definitely want to read.
2. Define your target audience
Who is your magazine for? You have a niche, but does your target audience fit? From the start, you have to have a clear idea of who is going to be reading your digital magazine. You need to have a defined audience that meets all the ideal characteristics of the people you want to market your magazine to.
Knowing your target audience helps the creative process. It gives you the inspiration you need to sit and say "Would they actually want to read this?" It allows you to think of the process as if you were in their shoes. Without knowing your target audience, your digital magazine won't have much direction, and the readers could get bored.
3. Work as a team
Many start-up magazines only have a few people working on them. Sometimes, it might even be a single person doing all the work. But, as time goes on and more and more people start reading your online magazine, you will undoubtedly start to work in a team.
You will probably have a design team, a content team, an editing team, a distribution team, and so on. Splitting the magazine up into these separate divisions will make the process from beginning to end a lot easier. But, only if you stay organized.
Flipsnack provides an easy way for teams to work on a magazine together by giving each team member certain roles and permissions. At the end of the day, nobody should be confused about what they should be doing, and everyone will be on the same page.
4. Focus heavily on content
Without content, a magazine is just a bunch of pages stapled together. The same can be said about digital magazines, just minus the staples. Content is king, and all digital magazines should revolve everything around it. For that reason, content writers need to pay extra special attention to the quality of writing they're putting into the digital magazine.
Your content strategy is important from the start. You have to lay out the battle plan months in advance. Talk about topics, stories, and ideas. Present these ideas thoughtfully in your magazine, and make lots of edits if necessary.
Content is a never-ending process. As an idea, it's constantly evolving. New strategies, trends, and preferences come into play, and you have to know all of them. This is another reason why working together as a team and defining your audience is so important. Without these two points being implemented into your digital magazine, you simply will not know what to write, leaving you and the reader completely lost.
5. Pay attention to design
Yes, content is important, but without a nice design and layout, it won't mean much. You have to attract people to your magazine from the first glance, paying extra special attention to the cover. So whether it's designing a PDF to be uploaded, or rearranging a template, pay extra special attention to the design.
Every element, from color scheme to fonts and photography, should be an important detail of your magazine's identity. If you can't afford to hire a designer right away, there are plenty of freelancers you can work with.
In the end, the most important thing here is to use responsive design, making your digital magazine easily readable on a desktop, tablet, or smartphone.
6. Make the layout make sense
All your content needs to be presented and organized now. You will most likely have recurring sections, such as interviews or editorial opinions sections.
Managing a large amount of content while maintaining a stylish look and flow can be quite a challenge, but it is necessary.
The cover could be one of the reasons why someone initially picks your magazine, but the table of contents page is the real hook for the whole publication.
7. Distribute digitally
We've mentioned it before, but if you publish a magazine digitally, it has to be distributed the same way. Even if you don't have to think about the logistics of printing and manually delivering your magazine, distribution is an important process in the digital publishing world, as well, no matter your magazine business is a sole proprietorship, corporation, or LLC in your state.
Many digital publishers consider building an app or a website as the best choice, whilst others will use a digital publishing tool, such as Flipsnack.
Hosting your digital magazine on Flipsnack is free. And you don't need tech skills as you can easily share or integrate your publication on other websites with the help of embedded code. Easy as 1, 2, 3! Or, you can choose one of our many sharing options to make sure that your audience gets their new magazine.
Take into consideration that, if on a shoestring budget, creating an app or publishing on your own website takes more money and resources, while hosting your publication directly on a digital publishing platform is more affordable. It all depends on your budget and team, at this point.
8. Monetize and price your magazine accordingly
A very important aspect of starting a digital magazine is establishing the correct price. You will put a lot of hard work and passion into it and that's why this process may be a very daunting one.
Your revenue will most likely depend on subscriptions. But there are many other ways to monetize. The most common model of generating revenue is through ads.
If you don't want to run with ads, you can opt for a metered paywall. Your website's visitors can read a few free articles a month, after which they are asked to pay. The Times has successfully used this strategy to monetize since 2011, making it an industry standard for many digital magazines nowadays.
9. Promote your digital magazine
You've created your first magazine, come up with a nice design, loaded it with content, and even thought about your audience and how to distribute it. Now what?
Now it's time to promote your digital magazine. If you're not already publishing in print, and you're new in this business, you need a solid marketing plan.
If people don't know about you, how are they going to read your magazine when it comes out? Through marketing and promotion. Since we've thought about our target audience, we have to think about where they are. Where will they be most likely to see your magazine?
Most publishers consider social media more of a traffic driver and SEO supporter rather than a sales driver. So, you should definitely include social media in your marketing plan.
How to easily create a magazine in Flipsnack
We've seen a few points that need to be considered before and during the digital magazine creation process. Now it's time to really discover how you can create a digital magazine of your own.
At this point, there's a lot to consider when creating or starting your own digital magazine. No, it's not easy, but it can be done. Flipsnack definitely makes it easier to create digital magazines, and it's the go-to platform for millions of users around the world.
With that in mind, there are two basic ways that you can easily create a magazine in Flipsnack. First, let's talk about the fastest: uploading your own PDF.
How to create a digital magazine with a template in Flipsnack
If you don't have your own PDF ready to go, no worries. We have a large variety of professionally designed magazine templates ready for you to use. Here's a quick look at how to do it.
Step 1. Choose a template, or start from scratch
Each and every template can be fully customized and edited so that you can turn it into your own unique digital magazine. Simply head over to the template page, find the magazine template that you're looking for, and hit Use this template.
Step 2. Add interactive elements like videos, links, GIFs, and more
Now it's time to start adding interactive elements to the magazine. Go page by page and add links, videos, GIFs, QR codes, lead forms, and more. Even starting from a PDF, you can add whatever elements you'd like.
Step 3. Drag-and-drop images and adjust them to make the layout flawless
No matter what sort of elements you're adding, you can meticulously adjust them to make the layout flawless. The Design Studio is built on a drag-and-drop layout, so anything can be added by simply selecting it from the menu on the left-hand side, dragging it to the page, and releasing it. It really is that simple.
Step 4. Design your layout by choosing from a variety of fonts and colors, or uploading your own with our Brand Kit
In Flipsnack, you have the option to be really on-brand by uploading your own fonts and colors. Use the brand kit to get the exact hue of your logo, all the approved colors for background images, and even your own custom font. From now on, these elements will be available to choose from in your Design Studio.
Step 5. Sell and distribute your magazine all through Flipsnack
Flipsnack truly is the all-in-one platform for digital magazines. From the beginning stages of design, all the way down to when it's time to sell, Flipsnack has your back. Easily design, create, share, distribute, and sell within Flipsnack.
The 15 best digital magazine templates
Templates play a huge role in creating digital magazines. Even if you don't use the same layout every time, having a platform that creates professional digital magazines for you is a huge plus.
To make it a little easier on you, we're going to go over 15 of our favorite magazine templates that you can use right now. Each one is fully editable. Change anything you see on the page, add new ideas, and your own content, and have fun with it.
The travel industry is huge! So many places to see, so little time. That's where a nice digital magazine about travel can come into play. If people can't go and see places in person, or if they're having a hard time choosing where to go, you can inspire them with a travel magazine.
Are you a big sports fan? Then you'll definitely want to check this sports magazine template out. Flip through the pages and discover new ideas and topics you can write about. Don't forget that everything is 100% editable. Customize this digital magazine template as you see fit.
Everyone loves a good meal. How about writing and reading about it in your digital magazine? Stun people with eye-catching imagery of food, and write about recipes, ingredients, and cultural delicacies from all over. If you're a food lover, then don't miss the opportunity to share your passion with other people through this food magazine template.
Real estate is a hot topic no matter where you live and no matter how the market is doing. Everyone needs a home, and taking inspiration from other homes on the market is a great reason for creating your own real estate digital magazine. Create listings, share ideas, and promote homes for sale in certain areas with the click of the mouse button.
It's nothing personal, it's just business. Well, that's not entirely true with this editable business magazine template. Personalize every little detail down to the shades of blue and green you'd like to use. Not a fan of the imagery on the front cover? No worries! Simply drag and drop your own images from our Design Studio and be ready to roll in minutes.
Graphic design is all about, well, design. What better way to show off to your readers than with this incredibly colorful and thoughtfully laid out digital magazine template? Inspire others by adding your own creations, talk about how you thought about the idea, and make sure to give plenty of images!
We've shown you a food magazine template, but now let's get specific with a vegetarian magazine template. Again, this template has everything you need to creatively share your recipes and inspiration with other vegetarians out there.
Everyone needs the news, but not everyone knows where to get it. With this new magazine template, you can deliver the news directly to your readers in a professional and creative way. Cover breaking stories happening in the world and share them easily within minutes with all of your readers. No need to use paper!
All of our templates can be made interactive (if they're not already), but this flippable news magazine template comes right of the gate with built-in interactivity. Add your own videos so that readers can view them right from the page, add links, and be sure to direct them to your social media accounts by linking them over the social buttons on the back cover.
Even medical professionals are creating digital magazines. This medical magazine template is perfect for anyone wanting to discuss medical topics in a well-designed layout. Bring the people the helpful medical resources they're looking for by covering breaking news in the medical world, exciting new discoveries, and anything else you'd like. It's all possible with Flipsnack's editable digital magazine templates.
If you're a professional photographer, or you just want to show off some amazing photos, this photo magazine template is a great start. You can easily drag and drop your own photos into the page and add a description of them. Don't forget to promote yourself on the back cover!
Okay, yes we've already shown a travel magazine template, but I'm a sucker for some good travel ideas. This template utilizes photography heavily. As you can see, basically the entire page can be turned into an exhibit for your travel photos. Truly, anything is on the table in a travel magazine, and this digital magazine template gives you the perfect head start.
Fashion is constantly evolving. New designers come to the table with new ideas literally year-round. It makes for the perfect niche to get into when starting your own digital magazine. Talk about trends in the industry, who's wearing what, and show off some designs of your own.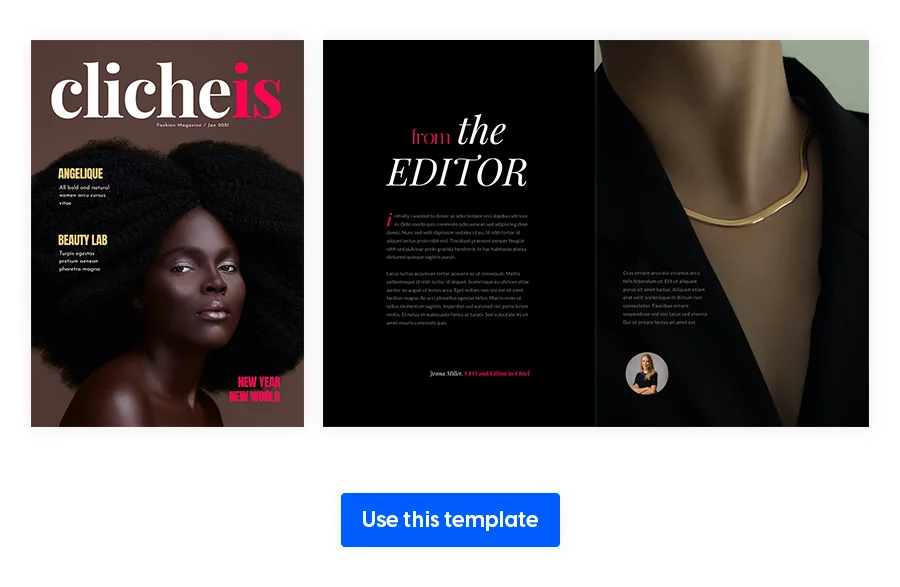 If you're a gearhead and like talking about cars, then creating your own digital car magazine might be the right move for you. This car magazine template has everything you need to really get off the ground. Start by wowing your audience with car knowledge, then really send it home with amazing photos of exciting cars.
With technology advancing the way it is, it's a wonder that we don't have more digital tech magazines out there. Magazines provide for the perfect medium to discuss all the latest and greatest in consumer and commercial tech. Wow your audience by pairing information with high-quality images, and you'll have quite the digital magazine on your hands.
Remember, all of the templates above are 100% editable. In fact, every template that Flipsnack offers is easily customizable to meet your needs and to make an impact in your niche. So feel free to browse around all of our templates to choose the right one for you.

Dare to go digital
In a world where you can get just about anything you want online, digital magazines make perfect sense. They're easy to create, just as easy to read, and a lot better for the environment.
We've seen that online magazines boast a lot of benefits. Some, we may not have even mentioned here. We've also seen that they can be created in just a few steps. So the real question is, why haven't you started your digital magazine yet?
With Flipsnack, everything you need is at your fingertips. Upload your PDF or start from a template. Create, design, and edit in minutes. Distribute wherever and whenever. It's all possible with Flipsnack.