10 magazine cover templates guaranteed to inspire you
How much can a cover influence the popularity of a magazine? How difficult it is to create a spectacular magazine cover? Where can we find some magazine cover templates to get our inspiration from? The aim of this article is to answer best all of these questions. Are you ready? Let's get started!
Without a doubt, a good magazine cover should have two crucial purposes. First, it has to catch the attention of the readers so that they won't only pick it up from the shop's shelf and look at it, but also purchase it and take it home. Second, it should inform the readers of what type of magazine it is and give them hints of what they can find inside. If you want as many customers as possible, your magazine cover page should definitely achieve both of these goals.
Since people are motivated to purchase only those kind of magazines with eye-catching covers, designers all over the places try really hard to create attractive and informative cover designs. If you want to be one step ahead of everyone, we advise you to start studying the competition and do something different, something outstanding. Easy to say, hard to do!
Let's face it, if it's difficult for a designer to create an alluring cover, what about someone who doesn't have graphic design skills at all? Don't stress too much over this, nowadays there are plenty of websites that help you create the best magazine covers ever! Flipsnack is one of them! Our website provides various magazine cover templates that are super easy to use and fully customizable. We've chosen 10 stunning magazine cover templates that will hopefully become your source of inspiration! Some of the cover templates below are part of an entire magazine template, so you get more than just the magazine cover. Maybe you find the other page layouts useful too. If not, just ignore or delete them and enjoy the covers! Have a look!
Edit these templates by simply clicking on the magazine covers below!
1. Winter Magazine Cover Template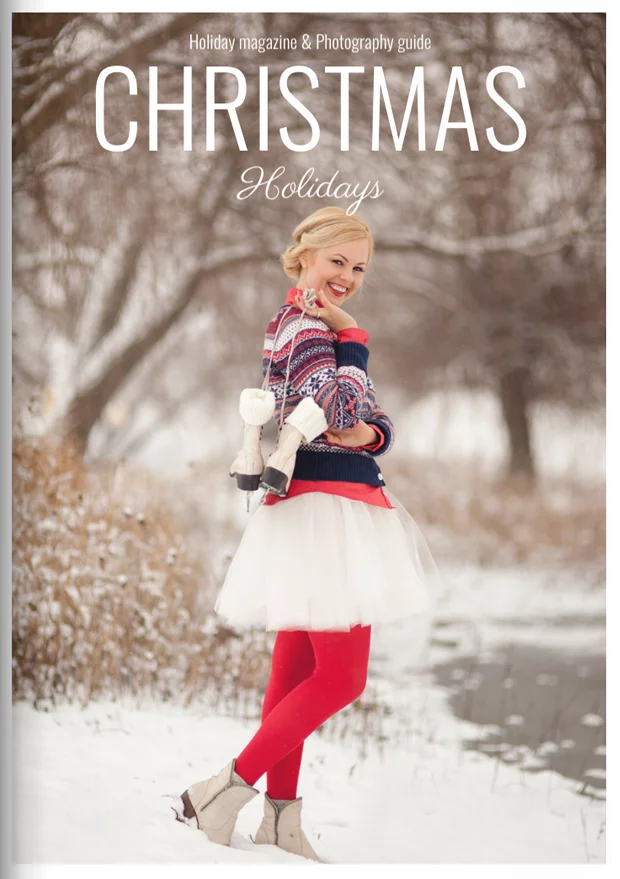 Click here to edit this template
The first template we're showing you it's a winterish one, of course! Moreover, this winter wonderland magazine cover it's perfect for this season. It features the image of a blonde girl dressed in the well-known Christmas' colors: red and white. And the silverish landscape behind her depicts wonderfully the real atmosphere of winter days. Looks awesome, right?
2. Cookbook Magazine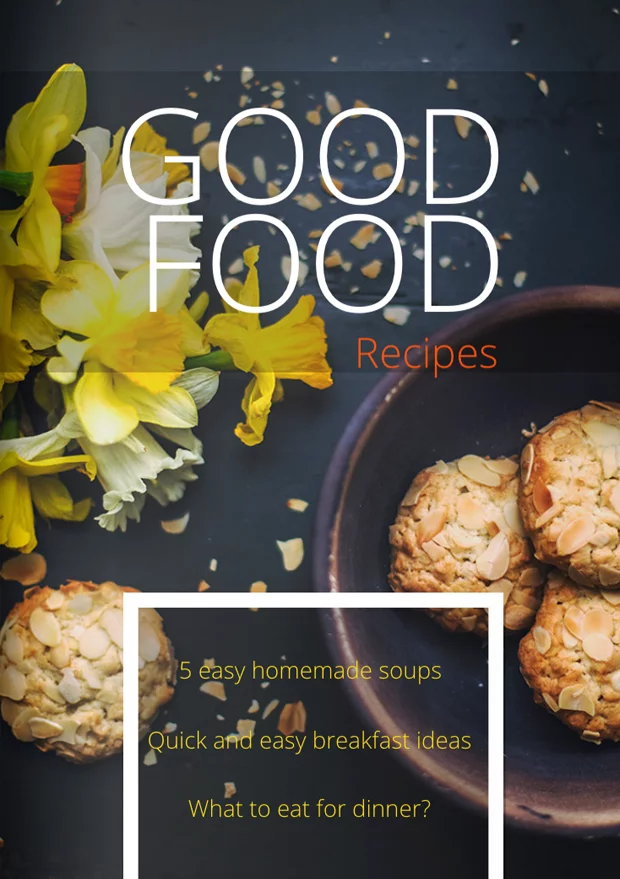 You won't find any better cover for your next cookbook magazine than this one! Let's be real, this mouthwatering cover template featuring almond sprinkle cookies is the perfect touch to grab the attention of any foodie. And the colors are absolutely gorgeous! In addition, the dark blue background along with the yellow daffodils and the light brown cookies make the perfect combination! It doesn't get better than this, seriously.
3. Stunning Wedding Magazine Cover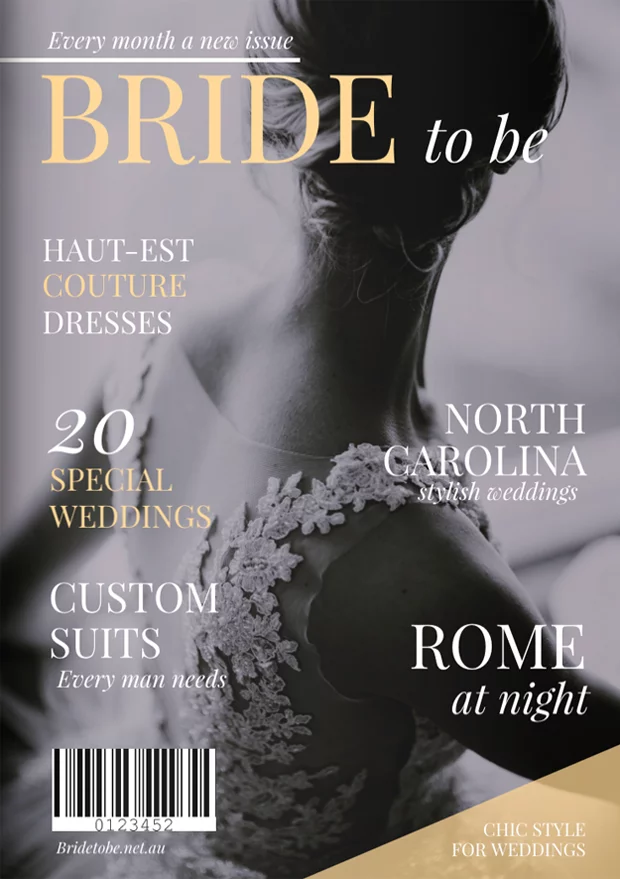 Edit this stunning wedding magazine cover template
This is one of my favorite magazine cover templates ever! And I'm not saying this just because I'm a girl and I'm crazy about wedding dresses and bridal bouquets, but also because this cover looks simple, minimalist and elegant. It features a delicate bride whose dress is simply amazing! And the fact that she's not revealing her face gives a touch of mystery to this cover.
4. Pastel Photography Magazine Cover Template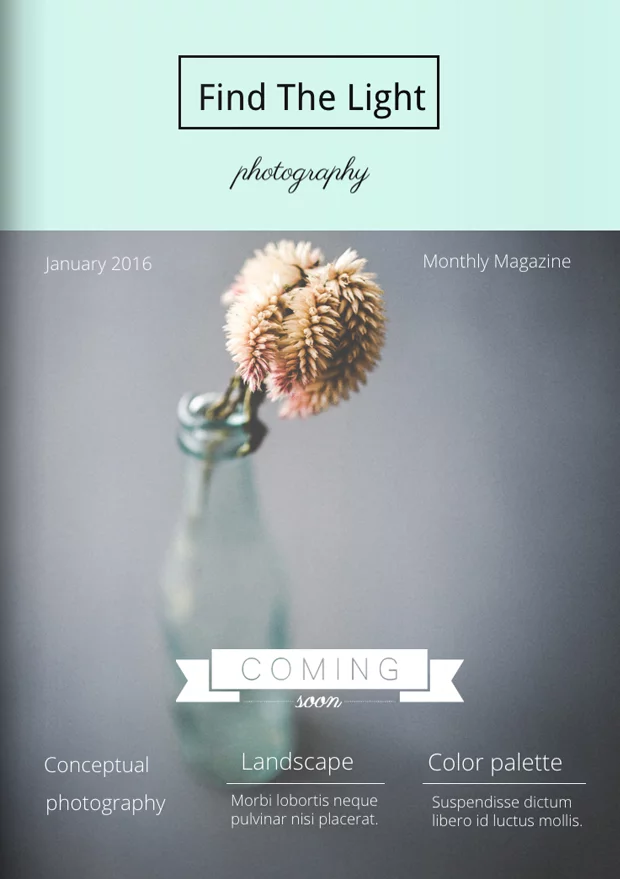 Click here to edit this template
Let's talk about this unique, vibrant and delightful cover! I must admit, this is how a perfect photography magazine cover should look like. It's catchy and marvelous at the same time. This cover features a beige flower in a transparent glass bottle. Seems so simple, yet so extravagant. Use this cover template to have the most exceptional photography magazine ever!
5. Science Magazine Cover Template
Edit this science magazine cover template
What a tremendous science magazine cover template! We bet you've never seen anything better than this! The colors, the fonts, the pictures…everything is perfect. This cover features an image of an active volcano, which explains correctly the true meaning of a science magazine. And the image also gives a hint about some of the topics people are going to find in this magazine.
6. Sports Magazine Cover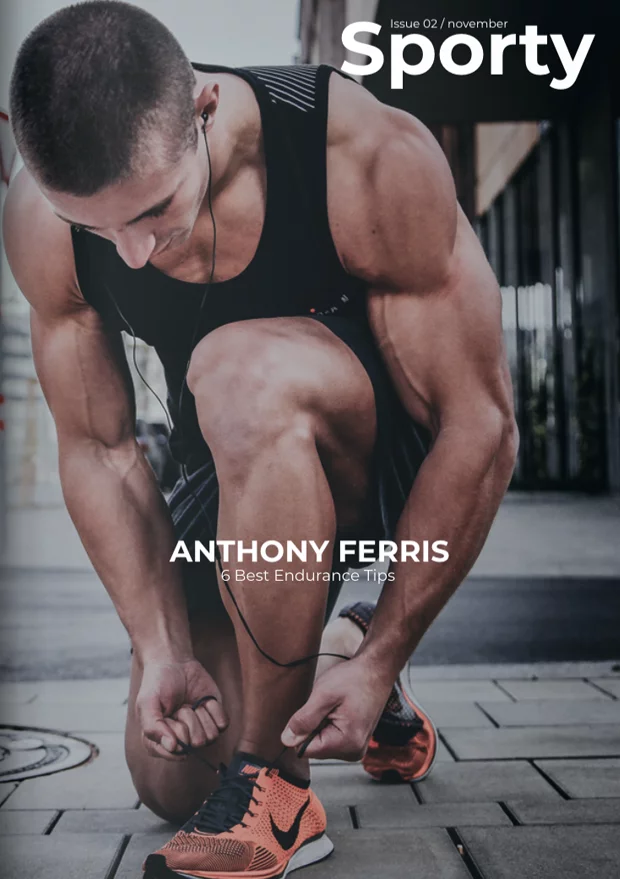 Click here to edit this sports magazine cover template
This sports magazine cover template will make you fall in love with athletics again. Also, it has an eye-catching design and a cool layout that definitely stands out from the crowd. The image with a well-built guy is very representative of a sports magazine. The choice of some Nike trainers gives a plus to this cover because we all know how popular this brand is. It's true, this template just can't get any sportish than this.
7. Movie Magazine Cover Template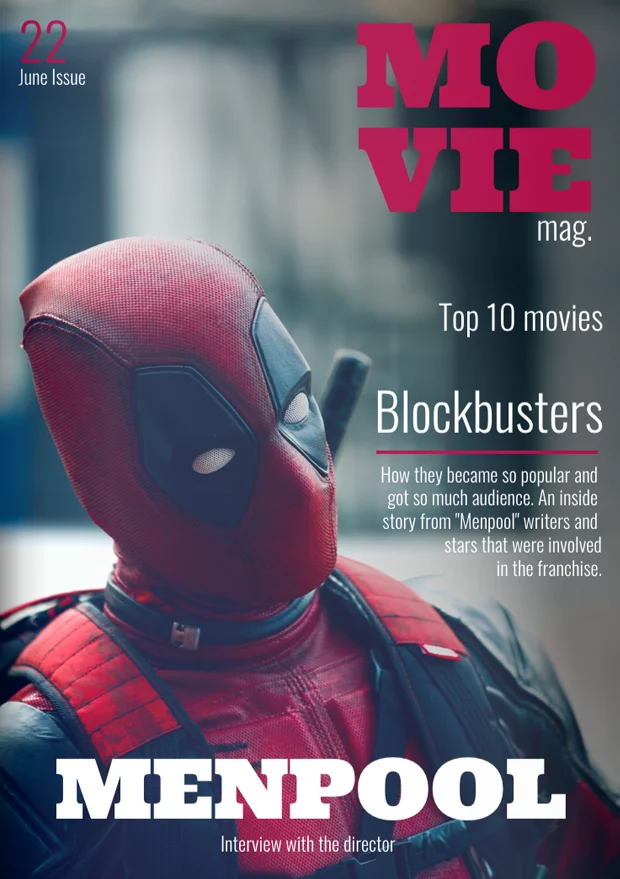 Who doesn't love to read a movie magazine that features a very popular character in a film on its cover? I'm pretty sure there's no one in this world who hadn't seen Deadpool at least once. That's why we believe this cover certainly attracts people's attention. However, it's not only the famous picture but also the fonts and the entire design. Absolutely fabulous! You have to admit, this is one of the best movie magazine cover templates you've ever seen in your life!
8. School & College Magazine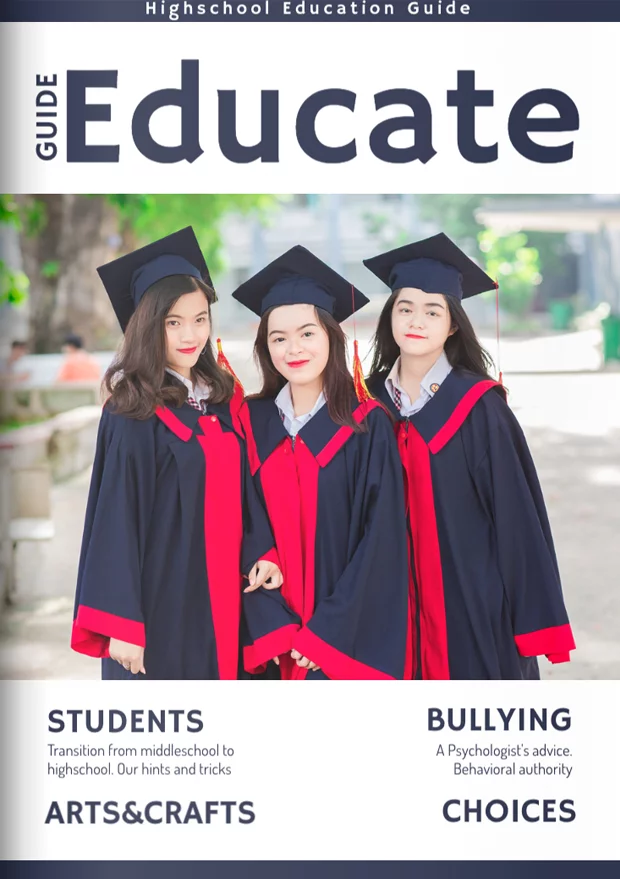 Click here to edit this school & college magazine cover template
High school magazines should be fun and provocative to read, a showcase of students creative work. That is why the cover of such a magazine should be both eye-catching and informative. Like this cover template from Flipsnack! It presents 3 happy high school graduates wearing their uniforms. The colors, the fonts and also the subjects featured on this cover are truly appropriate for a school magazine. Don't you agree with us?
9. Fancy Gardening Magazine Cover Template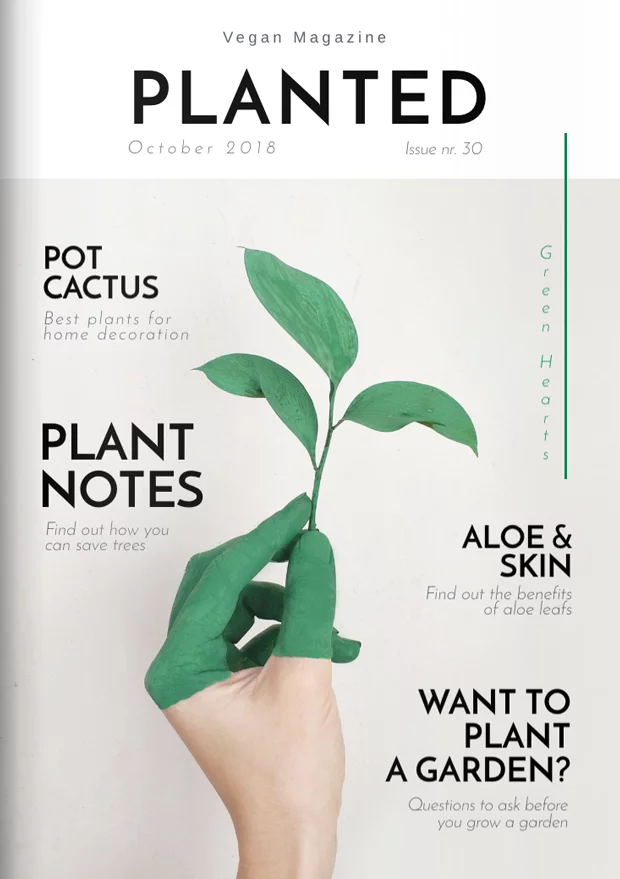 Fresh, modern, simple and minimalistic should describe best a gardening magazine cover. Exactly like this one from Flipsnack! The fresh cover art, the stunning images, and the lovely typography will improve the popularity of the magazine.  Moreover, the choice of the green color for a gardening magazine cover is definitely a must! It gives you a peaceful feeling, doesn't it?
10. Fabulous Fashion Magazine Cover Template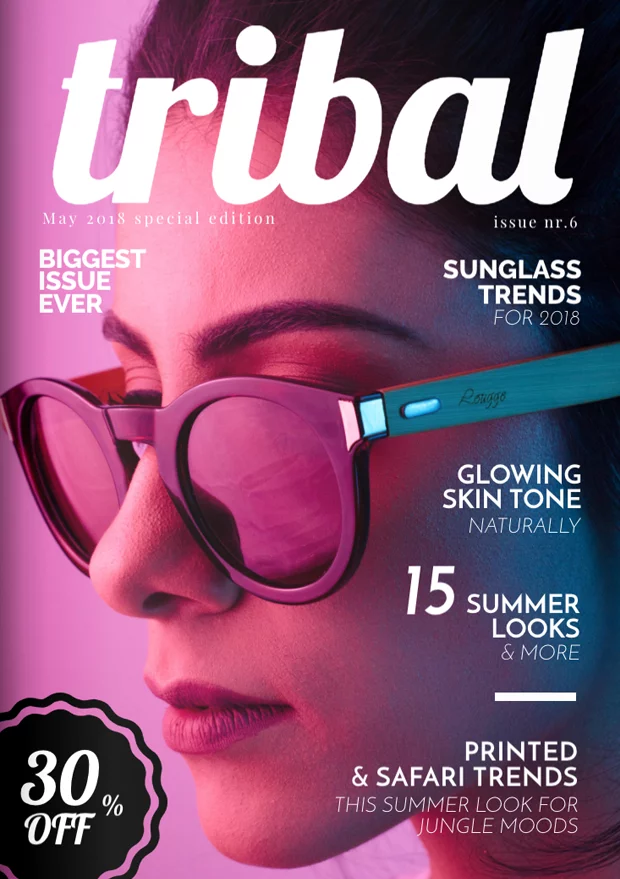 Edit this fabulous fashion magazine cover template
Fashion magazines have to look edgy and modern to become successful. It's no longer enough to have quality content. Same importance has the cover of such a magazine. If the cover design is not modern enough your entire fashion magazine will have to suffer. Luckily, this magazine cover template was created especially for a striking success by our professional designers. The cover features a woman wearing a modern pair of sunglasses. It's definitely stylish and it also gives a hint about the topics presented in the magazine.
Finally, we really hope you'll find inspiring and fascinating all these 10 magazine cover templates presented above. Choose your favorite and start designing now! If you're interested in knowing more about how to make the best magazine cover ever, you should check this article out. It's really useful and easy to read. Creating a magazine or customizing your flipbook cover has never been easier! With Flipsnack!