30+ fully editable magazine layouts to help you out of a creative rut
Magazines. They represent a nostalgic feeling from back in the day. When we would pick up a magazine and flip through it to read about the latest trends, hot gossip, lifestyle and romantic advice. But these magazines, regardless of the chosen topic or layout, have evolved a lot in the past few decades. It's time we progress with them.
When we talk about digital magazine layouts, specifically, there are a lot of aspects to consider. In this article, we'll take a look at some great examples of magazine layouts, and listing different industry templates. They're fully customizable, while giving you a great starting point.

Sit tight while I walk you through how you can pay more attention to your designs, without spending hours on end rethinking everything. Taking shortcuts isn't a bad thing in this scenario, so apply the tips and tricks presented.
How do you make a good magazine layout?
When we use the term magazine layout, we talk about creating a balanced relationship between text, images, and white space. If you add a simplified viewing direction flow to this idea, you discover the key to achieving a good magazine layout. Through fascinating and professional magazine page design, you can effortlessly develop a connection with readers.
Tips and tricks on what makes a good magazine design
This brings us to the first tip, which talks about how you can master this balance for future magazine issues.
1. Strive for a healthy design balance
When constructing a magazine layout, you'll want to achieve a good balance of white space, photographs, and text. A useful method is to opt for an image with a lot of "empty" or "white" space; space around the topic provides the same goal as white space. Keep in mind that the layout, main image and headline of a magazine is what engages the reader to spend time on a spread. Take a look at the example below to see what this tip looks like when applied to a spread.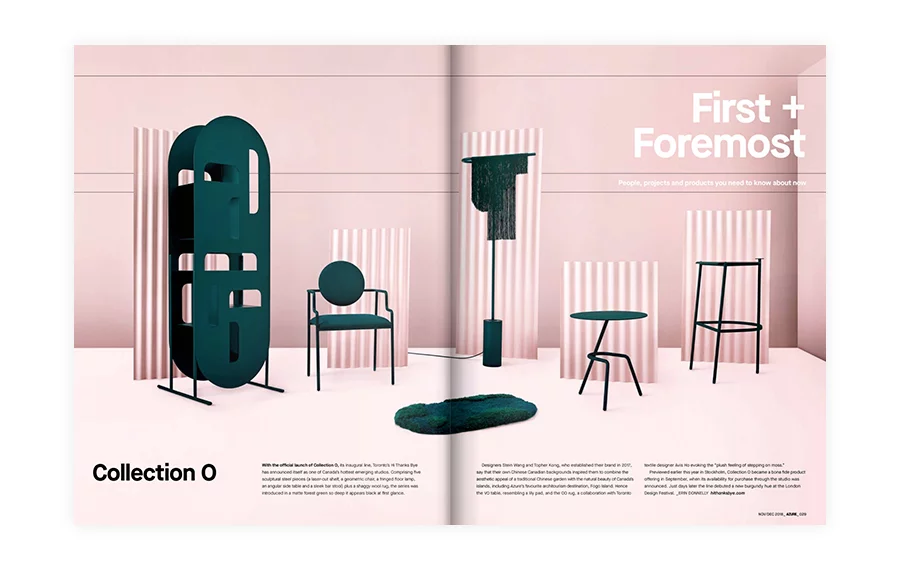 2. Pay attention to visual hierarchy
Figuring out your visual hierarchy starts with the primary focus of your magazine. Once you have a clear idea of what you want to emphasize (text or visuals), you should enlarge exactly those elements.
Visual hierarchy plays a key role in your design, allowing your readers to focus on subjects that matters most. Use size and scale to help the most important information stand out and contrasting colors to get your reader's attention.

Dora Pal, Graphic Designer @ Flipsnack
3. Add interactions
In the case of a digital magazine, you can tweak and work on more details than with a printed copy. For example, you can use interactivity in your magazine layout design to increase engagement with your readers. From videos to links and photo slideshows, you can maximize their experience while increasing reading time. Check that out in the statistics section of Flipsnack, and make sure you take advantage of every opportunity to speak your readers' preferred language.
4. Embrace bold magazine covers
There are necessary elements of a magazine cover, such as name, main image, issue and deadline. But there are other tips to apply for covers that help you stand out from the competition. Illustrations are one of them, which make you different and unique. For best results, combine illustrations with photos for your cover, and help complement the other elements.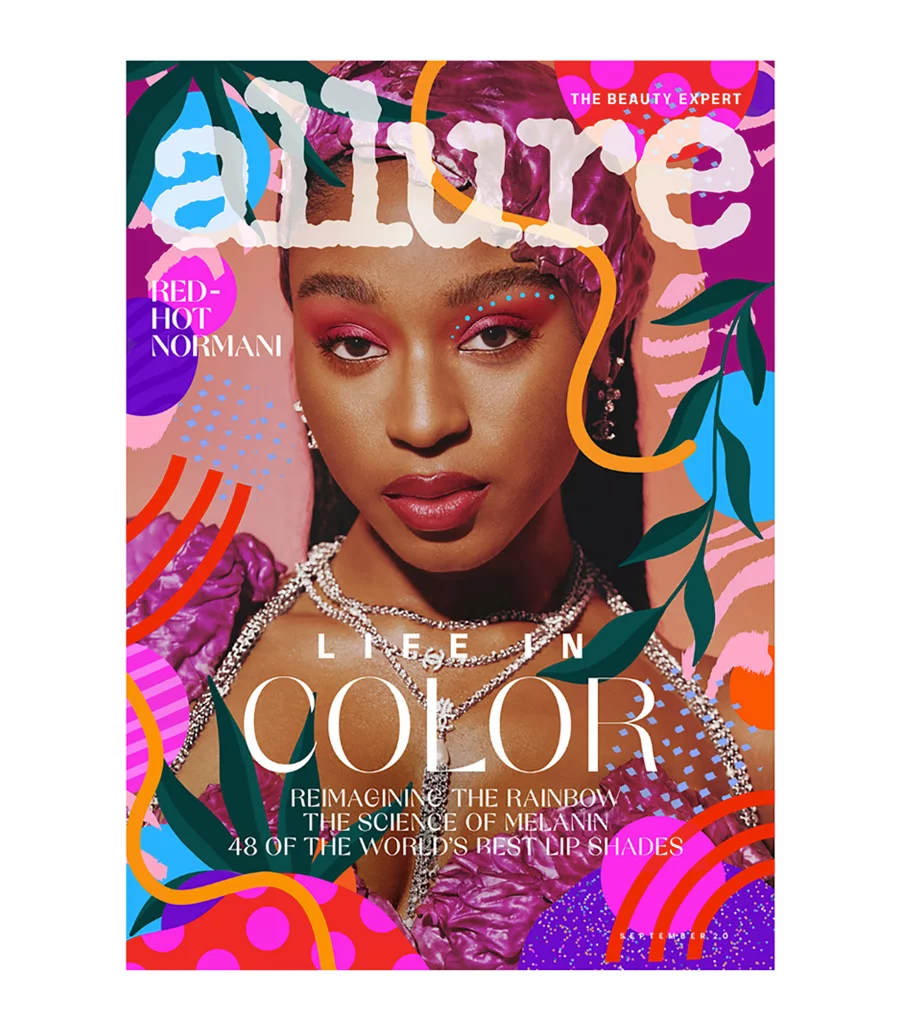 5. Plan out the contents page
Since no one wants to read lines with long text and no visuals, focus on catching attention without being misleading. Use gradient if it works well with your magazine style. It's a great way to draw attention to that spread. Another idea would be to feature a beautiful image on either side of the magazine to give a preview of that month's focus. And of course, you can't go wrong with columns, which makes everything very well-organized.
6. Use the right fonts
Each one of the big famous magazines have this in common: a unique font fairing. You might be so focused on choosing the right visuals, all the catchy subjects, that you forget about the magazine fonts. They, too, play a role in your magazine's personality so make sure to get educated on this topic before making this decision. Show your readers how intentional you are with every detail.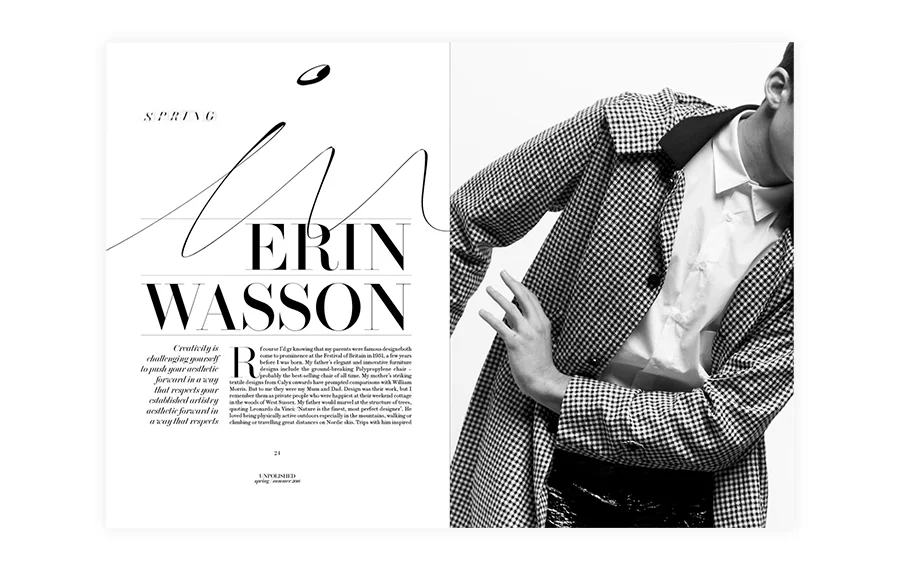 7. With colors, less is more
This is a good rule of thumb that applies to the whole magazine layout. Even if you go for a bold magazine cover, you should avoid overcrowding the rest of the design. It makes the design more balanced, and the reading experience more pleasant. Since your readers can't focus on many details at once, it's important to keep the color palette pretty simple. You don't want too many colors to distract from the text. Moreover, the images will be easier to combine if the background is more neutral.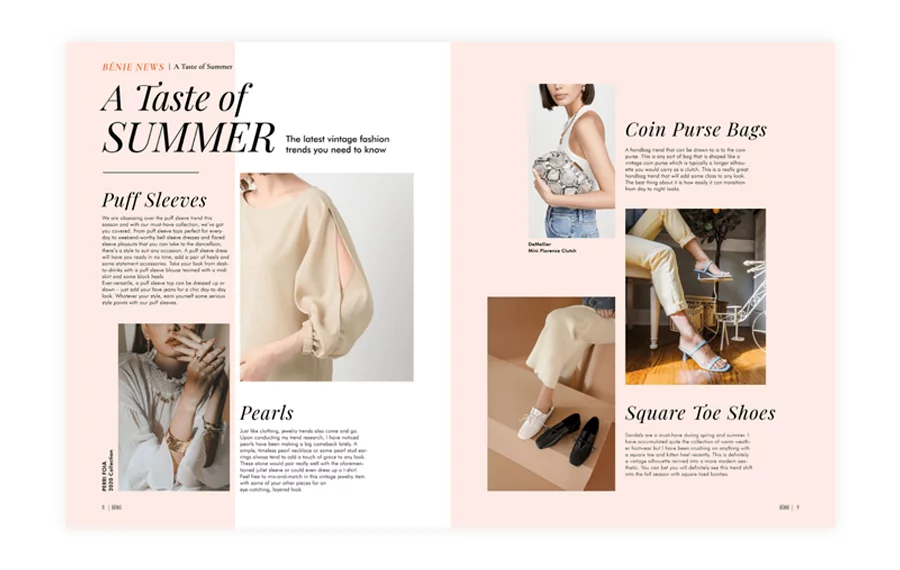 8. Have a constant magazine style
It's easy to fall in the trap of doing it all, especially when you're at the beginning of your magazine publishing journey. But creating or choosing one magazine style and sticking to it is more important than experimenting. You want to reach that point where your audience recognizes your magazine before reading the title. Consistency in style is the key for that goal.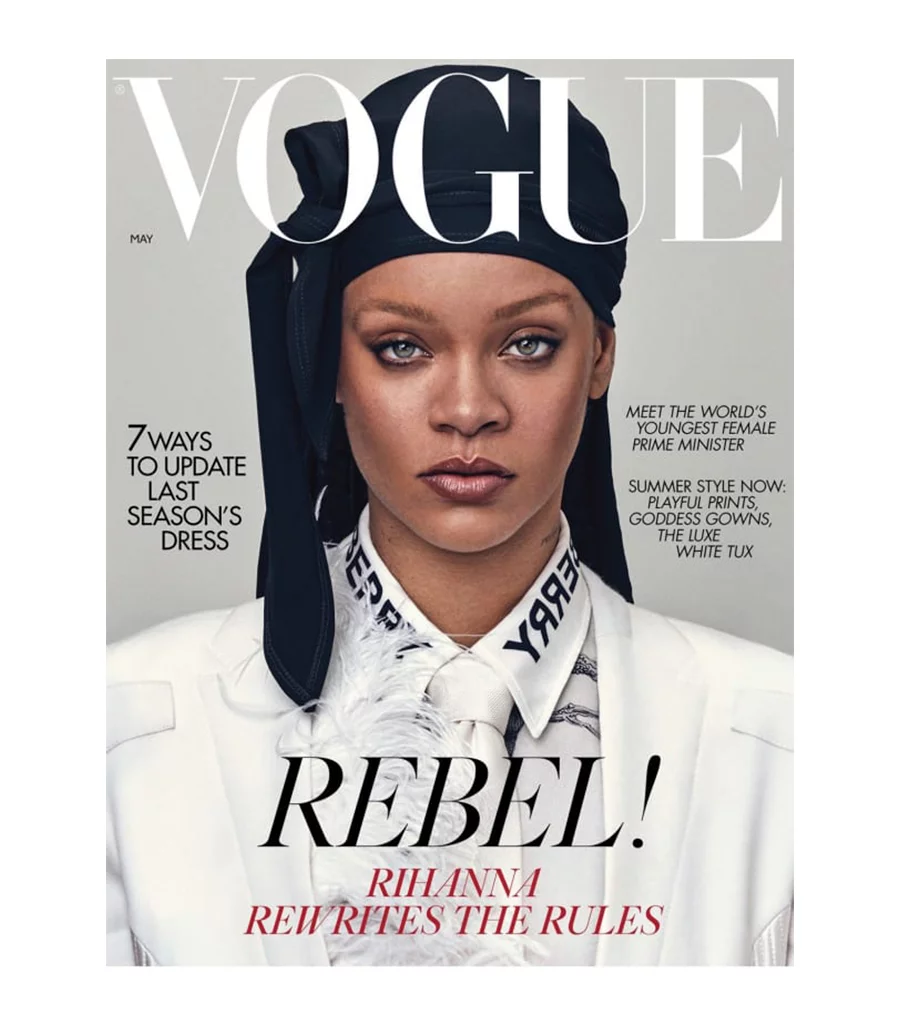 Short on time? Start with these 30+ magazine layout templates
Regardless of your magazine industry and type of audience, you'll find at least one magazine layout template for your specific need. When you're in a creative rut, it's useful to take a step back and look at what other editors and designers are doing.
Business
1. Interactive Business Magazine Template
Starting off on a strong note, we have this interactive business magazine template. Have your brand set the tone and start from your most used color palette to remain consistent with the message. Add go-to-page buttons on the contents page, short GIFs or photo slideshows to save space. We can notice that the magazine layout is clean, with plenty of white space to balance out the pictures and text. Try alternating between a light and dark background to create a pleasant dynamic.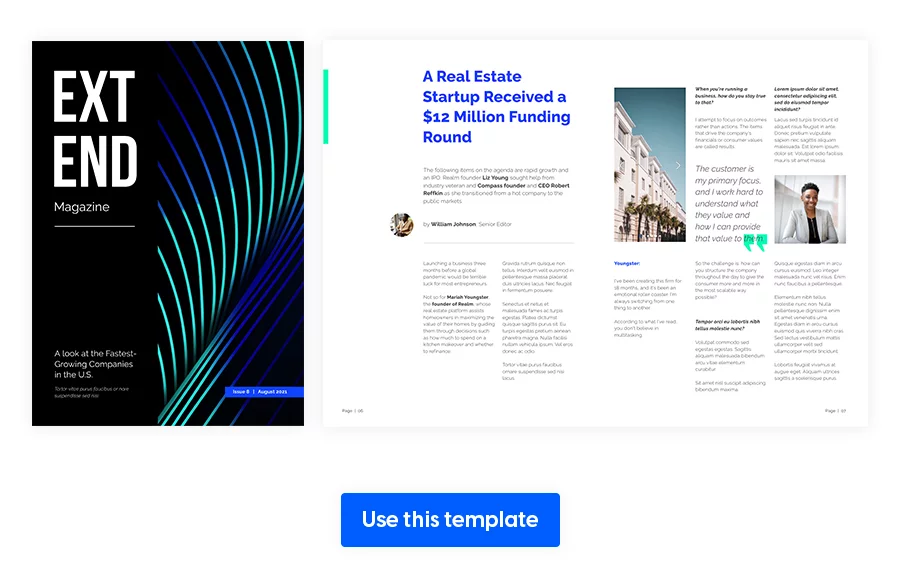 2. Modern Business Magazine Template
It's crucial to plan the viewing direction from the start (usually top left to bottom right) so you don't overcomplicate the flow. The monochromatic design conveys professionalism, while still using minimal color in the content part. You can maintain that white space balance without overdoing it. Leave enough space between the text and pictures to make the layout easier on the eyes. Add more pages rather than cramming all the text from an article into one spread.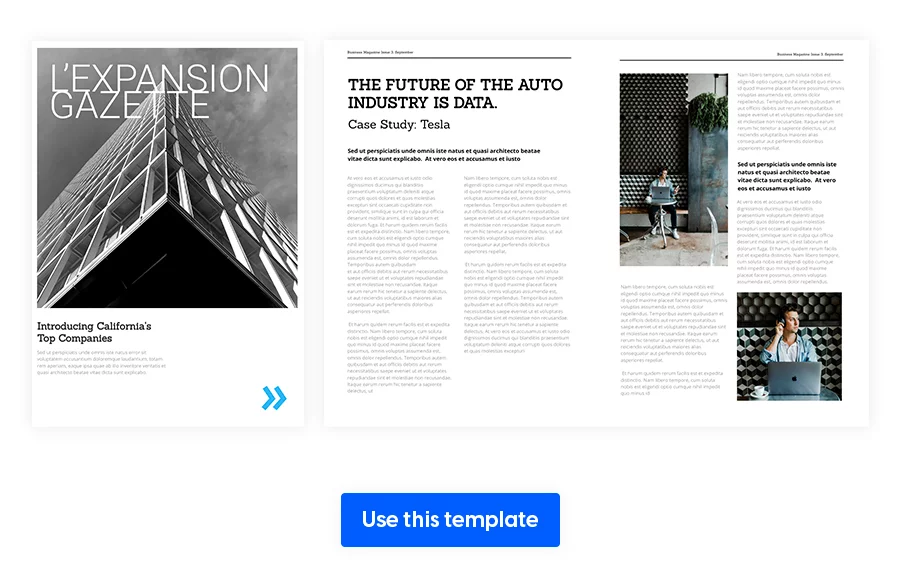 3. Digital Financial Magazine Template
Remember that a good business design starts with a strong brand. This digital financial magazine template shows that you don't always have to include so many visuals in order to attract the reader's attention. Instead, you can play with the text angle, narrow text boxes for some articles. You can play around with any elements you think would go well with the audience in question.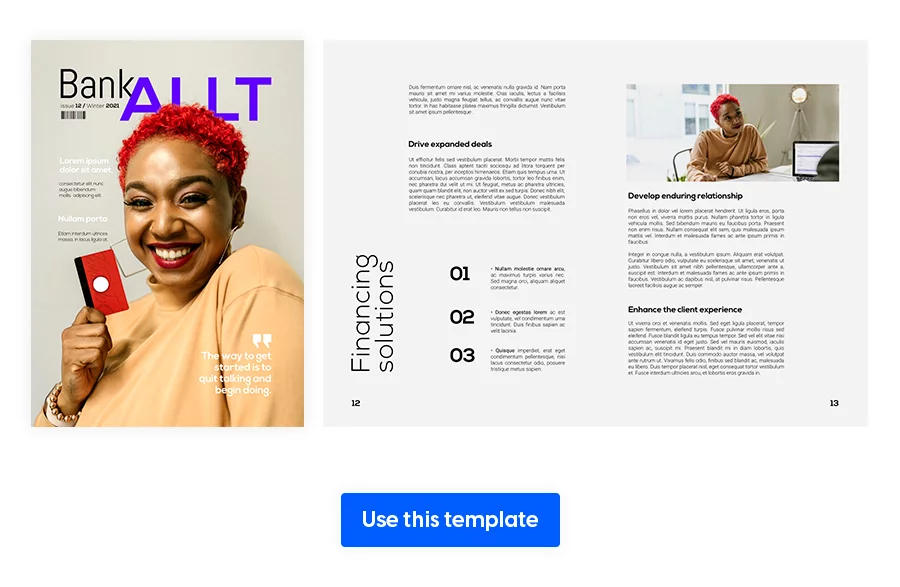 4. Gray Business Magazine Template
Different text angles presented in this gray business magazine template are a fun way to add complexity to your layout. Take one more step in this direction and overlap quotes over pictures to create dimension. Even though this is a monochrome theme, you can sparingly use a pop of color for emphasis. In this template, our graphic designer chose to do that with diagrams, but you can add the color wherever you want.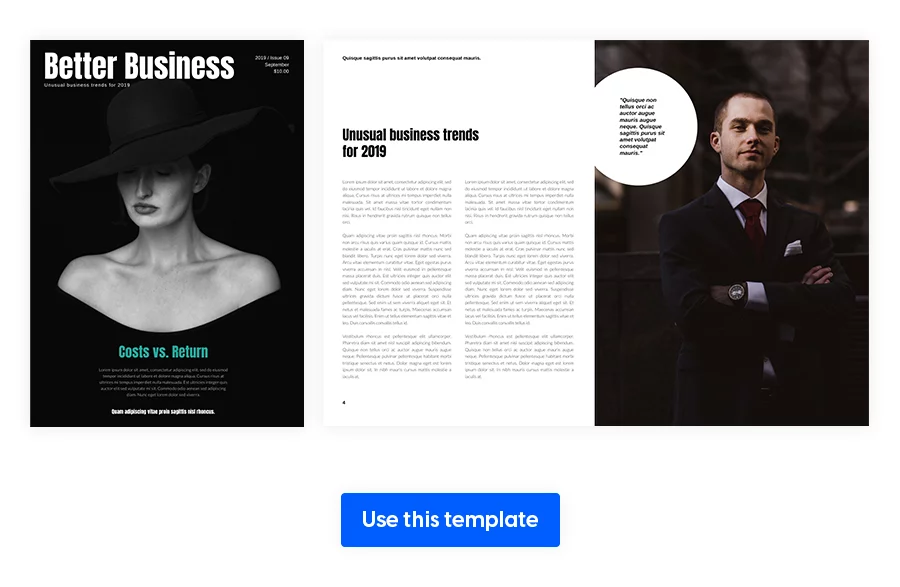 Fashion
5. Interactive Fashion Magazine Template
Fashion magazines are part of a unique category of their own, with so many colorful and bold design possibilities. This is not the place to be reserved, but to experiment with different patterns, spread layouts. However, try to not overdo it, because too many textures and styles result in utter chaos for your audience. Make your magazine cohesive by choosing a base color palette and have it pop out on every two pages, like in our example.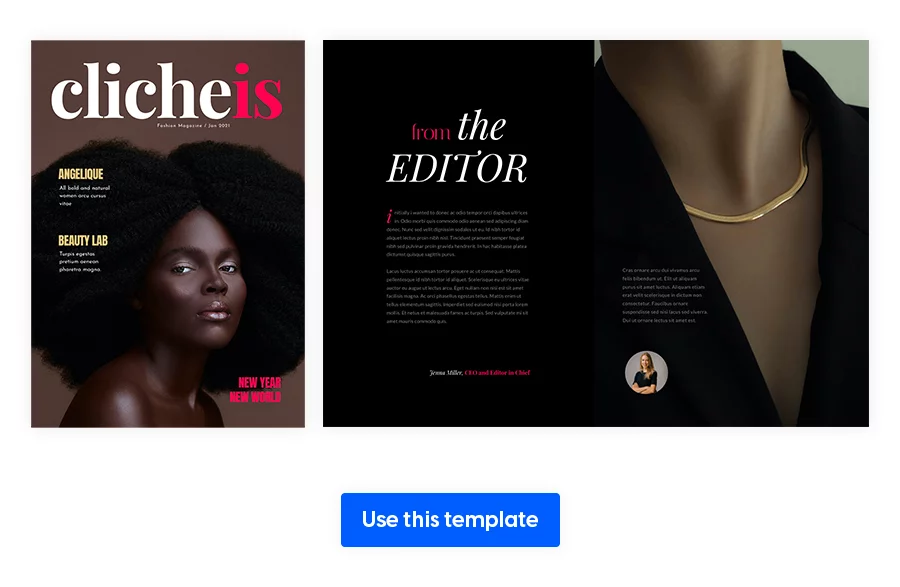 6. Fashion Magazine Design Template
In this next example of a fashion magazine layout, we can notice how well the color palette ties the design. Some shade of pink can be found throughout the magazine, without distracting from the text. That ticks a lot of layout requirements in my book! If you're announcing a new collection, you can try showing the color palette next to a piece. It makes the reader understand the creative process better, and it strengthens the connection between you, the designer and your audience.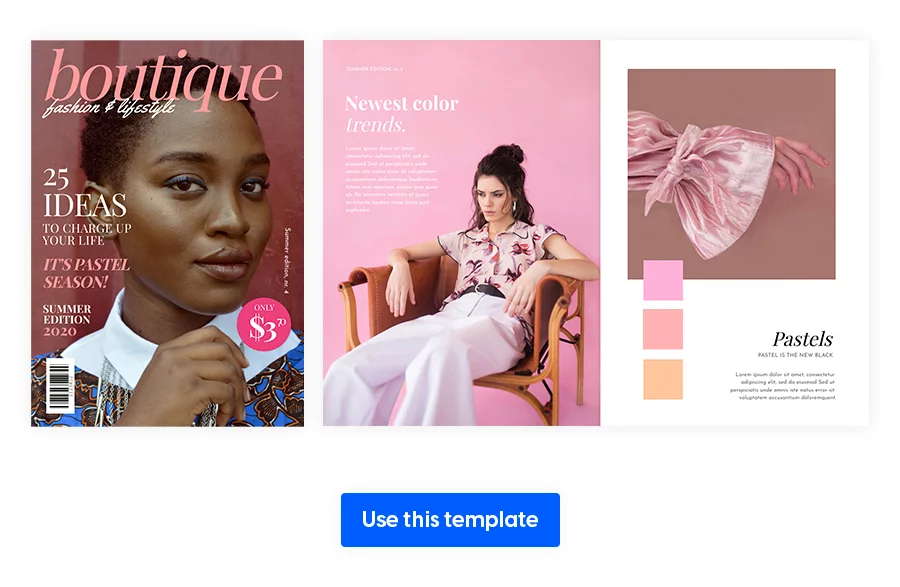 7. Influencer Fashion Magazine Layout
You've probably wondered "How can I make my magazine more attractive?" The answer is interactivity. Upload your pictures, videos, GIFs, and text before making this influencer fashion magazine layout truly your own. Outlining models or featured people is a fun way to add more personality to a fashion magazine. A step forward would be 3D visuals, which are easier to do than you might think. Simply overlap a headline with your model, like in the example below. And bam, you've created that out of the screen effect.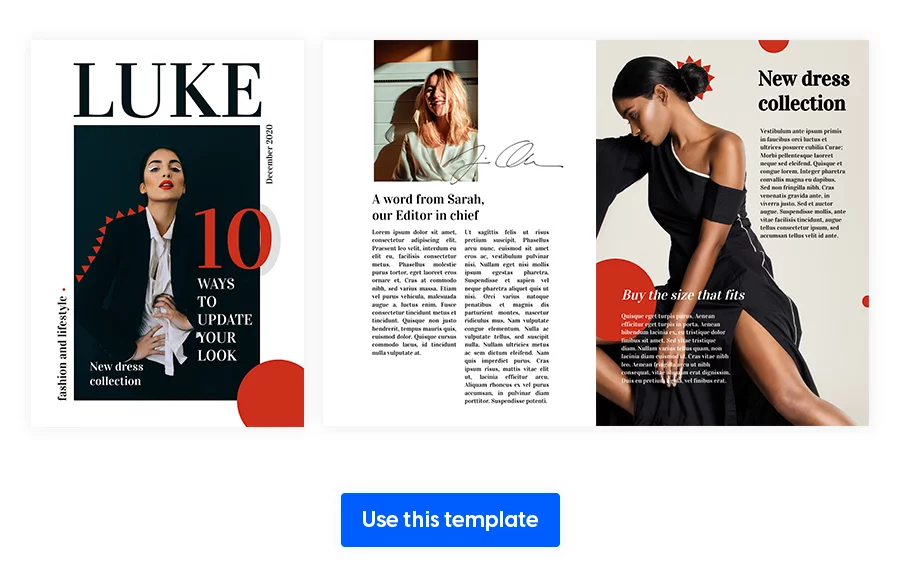 Lifestyle
8. Interactive Lifestyle Magazine Layout
Depending on your magazine manner, you can start using the primary color in your cover. It's a subtle way of offering qualitative design to your readers, without them even noticing. Think in spreads and not pages, to make sure every individual page ties well with what comes before it and after. Always choose the pictures carefully, in order to properly offer a preview of the article before any word has been read.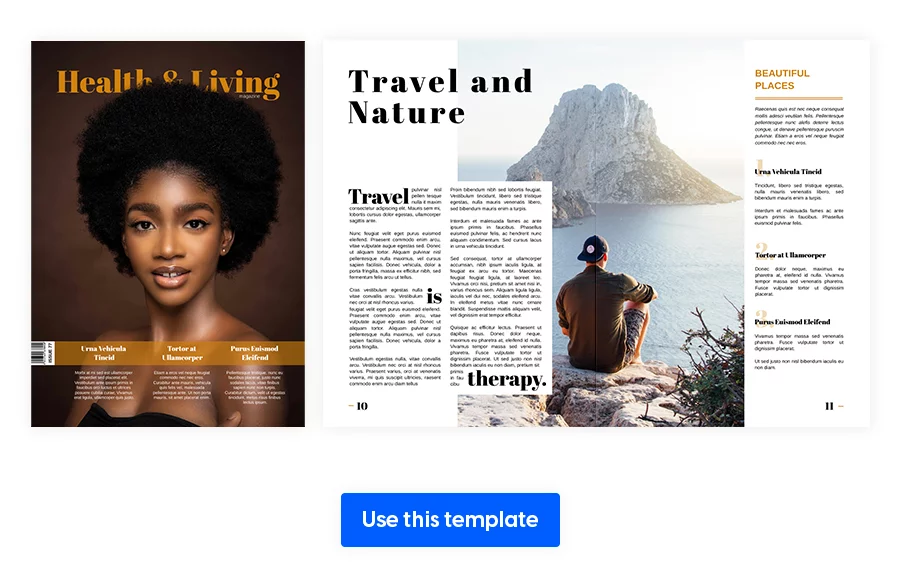 9. Interactive Lifestyle Magazine Template
This next interactive lifestyle magazine template introduces a new type of interactivity: embeds. With Flipsnack's Design Studio, you can embed YouTube videos straight in this magazine. This helps to minimize the external links, which would draw your readers to other pages, creating distractions. Create simple image borders for more elements, providing a different way of presenting visuals.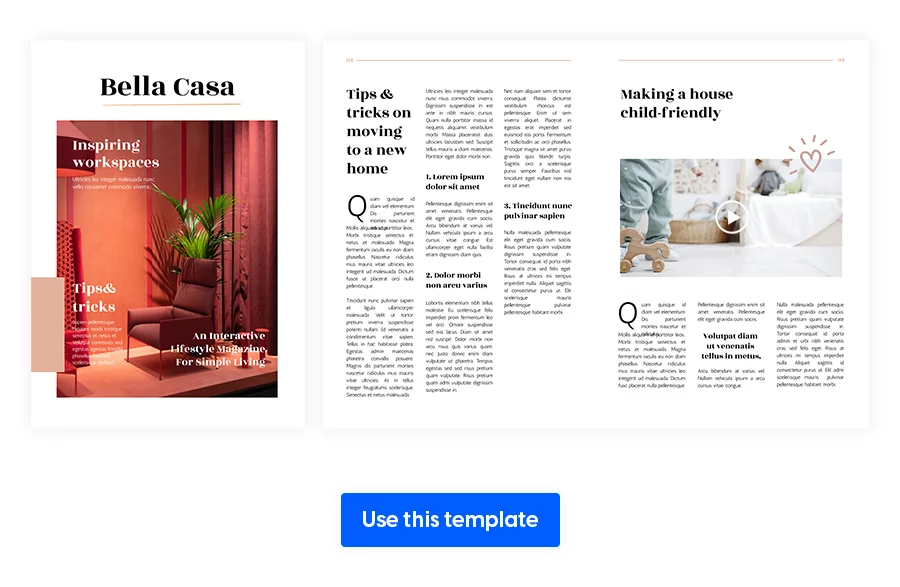 10. Digital Interactive Lifestyle Magazine
Try to create a sketch of your magazine layout before getting into the fine-tuning process. You can do so by writing down the contents page and giving a space ballpark for each article or topic. The interactive elements from this magazine help bring the text to life. So, don't forget about product tags, if you're offering reviews in this digital interactive lifestyle magazine layout.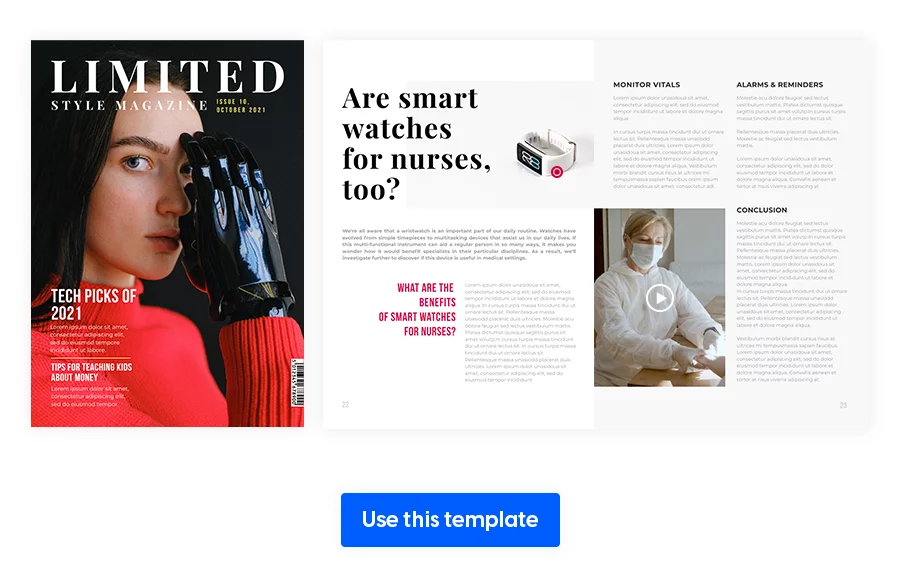 11. Luxury Lifestyle Magazine Template
When we talk about a luxury lifestyle magazine, it's clear that its readers are interested in luxury experiences and services that compliment their lifestyle. Try to meet these standards of your sophisticated consumers by including top-tier destinations, products and cars. However, be consistent with the layout you've created so far, since that's familiar to your audience. Remember to take these magazine templates with a pinch of salt, and avoid adding too many new elements at once.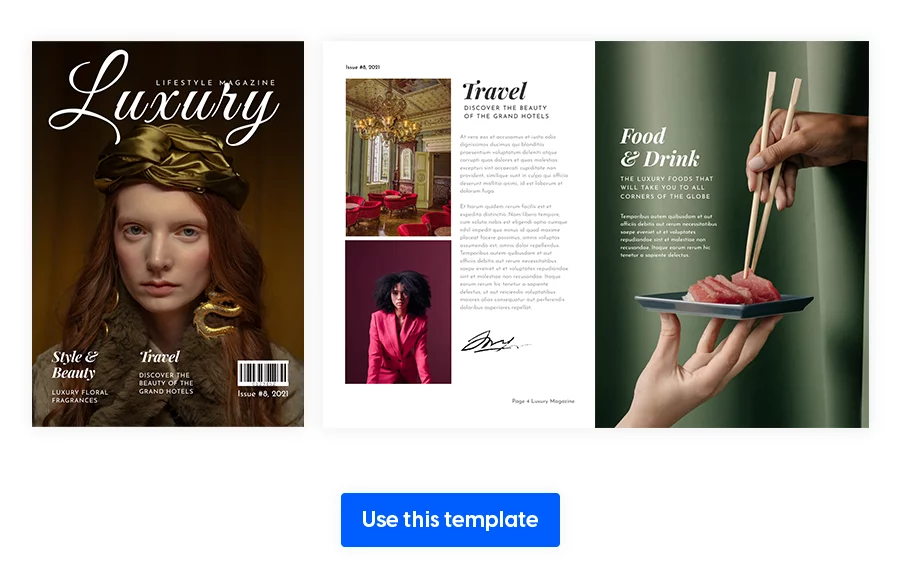 Sports
12. Page-Flipping Interactive Sports Magazine Template
Consider relying more on a visual to convey your message, rather than having a lot of text on every spread. Get creative with the contents page to build anticipation for what's inside the magazine. If your style allows it, you can even use uneven image borders, which are normally used for scrapbooks. The sky's the limit, so don't settle for anything mediocre.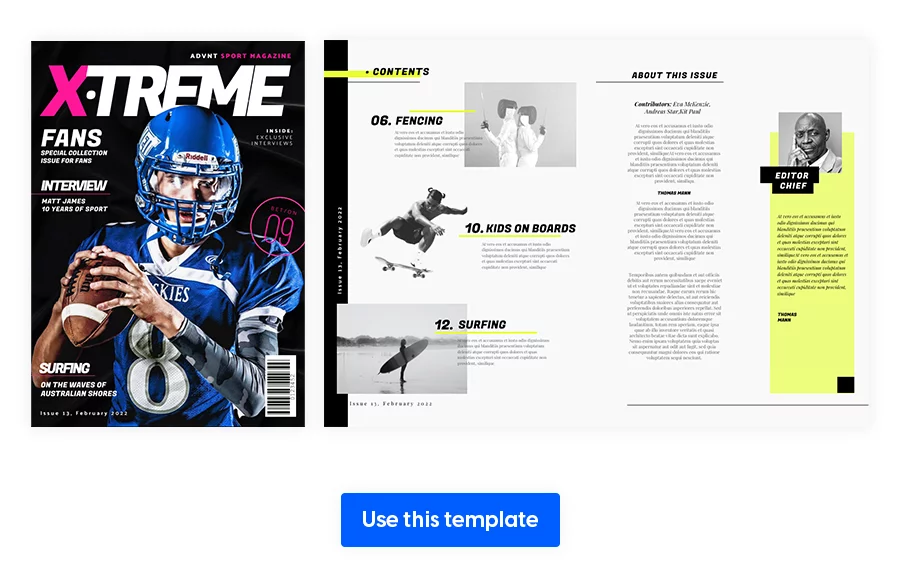 13. Digital Interactive Sports Magazine Layout
To make your magazine easier to flip through, add the essential information in the form of a list. Again, alternating between long-form and short content will have a positive effect on your readers. Even though it's a well known and used technique, you can still drag an image over an entire spread, leaving just a bit of room for the text. Take a look at this digital interactive sports magazine layout to see how these tips are applied.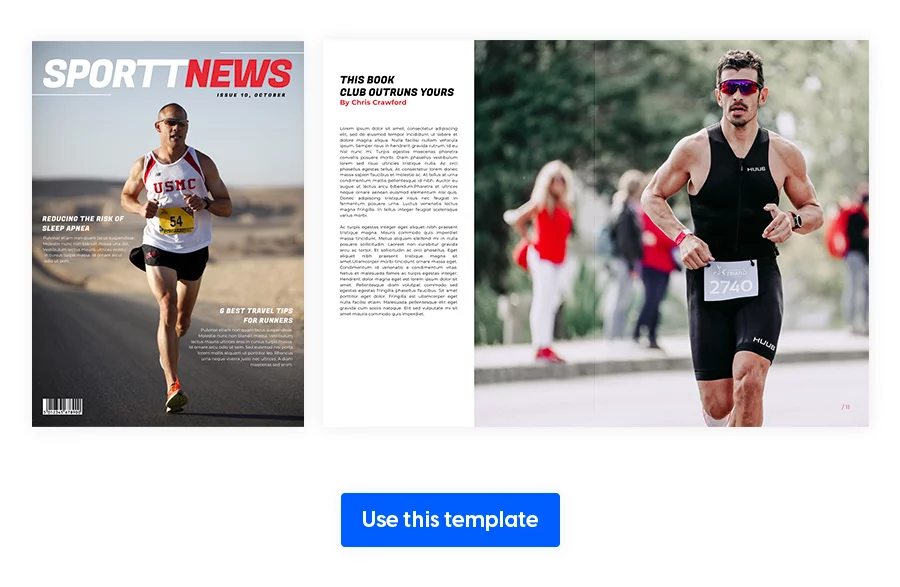 Food
14. Digital Interactive Food Magazine Design
Food. We all love it and love discovering new ways of incorporating it into our diets. Only me? Okay. However, other foodies will agree when I say that the visuals of a food magazine is the most important aspect. It's true that we first eat with our eyes, so invest in high-quality photos, which then you can include in a photo slideshow. Take short videos of a recipe in the making or create GIFs which you can recycle in other issues, as well.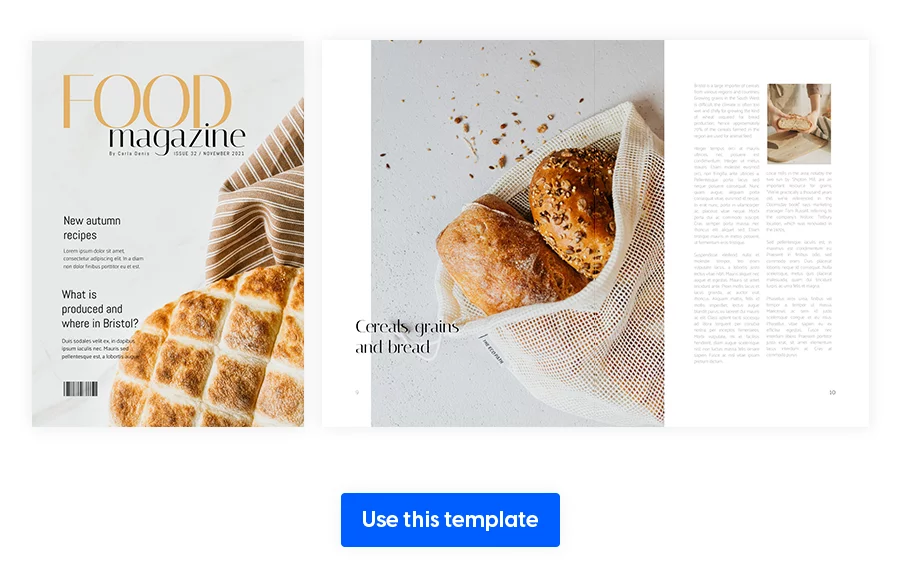 15. Interactive Vegetarian Magazine Template
If the purpose of your interactive vegetarian magazine is to offer delicious recipes for your readers, then this is the perfect place to start. This template shows how easy you can get your point across without having a multitude of elements on each page. By leaving more space at the paper margins, you create a very tidy and eye-pleasing layout. Make sure to include enough pictures of the recipe to make it even more enticing.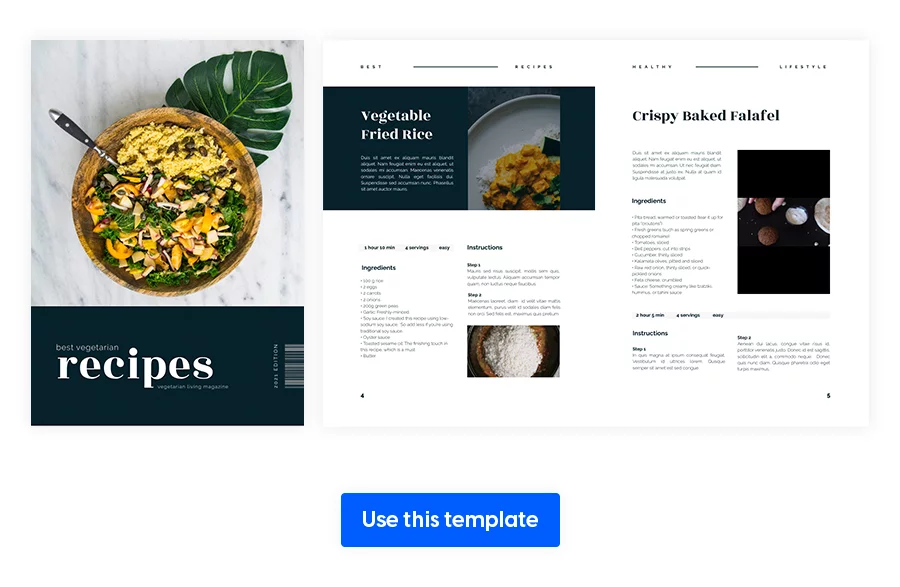 16. Delicious Recipes Magazine Layout
When you're just starting out in this magazine business, it can be intimidating. Don't be afraid to start simple, with this delicious recipes magazine layout and grow from here. It's important to identify the niche you want to include this food magazine in before thinking about specifics. You can even leave out the contents page and just subtly show the number for each recipe in the background.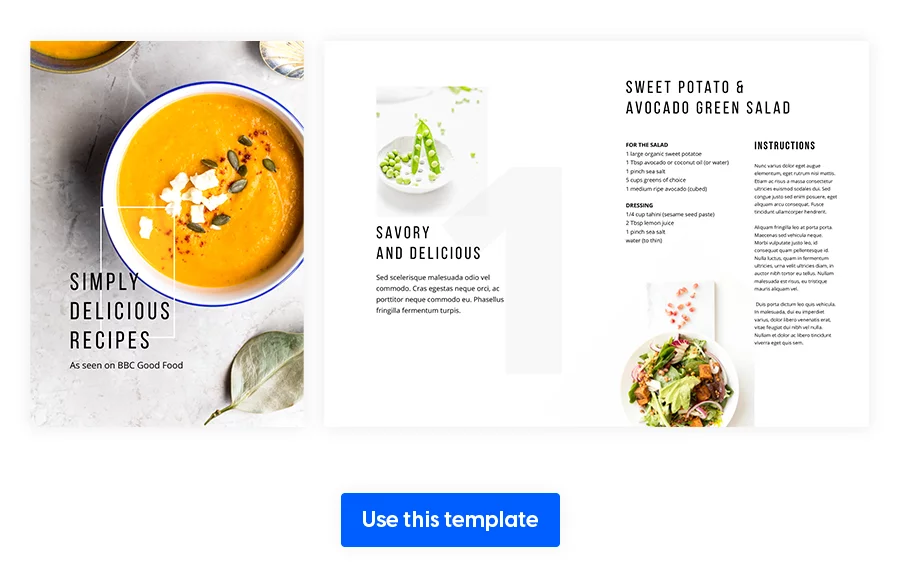 News
17. Interactive News Magazine Template
As a news magazine, it's crucial to inform your readers about all the latest events around the world. But you also need to create a sense of trust with your audience in order to grow it and gain more online visibility. Do this by offering additional information, getting them involved through surveys, focusing on the local angle, and more. Add extra interactivity to encourage them to interact with your magazine, forming an emotional connection.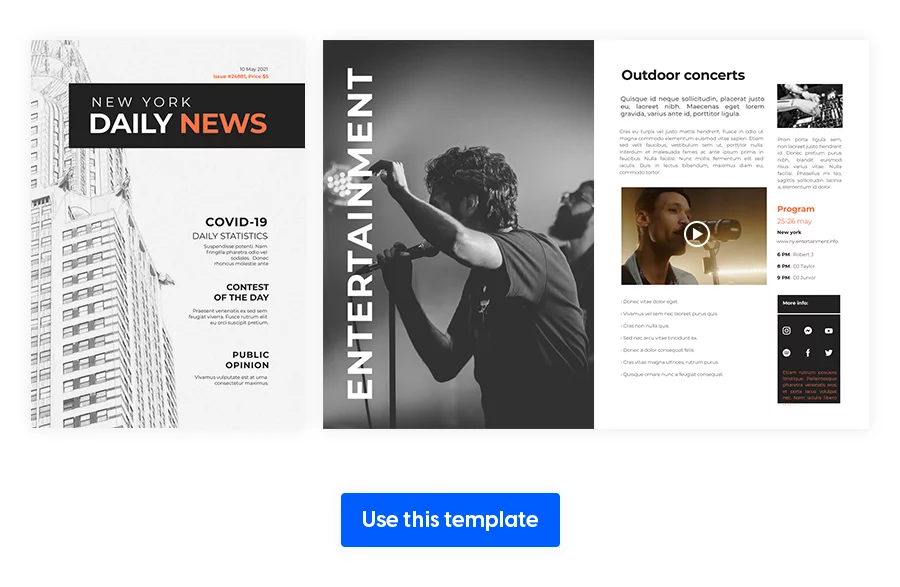 18. News Magazine Design Template
Opt for keeping the magazine relatively short, especially when you also have a news website. You can easily include its link in one of the articles, driving more traffic to your site. Split the paragraphs in little text boxes, with the corresponding subtitle. Alternate between the light and dark background and make sure to preview the magazine before sharing it with your readers. Once you establish the primary topics, it'll be easy to follow the same format for future magazine issues.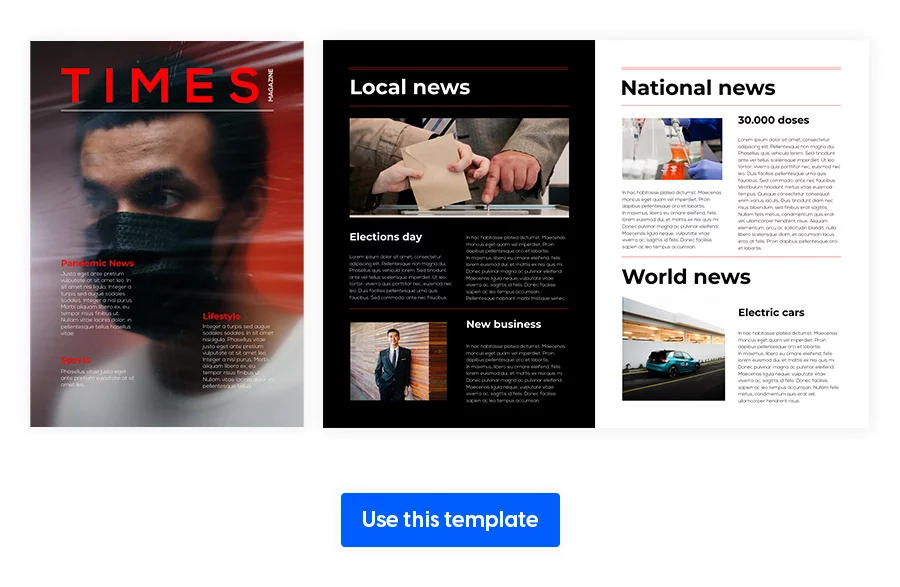 Travel
19. Interactive Destination Travel Magazine
Wondering how to organize a magazine layout for this industry? One of the many design challenges is finding the right destination pictures, so that their color doesn't clash with the other spreads. Once you finish with that part, the text will be easy to fit alongside the images. I found that inspiration hits when the visuals are picked out, because you don't have to imagine what text angles to use or where to place it. The pictures are right in front of you.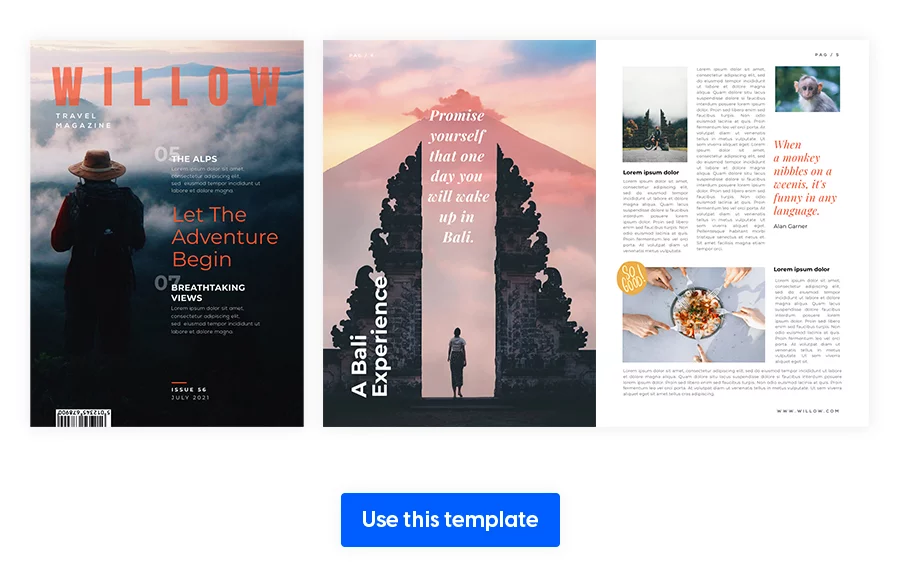 20. Modern Travel Magazine Design
Another great twist you can give to your travel magazine is to show the travel pictures using the bird's eye view. This will offer a fresh perspective, almost instantly capturing the reader's attention. Aerial photography is quite the trend since it absorbs the viewer into whatever destination you chose to feature.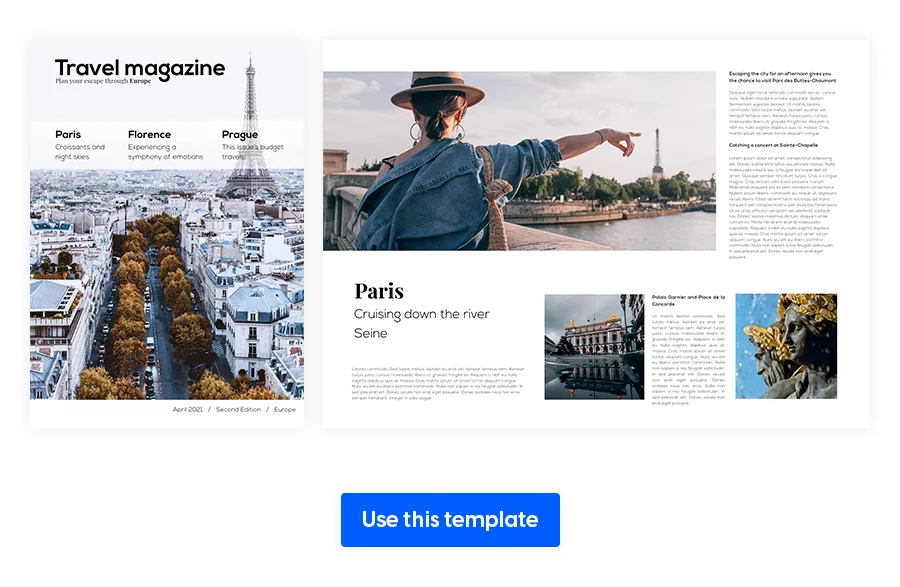 21. Travel Destination Magazine Template
For the sake of keeping everything short and sweet, you can try presenting multiple travel destinations on a single spread. Use photo slideshows to truly sell a specific trip by creating this anticipation. You can even experiment with different housing layouts, to offer your clients a better perspective on what to expect when renting out an apartment for their holiday. Use photo slideshows to include more pictures or even a 3D virtual tour, if possible.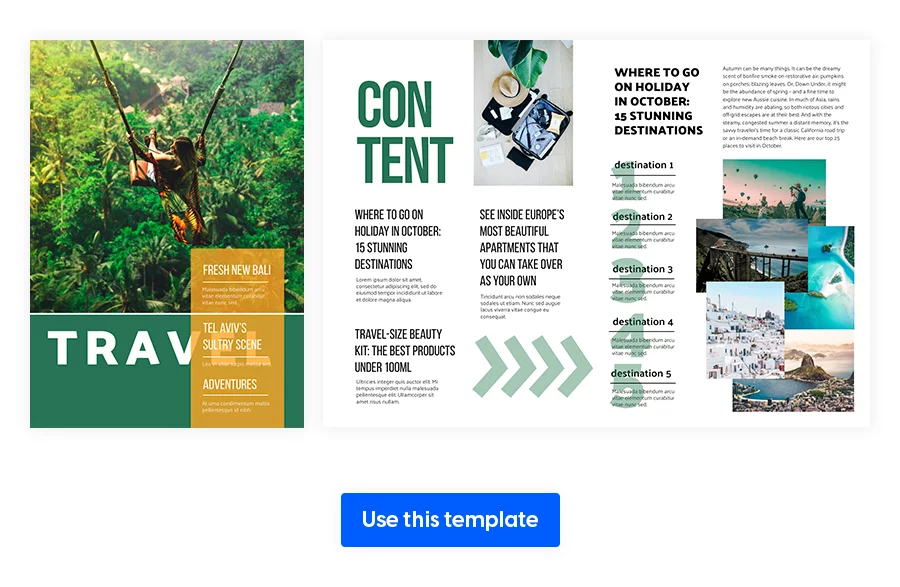 Tech
22. Interactive Technology Magazine Template
A good tech magazine layout relies on the bright, colorful visuals to attract the reader's attention. More than that, an expert's opinion or product recommendation weighs a lot more than just the writer in charge of an article of this type. These certified opinions help grow your authority on a certain tech subject. Include interactivity such as short videos or GIFs of a product, or a shopping area. This allows your readers to create a shopping list directly in your catalog, which they later send to you via email.
23. Modern Tech Magazine Template
The great news about every type of magazine presented in this article is that you can define for yourself what "modern" or "creative" means. And work towards that personal vision that you have for your magazine. This modern tech magazine template is just an example of what it can be, but the sky is truly the limit. Pick a bigger font size for the contents page to really emphasize the primary topics and create an imaginary white border for every spread.
24. Digital Technology Magazine Layout
At a first glance, we notice the balance between the amount of text per page and how much the visual takes up. You can make as much or as little space of either of these elements as you want. Make sure you decide what's the focus point on each spread so it doesn't get confusing for the reader.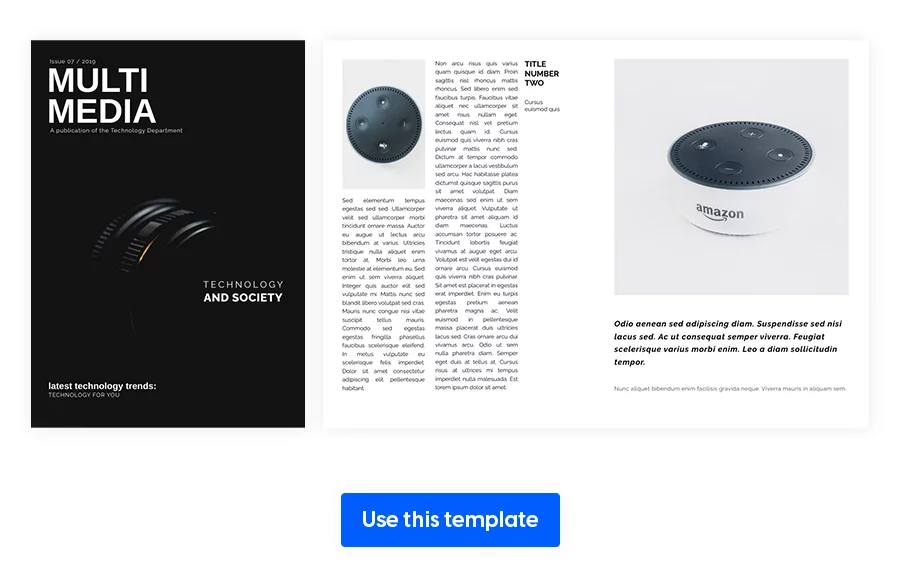 Arts and culture
25. Graphic Design Magazine Template
The amount of creativity and attention to detail that goes into a graphic design magazine is very impressive. Here, the focus switches from text to the appealing visuals, as we can see from the cover. Feature art exhibits, book reviews, and give shout outs to upcoming artists to help them get more recognition. Do this with high-quality pictures, with bigger sizes that your normal magazines would use.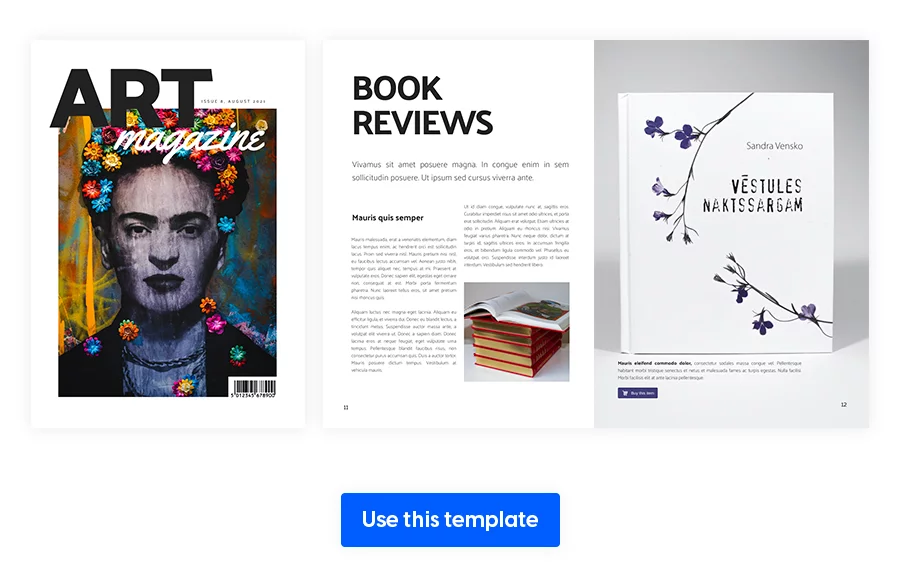 26. Cinematic Magazine Template
In the case of a cinematic magazine template, the subtle details from this domain are beautifully portrayed. From the roll of film on the cover to the full opacity layers spread across the articles, we can see a minimalist design, and yet quite impactful. Play around with incomplete borders to create some order on the page, making the design cleaner.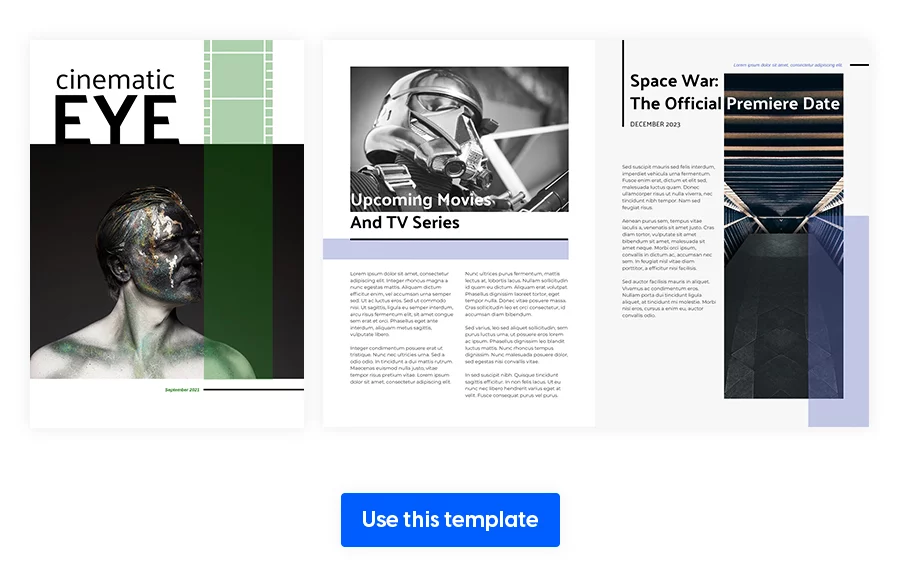 27. Creative Design Magazine Template
This is how your creative design magazine can look if you take it to the next level. Full of interactions like GIFs, stickers, photo slideshows, and delightful visuals. The way we see some text getting out of the frame adds dimension to your magazine layout. The pieces of art that you choose to feature in your magazine will contribute to the colorful design, so make sure you pair them accordingly.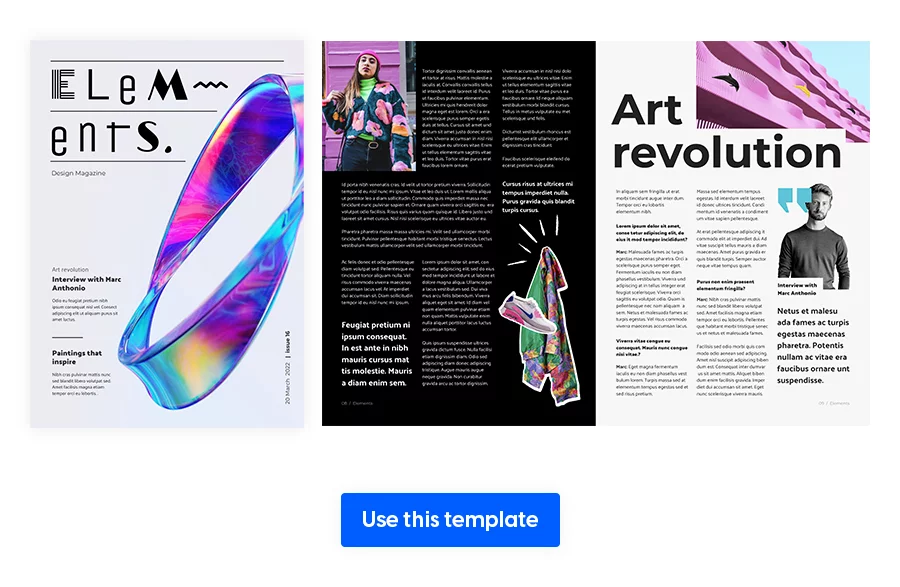 Science
28. Science Magazine Design Template
When planning out your science magazine, you should take into account the following aspects. Carefully choose the pictures related to an article, thinking that your audience might have different expertise levels. It's much easier to understand what a topic is about if accompanied by a relevant visual, even though you don't know the scientific terms used. Try wrapping the text around the images, to create a more cohesive design, and to have them blend together.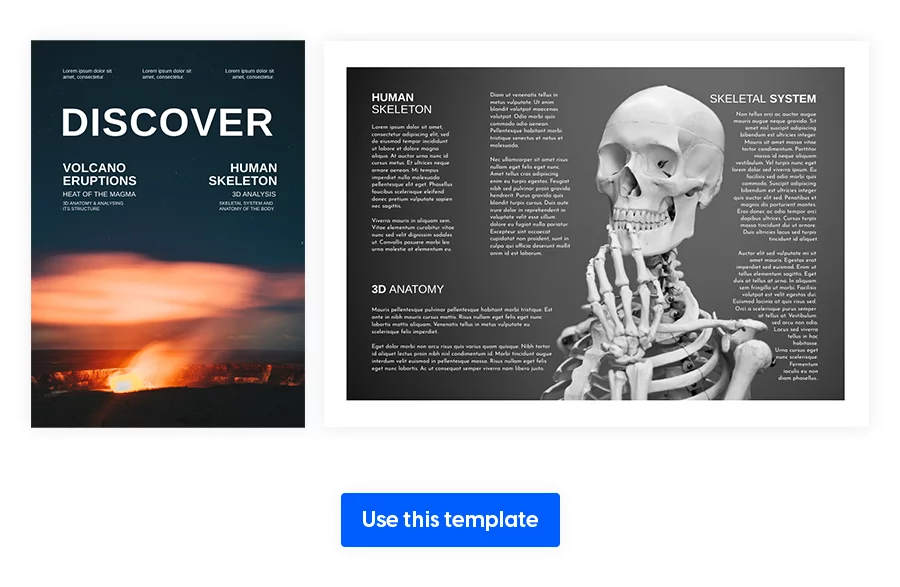 29. Professional Science Magazine Layout
Taking a look at the cover of this professional science magazine layout, we can tell it hints at a science-based type of content. Depending on the articles chosen for that month, you can easily create a connection between them through visuals. Follow the same color palette with every background picture and alternate between covering the whole spread, or just a smaller part. This design trick makes the whole content easier on the reader's eyes.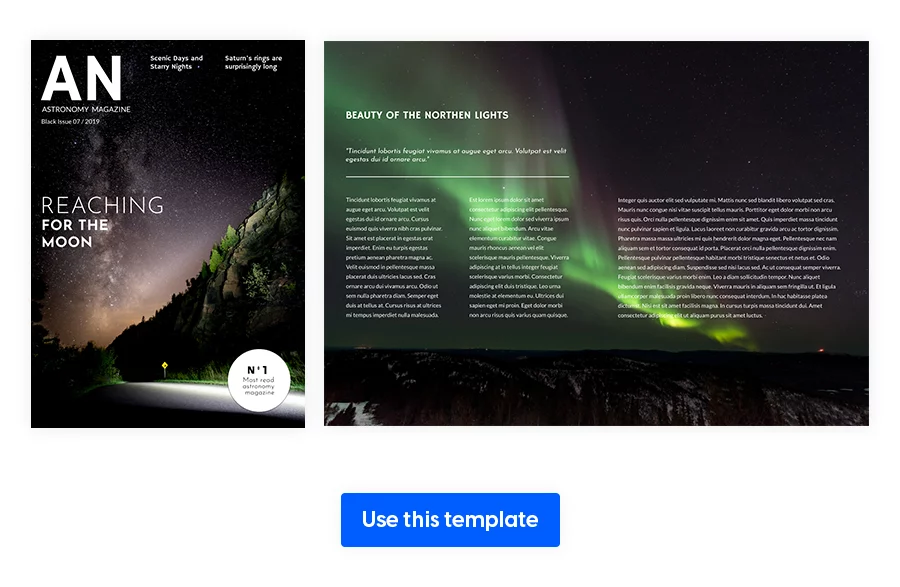 30. Colorful Science Magazine Template
Perhaps your science magazine is for the younger generation, with their bright minds and fresh perspectives. Then, this colorful science magazine template is the perfect pick, and a great inspiration for creating your own issues. Attract new readers by including fun science quizzes, unusual facts or even a poll, to better interact with your audience's interests. Put your visuals next to each other, to figure out if they go together or if something sticks out in a bad way.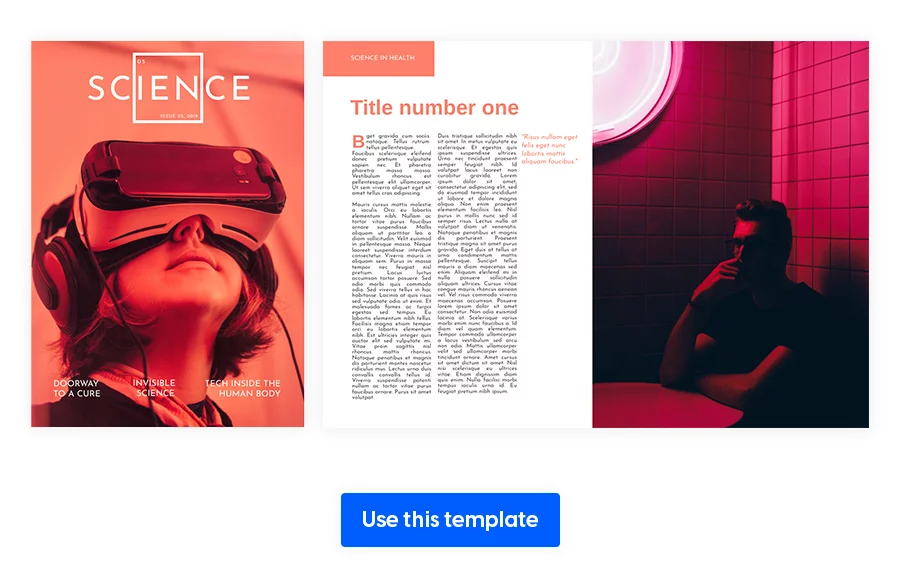 School
31. Modern School Magazine Template
A great tip for improving your school magazine layout and overall design is to include specific details for each category. For example, an art class article can benefit from a brush stroke in the headline, like in this template. Or information about global learning courses can have multiple pictures from those group activities in a photo slideshow. Try to include short interviews, as well, to make more students interested in reading the monthly issue.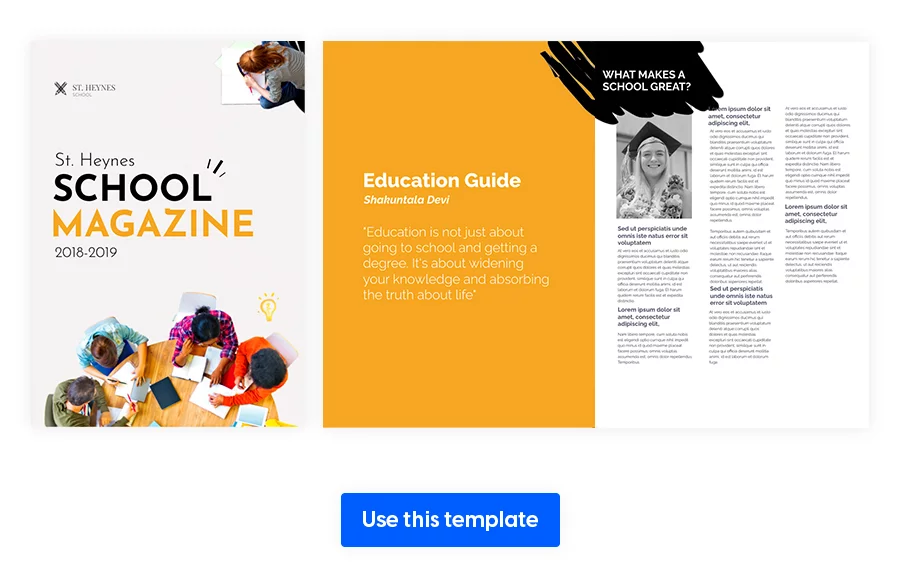 32. Creative College Magazine Template
In the case of a more content-focused school magazine, you can still aim to balance the text-visual ratio. Use real pictures of your students, whenever possible, which help to improve the magazine's reading time. Remember not to overcrowd a spread with text, but rather add a few more pages to help readability. And ultimately, always try to outbest your last issue, by checking magazine statistics and see what type of interactions you can add more of.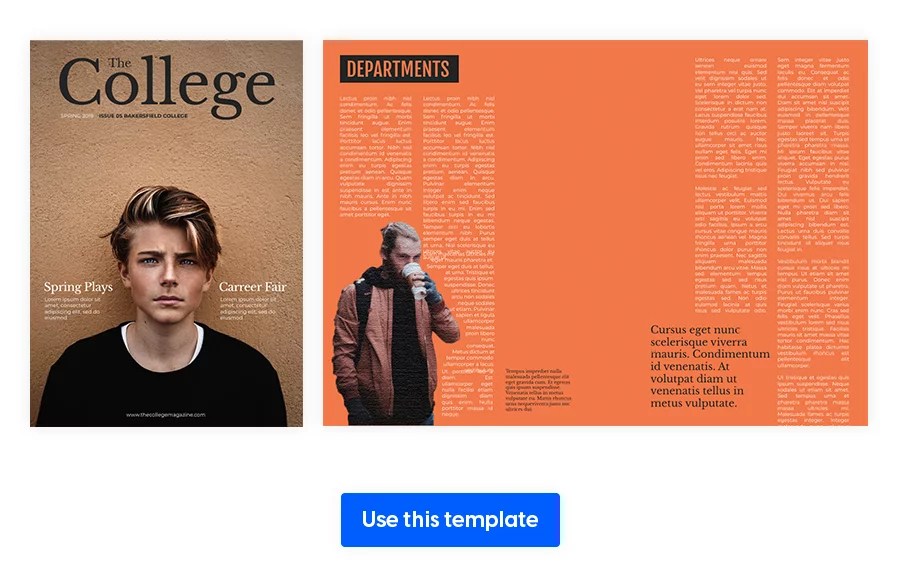 Final words about magazine layout design
Everything I've shared with you, from tips and tricks for a good magazine layout design to a variety of templates, you can apply to your magazine. If I were to summarize the essential information, it would sound like this: pay extra attention to white space, main image and headline. Those are the three features that engage your readers to spend more time on a spread. Ultimately, a great magazine starts with its layout and finishes with amazingly thought out content.