The best digital magazine makers – 10+ tools compared
In a world dominated by digital content, creating stunning and engaging digital magazines is more accessible than ever. But with a plethora of digital magazine makers at your disposal, how do you choose the right one for your needs?
In this blog article, I will compare and contrast different digital magazine makers, highlighting their prices, notable features, and other important aspects.
Whether you're a creative professional, a marketer, or an entrepreneur, this article will help you find the perfect magazine creator to bring your publications to life. So, let's dive in and uncover the ideal tool that will allow you to create magazines tailored to your needs.
What is a digital magazine?
A digital magazine, also known as a virtual magazine, electronic magazine, or e-magazine, is the digital counterpart of a traditional paper magazine. It has the same format and design, and it has the same purpose as a regular magazine, but it is presented in a different medium.
Digital magazines offer multiple advantages in comparison to their traditional counterparts:
Reduced distribution costs
Easy editing even after they were published
No printing, which means they are eco-friendly
Multiple interactivity options lead to more engagement
Different sharing options
Access to statistics and analytics
Easily accessible from different devices
Advanced security
Thanks to these advantages, their popularity has increased recently, becoming a staple in many industries.
What is a digital magazine maker?
A digital magazine maker is an app or a tool that allows you to make your own electronic magazine. The process can be achieved in different ways. The most popular one is uploading a PDF file and then editing and publishing it through the tool. Other tools allow you to start with a predefined template, which you can then modify to your liking. Finally, other tools allow you to start from scratch, giving you total control of the entire process.
There are various magazine makers on the market, serving different niches and industries, each having its own target audience, features, and purpose.

What makes a good magazine maker?
The truth is that there isn't a precise answer to this question, as it often depends on the intent. Do you mainly want to use the tool as a magazine publishing software? As a magazine design software? Or maybe you want to use it as a magazine creator, controlling the entire process from start to finish. Are you interested in security, interactivity, or analytics? Do you want a cheaper solution? There are multiple angles to approach this problem, and it depends.
However, one of the most important qualities of a magazine maker is the ability to do the job properly and efficiently. Overall, it should offer the user a solution to the problem, whatever that might be.
Criteria for the list
I have compiled a list of different digital magazine makers, and I will present it in what follows. The list contains the same information for each tool: a short description, major features (I tried to make them as diverse as possible), target audience, main customers, pricing, and reviews from three websites: G2, Capterra, and Trustpilot. Why these three? Because these three are the most popular review platforms for reviewing software apps.
These aren't the only digital magazine makers on the market, and I have compiled the list based on search results for queries such as best digital magazine makers, best digital magazine platforms, best magazine makers, top magazine makers, and so on. I have also asked different AI platforms, including Chat GPT, Perplexity, and Copy.ai, to recommend tools for creating digital magazines.
I have created a free account for each of these platforms, and the following text is based on my personal testing and information provided by each tool on their website (since I could not access some of the features available for paid subscriptions). Some other tools did not offer the possibility of creating a free account. Since I couldn't actually see and test the platform, I decided it would be unfair to include them based on external information alone. I will still mention them, though, since the fact that they appear in multiple search results means that they are actually worth using.
A list of the best digital magazine makers
Flipsnack
A brief introduction:
Flipsnack is an online flipbook maker that allows you to create, publish, and share a variety of digital publications, including magazines, brochures, or catalogs. There are three ways you can create a flipbook in Flipsnack. You can upload a PDF and then make it interactive. You can also design the flipbook from scratch or start with a premade template.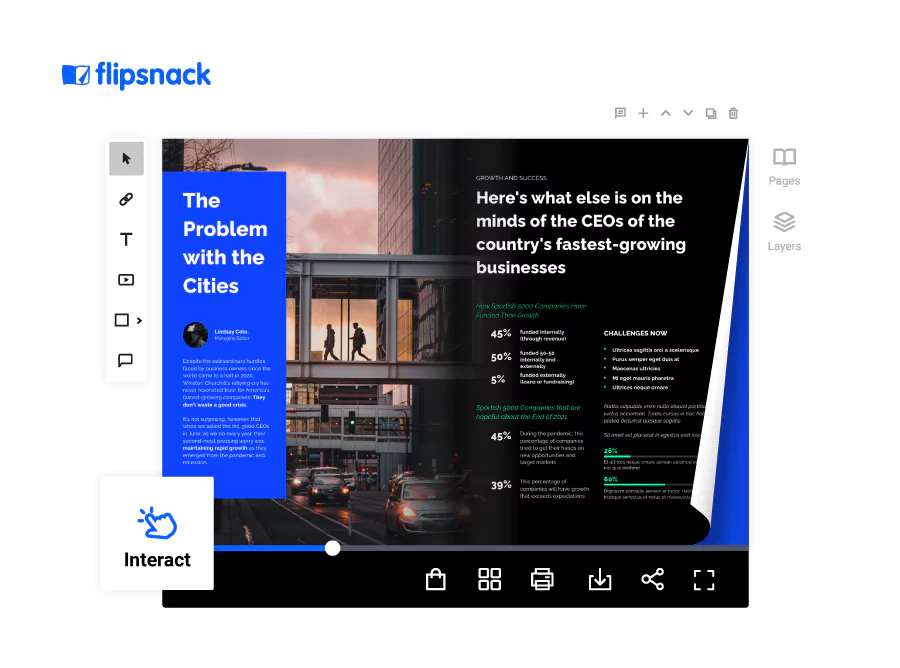 My experience:
Given the platform, I will try to be objective. I have created an account, which has given me access to the Premium trial available for 14 days. It grants access to most Enterprise plan features, with a few exceptions. I can now start creating my digital magazine either by uploading a PDF or starting from scratch.
I can either upload a local PDF file or choose one from my Google Drive account. If I upload a PDF, I will be sent to the customization page, where I can choose from different settings such as Appearance, Branding, Analytics, and so on. I can also go to the Design Editor to make my publication interactive with videos, links, slideshows, product tags, and more. Here is where I can also download, preview, and publish my publication.
Creating the flipbook from scratch is similar, but it starts with choosing the flipbook size. There are a few predefined formats, but I can also set the height and the width. With the size selected, I am taken to the Design Editor. The process starts with a blank page, but I can choose from various templates if I want to. Once again, when the design is done, I can either customize the publication, download it, or share it.
Overall, the process is straightforward and intuitive. The PDF upload is fast, and the multiple interactive options make it suitable for different purposes.
Fast PDF to flipbook converter – Flipsnack is currently the fastest PDF to flipbook converter on the market, allowing you to turn your PDF into an interactive flipbook quickly and effortlessly.
A complex flipbook editor – Flipsnack's Design Studio has a user-friendly interface. Creating a flipbook from scratch requires no design experience, as you can simply drag and drop elements on the page and edit them as you like.
Advanced interactivity options – Besides the regular links and videos, in Flipsnack, you can also add interactive elements such as product tags, shopping buttons, slideshows, lead forms, or charts.
Extensive privacy options – Password protection, sharing with specific people, embedding restrictions, SSO login, these are some of the ways you can protect your flipbooks from unwanted views.
Automation – Instead of populating digital magazines or catalogs manually, you can use the automation feature, which speeds up the process.
Who is it for?
Pricing – per month, at a yearly subscription
Premium trial for 14 days – free
Student – $12/year
Starter – $14/month
Professional – $35/month
Business – $79/month
Business plus – $207.5/month
Enterprise – $355/month
Custom – requires direct contact
Used by:
Estee Lauder
Electrolux
Hubspot
Reviews
FlipHTML5
A brief introduction:
FlipHTML5 is an online digital publishing platform that can create various types of publications, including magazines, reports, newsletters, and more. Due to its intuitive interface, it is a great magazine software for beginners.
My experience:
Once you log into the account, the Dashboard lets you quickly reach different sections: Publications, Bookcases, Digital Sales, etc. It also contains information about your account, such as Billing, Settings, or Support.
To create your digital magazine, you only need to click on the Upload now button. This allows you to add local files or drag and drop files from iCloud Link or Dropbox. If you don't have a file, you can easily download a sample PDF file.
Once the file has been uploaded, you can easily access the Book info and different settings for Customization, Branding, Sharing, etc. Here, you can also access the Page editor, which allows you to edit your publication with various interactivity options such as links, videos, shapes, or forms. This page also lets you preview the publication, save the progress, and choose a thumbnail. In the Dashboard, you can unlock additional options for your publication, such as Download, Statistics, or Visibility.
Overall, the process is simple, making it ideal for a beginner.
Digital elements – Users can enrich their flipbooks with animated stickers, animated characters, or image frames. They can also access useful tools such as the Shape brush and the Line brush.
Monetization options – FlipHTML5 offers Google AdSense integration, the option to add advertising banners, and supports digital sales.
OCR Text – When users import a PDF file, they can use the OCR engine to extract the text from the document.
Who is it for?
Designers
Marketers
Business owners
Publishers
Pricing – per month, at a yearly subscription
Free
Pro – $12.5/month
Platinum – $25/month
Enterprise – $83.5/month
Used by:
Reviews
Publuu
A brief introduction:
Publuu is an online flipbook maker that allows you to convert PDF files into interactive flipbooks and customize them on brand by adding logos and background colors. You can make your publications SEO-friendly and then share them with your readers, either by embedding them on your website or distributing them through email or social media. Users can also display and sell their publications on the "Web Kiosks."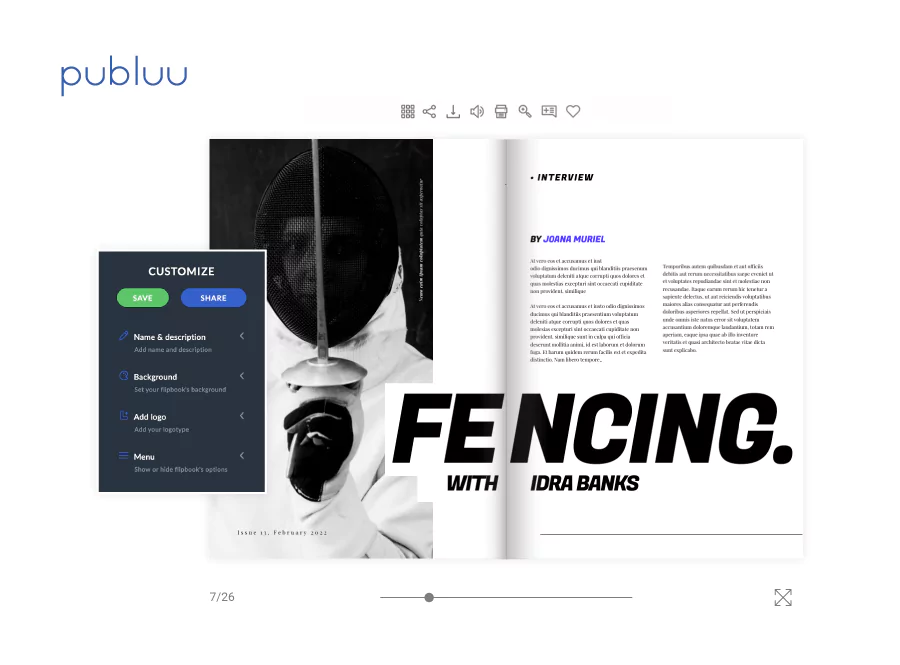 My experience:
Once I have created my account, I am greeted by the login page. It is nicely designed, allowing me to easily understand the entire process: upload, edit, publish, and track statistics.
The login page mentions the process: upload, customize, publish, and track statistics. I can upload a PDF or try a sample one. There is no design-from-scratch option. I used the sample PDF version, and once the file has been uploaded, I can proceed with customizing it.
The page has different options, neatly placed on the left. I can change the publication's name and description, the background, the security options, or show or hide flipbook settings, just to name a few. I can also access the editing part by clicking on the Add hotspots button. On this page, I can make my flipbook interactive through links, photos, videos, sounds, gifs, and product buttons.
Once I finish the editing, I can share my flipbook in multiple ways. Accessing the flipbooks page reveals additional options, such as access to statistics, duplicate, delete, and tracking links.
I found the process very intuitive and enjoyed the initial page, which presents the entire process.
User-friendly interface – perhaps this is the feature that stands out the most. Everything about this magazine maker is intuitive, and anyone can create publications without any expertise.
Multiple sharing options – users have multiple sharing options to choose from: as a link, via email, as a QR code, on social media, or as an embed.
Web kiosk – users can create their own branded website to publish their magazines.
Who is it for?
Publuu is ideal for publishers who want to handle the publication and distribution of their digital magazines.
Small businesses that want to create professionally looking publications that they can brand.
Pricing – per month, at a yearly subscription
14 days free trial
Basic – $7
Optimum – $24
Professional – $58
Premium – $117
Used by:
Decathlon
Audi
Explore Travel Magazine
Reviews:
Marq
A brief introduction:
Marq (former Lucidpress) is a design and brand templating solution for businesses. Its focus is on easing the workforce of the creative teams by ensuring that non-designers in a company can also create and distribute branded marketing materials. Overall, it aims to facilitate collaboration between designers and marketers.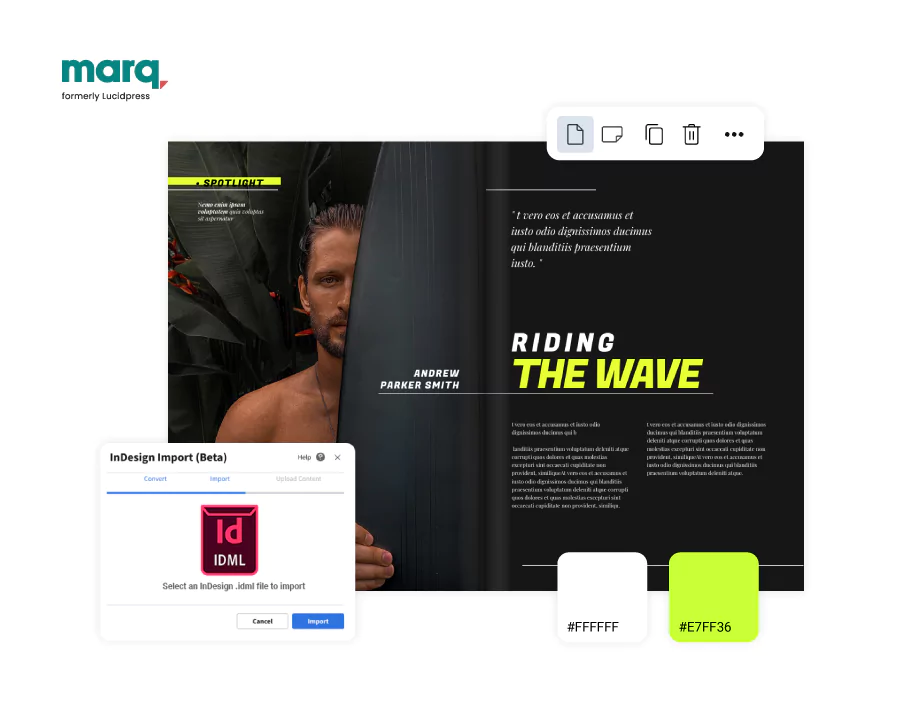 My experience:
The process of creating a flipbook in Marq differs from many of the other magazine makers in this article. You can upload a PDF and convert it, but you cannot edit it. If you want to customize your flipbook, you can either import it from InDesign, start from scratch, or start with a predefined template.
If you opt to start with a template, you can easily use the search function to find what you need. The magazine selection is varied, so you will have no problem finding something that you can use.
Starting from scratch allows you to control the process from start to finish. You can add these elements to the page: images, text, shapes, tables, smart fields, and formulas and functions.
On the top of the page, you can find some useful buttons: lock (prevents you from adding or deleting pages), download, collaborate (to invite other users to the project and assign them different roles), and preview. You can also easily share your project from this page in different ways (direct link, embed, on social media, through Issuu).
Once shared, you can use Marq's analytics feature, which gives you insights into how your publications perform.
Create a publication by importing it from InDesign – useful for users who have created their initial designs there
Smart fields – Marq matches the smart fields to the project owner's profile information, which allows you to quickly add information, such as company name, email, logo, and more, on page
Logo maker – users can start with a logo template and customize it according to their brand identity
Who is it for?
Individuals who want to create impressive personal projects
Businesses that want to consolidate their brand identity
Beginners and experienced designers alike
Free trial
Pro – $10/month
Team – $36/month
Business – Contact sales for pricing
Used by:
Reinhart Realtors
National Association of Home Builders
Western Colorado University
Reviews:
FlippingBook
A brief introduction:
FlippingBook is an online magazine maker that allows you to create professional documents with interactive elements. With FlippingBook, you can enhance your content by incorporating videos, pop-up images, and GIFs throughout the pages of any document. In addition, FlippingBook offers a range of tools to assist you in boosting your marketing and sales efforts.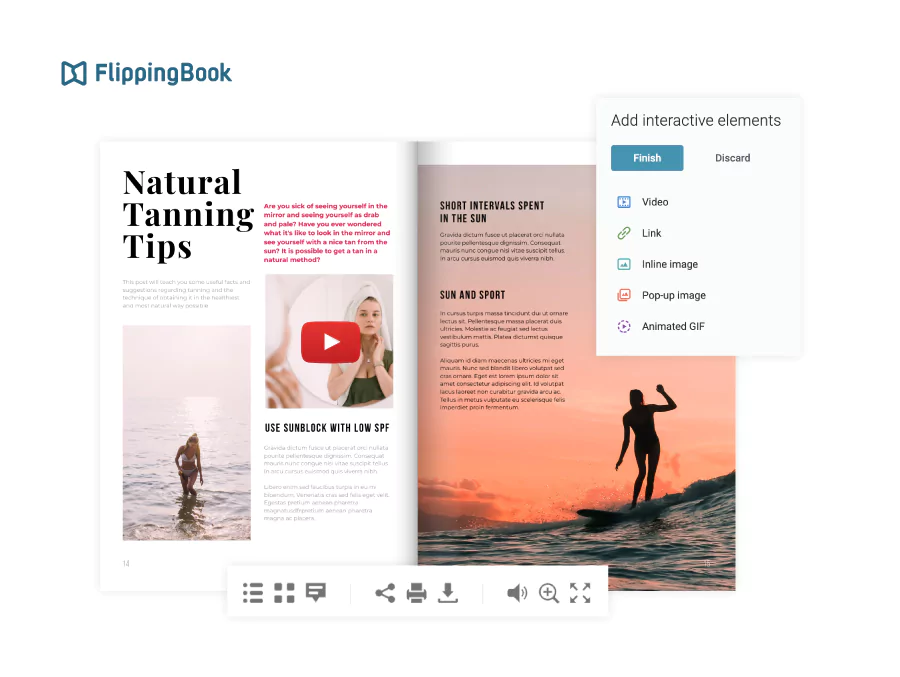 My experience:
To create a publication in FlippingBook, you must upload a PDF. You cannot start from scratch or use a template. I chose to start with a demo PDF.
Once converted, I was redirected to the dashboard, where I had different options for the flipbook: Customize, Share, Embed, View Stats. I decided to access the Editor, which allows me to add videos, links, inline images, pop-up images, and GIFs.
Interactivity-wise, the options are limited, but I like that you can add images, GIFs, and videos either by using a local file or an online link. Based on the element you choose, there are different edit options available. I also tested the different customization options, such as changing the skin, setting the privacy to password-protected, and adding a lead form.
The entire process is easy to understand. Once you create your account, you are ready to go.
Canva integration – users can create their designs from scratch in Canva, then publish them to FlippingBook and make them interactive. Additionally, FlippingBook offers different Canva templates to use.
Accessible interface – easy to use whether you are a beginner or an experienced user
Who is it for?
Marketers
Sales specialists
Business owners
Medium-sized companies
Pricing – per month, at a yearly subscription
Free for 14 days
Lite – €17/month
Starter – €41/month
Optimal – €82/month
Advanced – €164/month
Team – €224/month
Enterprise – requires contact
Used by:
Reviews
Issuu
A brief introduction:
Issuu is an online publishing and marketing platform that empowers its users to create, share, host, and monetize their publications. Issuu allows users to post their publications in a content library, which leads to a wider audience. Whether you want to showcase your work, promote your business, or sell your publications, Issuu provides the tools and resources to help you succeed.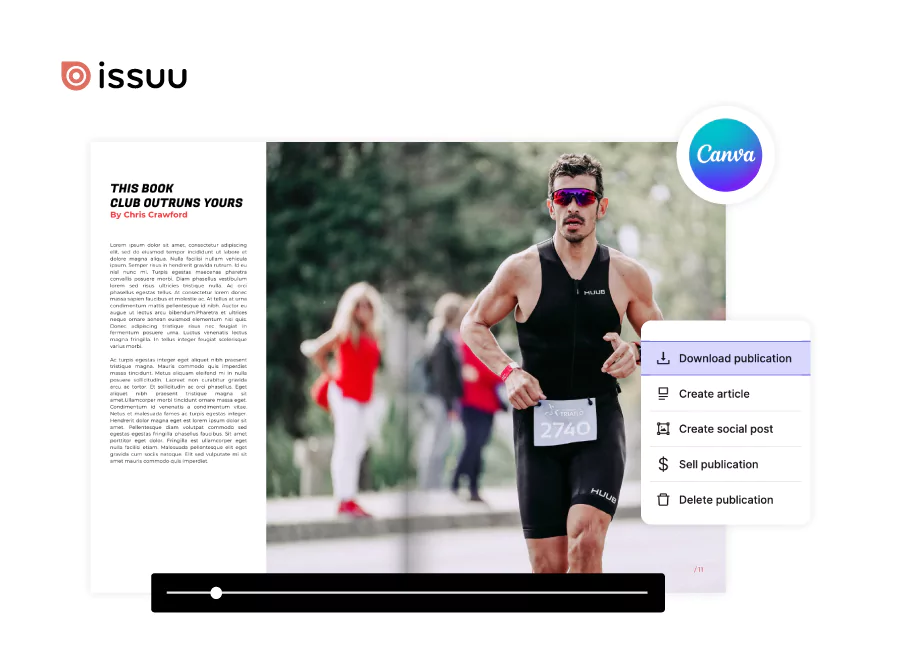 My experience:
The process of creating a flipbook in Issuu starts by uploading a PDF or a multitude of other files, including epub, mubi, or .pptx just to name a few. I downloaded a magazine template and then uploaded it to Issuu. Once uploaded, I can set a title and description, and then I can make it interactive with links (go to page, shopping, web) and videos.
Once done with the editing, I published it, and I could then share it. I can either share the link, share it on social media as QR, or embed it.
I can also download it as PNG or JPEG. Issuu also offers access to statistics and sell settings.
One cool thing about Issuu is that you can then repurpose your flipbook as an article or a social media post, ideal for different purposes. Other features include privacy settings, removing banner ads from your share link, or allowing downloads, but they are all locked behind a paywall.
Canva and InDesign integrations – users can create their digital magazines in Canva and Adobe InDesign and then upload and edit them in Issuu
Social posts and articles – once a publication is done, you can turn it into a social media post or an article
Digital sales – you can sell your publications at no additional costs
Who is it for?
Content marketers
Catalog and magazine publishers
Small businesses
Educators
Pricing – per month, at a yearly subscription
Basic – Free
Starter – 21
Premium – 44
Optimum – 269
Custom – requires contact
Used by:
Etsy
National Geographic
Vogue fabrics
Reviews
PubHTML5
A brief introduction:
PubHTML5 offers professional HTML5 publishing solutions that allow users to create professionally-looking digital publications such as magazines, brochures, catalogs, newsletters, and more. Its intuitive interface makes it ideal for anyone, from beginners to more experienced users.
My experience:
The process starts with a file upload. Besides PDF, PubHTML5 also supports converting MS Office files. With the PDF uploaded, I can set keywords, choose a category, set a label, and choose whether to allow my readers to download the magazine or not. Then I have to choose a template and a theme, and on the next page, I can access all sorts of settings for the player, toolbar, and so on. Interactivity-wise, you can embed videos, insert links, or image slides.
MS Office Conversion – in PubHTML5, you can create digital publications from MS Office documents.
Google AdSense Integration – you can add ads created in Google AdSense and place them in your digital magazines.
Explore magazines – PubHTML5 lists magazines on their websites, which could increase exposure.
Who is it for?
Content marketers
Magazine publishers
Educators
E-commerce websites
Pricing – per month at a yearly subscription
Free
Pro – $12.42/month
Platinum – $24.92/month
Enterprise – $83.25/month
Used by:
Schneider Electric
Nationwide
Reviews
Madmagz.com
A brief introduction
Madmagz is an online magazine maker that enables users to easily create, distribute, and even sell their magazines.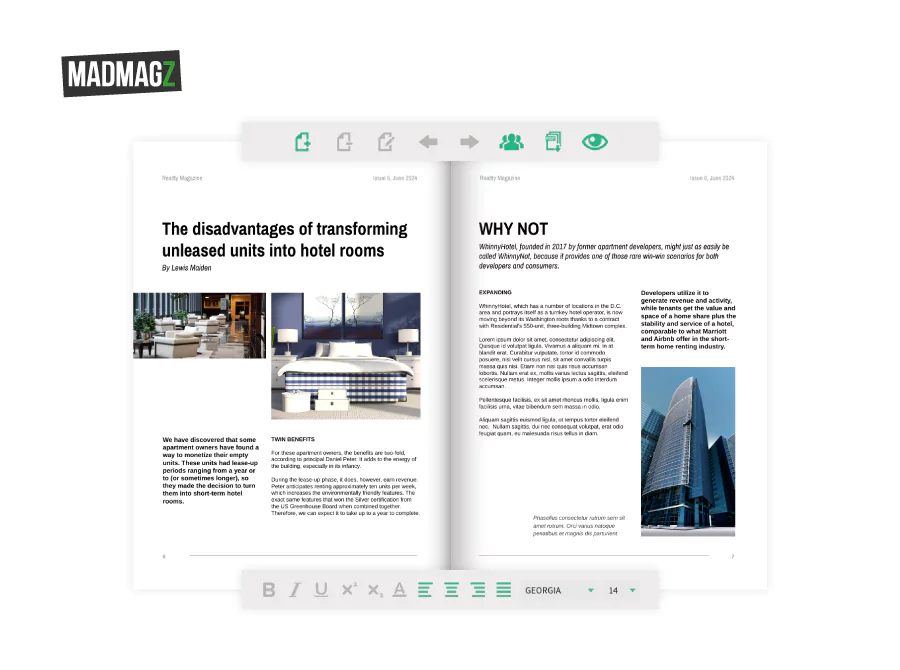 My experience:
After you create the account, you need to start with a template. Only one of the templates is free; the rest cost either $10 or $29.90. With the free template selected, I need to set a title, an issue number, and a subject for my digital magazine. I can now decide whether to invite collaborators to my project. Collaborators can create pages based on my template, which I can move, modify, or delete. I skipped this step.
The next step allows me to browse different template sections and choose the pages I want to include in the magazine. With the pages selected, I can now access different sections: see an overview of the magazine, add interactions, download it as a PDF, or see a web preview. I tested all of them, but I will mention the interactions page. It allows you to add links for different elements: audio, video, slideshows, GIFs, Google forms, and internal links. Once the magazine is done, I can now share it as an embed, on social media, or as a direct link.
Overall, creating a digital magazine is intuitive. However, the free template is easy to miss since it is not at the top of the page. There are 44 templates in total, including the free one, so you will have plenty to choose from.
Quality print magazines – Once you publish your digital magazine, you can choose to print it in high quality.
Who is it for?
Educators and students
Businesses from different industries
Templates
Free – a single free template
Premium – $10/template
Types of publication
Web magazine – Free
Premium magazine – € 24.98
PDF download € 10.00
High definition PDF download € 19.99
Self-hosted web mag € 95.30
Used by:
Nike France
École Internationale de New York
Leroy Merlin
Reviews
No reviews on the three platforms
Yumpu
A brief introduction:
Yumpu is a publishing and subscription solution that allows businesses to publish their own digital publications, such as magazines, catalogs, brochures and more. Yumpu is also well known for its extensive publication library, which users can access with a subscription.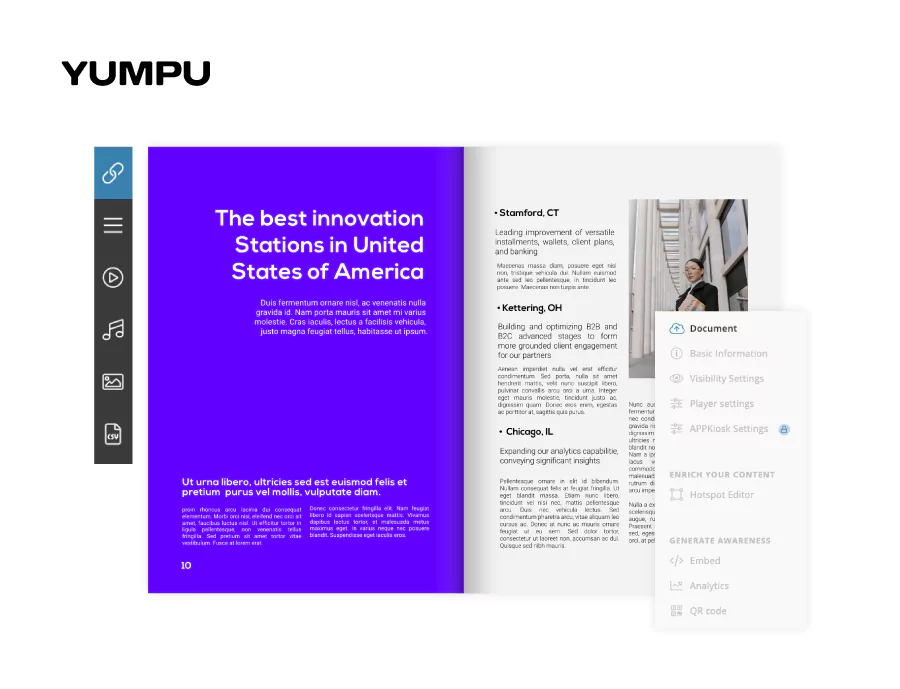 My experience:
Similar to the other magazine making software programs, the process starts with uploading a PDF. Once uploaded, you have multiple settings on the page: basic information, visibility, player settings, embed, analytics, and QR code. Here is where you can also add interactivity through the Hotspot editor.
The interactivity features are internal and external links, go to page links, video and audio embed, and a slideshow. Once you place an element on the page, you can customize it in different ways. You can also import or export page elements as CSV, which could be useful.
Sharing-wise, there are multiple options you can choose from: direct link, email, social media, embed. There are also different privacy options: share as a secret link (users will receive a specific link, different than the original one), password protection, or embed restriction. Other features worth mentioning include Google Analytics integration or creating magazine collections.
Overall, Yumpu is an online magazine software that allows you to easily add interactivity to your digital magazine, but the options are limited.
In-app sales and in-app subscriptions – excellent if you publish magazines
Advanced availability options – direct link, password protected, embed restriction, secret link, only WEB or App-kiosk
Who is it for?
Educational institutions
Governmental institutions
Publishers that wish to turn their printed materials into digital ones
Free
Ad-free – $19.95/month – 30 days trial
WEBKiosk – 85.59/month
APPKiosk – 219/month
PROKiosk – 339/month
Used by:
Ikea
BMW Denmark
Mcdonalds Austria
Reviews
Canva
A brief introduction:
Canva is an online platform that empowers any individual or team, regardless of experience, to create impressive designs. Users can choose between thousands of professionally made templates and then customize and share them with a few clicks.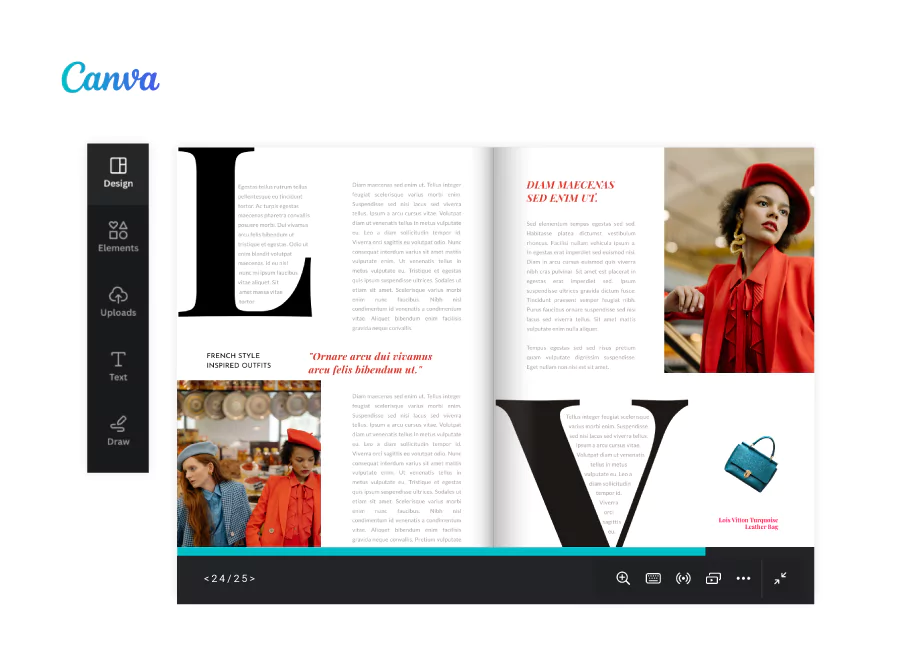 My experience:
The process of creating a magazine in Canva is straightforward. I click on Create a design and start with a magazine template. I choose a cover and add it to the blank page. Next, I want to make it interactive, and the Elements tab gives me many options: stickers, shapes, frames, tables, and even AI-generated images and videos.
I added an AI-generated image and chose my sharing option. I chose to share it with anyone with the link and to give editing rights. Canva is about collaboration, and it shows. I also checked the dashboard, which gives me access to projects, templates, brand settings, and apps, and its Magic Studio, which is all about AI tools.
Canva is an impressive magazine maker, and its ease of use is amazing.
Magazine Mockup Generator – you can create realistic magazine mockups, a great idea to display your next issue in magazine format
Extensive collaboration options – Users can collaborate in real-time on a publication
Very easy to use – accessible to anyone, regardless of experience
A large selection of templates
Magic Studio – you can use it to create AI-generated art
Who is it for?
Graphic designers, marketers
Students, education
NGOs
Businesses, small and large
Pricing – per month at a yearly subscription
Free
Canva Pro – $119.99
Canva for teams – $300
Used by:
Reviews
Other notable magazine makers
Other magazine creators did not make the list since I could not actually test the platform. I will still mention them since they are known, and they also show up in search results for relevant queries: Turtl.co, Joomag, Blurb, Magloft, Foleon, and Mag+.
Which is the best digital magazine maker?
As I already mentioned, what is suitable for one use case might not be suitable for another. It depends on the needs and the situation.
However, to summarize this article and to differentiate the platforms, I will group them based on different categories and mention the top three for each category.
Pricing: Publuu, Marq, FlipHTML5
These three platforms cost the least for a monthly subscription. So, if pricing is an issue, they are the ones to choose.
Interactivity: Flipsnack, Canva, Publuu
When it comes to interactivity, these are the three most complex digital magazine software programs. Besides the regular links, videos, or audio embeds, in Flipsnack, you can also add product tags, popup frames, shopping buttons, overlays, or slideshows, which are useful elements for any magazine. Canva offers even more options, with the possibility of adding shapes, forms, and even AI-generated content.
Sharing: Canva, Flipsnack, Marq
A good magazine maker needs to give its users the possibility of reaching its customers with ease, and these three tools offer the most options: direct link, social media sharing, email, QR, and download in different formats. However, Canva stands out from the rest. You can easily share your Canva publications on multiple social media or messaging platforms. You can also download samples of your publication, present and record the publication, and more.
Privacy options: Flipsnack, Flippingbook, Yumpu
Privacy-wise, these three digital magazine creators stand out from the crowd. They all offer privacy options such as password protection, private links, embed restrictions, and SSO login. Flipsnack also offers 2FA, which is always a plus, but if you are interested in ensuring the privacy of your publications, these are your best choices.
Branding: Flipsnack, Marq, Canva
These are the three online magazine makers that excel when it comes to branding. Flipsnack offers the option of customizing your profile, uploading brand kits, or using custom domains, just to name a few. Marq has smart field options that allow you to apply your branding to smart templates easily. You can also include a brand kit in Canva, with the option of setting a brand voice, icons, or branded photos.
Statistics: Flipsnack, Flippingbook, Publuu
Here are the three platforms that excel when it comes to statistics. All three of them offer similar statistics, which can help you see how well your digital magazines perform: views, downloads, engagement, devices used, and more. Besides that, each online magazine creator allows you to export the data and integrate Google Analytics to access more in-depth statistics.

Choose your magazine maker
It's time to wrap things up. This was my list of magazine makers, and I hope it provided useful information. I have included useful links on each entry: homepage, pricing, and features, so you can easily access what you are interested in. The data I provided might not be enough, so I encourage you to test the tools yourself and see which one is right for you.