7 tips to create an online presentation for school
We can all admit that we've been living in uncertain and difficult times that have completely changed our outlook on life. We had no choice but to adapt in every possible way. Business companies, travel agencies, retail shops, restaurants… but mostly schools and universities all over the world had to rethink their strategy from an online perspective.
And this is something very challenging, especially for the entire education system. Students and professors struggle to develop creative solutions to keep learning and teaching and to make it as enjoyable as possible. Many of these solutions rely on technology, of course. Whether we want to admit it or not, the internet is our best friend when it comes to online learning. The classes must continue, even if it can't happen in person. And that's exactly where Flipsnack comes in.
Our Classroom plan becomes free
We believe that everyone should have access to education. Everyone deserves to finish their studies, gain as much knowledge as possible, and become the best version of themselves. Because Flipsnack supports education wholeheartedly and encourages the spirit of empathy and compassion, we've decided to give our Classroom plan for free for an entire year. This plan allows education to keep moving forward even if the schools and universities are closed.

But today's article is much more than just showcasing our Classroom plan and free online presentation templates. We want to help students complete their school assignments in full measure, that's why this article offers them some useful tips about how to create an online presentation that looks both attractive and explanatory. Let's get started!
How to create an online presentation?
First of all, a good online presentation starts by organizing the content. No matter how fascinating your message is, if you don't know how to organize it simply, your audience will have trouble understanding it. And especially in these difficult times when we can communicate only through the internet, it's crucial to deliver our message as well as we can. It's important to keep a balance between content and design when working on your slides because you want to get your message across with impact. But we'll talk more about this subject later.
You should keep in mind that you must capture the people's attention right from the beginning. Otherwise…your online presentation will flop. Few listeners will stick with you to the end and remain with something that you've told. In fact, the goal of an online presentation for school is to deliver the message in an easy and comprehensible way. Both your colleagues and teachers should understand it. Let's dig deeper and discover how to create a presentation like a pro!
1. Start with a good online presentation template

First thing first, choose a template that has them all: colors, fonts, images, charts, captions, text boxes…everything that you can use to create an amazing online presentation. It's much easier to put all the information when you already have a pre-existing template. Flipsnack has them abundantly. Explore them and select the best one for your school projects. Later in this article, we've made a selection of four professional and beautiful templates that you can customize to your needs. Stick with us till the end.
2. Organize your information
You have to think of your online presentation like it's a school essay. Break it down into three simple sections: introduction, body, and conclusion. Your introduction needs to briefly summarize what you're going to present and why it's important and relevant to your audience. The body should be the most explanatory part of your presentation. Present the facts and all the information widely, giving examples. The conclusion should always resume in a few sentences your entire presentation. Don't forget to also give your audience some key takeaways on how they can put into practice what you've presented to them.
Organize all of your ideas logically and practically. If your teacher gave you a list of things that you should cover, make sure that you insert them all in your online presentation. Build the slides in such a way that you cover one main idea per slide. Don't jam more ideas to one slide, you'll confuse your listeners.Keep all necessary supporting resources in one place. This will help you to navigate through quickly and don't forget anything. For this aim, you will need the help of specialized education platforms like Studocu.com. You can create notes and documents for your presentation there and receive access 24/7, so you will not leave this at home at a crucial moment.
3. Choose visuals wisely

One thing's for sure: a good design can make or break an online presentation. The visuals within your presentation make the slides more impactful and enjoyable to listen to. But only as long as they help clarify the message. Always use high quality and professional images that are relevant to your subject. Feel free to also use diagrams, charts, graphs, or other visuals that help you present your ideas. Your images should make it easier for your colleagues to remember what you just presented, and not confuse them even more.
4. Colors, fonts, and format

When it comes to colors, we recommend using something relevant to your message. Relevance is the key! Choose one or two colors (not counting black and white) so that your online presentation has a consistent look and feel. Also, if you have a dark color as the background, use white as your text color, and if you have a light color as the background, use black as the text color. This way, your colleagues will find it easier to read it. Keep your text at least 18 points, so that everyone can see it effortlessly.
Fonts, fonts, fonts. Always be consistent with them. It's exactly what makes your presentation look more professional. Never switch between caps and lower case, Times New Roman and Calibri, or 6 and 25 point text size. Stick with a single font and single size throughout the entire presentation.
Last, but not least, make sure that your text is aligned and neat. The format of your presentation needs to be perfect! Yes, it can sometimes be time-consuming, but it's totally worth the effort.
5. Use big text for a big impact
Like we've said before, don't cram everything on one slide. It will make your presentation look unprofessional and in a hurry. And you don't want that. You want your colleagues to understand your message completely and your teacher to praise your good work, right? Make the text and visuals as large as you can. It's easier for your colleagues to see and read them, but also it's more impactful for their memory and they will retain the information more quickly. You can fill an entire slide with one picture and place the text right on top. Don't forget to use a transparent background behind the text, so that your audience will read it clearly.
6. Less is more

Every time you're doing an online presentation, remember that your slides should support what you're saying, not to say it for you. Less is more, especially when it comes to making a good presentation. It's crucial to use as few words as possible on your slides, not complete sentences. For instance, place one main point on a slide and one or two sub-points if absolutely necessary. They should emphasize and reinforce, not replace the words you're going to speak verbally.
Another important aspect we should mention here is that you need to plan out what you're going to present before creating your slides. Why? Because it will be easier to design and organize your online presentation. Further, don't forget to repeat your speech a few times before presenting it to your colleagues and teacher. This way, you'll be more confident about your presentation and you won't be so nervous, and also, if something goes wrong with your online presentation, you still have a speech ready to give that you master completely.
7. Highlight the important things

We all know that it's easy for your audience to lose interest in your online presentation. People get bored quickly, that's why you need to keep them as involved and interested as possible. Use a little bit of "magic". Highlight important keywords with the help of bold or different colors. Emphasize only the necessary ones. Animate parts of your illustrations and graphs to build your story rather than showing everything from the beginning. Don't be afraid to use arrows, circles or other pointers to show what you're referring to specific parts of your text. You'll see that people will pay more attention to your online presentation when they'll see everything so organized and beautifully arranged.
How to prepare for an online presentation
You should know from the start that there are some differences between online and traditional presentations. Don't worry if you haven't had the opportunity to present a school project online so far, there's a beginning for everything. In fact, it's no rocket science to prepare for an online presentation, you just need to take some things into consideration.
First and foremost, make sure that you're going to rehearse your speech at home a few times before presenting it to everybody. This way, you'll also get rid of nervosity and you'll feel more prepared for the big day. Keep in mind that your voice is your number one ally, so make sure to drink some tea with honey one night before the presentation.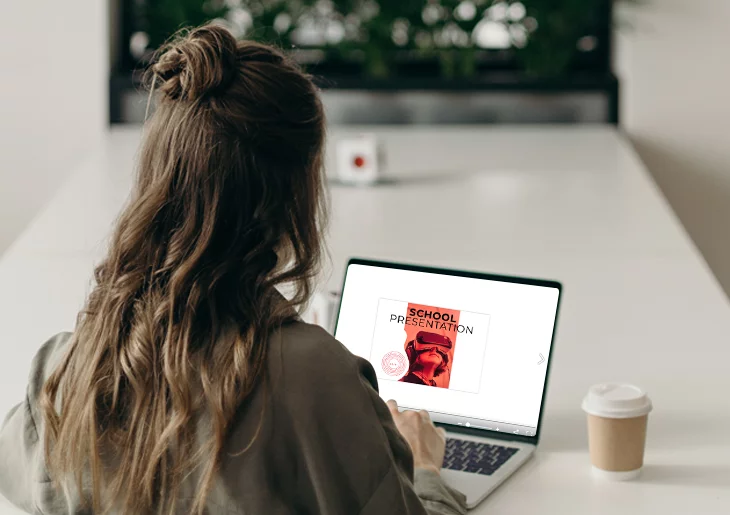 Then, make sure you're dressed properly. Nobody says that you should wear a dress or a suit, but you should at least not show up in front of your colleagues in your jogging equipment. Wear something comfy, but also suitable for a public speech. And since we are at this chapter, you should also pay attention to the environmental background. Adapt your room in such a way that it suits your online presentation. Keep your room simple and clear and get rid of any elements that could distract your audience.
Last, but not least, be sure that you're the first one that shows up in the video call. Make sure that your internet works perfectly and that everybody sees you and hears you clearly. We recommend you should double-check that your camera and microphone are on. Also, as a final note, don't forget to share your screen with your colleagues, so that they are completely aware of what you're presenting to them.
Online presentation templates to get your inspiration from

Now you know what an informative and eye-catching online presentation means. You've also learned how to prepare for one. The next step is to create one on your own. No matter what's your next school assignment, you're prepared with these four professional and free presentation templates. This whole pandemic crisis is the perfect situation to prove to your teacher that with the help of a pre-existing template you can solve any school project. Choose the most suitable template for you and make your next online presentation shine:
Elegant University Presentation Template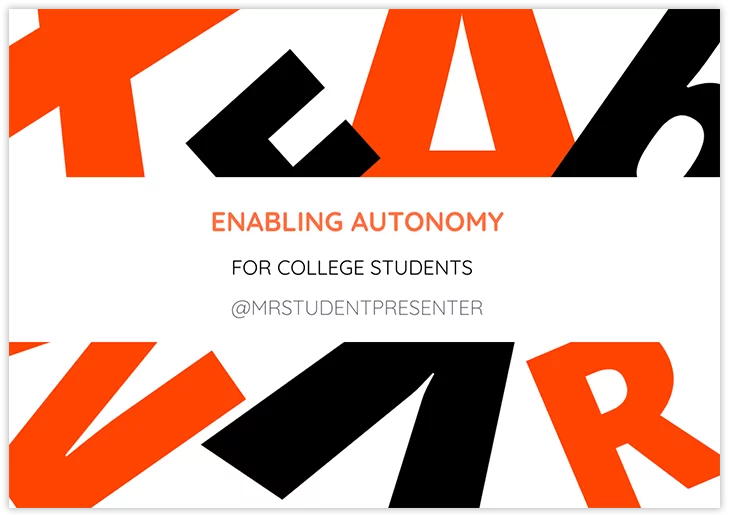 Black is the new orange. Or, at least, this is what we could think when seeing this elegant online presentation template. It's perfect for any kind of school project. The design part is already done, so all you have to do is to insert the graphs, stats or charts you're going to present to your colleagues. Don't be afraid to personalize this template with the help of our intuitive editor. Add your own photos, change the colors and fonts, and even add some other elements you find useful for your presentation. You'll surely get an A!
Modern School Online Presentation Template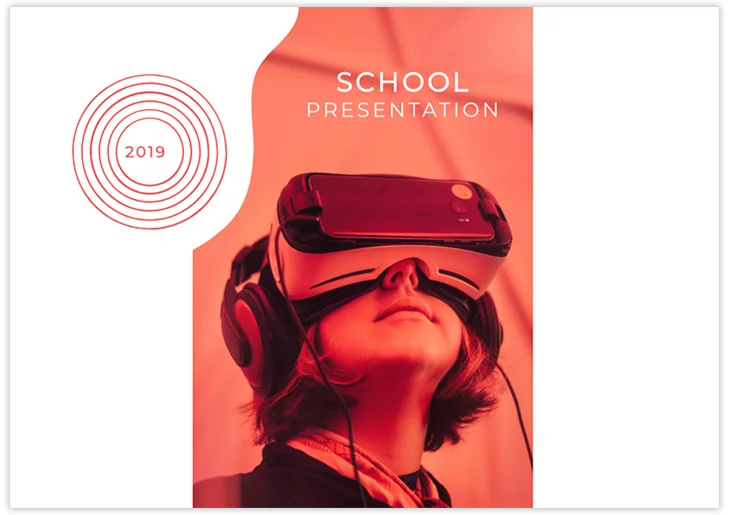 These difficult times gave us no choice but to continue our studies exclusively online. Thank God we have Flipsnack that provides us with plenty of online templates that are just perfect for our school assignments. This modern school online presentation template is the right example in this regard. Take advantage of it and start customizing it with our drag and drop editor. Add cool images, charts, and graphs, everything you need to make it look professional and informative. Be it a biology project, a science assignment, or a geography task, Flipsnack got you covered! All you need to do is to browse through our templates collection and choose your favorite.
College Presentation Template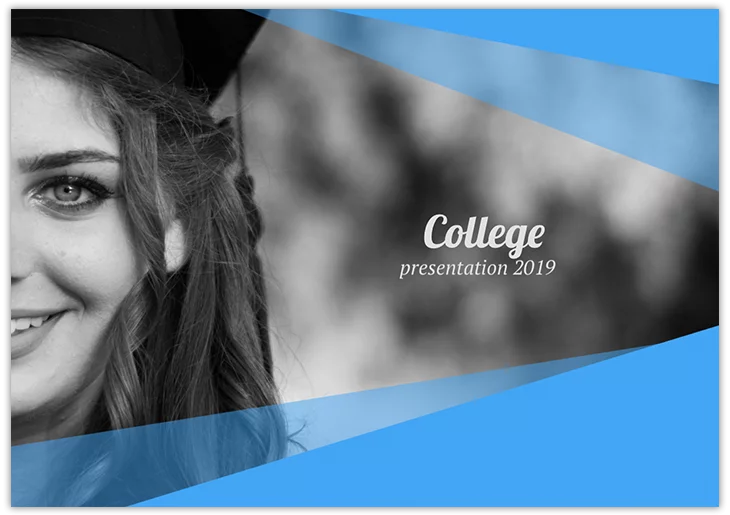 Looking for online presentation templates that will impress your teacher? Search no more. This beautifully crafted college online presentation template will surely appeal to your teacher. Personalize it for any school project with our amazing Design Studio. It features a layout design that makes it very easy for you to replace the images, text, colors, and fonts in a short time. You can also insert graphs, charts or anything to find useful so that your colleagues will understand your presentation as well as possible. Creating online presentations with Flipsnack has never been more fun and easier!
Elegant Education Presentation Template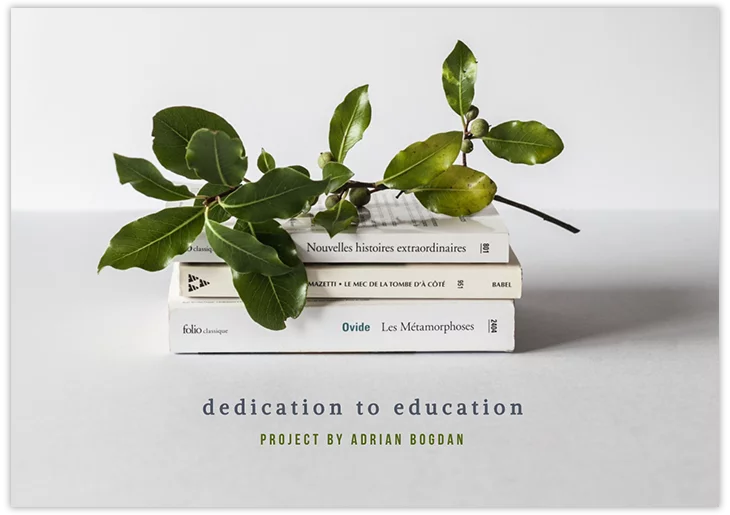 We all know that it's no easy job to create online presentations that will not bore the audience. But with this education online presentation template, we promise you that your colleagues and teachers will pay attention like never before. With plenty of space for images, this layout allows you to get creative. Fully edit this template to fit any of your presentation needs. Whether we're talking about economic projects, history assignments, or anything else, Flipsnack allows you to fully edit this template in terms of shapes, colors, images, and more. You'll be an expert at designing professional online presentations within minutes. See for yourself!
You're ready
Yes, it's true, the whole situation happening in the world is not pleasant at all, but we have to adapt in order to move on with our lives and everyday activities. Companies, businesses, and schools all over the world came up with innovative and different solutions to continue working and studying without too many difficulties.
Our Classroom plan allows everybody to have free access to education. Our free templates altogether with pieces of advice about how to create professional online presentations to help students create school assignments worthy of an A+. Pandemic or not, students should always be prepared to knock their projects out of the park.
Hopefully, today's article was helpful for any student and any type of school task. If you find it useful, feel free to share it with other colleagues of yours. Let's continue being empathic and bounteous, especially in these harsh times. Stay safe and stay home. And don't forget, Flipsnack is just one click away to help you with your needs!