20+ business card design ideas to help you seal the deal
The pace of change in our world is constantly accelerating. Nowadays, new technologies are able to take businesses into the digital era. No matter what, sometimes the old-fashioned way of doing things is preferable. This is also the case for business cards. The habit of exchanging them is still considered proper professional etiquette. As long as there are networking opportunities, there will be business cards. A memorable one can transform a simple conversation into an opportunity.
Whether you are a freelancer or working in a big company, your business card mustn't be thrown to the bottom of the pile because of an uninspiring design. To help you out, in this article we've come up with a list of 20+ business card ideas that are set to awe, inspire and motivate you to create the best business card you ever had. So, stay tuned and keep scrolling for more business card inspiration.
Creative business cards
When thinking about business cards design, what do you have in mind? Perhaps the original way of designing business cards is a black and white layout with the most basic information included. Find out, this isn't the case anymore.
If you really want to stand out, nowadays is the perfect time to get creative. Don't be afraid to make bold decisions. Your business card should represent your personality and highlight your profession in the best way possible. Make it reflect your artistic part with colorful designs.
Here is just a cool creative business card example that makes great use of color.
The modern layout that integrates an abstract and eye-catching illustration will definitely not be forgotten. And the best thing about it is that it fits many jobs. For example, it can be a fashion designer's business card. Or, why not, someone working in an advertising agency. Stay tuned, we have loads more business cards examples fit for any job. Just keep on reading.
Also, if you decide to get really creative with your design, make sure you don't overdo it.
Always keep in mind that the main elements like your name, profession and contact information need to be readable. Which takes us to one of the most important questions that is..
What to put on your business card?
There are a few elements that you should definitely include in your business card, no matter what profession you have: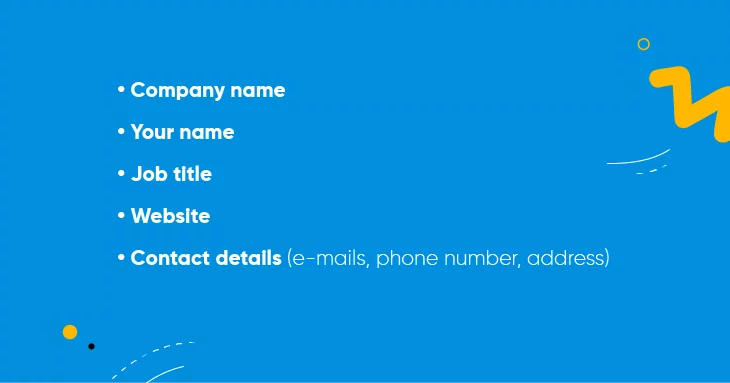 Holographic business card design example
Nowadays, the thing about business cards is that if your profession is on the creative side of things, you should get as creative as possible. Like this animated business card in the example below. "Who is this person?" and "What's their job?" are questions that immediately come to mind when interacting with attention-grabbing elements such as holograms.
A perfectly good example to showcase that this business card idea is great for creative people who really, really want to stand out.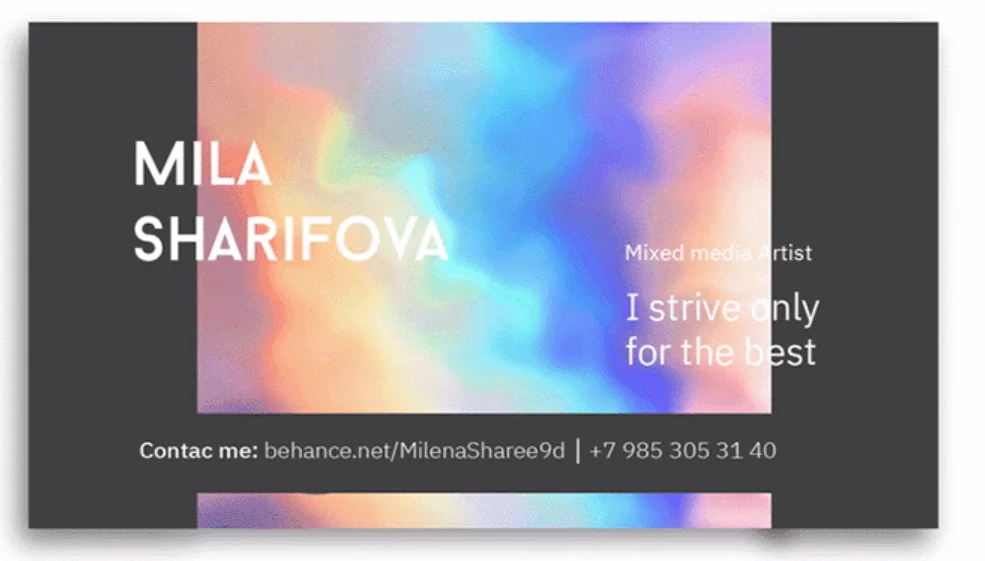 However, keep in mind, this type of business card is not the easiest to print. So, if you found a good printing house that can replicate this, make sure to order yourself enough copies.
Vintage style business cards
If you're looking for a business card design that will stand out among a crowd of modern calling cards, here's a vintage business card idea.
With old school typography and a baby blue colored design, this type of business card idea is suitable for a french restaurant or bakery, or even for a vintage kind of cosmetics brand.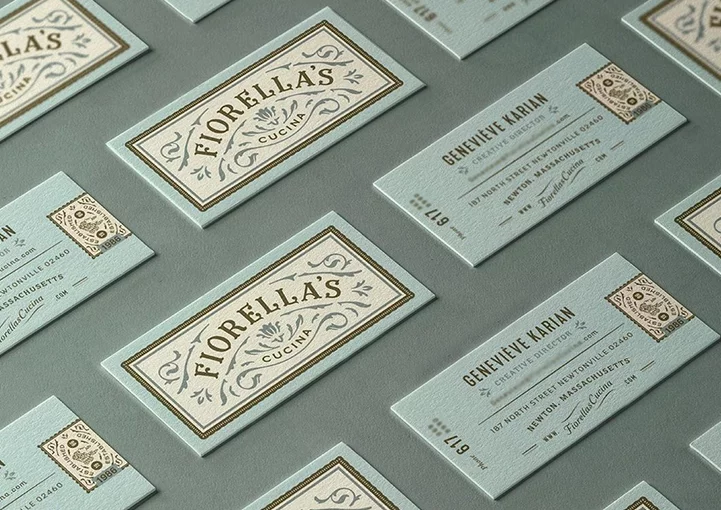 Take, for example, Laduree. A french bakery brand founded in 1862. Its brand elements are still pretty much the same. And this is still reflected in all its open locations around the world. They all have that particular feeling of going back in time.
As you would expect, the Ladurée logo reflects just that. A typeface that is surrounded by laurels and garlands, representative elements for the origin of the brand, 19th century in France.
Guess what? Their business cards design is the pure reflection of their brand.

So, when designing yours, keep this in mind. Your business card design should reflect your brand story to the fullest.
Business card idea for DJs
A business card design for a DJ should be memorable and fun. This one imitates a vinyl record perfectly, such a representative tool that hints at your musically inclined profession. Bring the party wherever you go by promoting your DJ services through a cool business card like this one. Get creative but leave enough space to add your contact info. Make sure you don't overdo it. Let this design shine through.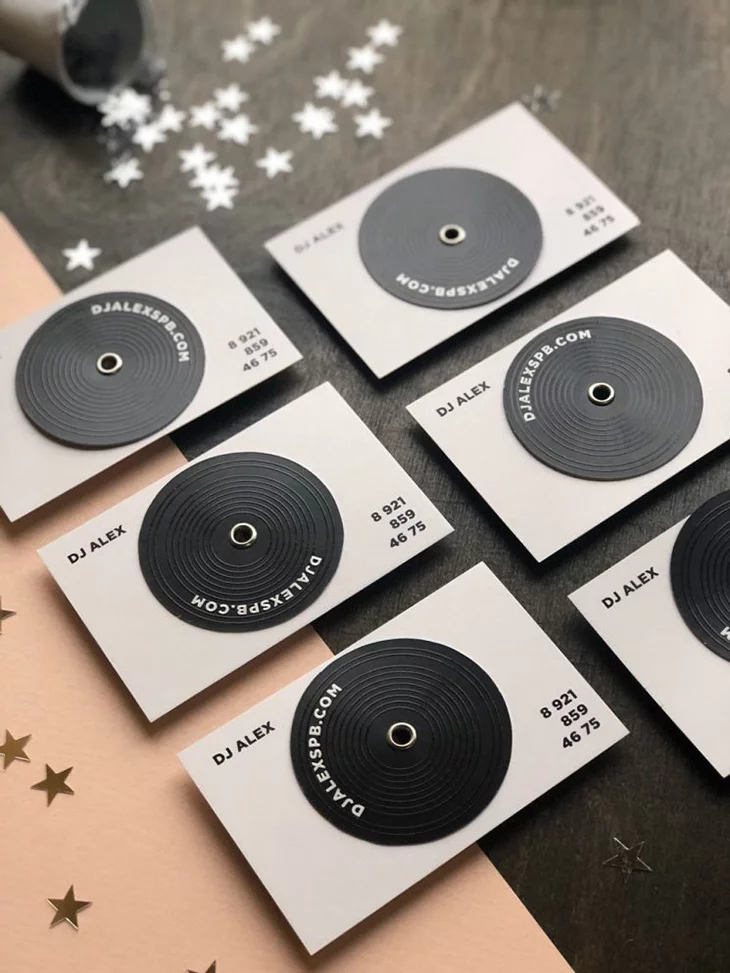 Unique business card design idea for bakers
Attention to detail is something that everyone can appreciate. This custom business card design is so unique that it immediately stands out. One of the best ways to advertise your bakery is to show off your delectable products. This bread shaped business card will definitely make an impressive impact.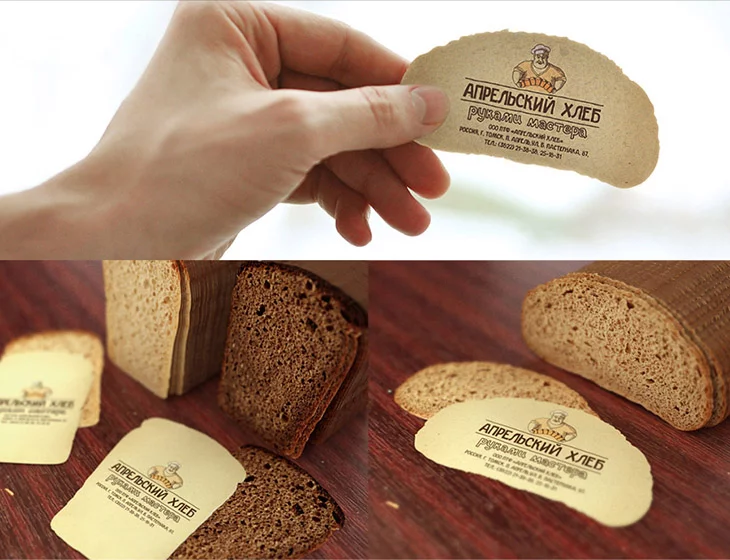 So, if you own a bakery or you're in charge of designing for a bakery brand, take this example and get creative with it. Make sure to print it on paper that imitates bread.
Photography business cards ideas
Reports show that 88% of business cards are thrown out within a week. Don't let yours be one of them. Suppose you are working in the photography industry. In that case, this business card design is a great way to express your uniqueness and get an edge over the competition. The camera shape puts the focus on winning over every interlocutor. The contact info meticulously placed around the camera lens is eye-catching and will definitely not be forgotten.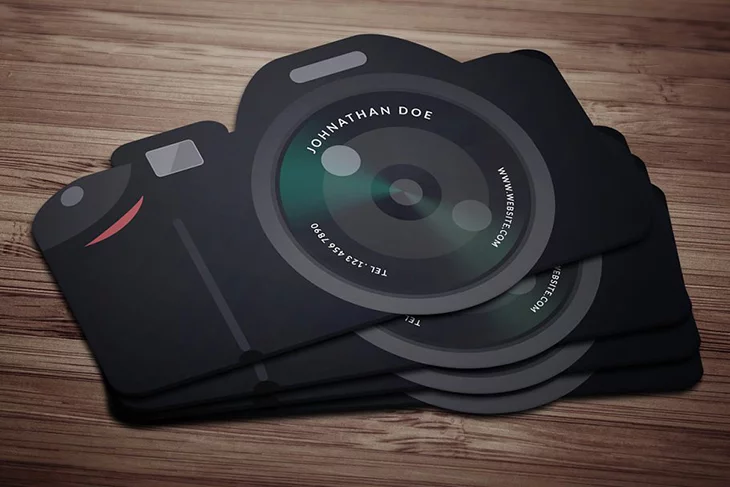 Elegant business card design idea
There truly is beauty in simplicity. Professional wedding photographers take this saying as their greatest rule. The same can be said about this business card design. For a great representation of their brand, these wedding photographers created a symbol about the idea of unity that resembles the fact of two people getting together. It features a white background and beautiful typography, a logo inspired by Italian churches and basilicas.
La Luce, which is the name of their wedding photography business, translates into "light".
The name is accompanied by a stunning image of a Catholic basilica.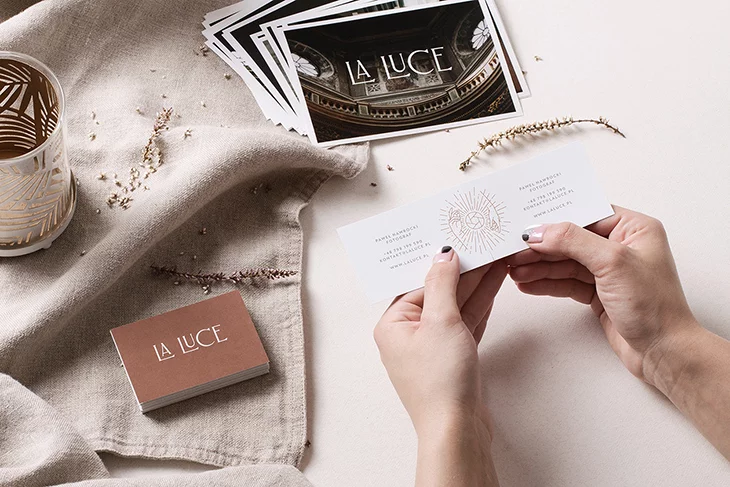 All these business card elements tell you a story immediately.
So, next time you want to create a new business card for you or one of your clients, ask yourself this simple question: "Does it tell the story of my/his business?"
Get inspired by the front side of this business card design, which focuses only on the brand and create a unique piece representing you and your business.
Photography business card design idea
When it comes to creating a remarkable business card, understanding that less is more, is essential. This minimalistic approach creates a timeless sense of style. The designer, Marlo Biasutti, created these unique business cards for a freelance Toronto-based photographer.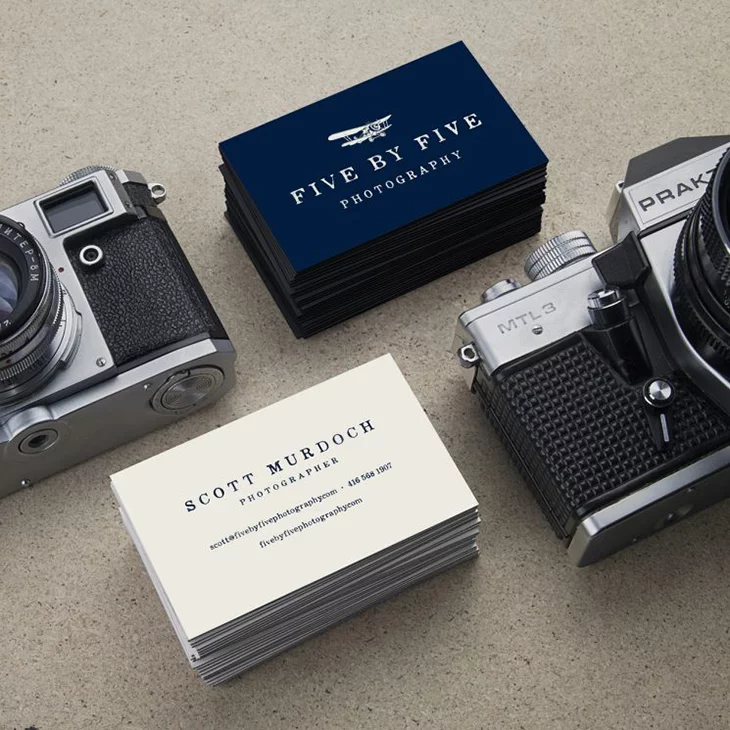 You might ask yourself, what does an airplane vintage style design have to do with photography? The design inspiration for the Five by Five logo came from the name of the company. "'5×5'. If you're not aware of this expression, find out that this is an old aviation saying that means 'ready for take-off'. And so, this is why the choice of adding airplanes as a visual representation makes sense.
The aviation design matches perfectly with a typeface that looks hand-made. It looks similar to the process of stamping the name directly on the printed business card. Also, the blue marine perfectly complements the elegant typography.
If you feel like this type of design is something you'd like to have for your business, make sure to use it as a starting point for your business card design. Thank us later!
Business card idea for professional photographers
For a touch of sophistication and elegance get inspired by this professional looking business card design that illustrates a camera using gold foil stamping. The black background perfectly complements the metallic texture. This type of business card design is perfect for more elegant, serious or luxurious brands. Besides photography, this design could very well be used for a real estate agent selling expensive condos or a 5 stars hotel in Dubai.
Want to take it even further? If you want more complex business cards, instead of writing your email address or website on it, try adding a QR code that links directly to them. Get inspired and start creating!
You can create a vCard QR code—an innovative tech tool that can store multiple contact details: your photo, mobile and landline numbers, email address, social media links; you name it.
To access these details, people have to scan the QR code with their smartphone's camera since most of these devices now have built-in QR code scanning features. But if your device doesn't have one, you can install a third-party QR code scanner app from the Play Store or the App Store. If you want to create this QR code type, you only have to use the best QR code generator online software. Now, most generators offer this QR code as a premium feature, but don't worry: You can sign up for a free trial or find software that offers an affordable plan.
Fashion business cards design ideas
When it comes to Apparel & Fashion, Design, or other similar industries, standing out is essential. There are so many new brands launching every day that you need to equip yourself with loads of creativity in order to stand out.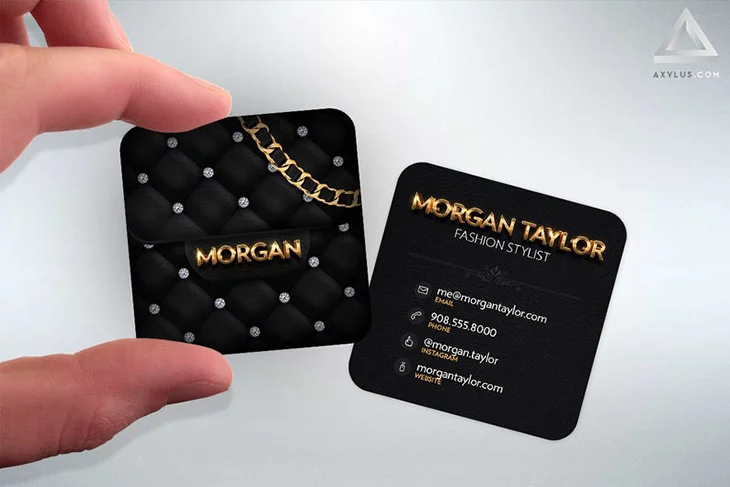 On a similar note with the business card design we just talked about, this fashion stylist business card is suitable for anyone starting out in the industry. With a black and gold design, it reflects a person who likes elegance and luxury. If this is something similar to what you had in mind, use this fashion business card as an example or starting point.
And the good news is: there's no need to spend money on a graphic designer to get the business card design of your dreams. Just make sure you print it on high-quality paper. Something that feels luxurious and expensive.
Crafty business card example for fashion designers
If the example above can be used for a more luxurious fashion brand or a stylist, this business card design example is perfect for a more vintage style fashion brand. Add a creative spin to your business card and be inspired by this unique texture and layout. Get crafty: grab your fabric rolls and start cutting little pieces. Sew your contact info, or just take it to the printer and add it there. All it takes is the intelligent use of imagery and you easily whip up a memorable business card.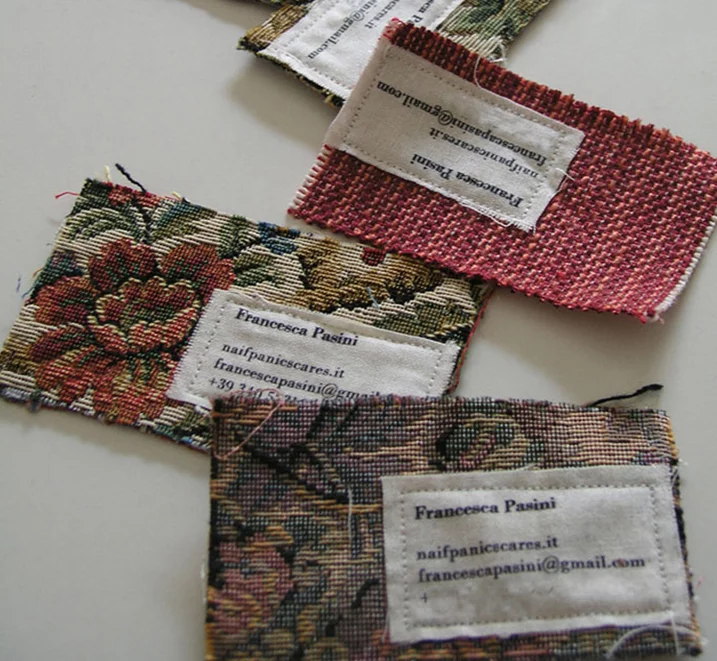 Imaginative business card idea
Needle and Thread. A classical concept that's very much representative of the fashion industry.
Many brands are using this element as a logo for their fashion business. The one below is just another cool example of how you can use an overused symbol and get creative about it.
With a design that's a thread wrapped around a small piece of paper, this business card design is memorable. Besides the fact that it's a creative take on a classical symbol, what's even more special about it is that the receiver can really use this business card.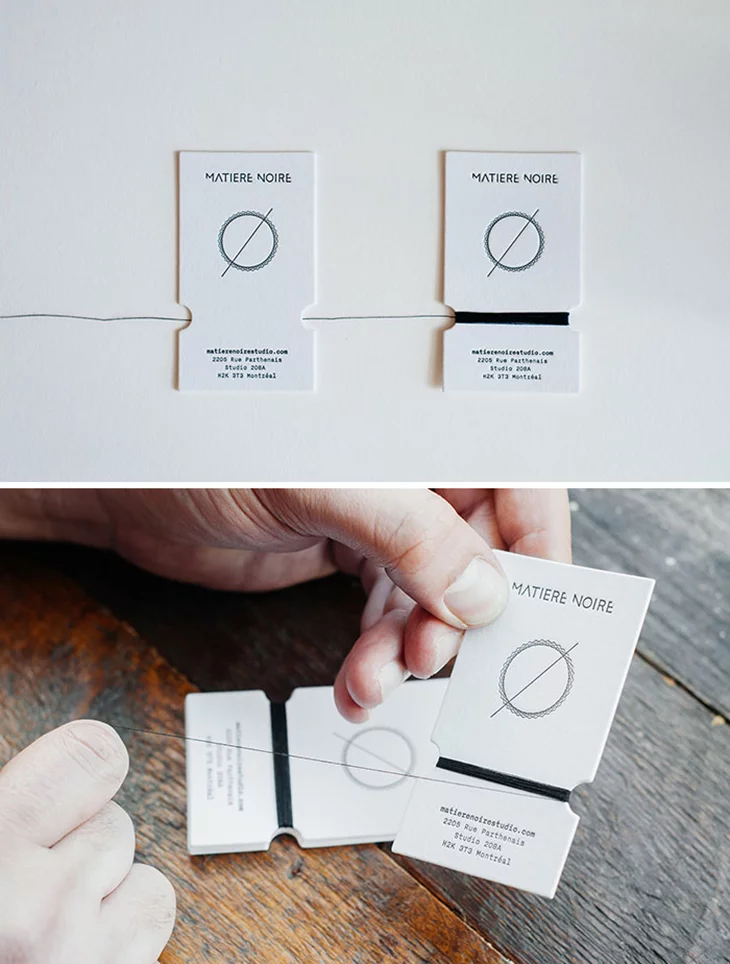 Custom business card idea for clothing lines
This business card was created by Lan Anh Ngo for Saudade, a conceptual branding project for a clothing line. If you are wondering what "Saudade" means, find out the story behind the brand: "People use needles to sew ragged clothes, same as how customers choose Saudade due to the smell and texture of the fabric which reminds them about their lover."
The business card design fully represents the story behind it. Again we get to see the needle and thread, but this time it's different. This is not the focal point of the brand design. The colors, typeface and story behind it are more powerful.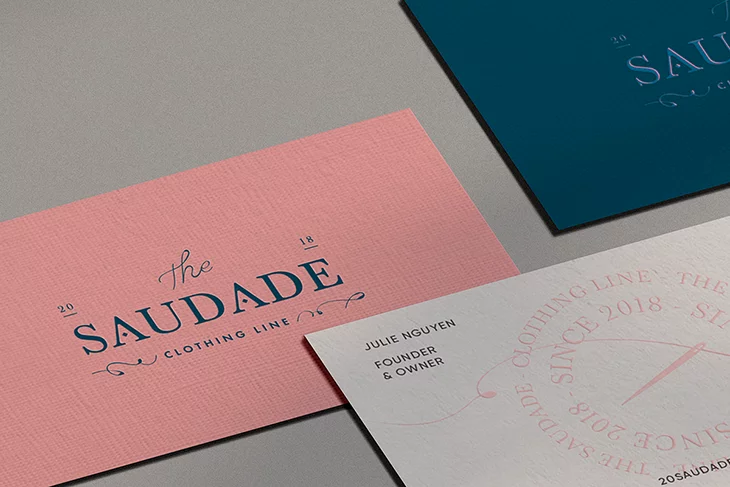 The designer used a very classical font for this brand, Baskerville which is perfectly accompanied by a neutral color palette.
This type of business card design should be printed on paper that resembles linen. Something that feels delicate when touching it. In the end, everything about your business card should tell the story of your brand. From logo to the paper you print them on.
Real estate business card idea
Real estate sales is a face-to-face business. That's why handing out your business card is not just a convenient way to share information. It's a great way to make customers.
Remember that your business card should be memorable and reflect you and your business, just as we stated a few times already in this article.
Make the most out of the little space you've got. Make a statement!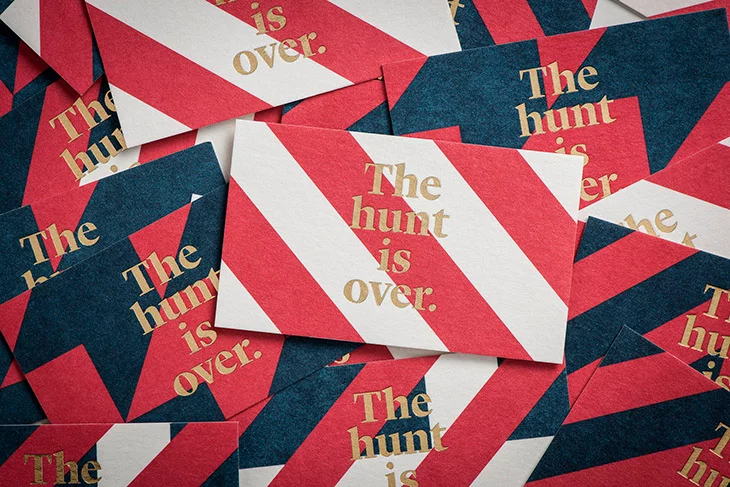 Take this creative real estate business card as an example. Use a fun line to grab the attention of the receiver. Get inspired and help your customers to finally say that the hunt is really over. All with your help, of course.
Professional business cards
Looking for a professional business card that feels expensive? Just take a look at this business card design idea. You can basically feel it in your hands, don't you?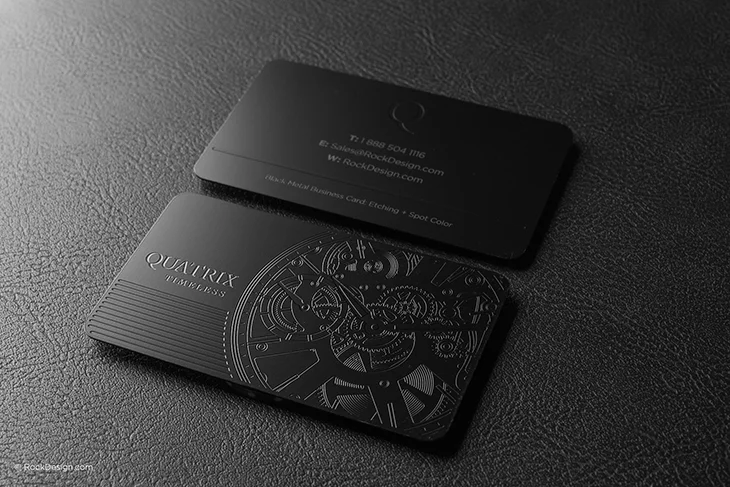 The elegant and engraved layout gives another dimension to any business card. To make a lasting impression on your audience make sure to select fonts that are readable when engraved. Any design should be, first and foremost, easily understood.
If you choose a similar design, find out if it will communicate your brand's many facets: elegance, boldness, and sophistication.
Luxury real estate business card idea
Talking about luxury brands and elegant business card ideas, this is yet another perfectly good example of that.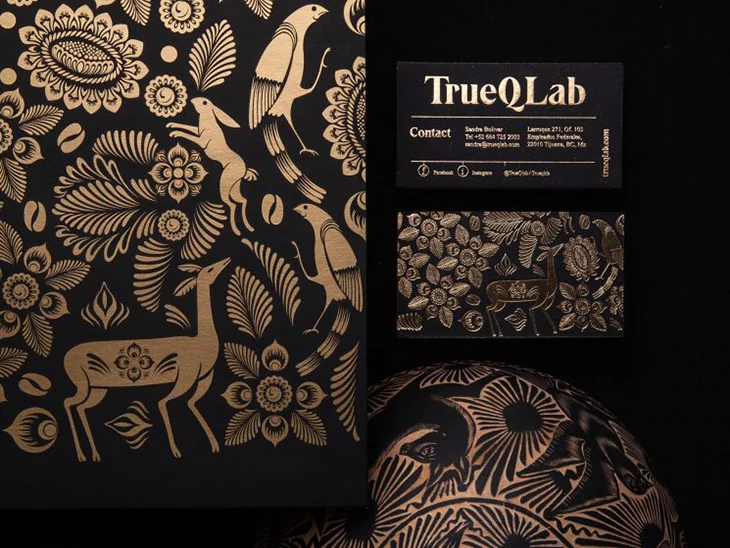 This business card was designed by Daniel Barba López for TruequeLab, a company that has 18 years of experience in the world of coffee. According to carddsgn.com, the graphic designer said that "we used hot stamping printing technique, which means the graphic art is transferred onto the substrate (in this case, the paper) with a metal hot plate, previously inked with gold foil. When you touch the paper, you could check the graphic appears in bas-relief, with a wonderful view of gold ink. You could see how the colour changes when you move the card in different ways!".
Sure, this looks stunning and luxurious. Before jumping on the hard task of designing similar business cards, make sure you find a good printing house that can live up to this expectation.
Graphic designer business card example
Standing out in the graphic design business is a hard thing to do. You need to show your impeccable design taste and skills even in the smallest of scales, such as a business card. This pink and yellow abstract layout has unique colors, graphic elements and clear text whose visual appeal all complement each other. This is just one of many examples of a free business card idea, so get inspired and create something that defines you. Nothing less than great design should be expected from your graphic design business.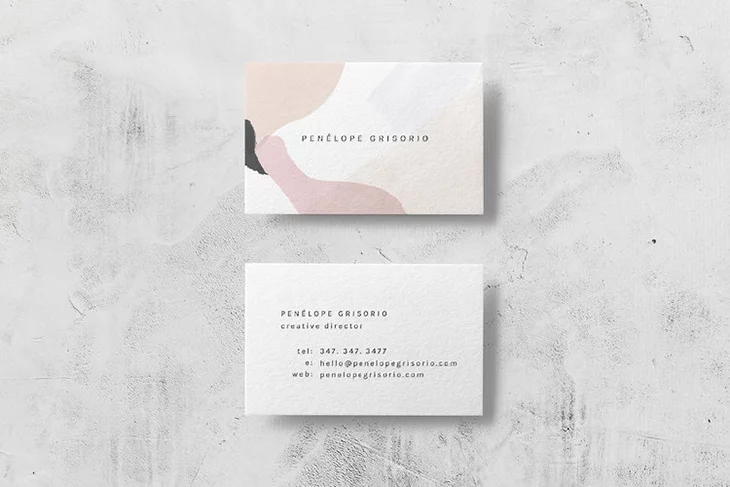 Square shaped business card idea
You are a graphic designer so let your creative side showcase your professional side. Alana Boeira designed these business cards for her self-branding as a graphic designer from Brazil. The layout features an icon based on the owner's physical features, with other various shapes and forms that describe her design process. It tells her story in a square shaped business card. Creativity at its best, for sure!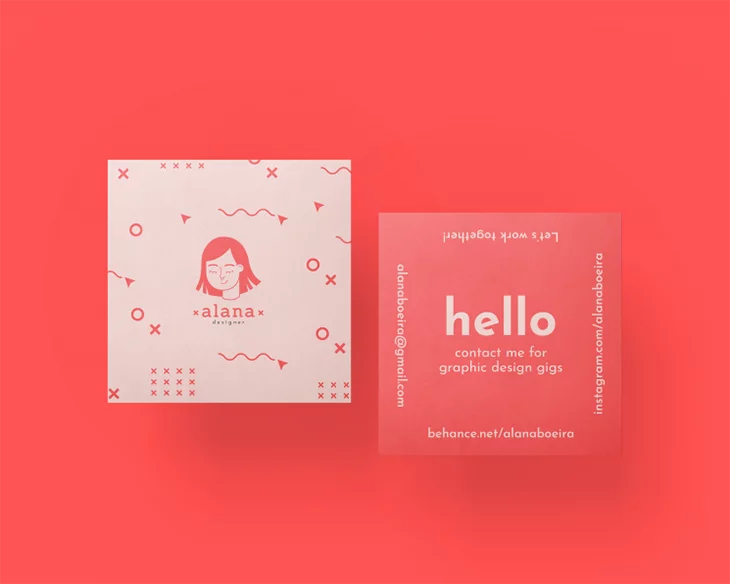 Why not use this business card layout idea and create a memorable piece for your graphic design business.
Famous business cards
We talked a lot about all sorts of creative and professional business cards ideas. How about going back in time for a bit? Let's see how famous people like Andy Warhol used their creative minds to create their business cards.
Go back to basics and get inspired by these unique business cards, owned by the most famous people of all time. And why not, get some inspiration from their designs.
Albert Einstein
When you are the most influential scientist of the 20th century, you might think you do not need any introduction? Known for his theory of general relativity, Albert Einstein`s business card design is relatively simple. It features a plain layout and classy typography. His contact information is printed on a standard piece of card. Sometimes too much text can be overwhelming, take this example and let simplicity be the ultimate sophistication.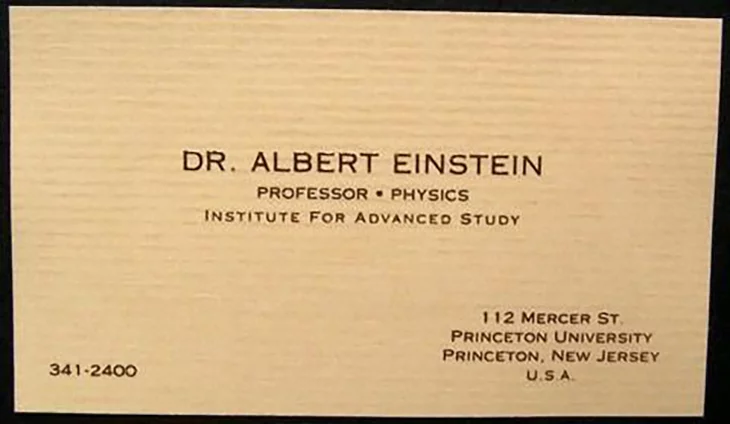 Andy Warhol
Andy Warhol is known for his bright, colorful paintings and prints of subjects ranging from celebrities including Marilyn Monroe and Mohammed Ali, to everyday products such as cans of soup and Brillo pads. Warhol embraced the nonconformist role in every field of his life, even when designing his business card. He avoided any conventional layouts such as plain typography and white background. Instead, he went for unique and bold colors and custom made font. If you're an artist, grab some plain cards and simply write down your details.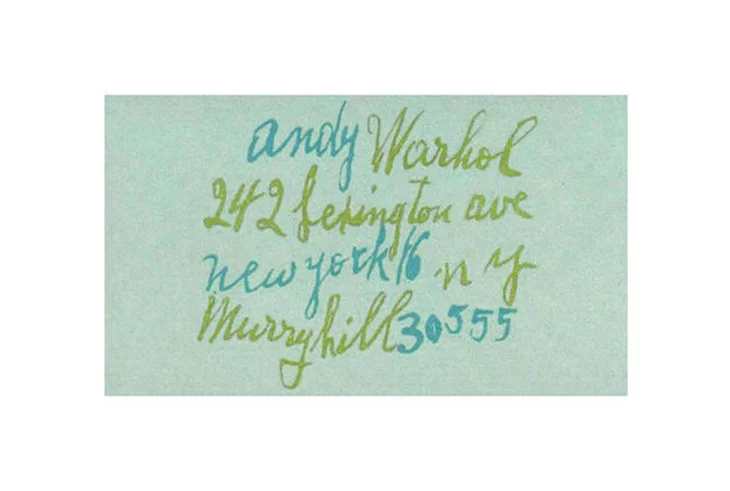 Get inspired, leave your mark and make a lasting impression by creating a boldly designed business card like this one.
How to make your own business cards
For a much easier process we've come up with some steps you need to follow when creating your own business card:
Select your card dimensions.You have the standard 1003 x 649 pixels for Europe, and 1050 pixels x 600 pixels for US cards.
Add your contact information: Company name, job title, website
Add branding elements: logo, branded colors, etc.
Proofread it
Print it or share it online
Your turn. Create a business card that fully represents you
Now that you've been inspired by various designs, it's time to create your own. More than anything, make sure that your business card reflects who you truly are. Whether you are a doctor, a baker, or a graphic designer, don't be afraid to be creative but stick to your branding elements. Today, in just a few minutes, literally everyone can create a professional-looking business card. So, get started and transform a simple conversation into an opportunity.