9+ graphic design tools that work wonders in 2023
Whether you are a designer, a marketer, a business owner looking to create appealing logos, or even a teacher looking for a platform to create outstanding visuals for the students, I'm sure you've been dealing with a significant number of dedicated graphic design tools.
Choosing a tool that suits all your needs perfectly can be quite a challenging and stressful task. Especially when there are countless tools for graphic design professionals available on the market.
Now, the question that arises here is how can you find the right one for you.
No need to worry about it anymore, we gathered a list with some of the best graphic design tools to help you with this task. Each of them recommended for every type of user, whether we're talking about beginners or professionals.
So let's get started and have a look at these top performers that all graphic creators need.
10+ graphic design tools you need in 2023:
Flipsnack
Adobe Photoshop
Adobe Creative Cloud Express
Phot.ai
Sketch
Venngage
Inkscape
Figma
Miro
Procreate
Sketchbook
Stripo
Pichon
SVGator
Placeit
Let's take them one by one and get into more details.
1. Flipsnack
The first one on our list will be, of course, the one we know best. And at the same time, the one that's closest to our hearts, our very own.
Flipsnack is more than a graphic design tool. It's a complete digital-publishing platform and the fastest flipbook converter on the market. Our platform allows users to create and distribute animated content materials with a realistic 3D page-flip effect.
Equipped with a user-friendly Design Studio and a drag-and-drop functionality, Flipsnack is suitable for every type of user. Whether you are a professional designer or just an enthusiastic beginner in the field of visual creation, this is the right tool for you.
No need to worry about lacking creativity, because our platform comes to the rescue with an integrated template library. There, you'll find thousands of fully customizable types of publications like magazines, catalogs, flipbooks, portfolios, brochures, and many more.
If we haven't convinced you yet, just try using Flipsnack to see for yourself how this complete digital platform helps you create all kinds of visuals and publications. Experiment with simple or more complex materials and start either by uploading your premade PDF or with a template.
2. Adobe Photoshop
The second one on our list, and by far a top performer in terms of design, is Adobe Photoshop.
Adobe is a well-known marketing design tool that offers a wide range of apps; suitable for professional graphic designers, web designers, or marketers. It also comes with alternatives for non-experienced users.
Photoshop is probably among the most popular apps powered by Adobe. This software has come a long way and has become a go-to for creating and editing photos; adding text to images, creating vector graphics, digital paintings, and 3D artworks.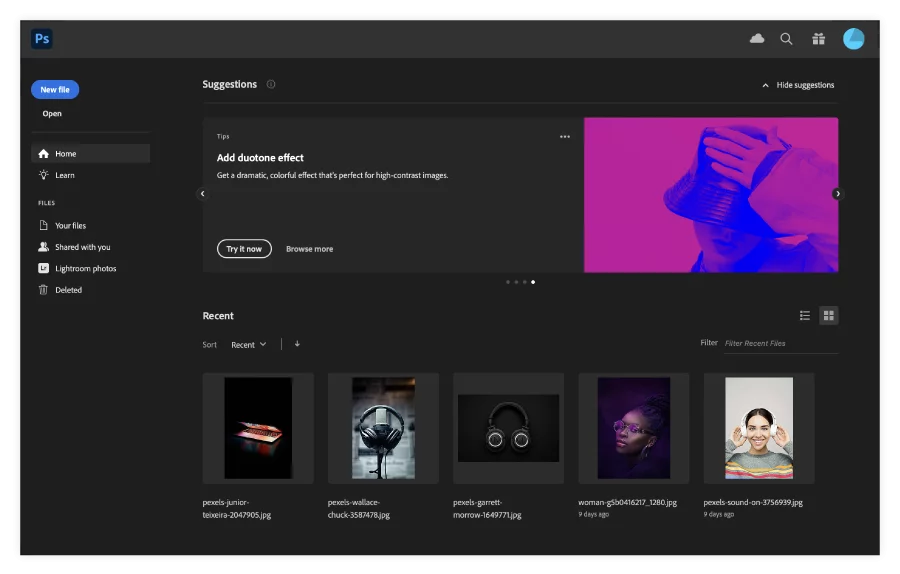 Besides that, it offers a wide range of tools that can help you create, edit or completely transform your needed visuals. And that's not all! This platform is also an impressive photograph editor. Features like background removal, layer masks, and a large variety of custom brushes, help obtain anything you want for photos.
In conclusion, if you're looking to achieve head-turning effects for your photographs or other graphic creations, Photoshop is exactly what you need.
3. Adobe Creative Cloud Express
The next tool on our list is another Adobe product.
Adobe Creative Cloud Express is an accessible alternative to the other graphic design tools that Adobe offers, more suitable for beginners than professional designers.
This all-in-one platform offers a set of web and mobile apps. They make it easy for anyone to express their creativity, independent of skill level or experience. It comes with a user-friendly interface that allows you to edit images and add different stickers to them. Use it to also create logos, banners, videos, and animations.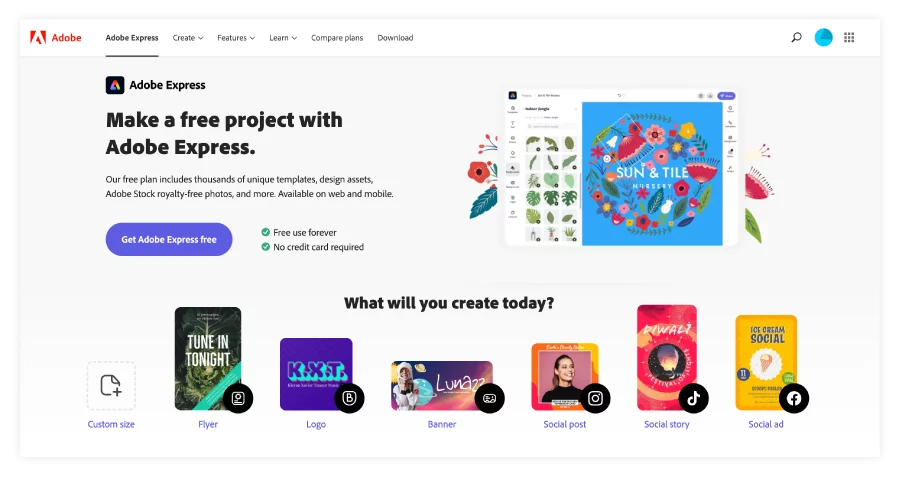 But you know what's even better about Adobe Creative Cloud express? The fact that it has a drag-and-drop functionality and comes equipped with templates. This way, users can choose one of them and simply adjust it according to their needs.
4. Phot.ai
Phot.ai is a game-changer for graphic designers, particularly those focusing on product photography. Its advanced photo editing tools enable precise adjustments, filters, and vibrant color enhancements – a must for impeccable product presentation.
The platform offers carefully curated graphic design templates, an intuitive collage creator, impactful typography choices, custom social media graphics, and convenient tools for object removal and background changes. Furthermore, it boasts an image upscaler and enhancer, taking visual quality up a notch.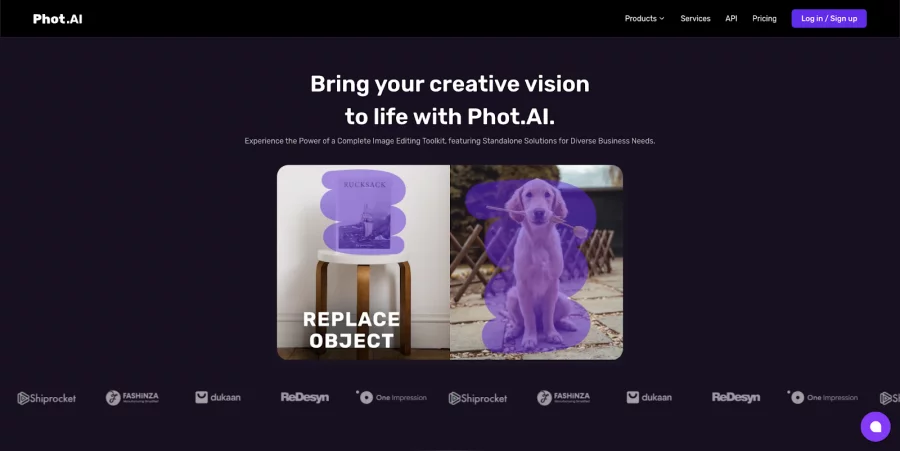 Designed with a user-friendly interface catering to all skill levels, Phot.ai streamlines workflows and sparks creativity. In the realm of brand identity shaping, Phot.ai empowers designers to break barriers, refine product photography, and bring creative visions to life with exceptional finesse.
5. Sketch
The following graphic editor on our list is Sketch. This platform is a vector-based graphic design software best known for designing apps, prototypes, wireframes, and websites.
It is an excellent tool for teams who are looking for a real-time collaboration platform. It also allows users to create and design in different workspaces. Another thing that I personally like about Sketch is that it comes equipped with a functionality that allows you to export files in multiple formats.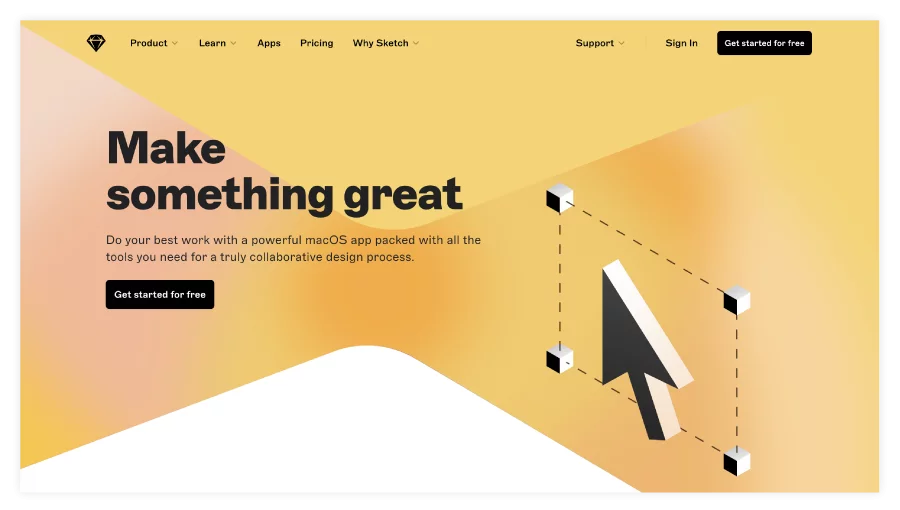 Moreover, this graphic design tool allows users to organize their design materials. It creates a file that keeps together all the page designs made for a particular project.
Therefore, let your imagination roll and choose Sketch to create animated timelines. Transform screenshots into realistic mockups, and everything else you need for your design-related projects.
6. Venngage
Looking to maximize the value of your data? Look no further than Venngage Infographic Maker. This online platform offers a user-friendly experience with a wide range of customizable templates, charts, and icons. Whether you're an experienced marketer, educator, or business owner, Venngage has got you covered.
Venngage's templates help to turn complex information into stunning visuals effortlessly.
Create data-driven reports and eye-catching social media infographics that will leave a lasting impact. Venngage's templates are a great tool to elevate your content, boost audience engagement, and make informed decisions.
Join the millions of users worldwide who have already harnessed the power of infographics to convey concepts, spur action, and captivate audiences.
7. Inkscape
If you're looking for a graphic design tool to create vector images primarily in SVG (Scalable Vector Graphics) format, you must have a look at Inkscape.
This graphic design platform provides a broad range of features and it's widely used for both artistic and technical illustrations. Such as cartoons, clip art, logos, typography, diagramming, and flowcharting. It uses vector graphics to allow sharp printouts and renderings at unlimited resolution, not bound to a fixed number of pixels like raster graphics.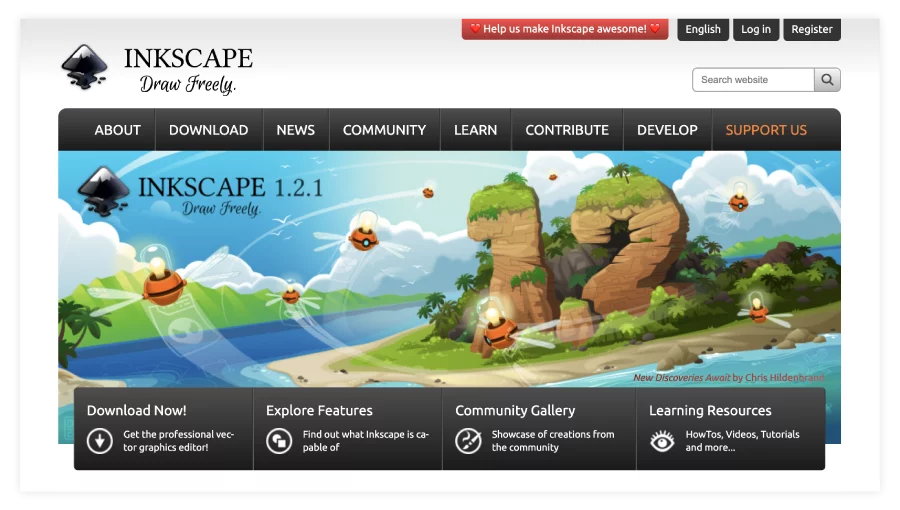 Inkscape can also be used to write and edit text with tools that allow you to change fonts, add spacing, and rotate elements.
Professional designers mainly use this software, but not-so-tech-savvy users can also use it to create vector graphics from photos that can support interactivity.
8. Figma
When talking about graphic design tools, another great choice is Figma. This platform is an all-in-one graphics editor and a prototyping tool. Mostly relevant for professional designers to create prototypes and wireframes for complex projects.
A great advantage of this software is that you can access it directly from the browser. This option offers remote working users or teams who work on the same project an easy access regardless of the device they are using.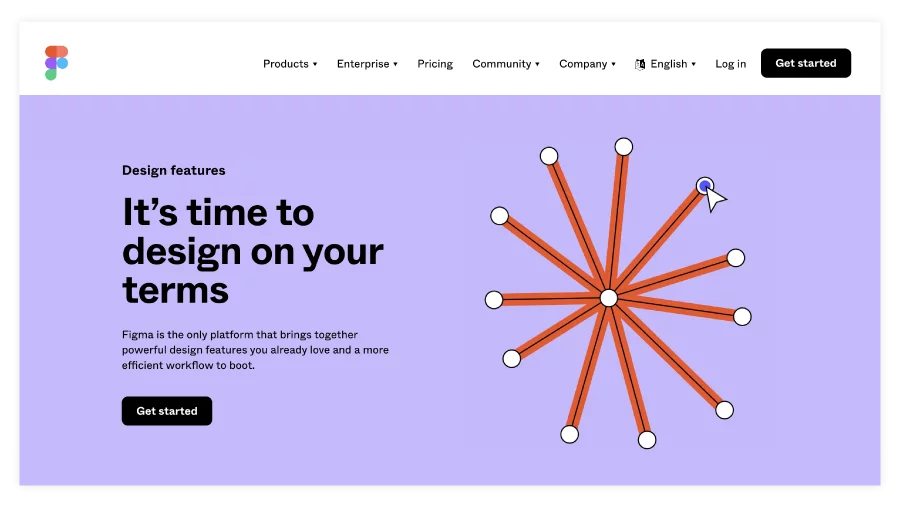 Another incredible fact about Figma is that besides being a complex graphic editor due to its user-friendly interface, it is also quite a straightforward platform. So, Figma is simple enough to offer you a "helping hand" at the beginning of your journey. And complex enough when creating sophisticated projects. Professional graphic designers and beginners making their first steps into this field can use Figma alike.
9. Miro
The next on our list and another great vector-based graphic design tool is Miro. Miro is a web-based design tool that allows users to create vector graphics and illustrations.
Professionals generally use this software to create designs for websites, apps, and other digital products.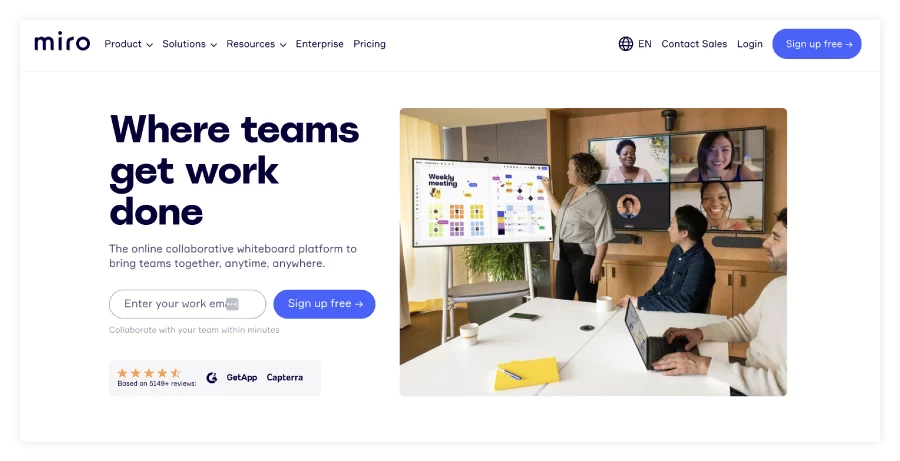 If you're looking for a platform that allows you to work together as a team, Miro can be just the right choice, because this software is focused on collaboration. Users can easily create moodboards or storyboards and brainstorm creative ideas for their ongoing projects.
Miro also comes equipped with a user-friendly interface and templates for different types of projects, which makes it equally appealing to beginners and professionals. Pretty cool, right?
10. Procreate
Procreate is another essential graphic design software for anyone involved in the graphic design field. Artists worldwide, both beginners and professionals, appreciate this app for its ability to help them illustrate, draw and create digital paintings.
The app has been created exclusively for IOS users. It comes with a rich selection of intuitive tools which allow users to create fully defined sketches and drawings. Users also have access to all types of Procreate brushes for free.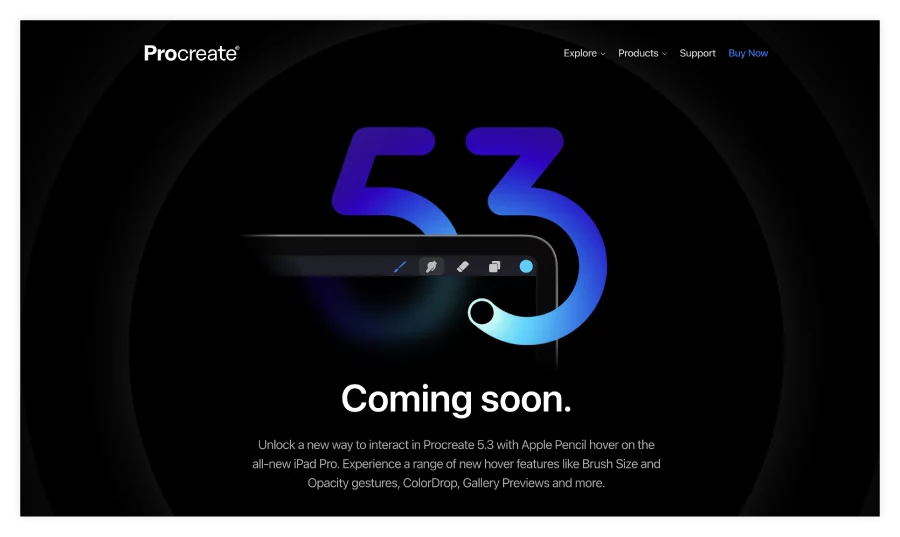 Therefore, if you're looking for an immersive experience in terms of graphic design, Procreate is the right solution for you. It is a complete art studio with all the tools an artist needs and impressive responsiveness that gives you the feeling of drawing on paper.
11. Sketchbook
The last, but definitely not least in this design-focused article, is Sketchbook. Sketchbook is a vector-based graphics editor suitable for everyone who loves to draw, exactly like they promote themselves.
Whether you are an experienced graphic designer or someone who is just starting in this field, Sketchbook can be your go-to solution. This software has an easy-to-use interface and all the features you could possibly expect from a professional-grade app. It comes equipped with a large variety of customizable brushes, rulers, stroke tools. Plus everything else an artist needs to create eye-catching designs.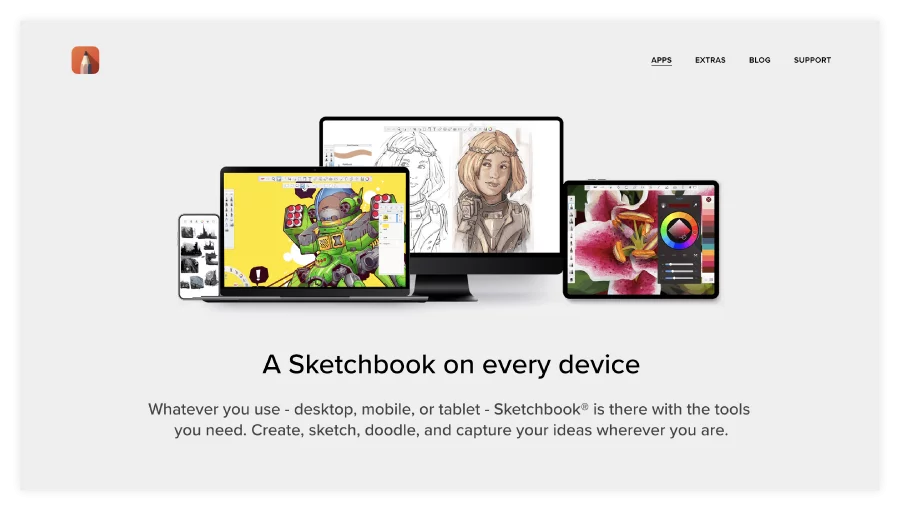 Moreover, just like the name suggests, Sketchbook gives you the feeling of drawing on real paper because it comes with paper-textured backgrounds. In addition, the brushes and pens behave exactly like their physical counterparts.
12. Stripo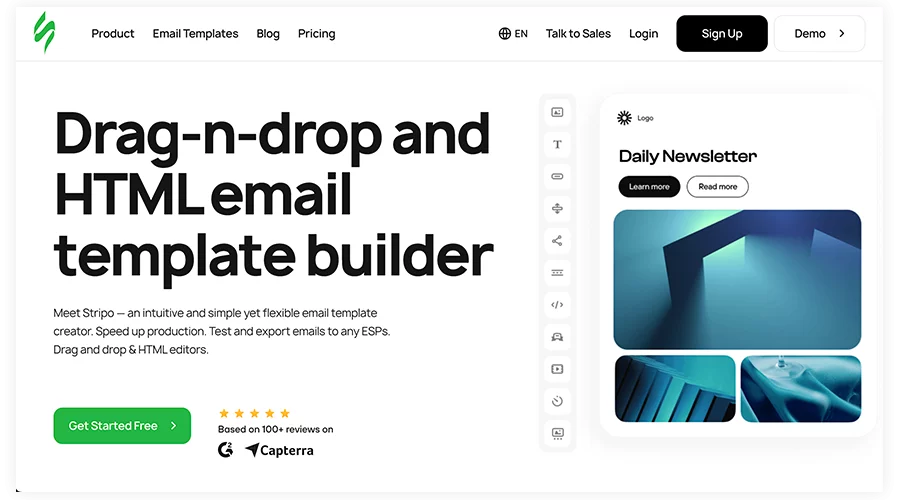 No matter if you are an email marketer who uses the drag-and-drop editor or a skilled designer who prefers working with pure HTML code, Stripo is a perfect tool for you.
Stripo is an all-in-one email design platform to let you build high-quality emails, including AMP and interactive emails, fast with little to no coding skills. Stripo offers 1150+ responsive email templates, carefully crafted by professionals for your inspiration. You can also use them as a base for your future emails.
Stripo is focused on automating the email production process; thus, you can save up to 60% of the time you usually spend on email creation. The platform provides users with all the necessary tools to design modern emails that contain interactive elements.
Besides the graphic design tools we've talked about so far; there are other two great sources of inspiration and cost-effective solutions we want to offer you. Therefore, we've carefully gathered a list of free stock photos and fonts that come in handy for every design-passionate out there. Let's start with the first one!
13. Pichon
Looking for the perfect image can be time-consuming and frustrating. With Pichon app from Icons8, you can access over 1 million icons, illustrations, and photos at your fingertips, eliminating the need to search through Google. The app also allows you to store your own graphics and uses AI to automatically tag them for easy organization.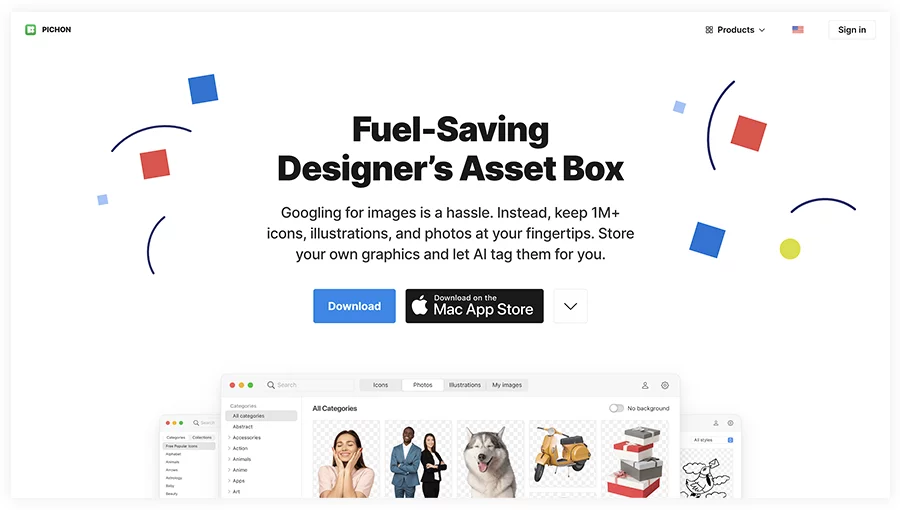 With Pichon, you can easily find the images you need and drag them directly into your graphic editor. The app also includes features such as background removal and image resizing, making it easy to customize and optimize your images without ever leaving the app. Work more efficiently and without distractions with Pichon.
14. SVGator
SVGator is an online animation tool that lets you create lightweight animated illustrations, icons, logos, and many other visuals without any coding skills. The intuitive drag-and-drop interface is keyframe-based and has a bunch of advanced animators to create amazing animations for the web and for mobile apps. One of the main advantages of this tool is that it supports interactivity, so you can set your animation to start on click, on hover, or on scroll.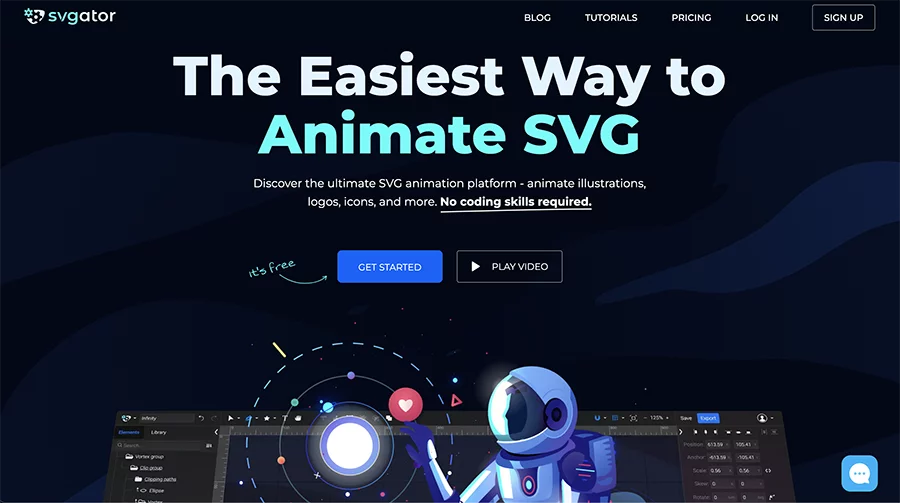 SVGator is generating the code in the background while you can focus on the creative design process. It exports a single SVG file either in CSS or it can also include JavaScript, ready to implement to your website. Other export formats are also available, such as .dart and .js for mobile apps, as well as video and GIF formats for social media.
Another advantage of SVGator is that it has a free plan so you can explore all of its features and export a few animations before buying a plan.
15. Placeit
If you're looking for a platform where you can create all your branding designs, Placeit is a great tool! With more than 50K templates and a growing library of designs made by professionals each day, you can create eye-catching images. Make everything from logos and videos to your social campaign with branded images in minutes.
Create a logo in seconds with hundreds of new logo templates every day according to your industry. Access all kinds of mockups and design templates with its mockup generator and video creator. Easily create your brand's marketing assets and then just download your creation.
Placeit is a very friendly online tool for creating videos in minutes. Find all the latest Instagram Stories, Instagram videos, and Slideshows made with illustrations, photos, and videos, plus original soundtracks! Just select your favorite video template, customize your text, change the color of backgrounds and shapes, and add your images or video clips. You can also customize the playback speed and quantity of slides to make a short or long Instagram Story video.
All their videos are made by a professional team, so you can rely on them being eye-catching templates for your campaigns. Once you have customized your template, simply click the download button.
Free stock photos any graphic designer needs:
Now that you know some of the best stock photography resources; you just need to add some eye-catching fonts. And there you have it: engage your target audience even more and reap the benefits.
Free fonts any graphic designer uses:
Conclusions and takeaways
That being said, it was quite an interesting journey wandering through hundreds of graphic design tools. I enjoyed putting together a short list with some of the best out there.
I hope this list will provide you with the design tools that best fit your needs. There is something for every professional designer in need of similar tools for your daily work; or for visual work instructions passionately looking for ways to release your creativity in the digital world.
We're living in an ever-changing and evolving world. So we know how important it is to keep up with the latest trends in the digital environment. That's why it's crucial to use innovative and complex marketing design tools to achieve top-notch performance in any field.
Ready to start? Enjoy your way to success!