Booklet design: Useful tips for creating booklets
A booklet is a pretty generic term, covering everything from digital album booklet, children's bedtime storybooks, brochures, reports, and CD/ DVD inserts. This is why there's a wide range of booklets: square, landscape and portrait, digital booklets and printed, shorter and bigger (in terms of page number).
How to make a digital booklet
Start by setting a clear objective
Organize and plan your content
Be consistent with your design elements
Design double layouts for higher interactivity
Export your booklet for web and for print
Let's take them one by one and get into more details:
1.Start by setting a clear objective
Think about why you design the booklet and who you design it for. A digital album booklet will look totally different from a report or a short children's book. Keep that in mind throughout the entire design process.
2. Organize and plan your content
The next step is to organize the content by chapters or sections. Then go to the next level and organize the content by pages. It will be easier afterward to focus on just one page at a time while having the big picture in mind.
The longer the booklet, the more work you'll have to do. However, you can apply some of the layouts to multiple pages, which will simplify your work to a certain degree. For example, you should use the same layout for all chapter pages. It will impose a certain rhythm on your booklet, making it easier for readers to understand its structure.
3. Be consistent with your design elements
Consistency is the number one rule for booklet design. To get a cohesive, professional look in your booklet design, you need to be consistent with a number of things: page margins, fonts, spacing, colors, visuals.
You shouldn't use many fonts in your design. Work with 1-2 fonts that go well together for the entire booklet: one for titles and one for paragraphs.
Make a color palette that compliments your visuals before you start designing. You will find that very useful once you start working on your booklet layouts.
4. Design double layouts for higher interactivity
When people will read your booklet they will see double layouts. So you should design exactly what the readers will see, to get the best results.
5. Export your booklet for web and for print
You need different export settings for web and for print.
For print, you need crop marks, creep allowance, and high-quality images, while the web version requires a smaller PDF that loads quickly. Read about export settings for web PDF for InDesign booklets.
Digital booklet printing is possible, but if you want the best results and high quality, you're advised to make 2 different versions, for digital and print, with different export settings.
Stunning booklets that are easy to design
This is where we share with you some examples, some layout ideas, and a booklet template made in InDesign. You'll find them useful and inspiring, we promise.
Multi-purpose booklet template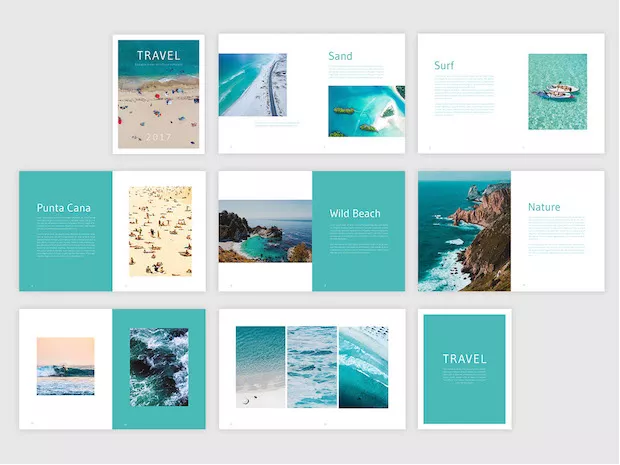 This is a free booklet/brochure template made by one of our designers. It's perfect for short business booklets or informative brochures. It's also very easy to customize if you've used InDesign before.
Download it from here
Booklet layouts
These are all layouts that can be used in various projects of editorial design because they create nice visual effects. If you just need to see more ideas for your booklet projects, this is where you need to go next:
See more layouts for booklet designs
Examples
You've seen some templates and some booklet layout ideas above, but we can also show you some examples of real, published digital booklets.
Click on the images below to see the entire booklet, all pages.
Story booklet: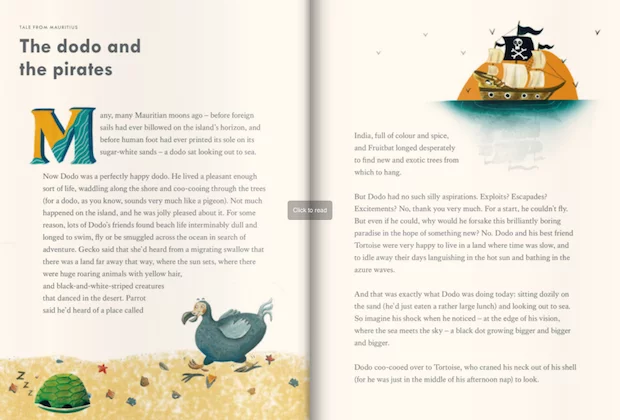 Finance booklet: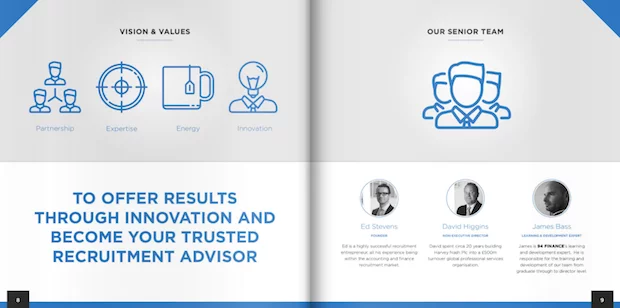 Also, check out this video on how to make a financial booklet and get some inspiration!
Digital album booklet: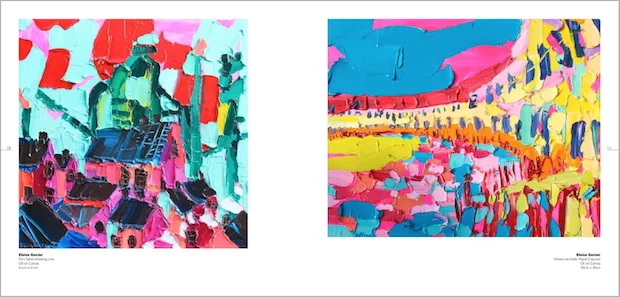 Booklet design software
If you already know what you want to create you might only be interested in booklet design software. Experienced designers use Adobe InDesign, QuarkXPress, Microsoft Publisher, or PagePlus. These are great tools for editorial design, but rather complex, so you might be looking for a tool that is easier to use.
If that's your case, you're in luck, because we happen to have a very easy to use cloud-based software for booklet design. It's basically a drag and drop editor, packed with editable page layouts that you can use to design each page of your booklet.
By using our page templates you will get a professional look with little effort. With our booklet design software, you don't need to have a design diploma to get beautiful and professional layouts. It's the fastest way to create booklets.
There's also an option to start from blank pages.
Whatever your choice may be, you will end up with a digital booklet that you can edit as many times as you want. You can also download your work as a digital booklet PDF, so you can take it to print afterwards. Get the best of both worlds with digital and printed booklets!
We're hoping you found this useful!
Leave us a comment if you have questions or comments.