Create outstanding employee benefits packages
It's not an easy job nowadays to keep your great employees on board when there are so many opportunities around them. So, how do you make sure that they won't depart from your ship? You offer them a good employee benefits package. Provide the right benefits and your business might just jump-start its growth. Your employees will be more satisfied and productive, they'll be less likely to quit and will also meet the company's goals quickly. Research shows that 69% of employees are more likely to stay with an employer who offers a good benefits package.
What is an employee benefits package?
Let's get straight to the point. An employee benefits package is a collection of non-wage advantages that supplement an employee's salary. Medical insurance is at the top of the list, followed by the retirement plan, gym membership, disability insurance, and more. Some companies even go so far as to develop a health insurance app to help their employees take full advantage of the benefits they're entitled to. Overall, a package like this one is a good business. It promotes a positive work environment full of passionate and productive employees. So what are you waiting for? Start creating your employee benefits package today.

It sounds like a great idea; but how exactly do you create an employee benefits package that won't be tossed away by your workers? First of all, keep in mind that we live in the 21st century when technology is more powerful than ever. Say goodbye to paper printed packages, and embrace the digital employee benefit guides. With the world going digital; it's highly important to choose an online platform that can help you in this regard. You'll no longer have to worry about the cost of printing and reprinting every time you make some changes to the guide or wonder if your customer employees will actually read everything you put there. The fact that you'll also save the trees when you choose digitalization it's an important thing to take into account.
Digital employee benefits packages enhance communication between brokers, employers, and employees. They're easily accessible, more secure, and track how well employees engage with them. Whether you're a part of a large insurance brokerage or an independent advisor; we hope today's article answers all your questions and helps you create professional and informative employee benefits packages.
What to include in an employee benefits package
There's a vast list with all the benefits that a company can provide. Choose them wisely before offering them to your employees. Usually they are split into two main categories: financial and health & wellbeing.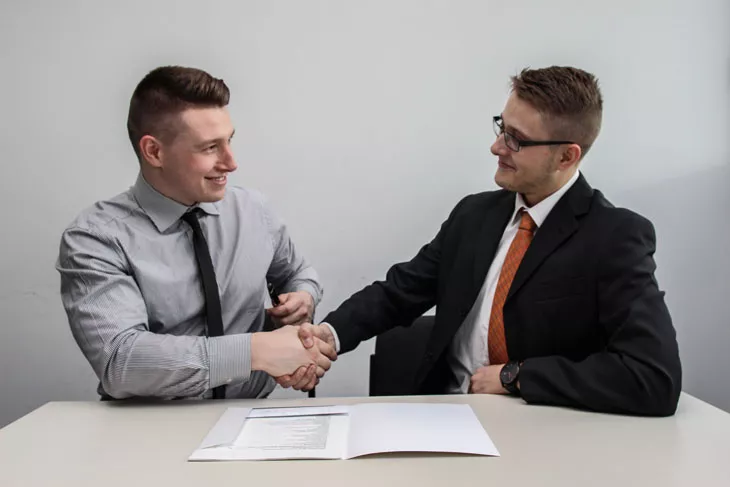 The financial benefits are travel loans, bonuses, maternity/paternity pay, share schemes, and pension. The health & well-being are private medical insurance, sick pay, gym membership, flexible working, massage or spa classes, lunch, and healthy snacks, and many more. No matter what you pick; make sure to create informative and accurate employee benefits packages, so that everybody understands them clearly.
Why is Flipsnack the best choice for your next employee benefits package
As we already mentioned before; this world is going more and more digital and we have to adapt to this online environment as fast as possible. Even if it seems difficult for some companies to move away from printing, it's a change they have to make. Printed employee benefits packages are expensive to produce and distribute. Not to mention the fact that they are dull and uninteresting for the millennial generation. Nowadays, customers prefer digital guides. They don't harm the environment and are also convenient, efficient, and easily accessible.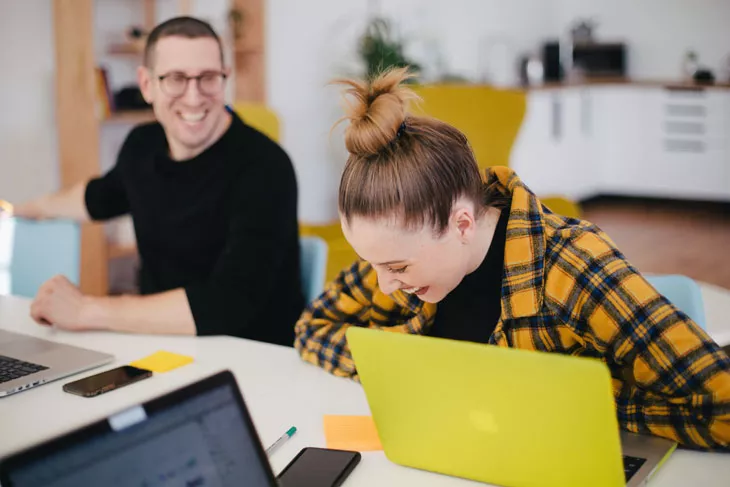 In order to live up to customer's expectations; more and more insurance companies start utilizing online platforms that help them create digital employee benefits packages. But not just any platform. Insurance brokers search for interactive, secure, and fast ways that allow publications to open in any browser, on any device. One of the platforms that has all these benefits (and many more!) is Flipsnack.
Interactivity at its finest
We provide a variety of free and professional templates that inspire you to conceive flippable digital guides. You have the freedom to make your employee benefits packages as interactive and interesting as possible. With just a few clicks, you can insert links or add videos and GIFs. Our drag and drop editor allows you to play around with colors, fonts and you can also upload your own photos. You can edit your digital guide at any time; whether you're using your desktop or mobile device. Not to mention the fact that it's easier to update the flipbook every time someone new comes in the company. You don't have to worry about printing costs anymore.
Security is everything
But one thing every insurance company expects from a digital platform is security and rapidity. Flipsnack has them both. It's highly important and recommended to use a platform that allows you to share securely internal digital documents inside your company.
After you've created your employee benefits package, you can secure it as well as possible by simply using the password-protected feature. This way, you make sure that the right people receive the right information. It's a risky business when it comes to benefit guides. They are sensitive and personalized pieces of information that require thoroughness and accuracy.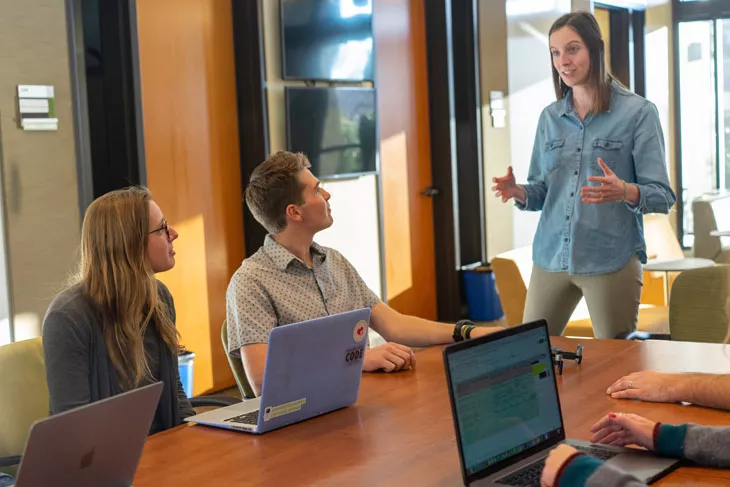 Talking about rapidity; email is one of the fastest and easiest communication channels nowadays. You can send the benefit guides quickly and confidently per email to the employees. They can access their benefits packages at any time, on any device. But there's more. Besides being able to perfectly integrate your publications into email campaigns; you can share them privately with particular individuals.
Branding is crucial
Let's face it: branding is utterly important in any company. It makes you unique and trustworthy in the face of your customers and clients. Through your brand, you are easily recognized in a sea of competition and you also clarify why you're better than your competitors. Flipsnack provides an entire branding toolkit that allows you to create personalized employee benefits packages. From custom brand colors to custom fonts and custom text styles; you can easily build and maintain a particular brand identity.
Even if you knew this or not, it's worth mentioning it. The core identity of any brand is always associated with the logo. Many insurance companies want to have their logo appear in the flipbook widget, in the emails that they send, on the catalog cover and on their custom subdomain. All this is possible if you choose Flipsnack.
Employee benefits templates to inspire you
Now that you have seen why Flipsnack is the perfect solution for your employee benefits packages; it's time to take courage and create one by yourself. No design skills required, we promise! All you have to do is to browse through our collection of employee benefits package templates. choose the most suitable one, and personalize it to your own liking and needs.
Modern Employee Benefits Proposal Template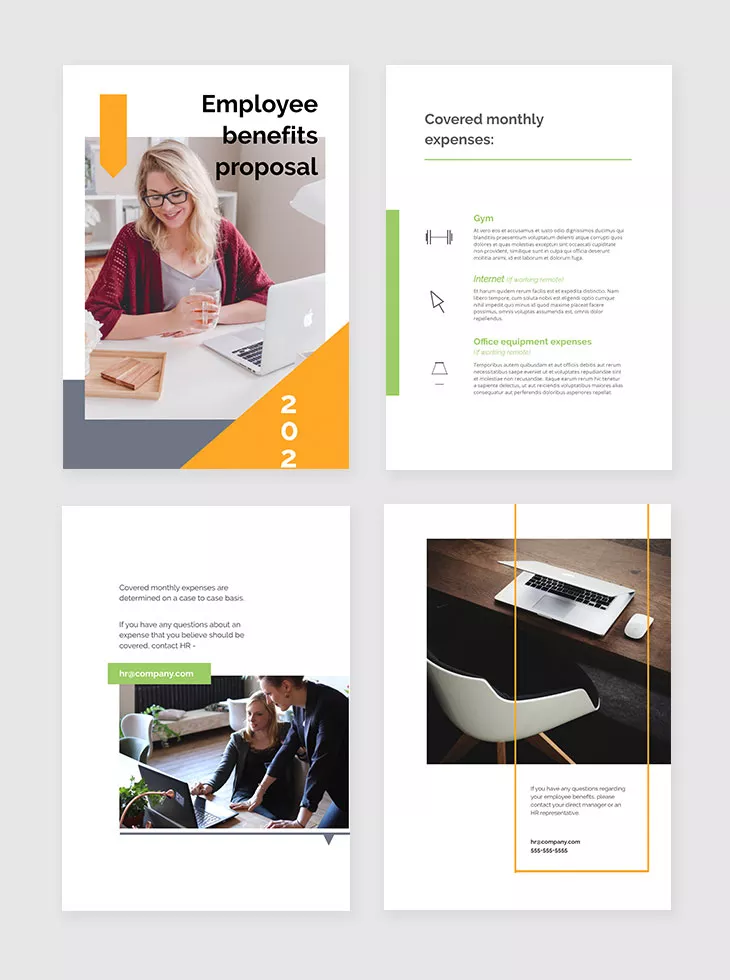 There's no employee who doesn't like to know their benefit options. With this employee benefits proposal template; you can showcase all the amazing benefits you're offering to your workers. Within minutes; with the help of our drag & drop editor, you can easily turn this template into a unique work of art. And it doesn't even require design skills. Add your company's name, a special section dedicated to employee benefits, and any information you find necessary. Don't forget to add your logo and brand image. Give this employee benefits proposal template a try and let us know how it worked.
Employee Benefits Package Template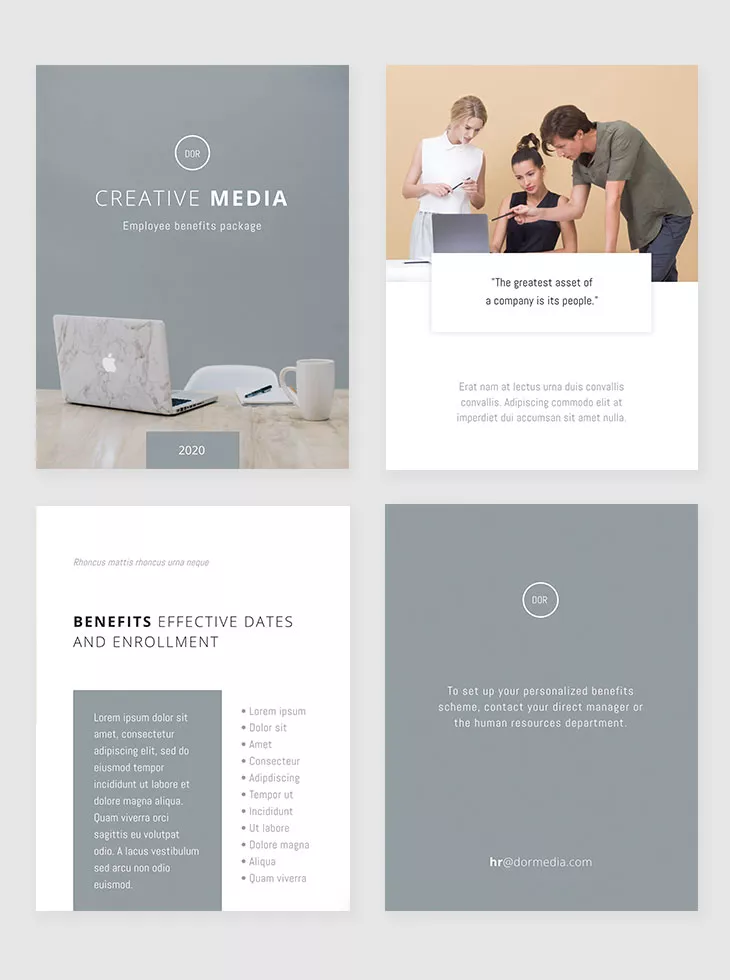 Take advantage of this customizable employee benefits package template that allows you to make any change you want in an easy to read manner. When you're done with the editing part; make sure you share this employee benefits package securely with new hires. Don't worry, you can count on Flipsnack for that!
Employee Benefits Summary Template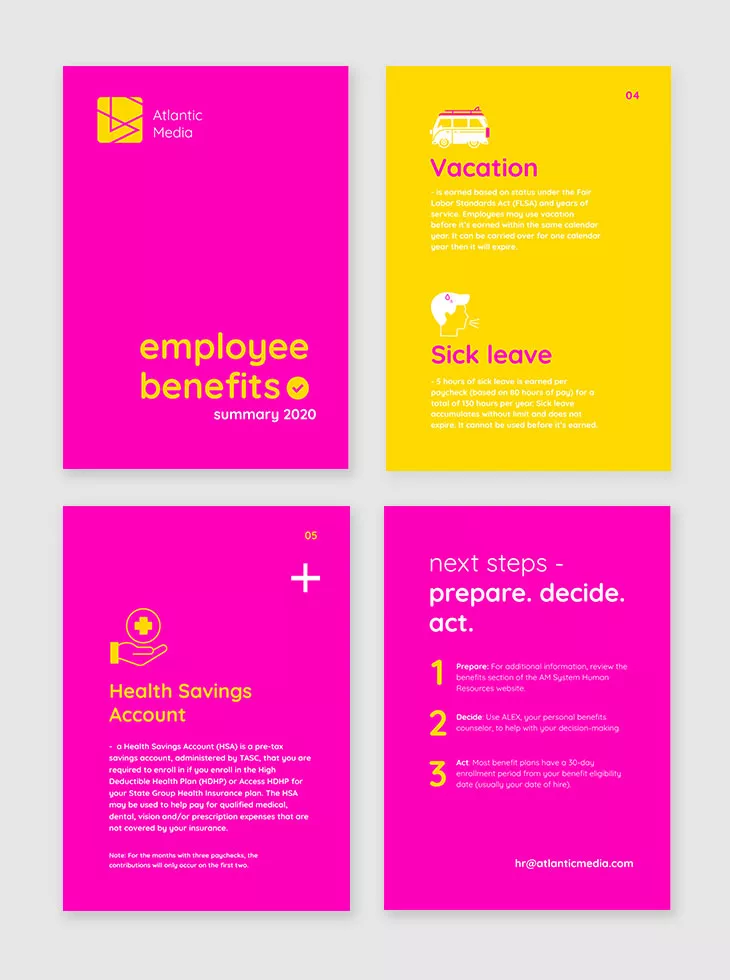 You can now summarize all your company's amazing benefits with this employee benefits summary template. Easy, fast, and secure! With the help of our intuitive editor; you can add custom images, insert text, change fonts, and even use your own brand colors. Don't forget to also insert your logo, it's highly important! When you're done customizing; download this employee benefits summary and send it via email securely to all the employees. Give it a shot today.
Employee Benefits & Well-Being Booklet Template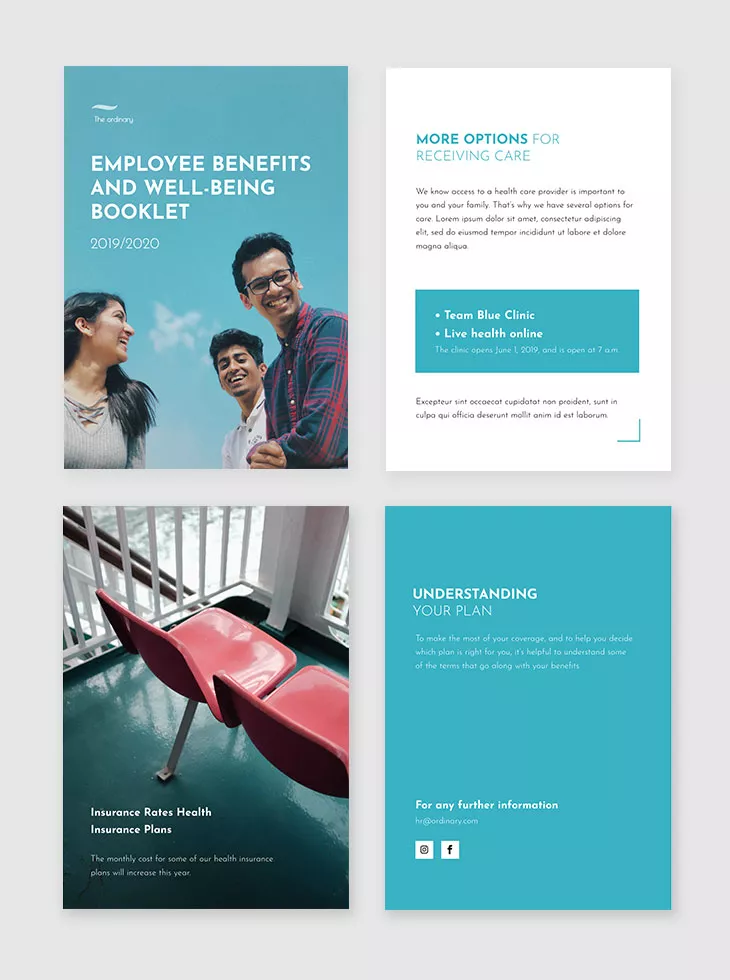 There's no news these days that benefits are incredibly important for employees. With this employee benefits booklet template, you have everything you need to get started. Don't hesitate too much. Take this template to our editor to change images, colors, fonts and text in just a few minutes. Insert all the benefits you want to offer to your employees, add your logo and you're done. See? It's not complicated at all to create outstanding employee benefits packages! Check this out right now!
Employee Benefits Guide Template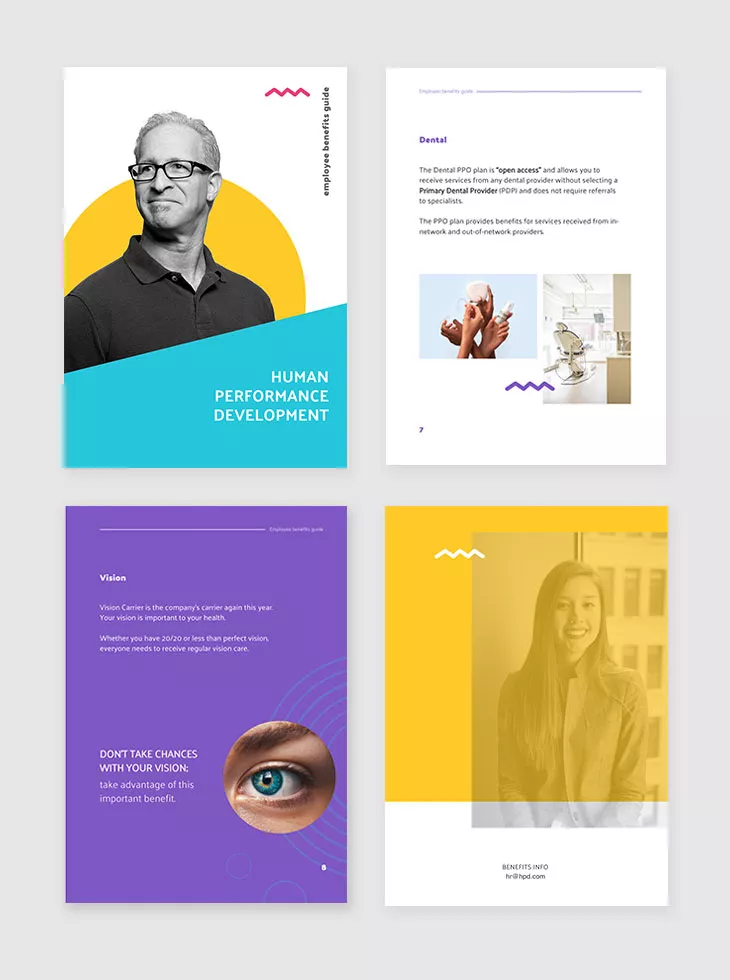 Many insurance companies search for online platforms that allow them to create and share digital employee benefits guides. Flipsnack is one of these platforms. We provide free and professional templates to inspire you for your next digital guide. Like this employee benefits guide template from here. It's smooth, colorful, and 100% customizable. Use our drag and drop editor to add any text, images, brand colors, and anything else. Once you're done, send this benefits guide securely to your employees. They can access it at any time, on any device. Technology makes it easy, Flipsnack makes it possible.
Professional Employee Benefits Guide Template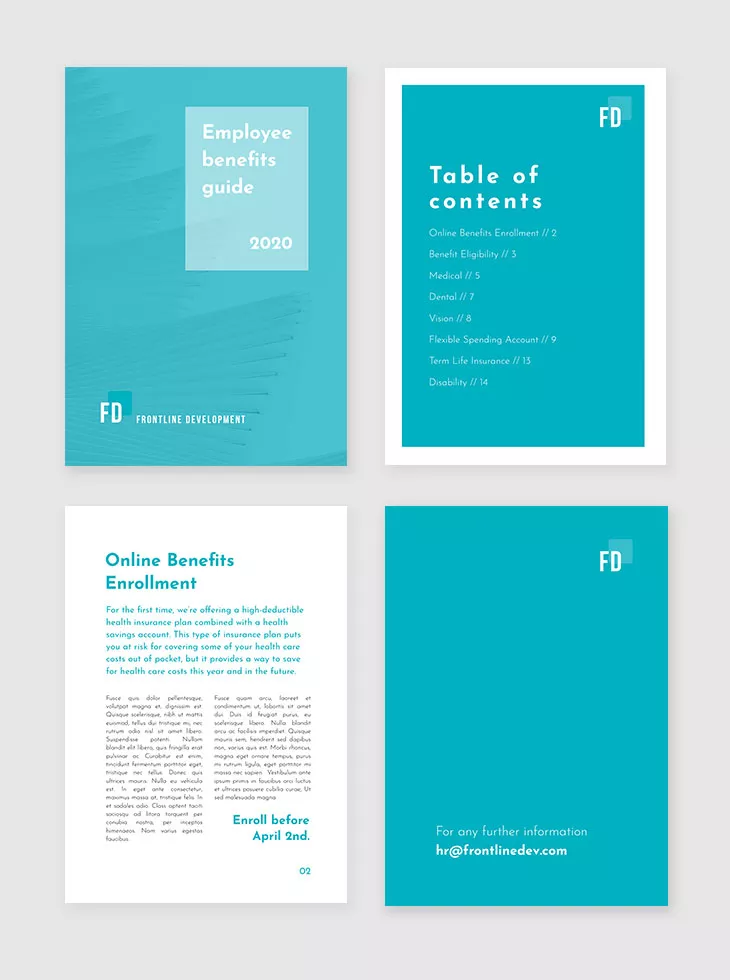 Whether you're a part of a large insurance brokerage or an independent advisor; it's good to always be prepared with a professional employee benefits guide. It helps you to stand out from the crowd, keep your customers' employees engaged, and win some extra business. This example from Flipsnack is suitable for any company. It's easy and free to customize it and add all your specific details. In just a few minutes, you're all set. No matter if you have design skills or not; our editor makes it easy to take this template to the next level. Add custom images, shapes, colors, videos, fonts, anything you find necessary to create a flawless employee benefits package. Don't forget to add your brand's logo before sending it via email to the new hires. It's not difficult at all. This sample employee benefits guide makes the entire process smooth and clear. Try for yourself.
Final ideas
This vast industry of insurance brokerage is continuously developing in accordance with the needs of its clients. And since more and more of them embrace the digital world; Flipsnack comes as the perfect solution to create online employee benefits packages. This platform has them all: it's easily accessible, 100% secure, mobile-friendly, and the best cost-cutting print solution. Not to mention that it also enhances communication between brokers, employers, and employees. Try it now!