How to write a good newsletter for your company
Maybe you've stumbled upon this article and wondered why your company would need an internal newsletter? After all, there are so many other channels of communication, available to you and your employees. In this article, you will learn more about what a company newsletter is; and how to write a good newsletter for your company. On top of that, I'll show you how easy it is to make your newsletter more engaging through interactivity.
According to a survey, 75% of marketing specialists predicted that their company would put more focus on interactive content marketing. To make it more specific, that "interactive email content increases the click-to-open rate by 73%". That's incentive enough to start using interactivity in your company newsletters religiously.
Consider this article to be a starting point for your internal communication strategy. At the end of it, you'll find it easy to create an employee newsletter; which will be both engaging and easy to track through statistics.
What is a company newsletter?
Simply put, a company newsletter is a digital or printed means of communication, used by any type of business, for internal or external purposes. It can be addressed to internal staff, clients, investors, or potential customers. Some of the topics included in a company newsletter are information about future events, news from the industry, pictures from organized activities in the organization, and updates about internal matters.
As a result, when creating a newsletter, you should make it appealing and thorough enough to effectively communicate your message. A diverse collection of free templates is a great way to kickstart this process; especially when they're fully customizable and available in HTML5 and Photoshop.
Why have a company newsletter?
Company newsletters keep all the important information in the same place
Corporate newsletters reinforce the company's values, mission and direction
Newsletters show appreciation towards every employee
Internal newsletters help keep the employees on the same page
Flippable newsletters can be easily customized and updated online
Internal newsletters offer a clear means of communication between departments
Think about two scenarios: a clear method of communication or chaos mixed with misunderstandings. Which one would you pick for your business? The first option is the case of a periodical internal newsletter. It is sent by the HR specialists, communication managers, or the marketing department. This is where everyone will find the important updates and news; in the same place.
The most important benefit of having a newsletter is that you can keep all the employees on the same page. Be it the company's values, mission, or direction. This way, you'll all be working towards the same goal; covering more things in a shorter period of time. Stick around if you want to learn more about how to write a newsletter the right way.
Now, more than ever, there's a huge need for appreciation among employees, with all the uncertainty of present times. You can contribute to their feeling of value and inclusion through the employee newsletter content ideas; which I will list later in this article.
The CEO could choose a different way of sharing news by doing a video. Later on, the HR specialists could embed it on one of the newsletter's pages. This brings me to a great new element to include in the design of a company newsletter template: interactivity. To boost engagement, you can easily add elements to your design; like videos, links, photo slideshows, pop-up frames, and lead forms for feedback.
What to include in a company newsletter:
Company's objectives, values and mission
New clients and closed deals
Promotions
Recent news from your industry on relevant topics
Links to employee benefits guide, to important emails from the management team
Photo slideshows from team buildings, workshops, company trips
Anniversaries
Home office spotlight
Holiday related content: Christmas family traditions (short videos of employees talking about their favorite traditions); getting the Christmas tree ready at the office, secret Santa
Custom trivia based on your company's industry
Lead forms for feedback regarding anything that happened in the previous month/event registration
How to create a good newsletter for your company in Flipsnack
All that talk won't get us very far; so let's get down to business and list a clear "how-to", Flipsnack style. We'll cover the entire process of putting together a newsletter; and how you can make it as effective as possible. So, here's how to create a company newsletter:
Determine who is your audience
Plan ahead and set your goals
Pick the right software for creating and sending out the newsletter
Upload your PDF and enjoy high privacy
Or personalize an existing internal/company newsletter template
Download or share digitally
1. Determine who is your audience
In our case, the audience is made up of employees, who are either at the office or working remotely. It's relevant to keep your audience in mind before planning out the content; and scheduling the interval for your newsletter. Otherwise, the content will miss its target audience and you'll end up with unread internal documents. We don't want your work to go for naught.
For remote employees, you'll have to think of new ways to engage with them; since they're already physically detached from the company. They could benefit even more from a company newsletter; where they can find all the relevant information, much easier to access. All the more reasons to learn about how to write a good newsletter for your company.
For at-the-office employees, try to organize a moderate amount of activities and workshops. This helps to break the routine and keeps them motivated. Yes, you guessed it. You can announce these fun and productive ideas in your newsletter; and then post images from the said events. Thus, you will cover the content you need for engaging with this group of people.
2. Plan ahead and set your goals
We touched a bit on this subject in the first step of creating your company newsletter; but I cannot emphasize it enough. Planning is the key to any successful endeavor. Do yourself a favor and plan activities, research interesting news from your industry; and be involved in your employees' lives. Why? Because this is exactly the kind of content that'll make your audience want to read your newsletter. That is the key to how to write a good newsletter for your company.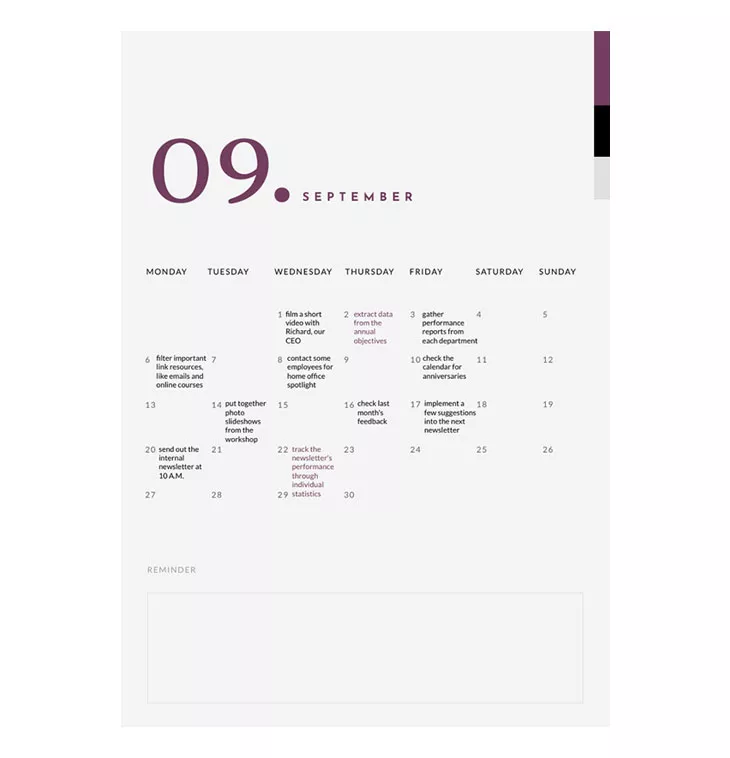 After the content part is sorted, you can move on to scheduling this particular piece of information. Depending on your company's size, the number of employees at the office, you can send out a newsletter bi-weekly or monthly. Consistency is another pillar of effective communication. Make sure your department sticks to the set schedule by designating an owner for this project. 
However, before starting to work on another newsletter, ask yourself if you have enough new content to include. Try to always send out relevant topics, which your employees will end up reading and offering feedback on.
3. Pick the right software for creating and sending out the newsletter
All the planning is done, now you have to structure your hard work and share it. As expected, it's time to choose the right software for your company's needs.
I will start by saying that there is a lot of software specialized in email newsletters. However, Flipsnack helps you create flippable digital newsletters. What's different about them, as opposed to email newsletters; is the way you can share them with your readers. Until we get to that part, let's see how we can design or customize a newsletter template; using Flipsnack's Design Studio. This is where the real engagement takes place, helping you connect employees everywhere.
Don't think about design as the hard part of this process. Rather, gathering the necessary data is the challenging step. If you do this properly, your employees should benefit from an immersive reading experience, wanting to interact with your newsletter.
4. Upload your PDF and enjoy high privacy
With a simple PDF upload, your old newsletter can become much more engaging; by making use of interactions and catchy design.
Privacy is something truly important to our users; so you can rest assured that no unwanted views will appear on your internal publications. Its responsive format boosts engagement with the readers, helping you reach the goal you set at the planning stage.
5. Or personalize an existing internal/company newsletter template
The other option is personalizing an existing company newsletter template, from the Flipsnack collection. Choose whichever layout best suits your company, so you will make little changes to the template; and therefore, saving precious time.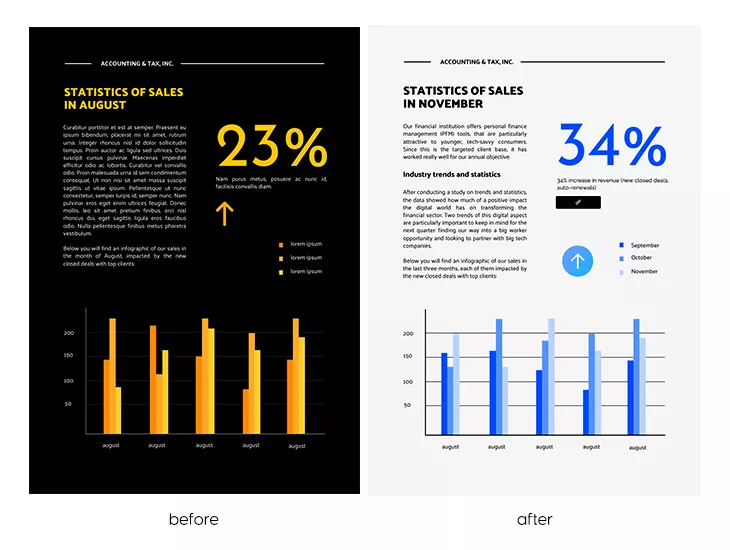 Add interactions in the form of videos, links, lead forms, stickers, and other types of embedded content. Check out the great variety of company newsletter templates, and make your design process seem like a walk in the park. After you personalize a design once, you can save it as a branded template. This option allows you to easily edit the newsletter every month; by having your logo, custom fonts, and colors already customized. And just like that, we answer the question on how to write a good newsletter for your company.
6. Download or share digitally
The sharing part of this process comes with multiple options, each with its own benefits, depending on your needs. Send your company newsletter privately via an unlisted full-view link, via email, password-protect it; or send it to specific people. This step takes you closer to finding out exactly how to write a good newsletter for your company.
The innovative way of sharing an internal company newsletter refers to a readers list. First, create one by inviting your employees to be a part of this list. This way, you have full control over who receives this piece of publication. Simply add their email address, tick the notification box; and they'll be notified whenever there's new content published.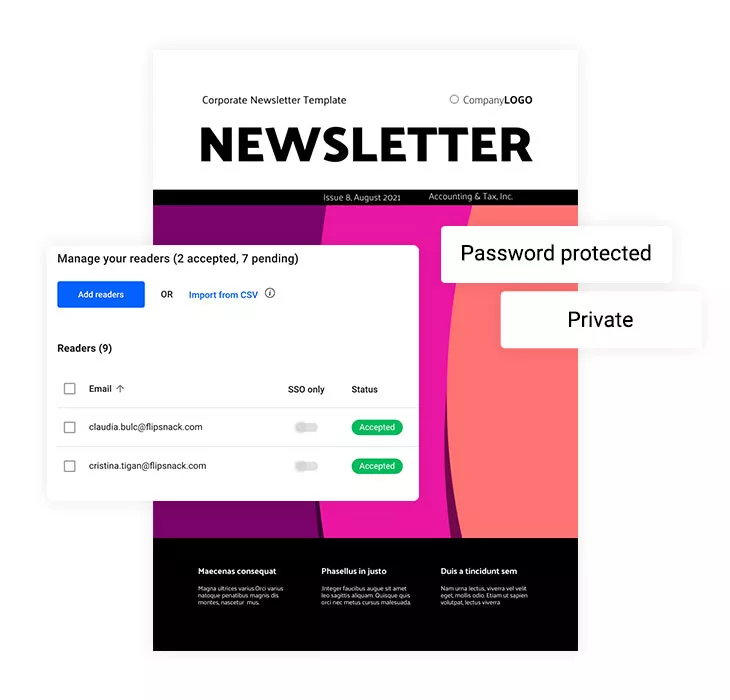 Whichever option you choose, make sure you also pick the right time of the day. The chances of that someone reading, or even opening the document will increase depending on the hour.
7. Track your newsletter's performance
Above all, it's important to mention that your work doesn't finish when you send out the newsletter. A great piece of how to write a good newsletter for your company is checking the statistics. This can make such a difference in how you approach the next newsletter. If you tried including a new section or made a bold choice, design-wise; it's very useful to know the outcome and how your readers received it.
Flipsnack's statistics offer valuable statistics for your interactive company newsletters, to help improve your publications. Some examples include views and impressions, clicks, average time spent reading the newsletter, location; and other information.
For a more in-depth look, readers' statistics will only show results for readers you have in your workspace. As opposed to general statistics, where you can access insights on everyone who reads your publication. Use these statistics to find out which elements need to be removed, added, or rearranged in order to achieve better results.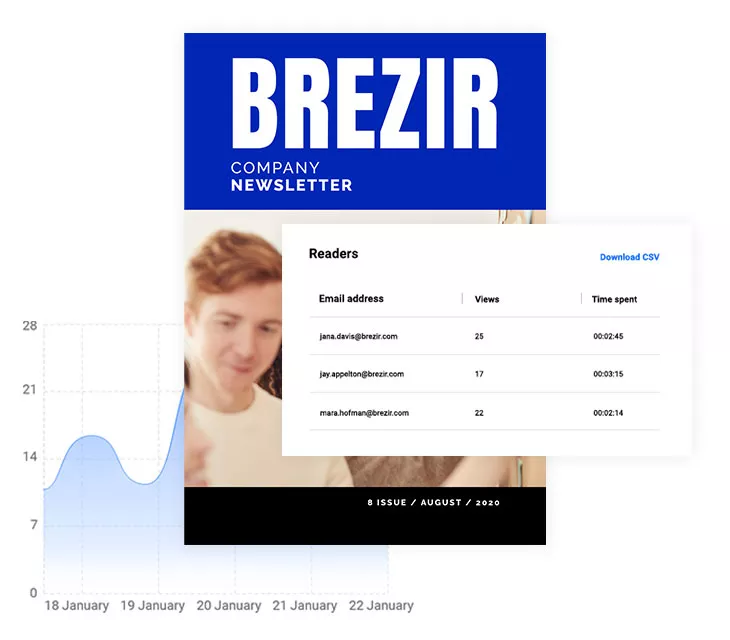 Closing remarks
In conclusion, keep in mind that things can get bumpy. Firstly, this usually happens when it comes to implementing something new or changing the way you did something for a long time. Secondly, company newsletters can be a bit of a challenge at the beginning; until you get to know the employees. This will allow you to see what they like reading and what they respond to.
However, once you send out a few issues, and check the performance of it, you should be able to see the results you want. Try to always think of new ways to improve your business newsletter; so you don't lose or diminish the engagement. With that being said; this is everything you need in order to answer the question "how to write a good newsletter for your company?"