35+ Company Newsletter Templates for Employee Engagement
For a small business, it can be difficult to get your remote employees and collaborators on the same page, working on the same goal, without a newsletter. However, if your large company is already sending out newsletters, but they don't have the desired effect, then this article is for you, as well.
Based on this research, 62% of emails that your employees receive are not important. Imagine adding one more to this batch. Consider changing your strategy to a flippable digital newsletter instead of the boring PDF formats. More precisely, it's a flipbook, with a realistic page-flip effect.

What if I told you that you can even add interactivity to your flipbook, like embedded forms, surveys, videos, virtual tours, links, stickers? Check to see how it's performing with the help of statistics.
If this is something you're interested in, stick with me while I present 35+ online company newsletter templates, fully customizable with your branding, typography, and custom colors.
Business templates
1. Digital Interactive Newsletter Design
What better way to start than with this digital newsletter example, designed for corporations of all sizes. As an HR professional, you may be in charge of creating the monthly newsletter, and you can look at this task as an opportunity to channel your creativity. Consider extracting new content and design ideas just from browsing through the mentioned template.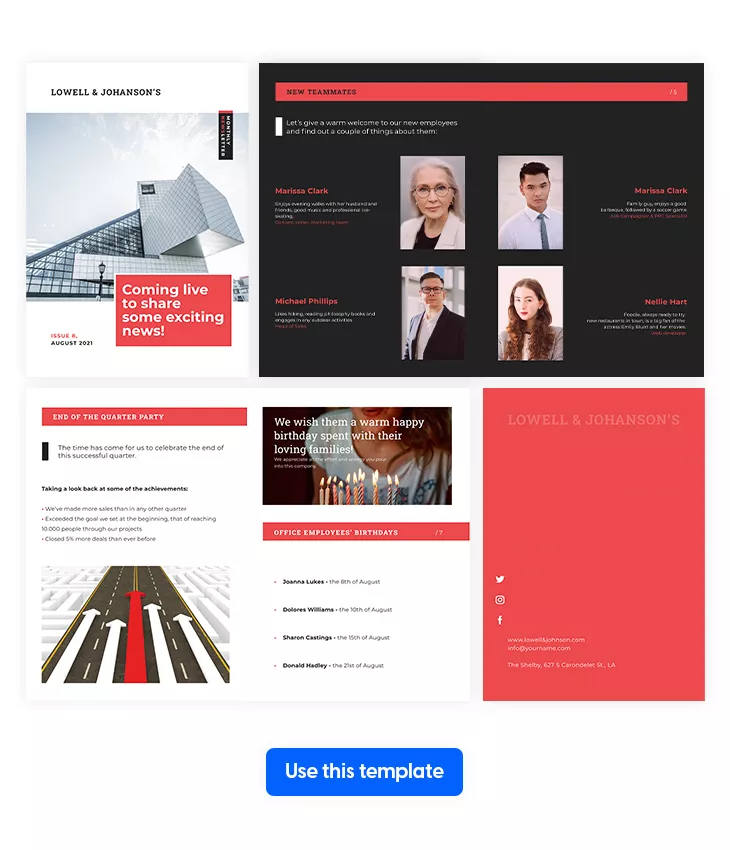 Design and content tips: Content-wise, there are sections for new colleagues, office anniversaries, project updates, important announcements and job openings. Throughout these sections, there are interactive elements dotted about, like go-to-page buttons for easier navigation, spotlight effects for enlarging images. A short video about an ongoing marketing project and social media buttons on the back cover complement the whole publication.
2. Marketing Agency Newsletter Template
In the case of a marketing agency, a great starting point for communicating with your employees is this newsletter template. However, that's not the only purpose that this design serves. You can also edit it and use it for effective communication with stakeholders and clients. Flipsnack doesn't limit you to one use case, when there's so much you can do in our Design Studio.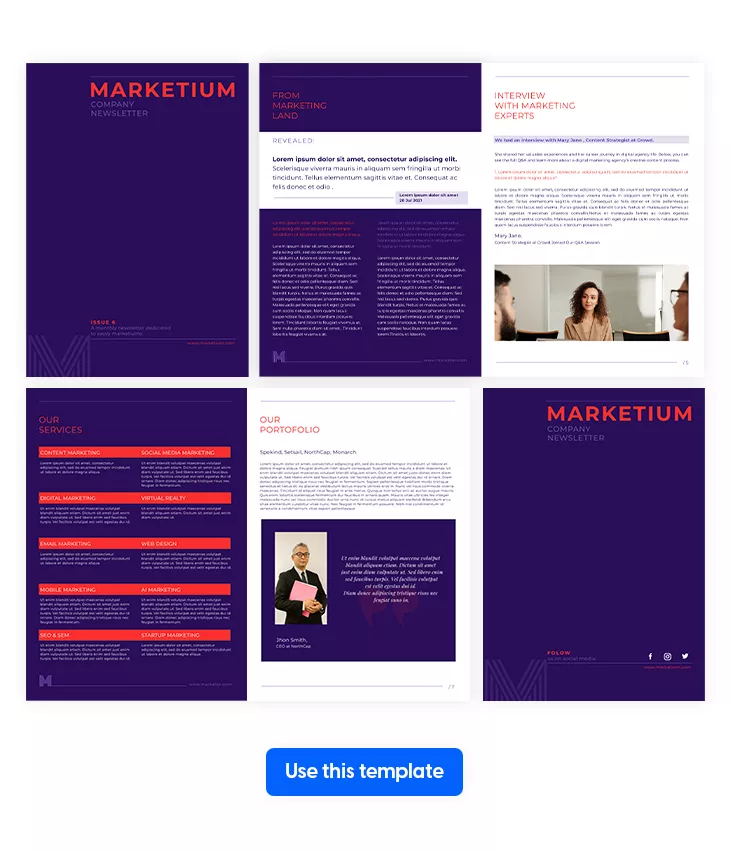 Design and content ideas: a variety of interactive elements are used here, such as social media buttons, stickers. An advantage of flippable digital newsletters is that they allow you to embed different things, like videos from YouTube, a map of your office location. Include links to other resources or full quoted articles, for a complete newsletter.
3. Interactive HR Newsletter Design Template
Talk about an awesome interactive HR newsletter design template! It's suitable for any HR and recruiting agencies, and can be used as an internal newsletter or as an onboarding tool for new employees. A flippable newsletter example like this one offers a fresh perspective regarding content and design ideas.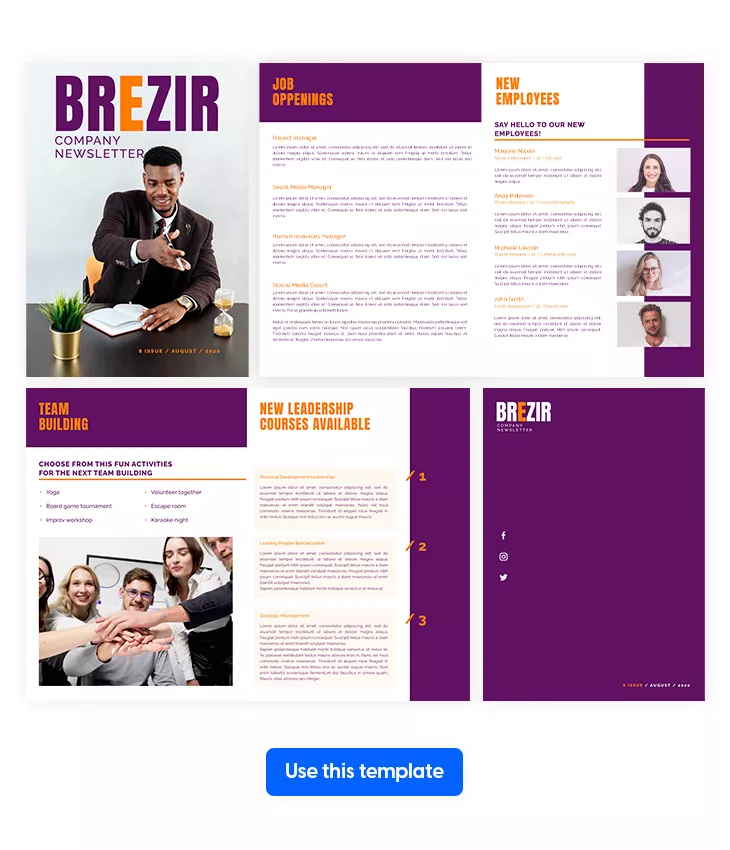 Design and content tips: Start with an embedded location map and continue with spotlight effects for enlarging pictures. Your HR agents can touch on COVID regulations, the qualities of a great employee, a section about new available jobs and an introduction of old employees to the new hires. Map out the text, so it won't be too hard to read and remember any new regulations or company policies.
4. Interactive Company Newsletter Sample
If your employees are used to the weekly newsletter pattern, then this interactive company newsletter sample is the right guideline pack for you. If not, then maybe you want to give it a try and insert interactive elements, so your readers will be prompted to give feedback. They can do so by filling out the customizable lead forms, available in the Design Studio.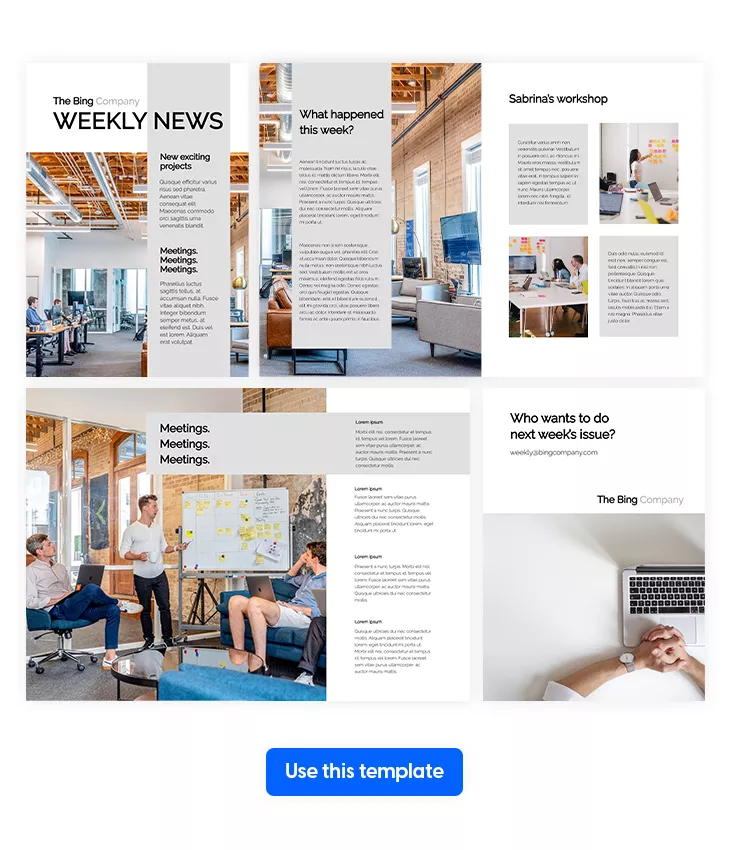 Design and content tips: use your office location as the recurrent background image for this weekly newsletter template. This will create a precedent for this part of design, and you won't have to take new photos every week. Overlap text boxes, create dimension and try to follow this asymmetrical alignment of pages. Content-wise, talk about what happened the previous week, any workshops, projects that might have taken place and link short videos or stickers to each section.
5. Interactive Automotive Newsletter Design
The automotive business often has many employees under its wing, from all over the world. Especially in the context of the pandemic, which introduced the "work from home" concept. With this industry already highly competitive, you want to make sure all of your employees are on the same page by keeping them up-to-date with the latest news. Cue: the interactive automotive newsletter design.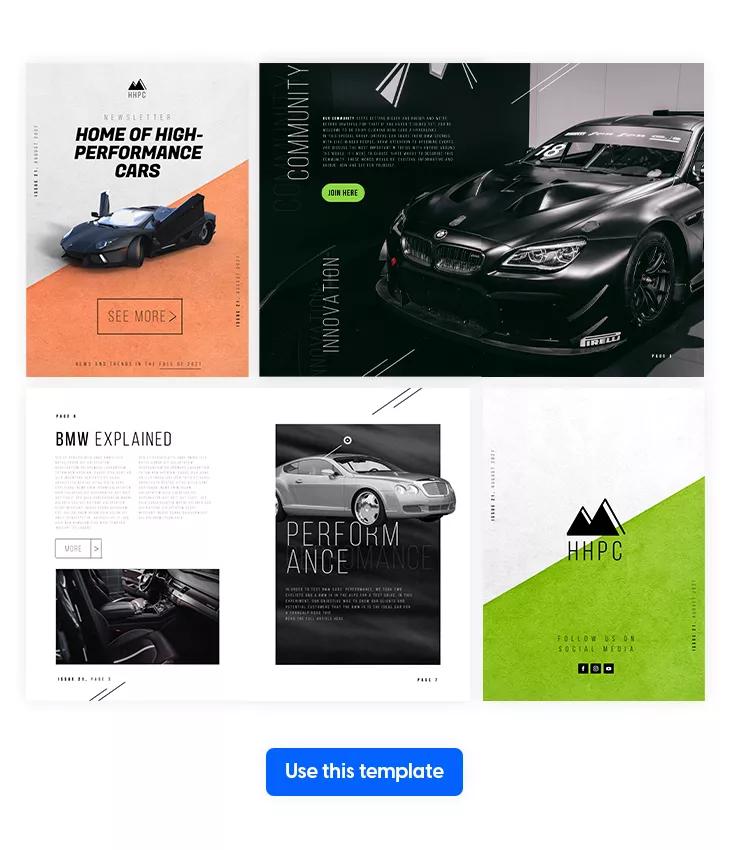 Design and content tips: Some of the interactive elements you can include are videos of the cars' interiors, links to full articles, clickable buttons used to join different projects. These buttons can be used for joining newly founded communities within the company. Upload your branding kit, starting with the logo watermark, color scheme and typography, to truly mirror your business.
6. Software Developer Company Newsletter Template
The market for a software developer company is highly competitive. Therefore, internal communication should be a priority, so you keep your employees close and engaged. Use this interactive IT company newsletter template to its full potential to achieve that goal.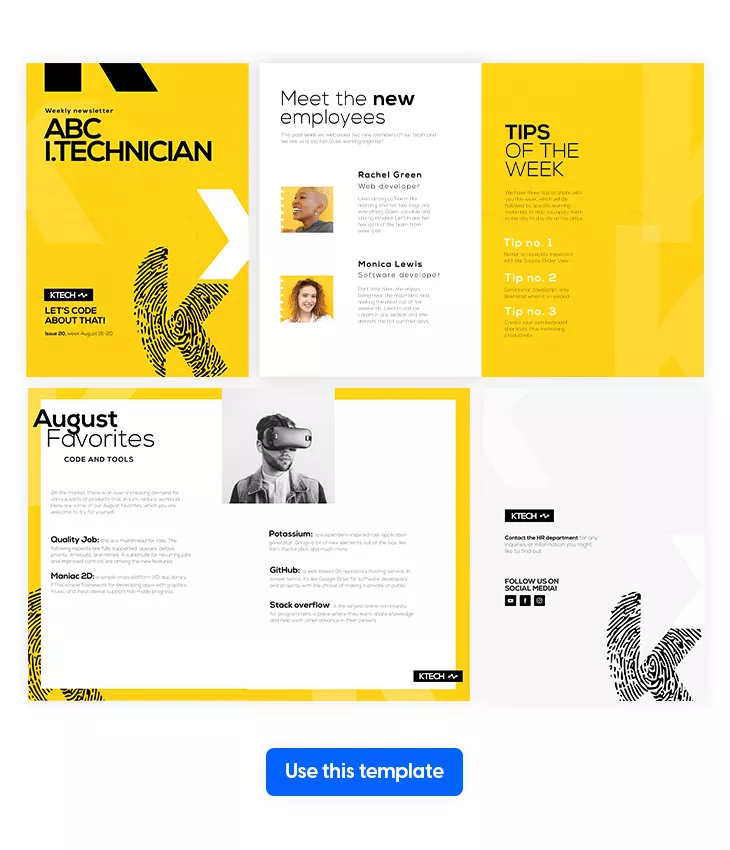 Design and content tips: In order to keep the design clean, you can add spotlight effects to enlarge pictures or to include more text. Other links can lead to full articles, HR-related information and don't neglect the power of a short video included in this company newsletter template.
7. Digital Company Newsletter Template
Regardless of your company's industry, you can fully take advantage of this sustainable agency template. It's one of the many customizable digital company newsletter templates, available in the Design Studio. Visuals play a major role in catching the reader's attention, and if combined with interactive elements, you will increase the engagement considerably.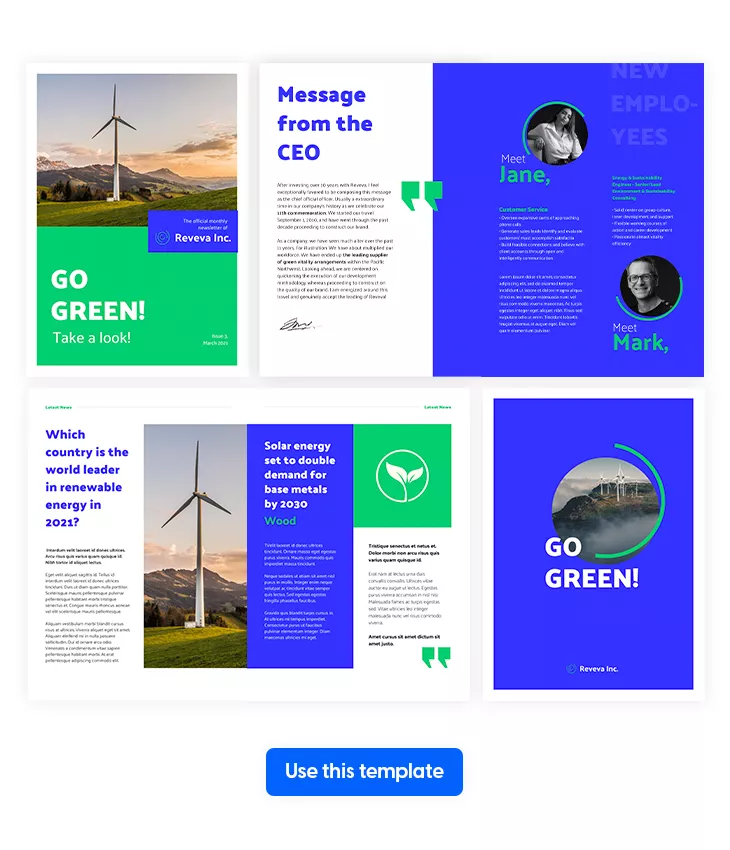 Design and content tips: Content wise, you can interview experts in the field and feature them in your monthly newsletter. Or, you can conduct a case study and present the results, along with an infographic. When it comes to sharing your internal documents, Flipsnack offers multiple privacy options, one of which is a password-protected flipbook, for high privacy.
8. Graphic Design Agency Newsletter Example
When we're talking about a graphic design agency, we expect them to bring their A-game through the publications they make. Newsletters are no exception. This is why we took the liberty of creating this interactive graphic design agency newsletter example, to serve as a guideline for small and big businesses alike.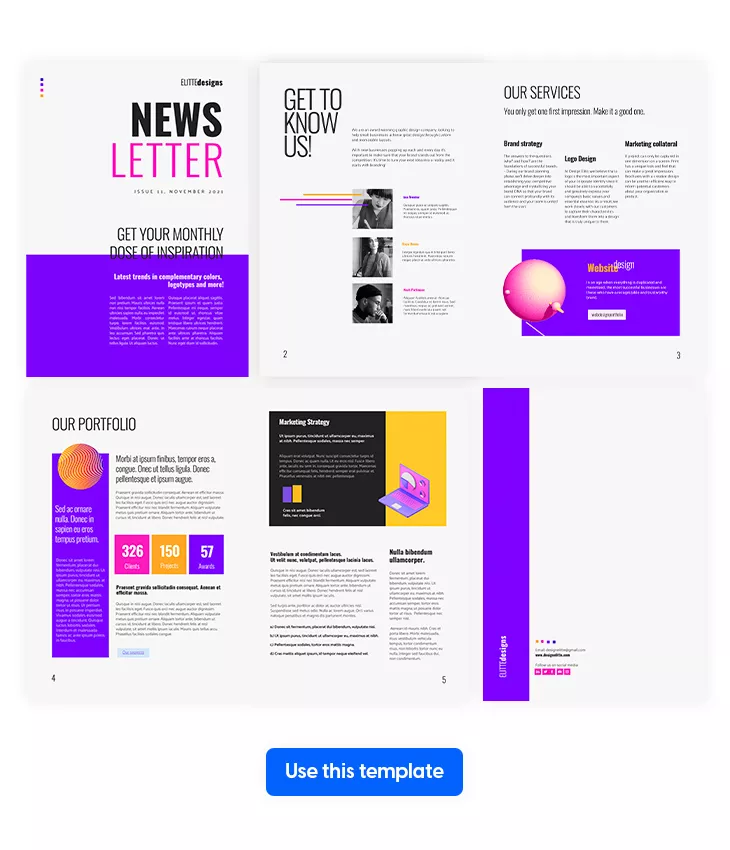 Design and content tips: Include stickers, GIFs, videos, as part of the interactive elements, present throughout the digital newsletter. Remember that you can upload your brand kit and forms used for registration at different events and training programs. Read more about the importance of brand consistency and how it affects your business.
9. Interactive Nonprofit Newsletter Template
Nonprofits often miss their goal because of poor marketing around each project. Your agency can partly avoid that by putting more thought into their employee-focused digital newsletters. This way, your staff will better understand the mission, values and goals of your nonprofit.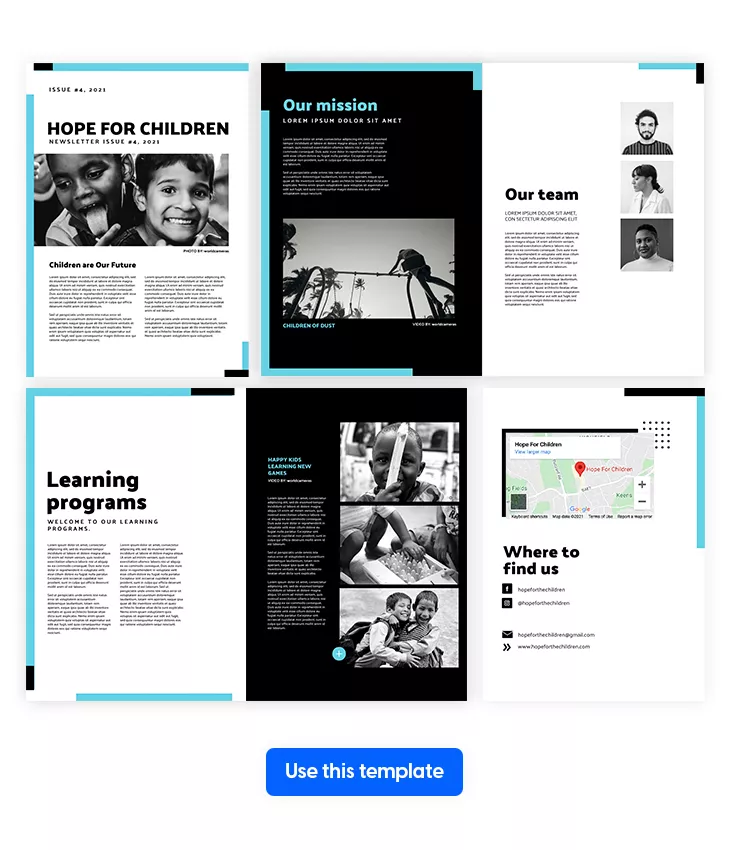 Design and content tips: Add go-to-page buttons, for easier navigation, after the example of this interactive nonprofit newsletter template. There is also a video presenting a big project, creating emotion in the reader's mind. Use high-resolution images, relevant to the cause you're supporting. Add a link to a specific account where people can make direct donations, through this digital newsletter. Maximize the potential you have for helping!
10. Interactive Employee Newsletter Template
Looking to spice up your employee newsletter? Regardless of the industry you're in, this interactive employee newsletter template accommodates any level of risk taking. From stickers and GIFs to short videos, containing a message from the CEO, you can take this template in the direction of your vision for it.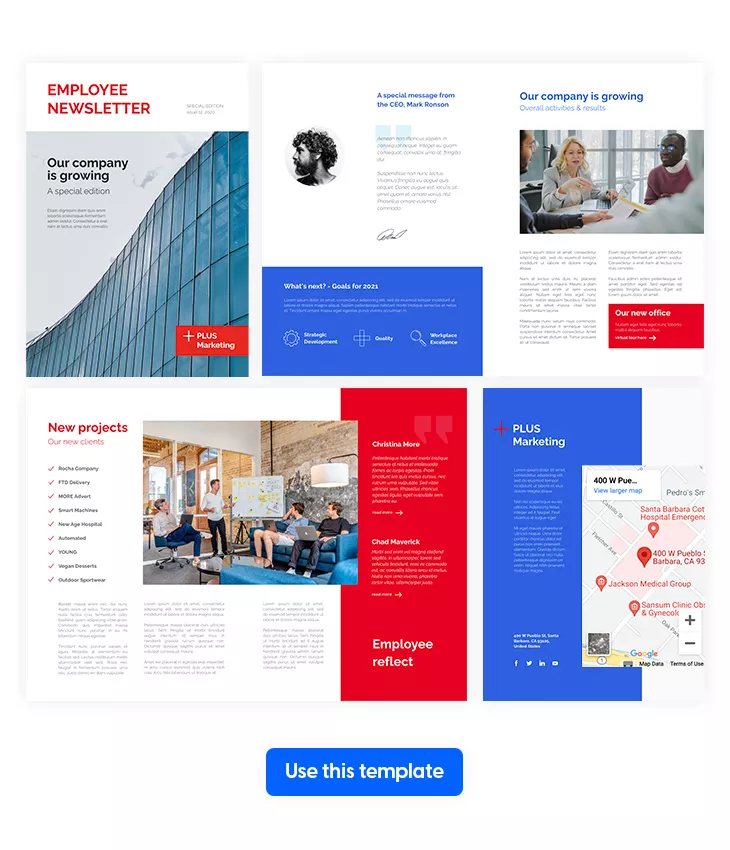 Design and content tips: use check marks, social media buttons, embedded maps of future team building location and a list of things to have for that specific activity. Keep your employees up to date with any new regulations and new projects other departments have undertaken.
Real Estate templates
11. Interactive Real Estate Internal Newsletter Template
Suppose you own a real estate agency and you're looking to make some shifts in the newsletter creation process. With digital newsletter templates, there are engagement boosters you can include in it. For new employees, you can use it as an instrument for onboarding, including bits about the company.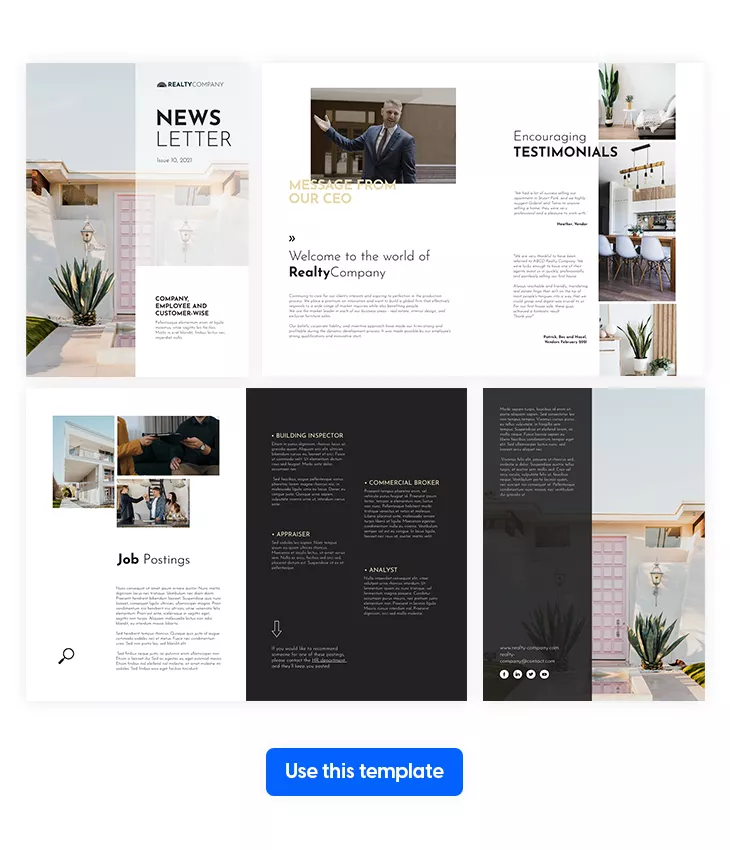 Design and content tips: Present the board of directors in one section, using spotlight effects with their picture. Adding short videos containing a message from the CEO or stickers makes the newsletter more fun to read and personalized. This employee newsletter template is very easy to edit in our Design Studio. Simply drag and drop it onto the editing space and start by uploading your brand kit. From here on, the designing email newsletters part almost gets done by itself.
12. Online Real Estate Newsletter Template
We already know your real estate agents are up to date with the information needed to be shared with their clients, but have you tried including tips for buying your forever house, directed at your employees? Or perhaps there are new colleagues joining your team. Help them make a smooth transition from newbie to expert by including legal aspects, day-to-day processes and specific tasks.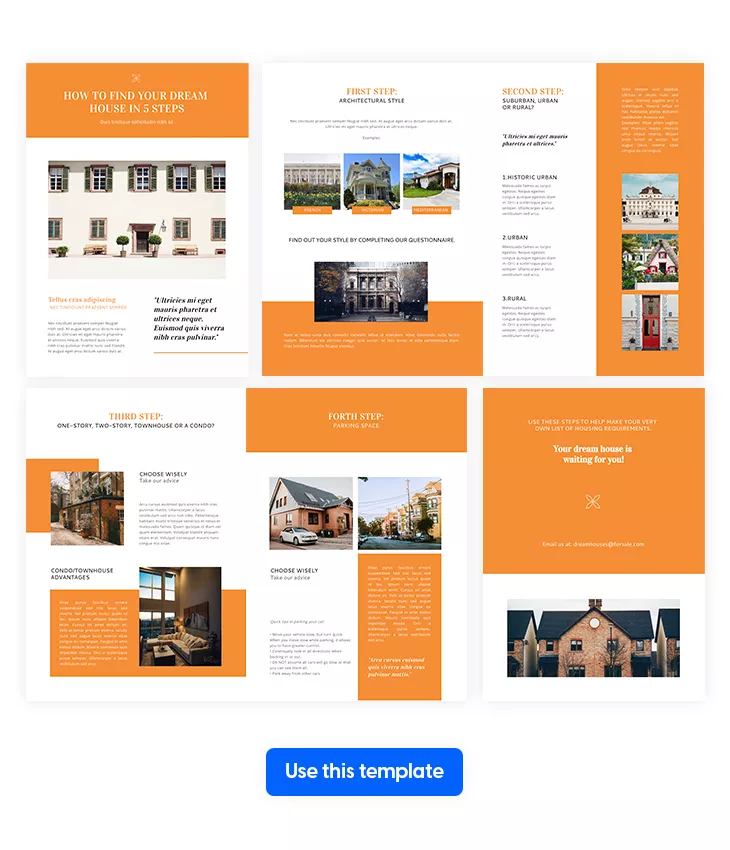 Design and content tips: Tie the layout together by choosing a background color to pop at different places on all the pages. Don't feel the need to say too many words in your newsletter, unless it is necessary. Otherwise, have concise paragraphs, detailing steps for buying your forever home or what's the first thing your client needs to know about a listing? Include virtual tours, short "how-to" videos and stickers to make your digital newsletter more fun!
13. Real Estate Home Newsletter Example
As a real estate agency, try to stand out from the crowd by sending your employees creative topics, presented in this real estate home newsletter example. Fresh ideas for DIY home renovations are a big hit among anyone who's looking to save a couple bucks in the long run. To take things a step further, you can take inspiration from real estate brochure design ideas.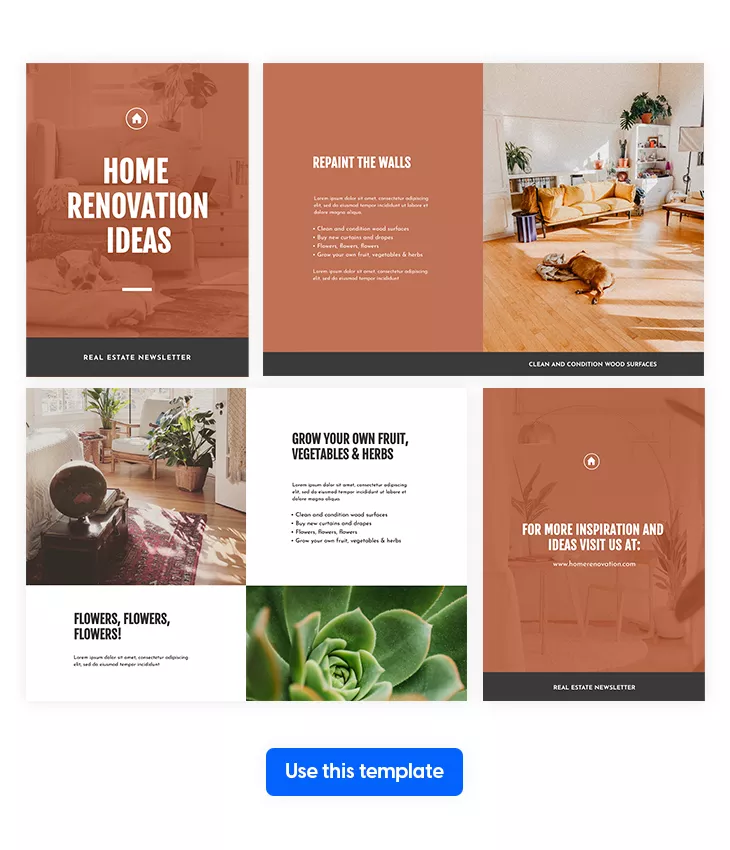 Design and content tips: make the subject of your newsletter clear from the front cover, and then use bullet points to enumerate each idea. For example, you can talk about each room in a house and the different furniture materials, from wood to metal and even glass. Add spotlight effects on each bullet point, where you display each type of material in a furniture picture. And then, you can embed YouTube videos which explain how to make a specific DIY.
14. Customizable Real Estate Newsletter Idea
When putting together a newsletter focused on some of the houses, condos and apartments your agency has, it's important to follow guidelines so you don't get off track. Take a look at this customizable real estate newsletter idea to see how to structure your information, but also make it more appealing to your employees. Use our newsletter maker to discover the interactive features which you've been missing.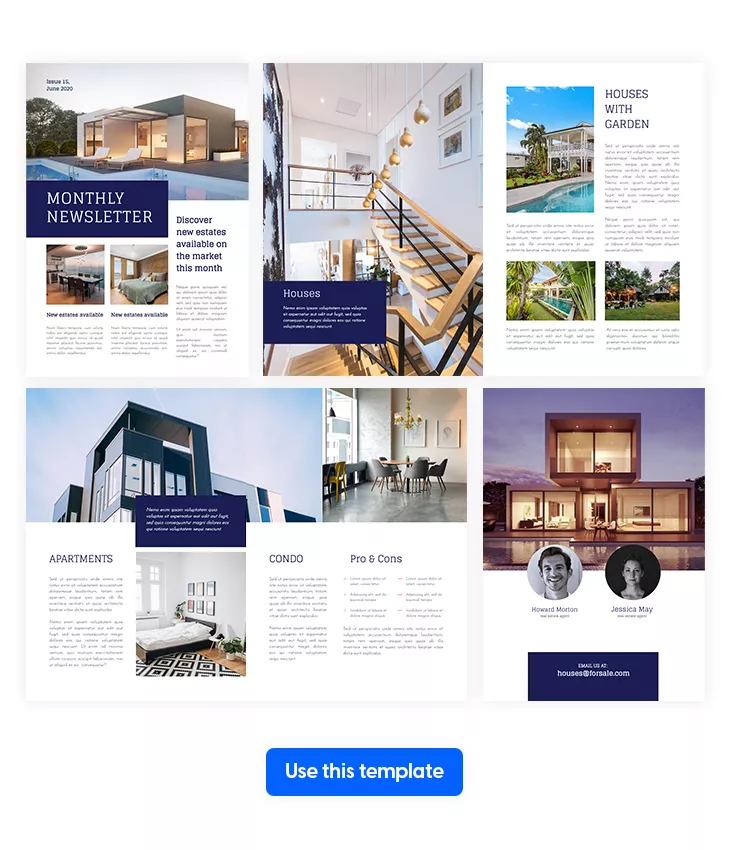 Design and content tips: Play around with the opacity of the background image, to change the appearance of the front cover, from time to time. Add your agency's brand kit, embed videos with real estate content, either created by your company or from YouTube. At the end of this digital company newsletter, you can include a form where your employees can send their suggestions for useful content.
15. Editable Monthly Real Estate Newsletter
Let's say you've been in the business of real estate for quite some time now, and you're looking to bring a change in the newsletters you directed at your employees. This editable monthly real estate newsletter is packed with design and content ideas, leaving you in charge of applying them.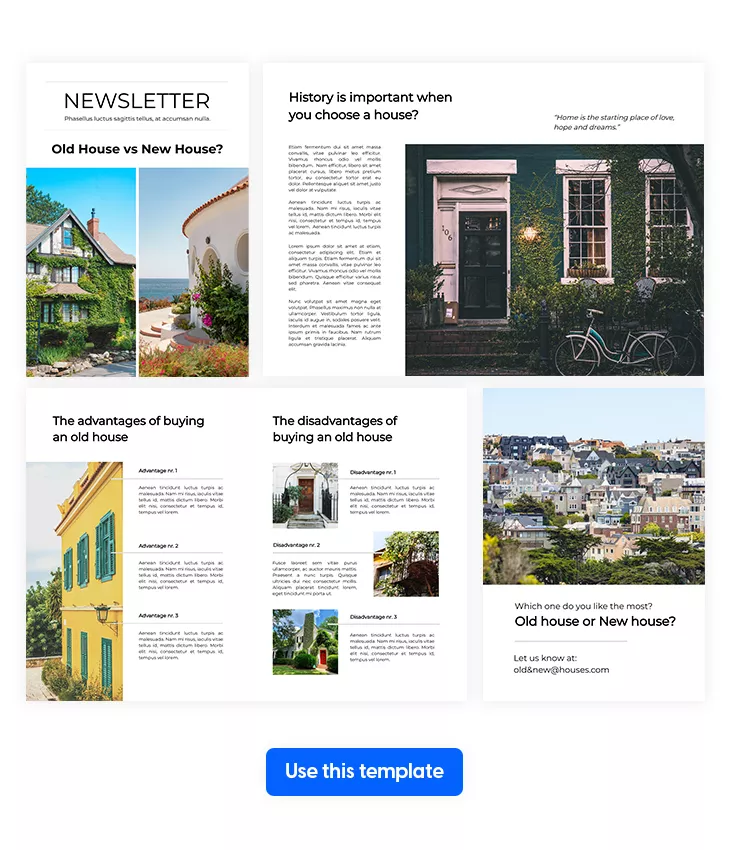 Design and content tips: You can talk about the differences between a new house and an old one, with advice on what your employees should choose for their own house plans. Leave space for news and announcements, too, since that's the primary purpose of a company newsletter. Experiment with different sizes for the chosen pictures until you're satisfied with the result. Share your employee newsletter example via email or by using the full-view link.
16. Online Realtor Newsletter Design
Perhaps you've been good at sending out newsletters to your employees, month after month, but you're looking for new inspiration for content and design, alike. This online realtor newsletter design has been created to help you get out of a creative rut and to boost engagement with its readers.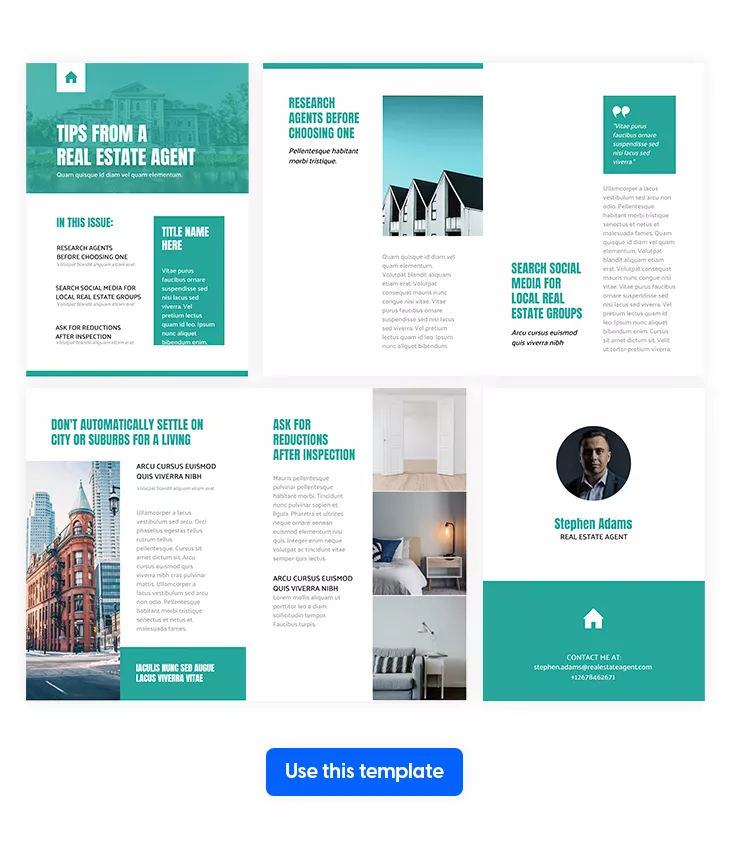 Design and content tip: Choose a color from your brand's color palette and have it stick out throughout the publication, either through color text or background visuals. Interview a real estate agent, who's working for you, and ask him questions that might help the other agents advance in their skills. Or organize an internal workshop, with the same objective in mind.
17. Interactive Real Estate Newsletter Template
In a real estate agency, it's important for your agents to work together and towards improving technical and practical skills. Prompt them to share their best practices in your company digital newsletter by featuring videos of presentations. Motivate your employees through the sections you add in this interactive real estate newsletter template.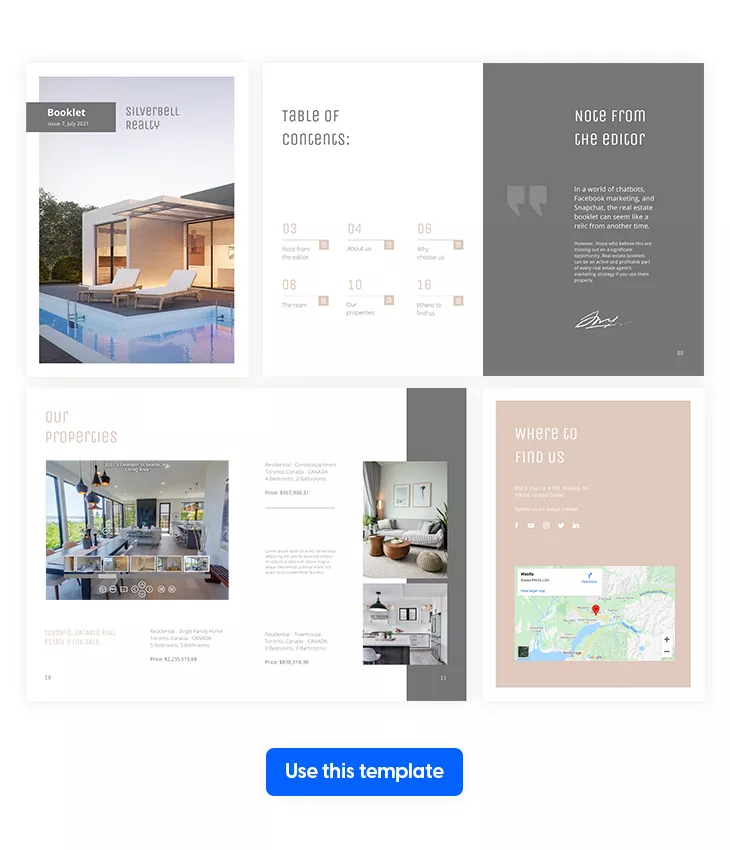 Design and content tips: Virtual tours of your company for new employees can be very useful for learning their way around the company. Offer examples of specific proposals for potential clients and the required steps in closing a deal. Use spotlight effects to include more pictures from a property or embed a map of the office's location.
18. Interactive Travel Company Newsletter Template
As a travel agency, with great resources for different destinations, allow Flipsnack to teach you how to get the most value out of them through the monthly newsletter. It starts with this interactive travel company newsletter template.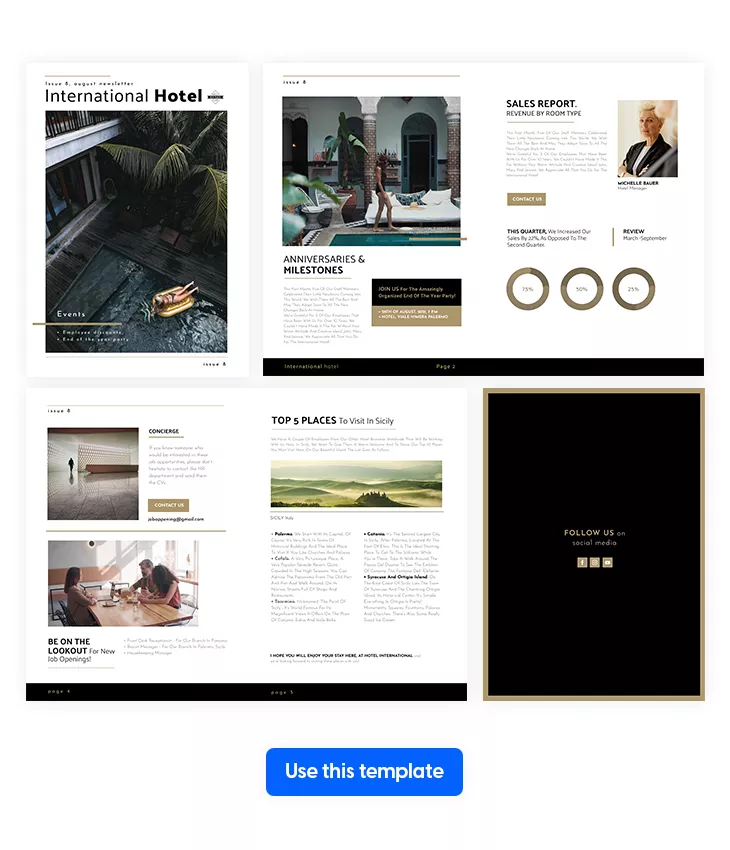 Design and content tips: Consider including slideshows showing hotel rooms in the section for recommended places to visit. A "contact us" button can also be part of your digital flipbook, in the context of training opportunities. Experiment with stickers, embedding a map of your office, links, and more, using our Design Studio.
Medical Newsletter Templates
19. Online Medical Newsletter Template
For a medical center, your staff deserves to be informed of the latest news, structured in an interactive online medical newsletter template. Take a peek at this template to get guidelines and to make this task easier, if you don't know where to start.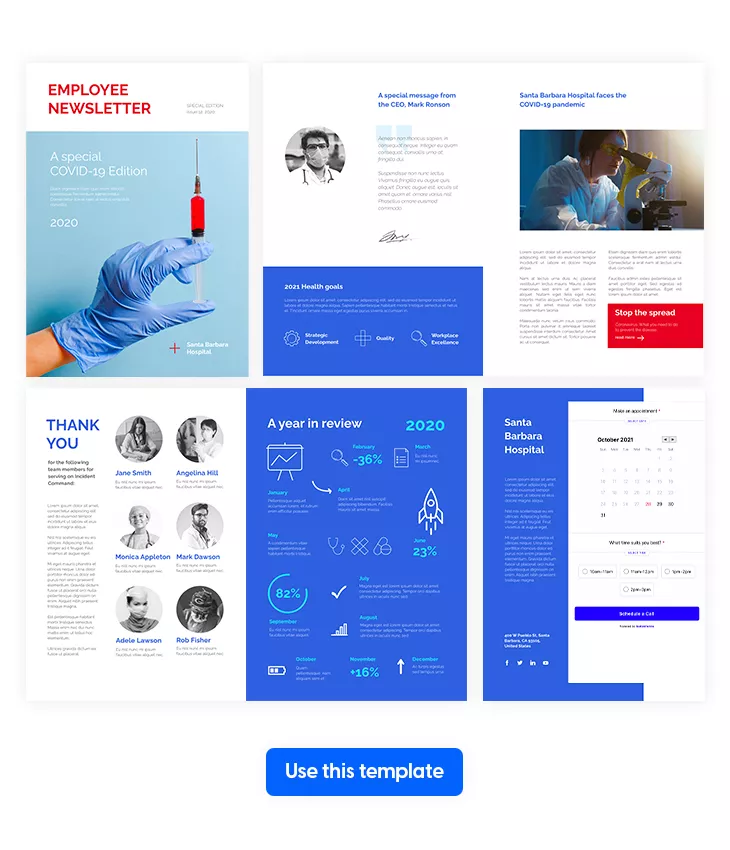 Design and content tips: From sections regarding a year in review to a sincere "thank you" addressed to your staff, there are many options of content from which to choose from. In regards to the interactive feature, that includes videos, stickers, "read more" buttons, spotlight effects and a form for appointments. Check it out by entering our easy-to-use Design Studio.
20. Interactive Healthcare Newsletter Template
Even though your healthcare center takes good care of the customers through monthly newsletters and other qualitative content, your employees are not to be overlooked. Get acquainted with interactive digital newsletters, which have been proven to increase engagement. Show your staff that you care enough about them that you put in that extra effort to take the newsletter a step further.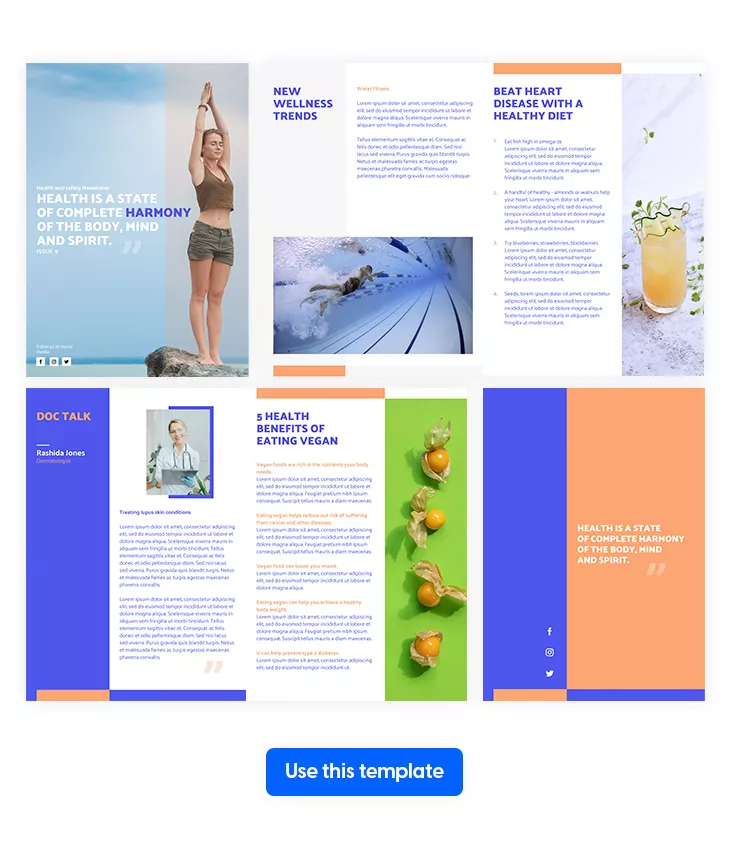 Design and content tips: Take a peek at this interactive healthcare newsletter template and write down ideas such as tips on how to beat heart disease with a healthy diet or wellness trends. It's important to have healthy employees so they can help clients see the benefits of this lifestyle. Add your branding kit, videos, popup frames, embed a map of your center location and you're all set!
21. Digital Medical Center Newsletter Template
In the context of a global pandemic, many companies had to adapt very quickly to new health rules and safety precautions. The medical centers and hospitals have the most authority when it comes to spreading real and accurate information. Use this digital medical center newsletter template to talk about the most important aspects regarding COVID with your employees.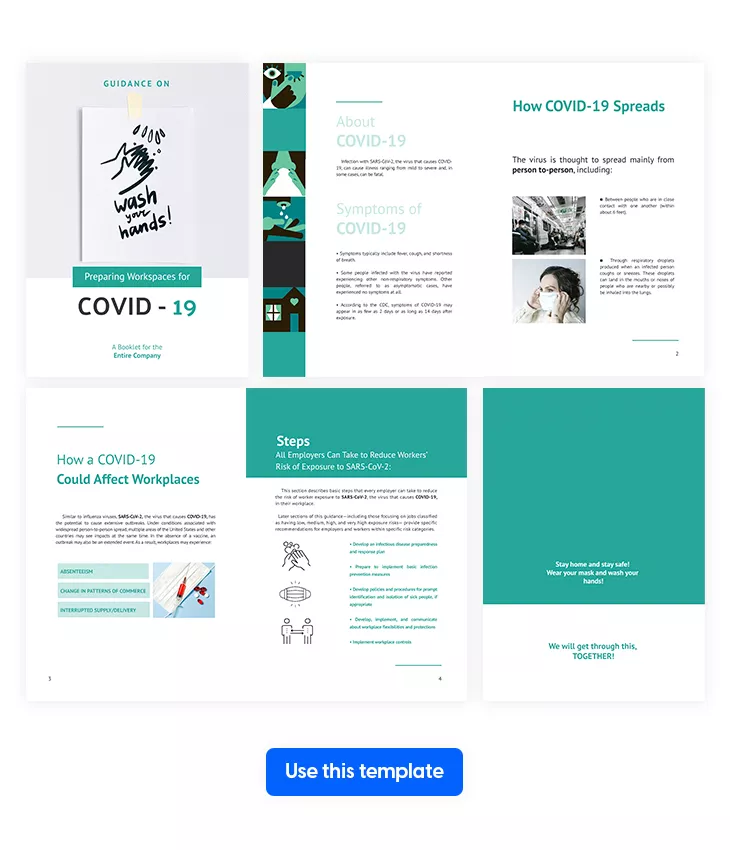 Design and content tips: keep your newsletter friendly by inserting shapes, graphics and stickers. Besides these elements, add links to medical news, videos about how your company's efforts toward ending the pandemic.
22. Online Publisher Newsletter Template
Working in a publishing company is no easy thing, since there is a lot of responsibility involved. When the concept of working from home made its first appearance, people had a hard time adjusting to this new way of making a living. In this online publisher newsletter template, you will find out content ideas to raise morale.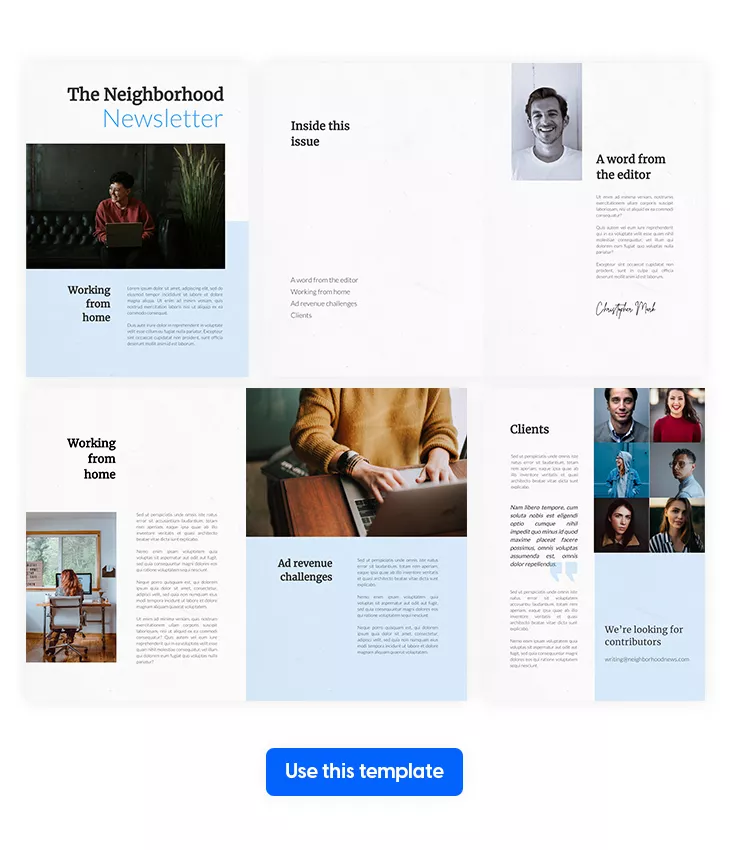 Design and content tips: Dedicate a section for office spotlight, a place where the HR department can feature funny moments shared by your employees while working from home. Feature the new closed deals with clients, talk about different challenges, relevant to your field. Keep the layout to a minimalist look and feel, avoiding to crowd the pages with too many images or text.
Financial Newsletter Templates
23. Online Finance Journal Template
Anyone who is a part of the finance business knows that work can often get monotone and graphics maintain the same look and structure. Our Design Studio presents different online finance journal templates, like this one. Upload your brand kit, edit the existing tables, add stickers from our collection and you'll end up with a professional design.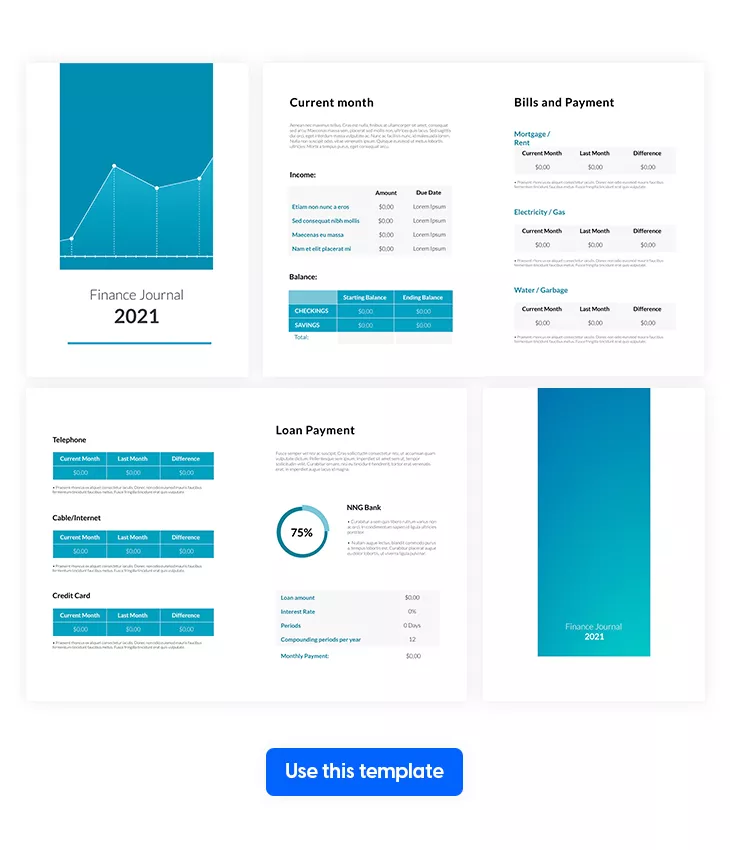 Design and content tips: Choose a color that will be easily noticed on every page, to highlight subtitles and other important pieces of information. Take this template a step further and add different graphics, company milestones and put a bit more focus on employees and their needs. You can do so by mentioning anniversaries, promotions, and simply thank them for hard work and loyalty. A little goes a long way.
24. Editable Finance Newsletter Design
Give a hand to your employees, who might also experience a financial crisis in their personal lives. Your HR department could craft a similar template like this editable finance newsletter design, where they can include valuable information.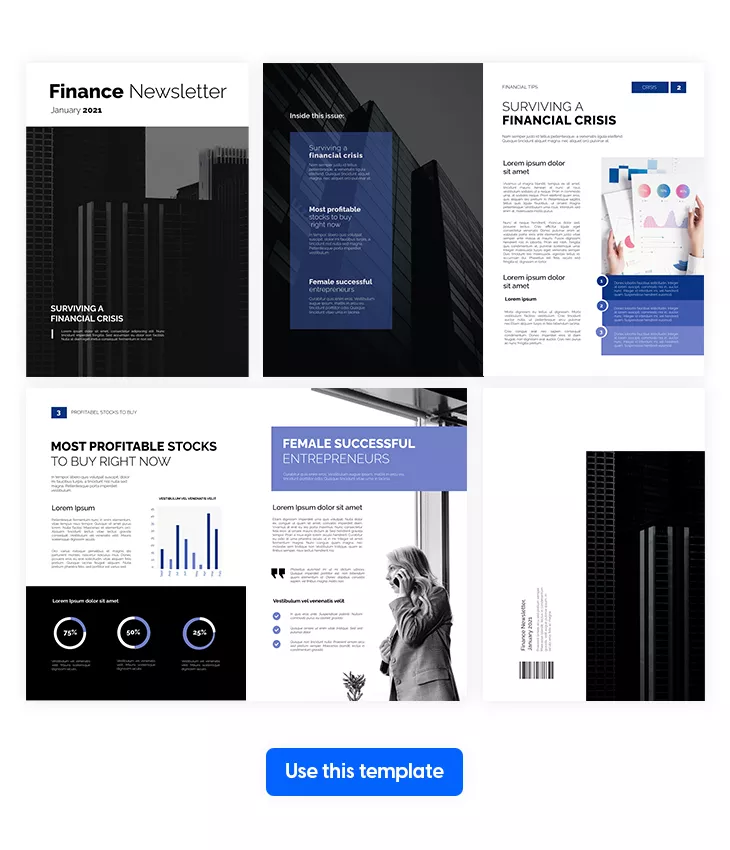 Design and content tips: include infographics, statistics, stickers, shapes and go-to-page buttons, for easier navigation. Change the opacity of the background image to create depth. When you're structuring your newsletter, make lists for the most profitable stocks to buy right now, for instance. Lastly, recommend resources that further help with money management.
25. Customizable Journal of Banking & Finance Newsletter
Your bank team could surely benefit from receiving a well crafted monthly newsletter, like this customizable journal of banking & finance template. What's different about this template is that it allows you to add interactive elements, such as videos, stickers, forms requesting feedback on any HR initiatives. You name it, we'll make it reality for you.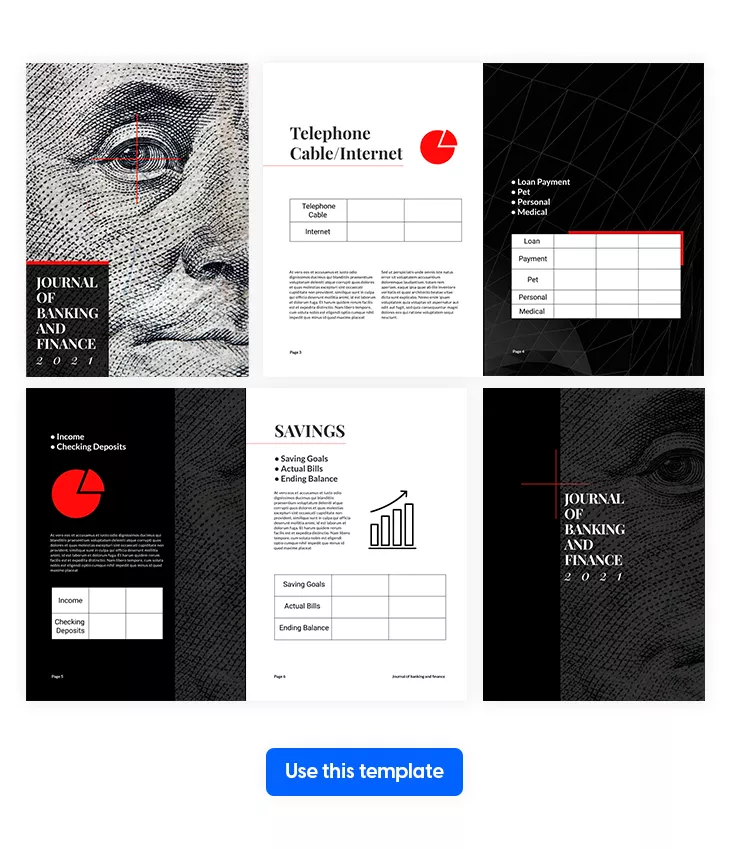 Design and content ideas: Try to level up your usual graphics by adopting new relevant pictures and adding shapes and lines over them. Introduce more color to your graphics and tables, so it makes that type of information more visually appealing. Organise team-building with each department and highlight their activities in the following newsletter. To share it, add workspace readers, a feature which restricts the access to those people.
Retail Newsletter Templates
26. Editable Retail Company Newsletter Template
Any retail business that works with food as their product should take full advantage of digital interactive newsletters. On one side, to attract customers through great content plus visuals and on the other, to better communicate with their employees. Revamp your old dusty PDF format with this editable retail company newsletter template.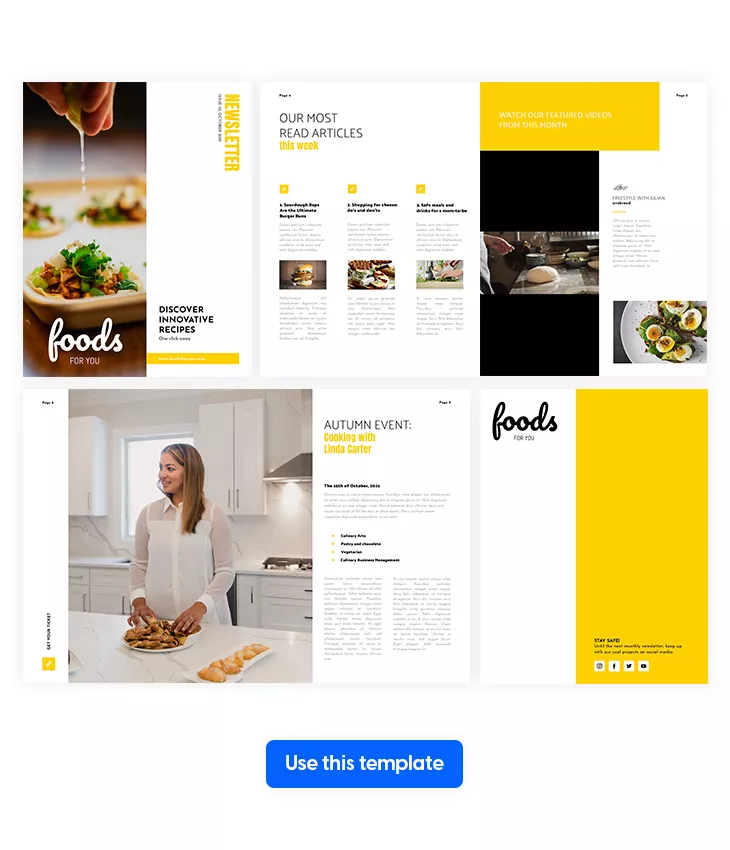 Design and content tips: Add recipe videos, grocery list template, stickers, GIFs and so much more! All of these interactive elements can be found in our Design Studio. Add social media buttons for each of your content creators, which makes for quicker access to new recipes they post. Design-wise, alternate between images, little text and videos to create a coherent layout.
27. Editable Jewelry Company Newsletter
If you are a local jewelry shop owner, then you may have struggled with going digital during the pandemic. Flipsnack offers the solution: an editable jewelry company newsletter. It will get the ball rolling in terms of spreading the word about your business. Even with a small team of people working for you, it is beneficial to make sure that everyone is kept up to date.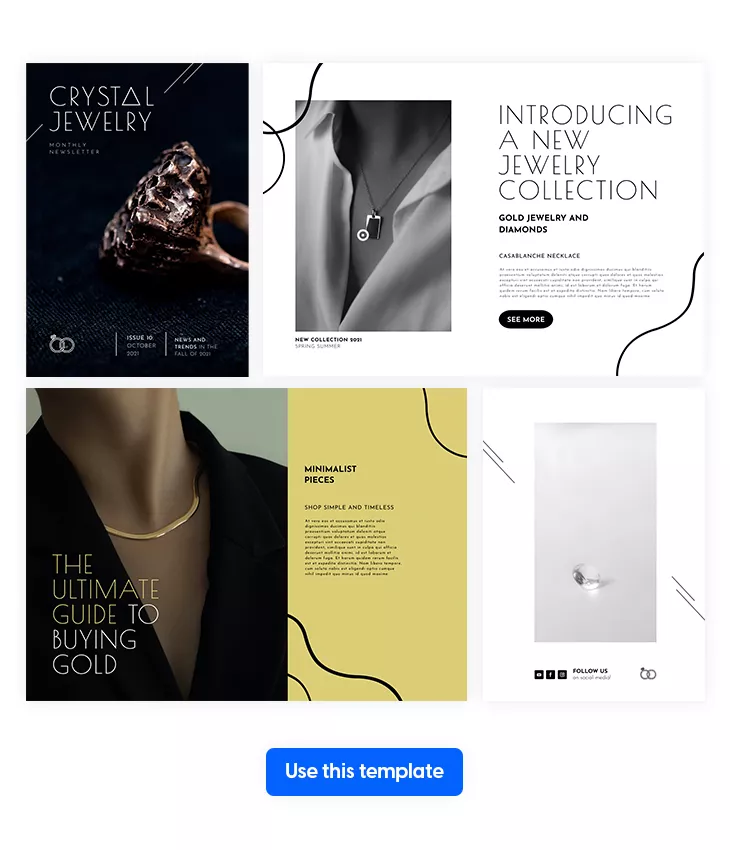 Design and content tips: If you have a website, you can add product tags to the items listed in this newsletter. This way, your readers can access details about a new collection in an efficient way. You can arrange high-resolution pictures by getting inspiration from this staff newsletter template. Content-wise, mention any updates and new regulations, company events such as employee reviews, and round things out with a fun-facts section about the industry. Whichever idea you choose to implement, keep in mind that there are a lot of newsletter templates out there to help you get started.
28. Internal Communication Newsletter Template
Maybe you're a bit stuck in the process of designing and structuring content for your business newsletter. Try a more friendly and colorful approach to your company newsletter by drawing inspiration from Flipsnack's already made templates. For instance, this internal communication newsletter template combines shapes, bright colors and a dynamic use of stickers.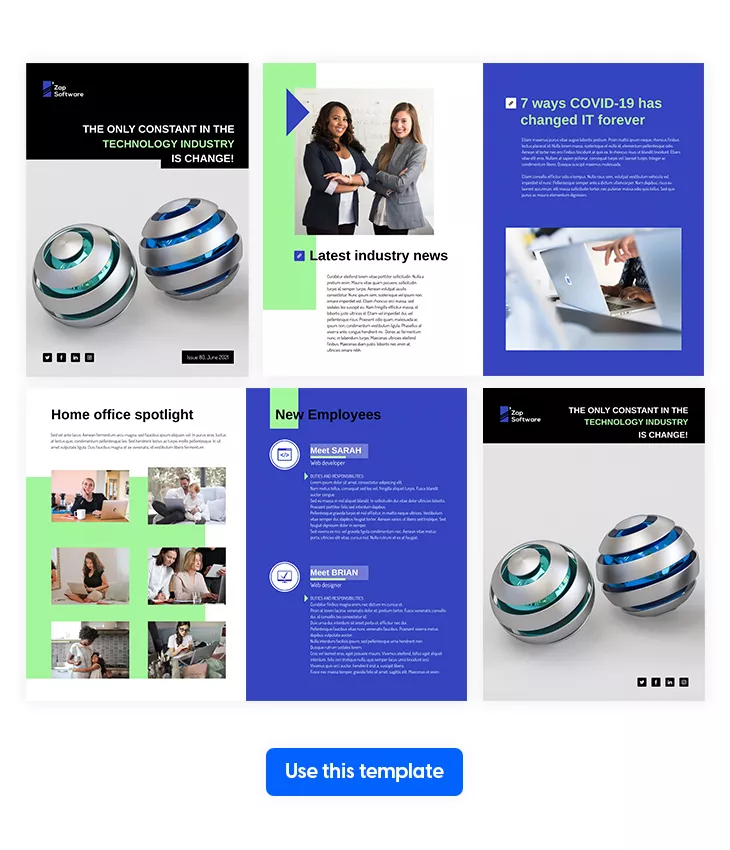 Design and content tips: get more personal with your newsletter by including information your employees will actually enjoy reading. Some examples include book and podcast recommendations, resources for career development, home office spotlights. Add your brand kit and then make a last review before sharing this newsletter with your employees via email.
29. Interactive Company Newsletter Template
Newsletters can take the form of a classic newspaper, in the way text is structured on the page. Enter our Design Studio and have access to this interactive company newsletter template, fully customizable. Upload your own pictures, interactive elements, brand kit and you're ready to share it with your employees.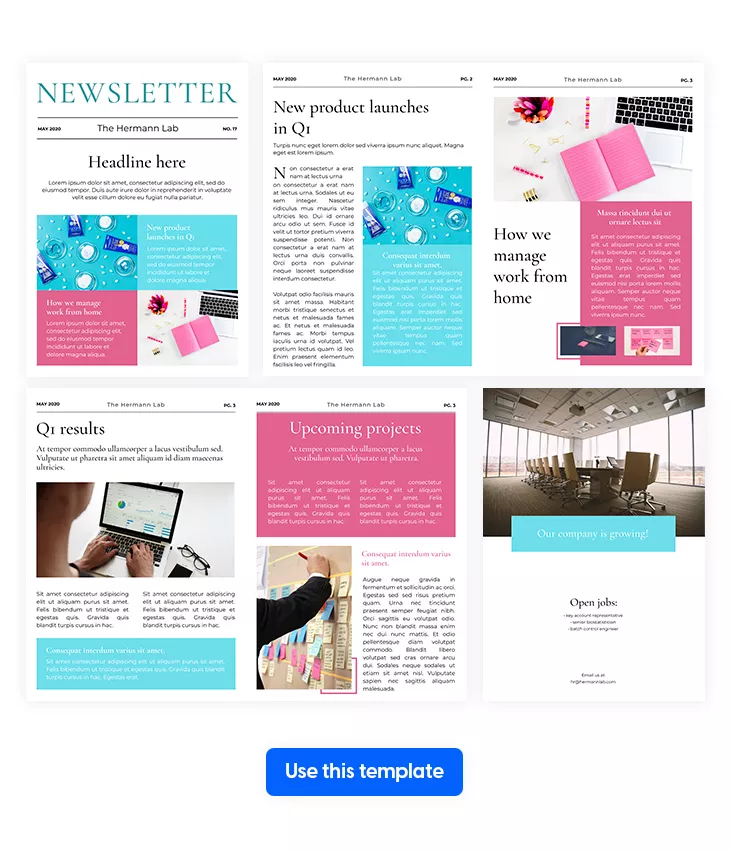 Design and content ideas: If you want a simpler layout, but still have your newsletter stand out, then consider keeping it black and white, with pops of color. Draw a borderline between parts of your content. Save the front page for headlines with featured info and then introduce the secondary content throughout your newsletter.
30. Editable Business Newsletter Template
For a financial company, who's gotten into the habit of sending out a newsletter every month, you can draw inspiration from this editable business newsletter template. You can change its orientation to horizontal, maintain the same background color. But before any changes to the design, upload your brand kit. Share it online using the full-view link or by email.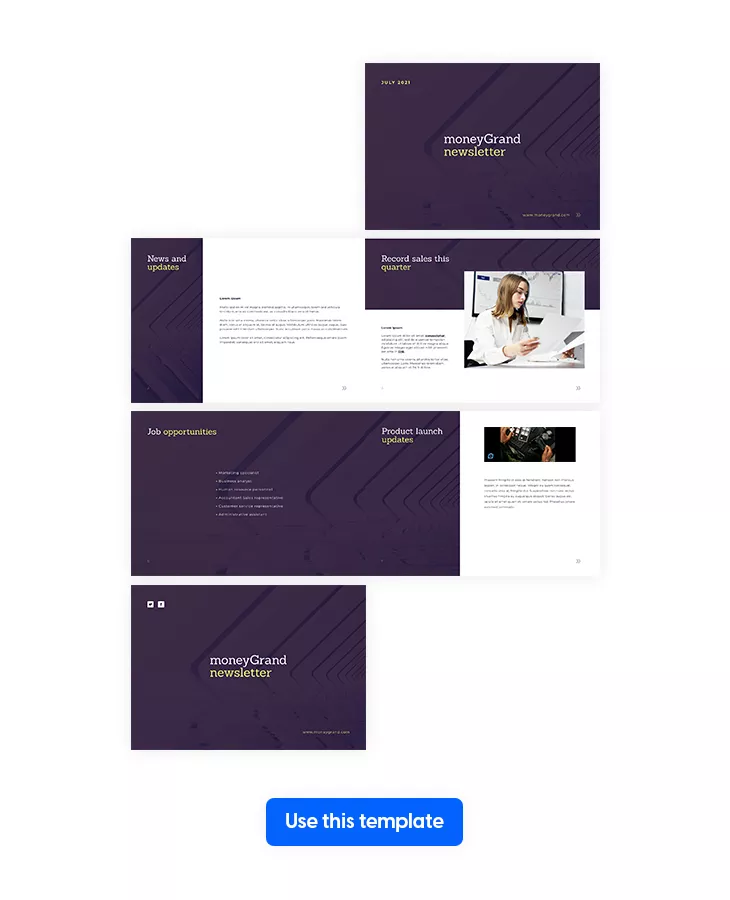 Design and content ideas: consider adding more pages, if you have more information that presented in this example. The reason is to avoid crowding your layout and to make assimilation easier for the reader. Add spotlight effects to enlarge certain images and videos, to explain different processes in the company or to convey a message from your CEO.
31. Online Business Newsletter Design
Maybe you're a small business, just starting to form the habit of creating a newsletter for your employees and that can be overwhelming. Regardless of the number of sections you want to cover in your newsletter, this online business newsletter design is suitable for as little as 6 pages. With the design already in place, all you need to do is add your branding elements, from logo watermark to custom fonts and then add your information.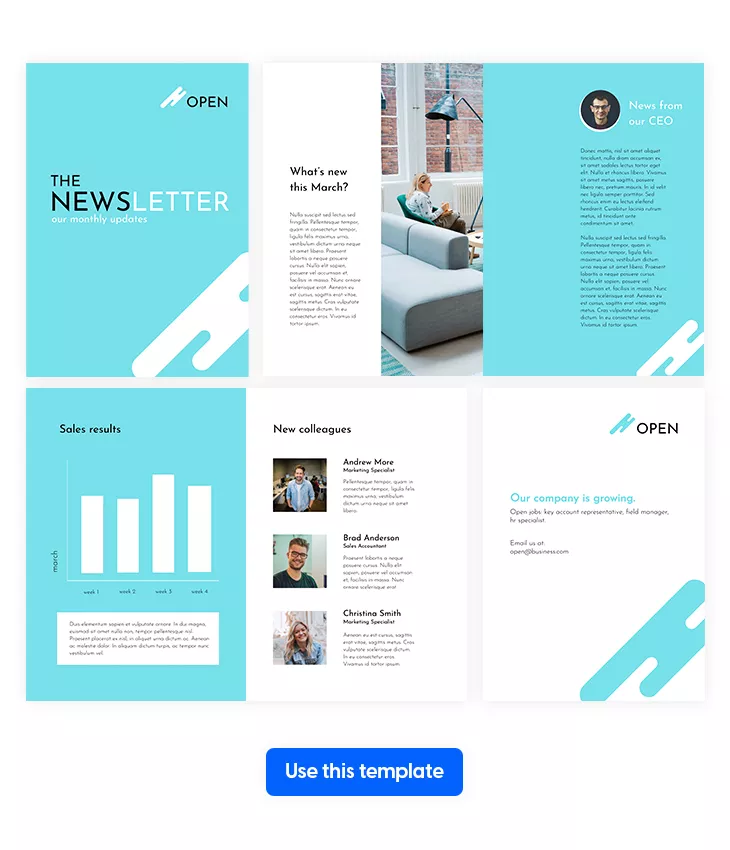 Design and content tips: Play around with shapes from our collection to create something unique for your business. Combine pictures with background colors to add dimension to your pages. Once you're satisfied with the foundation of your layout, you can save the first edition of the newsletter template and get back to adjust only the content for the next month. Lock certain elements from the template, when working with teammates on the same publication to ensure a seamless collaboration.
32. Free Online Employee Newsletter Template
For an insanely creative small business, who makes different types of ceramics and is already known for their originality, a newsletter would only strengthen its visibility. Everybody knows that one key to a company's success is keeping your employees happy and in the loop regarding every new thing.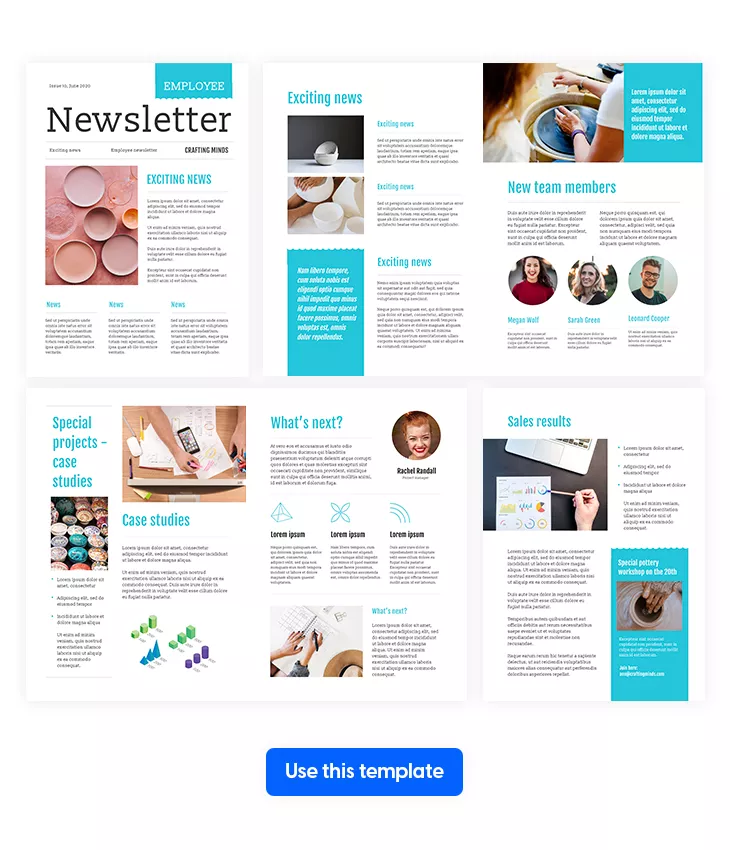 Design and content tips: Record different creation processes, like a video about the necessary steps in making a ceramic mug and feature them in this free online employee newsletter template. Present the new team members, including their hobbies, background and things they enjoy talking about. Play with shapes for a slight scrapbook effect, add stickers to make it friendly and informal.
33. Professional Company Newsletter Design
The onboarding process of a new employee can be the thing that makes or breaks the relationship between that teammate and the company. Take the example of this professional company newsletter design and craft it in a way that will reflect/resonate with your brand image.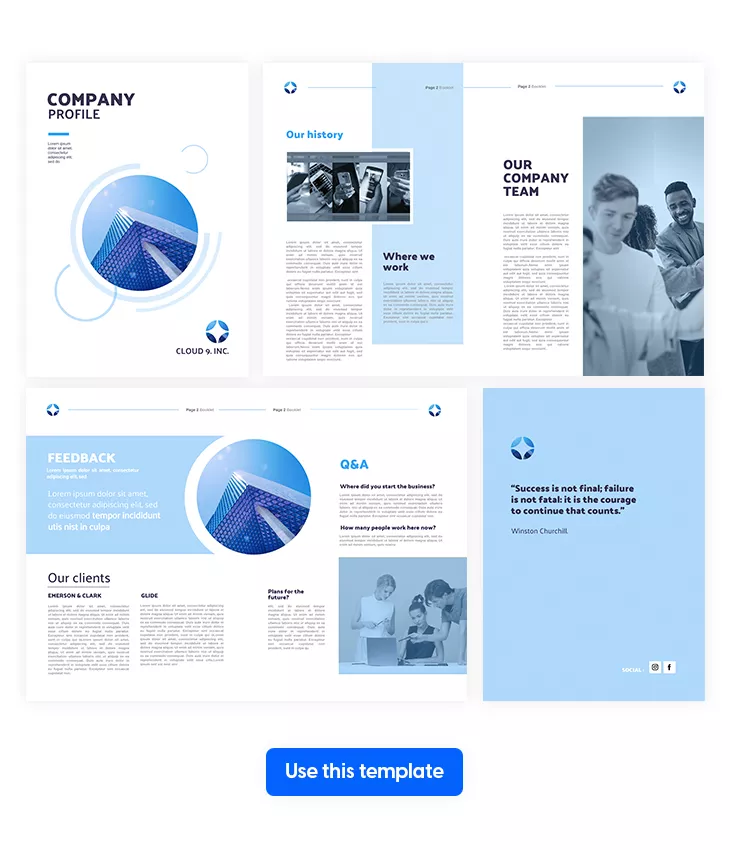 Design and content tips: Talk about the history of your business, include past milestones, such as the beginning number of employees. Leave room for a section about feedback from your employees regarding projects, new policies and other team related content. Add shapes, transparency on background images for a seamless integration in the design, a form used for registration at training courses, workshops and events happening in your city.
Marketing Newsletter Templates
34. Modern Employee Newsletter Example
Any business can benefit from including information about employee benefits in its company newsletter. This practice is especially beneficial for new employees, who are initiated into the company policies and insurance package. Our Design Studio has many examples of employee benefits guide templates, which offer valuable content insights.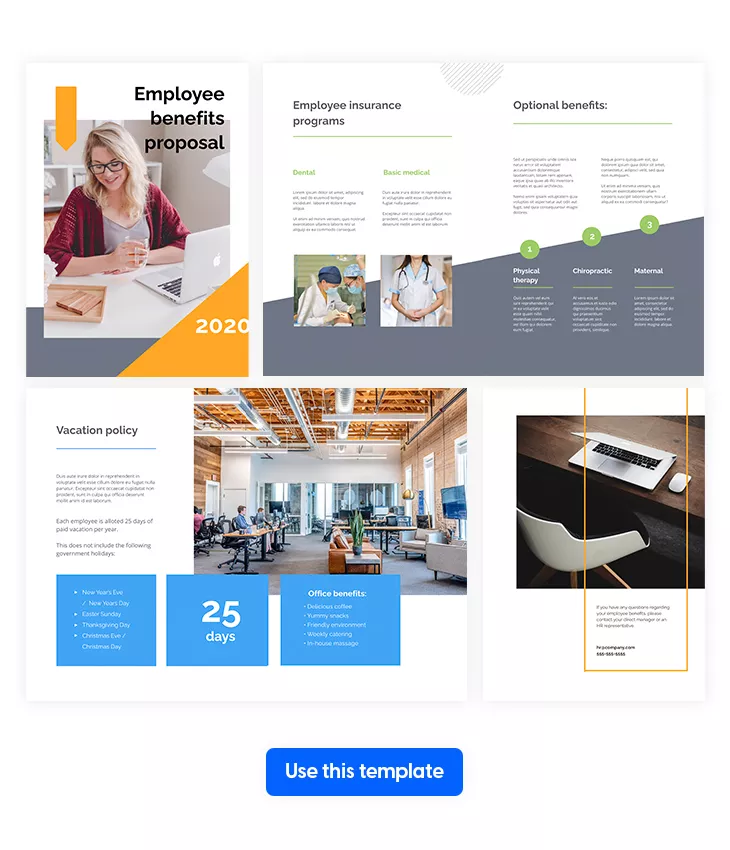 Design and content tips: create unique designs by using shapes from the available collection, just like in this modern employee newsletter example. For a more dynamic experience, change the text angles, overlap elements and set the opacity of a background picture to zero. When you're done, share it internally with your employees by using the full-view link for decreased distractions.
35. Flippable Business Newsletter Design
For any type of report, be it annual, sales and revenue or marketing related, you can use this template as guidance. This flippable business newsletter design is fully customizable, so feel free to add, remove and replace any section.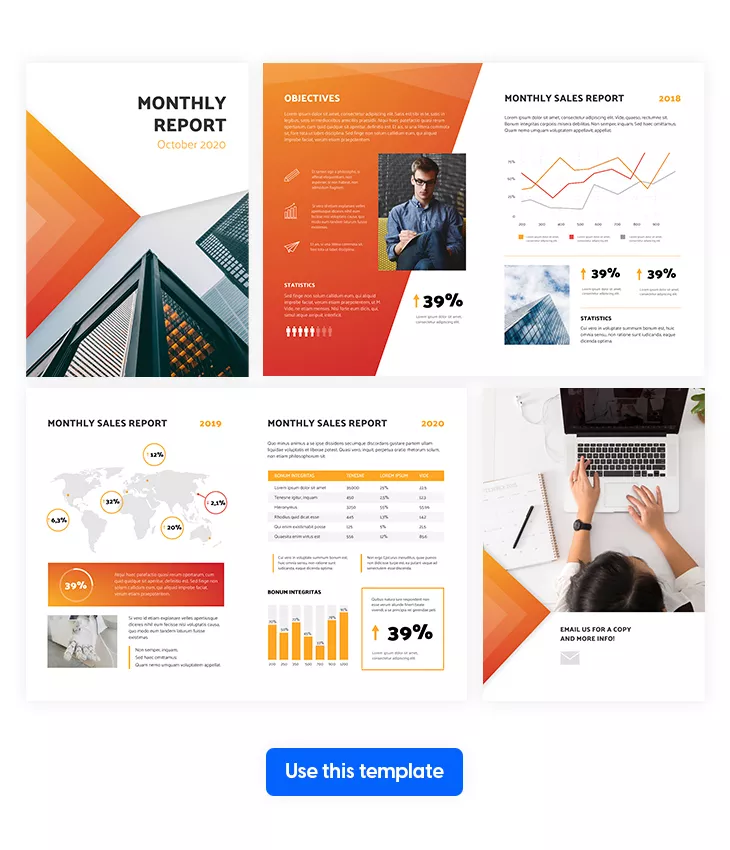 Design and content tips: create your tables in Flipsnack or modify the already existing ones from this template. Focus on numbers, but don't neglect other sections about monthly objections, updates on ongoing projects and other relevant updates.
36. Interactive Internal Company Newsletter
For a financial, legal or any other type of industry, you can use newsletters as a canvas for sharing relevant news for your company from all around the world. This interactive internal company newsletter might be structured like a newspaper, by looking at its articles, but you can rearrange the text however you like.
Design and content tips: Information-wise, structure it into three columns, similar to how a newspaper article would be. Combine shapes, lines and other illustrations to enhance your images, taking this template as an example. For the other sections, regarding your company specifically, you can maintain a more basic format, used for newsletters, with little text and more visuals. Embed videos, add links and social media buttons on the back cover.
37. Digital Winter Holidays Company Newsletter
The holiday season will soon be here and it's best to be prepared for when it knocks on your door. All companies alike make use of the seasonal holiday newsletter to change things up in the design and add a few sections dedicated to Christmas. It's a strategy to spread some cheer in the midst of your employees, while also keeping things professional and work-related.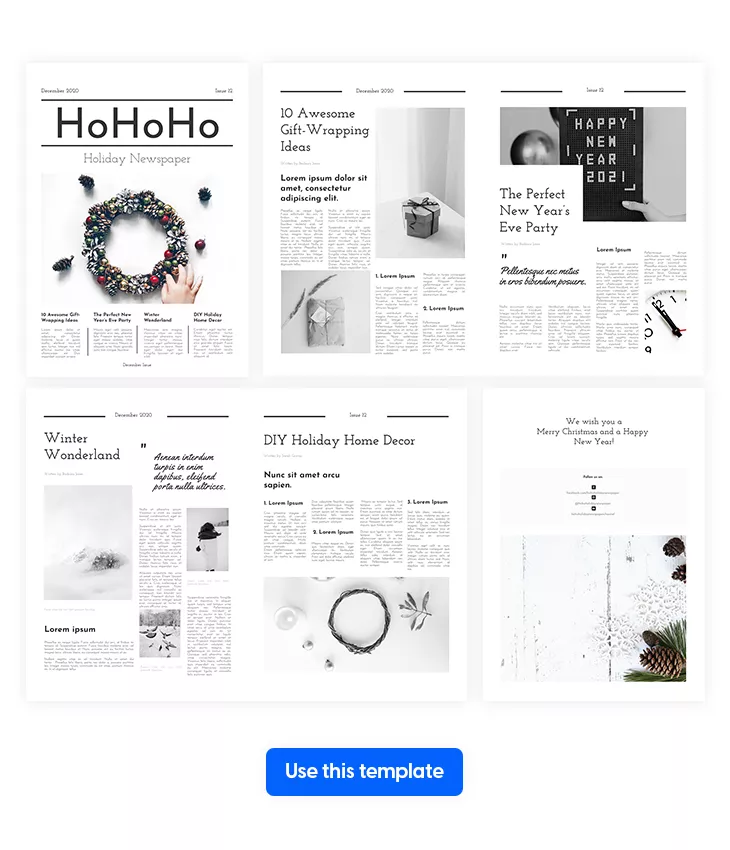 Design and content tips: dedicate a few sections about Christmas related information, such as nearby travel destinations or gift ideas. Consider writing them in an informal tone, with a few holiday activities, scattered here and there. Then go ahead with your usual company news and updates, for these are not to be overlooked.
How to create a newsletter in Flipsnack's Design Studio
Create an account or sign up to Flipsnack. Enter the Design Studio.
Pick an already made newsletter template from our collection or start from scratch and upload your PDF.
Add interactivity: embeds, lead forms, videos, clickable links.
Share it privately with your employees, using the password-protected feature. Or add workspace readers for your newsletter, which will require authentication.
Statistics equal powerful data
We're past guessing what elements to include in your publications to engage with your readers. So don't! By using the in-depth statistics feature, your reports include: total number of impressions, views, shares, downloads and average time spent on newsletters, data history, best performing newsletters. All of this collected data on your flipbook's statistics page can be downloaded as a CSV file and imported into your CRM platform.
Some final thoughts
I appreciate you reading until the end of this article. Remember these content and design tips for when you're putting together your next company newsletter template. Don't include anything in this internal document that you, yourself, wouldn't be interested in reading. Keep in mind as many employee engagement metrics as possible when putting together your newsletter. However, there's always the option of email newsletters. There are a lot of newsletter examples from which to draw inspiration if you're at the beginning of making a habit out of this in your company.

I hope this new standard we suggested for the interactive digital company newsletters will help you increase engagement with your employees and then, with your customers.