How to successfully use forms in lead marketing
Creating top-quality content is not an easy task. It involves lots of research and skill. And once you are done with creating the content, it's time to do something with it. So, what do you do? You share it with people. But do you offer it for free, or do you restrict access to it?
When you come up with useful information and you want to generate leads in the process, the best way to do it is through lead generation forms. However, submitting a lead form just for the sake of it is not an easy task. It requires proper planning and knowledge.
If you were wondering how to generate leads through lead generation forms, then this article is for you.
What is lead generation marketing?
Marketing is in constant change, and for businesses to be able to keep up with the times, they need to be adaptable; to be willing to make whatever changes are required. The competition is harsh, and most companies need to be smart when it comes to bringing in new customers.
Relying on advertisements, cold calling, and sending hundreds of emails simply won't work anymore. Nowadays, providing honest, high-quality content is king. The content you provide should be relevant to the topic at hand and should be valuable for the reader.

It should also be covered in high detail, otherwise, it might seem superficial. Make sure that you add your personal touch to it, and keep it original. Make your readers interested in finding out more and eventually in using your products.
Convincing the customers that your business is the solution to their problems is the way to go. This is where lead generation marketing comes in. If you don't know what that is, here is a good explanation:
Lead generation is simply the ability to attract the interest of a consumer and capture enough data to validate and prioritize their interest, then contact them.

Source
There are different ways you could do that, but when talking about online lead generation, there are the usual methods: content marketing (blogs, landing pages), search engine optimization, social media marketing, email marketing, lead generation forms, and more.
Here's a brief rundown on how they work together:
Search engine optimization helps your website appear when people search for certain terms. The optimization is done through important keywords, but more importantly, through your website's high-quality content, which is relevant to the user's interest.
People see your website in the search results, they visit it, and thanks to your useful content, they are interested in finding out more about your products and services. They visit a landing page, and this is where lead generation forms come into play.
There is a call to action which asks people to complete the lead form. If the information is good, people will be willing to sign up for your email newsletters or share some information in exchange for some benefits (free e-book, white paper).
Hard work pays off
I made it seem easy, but the truth is that you need to put some work into it, and you need to have a well-thought marketing strategy. There are different types of leads: marketing-qualified leads, sales-qualified leads, product-qualified leads, etc, and both the sales department and the marketing team need to be aware of the level the lead is currently at.
Make sure that the leads are in the proper stage, and involve the sales department only when you are certain that they are ready to buy. There is no point in involving the sales department as soon as the user has completed a lead form for downloading an ebook.
Are you certain that he is even interested in the product? Involving the sales department too soon might turn the lead away.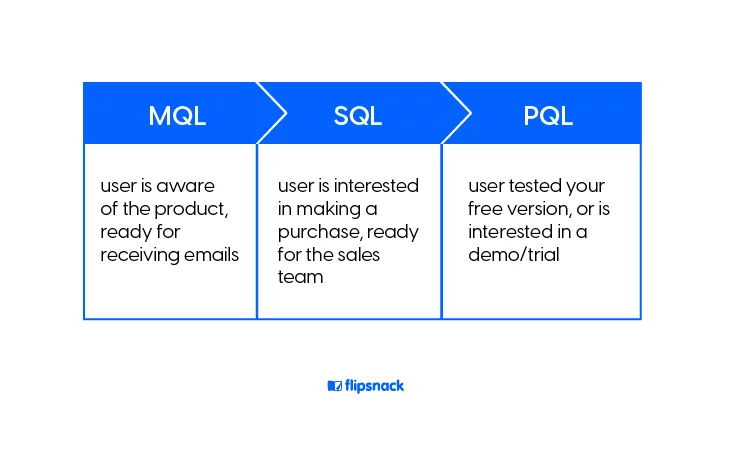 On the other hand, if the user has tested a free version and then requested a demo for a premium version, the chances are that he is interested in the product.
The first type of user shouldn't be ignored, there are other ways to approach him, which is usually where blog posts, case studies, and white papers come into play. Each type of lead involves different strategies, and this is why you should be aware of the funnel stage.
Nothing is certain, so for this reason, it is better to try different strategies, such as appealing visuals, different page versions (A/B testing), banners with calls to action, and so on.
As you can see, lead generation involves different aspects, and all of them work hand in hand. However, in what follows, I'll offer more information about lead generation forms and how they can help your business.
Benefits of using lead forms in your marketing strategy
First things first, before presenting the benefits of using lead forms in your marketing strategy, let's see the 3 main requirements of a successful lead form:
Forms should be customizable: you should be able to change the input fields
They should be interactive – the reader should be able to engage with them
You should be able to register the data – the responses should be collected
Now that I've got that out of the way, let's take a look at the main benefits they provide. With the help of lead generation forms, you should be able to:
Target interested customers only
Regarding lead generation, numbers aren't the only thing that matters. For your lead generation strategy to be successful, you need to target the right audience. The leads should be of high quality. To share a quote from Glengarry Glen Ross: "These are the Glengarry leads. And to you, they're gold". 
This means that if someone has 0 interest in using your product, you will waste precious time and energy trying to convert them into customers.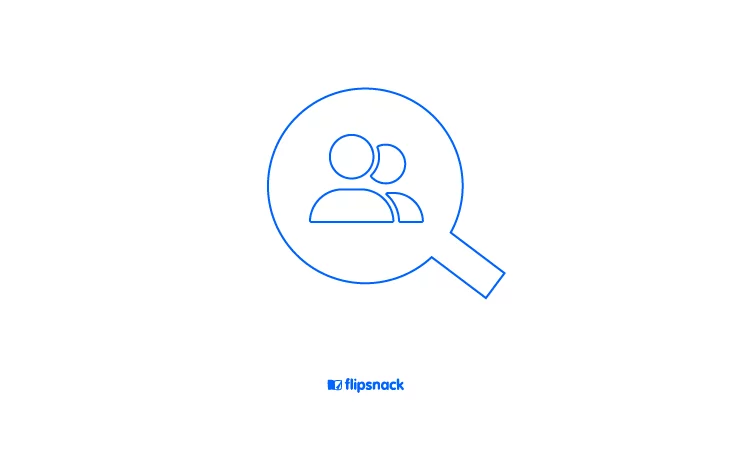 Before developing your strategy, one good practice is creating user personas: fictional characters or archetypes representing certain demographics or a large group of users.
For example, John, age 19, is a student. He uses your product for college-related activities and during his spare time for personal projects.
He represents the college student group, and when developing a strategy for college students, you will have John in mind. "What would John be interested in?"
User personas are important because they allow you to create custom marketing strategies. What works for a certain user persona might be unsuitable for another. This information is essential when it comes to creating a lucrative lead-generation strategy.
A lead generation form will allow you to accomplish the most important aspect of a lead generation strategy: collect leads. However, once again, quantity is not the most important aspect, quality is.
The information you obtain should be useful for a lead form to be effective. Contact information (preferably email) is essential. You can't reach customers without their contact information.
Then there is the name. You can send emails without having this information, but using a customer's name in an email is proven to lead to higher response rates.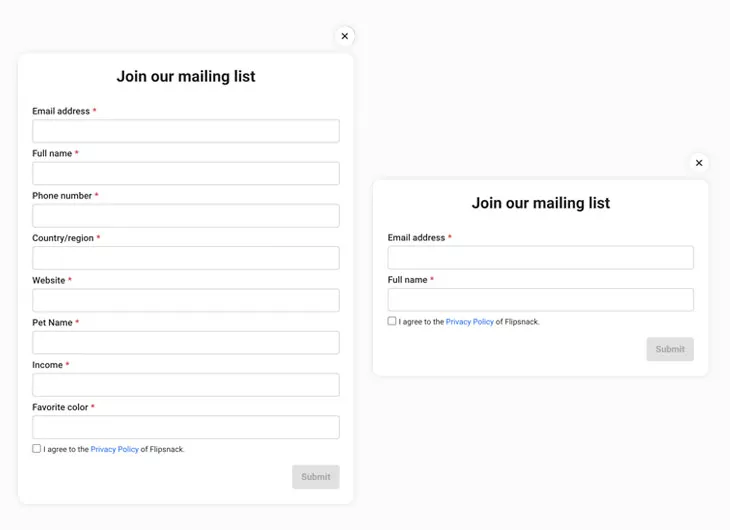 Then you could add other parameters such as country, a custom input field, or whatever you consider necessary. With Flipsnack, you'll be able to download all this info as a CSV file and use it for statistics about users. You can then import that CSV into a CRM (Customer Relationship Management), which your sales department can use.
There are certain tips you can take into consideration when creating your lead form, but more on that a little bit later.
I mentioned the importance of creating useful content for your readers, and how this practice is one essential component of a successful lead generation strategy.
But what next? What do you do after you've created the content? Do you share it for free? Or do you demand your reader's information in exchange for the content you offer?
The latter approach, of gated content, is one of the most popular ways of generating leads, but it's good practice to know where and when to use it. Gating a blog post is useless, but gating an ebook or a white paper is a good idea to generate some leads.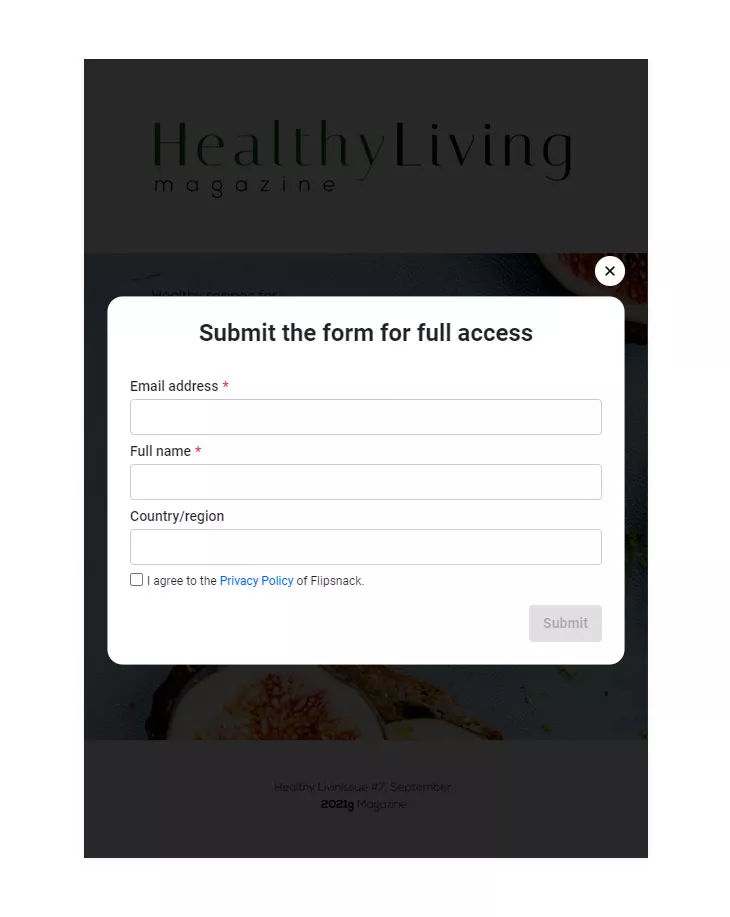 Gating content in the early stages of your business might be counterproductive. Doing so after you are an established authority in your domain is a better choice.
The content you provide should be of top quality. People should benefit from sharing their information with you. Gating a quickly written ebook just for lead generation purposes is a sure way to turn off a potential customer. Fool me once, right?
I've offered some insight on the advantages of using forms in your lead generation strategy. Let's now take a look at the best ways of using lead forms in your publications.
How to use lead forms in your marketing strategy
Whether we're talking about B2B lead generation or b2c one, lead forms are an excellent way of collecting prospects. It is much better to obtain the leads naturally than to buy them. I don't know about you, but if I receive unsolicited emails, straight to the trash they go.
As you will see, there are different pieces of information you could gate with the help of a lead form. Here are some of the best:
Digital assets
Event registrations
Email Newsletters
Surveys / Quizzes
Free trials / demos / consultations
Let's take them one by one and get into more details.
1. Digital assets (ebooks, white papers, reports, guides)
When it comes to digital assets, there are different ones to choose from:
There are all sorts of digital assets you can include as part of your gated content strategy: ebooks, white papers, reports, guides, digital magazines, and other similar documents.
We've all seen free ebooks used as a marketing strategy. You offer a free guide or a short publication on a topic of interest for your target, and you ask for a few personal details in exchange for the download. Readers are more likely to give you their contact details if you offer them something valuable in exchange.
You could combine your blog with your ebook. Offer more detail about a subject in your ebook, so that users who find the subject interesting, will be willing to share their details in exchange for the ebook. Include banners and calls to action in your blog posts, so users can easily access the downloadable content.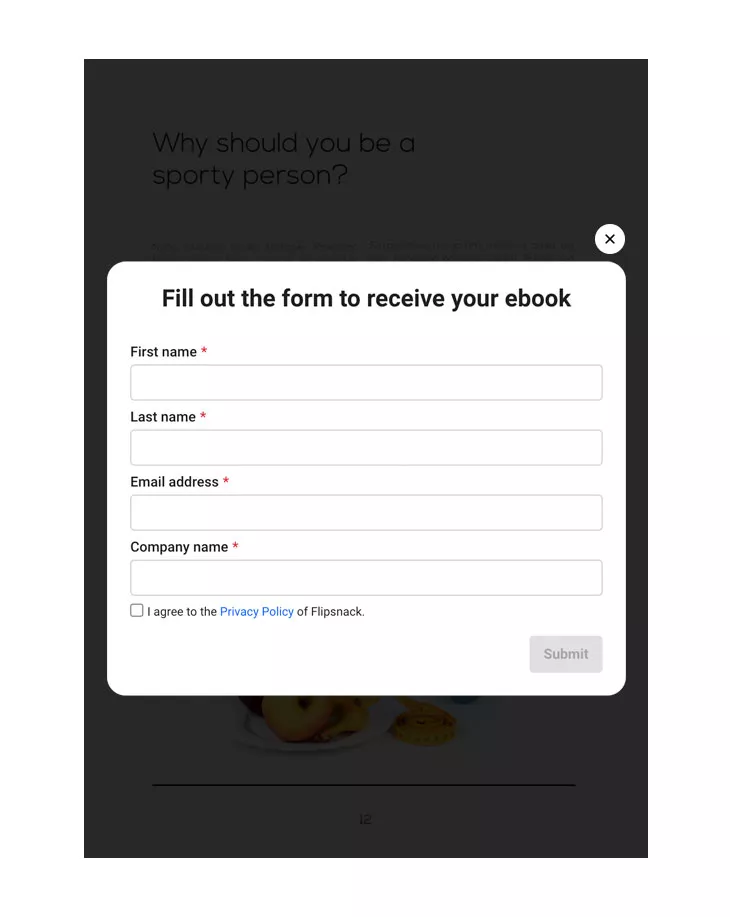 Whitepapers are popular as well. A whitepaper is a report, study, or guide backed by scientific research. If used as a marketing tool, it tries to persuade customers to buy or sign contracts by using logical arguments, facts, and statistics. Many people are interested in using data from whitepapers, so they'll want to download it.
The solution is to publish your white paper online in view mode to give readers an idea of what it is about, and if they want to download it or read it in Flipsnack, they have to fill in a form. The download form can be placed directly inside the publication to make it obvious.
You could also create a separate landing page for these digital assets. It will make it easier for people to download them. Regarding the landing page, it should be straightforward, easy to navigate, and easy to understand.
2. Event registrations
For public events that require registration, you could create an online brochure that presents the schedule, event details, and benefits. Since online publications benefit from interactivity features, you can give people an opportunity to sign up for the event right then and there.
Only interested people will join, and thanks to the lead generation form, you will be able to collect useful data. Use a lead scoring software to determine how likely your leads are to participate.
There are different types of events you could host, both offline and online, but nowadays, webinars are probably the most popular. They offer direct user engagement, meaning people can listen to your presentation and interact with you in real-time.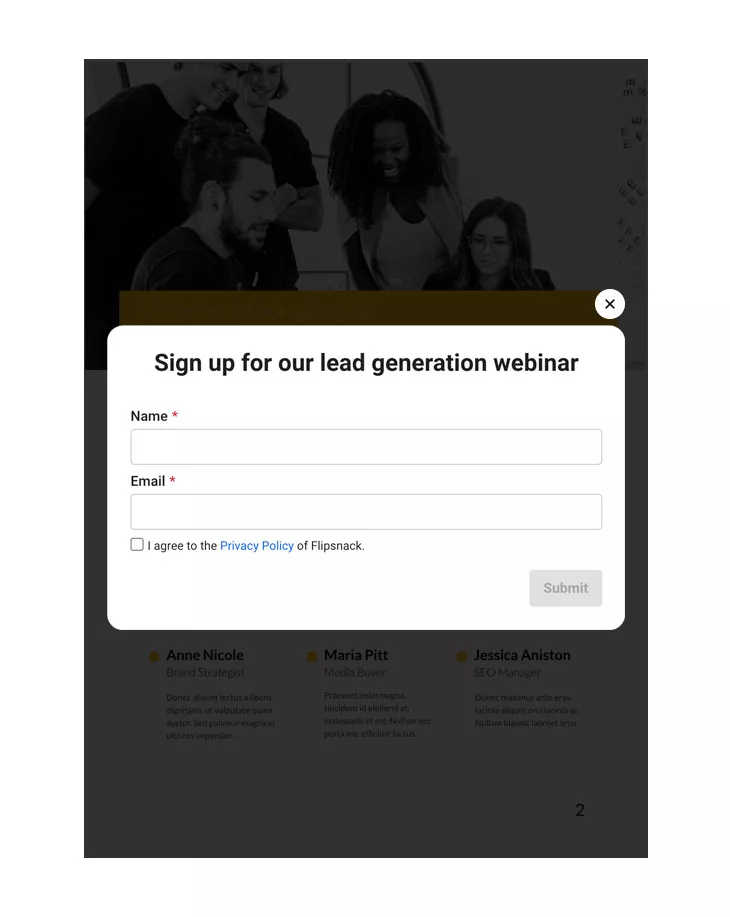 A webinar is a type of content you should definitely lock, especially given its complexity. Make sure that you offer some information about what the webinar will include, so people will know what to expect. A webinar is a great way of convincing the audience regarding the importance of your product, so good luck.
As an advice, try to make the webinar about the information you offer, don't make it about selling your product or service. Sure, you can mention how your product helps, but if your main subject is a sales pitch, it will not be appreciated.
3. Email Newsletters
Every marketer and business owner wants to grow their email list because each new contact is a lead who might become a customer. A great way to do that is to use email subscription forms in all your online publications: brochures, magazines, catalogs, and other marketing materials.
Email marketing is still effective, and people still use emails to stay in touch with companies. You might miss a social media story or post, but you will always find an email in your inbox.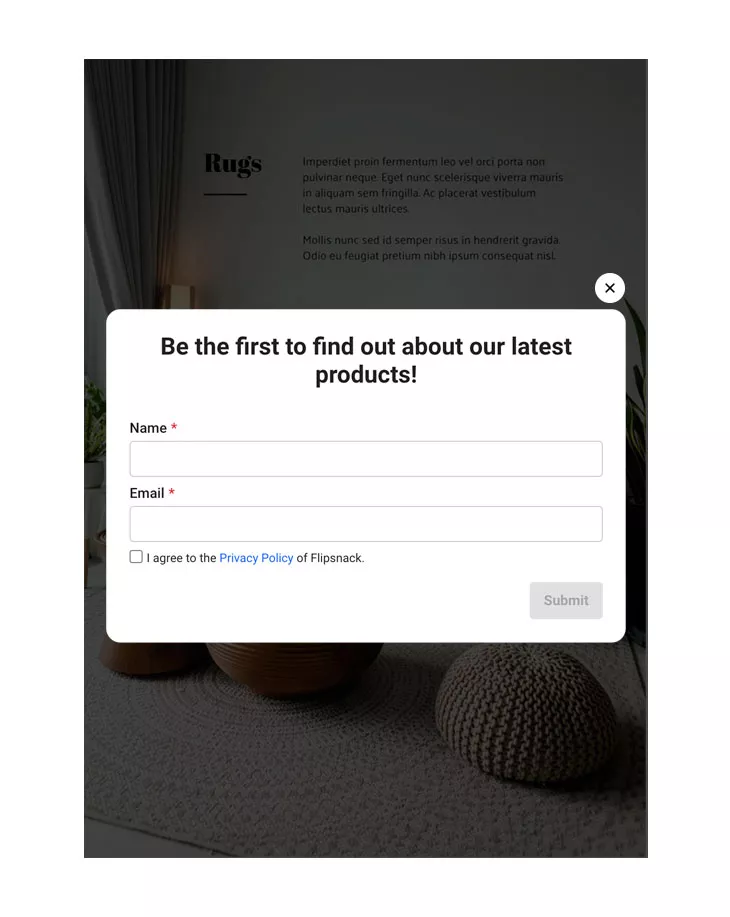 Once again, for this lead generation form to be effective, you will need to create top-quality content. The information you provide regularly should be of interest to your readers. You can include different types of content in your newsletter: updates on special offers, a summary of blog posts, events notifications, and more.
If you already have a community interested in your products, you should reward them with early email notifications about things that matter to them. Give them a chance to submit their emails through a "be the first to know about…" form.
To perfect your newsletter campaign, you could obtain feedback from your customers.
Speaking of which…
4. Surveys / Quizzes / Feedback
Survey forms are fantastic from a marketer's point of view. If you plan on using them in your publication, you should limit the survey to 1-5 questions.
For a more in-depth survey, use a professional tool outside the publication or iframe embed one. While people are reading, they will not want to be bothered by a long questionnaire.
Consider creating polls once in a while to get feedback from your customers. See what information they enjoy receiving and what to improve. The way you deliver the message is important.
Acknowledge the fact that the information they provide is useful and helps your business as much as it helps their reading experience. People will be more willing to respond if they know that their answers are valuable.
You could also send emails for each purchase and ask the customer to offer some feedback. If the feedback is good, then great. If not, then you will know what to improve.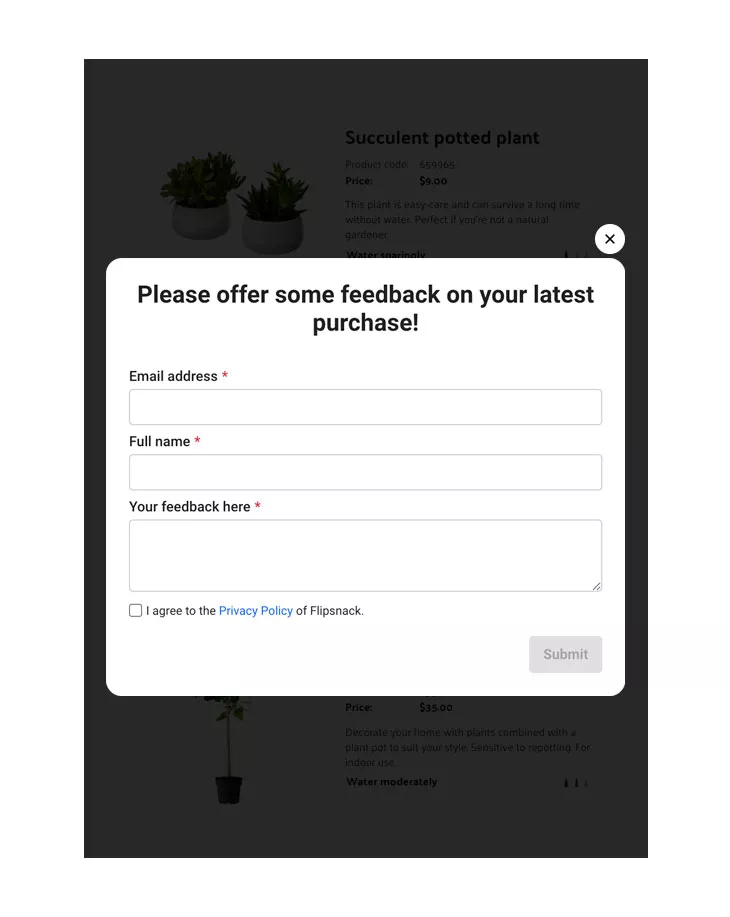 Besides limiting the number of questions, make sure that they are relevant and that you can benefit from them. Ask only questions that can help you improve your business.
Survey templates are usually the best way to get started.
Quizzes are also a great way to generate leads through your lead form, as you can offer the ultimate incentive: prizes. Ask a few questions, randomly select an entry, and if all the answers are correct, reward the user with a prize. Offer coupons, cash, discount codes, free items, whatever you consider to be most beneficial for the person and for your business.
5. Free trial / demo / consultation
Everybody loves free things, right? What better incentive for someone to share his details than an opportunity to test your product, or to receive some free information?
Free trials apply to certain businesses only, but if your business model is based on free trial requests, you should go for it. Use free trial registration forms in your promotional online publications. It's more efficient than sending people to an external website to complete the form, and it's more effective.
Demos are great as well, and they work best for SaaS (Software as a service) businesses. Unlike a trial, which allows the user to directly test the application, a demo is more of a presentation of the program. Both of them have pros and cons, so choose an option which suits you the best.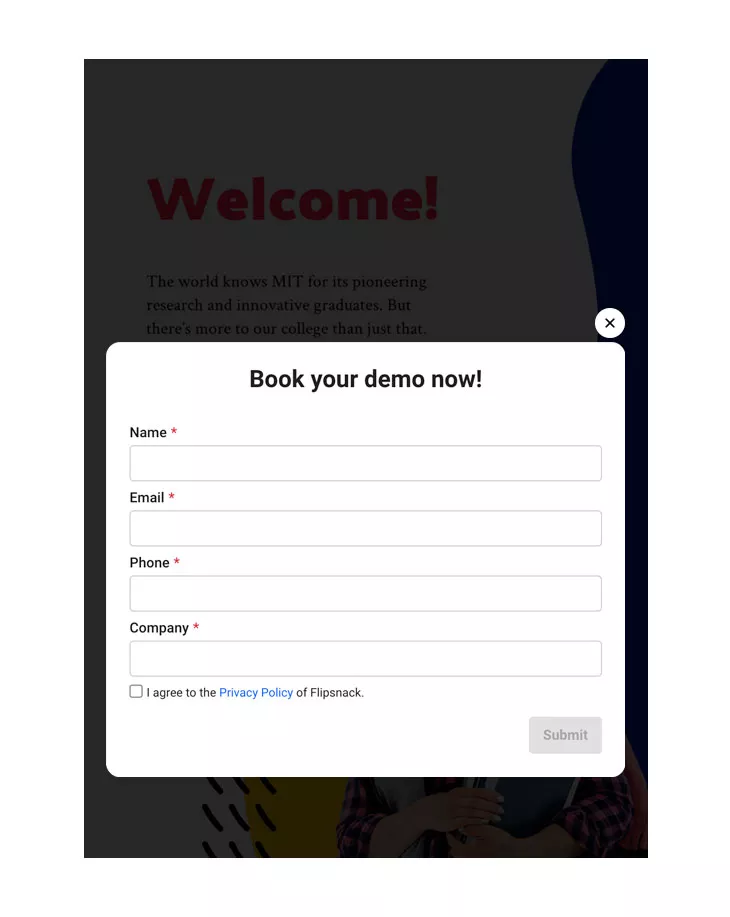 There are also free consultation forms, which pair fantastically with portfolios, business presentations, and other promotional publications. The advice of an experienced professional is very important to small and medium-sized businesses, so many will sign up, sharing with you their contact information.
The process of arranging consultations, demos and sales calls can also be automated with pop-up callback widget software such as CallPage. Using tools like these, you can segment, prioritize and follow-up on potential leads on your website in a way that's unobtrusive and visually appealing.
As you can see, lead generation forms are useful, and you can use them in all sorts of situations. The most important thing to keep in mind is that in order for them to convert, it is important to offer something valuable in return.
How to create effective lead generation forms
Now that I've offered some examples of content you can hide behind a lead form, let's see how Flipsnack comes into the picture.
Flipsnack got you covered on the content part, as you can create different publications from scratch, or by uploading a PDF file which you can then make interactive. It is the perfect solution for creating magazines, virtual brochures, electronic catalogs, digital booklets and other types of publications. On top of that, besides creating the content you can also collect leads directly in Flipsnack.
Once you are done with the editing process, you can then include a lead generation form to limit the content access.
However, adding a form just for the sake of it is not advisable. There are certain tips you can take into consideration in order to make your form leads as efficient as possible. Let's take a look at them.
When using a lead form in Flipsnack, there are different input fields you can choose from, but you should make sure that you are smart about it.
When it comes to choosing the input fields, sometimes less is more. It might be tempting to include all sorts of fields, but people might be turned off by having to offer data to 15 different input fields. Try to obtain only the essential information, and be strategic about it.
What I mean by this is, modify the fields based on your needs and on the content people receive when submitting their data. If the form is for the enterprise version of your program, then requesting information about their company is advisable. After all, you need to make sure that they qualify for it.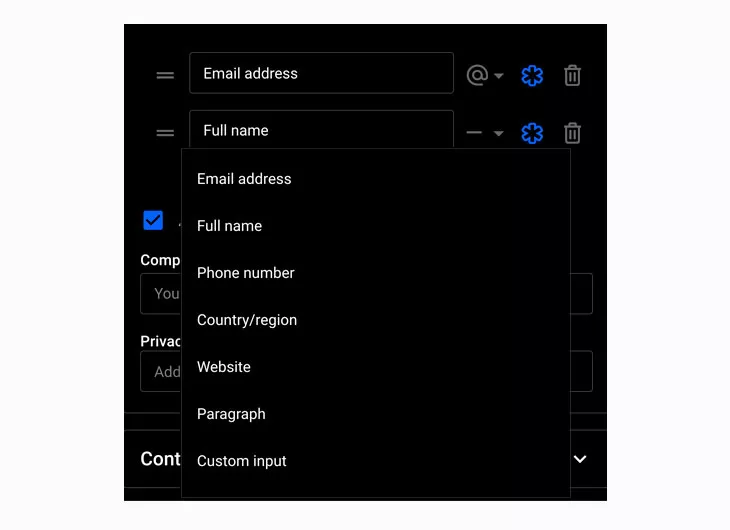 Speaking of enterprise users, make sure that the content you provide is suitable for their level. At this level, people look for solutions to a specific problem, so you need to convince them that you can be that solution to that problem. General content is useless here, you should prove expertise. It's all about the funnel stage.
Getting back to the subject, requesting the same type of information for a free ebook doesn't make sense, and chances are people won't consider it a fair exchange. Why would anyone share company information for an ebook?
If you want to keep them updated via email only, ask for their email address. Don't ask for a phone number if you are certain that you won't be using it in the future. The less information you request, the more likely you are to convince people of completing your lead generation form.
If you want to create a great-looking form that will convince people to share their information, there are certain design principles you should take into consideration. Whether we're talking about a brochure's design or a letterhead's design, the main principles remain the same.
Besides the first tip, there are other things you should consider to make your lead generation form appealing. The form needs to be readable. This means choosing the right wording, avoid being ambiguous.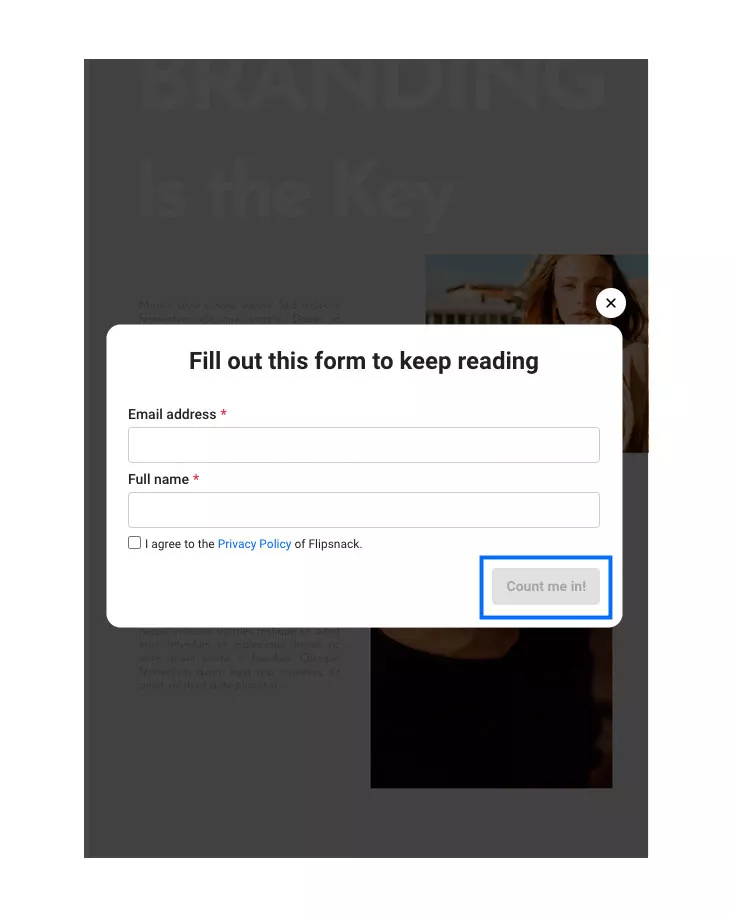 The call to action button, an essential part of the form, should stand out from the rest. Make it a larger font size, or a different color. Tailor Its message a little bit. Instead of the regular "Submit" message, choose something like "Sign me up for the event", or "Try our demo". Try to be inventive, as it matters.
Another important thing is to make sure that the form can be viewed and used on mobile phones. People nowadays prefer to use their phones and tablets instead of their laptops, and restricting their access would hurt you.
The main reason why people complete lead generation forms is because something is in it for them. Sure, you can offer the content for free, and ask people to complete the lead form at the end, but gated content seems to be better when it comes to obtaining qualified leads.
For this reason, it is important to make sure that people know what they will receive when completing the form. There are different ways to do so, and one of the best is by using an appealing header.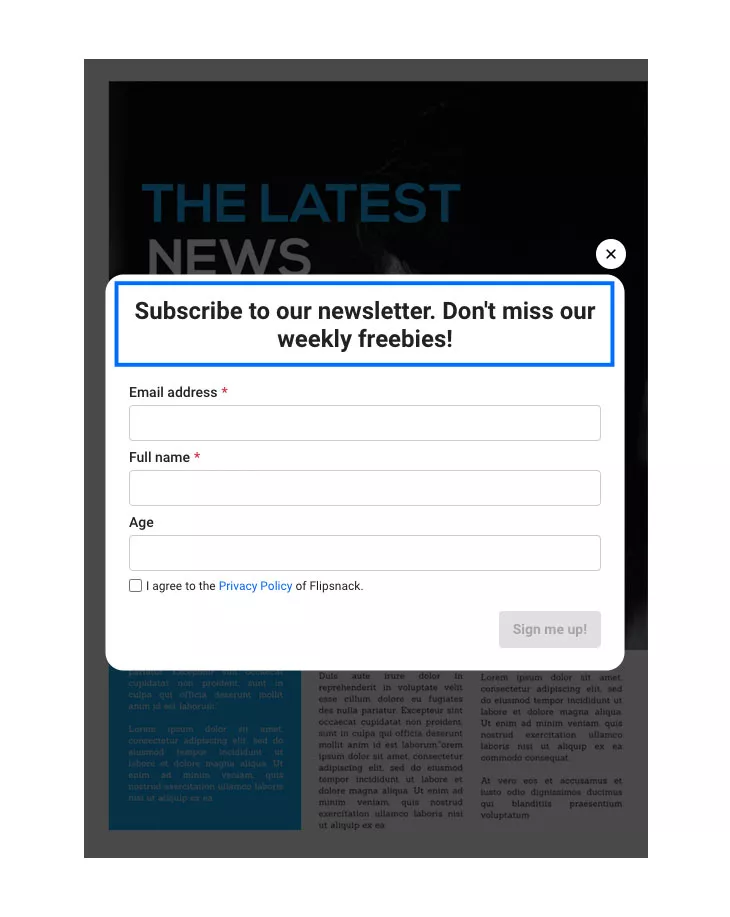 Similar to the call to action, the header can be customized based on the content. For a newsletter sign-up, you could say something like: "Subscribe to our newsletter.
Don't miss our weekly freebies!". This will make it clear that when completing the form, people will receive your newsletters, and that they will also receive something free each week. The header is both informative and offers an incentive.
This applies to digital assets downloads, but you could offer a sample of what they're about to receive. If it is an ebook, share the first pages. If it is a webinar, share the first video, and so on. Just make sure that the rest of the content is of the same quality as the preview.
How to add subscription forms in online publications
Here's how Flipsnack comes in handy. Let's say that you intend to create a weekly product catalog that you can share with your users, but only with those who subscribe to your email newsletters.
If they want to regularly receive your updates, they need to be on your mailing list. You can create the catalog in Flipsnack, even automate it, and include a lead form on one of your landing pages where people can sign up for it. Instead of using different apps for the process, you can use Flipsnack for both.
Another scenario: you intend to host a webinar, and you need to be aware of how many people intend to join. You set the webinar to private, only the ones with the password can join.

With Flipsnack you can create an online flyer, mention the details in it, and you can include the form at the end. People who sign up, receive the password by mail. They can join the webinar, you have extra email addresses to send emails to.
These are just a few reasons why Flipsnack is the perfect tool for creating and using lead generation forms in your online publications.
Let's take a look at the actual steps of adding a lead form in your publication.
Choose a template such as this modern event brochure one, or upload your own content if you already have it designed as a PDF.
Open it in our Design Studio and add interactive elements to it.
Include the lead form during the publishing stage.
Customize the title, button text, and choose where to include it.
Add or remove fields, select field validation, make them mandatory or optional.
Include Privacy Policy links.
Save and share your document.
Here is an example of an ebook uploaded in Flipsnack. As you can see, the first two pages are available, but when reaching the fourth page, the lead form appears. If the user wants to read the entire document, the lead form needs to be completed. Just as I mentioned, the lead form can be customized with different input fields, header message, and so on.
Conclusion
As you can see, a lead form is an excellent tool for the lead generation process. You can use it for different types of content and on different types of publications, based on your needs. Don't forget about the incentive, make it worth it for the user to complete your lead form, and edit it according to the tips I shared.
To simplify the process, use Flipsnack to create the publication and then simply include a lead generation form in it.