How to use Flipsnack as a content creation tool
Although content creation tools can't replace a great content strategy, they do have many advantages. But using the right tools for your content creation strategy can help your business be more successful. You achieve more in less time, make better content for your users and get more insights.
Imagine content creation tools as salt and pepper. No matter what the recipe for a certain meal is, if, in the end, the food lacks flavor, then it's wasted energy. However, if you add a sprinkle of salt and pepper, the whole taste changes immediately, right?
Likewise, content creation tools are essential in making your content more appealing, entertaining, and diverse.
This article will tell you how Flipsnack can be the go-to content creation tool for marketers and publishers. Whether we talk about ebooks, digital flyers, interactive presentations, and many others, save time and improve your content creation process. So, without further ado, let's get into it.
Flipsnack: efficient content marketing tool
The modern-day marketer is complex and challenging. But, to be efficient and productive, you have to make content materials as easy as possible. So, the ultimate question should be what tools could make your life easier? Oh, and also that won't cost a fortune.
As a marketer, I bet you ended up doing all sorts of research online to figure out the best solution for your multiple needs. Something that won't make your manager say: It's too expensive!
While Flipsnack is no "one size fits all" kind of product, it could quickly become your next favorite content marketing tool.
Here's a list of all the ways through which you can use Flipsnack as your content creation tool:
Ebooks
Brand books
Newsletters
Marketing presentations
Flyers
Brochures
Let's take them one by one and see exactly how you can use them.
E-books
It's a well-known practice that marketing ebooks are a great way to gain leads when speaking of content marketing practices. The ebook format is just perfect for creating a valuable piece of content on a subject you have deep knowledge of. In addition, marketers love to use white papers and ebooks for lead generation because they work wonders. Speaking of lead generation and lead forms, let me briefly tell you more about these.

Lead generation marketing
No matter the industry you're part of, building a lead generation strategy can improve your marketing efforts. Lead generation strategies can increase brand awareness, and they also have the magical power of bringing in high-quality leads for your sales department and not only.
The content you create is one of the most significant aspects of your lead marketing strategy. Keep this in mind when you're at the very first steps of creating your ebook. And don't forget to align it with all your company's goals. For example, marketing needs to establish with the sales department what a qualified lead is for them.
Ok, but how can you determine what a qualified lead is?
A qualified lead is a lead that you have great chances in moving down the sales funnel. Whether that is subscribing to your newsletter or downloading your free ebook, these are a few examples of essential steps you need to take to convert a lead into a customer. While Flipsnack can't help you with that, it can give you the perfect creation tool to host your ebooks and collect data from potential leads. All on the same platform. Sounds too good to be true?
Having a list of qualified leads will help you create a lead marketing strategy to reach your target easily.
Because I love examples, here I'll offer you one.
Let's say your goal is to deliver ten qualified leads to the sales department in a quarter. First, you have to start with the buyer persona in mind. Only afterward, craft content based on this persona and a subject you have deep knowledge of. Finally, intrigue the audience enough to make them exchange their information for your content.
Based on what you need from them, you can require details like name, email address, company name where they work, and phone number. Just make sure it will be a fair exchange.
Adding lead forms in your ebooks
Are you done with the content inside your ebook? Then, it's time to put it to work. Here's how you can add lead forms to your ebook. It's such an easy process.
Besides uploading your PDF in Flipsnack to give it that 3D flipping effect, you can also create marketing materials from scratch in our Design Studio. Or choose an ebook template from our collection. Templates are great to make the design process even faster.
Using lead forms in Flipsnack is no rocket science. We offer you the primary fields you need to collect data, like Name, Email, Phone number, Country, etc., but we also give you the alternative to create custom questions. Isn't that great? Oh, and you have all the collected data on your flipbook's statistics page, which you can also download as a CSV file and import it into your CRM platform.
Here is a step-by-step guide to adding lead forms in your Flipsnack ebook.
Finish the design process of your ebook and then click on Publish.
From the Customize section, go to the Lead form and select the appropriate fields for your needs.
Add custom fields that you want to include in your Lead form.
And that's it.
Now that you know how lead forms can help you, I encourage you to use Flipsnack as the go-to ebook-making tool to bring in qualified leads for your business.
Brand books
Exactly how you use external marketing materials to bring more leads, you can use Flipsnack as your complex content creation tool to also create internal content materials. Usually, brand books are created to make sure everyone in the company complies with the way your brand is being used. Creating and sharing brand books with specific people is a tedious task.
But I'm sure everyone here knows what I am talking about. If not, here's a resource that will help you get the stress out of creating a brand book for your company.
Let's say you have a brand book that needs revamping, or you want to only share it securely with your team and collaborators.
Here's where Flipsnack comes in handy:
Upload your brand book as a PDF.
Add interactive elements to it.
Share it privately so that only the people you give access to can read it.
Or, if you're looking for a more DIY solution, design a brand book from scratch in our Design Studio. The good news doesn't stop here. Grab this modern brand manual template to serve as the building block to your guide for your current and future colleagues and employees. Transform it to best fit your brand guidelines. This reminds me to tell you about building your brand kit in Flipsnack – especially useful when crafting brand identity visuals.
And remember that you can generate a QR code for your flipbooks so if you choose to print the brand book, for instance, you can display the QR code on your internal documents so employees can get easy access to it, for instance. There are many ways to use the flipbook QR codes so you can offer fast and easy access to your publications and materials.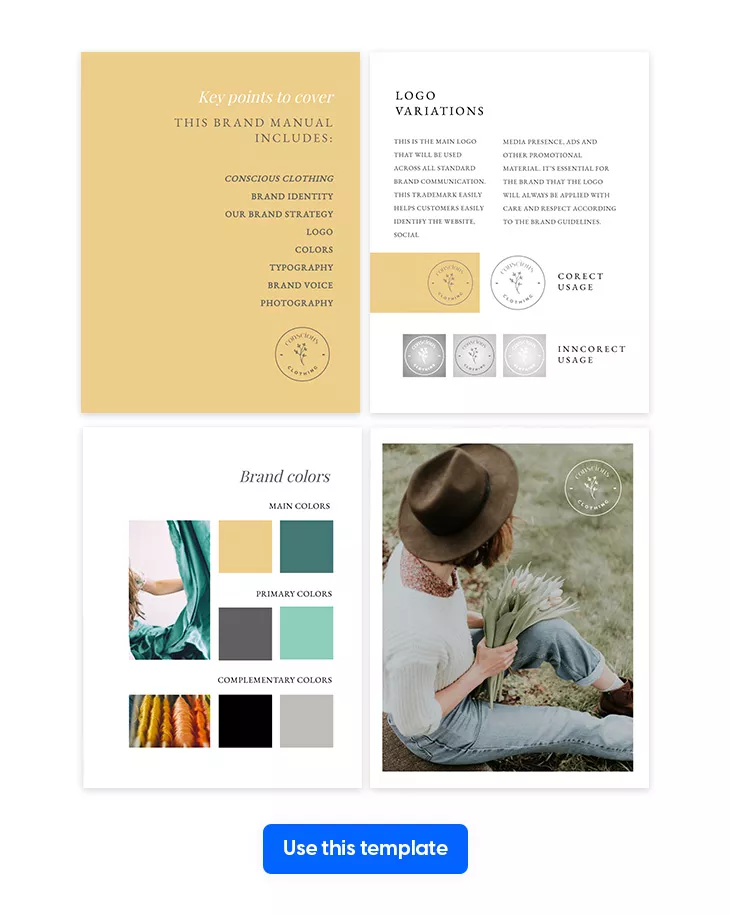 Newsletters
Another way through which Flipsnack can be your go-to content creation tool is to craft exciting newsletters. But not the ones you're thinking about.
You're probably thinking about the email newsletter, one of the most common ways to share important information. Whether we talk about colleagues, clients, or prospects, email is the way to do it. And if you know how to do it right, email can be a successful communication channel for any business.
Besides the newsletter format we're all used to, the classical email newsletter, many companies found that if needed to share a lot of information at once, the standard emailed newsletter is not necessarily the perfect medium. But a newsletter that is something like a newspaper or magazine can be more entertaining and visually appealing. As a result, many companies adopted this kind of newsletter as an internal communication tool and an external one. With Flipsnack, you can design both in just a few easy steps.
Here, take a look at this template example:
Just like its name says, this is a monthly newsletter about the real estate industry. It helps real estate agents and estate marketing agencies keep potential customers updated with the latest properties for sale. This template has a modern touch to it, and it could easily pass for a magazine. A newsletter like this one can be the perfect content marketing tool for lots of industries.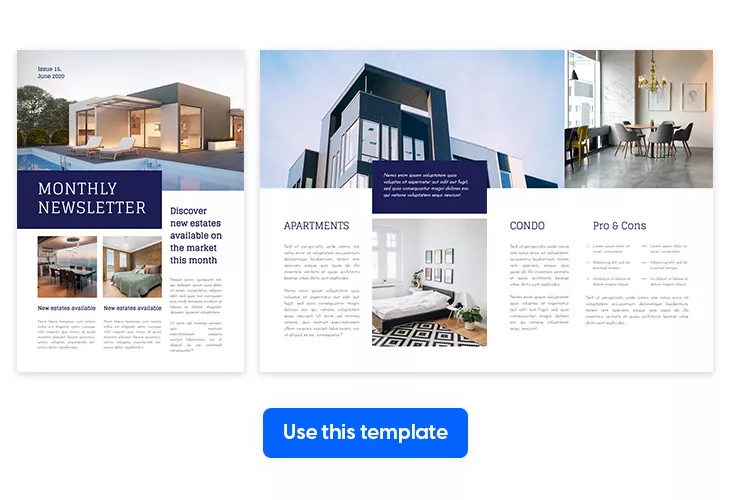 Internal Newsletters
Creating aesthetically pleasing internal newsletters is a branding tool that can easily facilitate better internal communication within the organization. This is why many HR professionals take this aspect very seriously. Creating a monthly internal newsletter is now easier than ever for everyone involved in the internal comm process. From HR professionals to PR or graphic designers, and not only, can use Flipsnack as a content creation tool for educational newsletters. An excellent example that you can start from is this newspaper magazine template, and you have the chance to make it the most awesome internal newsletter. You can think about it as an internal newspaper.
Maybe the one thing you should always have in mind is to be informative but also entertaining. After all, you want your employees to be waiting for this newsletter impatiently, every month.
Personalize it to fit your company's branding. Take this chance to introduce new employees, office policies, share interesting facts, new clients, and everything you feel is needed to engage with your readers.
Just make sure you share it only within your company.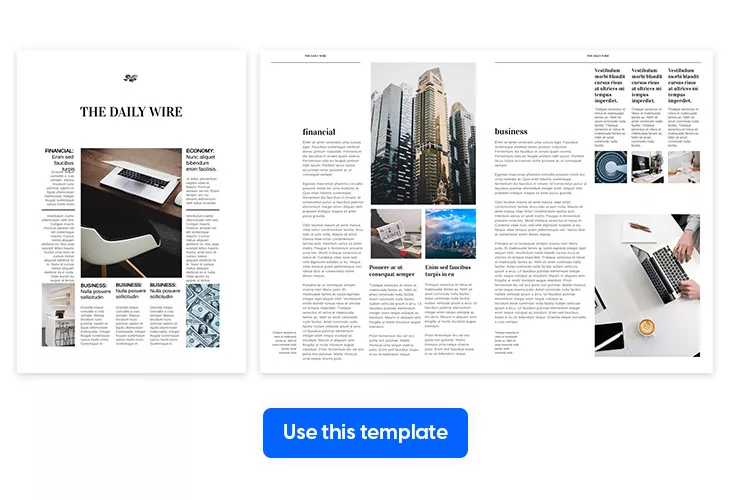 Marketing presentations
Raise your hand if you've never been stressed out because you had to design an impactful marketing presentation? Unfortunately, I never met a marketer who hasn't been the victim of this. Still, don't worry. I already told you that Flipsnack is easy to use. Either by uploading your PDF and giving it a 3D flipping effect or by using a presentation template from our vast collection, you'll be done with the design process within minutes.
Why is Flipsnack a great content creation tool for presentations? Because you can make fantastic presentations that will not bore your audience. Let's be honest. No one likes tedious and never-ending presentations. So please take advantage of the interactive elements Flipsnack offers you and use them to engage with your audience!
Of course, a presentation will still be boring if the content is not tailored to your audience. Here are a few crucial tips to help you create a killer marketing presentation:
Make it about your audience! Start with this as the most important thing.
Show numbers quickly. But make it visually appealing.
Tell a story. Maybe something fun and engaging.
All in all, the best advice we could ever give you is that even though your presentation will contain lots of numbers and statistics, don't stress. Take this professional marketing presentation template and get creative. Add graphs, charts, and statistics, but make it colorful. Of course, within your brand's guidelines.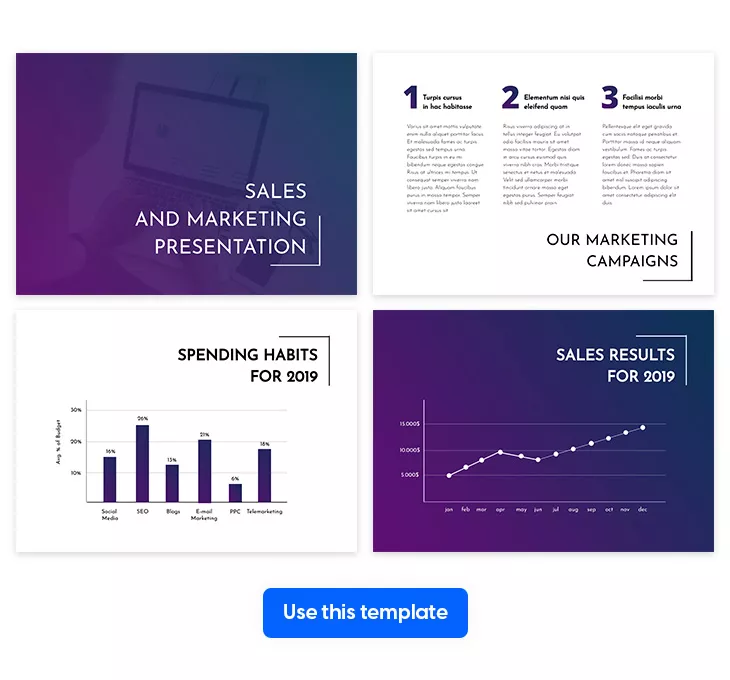 Flyers
As a marketer, I bet you had to develop flyer design ideas for your company or clients. So thinking of flyer design ideas like business flyers, event flyers, and promotional flyers is no surprise for you.
However, what sounds like an easy task may be a lot more complicated than most people think. But you see, flyers are one of the oldest marketing tactics, so they're definitely here to stay.
The good news is that Flipsnack is an all-in-one content creation tool that can serve multiple design purposes. Do you want to design a flyer? Here's a creative colorful Father's day flyer template that you can customize to fit any event coming up in your town.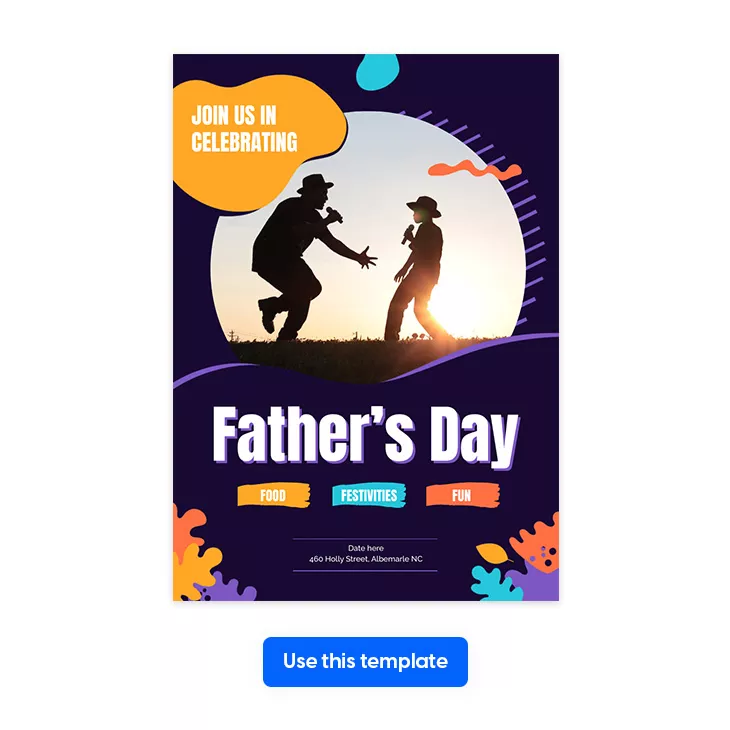 Brochures
How can we mention flyers and not talk about brochures?!
Just like flyers, this format transitioned from the print format to online just fine. And if you were ever in the process of creating your own brochure design, the first rule of thumb is: make it visually appealing to catch the attention of potential customers.
Flipsnack can easily be used as a design tool for brochures and is home to many brochure templates. Starting from business brochure templates, fashion brochure templates, real estate brochure templates to school brochure templates, you'll find any template you need. Like this interactive fashion brochure template that is a perfect fit for any clothing brand making sales.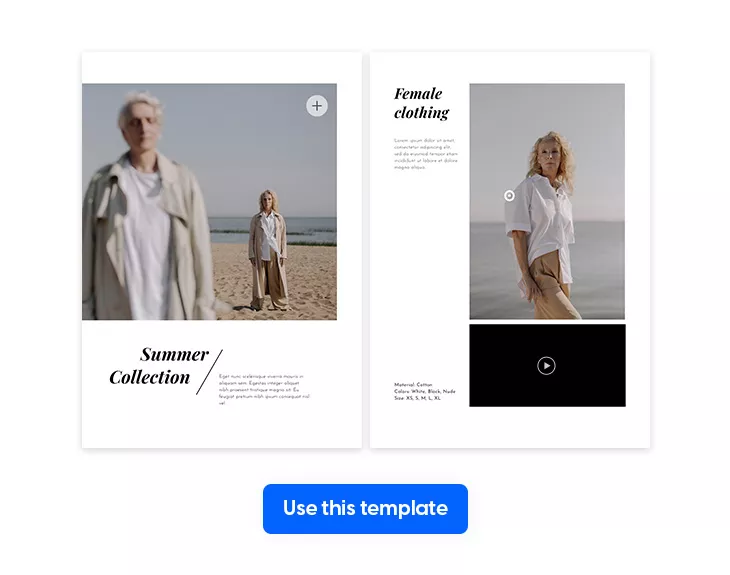 Flipsnack for content creators
Content comes in many shapes and sizes, and besides marketing, Flipsnack is also best friends with many publishers worldwide.
If you like to express your ideas through a blog and you've already gained success along the way, then you need to think about what the next step should be.
For some, it could mean starting a Youtube channel or a podcast featuring interviews with interesting people from different industries. In contrast, for others, starting a magazine could be a more creative outcome.

Debbie Macomber – Welcome Home digital magazine
Let's look at Debbie Macomber, #1 New York Times bestselling author with over 200 million copies of her books in print worldwide.
She started an online magazine called "Welcome Home" to keep a more dynamic relationship with her book readers. Through this online magazine that she is publishing monthly on Flipsnack, she has the editorial power to tell more stories related to the characters in her books before launching a new one. In addition, she is sharing some excerpts from new books, keeping her readers hooked for a more extended time.
In a way, you can say that starting an online magazine can expand your brand and help with the sales of your products or services.
Foundr Magazine
Foundr Magazine is an online magazine with over 250,000 subscribers that started small in 2013. Nathan Chan founded this project from passion and turned it into a multimedia giant over seven years.
Foundr Magazine is top of mind today with a massive social media following for magazines focused on entrepreneurship. Because of its high-quality content and the fact that the magazine never stopped running since its inception, success came naturally.
You can find some of the issues of Foundr Magazine on Flipsnack. And if you want to read more about the entire process of building an online magazine from scratch, you might want to read this interview featuring Nathan Chan and watch the video below. It will surely inspire you.
Content creation tool for online magazines
When it comes to content creation tools for publishers, Flipsnack is the perfect contender. Why? Not only can you create your own magazine from scratch and publish it on our platform, but you can also sell it.
Now, if the design process sounds a little scary for you, start with a magazine template from our collection. For instance, you can use this magazine layout template and get creative with your content. Then, when you finish the design, get ready to put it up for sale. Read more about selling single issues of your magazine or even put it up for subscription sale.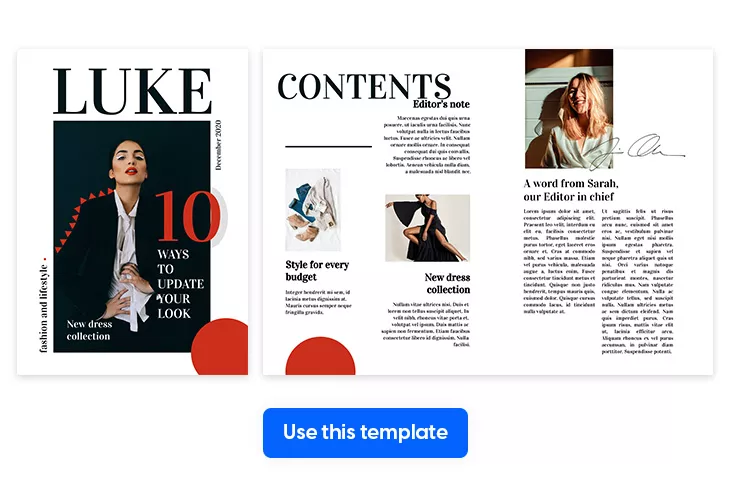 Creating and distributing your content
As I mentioned before, there are a lot of possibilities when using Flipsnack as a content creation tool. Hopefully, this article helped you see how you can use this platform for the entire content creation and distribution process.
Whether we talk about marketers who can use it for their day-to-day jobs or people who aspire to start a magazine and make it just as popular as Foundr, Flipsnack can be your partner throughout the entire operation. Give it a try!