Real estate brochure template ideas to showcase your properties
Real estate marketing is no joke. And if you're working in this highly competitive industry, you know what I'm talking about. Staying on top of your real estate marketing game is already a full-time job. But, this is where real estate brochure templates come in handy.
I'll show you how you can save more time and design better brochures to showcase the properties you're selling.
Creating a real estate brochure from scratch might be time-consuming, not to mention the design skills you should possess. In this article, I'll help you knock off some real estate brochure templates so you can present the properties you're selling in a more interactive way.
On top of digitizing your real estate brochures, with Flipsnack you can add interactive elements like virtual tours and photo slideshows to give your potential buyers an immersive experience. And rest assured, you don't need professional skills to design a great real estate brochure.
Here is what this article will cover (click to jump ahead):
But before we dig in and see some templates, keep in mind that you can generate a flipbook QR code for each real estate brochure you make. You only need to print it and display it on your business card, for instance. So whenever you meet with potential clients, just hand them over your business card and let them find all your real estate brochures with the properties available in seconds. Now let's begin!
Real estate brochure templates for a property
National Association of Realtors says that 90% of home buyers searched online during their home buying process. This means that most people are on the verge of buying their first considering looking at properties through the internet.
Digital brochures have a lot of perks. Not only are they at your disposal anytime and day, but they can be easily shared with your clients or colleagues. The buyers can easily flip through the brochure and see the properties you're selling or new listings. Then, they can decide if they want to go and see them in person. Also, do a little research on how to write appealing real estate listings descriptions that inform and engage.
Brochures are also great to use as a next-day follow-up. After your clients have seen 5 properties in a row, they won't remember every detail that you talked about. So you just have to send an email with the digital brochures where you specify all the important information.
As I mentioned previously, interactivity makes digital brochures even more appealing. I'm going to show you some beautiful brochure templates for a property. It will be much easier for you to make sure that you've advertised each property to the fullest.

Digital Open House Real Estate Template
Are you tired of planning open house events that really stress you out and take much of your time when you plan them? How about automating the entire process with just some drag and drop possibilities?
Choose this MLS compatible real estate brochure template from Flipsnack, open it in our Design Studio, and start customizing it to your own needs. Upload your own listings, and then click on "Use listing" to instantly replace the existing information with your own. This way, you're saving yourself a lot of precious time and you no longer have to manually write so maaaany details.
But don't stop there. Include interactive elements in your real estate brochure so that you engage more with your readers. For instance, embed a virtual tour with the property you're renting/selling, or choose to insert a map with the property's location. Additionally, add some links to make the navigation easier, or even include photo slideshows to create an engaging effect.
Before sharing this MLS open house real estate brochure with your clients, make sure you've created it in such a way that it follows all your brand kit. Put your own logo somewhere in the left corner, then upload your own colors and fonts.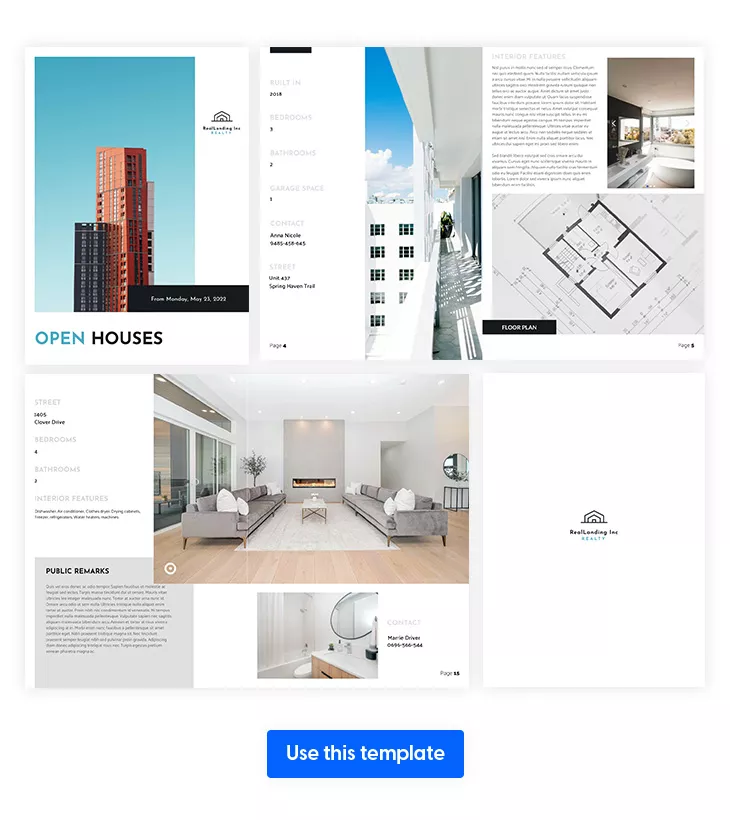 Interactive Real Estate Brochure Template
If you want to have a professional real estate brochure in minutes then you have to start with this template! It's so easy to customize it in our Design Studio and it'll save you a lot of time. You just have to replace the texts and add your branding elements to make your brochure design easily recognizable.
On the third page of this template, you can embed a Google map with the property's location or insert a photo slideshow where you present all the rooms available. But wait, there's more than you can add to your brochures. With Flipsnack, you can add all sorts of iframe widgets and, I promise you it's just as easy as a copy and paste. For instance, embed a virtual tour of the property you're selling and let your clients picture themselves already living in that house.
The interactive elements are premium features but they're so worthy! Not only do they let you engage with your clients, but they also make the entire brochure look like it's been made by a professional.
Did I make you curious? If you flip through this real estate brochure template you will convince yourself why these interactive features will make any brochure stand out from the other boring ones. Click on the image and go straight to Flipsnack's Design Studio to edit this brochure template and make it yours.
Single Property Real Estate Brochure Design
This one is another interactive presentation of a simple yet sophisticated single property brochure template. It makes for the perfect layout if you're looking to sell a luxurious residence or you have some stunning photographs of a property, that one property that you've been trying for so long to find owners for.
Let's face it, we all know that an image sells better than words, but how about a video?!
That's right. With Flipsnack you can add videos of your properties.
When editing this real estate brochure template in our Design Studio, head over to the video tab, on the left side of your laptop and click Video. What you see here is the video widget option. So, give it a go!
Also, there's a Google map embedded in this template. If you edit this template, embed a map of the house you're selling. Potential buyers will know exactly where that property is located. And, on top of that, a photo slideshow highlighting the house from different perspectives.
Did I convince you yet? You'll be done with this design before you know it!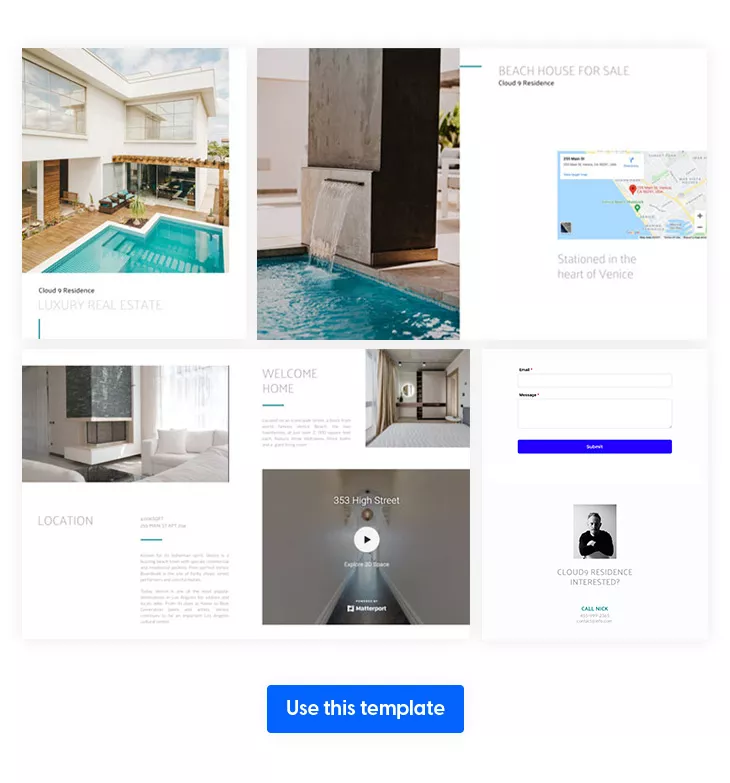 Open House Brochure Template
Next on our list is an open house brochure template that's great for displaying more images of the properties you're trying to sell. Try to personalize it by adding external links that redirect clients to a real estate website where you listed that property, for example. You will not only make it easier for potential buyers to get some extra information, but you'll do yourself a favor too. Move them through the sales funnel and increase your chances of making themselves ask if that house could potentially become a home.
Also, if you're an organized real estate agent, you'll be happy to know that in Flipsnack you can upload your own images and group them in folders. For example, you will have a set of images for each property. You can make a folder for that beach house you've been trying to sell for so long, another one for that luxurious villa in the mountains, or even categorize properties by regions, cities, and so on. It's up to you and your needs.
If you'd like more tips & tricks for customizing your brochure, you can read our real estate brochure design tips article for more details.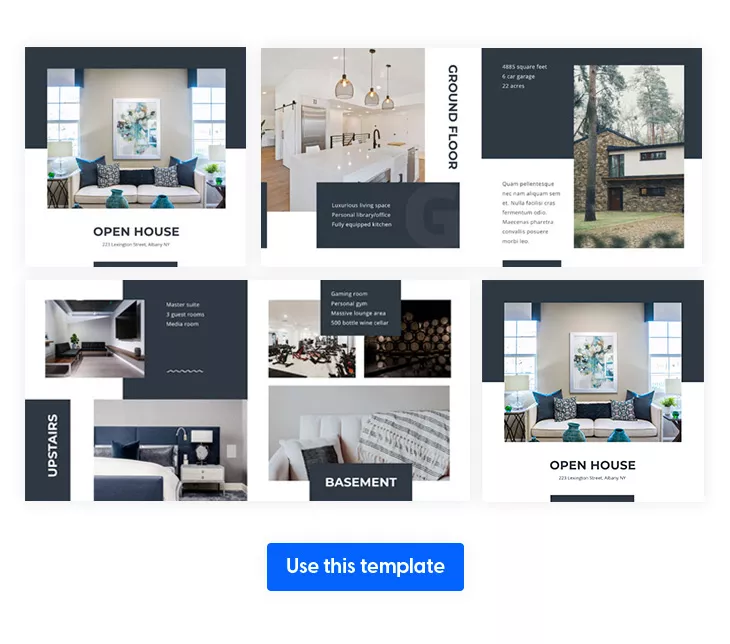 Selling in real estate is hard work, but it's not everything about the properties you're selling. Most of the time is about the whole process and experience you offer to your clients. So give your best to every detail that might contribute to your business success.
Real Estate Property Brochure Template
I'm sure you agree with me that the images in this brochure are the main attraction. Don't worry, you don't have to hire a professional photographer to achieve great photos. Thank God for smartphones with high-quality cameras. It makes photographing accessible for everyone. But pay attention though, you should probably consider watching some YouTube tutorials about house photography tips and tricks.
Let's say you picked this real estate property brochure template and did some edits to it. You placed the logo and chose the colors according to your brand style. Great! Now make sure you place these elements according to your brand guidelines.
In Flipsnack you can simply lock the elements or layers you want to maintain the same size and position. This feature is also great if you share the brochure template with another colleague or with the whole company. They'll be able to change or replace texts and images, but not the shapes and colors you already locked.
You can also save the template as a duplicate and have it for later use. Try to also add interactive elements that make the whole experience more real. For example, open this template and, on the last page, add the social media buttons! Set the URL for each platform and clients are simply redirected to your social media channels where they'll hopefully click that like or follow button.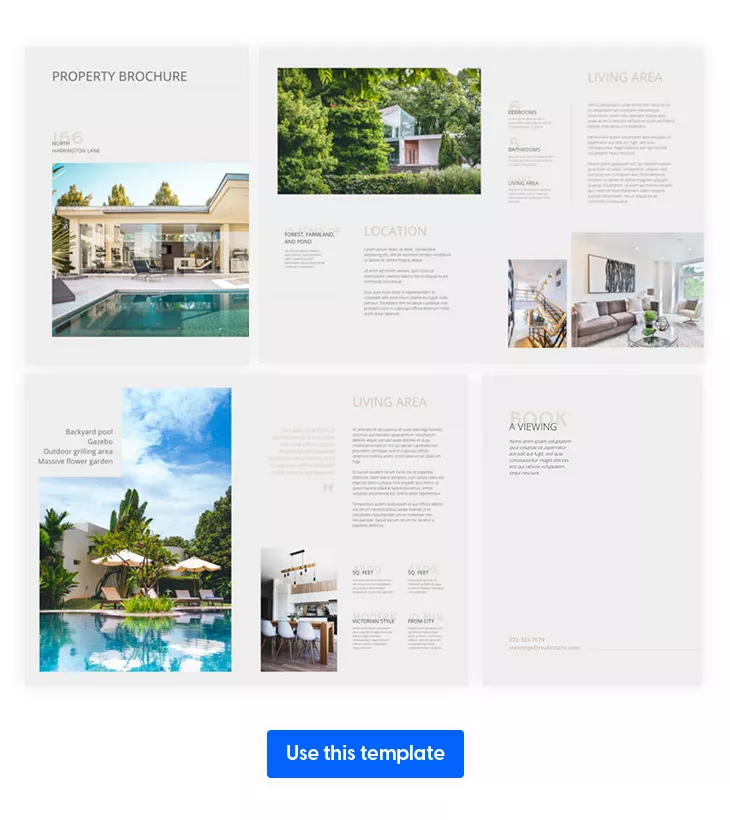 Real estate brochure templates for multiple properties
When you want to present multiple properties in your brochure, you can still use the templates I talked about previously by adding more pages to them, but you could also use some premade real estate brochure templates.
These templates are so helpful for big agencies that have large portfolios of listings and properties. Instead of sending emails with 25 digital brochures, that, to be honest, takes up a lot of space, you can simply send one that contains all the properties available, right?
And if you print them afterward, you'll just have to carry one brochure. See how much time and effort these brochures are saving you? I told you they can up your real estate game!
Now let's see some real estate brochure templates for multiple properties!
Interactive MLS Real Estate Brochure Template
Present your listings with the help of this interactive MLS real estate brochure template from us. Trust me; it will shorten the design process a lot, leaving you plenty of time to answer all your client's questions.
Open this template in our Design Studio and let the customization begin! Once you're there, you'll notice that it uses the same identifiers as the RESO system, meaning that you can easily upload your own identifiers for each property. Then, all you have to do is click on the "Use listing" button to automatically replace the original text with your own information. How amazing, right?
Make sure you're adding your own branding elements so that your clients will notice your company from the start. Moreover, increase their engagement by adding interactive elements in this MLS real estate brochure. You could insert a virtual tour, for instance, or embed a video so that clients have a more specific idea of how the property looks like. But go the extra mile and add Google maps of the property location or a button for booking a home view. It will surely make your real estate brochure pop!
When you're done with everything, then you're ready to share your brochure with your clients. Send it privately directly via email, or embed it to your website so that everyone has access to it. It's up to you!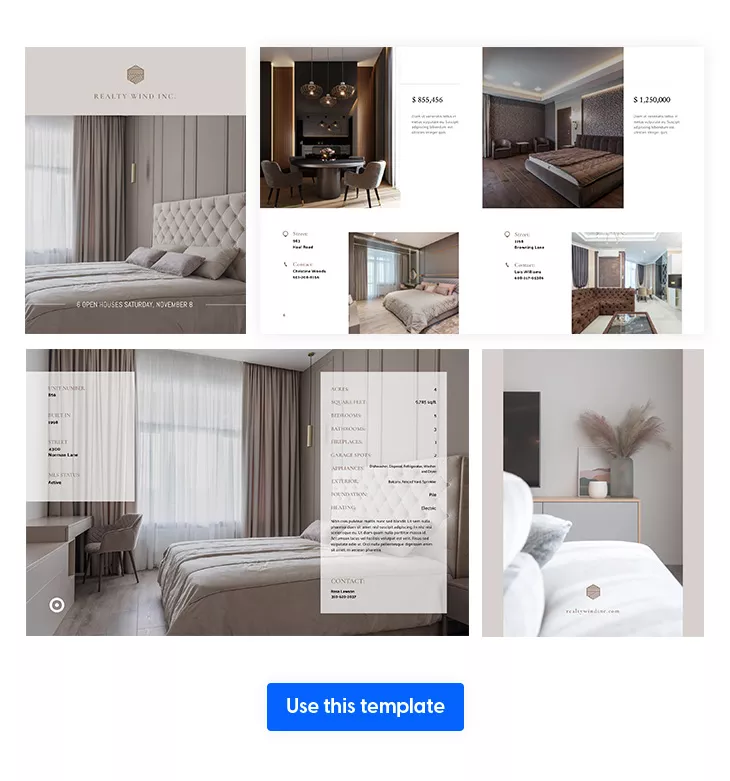 Automated Real Estate Booklet Template
Ok, for real estate agents that need just a few brochures, the previous templates are more than enough. But what happens when you're part of a big team and you need to produce a lot of brochures that respect all the brand guidelines? And also update brochures with new listings, every single day or week.
Well, the answer is Automation! Most real estate agencies already have presentations and data listing files with all their properties and listings. With Flipsnack, your job becomes a walk in the park! You just need to import your CSV files or integrate your MLS in our Design Studio. Then add the elements from your data files on top of our automated real estate booklet template. The whole process is easy just like drag and drop!
You'll be done with the booklet presentation within seconds! This Automation feature is part of the Enterprise plan but it's so useful for real estate agencies. Get rid of the stress and focus on important and urgent things like calling clients, looking for new on-the-market properties, establishing meetings, and so on. Interested? Get a free demo!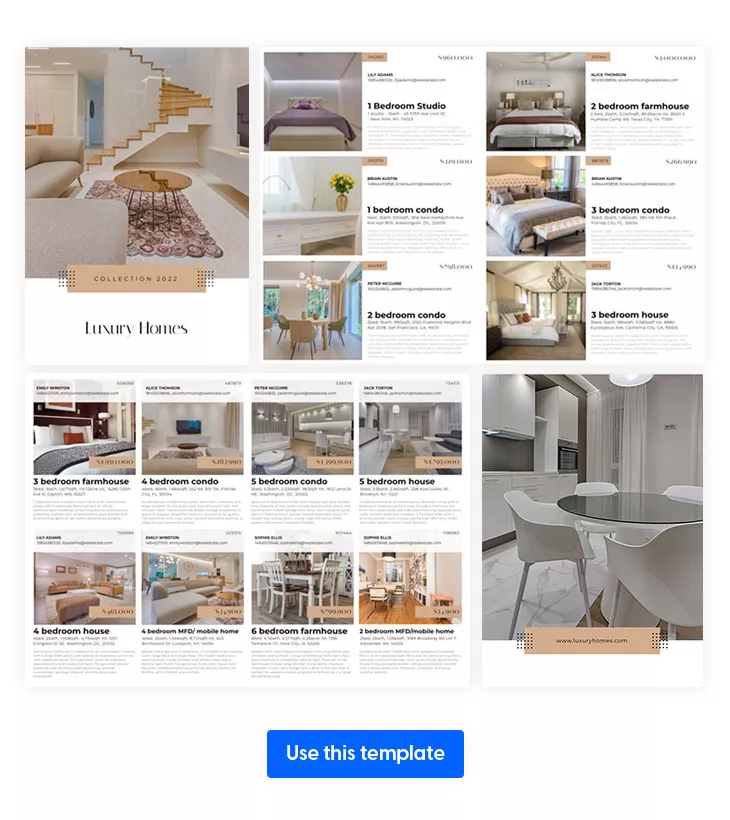 Real Estate Newsletter Templates
Besides real estate brochure templates, another great way to present properties, listings, and even share your real estate expertise, is the newsletter! Don't exactly understand how? Let me briefly explain.
If you've been a real estate agent for quite a while, I'm sure you have a contact list with clients or potential leads. There you have it: newsletters are a great way to communicate with these leads. Use them to send people news and insights from the real estate industry! Let the newsletters be part of your real estate strategy. Get closer to your clients by sharing your experience and know-how and ensure that buyers have all the resources to make the right purchase decision. Besides all this, make sure you include a listing or two. Trust me when I say it will be a winning real estate marketing tactic. If you need more ideas when it comes to your marketing game, check out our 60 marketing ideas to boost your real estate marketing strategy!
Send it daily, weekly, or monthly, and keep your clients informed with the latest properties for sale! Let's have a look at some of Flipsnack's newsletter templates.
Monthly real estate newsletter template
If you want increased conversions, you need to have a potent lead generation tactic. So try to include this newsletter strategy in your real estate game. I'm sure you'll see how helpful it is to analyze clients' preferences or insights about the real estate industry.
Besides having the perfect context to advertise your latest properties, with this modern and professional real estate newsletter you get more space than you would have in a real estate brochure template. It allows you to make content tailored for your target audience, which is potential leads.
I'll give you some examples of the type of content that goes well within a real estate newsletter:
Reveal tips & tricks for buyers to look at when they're in search of a property
Answer to some buyer's challenges that you've encountered
Advice on how to make the moving process easier
Share successful testimonials from your clients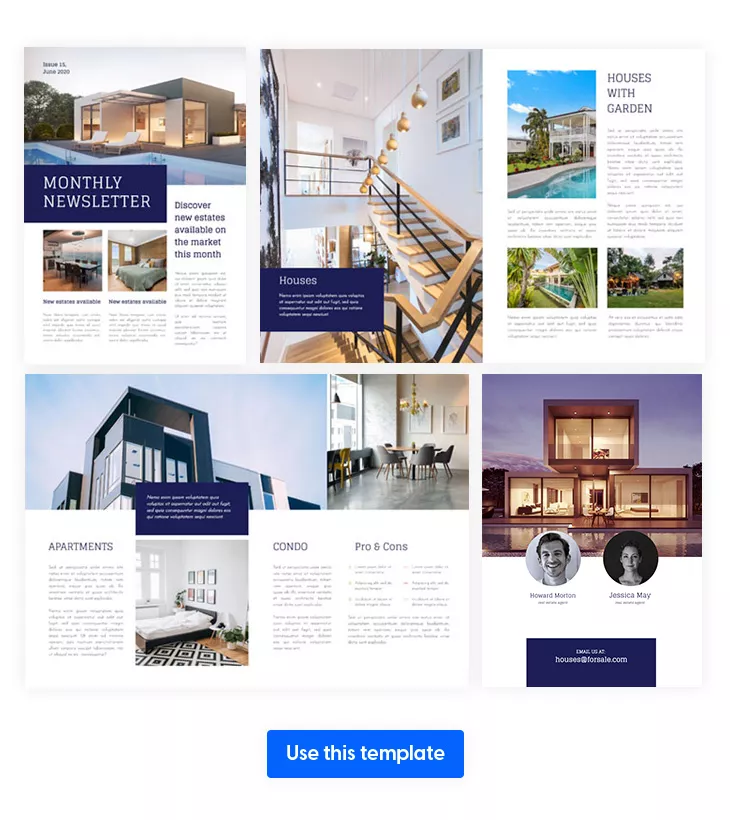 Online Real Estate Newsletter Template
Real estate brochure templates are great, but as I said, you can also incorporate newsletters in your real estate mix. Besides showing new property listings in your newsletters, try to think of out-of-the-box ideas that will actually help your clients.
You can also use newsletters to offer more in-depth information about the properties you are selling. What is the neighborhood like in that area? Is there a school nearby? Or what are the local events? By doing this kind of newsletter, you're making clients already picture their lifestyle as if they lived there.
Newsletters may become another piece of work for you, that's why I suggest you only do it if you have the time to be consistent. And if you have to offer relevant content and information for your target audience.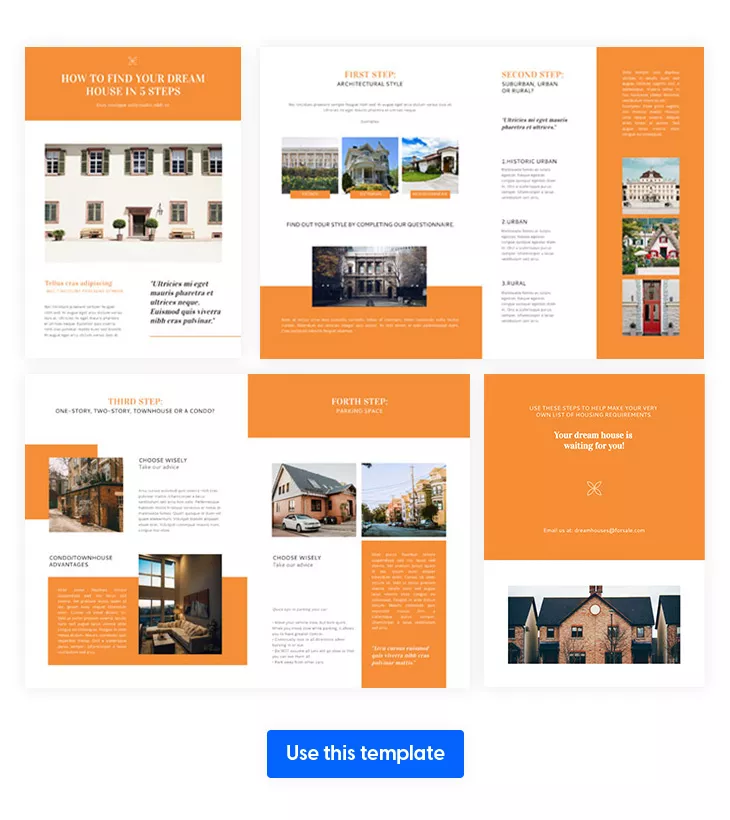 Editable Online Real Estate Newsletter Template
You can also use this editable template for comparing properties and locations. Just put yourself in the shoes of the buyers or renters, for a moment. Write about topics of interest for them and reveal your real estate knowledge.
Another topic you can write about is the advantages and disadvantages of buying a house at the beach or buying a house in the mountains. Go even further by making this template interactive with Flipsnack. Besides the fact that you look professional when sending out a newsletter full of useful information, you get to engage with potential leads and get some useful insights that will help you seal more deals.
For example, you may want to know what would people from your local area buy – a new house or an old house? How much are they willing to pay for one or the other? What are some pros and cons? All this information comes in handy for gathering specific insights that might help in your future sales process. So, add a form or a survey in this real estate newsletter template. Make your life easier.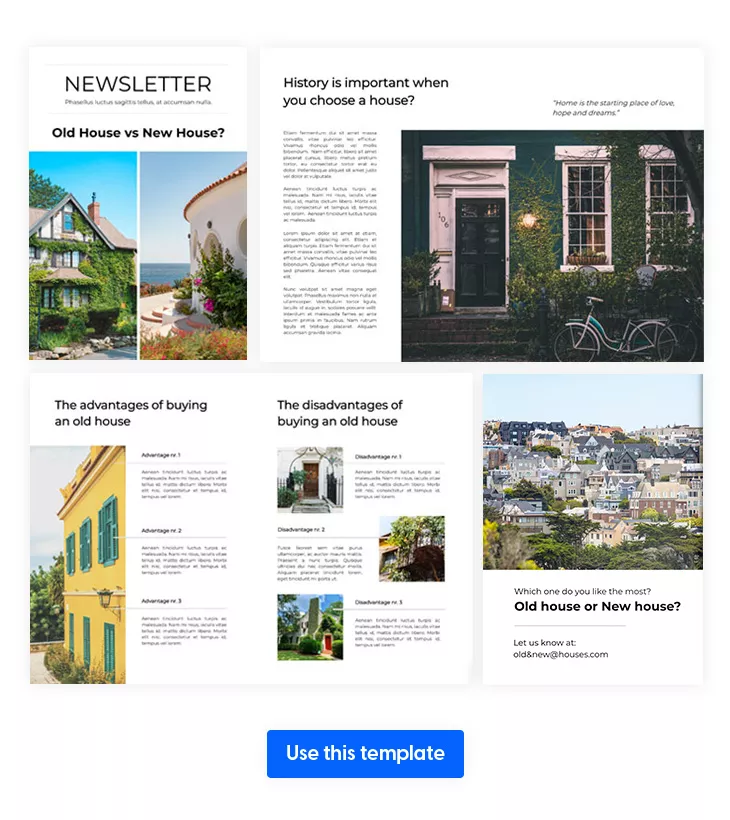 Real estate flyer and postcard templates
You may be surprised to see the title above. Well, yes! With Flipsnack you can also create flyers and postcards. As we said before if you want to be a real estate professional you have to incorporate a mix of strategies. Real estate postcards are helpful if you want to print and distribute them in town, malls, or people's mailboxes. Sometimes, print advertising may be all you need.
Let's see some real estate flyers and postcard templates that might improve your chances of winning the sale!
Open House Flyer Template
I'll start with this open house flyer template that's awesome if you want to be concise and offer relevant information about a property. Upload your logo, replace the images, fonts, and colors to match it with your brand style. You can even add a little description of your real estate agent experience so far. Make sure to download the PDF for print to achieve a great non-pixelated flyer.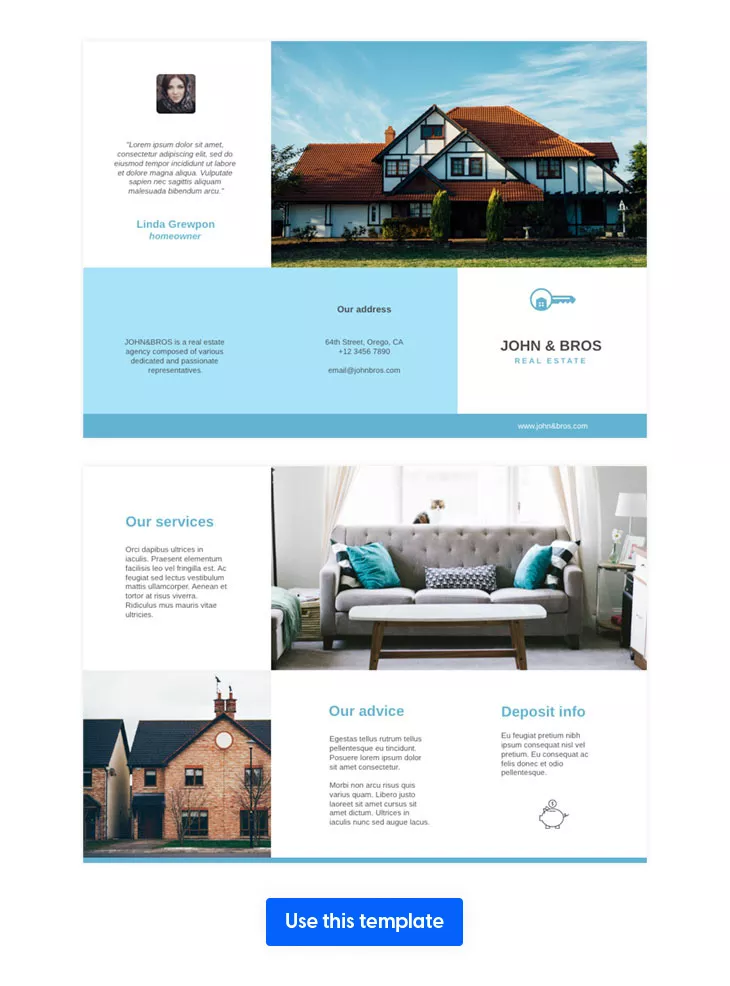 We Buy Houses Flyer Template
Moving on, more and more people contact real estate professionals when they want to sell properties. Especially because they offer expertise and access to large networks. So the whole process may be faster and easier for the seller.
And if you're on the lookout for a flyer that best says that, we buy houses flyer template is the perfect starting point for you.
Customize it in our Design Studio, replace the images, write appealing descriptions and choose a big and bold font to instantly grab attention. Download it as a PDF for print and distribute this flyer in town. Who knows? Someone could be on the verge of selling his property and seeing your flyer could be just the perfect timing. And don't forget to let your phone number so people can reach out to you.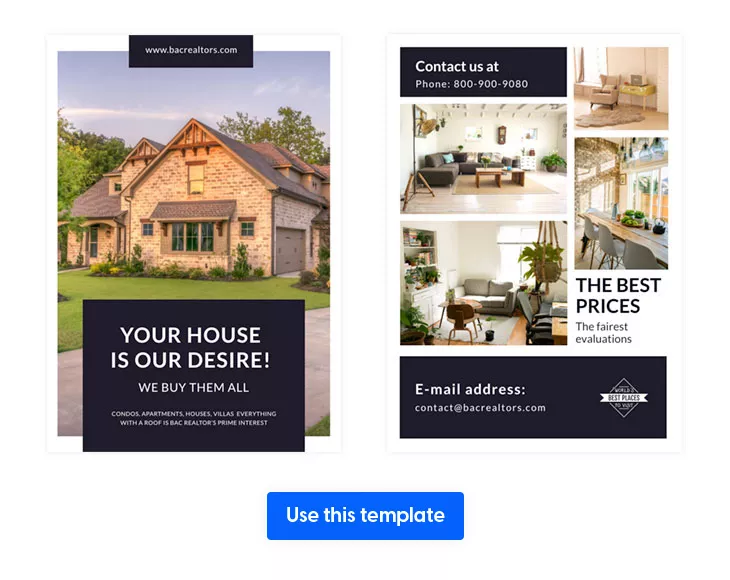 Modern Real Estate Postcard Template
Postcards are an easy and accessible way to offline promote a property. We already established this. And, I guess you've already figured out the importance of high-quality images, by now.
Especially when designing a postcard, make sure that your highest priority is to have stunning images. You only have 2 or 3 opportunities to make a good first impression. So consider hiring a professional photographer if you don't have the time or necessary skills for the job.
This modern real estate postcard template is the perfect example of why you should invest in high-quality images. Use a representative photo on the cover of the postcard and on the back of an interior room. So the client can make an idea of what the property looks like.
So, grab it, edit it and then download it as a PDF for print or even send it over to potential clients via email. Not to mention, it will also be a great design for a social media post. Don't neglect the impact a social media strategy has on your real estate business.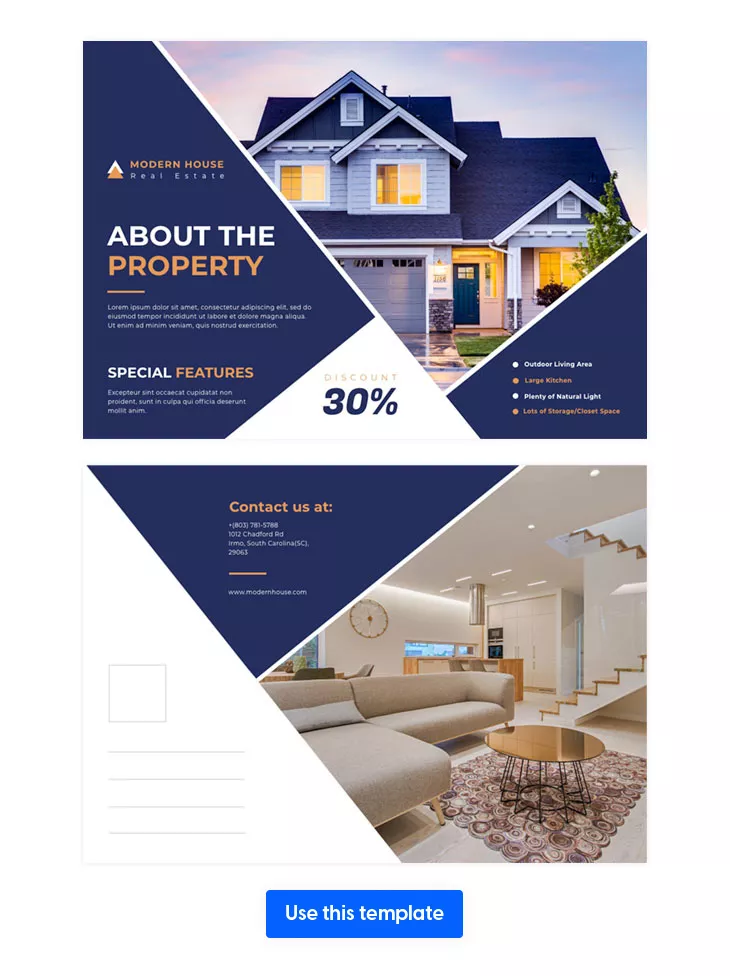 Real estate brochure templates for agencies
There are a lot of agencies that want to promote their business, especially when just starting out. So I'd also like to give some real estate brochure templates for an easier presentation of their portfolios.
Even if you want to reach potential buyers, maintain strong communication, or just provide professional insights, real estate brochures can help you build a strong image of your agency.
I'm gonna show you how to use these templates for achieving great visuals and materials. In no time!
MLS Compatible Realty Brochure Layout
The real estate field is a competitive and complicated one; that's why we're coming in for your help with this MLS compatible realty brochure layout. The entire design process will take only a few minutes with just a few clicks.
All you need to do is connect your MLS system with our Design Studio, and hit the "Use listing" button to create your own custom real estate brochure. Then, add your own information, drag and drop your stunning photos, and you're almost done!
Match this template with your own company's branding, and make sure to insert interactive elements to increase engagement. For example, you can add virtual tours, videos, embed a Google map with your property's location, add hyperlinks to help readers navigate easily, and so on. There're so many things that you can choose from!
As a final step, share this brochure with your clients through email using the full-view link, embed it on your website, or even share it to your social media platforms. See? It's so easy to create automated real estate documents with Flipsnack, especially if you're a real estate agent.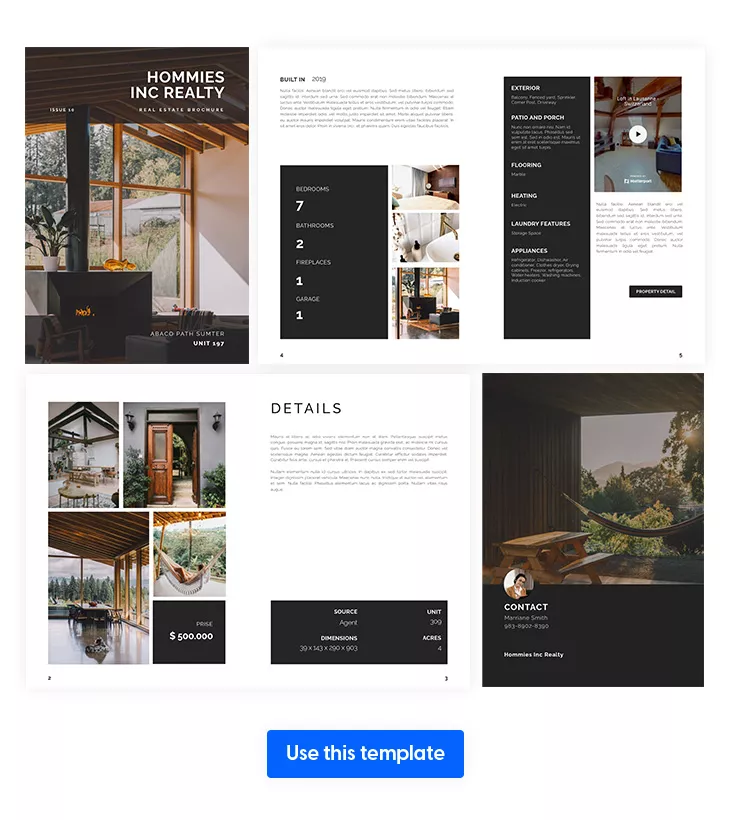 Modern Real Estate Booklet Template
Especially at the beginning, when you're building your team and your real estate agency, communication is super important. A great tool for doing that is this modern real estate template.
Start by describing your office with a cool-looking photo and then tell people more about your company. You can begin telling your story, then presenting your best real estate agents and what kind of properties you sell. Present each team member and add photos of them. People will feel more connected to you this way. And if your agents have a strong social media game, make sure you include social media buttons in their profiles.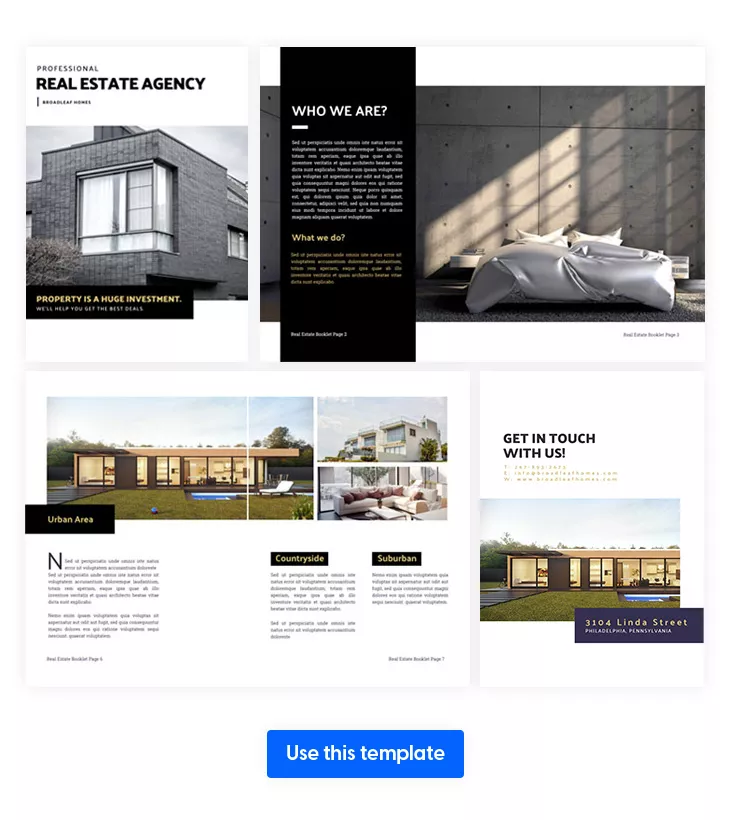 Real Estate Booklet Template
What's cool about this real estate booklet template that I'm presenting to you now is the cover image. Do you see how inviting it looks? Clean, minimalist design, but you can grab it and add your own colors. Do you have a brand kit that you have to use? Add it in Flipsnack to have it at your disposal every time you're designing something. Besides logo and colors, you can add the typography settings and all the fonts you're using for all your communication materials.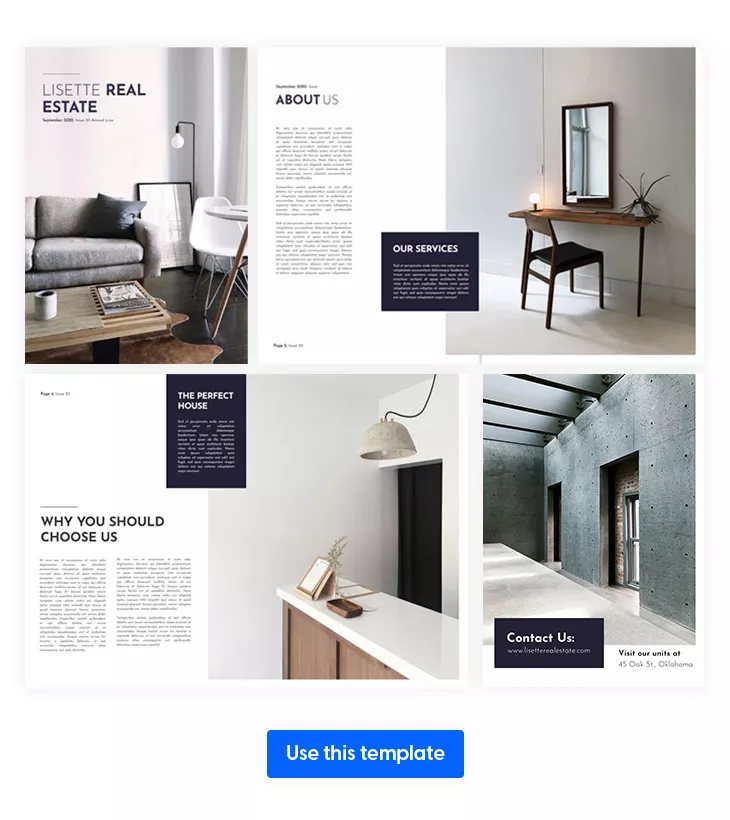 Real estate Agency Presentation Template
Let's be real, trust is vital in the real estate business. First of all, no one likes to waste money on a bad purchase. Even more when we're talking about properties and huge amounts of money. So the more your company is known as a trustworthy agency, the more people will reach out to you.
This presentation template will help you tell your clients about your agency. Customize it and begin by telling people your company's story, values, and success. It's never wrong to claim what you do best. In fact, why not share your client's testimonials? It's a great way to show your potential clients the experiences you've had so far and gain their trust.
I'm sure you have a great relationship with a client that really appreciated the buying process of a property through your agency. Kindly ask the client to make a video testimonial in which he shares his positive and professional experience.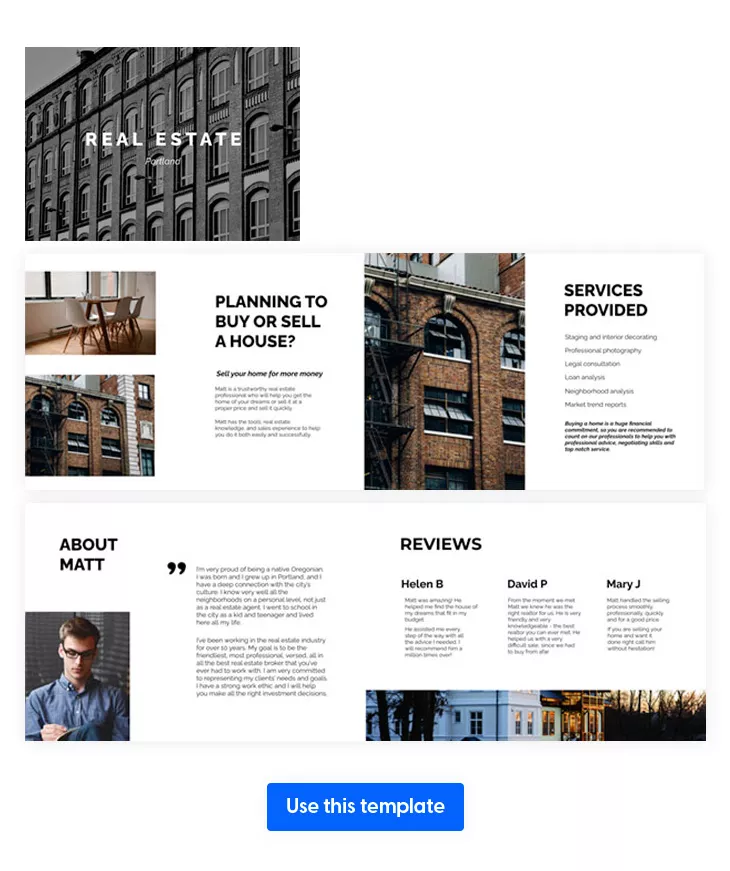 Conclusion
I hope you enjoyed this roller coaster of templates. You'll be happy to know that most of them are free and keep in mind that every week we try to add new ones. Customize and enjoy any real estate template that we've covered here according to your own liking.