10 templates for brand guidelines (+tips to design a brand book in minutes)
Building memorable brands takes more than having a pretty brand image, or a well-structured brand story and a communication strategy. Sure, a brand is often synonymous with all these 3 elements. But building a memorable brand requires more than this. Let me give you an example:
When you're shopping for cheese or coffee at the grocery store, what are the brands you reach out for?
Let me guess, the brands you're accustomed to. The ones you already have some sort of connection with and the ones you easily recognize. Straight to your shopping cart they go.
Truth be told, the best brands stick in our minds because they are defined by repetition. Or consistency, in other words. Brands repeat the same logo design style, fonts, colors, typography, and images wherever they are featured. In the supermarket, TV ads, social media. Everywhere!
And once you see them, you instantly recognize them because your brain automatically starts to make connections.
To develop a consistent brand, you need to start with the beginning, which is creating a brand style guide. Namely, brand identity guidelines. These brand guidelines help both your team and your external collaborators communicate in the same language and present a consolidated vision of your brand to the public.

That being said, in this article, I've put together 10 templates for brand guidelines that you can easily customize and make your own. Because creating your brand book should not be scary, here's an article about the 'do's and don'ts' of putting together a brand book for your business.
We've rounded up 10 of our best brand guidelines templates that will be of great help. Read on for some design tips and tricks and how easily you can use Flipsnack's Design Studio to get the job done in minutes!
So let's get started.
What are brand guidelines?
Brand guidelines, or in other words, brand style guides, are rulebooks that explain precisely how a business or organization presents itself to the public through its logo, colors, fonts, images, and other elements. They dictate the content of a website, blog, social media channels, newsletters, PPC campaigns, or related marketing collateral. You can, for instance, convert the guidelines into email templates to consistently use. More sophisticated responsive email editors will allow the admin to lock elements so end users can't change them and keep design consistent.
Moreover, brand guidelines maintain consistency in what a brand looks, feels, and sounds like. So even if there are different people who work in various departments, with the help of a brand style guide, they'll all know how to communicate the same.
Here is an example of Coca Cola's brand guidelines for a better understanding: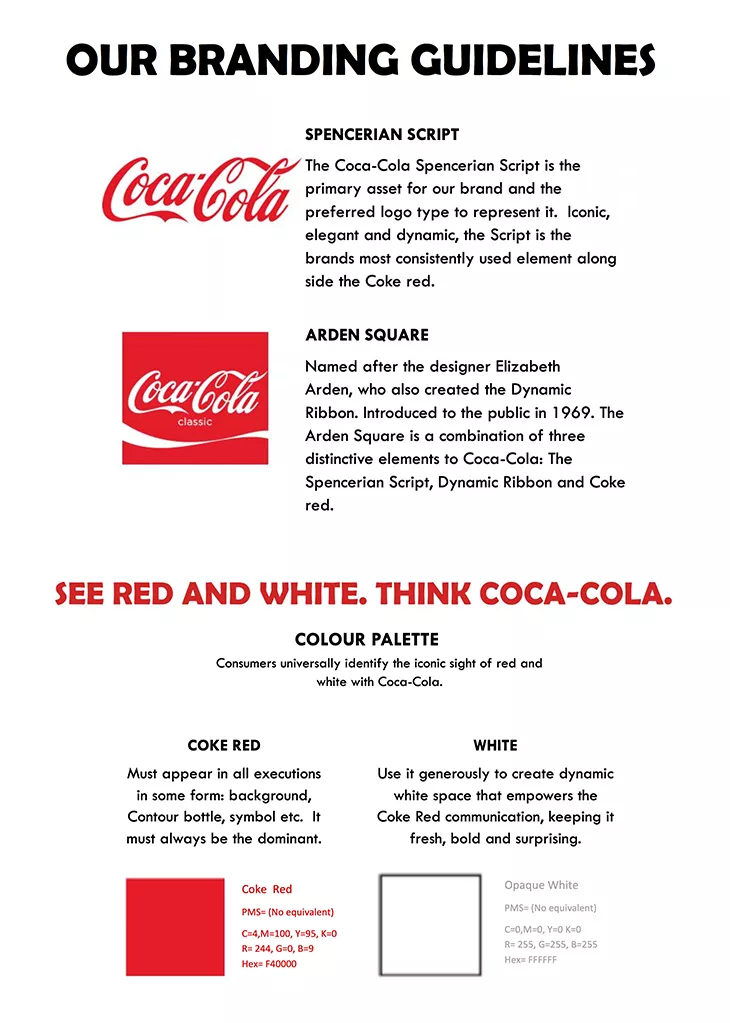 Why are brand guidelines important?
They ensure brand consistency & recognition – When customers recognize your brand and know what to expect, they feel comfortable. And when they feel comfortable, they are more likely to spend money.
They set standards & guides – When referring to brand guidelines, it's essential to mention that rules are not implemented to limit creativity but make sure everyone is on the same page and speaks the same language.
They eliminate confusion – It can be quite overwhelming for the new employees to understand what your brand truly represents, but a set of clear guidelines will avoid any unclarity. You also save time & effort in explaining every little detail to them.
10 professional brand guidelines templates to get you started
As I've mentioned before, your brand can be the key to long-term success for your business. And whether you're the owner of a small business, the CEO of a corporation, or even a small digital agency, it's highly important to have a strong brand guidelines document that describes any little details of your brand. 
That being said, here are 10 brand guidelines templates that will help you create a useful and professional document that represents your brand. Pick your favorite and start personalizing with your own content.
10 brand style guide templates:
Let's take them one by one and have a closer look at each of them.
1. Simple Brand Guidelines Template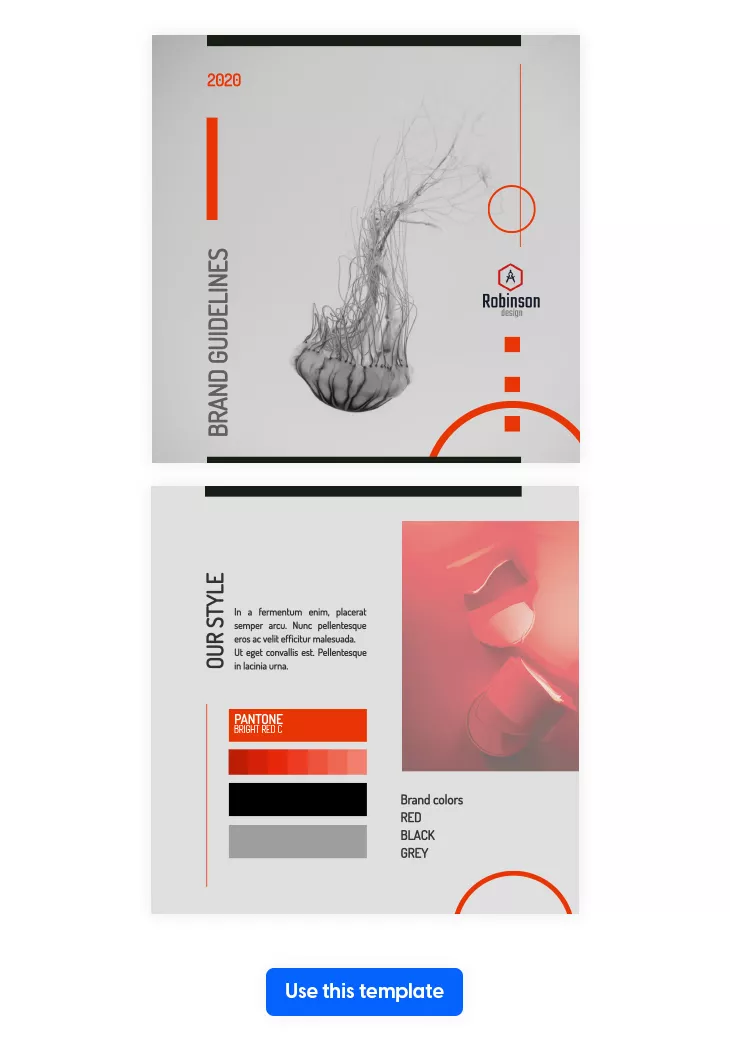 This simple brand guidelines template has it all: the imagery, the contemporary style, and even a cool jellyfish. As you click through the pages, you'll get pops of color and black-and-white imagery that's sure to catch the attention of readers. It's just perfect for anyone looking to convey their brand's image to everyone in the company.
The reason I like this one so much is that it manages to pull off a simple look yet remains highly detailed. It's a nice balance from page to page, and there's nothing so distracting that it draws your attention away from the content. Although this list isn't in any particular order, this one is definitely one of my favorite brand style guide templates.
2. Minimalist Corporate Guide Style Template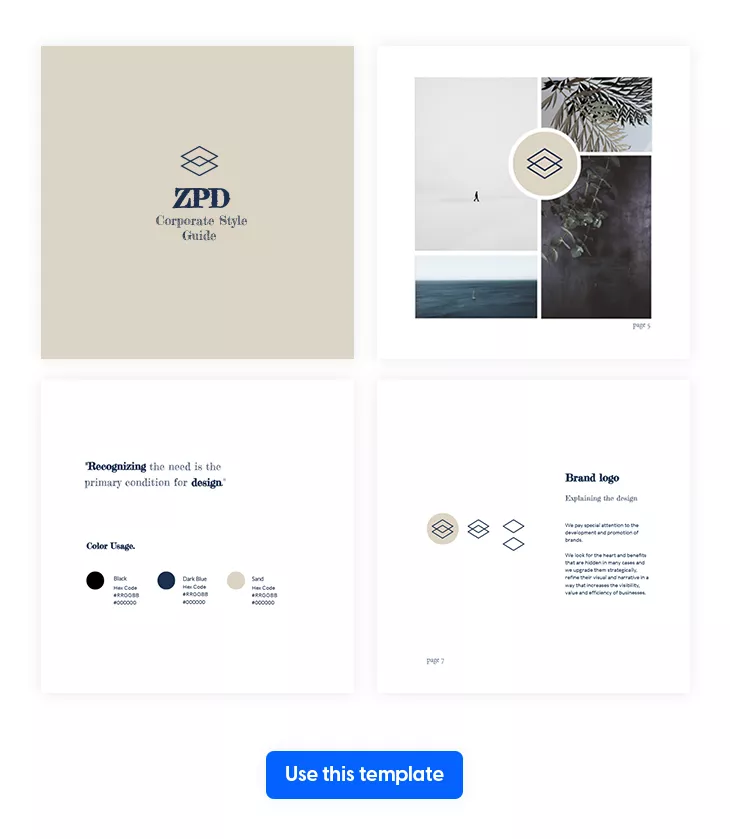 This corporate guide style template is made for more minimalist brands.
But, as simple as it looks, it definitely gets the job done. And you surely agree with me that its impact is great: the combination of the colors, the white space, and the abstract images have a soothing tone.
For this brand guidelines template, I think any sort of company that sells something like skincare remedies, soaps, clothing, or even home decor could easily use it. There are a lot of applications and potential for this one.
Just plug it into our Design Studio, add all your brand details, and you're ready to share this corporate guide style template both with your internal and external collaborators.
3. Modern Brand Manual Template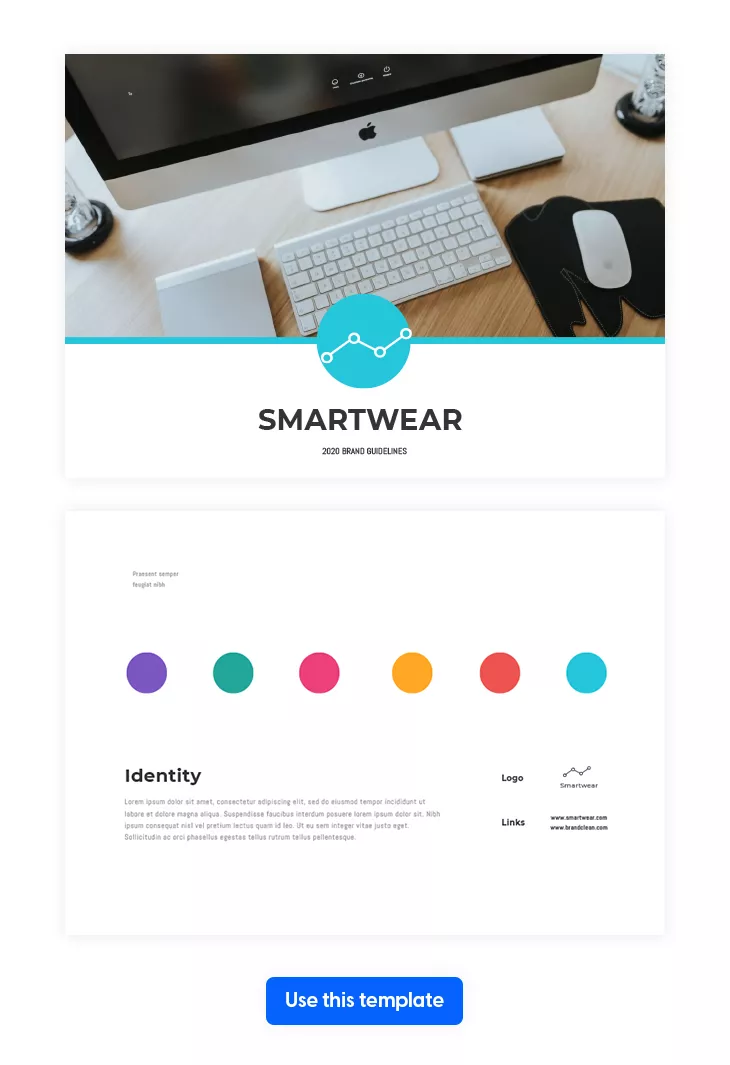 Tech companies often have a lot of information to display in their brand manuals. So, it can be a real struggle to encapsulate it all in an easy-to-follow format.
However, I think this modern brand manual template pulls it off very well, leaving plenty of room for all the little details such as the right and wrong versions of using your logo and all the other do's and don'ts.
As its design and content suggest, this template will probably work best for tech-related/SaaS companies. But who knows? With a bit of creative editing, a few pictures replaced, and your specific brand guidelines, it might just work in a lot of other industries. Give it a shot.
4. Modern Corporate Style Guide Template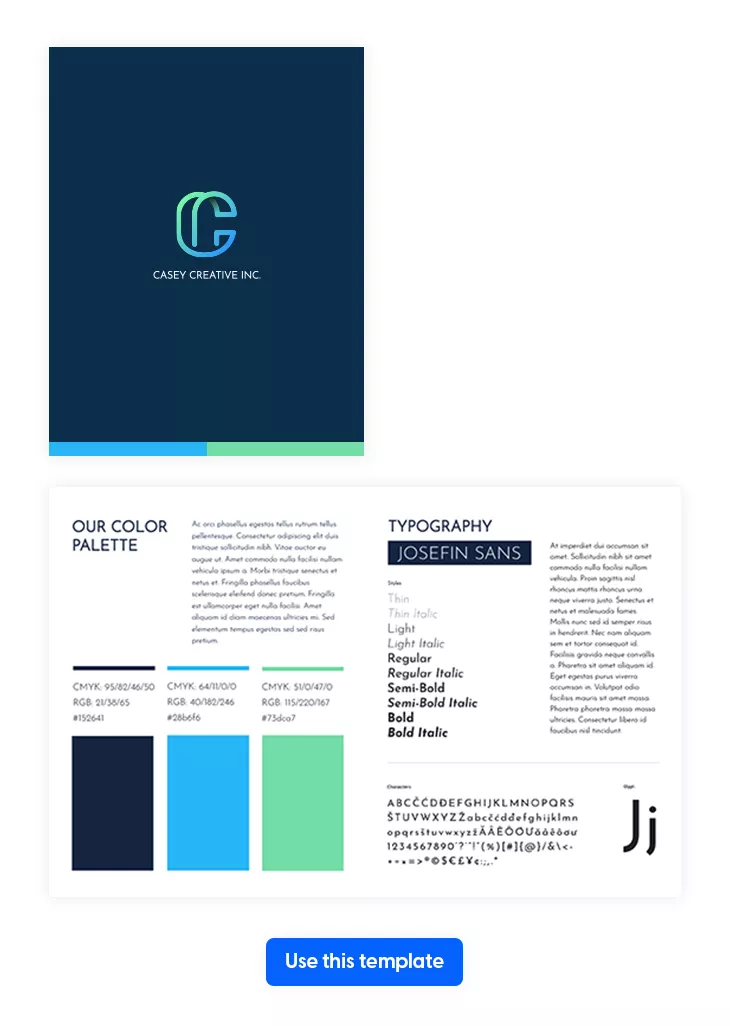 Everyone knows the importance of good branding, whether we're referring to small or big businesses. And it's probably why you're here, reading this article.
As you already realized, it's crucial to have a style guide that tells the story and vision of your brand. And all the ways in which it can be used.
This modern corporate style guide template could be the perfect option for you, allowing you to easily share what your company stands for and other essential elements that define it.
Make it yours by adding your company's story, logo, typography, color palette, and other communication guidelines. Then, when you are done with the editing part, ensure that you send these corporate identity guidelines securely to everyone working for your company. It will help you have more consolidated brand communication across all your channels.
5. Blue Themed Corporate Style Guide Template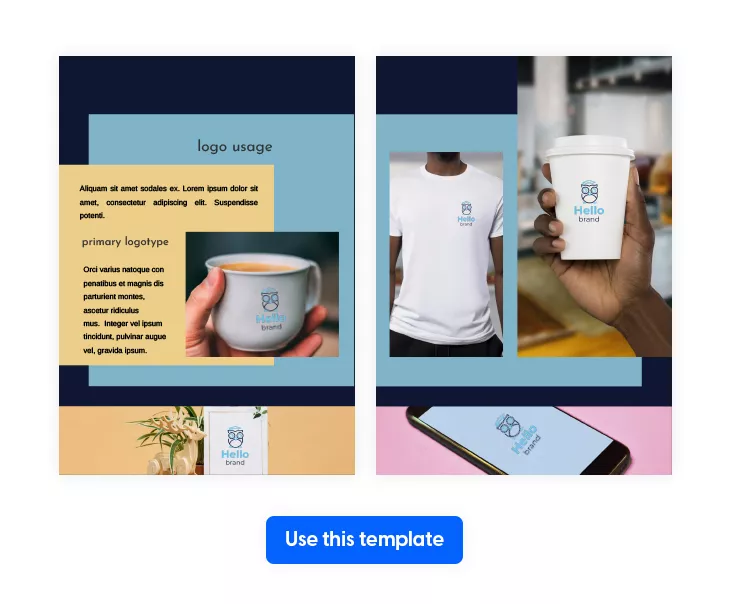 This blue-themed corporate style guide template is the perfect example of how something can be corporate and visually pleasing at the same time. To put it simply: this thing is fun to look at. The colors, abstract shapes, and dark theme is very visually pleasing. It's almost like you've walked into an art gallery. Speaking of which, if your brand is more on the artistic side, grab this style guide template and customize it to your needs.
This corporate brand guidelines template still works well with any corporate agency, but I think it can also be used for a more laid-back brand. Because of its unique design, it can easily be adapted to just about anyone's needs. It offers plenty of room (don't worry, you can add more if you need it), yet it perfectly uses the given space.
A brand identity guidelines template is useful to get started, but please, edit the colors to your brand's colors, add the fonts and the images your brand is using. Make it entirely yours in Flipsnack's Design Studio. Change any element with just a few clicks. The cool thing about making your brand book on our platform is that you can add interactive elements to it. Add hyperlinks for extra information, GIFs, videos, and even virtual tours of your office.
6. Beautiful Brand Identity Template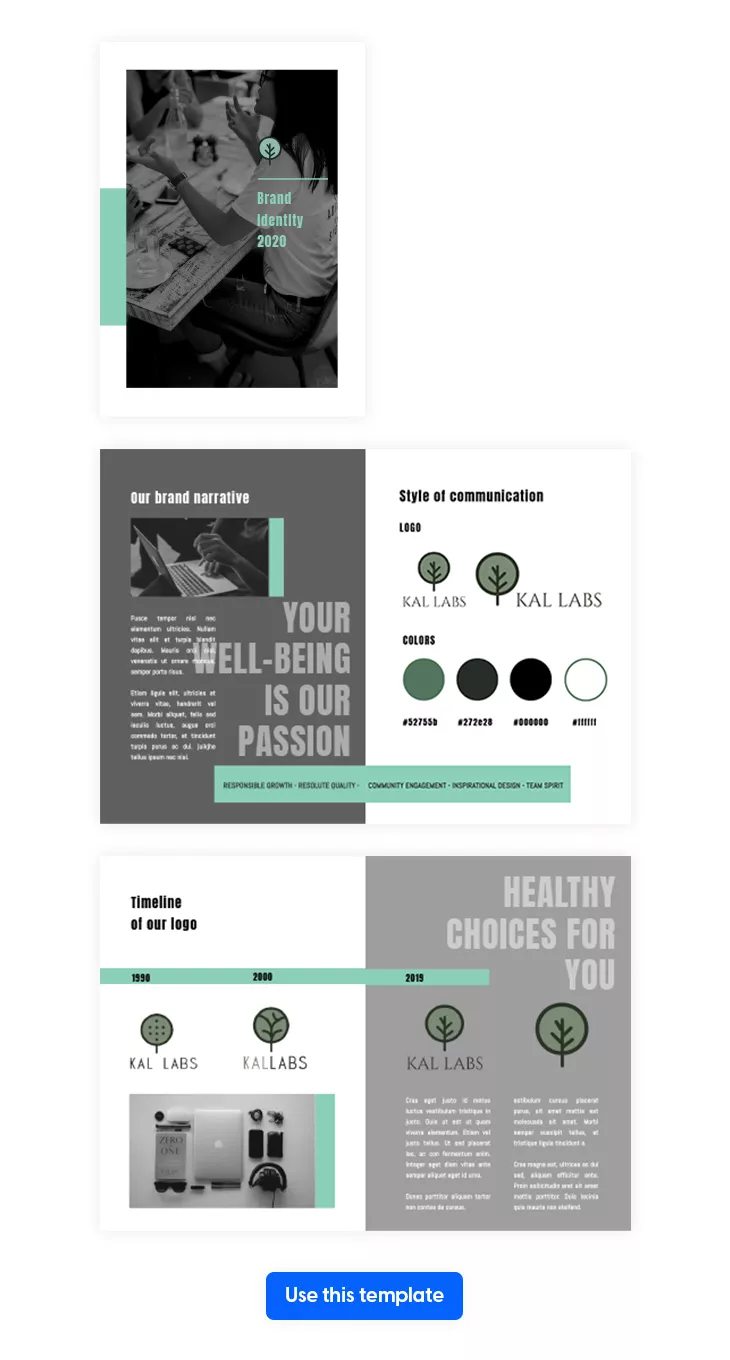 Beautiful is not necessarily the most important aspect of a brand book. Yes, it should be pleasing to the eye, but the emphasis should be on the message and the content.
However, we will call this one a beautiful brand identity template, because it's highly customizable. So, even if you think it wouldn't necessarily be a good fit for your brand, you can make it a good fit.
In a way, this brand identity template almost allows you to tell your brand's story through the amount of imagery on each page. With that said, it's definitely not for everyone. Although this brand book template still allows for plenty of room to add your guidelines, it boasts a very specific style that simply doesn't match up with every brand out there. Then again, you can edit it in any way you want. But, more on that later in the article.
7. Elegant Design Style Guide Template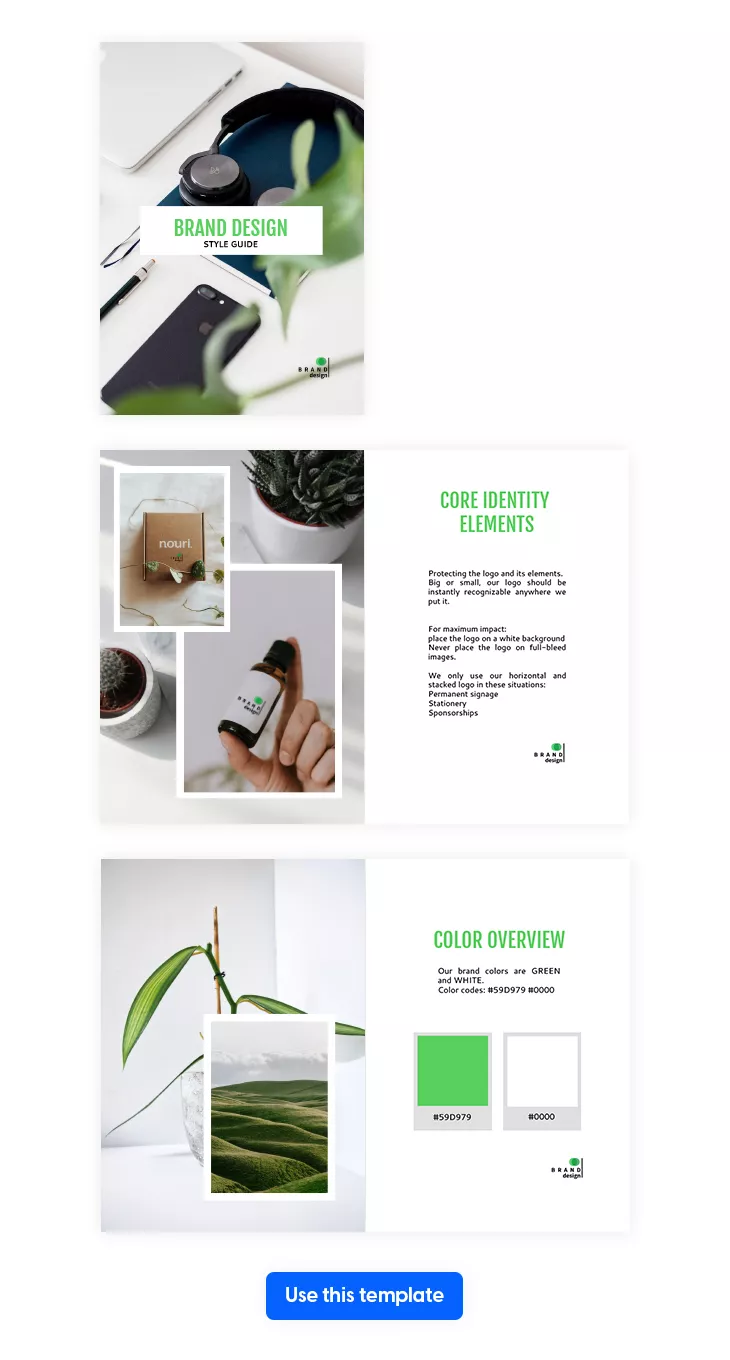 One of the unique aspects of this elegant design style guide template is that it carries the same uniform layout from front to back. The lime green font color absolutely pops on the clean white background, and each page leaves lots of room to display some images.
With all that said, this is an excellent brand identity guidelines template for any brand that sells products. The framed images on each page will allow you to display all your products for any employee to reference and get more information on. It can also be used as a moodboard for people in your company in charge of product photography.
For some brands, images are more important than other brand elements. And when you see a certain image, you instantly recognize the brand too.
If your brand's visual identity is heavily based on images and photography, make sure to include these guidelines in your brand book.
Grab this free template right now and start customizing it to create a helpful brand book for everyone in your company.
8. Colorful Brand Guidelines Template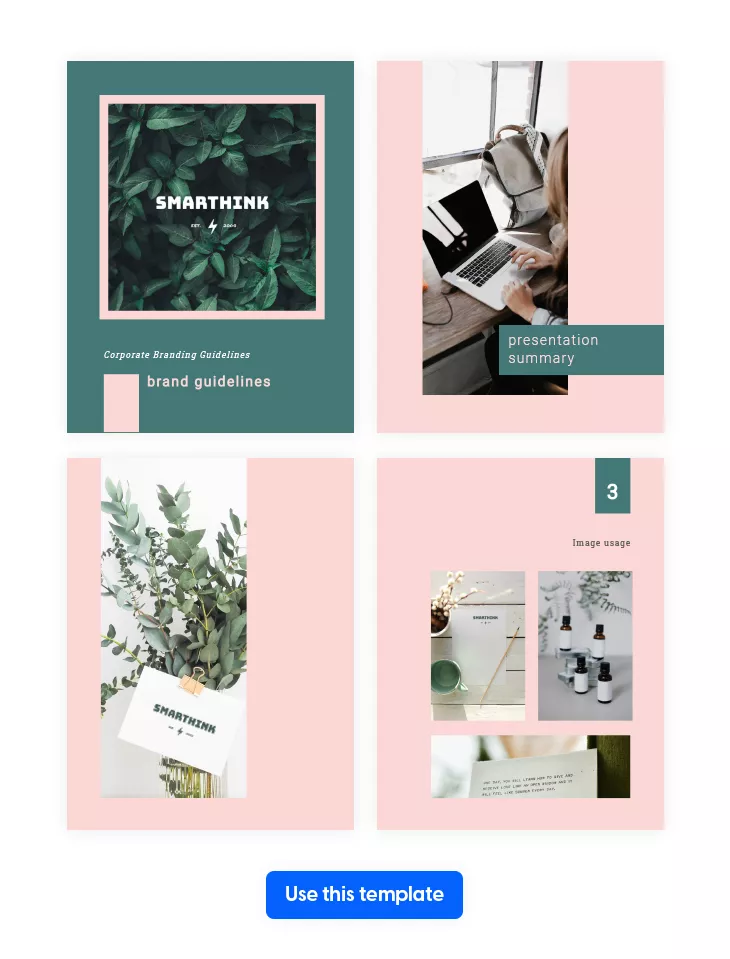 Usually, brand guidelines templates feature neutral colors, but this template shakes up the classic conventions with its bold color palette. And you just can't disagree that the combination of pink and green make it a brand guidelines template that attracts all the looks.
It's perfect for fashion businesses, essential oils companies, or even event businesses. But who knows? Sky's the limit with Flipsnack.
However, the usage of bright colors not only draws attention but also allows you to break a large document such as brand guidelines into smaller sections very easily.
So, with this in mind, take advantage of this brand manual template and personalize it with your company's brand guidelines.
Add specific details about your logos, fonts, colors, images, and so on. There is plenty of space for each element, so make sure to be as explicit as possible.
9. Modern Corporate Guidelines Template
It's very challenging for a business owner to keep everyone on the same page when his business grows and spreads worldwide. When hiring many employees from different continents and working with many external collaborators, it's almost impossible to keep your brand consistent.
That's why it is vital to design a brand book where you should insert everything related to your brand: its vision, story, and its guidelines. Start with logos and fonts and end with typography and imagery.
That being said, this modern corporate guidelines template is a perfect starting point for your next brand style guide. It features vivid colors, white space, and accurate elements.
As with any template, the colors, fonts, and other elements will not be relevant for your business. But the good news is that, in our Design Studio, you can simply paste your HEX color code, and upload your custom font, to make this corporate guideline template yours.
Enjoy the (branding) ride!
10. Modern Corporate Identity Manual Template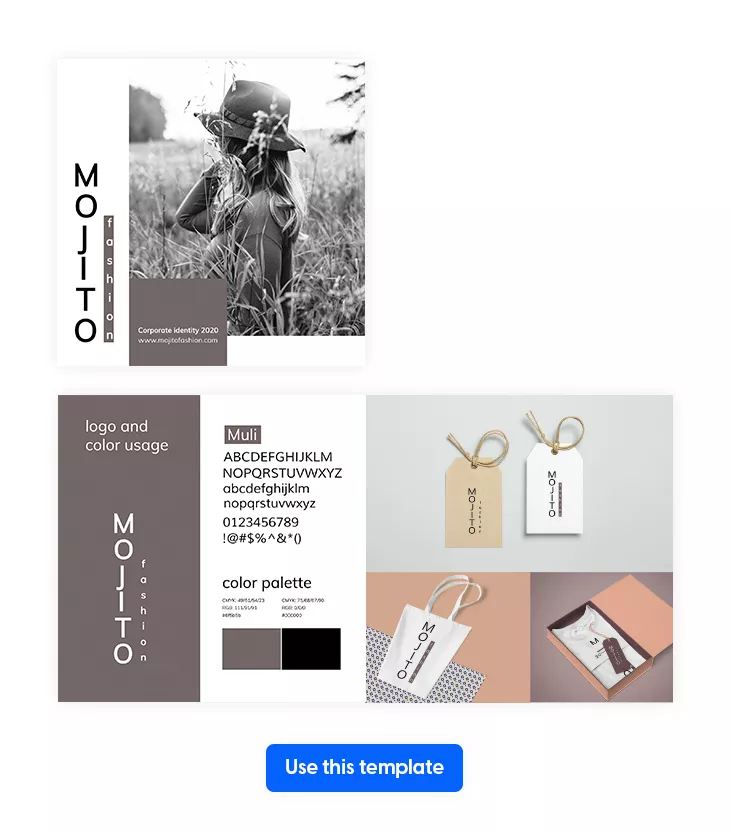 It's crucial to protect your brand's strength and bring value to your company through the brand manual you're creating. But it's also not an easy job to do. However, this modern corporate identity manual template from Flipsnack does all the work for you.
Featuring neutral colors, minimalist style, eye-catching photos, and elegant fonts, this brand style guide template over here is perfect for any fashion business, cosmetic company, or even shoe store. All you have to do is to populate this example with your content. Write about your brand's fonts, colors, typography rules, and whatever else you think it's necessary so that your team and collaborators understand what your brand represents and know how to use it in every context.
When you're done, make sure to print this brand guidelines document always to have it at hand when hiring new employees. You can also send it privately to your team and external coworkers via email.
How to edit brand guidelines templates in Flipsnack
You heard me mention editing each of these templates a few times above. No matter which one you pick, you'll have to devote a little time to make it fit your brand. But, don't worry. Flipsnack makes it so easy. With our intuitive Design Studio, you can have any of our brand guidelines templates looking like 100% custom works in a matter of minutes. The best part? You don't need any design skills whatsoever. It really is as simple as a few clicks.
So, let's get started. First thing you need to do is to…

Set up a brand kit in Flipsnack
In a nutshell, a brand kit is a compilation of the crucial components that establish your brand's visual identity, such as logos, fonts, typography, and colors. Each of these components is important but gathered together; they can be impactful and effective when combined perfectly. They must communicate the same way and deliver the same message, so make sure you pay close attention when building your brand kit.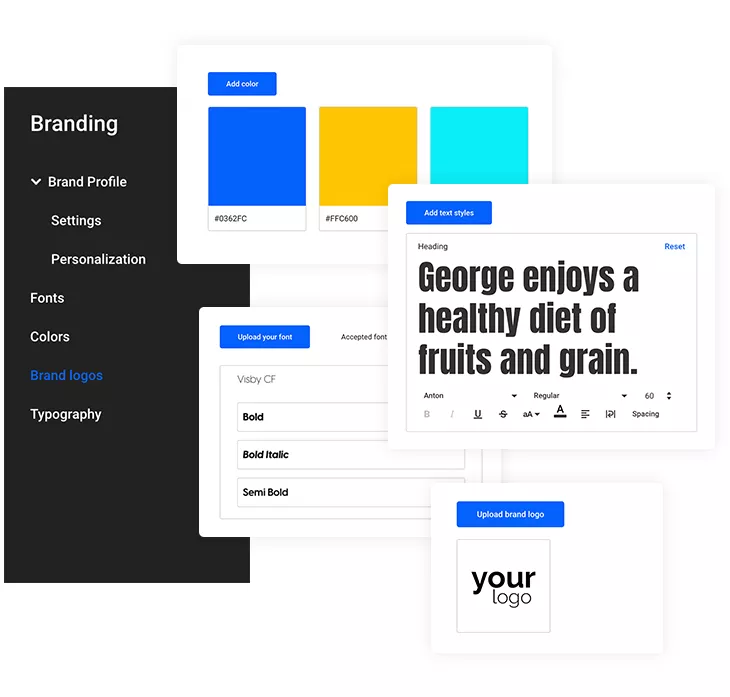 That being said, let me explain to you how easily you can build your brand kit in Flipsnack and then further use it whenever you're going to create online guides, catalogs, brochures, and other types of publications. It's also important to mention that everyone who has access to your workspace will also access your saved brand kit.
Easy, right?
However, keep in mind that one of the primary reasons for building your brand kit is to ensure brand consistency. So let's get into more details.
Keep brand consistency
Everyone in your team and your external collaborators must deliver the same message and use the same tone and style you mentioned in your brand guidelines document. It's all about ensuring brand consistency. Therefore, to make sure that they won't make any changes to your document, use Flipsnack's advanced lock feature.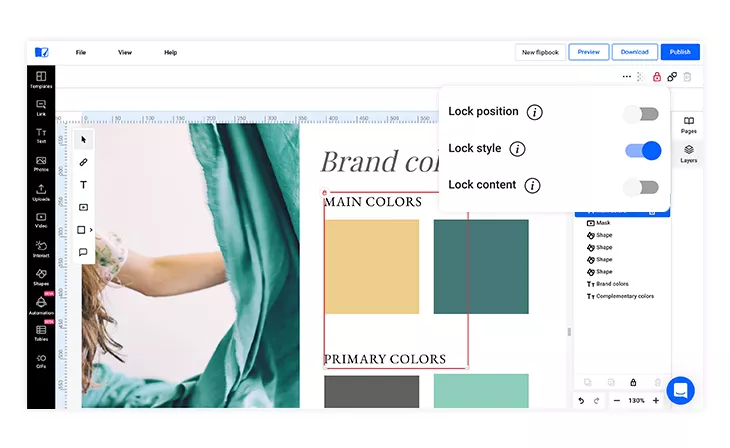 What's all this about?
Well, you might want your brand's logo to be situated in a specific place on your page. You can put it wherever you want, then choose to lock its position, content, or style. When you lock its position, you take away people's possibility to move it to other places. Locking the logo's content ensures that nobody will replace it with another image or a different logo. Finally, if you're going to lock the style of your logo, then nobody will be able to change its transparency, radius, border, and other style preference. Keep in mind that this is a free option, available to all Flipsnack's users.
But that's not all when it comes to keeping your brand consistent. For extra control, you can use Flipsnack's locked template feature. It's a premium one, so make sure you upgrade first.
So, this feature allows you to design a template and then lock the element's position on pages. Save it just like this, and feel free to use it whenever you want. All the locked elements will remain in the same positions. People in your workspace will be able to use this template as well, but they won't be able to make any changes regarding the locked elements.
Conclusion
Contrary to popular belief, building a brand is more related to brand consistency than anything else. A brand book is the bible of your brand, so take your time putting it all together.
I hope all these brand guidelines templates will come in handy as a starting point in your journey. Keep in mind that you need to make the message clear enough that people will get the essence of your brand and know how to use it in every context.
Besides sharing it internally, take some time to present these guidelines to the people who are going to use them in their day-to-day work. Otherwise, all your hard work will risk ending as an email that people will not even bother reading.
So, with all this in mind, create your brand's guidelines today in Flipsnack, make it interactive, and share it securely with your team!