How to make a real estate brochure. Examples & templates
Real estate is a competitive market, and you will need all the tools at your disposal to get ahead of your competition. There are different aspects of a real estate marketing strategy, but in what follows, I will focus on a single part of it: the real estate brochure.
Real estate brochures are still the go-to promotional materials for many realtors, as they use them to present and advertise the best features of a property. Brochures also help increase awareness and visibility of the listings they try to rent or sell. They can use them to highlight a single apartment, house, condo, commercial property or promote multiple real estate buildings in a single pamphlet.
They are also beneficial to the potential buyers, as brochures offer quick access to information regarding the property. Buyers can make up their minds if the property is worth a visit or not. By increasing awareness, brochures indirectly influence sales and profits.
Regular brochures are still being used, but digital ones offer many advantages, as you will soon see. However, in case you are interested in printing your brochures, make sure to choose the right size for print.
In what follows, I will offer some tips on creating the perfect real estate brochure: from design to content to the different interactive features you can now use in your digital publications: links, videos, virtual tours, maps, and more. I will also highlight some real estate brochure templates, and offer some information on how you can create a brochure in no time.
That being said, if you are interested in how to make a real estate brochure, then this article is for you.
Real estate brochure design tips
No impression is better than the first impression, so to make your brochure stand out, there are a few things you can consider. Let's take a look at the following brochure design tips:
Use simple layouts
Insert high-quality images
Place the copy strategically
1. Use simple layouts
It might seem like a good idea to offer as much information as possible in your brochure, but the better thing to do is keep things simple and on point. Let the layout do the work for you.
Simple, clean layouts make it easy for someone to scan the brochure's content. The purpose of a real estate brochure is to make the possible customer interested in finding out more about the property. It is to highlight all the important information whether through pictures or text, or other interactive features.
For this reason, you shouldn't include too many elements on the page. Reading the brochure should be pleasant, and more importantly, a useful experience for the reader. There are a few ways to achieve this.
For example, color-wise, you should limit the number of colors you use, and the colors you include should be complementary. Here is a nice color combination list you can use. The reason why you want to avoid combining too many colors, is because it is unpleasant to the eye.
Similarly, when it comes to the text, limit it to a single font. If you want to make a clear distinction between one piece of text and the other, try different text sizes. If you want to emphasize something, use boldface, or italics. It is much better than combining fonts. A huge wall of text can be intimidating to read, so rely on whitespace, proper letter spacing, and line height.
This real estate brochure template above is a nice example of a simple design. The colors work well together, it isn't overcrowded by text, it is pleasant to read.
There are different brochure templates to choose from in Flipsnack, and you can quickly edit them, but if you already have brochures saved as PDFs, you can easily upload them and share them through a link, or embed them on your website.

2. Insert high-quality images
Wondering how to generate real estate leads? Invest in high-quality images. You might have the most fantastic layout, but it won't make a huge difference if your images are sub-par. You should upload high-quality images, both from a technical and a practical point of view. The images should be high-resolution, and they should do the property a favor. 
Imagine populating your real estate brochure with blurry images, the property shot from a weird angle that doesn't make too much sense to the potential buyers. The image should grab attention, but from a positive point of view.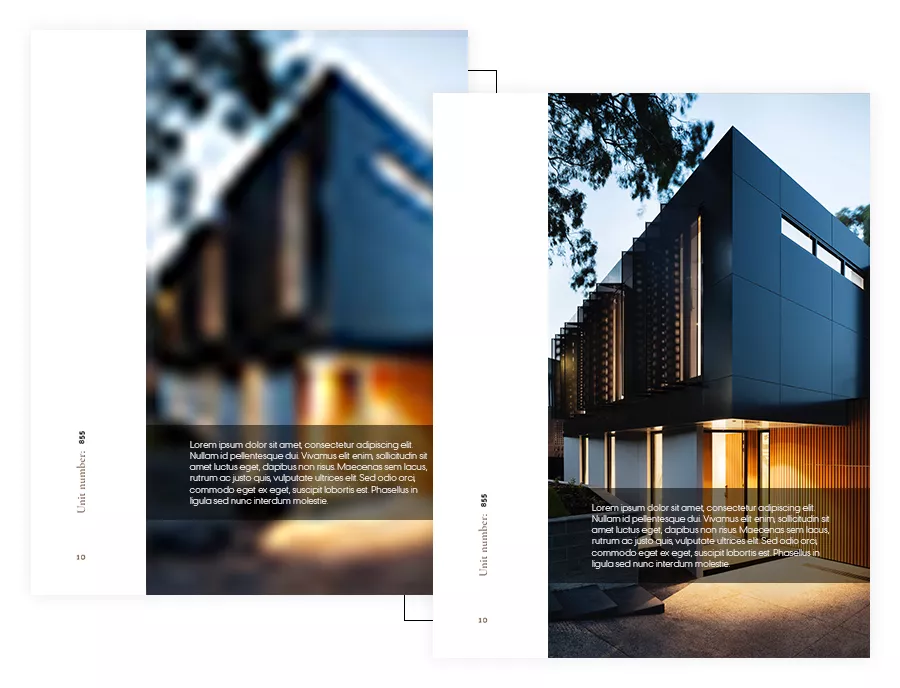 Like the cover of a magazine, or a digital book, the cover of a real estate brochure is extremely important. It sets the brochure's tone, so to speak. It represents what the brochure is about, and for this reason, you should pay close attention when choosing the cover.
The photos you include in the brochure should be bold and big, and they should always be on point. Do not include images that serve no purpose, and make sure that they aren't deceiving. It might be tempting to alter the photos to make them more appealing, but it might be detrimental in the end. Of course, I don't mean you shouldn't edit them at all, but make sure it is in good taste.
Your images should stand out. Use double-page design and spread an image across two pages to highlight the beauty of the image and create a bigger impact.
3. Place the copy strategically
When it comes to the text you include in the real estate brochure, the situation is similar to the image one. Again, you need to pay attention to both quality and quantity.
The text is an important part of the real estate brochure, but in this case, less is more. Given the limited size a brochure has, you might have to choose between text and images, and in some cases, the images might take the spotlight. They say a picture is worth a thousand words, but that doesn't mean that text is useless. So let's see some tips when it comes to the written real estate brochure content.
Property details, features or inclusions
You can write all sorts of things in your brochure, but it is paramount that you give potential clients a full list of all the amenities and features of a property.
Include all the little details that are usually expected in a property because a long list of amenities will make a house/ commercial space look more attractive. This list of features could possibly make a buyer pick up the phone to call you for a house viewing.
It might also help a buyer or tenant decide between 2 or more properties. That's how important these details can be. The decision to buy a house is not the result of a spur-of-the-moment impulse, which is why people will carefully review all these details before they even go for a viewing.
The floor plans are also important in designing and marketing a real estate property. It's an excellent way to present the size of each room and the relationship between different rooms and spaces.
Most people ask to see the floor plan before they purchase a space, even after a house viewing. You can make your job (and the client's decision) much easier by asking for this document in advance and featuring it in the real estate brochure. You can take it to the next level by embedding a virtual tour in your flipbook-style brochure.
Compelling (but short) descriptions
The property details and floor plan speak to the analytical side of the brain, but the description should speak to the brain's emotional side. It's your chance to help a prospect get a feel for what makes a property unique, what it would feel like to live there. You already have a list of features, so the description should focus on benefits. It is important to write appealing real estate descriptions. Let me give you an example.
Let's say that the house has a four window living room. That is a feature, and it is good information to have. However, how do you turn that information into a benefit? Some of the benefits could include reduced energy costs, natural light, and a visually stimulating environment.
When it comes to the language you use, try to use simple words. Don't make it complicated for the reader to understand. The message should be clear and to the point. Proofread what you have written multiple times and make sure that the text doesn't contain any errors. It might seem irrelevant, but as I said, the first impression matters a lot.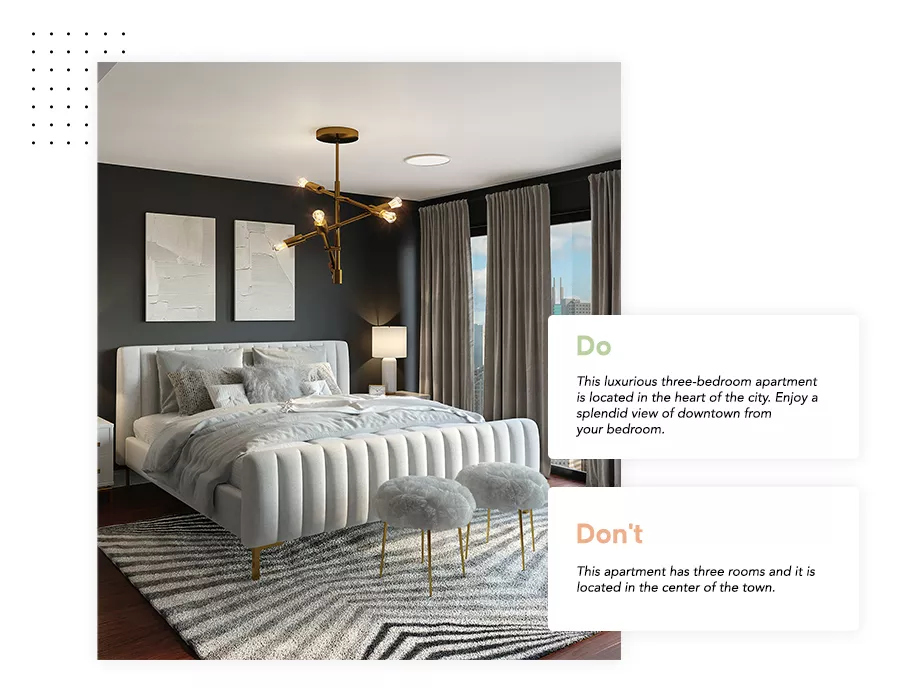 Flipsnack features for your real estate brochures
I've offered some general information about creating your real estate brochure in the previous section. This section will focus more on Flipsnack and its importance as a real estate marketing tool. See the role Flipsnack plays in the industry in the video below.
Let's take a look at some of the most useful features you can use in Flipsnack when designing your brochure.
Also, as long as your MLS system is RESO compatible, you can use it with our smart templates. RESO standardizes the transfer of listing data from the MLS systems, and then it displays it on 3rd party websites such as Flipsnack.
1. Branding elements
Branding matters a lot, as your brand identity is what separates you from the competition. And Flipsnack offers different branding options to choose from.
You can choose your brand colors, logo, fonts, and typography settings. You can even use a custom domain. A custom domain allows you to remove all Flipsnack branding from your page, including the URL. It makes it look as if your company created the publications without any third party being involved.
All these custom elements help you maintain brand consistency across all communication channels. And in the case of a real estate company, it means ensuring that every real estate agent is on the same page, knowing exactly what your brand stands for.
In addition, you can also create locked branded templates, which means that the design will remain as you intended, and no one can change it without permission. Not only that, but this will make things easier for all your agents, as they will not have to worry about making the right choices when it comes to choosing the right elements for your brand.
Through Flipsnack's advanced lock feature you can lock the position and size, the style, and the content.
2. Videos and virtual tours
There might be cases when a photo doesn't do justice to the property. This is where a video might come in handy. Luckily, in Flipsnack, you can easily embed videos directly into your real estate brochures to make them more interactive. So for situations where you consider a video to be important, you feel free to include the video in your brochure. Video marketing is a growing trend in the real estate market. Take advantage of this trend to ensure a competitive advantage.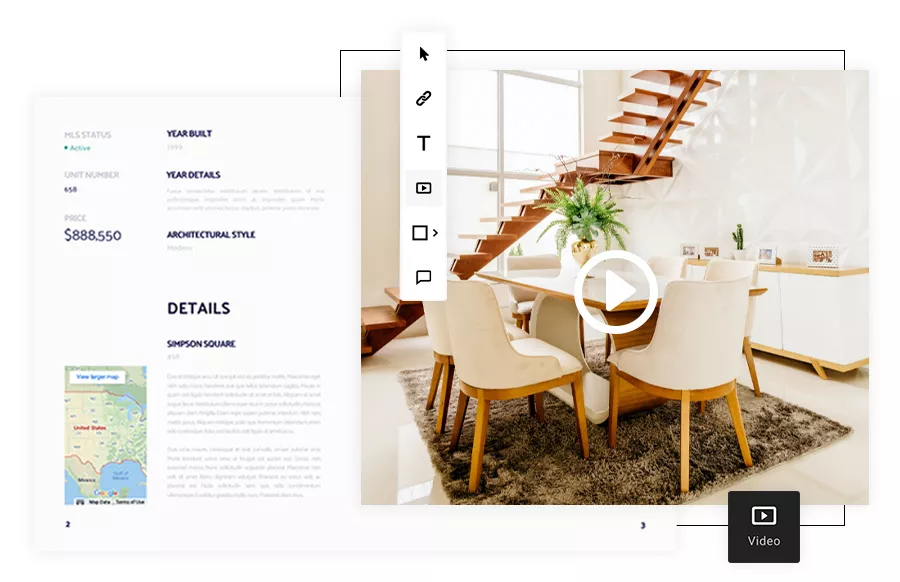 If you want to offer an even more engaging experience, then the virtual tour is the way to go.
It is very likely that you are familiar with the concept, as you might have attended a virtual tour of an online museum, park, zoo, stadium, and so on. If you aren't familiar with the concept, think about navigating a street in Google Street View.
The same principle applies here. Your customers will browse the property by clicking arrows in different directions. Why is a virtual tour useful? Because there might be situations where you can't physically go to a location, and in this case, a virtual tour will allow you to check out every room, get a feel of the place in detail.
You don't need to worry about adding them to the brochure. They are easy to embed. It is as simple as placing an element on the page and pasting the proper code.
Incorporating a professional narration into your real estate virtual tour videos using text to speech software ensures that every potential buyer comprehensively understands the property's offerings. This approach guarantees accurate communication of the property's story, enhancing the overall experience for interested buyers.
forward
3. Slideshows, tags, and captions
Slideshows and captions are great ways of adding interactivity to your real estate brochure. As the name suggests, the slideshow feature allows you to create photo slideshows directly in the brochure. As I mentioned, images are important when presenting a property. For example, imagine that you have five great pictures of a property, but the brochure has room for only one.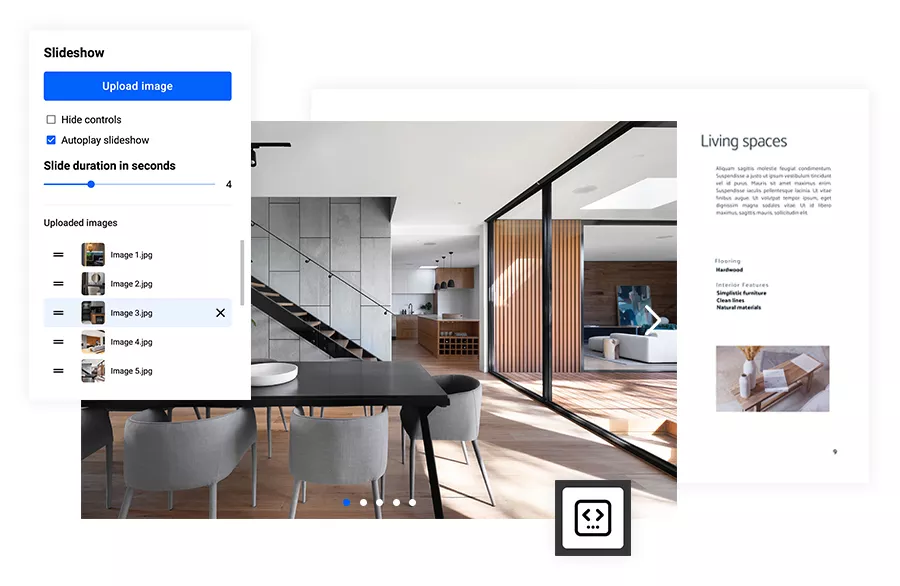 You must choose one image with a printed brochure or other digital solutions. However, with Flipsnack's slideshow, you can choose up to 10 images, arrange the image order, hide or show the slide indicators, or set the slideshow to play manually or automatically.
Tags and captions are also useful when creating your real estate brochure. Like the slideshow, they can be used when you have a larger piece of text than the design allows. For example, a room might have an interesting story, or you might want to share some important information that you cannot directly include in the brochure. This is where the tag or caption features come in handy.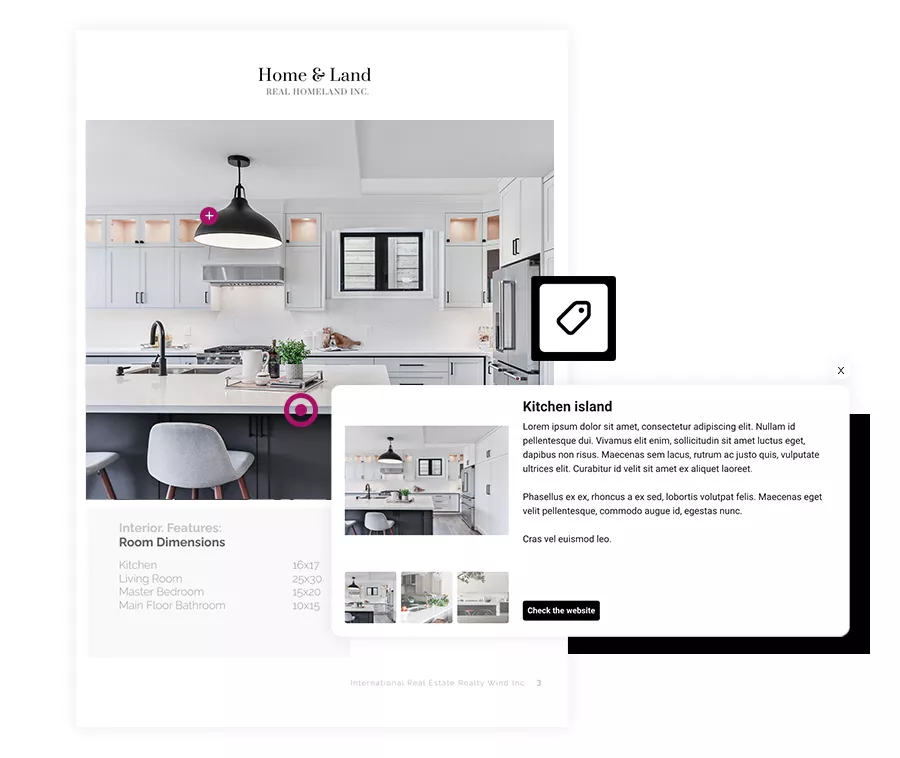 Whenever you have an important element in the brochure, that you might want to offer more information about, you can do so with the two features. Simply place one of them on top of the important element, and include the desired text. When the user clicks on the element, the full text will be displayed.
4. Hyperlinks & maps
As you've already realized, there are all sorts of ways you can add interactivity to your brochure, and when it comes to the contact details, things aren't any different.
An important part of the anatomy of a brochure, the contact details are usually placed on the front, back, or inside cover of your real estate brochure. They should be easily spotted by all the people who may be interested in asking questions, viewing properties, and buying. Provide the name of a real estate agent, a phone number, social media links, email address, and a website URL.
The good part is that you can make them all interactive with the help of hyperlinks, or social media buttons. This makes it easier for potential buyers to reach you, or visit the website you have included directly from the brochure.
There are three things that matter in property: location, location, location.
The origin of this quote is disputed, but it is true. The value of a property is heavily influenced by its location, and you should use this to your advantage. For this reason, one of the best things you can do is embed a map into your brochure.
Think of embedding a map as a means of bringing the location into the spotlight rather than the property itself. Let the location with all its surrounding buildings help you make the sale. Allow your potential buyers to take a virtual walk through their future neighborhood with the help of an embedded map.
5. Smart templates
As mentioned, there are different ways to create your brochure in Flipsnack: by uploading a PDF, starting from scratch, or using one of our templates. When it comes to templates, there are two options: regular templates and smart templates. Both of them have their use, but let me talk about the smart templates, as they work differently.
This might not apply to everyone in the real estate business, but most companies and agents rely on a multiple listings service (MLS) system to get things done. It is a game-changer due to the easy access to listings between real estate agents. Thanks to Flipsnack's MLS integration, things get even better. This is where smart templates come in handy.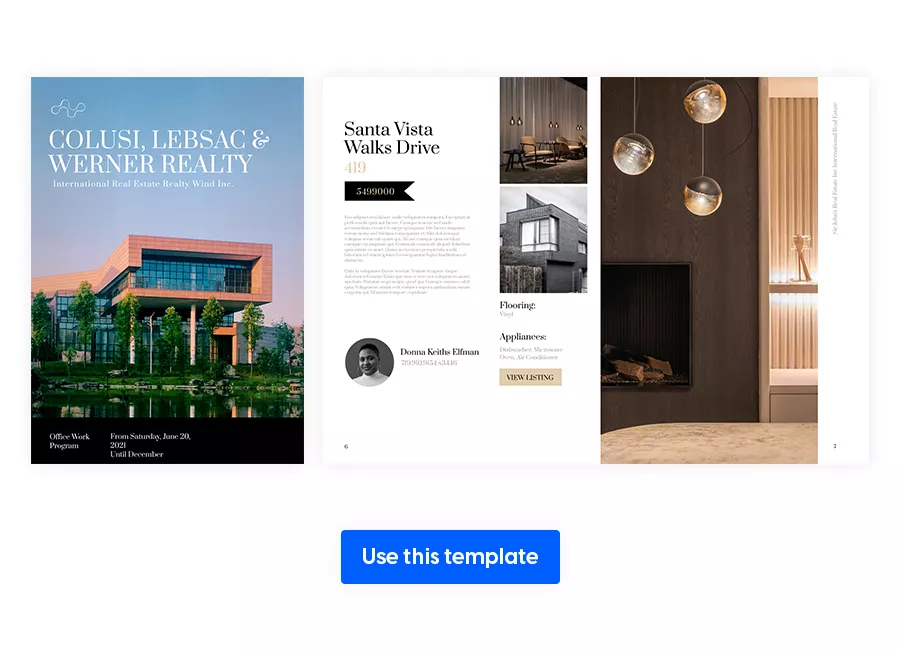 By connecting your MLS database to Flipsnack, you can use our MLS compatible smart templates to automate the design process. Once the listing details have been uploaded, you can change the property information with a single click. The design remains the same, the only thing that changes is the property information, based on what you have in your database.
This is a time and money saver, especially for agents with multiple presentations for different properties in a single day. Instead of creating a brochure for each presentation, they can use a single template and change the information in seconds. For more information, here is a video on MLS integration in Flipsnack.

Real estate brochure templates to use
Since I have offered information about the design, and the interactive features you can include in your brochures, let's see some template examples you can choose from.
Real Estate Agency Presentation Template
If you're struggling to find that real estate brochure template that can put your listings in the spotlight, look no more. This real estate agency presentation template gives you plenty of space to upload your professional shots of the listings you're trying to sell or rent.
A real estate brochure template that makes great use of white space is the perfect choice if you're going for a more minimalist yet professional look for your design.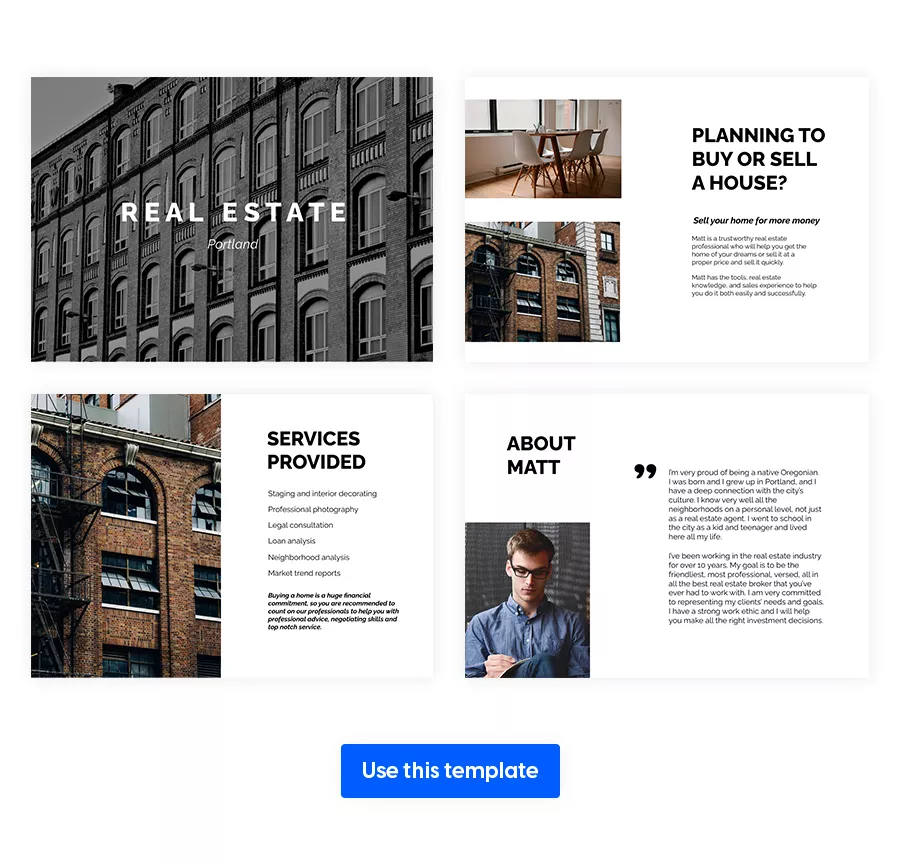 This brochure layout is also great for presenting your real estate business. Add your services, price list, reviews, and details about the people there. As a real estate professional, you know how important image is. So, make sure you use all the tools you can find to present your business most professionally and honestly.
Editable Smart Realty Brochure Design
This editable smart realty brochure stands out through its clean design. The first page contains basic listing information such as price, size, number of bedrooms, and bathrooms. The following pages offer more detailed information about the rooms and information about community features, such as nearby schools.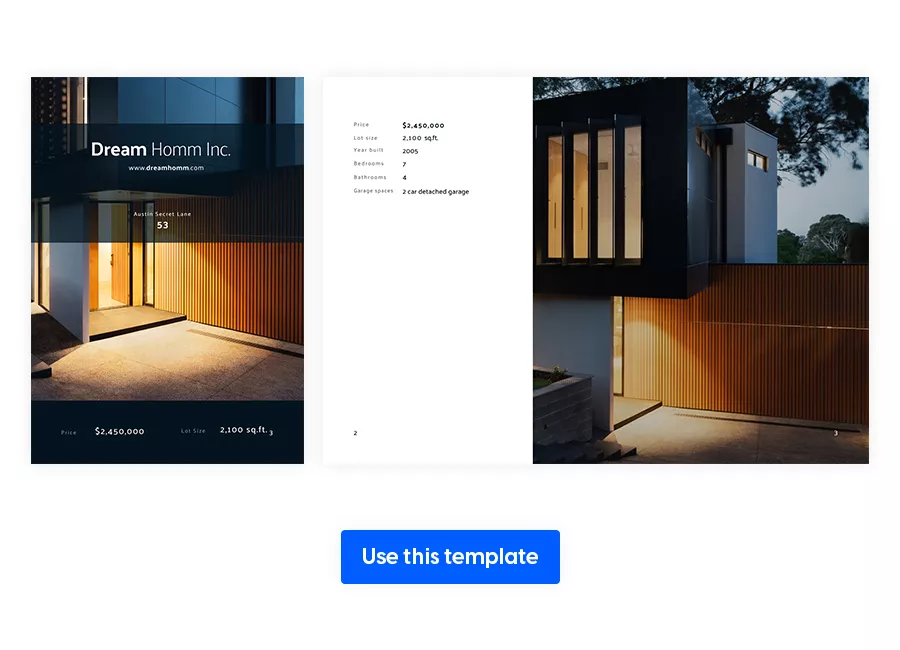 The text to image ratio is even, making it a pleasant experience for the reader. Some suggested interactive features in this brochure include the image slideshow, the caption tag, and the video widget. The last paged is reserved for the contact details, and it features a picture of the real estate agent and different interactive social media buttons.
Editable Modern Real Estate Smart Template
Another smart template, the editable modern real estate smart template is more picture-oriented than the previous one. As I mentioned, there are cases when pictures are more relevant than text, and this brochure is a fine example of that. The property takes the spotlight on the cover, and the following pages contain all the necessary information.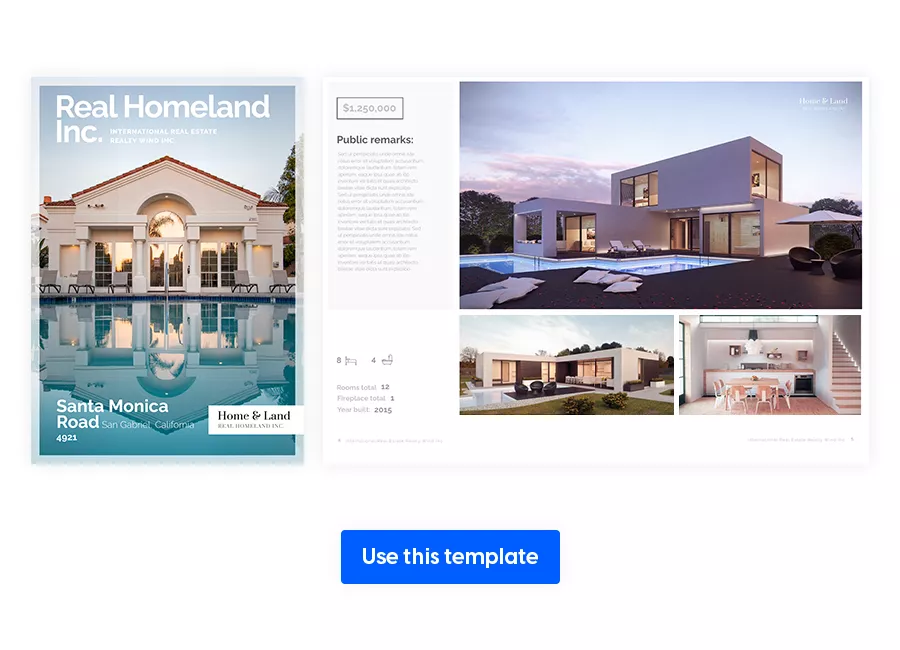 You might notice that the images are spread across two pages on the following pages, which means that the brochure uses a double-page design. This brochure also contains a video widget, an embedded map, and a hyperlink to a virtual tour. You can also embed the virtual tour directly into the brochure, as I mentioned before.
How to make a real estate brochure in Flipsnack
Now that I've offered some template examples let's see how to create a real estate brochure in Flipsnack.
Upload a PDF, or choose a template such as this interactive MLS real estate brochure template.
Open it in our Design Studio and customize it as you wish.
Customize the text by choosing a font, weight, and style.
Drag and drop your uploaded images in the brochure.
Place interactive elements such as videos, slideshows, captions, contact details, CTA buttons, and more.
Click on the Customize button to choose between all sorts of customization options such as branding, Google Analytics integration, layout, and more. Once you are done editing, click on the Save & Share button.
If you want to skip the previous step, click on the Share now button.
Here you can edit the brochure's name, description, and visibility. You can also choose between Publish, Save as draft, or Schedule publication.
Congratulations, you have published your real estate brochure! However, if you want to make some adjustments to your brochure, you need to go to your flipbooks page, choose the brochure, and click on Edit.
Remember these real estate brochure tips
As I've already mentioned, brochures, especially digital brochures, are an important part of the real estate industry. The fact that you can make them interactive makes their impact even greater. Here are the most important questions to ask yourself when creating your real estate brochure:
What are some good brochure design tips?
Use simple layouts
Insert high-quality images
Pay attention to the text
What information should a real estate brochure contain?
Property details, features, or inclusions
Compelling descriptions
Flipsnack is the perfect solution to take your brochure to the next level. When creating your real estate brochure, follow our design tips, then test our diverse features.
Think of different and exciting ways of engaging with your potential buyers through your real estate brochures. Design yours now!