Increase your publications' engagement with photo slideshows
In some cases, less is not more. Take a photo slideshow, for example, and think about how convenient it is to include more than one photo; when providing more context in one of your publications. An Instagram carousel is very similar to a photo slideshow, since you can add up to 10 pictures in a post; thus keeping the viewer engaged.
Studies have shown that Instagram carousels perform up to 5.13% better than videos, and receive more likes. If we were to compare this carousel with the original photo slideshow; then we could say that the reader's experience with your digital flipbooks will be improved considerably.
There are different publications in which a photo slideshow would add value. Internal documents like company newsletters, travel brochures, property presentations for real estate brochures, nonprofit brochures are just a few examples. Stick with me while I take you through every one of these publications and exemplify each with a template.
1. Internal Documents: Newsletters
In the context of an internal newsletter, such as a company newsletter, the HR department can truly benefit from including a photo slideshow in it. Photos from a recent team-building event, a charitable event held at the company, or even a trip the company organized. All of these pictures can be portrayed in a much more space-saving way, with a photo slideshow.
In the example below, you can see the impact this element has on the whole design; by keeping it looking clean and professional. With interactive elements added to your newsletter, the chances of your employees reading the monthly newsletter increases. With Flipsnack, besides a photo slideshow, you can include videos, links, and lead forms for feedback.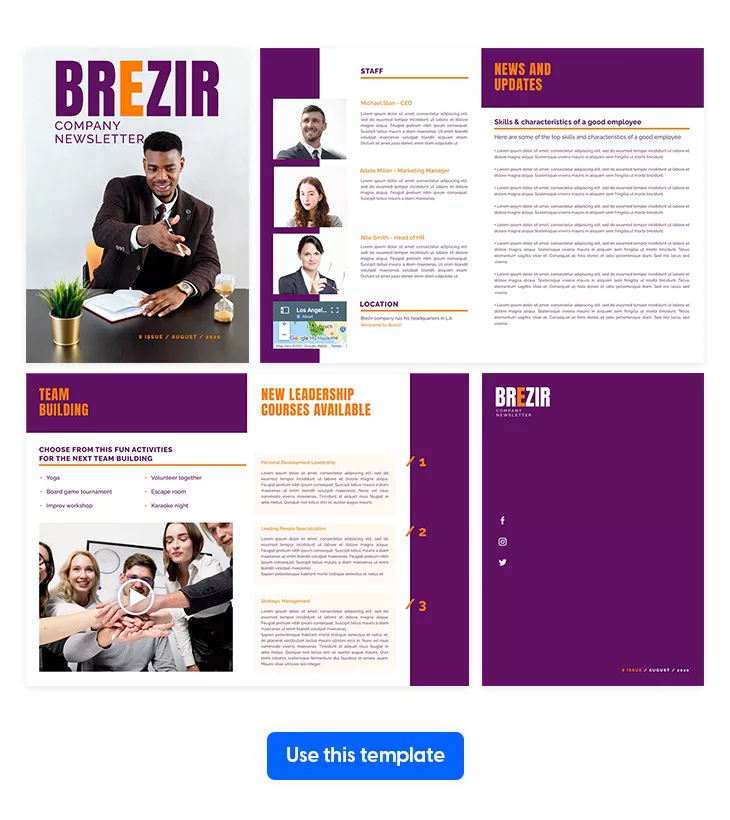 2. Marketing: Travel Brochure
Need I say anything more? If you've ever stepped in a travel agency or even requested an offer for your yearly holiday; then you know how important visuals are. A great travel brochure should be able to mentally take you to that destination, before even buying the plane ticket. That is the case of this stunning travel brochure, made with Flipsnack.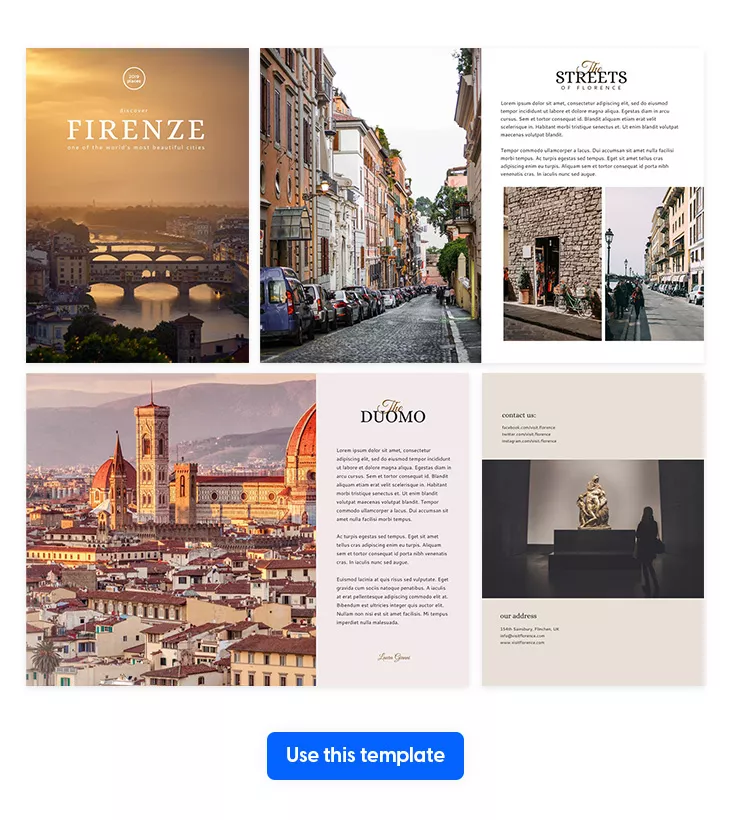 All the high-resolution pictures combined with little text make for a well-showcased destination, in this example, Firenze, Italy. A photo slideshow is your best friend in this digital publication, because you can add up to 10 pictures; while being mindful of the design. In the end, the reader's experience will be improved and you'll be left with more time spent on your publications. This metric can be checked using the statistics feature from Flipsnack.
A short intermission, to show you exactly how a photo slideshow can be added to your digital publication. Take a look at the straight-to-the-point video below and give the photo slideshow a try for your own digital flipbooks!
3. Real Estate: Property Presentation Brochure
We all know that an impressive property brochure for real estate is almost as important as communicating with potential buyers. If you, as a realty agent, know how to showcase your listings, then half of the work is already done. You can do this through high-resolution pictures, virtual tours and all the relevant information; packed in a well-constructed real estate brochure.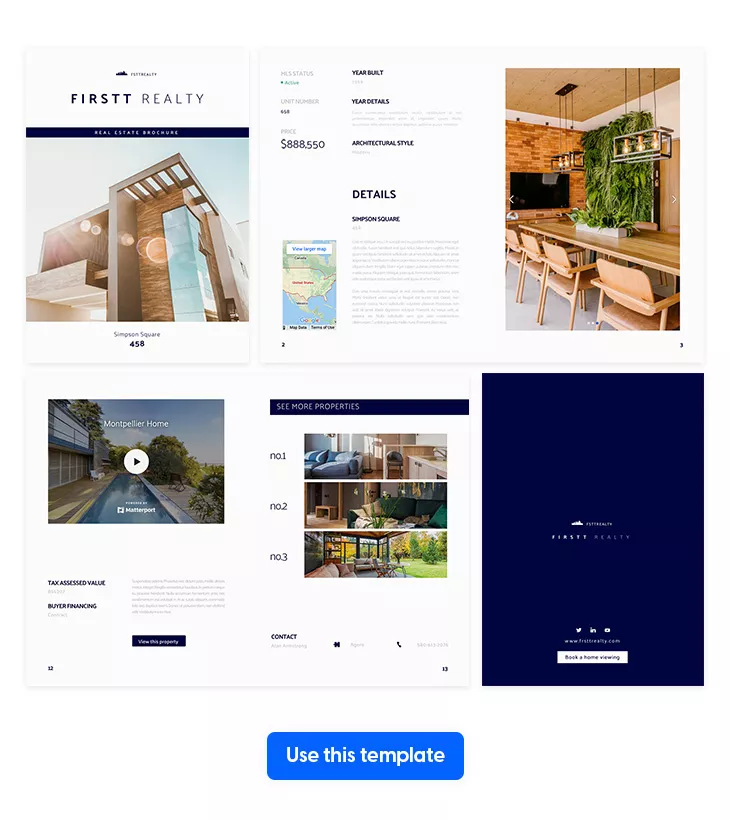 If we take a look at this real estate smart brochure; we can see how perfectly a photo slideshow would help display a property. You can even use a pop-up frame for this slideshow, adding more dimension to your publication, while keeping everything spotless.
4. Nonprofit: Brochure for a Cause
For a nonprofit brochure, the quality factor truly makes a difference in convincing people to donate to that cause. It shows professionalism, it clearly expresses the need for that donation, without being too insistent.
Just like in this interactive nonprofit brochure template; which is fully editable, you can add your own videos and photo slideshows. This helps to better engage with your audience by appealing to their emotional side; thus increasing the chances for a donation.
5. Retail Catalog
What better publication for a photo slide show than a retail digital catalog? Regardless of the type of products you want to display in this catalog; you can use a photo slideshow to include more than one image per product. This way, your potential customers can get a better understanding of what you're selling; and be more inclined to purchase an item. Learning how to create a product catalog online is truly a walk in the park.
Take a look at this product catalog sample, spot the pages where you could use a photo slideshow. This way, you maintain the same uncluttered design, but with more elements than the original. Use this feature to present your products in all available colors and sizes, with high-resolution images.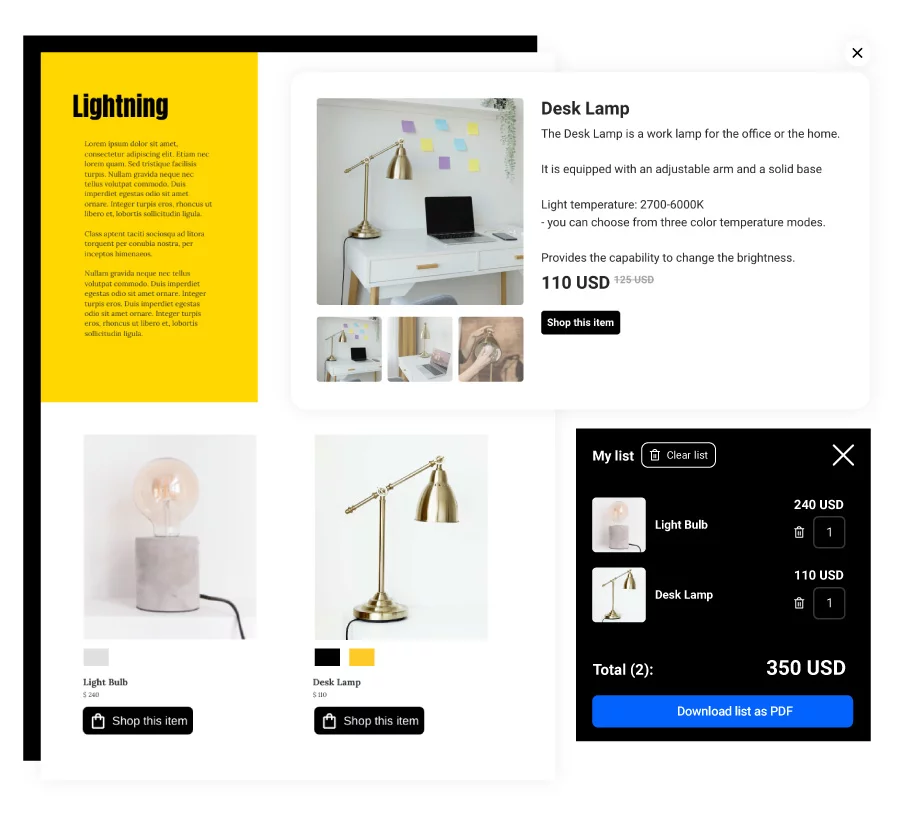 Moreover, you can enable your customers to add products to a shopping list, select the quantity they want and easily download the order list as a PDF document – hence the shopping list in the image above. Once they've selected all their desired items from your ecommerce product catalog, the only thing left to do is to send the order list by email to your company as a request! You offer them a smooth selling process and you get a clear and concise list of everything they want to order.
6. Education: Prospectus Design
It's about time to change the old feel and look of a university prospectus with this design, made with Flipsnack. Create a digital and interactive prospectus which potential students will read and want to apply for admissions. The interactivity feature includes: short videos from the principal presenting, links to helpful resources and lead forms for further questions.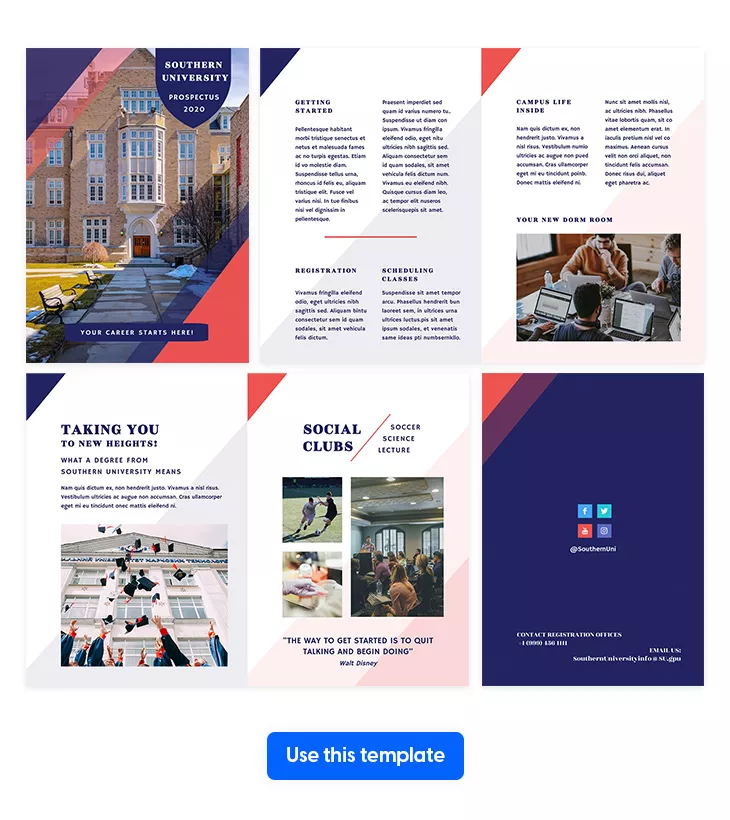 Complete this layout with a photo slideshow, with images from recent trips, workshops, extracurricular activities; anything your school organizes to diversify the routine. You can include this slideshow as is, on your desired page or by hiding it in a pop-up frame; placed on a single image. For more ways to enhance your university publications, enter our Design Studio and discover other digital university templates!
7. Medical: Doctor's Office Brochure
When looking to promote your newly opened doctor's office, a well-made brochure can come in handy. In creating your reputation, your patients need to know your staff, your rates, and the values behind treating each individual.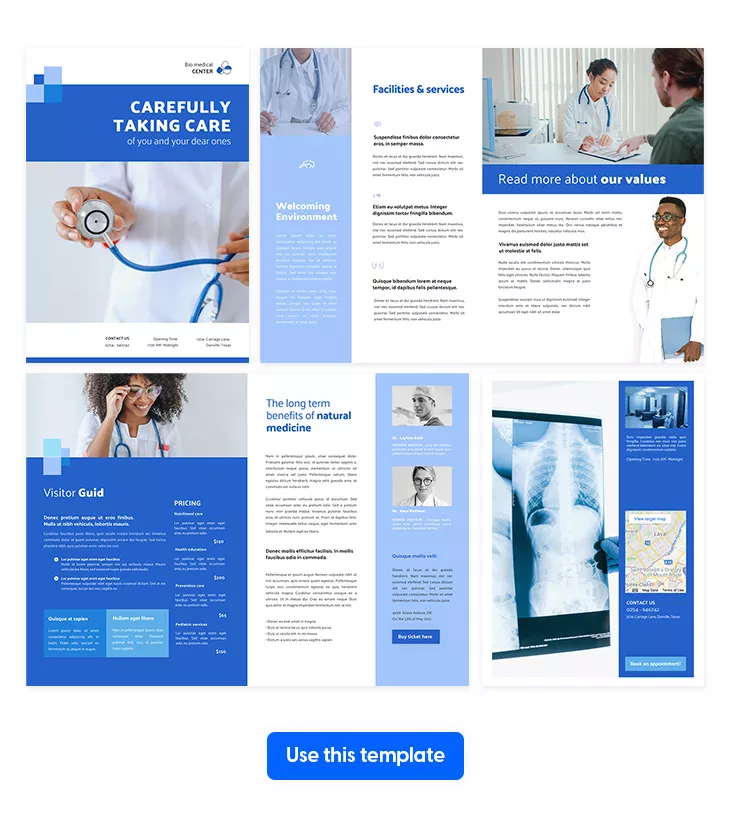 This interactive medical brochure template allows you to fully personalize it for your own needs, using Flipsnack's Design Studio. Add short videos introducing yourself, and the office; so you have better chances at gaining your viewers' attention and later on, their trust. Include more than one picture using a photo slideshow for an office tour; or when presenting your staff, with their qualifications.
8. Lookbook: Fashion Design
What a great starting point this kids fashion lookbook template is! It has everything you need to create a stunning lookbook, basically a personalized publication, which will turn your viewers into paying customers. The key is having high-quality, strong images, which should be placed at the beginning and the end of your lookbook.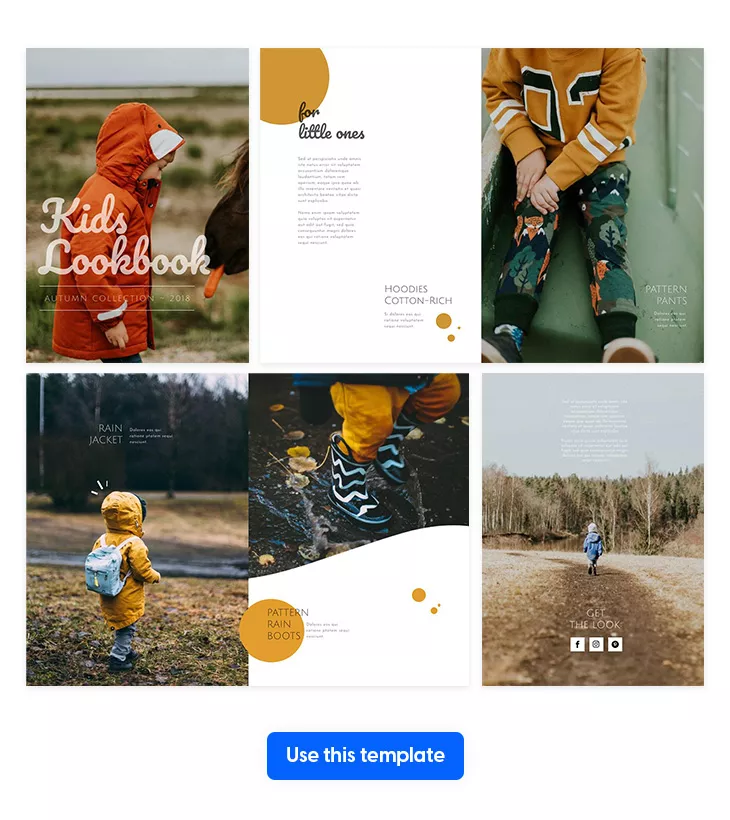 Images are the start of the show in a lookbook; so if you already have a high-quality photoshoot done, make great use of a photo slideshow. This way, you won't have to worry about choosing the best 2-3 pictures; but can add up to 10 images per slideshow. How cool is that you can show your viewers your new clothing line for the upcoming season; just like on the runway! Once everything is ready, share this fashion lookbook template online by embedding it on your website.
9. Magazine: Health and Lifestyle
The last few years, digital magazines have completely revolutionized the design of a magazine, as we used to know it. Everything starts with the cover of a magazine, so make sure you pay careful attention to it. One look at this lifestyle magazine and you will be just as convinced of this reality, as I am. Interactive elements can be added to it, to increase your readers' engagement. Such elements are: short cooking videos, clickable buttons for registering at an event, and social media buttons to grow your community.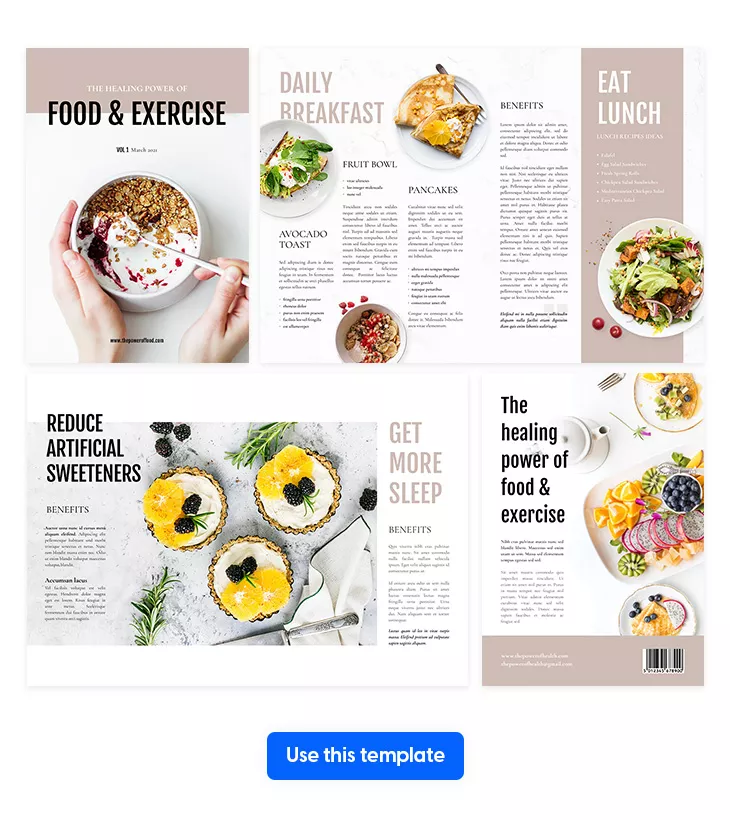 The cherry on top is a photo slideshow, which can be personalized, by adding up to 10 images. You can choose the desired order, and set the loop duration for the pictures. With Flipsnack, you're in the control of your magazine, from structure to implementation and sharing method. You can either opt for a private or public share, depending on your needs.
10. Photo Album: Christmas Photobook
Next up is a photo album, you guessed it. This type of publication literally includes the word "photo" in it; making it the perfect context for a photo slideshow element. Send a photo album to your loved ones this Christmas instead of the old card, wishing them "Happy holidays!" in a digital form.
Rearrange or remove any element from this layout, until you end up with your desired photo album. If you want to keep it short in terms of page numbers; then simply add a photo slideshow on the selected page. Enjoy a clean design, with an auto-play loop, set at your chosen interval. Share this personalized photo album template with your family and friends via email, using the full-view link.
11. Portfolio: Photography
Say you're a photographer and you want to piece together a beautiful digital portfolio for future customers. Creating a portfolio from scratch can be a tedious task; so why not opt for a digital photography portfolio template instead? There are a few graphic design tips carefully put together for you, which are easy to incorporate into your publication.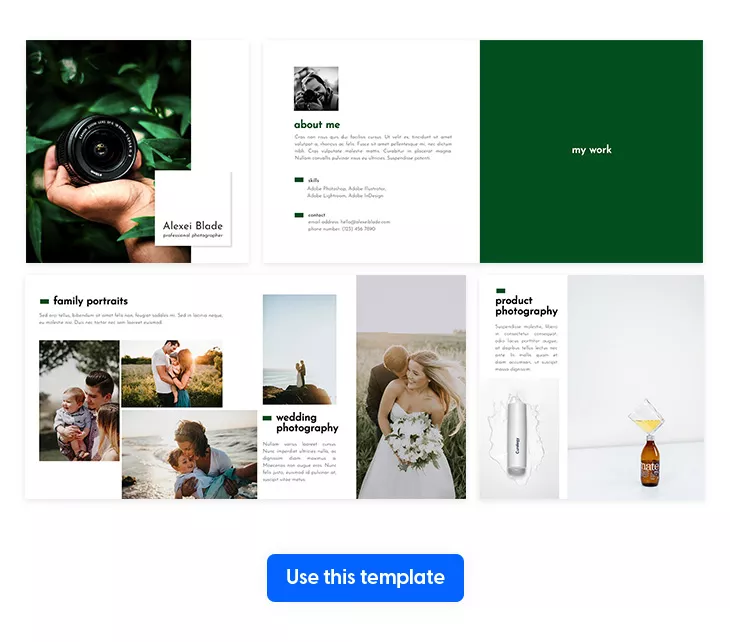 Describe yourself, as a photographer, in a professional manner by maintaining the clean layout of this template, with the help of a photo slideshow. Your stunning creations deserve to be displayed in full size, with no compromises to their original form. This is exactly what a slideshow does, allowing you to add 10 images of your choice; with plenty of space to spare for the important information.
Some last thoughts
With all that being said, what if you started designing your own publication today, enhancing it with a photo slideshow? Start from one of the templates above to create a personalized publication for your desired audience.
Flipsnack helps you enhance your digital flippable publications with interactivity; so you can increase the engagement of your readers, while keeping the design uncluttered. It's that easy to elevate your digital publications, with no design skills whatsoever.