How to make a stunning travel brochure?
Wanderlust. This must be my favorite English word. And it has to do with traveling.
There is just something so magical about traveling, discovering new places, wandering down the streets of a new city you're just discovering and meeting new people.
And it isn't just me, it seems like tourism and the travel industry has grown exponentially in the past years. People are more dynamic than ever. I guess we're all curious to explore this big, big world.
So, whether you're running a travel agency, you're an independent travel agent, or just promoting your own touristic attraction, travel brochures are a great promotional tool.
Here's a complete travel brochure guide:
How to make a travel brochure in 5 easy steps:
Upload your PDF or design it online using Flipsnack
Pick stunning images
Include relevant recommendations
Stick to a color scheme
Publish your brochure, share it online or print it
Traveling brochures should include enticing designs and photos. This is the perfect combo to express emotions, the desire to travel and most importantly, the excitement of going on a new adventure.
Upload your PDF or design it online using Flipsnack
When working in the business of tourism and travel, competition can be fierce. Helping people get the best vacation they can afford is a hard job. This is why designing a travel brochure will work to your advantage, but printed brochures are not enough anymore in order to attract all the potential clients.
With Flipsnack, you can generate a URL link for your PDF brochure and get more exposure by sharing it online.
Here you can view an embedded version of a beautiful travel brochure made by Lux Resorts.
However, you may not have that much experience in this field, or don't have an in-house designer to take care of this. Worry no more, with Flipsnack you can design your own travel brochure using one of our travel brochure templates.
Using Flipsnack, you can choose a travel brochure template that best fits your destination. Simply edit any travel brochure template, customize it to your needs and click save. Download it as PDF and print it or simply share using the embed code. Quick and easy!
Except for design and typography, a good travel brochure should include stunning images. So, I would suggest starting with photography. Follow this travel brochure example: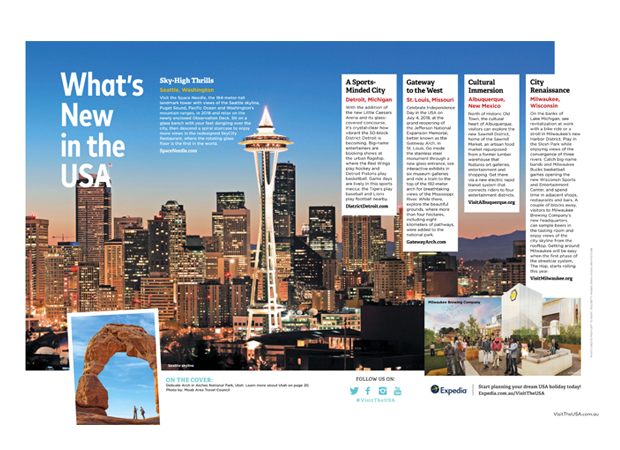 Travel brochure from Visittheusa.com
It's got enough text, so it's informative and, most importantly, the images are stunning and recognizable. The amazing Seattle skyline at night. 
PRO TIP: Use a powerful image as your background and add white text columns overlaid to make things more interesting.
Another useful tip to make your travel brochure more appealing is to add images of people having a good time. This way, your customers can easily imagine themselves in that destination.
Also, the text (copy) of your travel brochure has to be descriptive. It has to paint a clear picture of the place where you're inviting your readers.
PRO TIP: You don't have a lot of room for text, so your copy needs to be excellent.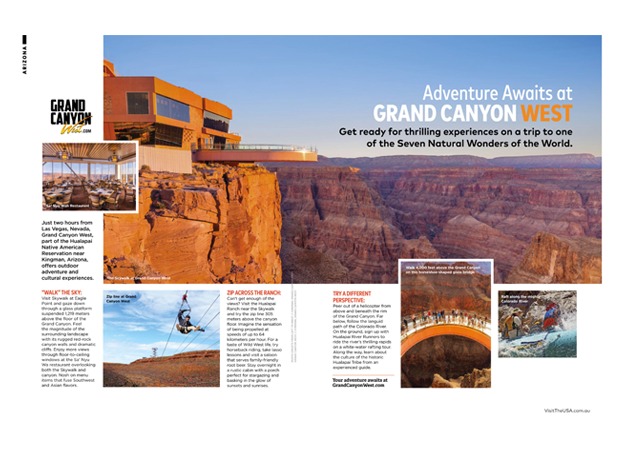 Let readers imagine their experience. Try to transport them to your destination. Invite them over to try out new experiences.
A perfect example of good copywriting (image above):
Can't get enough of the views? Visit the Hualapai Ranch near the Skywalk and try the zip line 305 meters above the canyon floor. Imagine the sensation of being propelled at speeds of up to 64 kilometers per hour. For a taste of Wild West life, try horseback riding, take lasso lessons and visit a saloon that serves family-friendly root beer. Stay overnight in a rustic cabin with a porch perfect for stargazing and basking in the glow of sunsets and sunrises."
Instead of saying "you can visit" or "try to imagine", I'd recommend using present tense. "Visit" and "imagine yourself". This will immediately transport the reader into that scenery.
Include relevant recommendations
Besides from appealing images and design, your travel brochure should be loaded with reliable information.
Example: If you're designing a city travel brochure, your readers would probably want to read all about the best instagrammable food and coffee shops. This is why you should recommend the best, most interesting restaurants, coffee shops and pubs out there.
A great resource when it comes to free images is Unsplash. However, for added authenticity, I'd recommend hiring a professional photographer to capture the charm of your destination.
This image from Unsplash is the perfect example. It shows a girl enjoying her coffee while taking a photo of a public market center in Seattle. Instagrammable, right?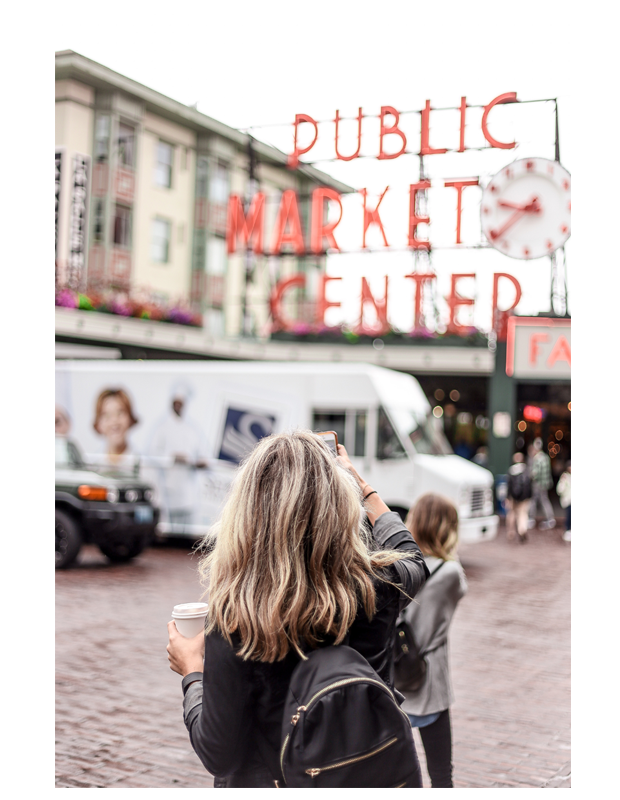 Or this beach in Manhattan: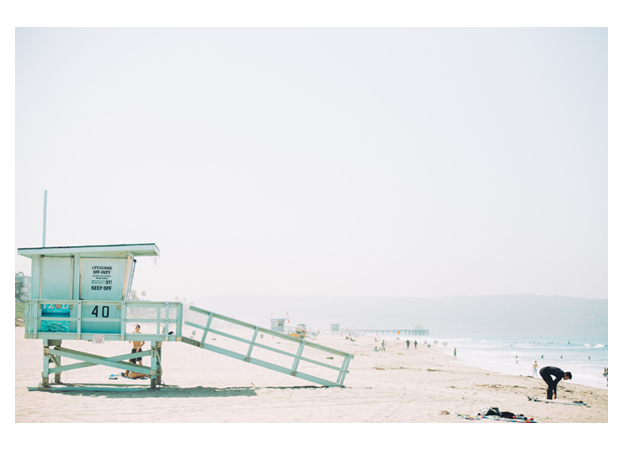 Consider including some of the following information in your travel brochure:
Location
Summary
Climate and expected weather conditions by month
Outdoor activities
Music concerts and festivals
Museums and theatres
Means of transportations
Best restaurants and coffee shops
After choosing your images carefully, make sure you select a color scheme for your brochure.
When it comes to designing your own travel brochure, the sky is the limit. Follow the example below:
It's got plenty of turquoise images of beaches with clear blue water and therefore, the designer integrated these colors perfectly all throughout the brochure design.
Well known fact, blue is one of the calmest colors. It communicates peace and tranquility. So, when advertising beach resorts or hotels, you may want to use lighter shades of blue to send the right message with your brochure design.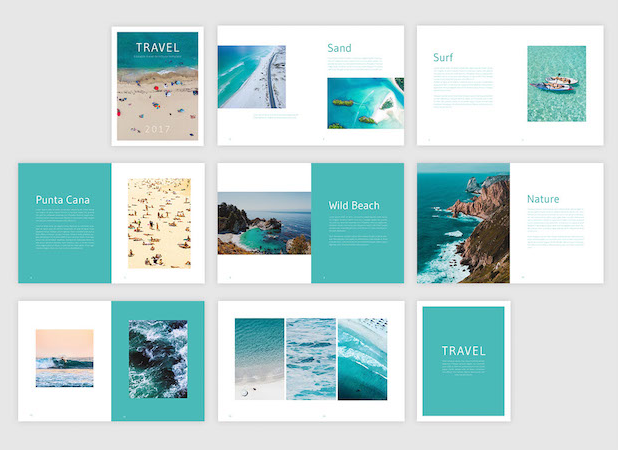 More on how do colors affect purchases in this infographic from Neil Patel and Kissmetrics.
Publish your brochure, share it online or print it
Once you're done designing your travel brochure, you can simply publish it online and share it with the entire world. Or, reach your customers directly through email marketing. Yes, you can share your travel brochure directly via email, on social media or embed it on your website.
Also, if you're thinking about printing your brochure, we made sure that your work looks just as great printed as it looks digitally.
Awesome, right?
Ready to design your own travel brochures?