Convert PDFs to HTML5 flipbooks in 6 easy steps
Until the personal computer era, all documents were printed and stored in folders on bookshelves. Now, the documents are digitized as HTML5 flipbooks and the digital storing space has known great innovations as well. Everything that used to take up a room's space can now be saved on a small partition of a hard drive or in the cloud. This makes our work easier than ever.
First, there were the Word processors and then the e-books. However, the PDF format managed to revolutionize the way we read, store and share e-documents. In this article, I will show you that things are about to change again, by converting PDF to HTML5. For now, let's take it one step at a time:
What is the PDF document?
The Portable Document Format is "a file format used to present and exchange documents reliably, independent of software, hardware, or operating system".
The PDF was introduced in 1992 by Adobe's cofounder, John Warnock. He wanted to develop a new type of document format, which will look identical on any platform or computer. Regardless of what operating systems or programs are installed, the document was designed to work the same on any device. His idea proved to be successful and soon, almost everybody started using PDF documents instead of other file formats.
In 2008 Adobe released PDF as an open standard. Since then, it seems that it was almost universally adopted as the main format for electronic documents and books.
Documents available in .pdf file format:
How to create PDF documents?
Most of the word processors available today, including the free ones, have PDF saving capabilities. This means that you can create or save PDFs out of all documents you edit with a word processor.
Also, most of the scanning software has the capability of saving not only as images but also as PDF documents. They will do it independently however, which means you have to merge all those images into a single PDF file.
What is HTML5?
I am sure that over the past few years, you've heard every once in a while people talking about HTML5. If you are not a web developer however, you might wonder what is with the big fuss around this standard and why is it better than the previous versions?
Well, HTML, or HyperText Markup Language is the language that describes what web pages should look like. In other words, it is the most important element of the World Wide Web. HTML was developed in the early 1990s and since then, it was updated several times in order to meet the requirements of the expanding online market.
However, there were constant issues with how the different browsers were able to display websites. On many occasions, web developers had to adapt their code and rewrite it many times before launching a web page, due to the incompatibility of plugins and browsers. Why did this happen? Well, as a standalone language, HTML was able to display only static pages. At the same time, there was a growing demand for additional web features and thus, HTML has been coupled with various players such as Silverlight, Java or Flash.
Everything changed however with HTML5, the latest version of the language. While each new update brought more reliability and fewer problems, the fifth version came with something entirely new:
HTML5 is less dependent on plugins for functionality, it is device independent and whenever possible, scripting can be replaced by markup.
Why is HTML5 a good choice?
The HTML5 language manages to solve most of the issues raised by the previous versions. We know that websites will be more compatible with different browsers and that they will have better standards. Web pages should load faster especially on mobile devices, which means that they will consume less battery.
On the other hand, you don't need to install 3rd party plugins to play your multimedia content. Moreover, you won't face issues because you have the wrong version of a plugin and need to run updates. If you are a web developer, you can benefit even more, since all browsers will adhere to the same standards and you don't need to adapt your code for each one in particular.
In other words, moving from old style designs and hypertext languages to the new HTML5, feels like getting inside a flying DeLorean that gets you straight to the future. Or, like exchanging your old car with a Bugatti.
It seems strange at first but you don't want to get back, at least not without taking with you all the knowledge and comfort.
How to convert PDF documents to HTML5 flipbooks using Flipsnack
We've concluded so far that in many ways, HTML5 is better than the preceding versions of hyper text markup language. At the same time, converting PDF files to HTML5 flipbooks may prove to be a good decision should you want to give universal access to your documents or, in case you need to open them frequently on other computers than your own.
What do you need in order to make things possible? Well, you need a free PDF to flipbook converter like Flipsnack. It's a powerful tool, it helps you give professional looks to your documents and at the same time, it is available online, which makes it more accessible for people who don't want to install third party software.
Let's see, step by step, what you need if you want to create beautiful flipbooks from your PDF documents and scanned files:
Sign up with Flipsnack
You can select the free version at first, if you want to test the software before actually signing up for the premium account. The free version allows you to upload a PDF file of a limited number of pages and embed it on a web page with a watermark. Therefore, if you want to upload your entire collection, you should select a paid plan. Except for the free subscription, there are three different paid plans, starting from $12 a month, which is a very good price considering the advantages.
Upload your PDF files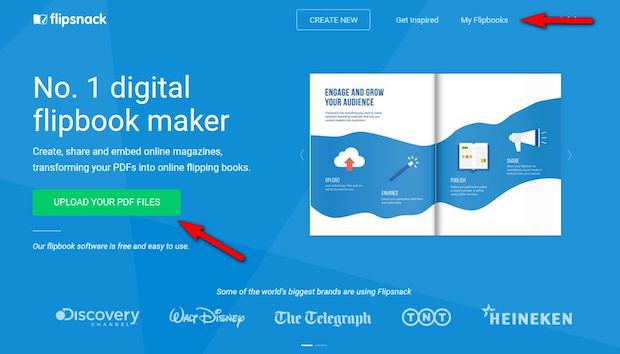 After signing into your Flipsnack account, on the main page, you have two options: Click on the Upload button or access your already saved Flipbooks. The first option is available in the left side of the screen while the second one is available in the top right corner, as you can see on the image available above this paragraph.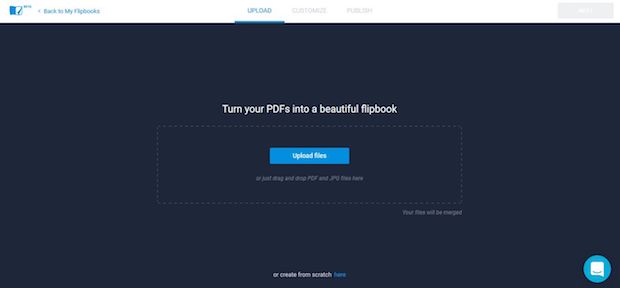 You have now entered the creation panel. The first step is to upload your PDF file or a number of JPG files. You can do it quite easily, by dragging and dropping them inside the marked area of the screen. Or, you can click the Upload button and select the local files you want to add to your flipbook. Should you choose to create your book out of images rather than documents, once you upload them, they will be merged into a single file.
Once you have finished with the upload, click "Next".
Make your HTML5 flipbook interactive
You have now entered the customization screen. Here, you can choose the look of the widget, the layout, the background colors, and tooltips language. Click on the "Editor" button available in the lower area of the screen, in order to access the editing interface. From here, you will be able to add texts, links, images, videos and shapes to your flipbook.
You can also add links to your next or previous pages, as well as a "go to page" link from the same editor view.
However, there is also an "Interactions" menu, which I consider to be the best addition to Flipsnack, making it a great digital publishing software. From this menu, you can add call to action buttons on your pages such as a "add to cart" button or links to your social media accounts.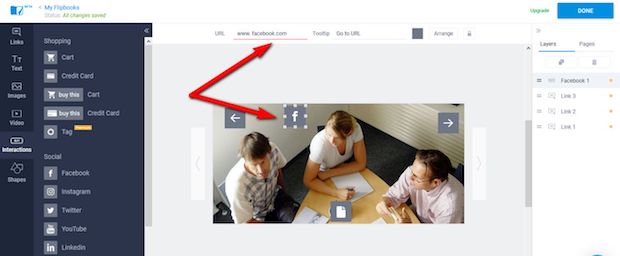 Drag and drop your interaction button and introduce your desired web address into the form available above your page, as you can see in the image above.
Customize
When finished, click the "Done" button available in the top right corner of the screen. You will return to the customization screen. If everything looks ok, click "Next".

If you want to add extra features, get back to the tool kit available on the left of the screen and proceed to edit your flipbook even further.
Publish it as public or private
Finally, you got to the "Publishing" view. From here, you can add a name and a description to your flipbook. Then, hit the "Publish now" button.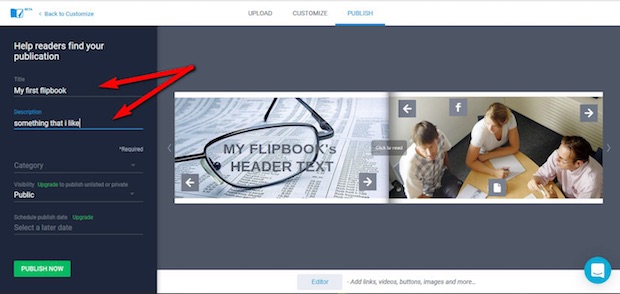 Share it with the world!
When it's done, simply display the flipbook on social media or send it via email. Also, you can sell your PDF files online. Sharing your flipbook with your targeted audience has never been easier!
Why should you convert PDFs to HTML5?
We've learned that HTML5 is the new standard for browsers and web sites. It has fewer cross platform compatibility issues and it supports more than the classic HTML static page you were used to when dealing with previous versions. However, you should ask yourself: Why would I convert a PDF document into an HTML5 format? In order to answer this question, I will consider four basic advantages:
1. Direct link
Let's say you are a teacher and you have all your courses saved as PDF files. You share them with your students and give them the assignment to read these courses at home. However, some of them don't have a PDF reader installed and maybe, some of them don't even own a computer. They go to the library and try to read your course on a public computer which might not have a PDF reader installed and only "guest" access for users.
As a teacher, you don't want your students to find excuses for not doing their assignments, isn't it? Well, you can convert PDF to HTML5 and give your students only the link to your course. A course that can be accessed from any computer, regardless of what operating system is installed or the plugins that were added to the browser. You will get no more excuses and at the same time, you will know that your course is accessible to everybody.
2. Online access
For a second example, let's say that you are a spokesperson or a professional that is invited to speak at different meetings, conferences or courses and that this happens frequently. You have your own documents and digital presentations and you carry them on a thumb drive to every venue you are asked to speak at.
On many occasions, you don't have to carry a computer with you, because you rely on the computer available there, which is already plugged in with a projector. How many times did it happen to find out that you need to install third party software? Well, if you save your PDFs and presentations as HTML5, you don't have to worry about these issues. You need an internet connection and your sign-up information to access the cloud storage your courses are stored in.
This one of the reasons why 59% of magazine readers say the digital edition is most important (via Mequoda).
3. Premium customer experience
Let's say, you have an eCommerce website or a local store with a website. You want to publish commercial offers and product catalogs from time to time, so that your clients will be informed about your sales and promotions. You can create dedicated pages for these kinds of offerings or, you may publish PDF documents with products and sales.
On one hand, a dedicated page is accessible but nevertheless, less attractive than a PDF document or a Flash presentation. PDFs however are not supported by all browsers while Flash presentations may overload the computer processor or your server. Keeping these files as HTML5 flipbooks may ease your clients' access to them. At the same time, it will add a great aesthetic visual effect to your material. Also, you can embed the flipbooks into your website without any effort.
And yes, the data will be accessible from any browser regardless of the device the customer accesses your website from.
4. Readers can download your digital magazine
My fourth example takes us to the world of magazines. Let's say you have a web-based or print-based magazine. At the same time, you want to also publish a digital magazine, to give your readers a sample of your printed version or even a full version of your latest issue. You can put the magazine for download as a PDF file but you can also make it available to all your readers as an HTML5 version available online, easy to access and view from the browser.
Thus, they can read it and share it further, on social media accounts, with friends and contacts. PDF and HTML5 versions can be both available on the website. However, the latter will be the most viewed online, while the first one will probably be the most downloaded one.
Conclusion
The PDF format is still the most popular file format for documents and books because it's portable and accessible from different operating systems without losing its properties or styles.
However, if you want to have access to your files on computers that don't have a PDF viewer installed or, to create animated flipbooks out of your images without installing a PDF creator, you might want to think about saving them in another format. I recommend HTML5 because it's independent and accessible from any computer. You don't need third party viewers, plugins or other office tools.
All you need is a browser and an Internet connection. Moreover, you can save all your documents easier by working with Flipsnack and store them in your account, embed them into your webpage or sharing them with friends, colleagues or students.
What do you think about HTML5 flipbooks? How useful do you think they may be, not to be forced to rely strictly on third party software? Did you try Flipsnack before? How do you find it?