Why you should convert PDFs to HTML5 flipbooks
The popularity of PDF files is uncontested, as they have been the go-to format for digital documents and publications for a few decades. However, regardless of their popularity, they have a few setbacks, and just in any other field, it is certain that something better will eventually come up.
PDFs make no exception, and HTML5 flipbooks are coming strong from behind. Nowadays, people are interested in more than static documents. They are interested in interactivity, easy sharing options, and security.
If this sounds interesting and something that might interest and benefit you, then continue reading to find out why you should turn your PDF file into an HTML5 flipbook.
What is the PDF document?
The Portable Document Format was released by Adobe almost 30 years ago, and its main advantage is that people can use it regardless of their operating system and devices. For example, a PDF file on Windows looks the same as on Linux. It looks the same on a laptop as on a mobile phone. And unlike documents such as .docx, you can open a PDF file without requiring the installation of certain software. Usually, you can open a PDF file directly in the browser. Suffice it to say that it has many advantages over similar documents.
Needless to say, it was successful, as PDF is the main format for electronic documents and books. Businesses and people alike use them for documents such as
However, PDF files are mainly for viewing purposes, not editing. They might have some form fields where you can add some text, but that's it. Making edits directly in the document requires additional programs, but more on that subject later.

What is HTML5?
HTML or HyperText Markup Language is the language that describes what web pages should look like. In other words, it is the most important element of the World Wide Web. HTML was developed in the early 1990s, and since then, it has been updated several times to meet the requirements of the expanding online market.
However, there were constant issues with how the different browsers could display websites due to the incompatibility of plugins and browsers. Why did this happen? Well, as a standalone language, HTML could display only static pages. At the same time, there was a growing demand for additional web features, and thus, HTML has been coupled with various players such as Silverlight, Java, and Flash.
However, everything changed with HTML5, the latest language version. While each new update brought more reliability and fewer problems, the fifth version came with something entirely new: HTML5 is less dependent on plugins for functionality; it is device-independent, and scripting can be replaced by markup whenever possible.
Why should you convert PDFs to HTML5?
As mentioned, HTML5 has fewer cross-platform compatibility issues and supports more than the classic HTML static page you were used to when dealing with previous versions. It is improved, but let's look at its advantages compared to a PDF file.
Interactivity

Accessibility

Reporting

Security
You get these advantages when converting your PDF files to HTML5 flipbooks in Flipsnack. Flipsnack is an online publishing platform that allows users to create different digital publications. In Flipsnack, there are three main ways of creating a digital publication: designing one from scratch, starting with a template, or converting a PDF. Given this blog article's title and focus, the latter option is our main focus.
1. Interactivity
When it comes to digital publications, interactivity is key. Regardless of the type of publication you have created, interactivity offers a more engaging experience for your readers. Whether we are talking about product catalogs, real estate listings, or even school presentations, an interactive feature can't hurt.
Unlike an HTML5 flipbook, a PDF file is limited in interactivity. When you create a PDF file, you can add links, videos, and checkboxes, and that is about it. However, with an HTML5 flipbook, like one created in Flipsnack, you can insert many other interactive elements into your documents: shopping lists, product tags, charts, social media buttons, tables, photo slideshows, and more. In addition, Flipsnack is the fastest PDF converter on the market so that you can turn your PDF into an interactive document in no time.
2. Accessibility
To take full advantage of the publications you have created, it is important to reach your target audience easily. From this point of view, an HTML5 flipbook is superior to a PDF. You can embed the flipbook on your website, so your customers can easily access it. This way, they know that if they want to read your latest publication, they can visit your website and find it there.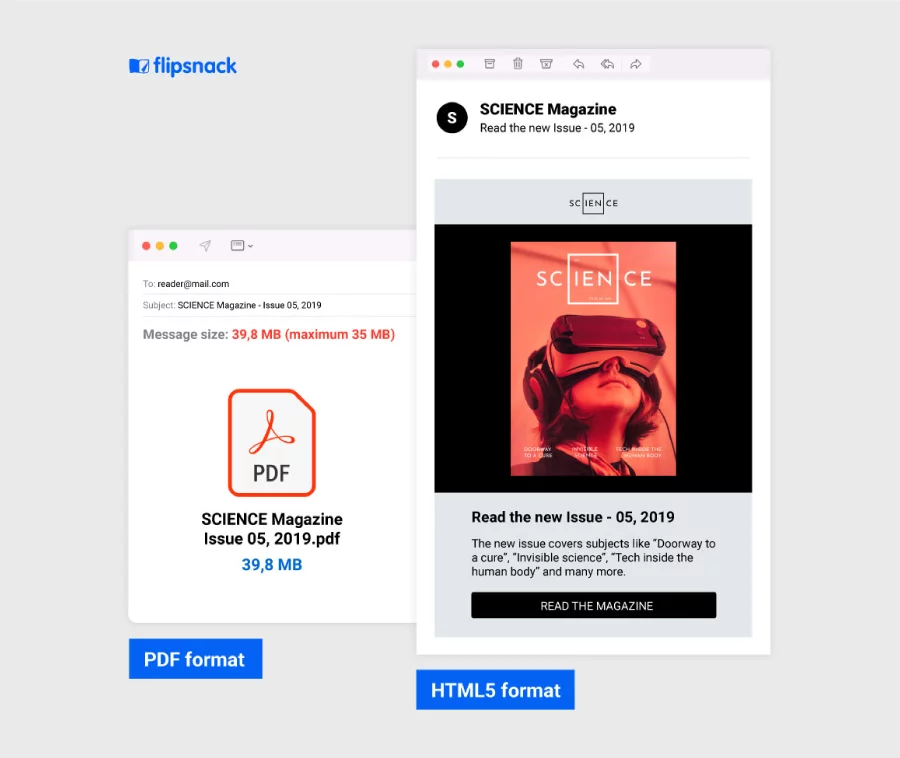 However, you might not want to embed the document on your website. You might want to share it in an email newsletter. Sharing a PDF via email requires attaching the document to said email. There are a few problems with that. People are reluctant to open email attachments as they are afraid of cyberattacks. They are also reluctant to download attachments because it is one extra step that they have to take. Also, you might not be able to send the email because the file size is too large.
With an HTML5 flipbook, you don't need to attach anything. You simply insert the link into the message. You can share the HTML5 flipbook just as easily via direct message or social media as email.
3. Reporting
Knowing how your customers interact with the publications you create is important. It allows you to make the required changes to offer your customers the best experience. A PDF file doesn't allow you to do that. You simply share it with your audience, then hope for the best. There is no way to know how many views your publication had, how many minutes someone spent on it, or how many times someone downloaded it. All of these statistics are essential.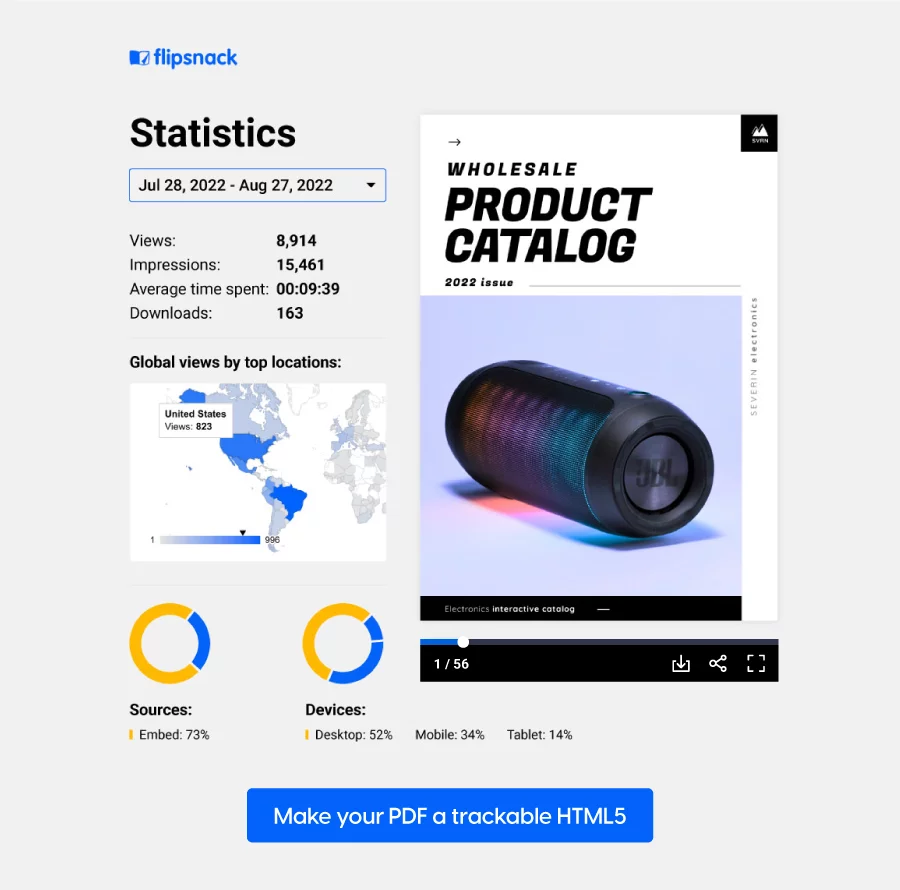 You can keep track of all the above statistics by converting your PDF into an HTML5 flipbook in Flipsnack. You can also keep track of the devices, sources people have used to open them, and their location. On top of that, with Flipsnack, you can keep track of individual page statistics. For example, you can see how much time someone has spent on each page, how many clicks each page has, and more.
4. Security
There are times when you might now want to make the documents you have created public and share them with specific people only. Sure, you can upload a PDF file on your website, but it will be accessible to anyone with the link and search engines. Files such as internal communication documents should be kept private for obvious reasons.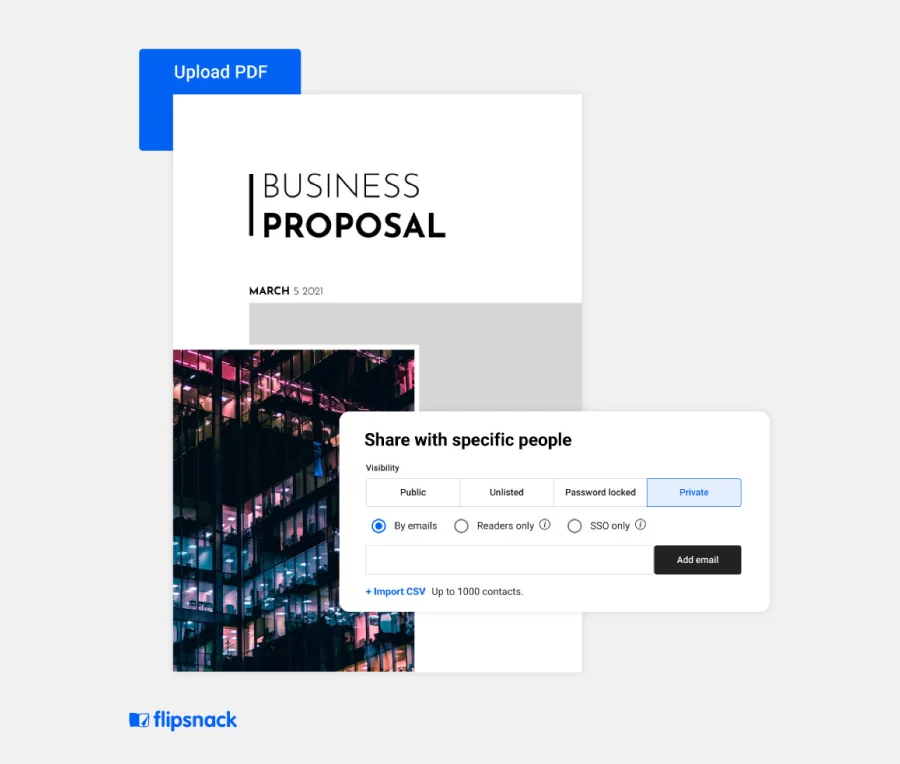 In this case, you need a secure way of sharing pdf documents. Maybe set their privacy to unlisted, meaning the search engines won't index them. In this case, to access the file, you will need to link to it. To make flipbooks even more secure, you could password-protect them. In this case, the link alone won't suffice. You will also need to know the password. To take things even further, for extra security, share the documents with the employees via e-mail. Whichever option you choose for protecting your documents, a password manager will help you achieve that high level of security your important files need.
Multiple options exist when you use HTML5 files and create them in Flipsnack.

What PDF publications should you convert into HTML5?
Since I've mentioned some of the advantages HTML5 flipbooks have, let's see some examples of PDF publications that are suitable for such conversions and sometimes even recommended:
Many websites and companies use brochures for marketing purposes. In fact, brochures are traditional marketing materials, and in recent years, they have transitioned to the digital world.
You can create beautiful brochures and send them to your clients via newsletters or on your website to advertise sales and new items or describe your business in a professional magazine-style format. Designing a brochure properly is important, but you can use some brochure templates as inspiration.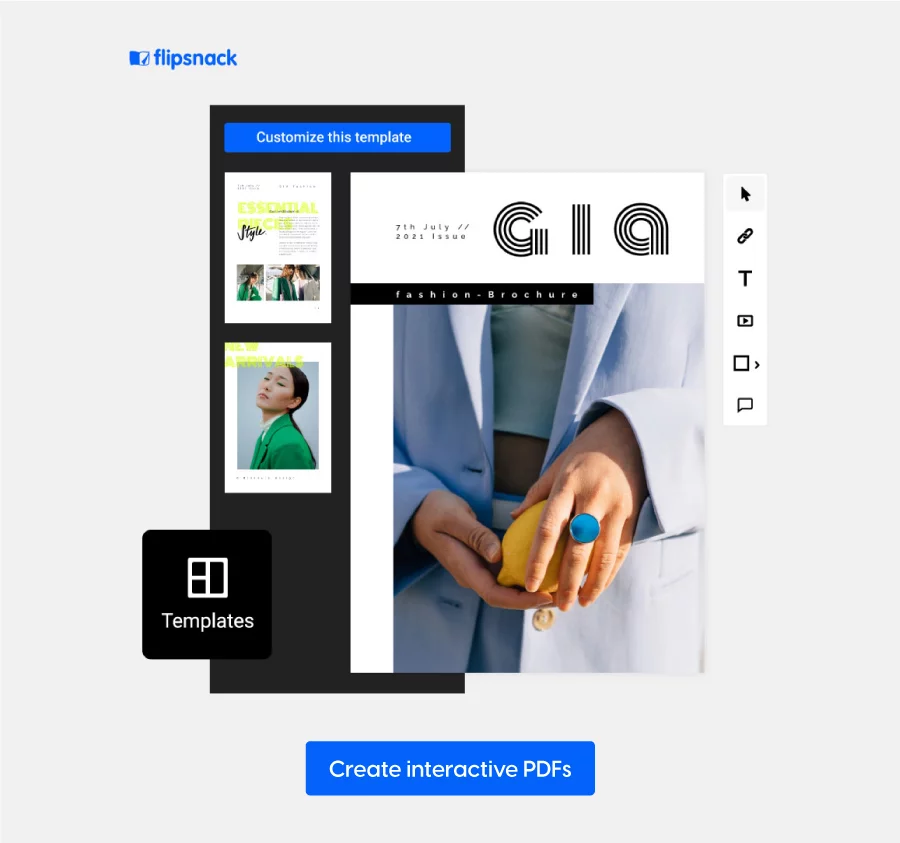 Flyers are excellent promotional tools. They work wonders when promoting an event, product, or service. For example, if promoting an event, you can embed the map where the event takes place. If promoting a product, you can include a link to the product so that users can gain access to additional information about the product.
On the one hand, we have websites that issue digital magazines for their audiences and, on the other hand, printed magazines and newspapers that publish parts of their issues or full issues on their websites. Sure, you can publish a magazine through several articles on a blog. Still, to give your audience an experience similar to a real magazine lecture, you must publish a PDF format, a Flash adaptation, or an HTML5 version. Of course, the best choice would be the HTML5 flipbook.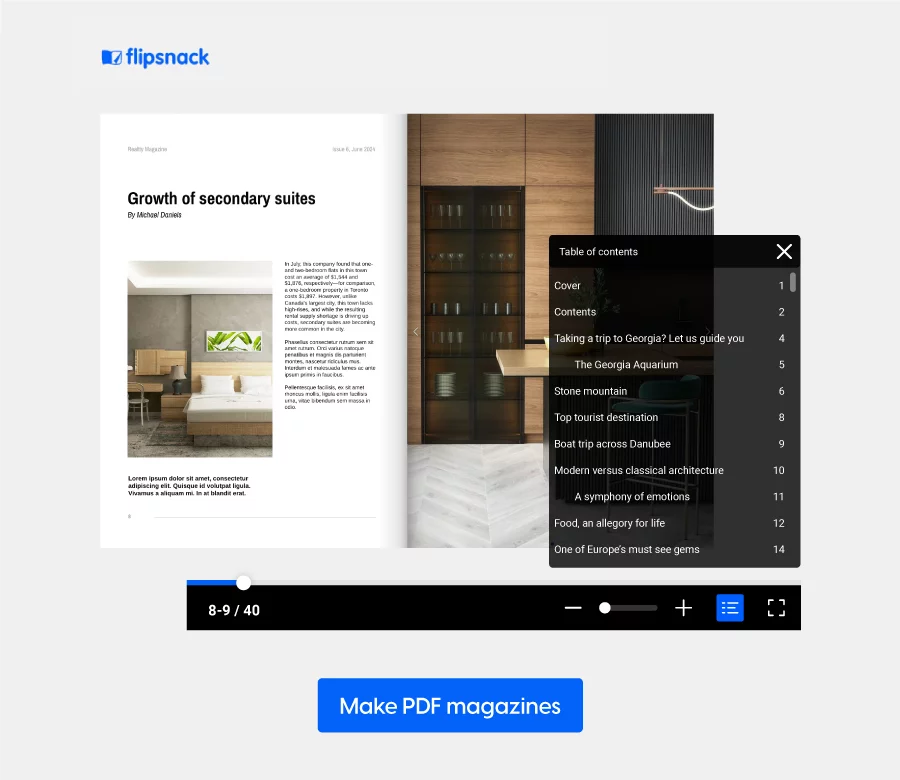 Digital magazines eliminate printing costs, and they are eco-friendly. When it comes to reading, they are more accessible, as you can include a table of contents, which makes it easier for the reader to reach the desired page. Design-wise, there are many magazine templates to choose from, and you can easily create your magazine.
Local stores and eCommerce websites share product catalogs with their customers. Some create weekly catalogs, while others keep their customers informed only when they change the stocks or have something special to offer, such as sales or premium products. You can also convert these files into HTML5 flipbooks for more readability and interactivity. Flipbooks are great alternatives to PDFs mostly in terms of sharing options, tracking what happens with them, who see them, how much time is spent reading them and enhanced security and privacy.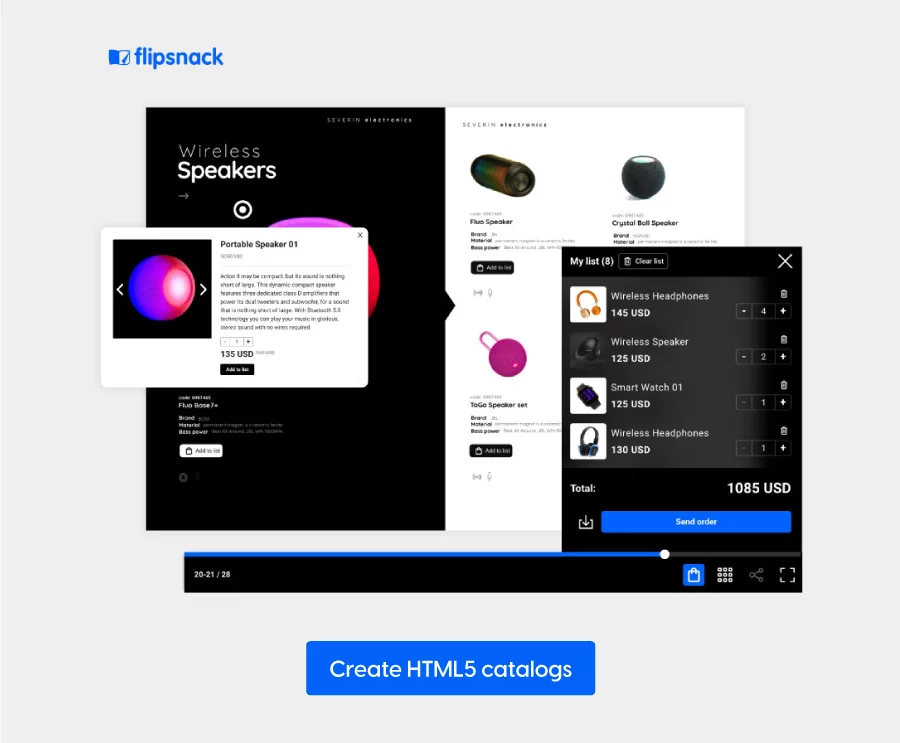 Product tags and captions work great with a product catalog. You can use both to offer extra information about the products you intend to sell. Image slideshows are also an excellent choice, as you might want to include additional images for each product. Allow your users to create and email wishlists directly from the catalog with the help of shopping lists. There are many possibilities to make your catalog more engaging, thus ensuring that every customer can interact with your catalog and make a purchase based on your offer.
How to turn PDFs into HTML5 Flipbooks in Flipsnack
I've concluded so far that, in many ways, HTML5 is better than PDF. I've offered information about the features HTML5 flipbooks have, so let's now look at how to turn your PDF files into HTL5 with the help of Flipsnack, the best and fastest PDF converter on the market.
Needless to say, to use Flipsnack, you will need to have a Flipsnack account. You will then need to
1. Upload your PDF
Once you are signed in, the first thing you need to do is to upload your PDF file. You can upload a single file or click on the dropdown menu to upload in bulk. When uploading multiple files, they will merge into a single file unless you want to upload them as individual files. We encourage you to test the feature, as we offer the fastest PDF conversion speeds on the market.
2. Make your HTML5 flipbooks interactive
Once you have uploaded the file, you can customize its appearance and set different branding settings. You can choose the widget's look, layout style, background colors, tooltip language, and more.
You can also directly edit the file in our Design Studio without using a 3rd program. Here is where you can add texts, links, images, videos, and shapes to your flipbook. You can also add links to your next or previous pages and a "go to page" link from the same editor view.
In the Design Studio, you can make your publication interactive with the features I mentioned earlier in the article. You can embed iframes, include product tags, captions, links to your social media profiles, and so on.
3. Publish and share your HTML5 flipbooks
Once done with the editing, you can choose from the different privacy options I already mentioned. Afterward, your new flipbook with a realistic page-flipping effect is ready to be shared with your audience. Share your publication via e-mail, direct link, social media, or whatever you decide. You can even easily create your website using a WordPress page builder and integrate your HTML5 flipbook directly into it for maximum reach.

Ready to turn your PDFs into HTML5 flipbooks?
Change can be scary, but it is often for the best. Staying in your comfort zone is safe, but at the same time, it limits your progress. The same goes when dealing with PDFs. Sure, they have proven their worth, but why not try something more advanced? Something that does more than stay in the old established rules? Documents can be more than just something to read. They can be engaging and fun. So why not step out of your comfort zone, and see all the benefits an HTML5 flipbook offers?