How to increase sales with a product catalog 
All brands and businesses want the same thing in the end: sales. Everybody wants to sell as much as possible. If you're reading this, you're probably interested in this yourself, and you're looking for ideas and tips on how to increase sales.
There are many ways to optimize your marketing content for offline and online sales, but today I'll focus on product catalogs and how they can help you sell more.
Ready? Set. Go!
The era of the mail order catalog
Back in the day, when the internet did not yet exist, and the history of catalogs was just at the beginning, companies used only printed catalogs to present their products to customers. The whole process of sending the catalog, ordering, and shipping happened through the post.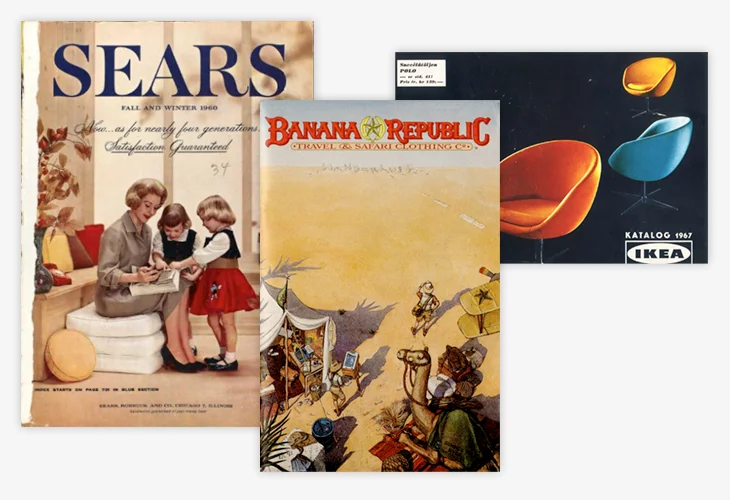 Customers received catalogs in their mailboxes, picked the items they wanted, and then sent their mail order along with money for selected items and shipping. The products were received through the post in the following days or even weeks.
These catalogs weren't much different from what we have nowadays. In fact, there are still brands that use mail orders successfully, but the buyers usually send their orders via telephone or website.
Why publish retail product catalogs
Mainly, retail product catalogs work because they help brands reach larger audiences, so their marketing messages and offers have a greater impact. This helps brands sell more. More leads = more customers. That's what happened in the golden days of mail-order catalogs and it still happens today. Nowadays, it's even easier to share your digital catalogs with your social media following or your subscribers, and it's also cheaper. Your catalog can also be shared as a PDF link with statistics… which is pretty awesome!

You reach people at home, work, everywhere. You don't have to wait for them to step into your store. Just provide all the relevant details and your products will sell themselves. You don't even need to have a physical store where people come in to buy the product. You can receive orders through the mail or through your website.
E-commerce is thriving because people love to shop from their homes – it's faster, more convenient, and often cheaper. But when all your business is online, you need to make sure people find your online store. This is where your retail product catalog comes in handy: it's the virtual window display of your e-shop and it can lure people in. You just need to make sure it looks beautiful and enticing.
How? Just read on.
7 tips that increase the sales of a product catalog:
Create a professional cover
Choose an attractive page layout
Use catchy headlines, fonts, and colors
Give relevant product descriptions
Include astonishing visuals
Take advantage of the interactivity elements
Add a shopping list that helps you sell more
Let's take these tips one by one and get into more details
1. Create a professional cover
When you create a sales catalog, you have to make sure that your front cover has a great aesthetic design. It's the first thing your audience will see. So you can imagine this will play a huge role in the selling process of your electronic catalogs, right?
Try to put yourself in the shoes of the buyer for a bit. What makes you instantly grab a product catalog? Is it the bold headlines, the colorful designs, or the professional product images? For me, I'd say it's a combination of mixed elements.
But let's get a bit deeper and see exactly what a selling product catalog's front cover should look like.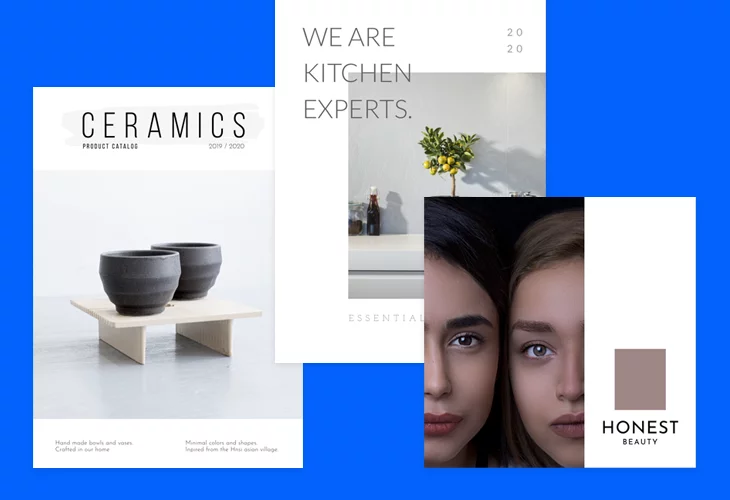 Always reflect your brand's identity
First things first, you have to design the front cover by following the branding kit your company already has. If your catalog's front cover easily reflects your brand identity, people will immediately relate the product catalog with your company. So try to maintain the brand's logo, custom colors, fonts, and photography style your brand generally uses throughout the entire design.
Speaking about logos, make sure to place yours in the left or right corner of the front cover. Make it big and don't cram it with other information. People must notice it right from the start without any difficulty.
Pick only professional photos
Second, always go for professional images, not boring, stock photos. People love to see real things, especially on the front cover of a product catalog. Therefore, associate any image you're going to use with the products you want to emphasize. Not only will it get the most attention, but people will also know what category of products will find in the following pages of your retail product catalog.
But don't stop here. Don't just place some product images on your front cover and expect to be sold out in the next few weeks. Show the potential buyers how that product will look in their homes or how it will help them achieve a luminous complexion like the front cover examples below do.
2. Choose an attractive page layout
As I previously mentioned, aesthetics are really important. So when you want to learn how to increase sales with product catalogs, you also have to think about an attractive page layout.
Most product catalogs are too stuffed with a lot of unnecessary product information and sometimes too many unrelated products. These rather confuse potential buyers instead of helping them in the decision-making process.
If you've been in this retail business industry for quite a while, I'm sure you're aware of the impact design has. An impressive page layout will instantly trigger the customers' attention, while a loaded product catalog will determine your readers to leave it in just a few seconds.
Tip: Make different product catalogs for the various products you're selling. Create a product catalog for the interior home items, for example, and another for the exterior products. Your products will complement each other beautifully, and you won't stuff too many products into one product catalog.
Depending on your selling products, you can opt for an elegant, minimalist page layout with just the relevant text or a bold color-themed one. There are many different page layouts that you can choose from. So take a look at our wide variety of product catalog templates that will help you finish the design process within minutes.
Here, I'll offer you this automated product catalog template as an example.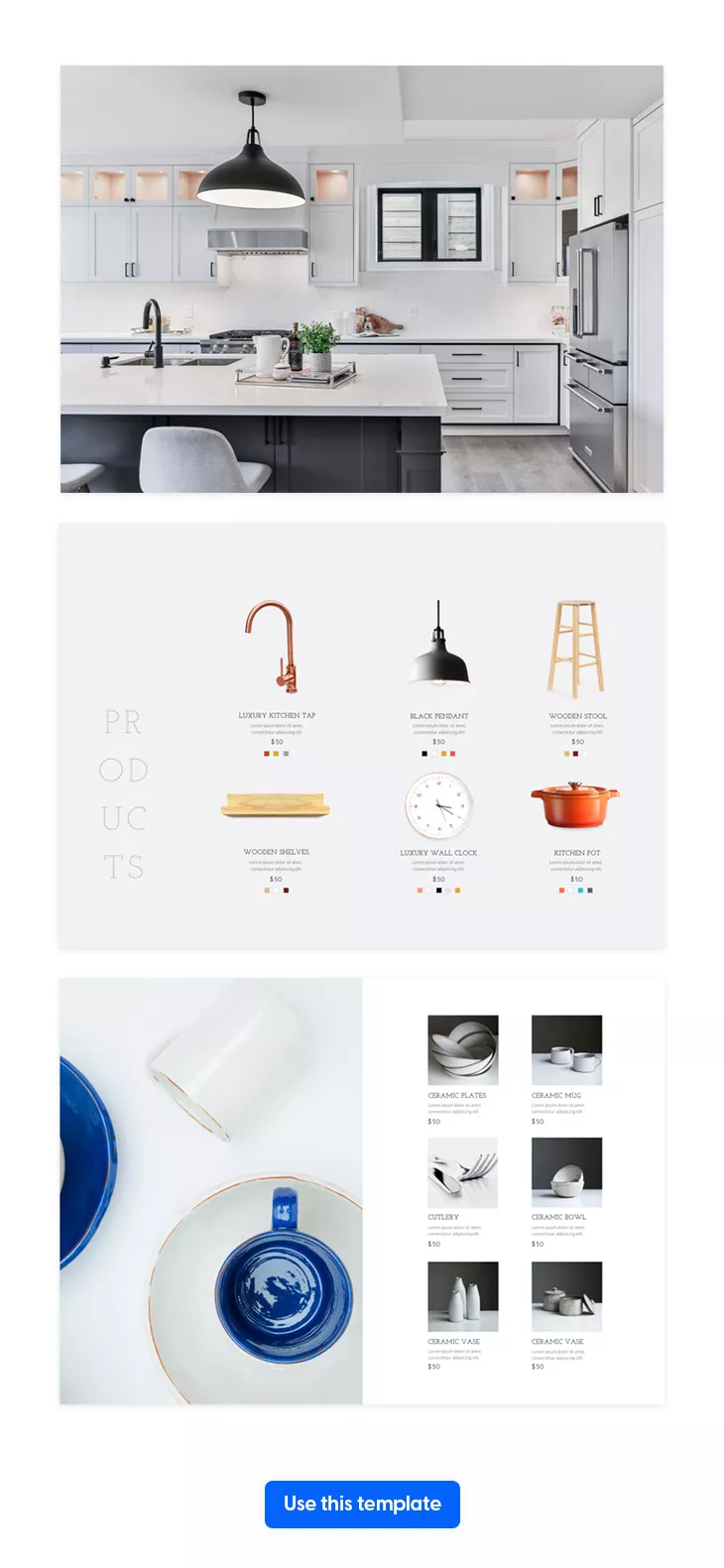 Isn't it just enjoyable to look at? It has a clean, professional look, and the page layout is well thought. It shows images with the individual products, descriptions, and interior design ideas that incorporate the products.
3. Use catchy headlines, fonts, and colors
Catchy headlines, fonts, and colors are a must when you want to increase sales with product catalogs. These elements build the brand identity and make a company recognizable.
Headlines give context, separate different categories of products, and can promote limited offers. Make sure to keep them short, on point, and attractive. If you're creating a make-up product catalog, you can write something like "Beauty tips for every lady". Or "Trust us – we are kitchen experts" if we're referring to merchandise catalogs. Here are 7 tips on writing copy for catalogs that will make selling easy. But do you know what will really make your headlines pop? The fonts you're going to use. 
There are many different font styles and you can combine them however you want. Depending on the category of products you want to showcase in your product catalogs, you can use Serif fonts or Sans Serif fonts. It takes some practice finding your best font pairing, but after a few tries, you'll get there.
Still, color combinations will help you create a theme and offer a vibe to your product catalogs. It's important to establish the colors right from the start and to maintain it throughout the entire catalog design. My advice is to always choose 2, maximum 3 colors and combine them as naturally as possible. Avoid creating a product catalog that looks like a rainbow.
This cosmetic product catalog template has them all: catchy headlines, powerful colors, and playful fonts. You surely agree with me that its design has a great potential to increase sales. Take advantage of it right away and make it yours with the help of our Design Studio.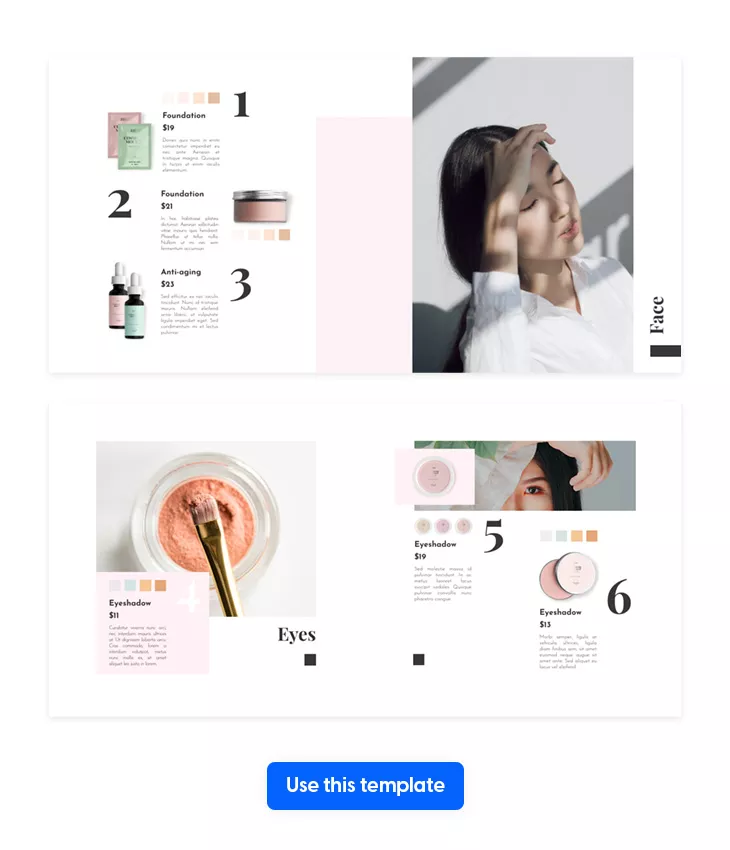 4. Give relevant descriptions
The next important thing is the product descriptions. Their purpose is to present the product's value and best features. So your product descriptions should explain the benefits of buying your products.
If you want to increase sales with product catalogs, use the product information smartly and determine people even more to make the purchase. How? By using accurate product descriptions. Present the relevant information people need to know about the goods you're selling.
Don't stuff too much information that might confuse or that has no interest to the reader. Instead of telling them where to use the product or how to incorporate it, use an image and make it even more attractive. I'll always believe that saying: "An image speaks more than a thousand words".
As equally important is for the product descriptions to be easily readable. Even though you may have detailed information about your products, try to use it on your website. Product catalogs usually have little text.
Let's take a look at the image below.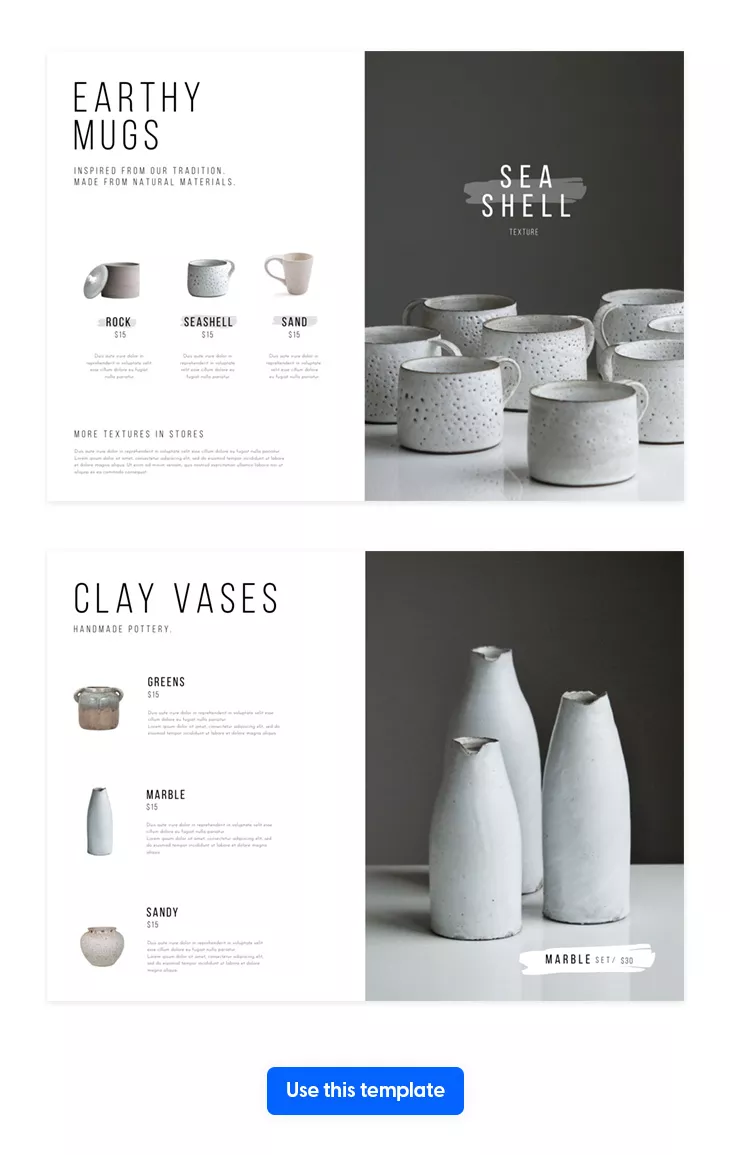 Notice the font used to describe the products is bolded, while the text with the product description is not. This is for making the text easier to read.
Also, you might figure that the price is usually placed at the bottom of products, on the right or left side, or even right on top. So make sure you don't forget to always include the price. People want to know how much something costs before making a purchase.
5. Include astonishing visuals
Another significant aspect to consider when you want to increase sales with product catalogs is to use professional photos. But, of course, you can always hire a photographer who will know the best way to capture and highlight your products.
Without visuals, it's challenging to determine customers to buy. However, if most of your sales happen online, your visual representations of the products must compete with the physical products available in stores. Think about the in-store product experience offers: touching the product, feeling the texture, trying on the product, etc. It's pretty hard to beat those, but that's why I encourage you to invest in high-quality, authentic images.
Through stunning visuals, you try to help your customers imagine what that item looks like on them, or in their homes, for example. And you also try to close the gap between physical and online products.
Let's take a look at this fashion product catalog template.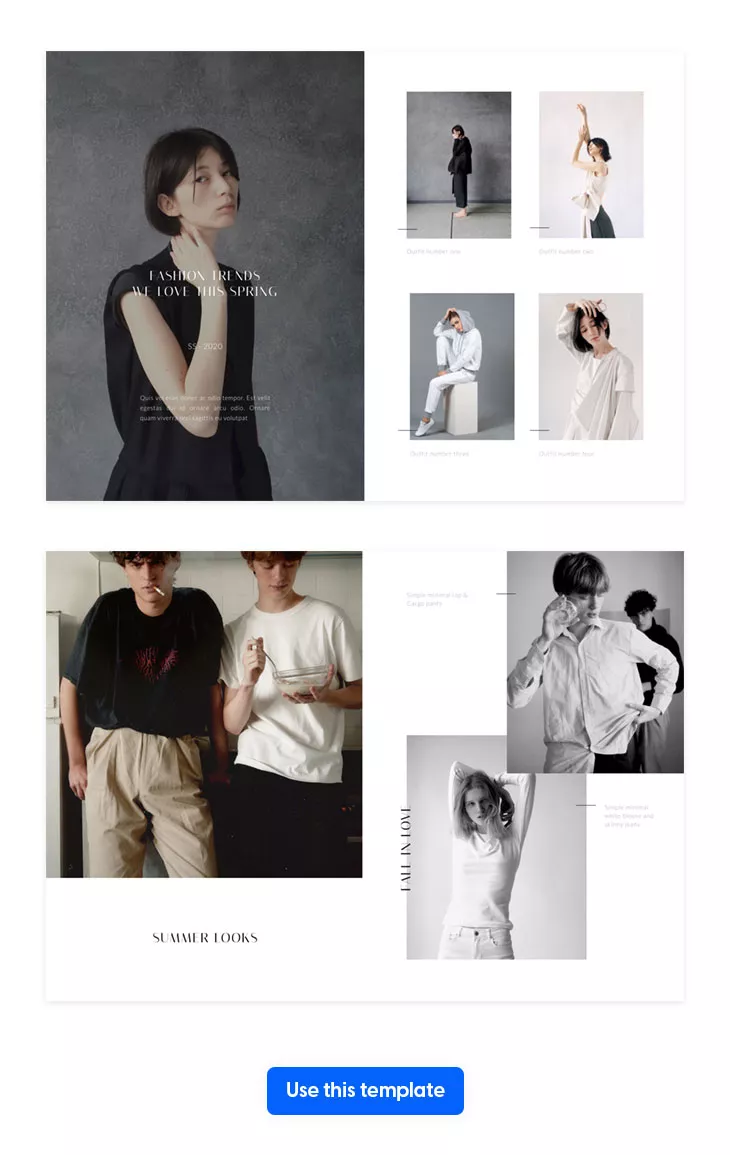 See how many images this template has? Especially if you're part of the retail industry, you have to give your potential buyers all the information and photos they need to make the buying decision. This template combined black and white images with colorful ones while keeping a neat, earth tone vibe. Also, the green plant images make you think that they're an eco brand. It's easy to show what your brand stands for through images.
Tip: Don't mistake the clean, minimalistic style for a "hurried up" type of photography. Professional product catalogs that sell are considered simple yet aesthetically pleasing and relaxing to look at.
It's all about the experience your products can offer to your customers through images. But, I give you a piece of even better advice. Take your product catalogs to new heights by getting closer to your audience.
Wonder how?
6. Take advantage of the interactive elements
Having online product catalogs is a great way to engage with your customers and get closer to them. In Flipsnack, we offer a wide range of interactive elements that will make your product catalogs stand out from all the others.
You can add interactive elements like product tags, captions, social media buttons, links, and you can even embed videos. These features are great if you're thinking of retail marketing strategies that might boost your sales. But wait, we also offer you an automation feature so you can save time.
Flipsnack is your perfect solution to design fast and easily. Our Design Studio is no rocket science, and every customization happens with an easy drag and drop. So you don't need any design or technical skills to achieve great product catalogs. Also, you can customize any template that I've shown according to your needs and style.
What's excellent about interactive elements is that you can make your product catalogs remarkable. For example, you can embed a 360-degree view of some product or add videos with models wearing clothing items. You can also add external links redirecting your audience to your website to see a more detailed description or more photos from different product angles. You can even speed up the buying process with shopping buttons placed directly in your catalog. Use Flipsnack as your e-commerce solution. I promise you it's a walk in the park.
See how many ways you can make your product catalogs interactive? So what are you waiting for? Create a product catalog online right now and enjoy the fantastic benefits interactive elements offer.
7. Add a shopping list that helps you sell more
One of the biggest disconnects with digital catalogs is between the buyer and seller when it comes to actually ordering the items. Traditionally, the buyer has to make note of what they want, contact the seller, and then hope they understand what they want.
With our shopping list feature, there's no miscommunication or unnecessary friction. The buyer browses the product catalog, adds the items they want to their shopping list, downloads the list as a PDF, and sends it off to the seller. In turn, this greatly speeds up the selling process, making everyone happier.
Now, both the buyer and seller have a digital receipt of what needs to be sent. No more guessing what the buyer actually wants or wondering whether the seller will get your order right.
Take, for example, a wholesaler that sells hundreds of different items. Some buyers might come through and order various amounts of dozens of items. This can be very hard to keep track of for the seller and the buyer.
Using the PDF that the buyer created by adding items to their shopping list, the seller can have a digital reminder of everything that the customer ordered. There won't be any guessing and very minimal back-and-forth.
On the other hand, even if the buyer only orders a few easy items, the shopping list can be used to keep track of the items they want as they're browsing the catalog. As items pop up that they want to purchase, they can click and instantly add them to their list.
In truth, there are many applications for the shopping list feature. Anyone in retail and wholesale can speed up their selling process, all while giving their customers a headache-free digital catalog shopping experience.
How to make a sales product catalog in Flipsnack
So without further ado, let's see exactly how you can turn your product catalog into a great interactive one.

Firstly, you have to sign up to Flipsnack and choose a product catalog template. Let's take this interactive fashion catalog template as an example. Open it in Design Studio and begin the customization process!
Starting from the cover, replace the images and texts with your own professional product images. Just like I've told you about before.
Right on the second page, you'll see a few caption tags. Depending on how much of these you need, add more or delete some. Then simply click on them and write your product title, description, price, and even add a discount price (if you have one). Don't forget to also insert your product URL and a button label.
A video widget will be just perfect for introducing your latest product collection. So add the URL link and show potential buyers the video featuring your unique products.
Another great interactivity element is to embed a Google Map with your store location. So write your store's address in Google Map, share, and then click on embed a map. Copy the iframe link and paste it into Design Studio. Check the preview option and make sure everything works. Let your creativity flow and experiment with even more interactive elements we offer.
Conclusion
Thank you for sticking with me 'till the end! Hopefully, this article convinced you that your retail business needs product catalogs in order to boost more sales. Make sure to consider all the tips and tricks I've presented before and take advantage of the unique interactive elements you can find in Flipsnack.

Waste no more time and start creating a product catalog today with the aid of a product catalog template! Flipsnack is always here at your disposal to help you increase sales and build brand awareness.