Retail marketing strategy: 15 ways to boost your sales
Competition is heating up. Your retail marketing strategy matters more now than it ever has. This is not a statement to scare you, but to inspire you and drive you towards success. You have to adapt, and there's a lot you need to know to keep up nowadays.
In recent years, retail has been kind of a shaky place. In 2019, we saw the market crash by an average of 2.9% worldwide. Then, in 2020, it shot up and grew by 9.7% worldwide. Since then, we've seen a steady increase year-to-year.
So why are we bringing this up now? Because retail marketing strategies have evolved, and they will continue to do so. In order to stay ahead of the curve, you have to constantly develop your own retail strategy.
But before we really dive into it, we have to understand a few fundamentals. Let's all start off on the same page with a basic understanding of what retail marketing actually is.

What is retail marketing?
Retail marketing captures all of the different ways in which a business would attract customers by promoting their goods and services. It is a mix of both physical and digital methods for selling in the retail industry.
If you want to understand what retail marketing strategies are, you first have to understand retail marketing in general. I know that at this point, this may sound a little redundant, but you'd be surprised at how much a good grasp of the concept can improve your skills.
Typically speaking, retail shopping is associated with brick-and-mortar stores, and eCommerce is reserved for online. While that is true, you can still use online tactics to market and sell for your retail store.
The easiest way to visualize this is by highlighting the four P's of retail marketing. You may have heard of them before, but here's a little refresher.
What are the four P's of retail marketing?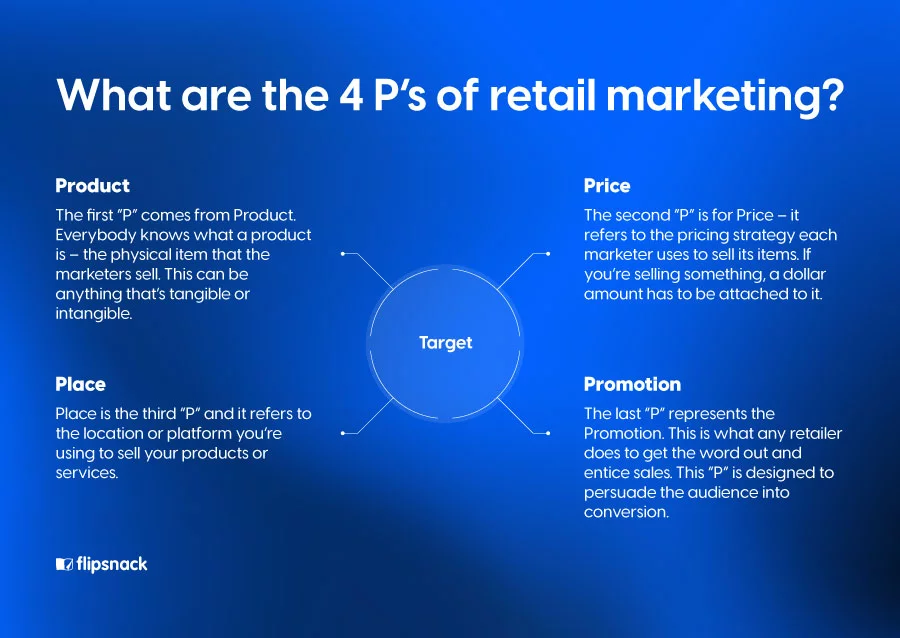 Product
The first "P" comes from Product. Everybody knows what a product is – the physical item that the marketers sell. This can be anything that's tangible or intangible. These are items that are offered for attention, acquisition purposes, general use, or consumer consumption. We're talking about objects, people, places, and services. And speaking of services, if you have an online phone business, you might want to consider a cloud phone system to help you streamline all business communications.
Price
The second "P" is for Price – it refers to the pricing strategy each marketer uses to sell its items. If you're selling something, a dollar amount has to be attached to it. It also includes the discounts and sales you're offering and also how flexible your pricing is. This is the only revenue-driving avenue in this marketing scramble, and it's most often based on competition, location, customer needs, and even regulations.
Place
Place is the third "P" and it refers to the location or platform you're using to sell your products or services. This "P" can cover two similar but very different avenues. The first is a digital marketplace. This could be your website or any other channels used for distribution by the seller. The second avenue is a physical location, like a brick-and-mortar storefront.
Promotion
And finally, the last "P" represents the Promotion. This is what any retailer does to get the word out and entice sales. This "P" is designed to persuade the audience into conversion. This could include advertising (physical and digital), PR, discount promotions, and upselling or cross-selling in person.
These four "P's" are what make up the retail marketing scene. They're in no specific order, so they're all equally as important as the last. They encompass everything that you need to have in order so you can have a successful retail marketing strategy.
So with that said, before you really get too far ahead of yourself, make sure your retail marketing structure has everything we just listen in line. You want to live and breathe this stuff in order to really nail your retail marketing strategy.
15 of the best retail marketing strategies
Now that we have a better understanding of what goes into a retail marketing strategy, it's time to discuss some of them. For the sake of this article, we're going to break them down into three groups of five. It's quite a long list, so make sure to reference the shortened version below, and click to be taken to a specific section.
5 In-person retail marketing strategy examples
Not everything has to be done exclusively online nowadays. In some cases, depending on your audience, some people might prefer to do more than just sit behind a computer screen. What do you do if this is the case?
In-store events
If you have a brick-and-mortar store, one of the most engaging and promotional things you can do is host an in-store event. Sure, you won't be able to target a giant audience, but locally, you will be able to engage with your customers.
Take Krispy Kreme, for example. They utilized a nationally recognized holiday, National Donut Day, to bring more people in with a free donut.
What's great about this strategy is that most people aren't going to simply get one donut. It's a great way to bring out some brand awareness and increase sales.
Adding a little personal touch to your retail marketing strategy is always a good idea. Inviting new and returning customers to a real-life event is just the thing that a lot of people are looking for. It gives customers the chance to interact with the people that represent your brand, and it gives the employees a chance to better understand who they are selling to.
Host big holiday events, play games, and give out prizes. You don't have to reinvent the wheel here, just make it fun and engaging. You want to create something that will be talked about and not easily forgotten.
Special promotions
One of the best and easiest ways to get people into your store is to have special promotions. You can plan these promotions to coincide with special holidays or milestones, and really get people excited about what you're selling.
One of the best examples of utilizing special promotions in a retail marketing strategy is from Petco. At the beginning of every quarter, they put their aquariums on sale. $1 per gallon is all the customer is required to pay to have their very own fish tank.
In the pet care industry, Petco has come to be known as the leading authority in aquatics. Why? Because they pull in new customers and existing customers alike. The sales can be predicted, giving people the incentive to save and purchase something at a great deal.
The existing customers continue to return for great deals, and the new customers are led to purchase the rest of the equipment needed to keep fish happy and healthy. In turn, this makes the store even more money, builds a relationship with new customers, and keeps them coming back for more.
Giveaways
It should be noted up front that not every business has the budget to give away stuff. On top of that, offering free stuff doesn't always work out that well. For example, if you're offering a free iPhone to new users, odds are that they will sign up specifically for that, and deactivate their account days after.
That being said, if you have the budget, giveaways can be a great tool. On top of that, it doesn't always have to be an iPhone. You could give away subscriptions to your online service, a couple of samples of your physical product, or even some coupons for a discount.
I won't harp on this too much, but giveaways can be great for the right retail marketing strategy. Just make sure you understand your ideal audience and give away things that they specifically would be interested in. If you give away something that's not all that specific, you will attract just about everyone, which will all but waste your time and money.
Loyalty programs
Starbucks, Costco, American Airlines – What do they all have in common? They promote some pretty extensive loyalty programs. Essentially, the more you spend with them, the more you can earn as a reward.
For Starbucks, you can get a free drink with a certain amount of transactions, for Costco, you can get 15% off your next purchase, and you might just accumulate enough miles for a free vacation with American Airlines. These programs aren't just these businesses being generous. This is a retail marketing strategy.
Okay, American Airlines isn't exactly retail, but you get my point. These brands are offering incentives to spend more with them. The basic idea behind this is that if a customer is loyal enough to keep coming back, then they might just be loyal enough to promote your business and brag about their free stuff.
In the retail scene specifically, you can make it as simple as a discount after spending so much. Maybe loyal customers get free shipping or exclusive access to online sales events. You can get creative with loyalty programs and even use them as a way to build your brand story.
Partnerships and collaborations
Shaking the right hands in the retail business is potentially the biggest unspoken retail marketing strategy out there. What do I mean by that? Well, think about how big of a deal it is when one big brand collaborates with another. Let's take Nike, for example.
Nike is one of the biggest names in the world. They sponsor athletes, promote global change, and are constantly pumping out unique collaborations that nobody else can seem to pull off. You have collaborations like Nike and Air Jordan, Nike and Dior, Nike and Supreme, and a number of collaborations between Nike and rappers.
Why do they do this? First of all, they know exactly who their audience is. They know that by dipping into the right brands, they will attract their normal customers as well as the ones that exist in that brand. And of course, the other brand is going to say yes. It's Nike, after all.
Using this retail marketing strategy, Nike has been able to boost its own sales as well as the brand they're collaborating with, creating lifelong customers across the globe. In addition to that, the brand has been able to build lasting relationships with its customers by constantly changing its style up, giving everyone something new to look forward to every couple of months.
You may not be as big as Nike, but the principle is still the same. You can create lasting relationships between you and another business, as well as their customers with a simple collaboration.
5 Social media retail marketing strategy examples
Social media is one of the most powerful retail marketing tools. There are lots of technical reasons for this, but it all basically boils down to the fact that social media garners a large audience. Millions and millions of people are on social media nowadays, making it the perfect place for marketing.
Facebook retail marketing
If you're not already on Facebook, you might be missing out on a huge opportunity. Besides building brand awareness, social media today is more than just a "nice-to-have" element of your retail marketing strategy. It is essential.
With Facebook, you can run high-converting ads and target specific audiences that are interested in what you're selling.
As a piece of advice, test different advertising solutions, then keep track of your metrics (e.g. clicks, engagement, sales, etc.) You can also observe the numbers and use them to determine your ROI. In this sense, you'll figure out which ad types are right for your business and how much to budget for them.
Sure, in theory, it all sounds idealistic and pretty simple, right? The thing is, there is no recipe that works well for everyone.
But we like to give out real-life examples of how you can get creative and use Facebook ads in your retail marketing strategies.
Or, maybe you want to create a community to build your brand awareness? That's possible with Facebook, too. By creating a group, you can give your audience a platform to discuss your brand. Or, you can use it as a platform to engage, announce updates, and request feedback.
H&M, the clothing brand, is a great example of how to use Facebook for retail marketing. They use Facebook for engagement, ads, videos, and a lot more.
Instagram retail marketing
As of right now, there are over one billion people using Instagram. That is 1/8th of the entire planet, all on one platform. For this simple reason alone, it is one of the most powerful platforms to utilize in your retail marketing strategy. Take a look at how Xbox uses Instagram to really grab user's attention.
More than hashtags, Instagram is packed with features to help eCommerce businesses thrive. Like Instagram Shopping Product Tags. Besides the fact that Instagram is a visual platform, you can fully transform it into a sales tool. How? Let's explore further on.
Take your brand story to Instagram Stories. Use them to give people behind-the-scenes glimpses or showcase new products and projects. Insert links for quick access to your online store or other resources.
You can even keep some stories forever on your profile by choosing the Highlight feature.
Pinterest retail marketing
Many people choose to use Pinterest to market their business. Like Instagram, Pinterest relies on curation. Create curated boards that make it simple for both potential and actual customers to navigate to things they're interested in.
Keep in mind that the Pinterest algorithm doesn't surface your content very fast. Sometimes, it can take up to 5-6 months for your content to really start appearing in people's feeds. As a piece of advice, don't pin only your own images. Get more social and engage with other users and brands by pinning their images, too. Just make sure they always fit your aesthetic. You don't want to ruin your well-arranged boards. Take a look at how Ruggable does it.
Everything about Ruggable's pinned boards is aesthetic, organized, and easy to navigate, leading users to find exactly what they're looking for.
You can even drive sales from Pinterest with the help of Buyable Pins. They contain up-to-date pricing info and can easily lead users to purchase. Unfortunately, this is a feature currently available only in the U.S. But that doesn't mean that you can't use Pinterest like Ruggable, driving sales directly through consumer interest.
What's more, Pinterest indexes all your content. This means that with a little SEO magic, you can and will rank in search engines based on your pins. For a brand like Ruggable that uses nice descriptions in their images to help sell rugs, this is a big plus.
TikTok retail marketing
A big trend that not a lot of people saw coming is brands using TikTok for their retail marketing strategy. If you've used TikTok in any capacity in the past year or two, you'll know exactly what I'm talking about.
Just like Instagram, there are over one billion users on TikTok. Brands are using this as an opportunity to create product videos that showcase a cool gadget, service, or general product. Because of the shareability and the fast-acting algorithm TikTok boasts, it's actually quite easy to collect a couple of thousand views on a single video.
However, with the majority of TikTok users falling into a younger age group, brands should not only consider the appeal of their products to this demographic but also the relevance and appropriateness of their content. That's where TikTok parental controls come into play. Responsible marketers must be aware of and comply with the platform's features that allow parents to manage what their children can view.
Granted, TikTok isn't for everyone. Most of the users are in a very young age group, which means that the products that are advertised there should appeal to a younger audience. For example, it might not be the best place to advertise life insurance, but it's a great place to advertise delicious food at Chipotle.
Chipotle utilizes TikTok to the fullest by not only showcasing their own food and content, but by highlighting other users and how they interact with their brand. As you scroll down their very active page, you won't just find generic, corporate content. You find real people acting genuinely towards the brand.
Influencer marketing
An important retail marketing strategy you should consider these days is influencer marketing for unique and value-driven content. A nod or endorsement from a popular celebrity or singer carries more weight than traditional advertising.
Why? Because people tend to believe the recommendations of sources they know, like, and trust. A partnership with an influencer can drive brand awareness, traffic, and most importantly, sales.
But what's even crazier nowadays is that you don't really have to run a giant campaign off of this. A single paid sponsorship on a single post could be enough to see some significant ROI. We see this very often with Facebook, Instagram, and YouTube accounts that have high viewership and engagement.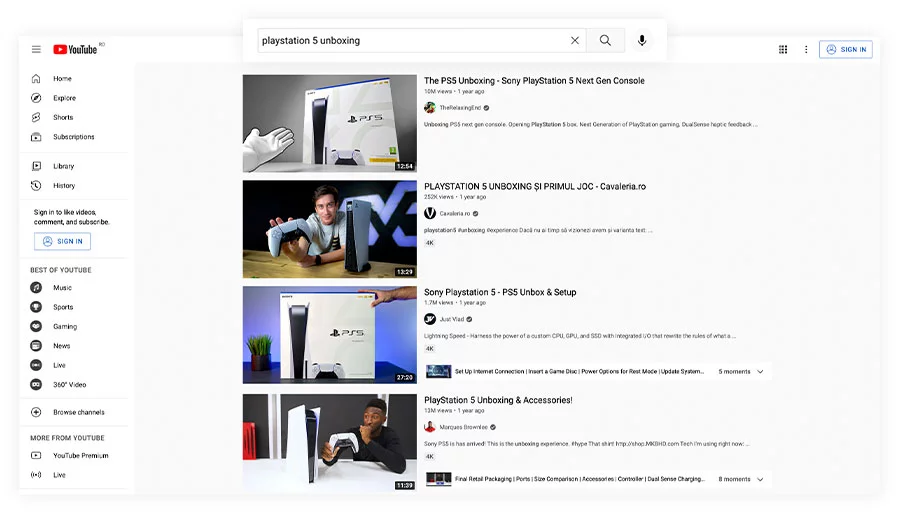 Sony did an amazing job with influencer marketing on YouTube simply by sending out their newest console, the Playstation 5, to high-traffic influencers. Millions upon millions of views were racked up in a matter of days, really driving the necessary attention that Sony needed to sell more consoles.
You have to be careful with influencer marketing for your retail strategy. For example, let's say you do some research and find an influencer that creates content around cars, and they have an audience consisting of 80% men. This probably isn't the right place to advertise for your women's athletic clothing brand.
Keep in mind that you should always be flexible. Influencers are more likely to work with brands that offer them some flexibility. Allow them to put their personal stamp on posts. This way, your posts will be more genuine and enticing.
Lastly, make sure you're always tracking your results. Give influencers unique redemption and promotion codes. It's easier to measure the efficacy of influencer campaigns, and will also help the influencer and their followers to feel like they're part of a special project.
5 Digital retail marketing strategy examples
Although not everything needs to be completely digital, it does help that we have the internet as a resource for our retail marketing strategy. For that reason, here are 5 retail marketing strategy examples that you can use in the digital space.
Email marketing
It's safe to say that pretty much everyone has an email. In some cases, people have multiple emails for various things. It has become an industry standard to use your email for digital receipts, signups, and general information.
Even in retail, email marketing tools such as SendinBlue have powerful email marketing functions like DMARC protection but are often overlooked. Think about it. Everything we listed above can be promoted through an email marketing campaign. Feedback requests, promotions, loyalty rewards, brand updates, and general information can all be communicated through email. Take a look at how Dollar Shave Club does it.
We've talked about some of the best email marketing strategies for beginners before, so be sure to check that article out. Until then, make sure you are properly utilizing your email marketing strategy in your retail business.
Content marketing
Content marketing is what allows users to find out more about your brand. In retail, you can use content to describe topics that circulate around your business, and implant keywords for search engines.
There's a lot you need to know about search engines, keywords, emotions, and even a bit of psychology in order to really have a solid structure. This isn't to say that you need to become a wordsmith and Google algorithm genius in order to start, but it is to say that there's no possible way to get all the information you need in just one article.
What you do need to know is that content is what drives people to your retail store, even if it's a physical store. With content, you can create digital ads for paid searches, or you can rely on search engines for organic traffic. Covering topics in blog articles that are relevant to your brand and what you sell helps answer questions and address pain points.
You can include visuals and utilize tools such as Piktochart infographic design tool that can be an effective way to visually present information and transform data into compelling graphics, making it easier for your audience to understand and engage with your brand's message.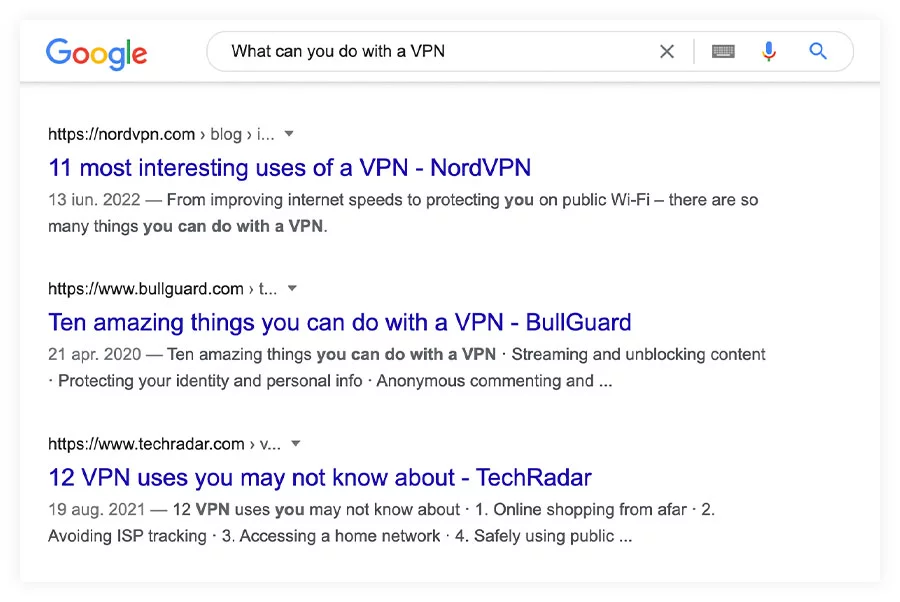 Take a look at this example. A Google search for "What can you do with a VPN" has led me to find articles that answer that question exactly. A simple query has given me a solution in content form, and a way to buy it immediately. These are organic searches leading people to a solution. NordVPN (And Bullguard, which is owned by Nord), sells, you guessed it, a VPN and other internet security services, alongside competitors such as ExpressVPN and Perimeter 81 VPN.
But beyond all of that, content helps build the foundation of your brand through authority. If you're covering topics that answer questions, people will naturally find their way to you, understand that you have the answers to their questions, and think of you when they need a solution in your realm. Like I said just above, it's psychology.
However, there is a big misunderstanding that SEO is only about keywords. Keywords are vital, of course, but that's not all. To optimize your page for search engines, you must also take care of rich snippets, breadcrumbs, HTML and XML sitemaps, etc. If you are doing business on Magento – one of the leading eCommerce platforms, a toolkit like Magento 2 SEO Extension will be the best solution. It provides all the needed functions to fully optimize your SEO effectively.
Video marketing
A subcategory of content marketing is video marketing, but it definitely deserves its own little spotlight. Video in your retail marketing strategy is such a powerful tool. According to Hubspot, 96% of video marketers in the retail space have been able to increase understanding with a simple video.
People who are shopping online are already weary. I know that oftentimes I have to really dig into a product to find out how big it is, if it's actually the right color, or if it's what the retailer says it is before I buy it. With a video, you can showcase the product, give a little guide on how to use it or set it up, or even build a story around your brand that people can latch onto. Just take a look at how Adidas is positioning itself with video marketing.
Big brands like Adidas use video to really tell a story as much as they do to sell shoes. Because of their unique videos, interesting stories, and desirable shoes, they're able to build their brand beyond a simple clothing brand.
Many companies worldwide are facing issues when it comes to keeping up with the speed at which videos are consumed by the public. In situations like this, a tool like Moovly comes in strongest with its video automation technology. With this software, companies can quickly and easily automate the production of videos to generate tens of thousands of personalized unique videos for their customers in only a few clicks. This is particularly valuable when it comes to videos for e-commerce. Both E-commerce platforms and their sellers are looking to use Moovly's Ecommerce Video Maker to instantly boost sales.
Videos can be used to explain complex topics in just a few short minutes. Sure, this will take some sort of expertise when creating the video, but if done correctly, it can really help paint an image for leads that are ready to buy. People want to see what they're potentially buying in use. It may seem silly, and to be honest, not every product will need a video, but it's all part of that psychology I keep mentioning.
Audience retargeting
Your retail marketing strategy doesn't always have to focus on new leads. Sometimes, the best thing you can do to boost the rate at which you achieve your sales goals is to retarget existing audiences.
Why is this important? Well, according to Mailchimp, 97% of the people that visit your website will not make a purchase on their first visit. This means that they've shown interest, but they weren't convinced or they didn't find what they needed.
Using platforms like Facebook and Google, you can retarget these leads with display ads. With a platform like Google, Mailchimp also noted that they can reach 90% of the people on the internet through 2 million different websites. This is huge for any business!
Even shops that sell primarily offline can take advantage of retargeting. If customers or prospects are visiting your websites, looking through articles, and even visiting your social media, you can retarget them with highly personalized ads.
Of course, you don't want to rely on just one channel for retargeting campaigns. Just like you have multiple avenues for your retail marketing strategy, you need to spread your retargeting efforts across all the relevant channels. Find out where your audience is, and use retargeting display ads there.
Digital product catalogs
Have you tried product catalogs? Still, even to this day, catalogs, printed or digital, are a powerful marketing tool, and they should absolutely be utilized more in your retail marketing strategy.
Digital catalogs save time, decrease overhead spending, are easy to distribute, and are a lot more fun than traditional catalogs. They can easily be used for top-funnel marketing, just make sure you pay attention to key funnel metrics. However, since they're digital and you can add links, you can direct people directly to your website. Additionally, with a digital catalog, you can track to see what people are interacting with, improving the experience every step of the way.
Making digital catalogs might sound like a tough job, but it's actually a lot easier than you might think. With Flipsnack you can automate the production of your product catalogs.
Using our Design Studio, you can take your product catalogs to the next level. Insert high-quality pictures, videos, product descriptions, and more. Users can easily navigate and flip through the pages just as if it were a physical, printed catalog. The only difference here is that you can share it digitally through email, embed it on your website, and more.
Here's an example of how Davidici, a Flipsnack user, uses product catalogs to boost sales in their own retail marketing strategy.
Just like Dynamic Ads on Facebook, there are a few things you need to do in order to connect your product feed to your Flipsnack workspace. Once you set everything up, the entire process will automatically update products within your catalog, without you having to manually do so.
So, before you consider any other retail marketing strategy, keep in mind that the standard product catalog can still be very effective in driving traffic. Be it online or physical ones.
Don't forget your pricing strategy
Of course, no matter what strategy you choose you use, whether it be digital or in-person, it doesn't matter without a solid pricing strategy. You want to make a profit, of course, but the prices have to make sense. The number one thing that will drive your customers away is if they find a similar product for cheaper elsewhere. Because of that simple fact alone, your pricing structure will be something that you will constantly need to improve and adapt.
A good tip here is to trust in the power of 9. If you go to any sort of retail store in the United States, you will notice that most prices end with .99. Why is that? Well, look at these two prices:
The first price is $4.99, and the second one is $5. In reality, their difference is only a penny, but psychologically, it's a giant difference. There's a ton of research out there on why prices end in .99, but the gist of it is that our brains are wired to view $4.99 as being closer to $4 instead of $5.
All-in-all, you want to trust your gut, study the market, and understand your value. You don't want to oversell yourself and result in a bad reputation, but you certainly don't want to undersell yourself and take a massive hit to the wallet. Find the balance and capitalize on the market.

Pick the retail marketing strategy that makes sense for you
With everything above being said, not everything mentioned will work for your retail marketing strategy. Some brands can easily create content for TikTok, like Chipotle, and others can't. Some brands have a lot of customers that enjoy in-store interactions, and some don't.
The key to any good retail marketing strategy is to meet your audience where they're at. If you spend all day and half your budget on a Facebook ad that relevant leads won't even see because they use Instagram more, then it's not such a good strategy after all.
Understand who you're marketing to, where they like to spend their time, and, of course, their preferences. Once you have all of that data, you will better understand what retail marketing strategy and what specific agencies are right for you and your goals. So give these strategies a shot, but don't be afraid to mix things up if your targets aren't being met.