Retail marketing strategy: 6 ways to boost your sales
With Covid-19 closing down stores all over the world, the entire retail business faced a new reality: online shopping. In order to do that, retailers had to adapt their retail marketing strategies to fit the new normal.
Global cross border ecommerce retail sales rose to 101% during the pandemic lockdown. January to mid June only.
Proof that the world of retail is constantly changing. Retailers are today, perhaps more challenged than ever. Besides fighting for attention to get people hit the "buy" button, they strive to make ends meet, and figure out this entire online environment.
Brands who are smart enough today to develop innovative retail strategies, have the potential to survive, and even make money tomorrow. But, before we get into more hands-on retail marketing tips, let's shed light on some important definitions like:
What is retail marketing?
To keep it simple and brief, retail marketing refers to the strategies and tactics retailers use to attract and retain customers and also drive sales. It usually includes traditional marketing (TV ads, billboards, radio, direct mailers, etc.) and digital marketing (Facebook ads, Instagram stories, email campaigns, etc.) When we're saying "retail marketing", we're usually focusing on the "4 Ps": Product, Price, Place, and Promotion.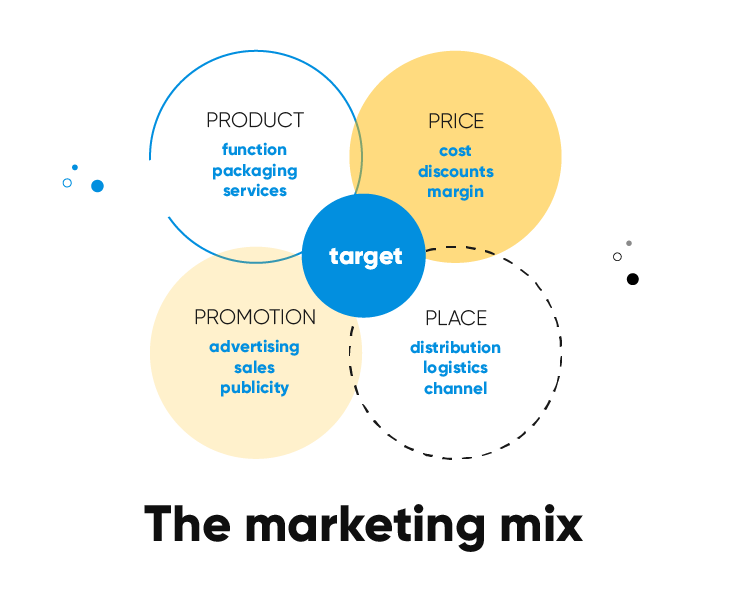 Product
The first "P" comes from Product. Everybody knows what a product is – the physical item that the marketers sell.
Price
The second one is Price – it refers to the pricing strategy each marketer uses to sell its items. It also includes the discounts and sales you're offering and also how flexible your pricing is.
Place
Place is the third "P" and it refers to the location or platform you're using to sell your products or services.
Promotion
And finally, the last "P" represents the Promotion. This is what any retailer does to get the word out and entice sales.
Now that we're more familiar with all these aspects, it's time we jumped to our main subject: retail marketing strategy examples to help you stay ahead of the game.
Retail Marketing Strategy: 6 ways to boost your sales
It's no news that in the last few years the retail industry has gone digital. Especially now. The high rise of technology has brought many advantages to online shopping: you can buy from anywhere in the world, at any time without queuing up for hours. According to a study, 61% of consumers prefer buying from eCommerce stores rather than visiting the physical ones. So, if you own a retail business, it's a must to shift to an online experience if you haven't already. Or improve the one that you have.
But what happens when you're a classic retailer with a store presence and have no experience with the online retail marketing world? Well…fear not! Here are 6 powerful retail marketing strategy tips that help you increase your sales. Let's start with:
1. Use social media to your advantage
One of the most important aspects of any retail marketing strategy today is, without any doubt, social media. Besides building brand awareness, social media today is more than just a "nice-to-have". It's way more than this.
There are three platforms you should take into account for your retail business: Facebook, Instagram, and Pinterest. These three are the most consumer-centric networks, making them ideal for merchants. Let's take them one by one:
Facebook
Is your business on Facebook? If not, you're missing out on some important opportunities. Facebook, the largest social media platform in the world, has 2.4 billion users.
This social media platform can become your best friend if you know how to take advantage of it. Want to increase your reach, but don't know exactly how to do it?
Facebook brand communities
Create a Facebook group for your business. Think of it as a community or a club where your customers can connect with each other and talk about you, organically. People will share ideas, experiences, will ask for opinions, or put questions. Automatically, you will have an engaged community that you can use for multiple purposes. Like asking for feedback or announcing new exciting sales opportunities, exclusive products, events and so much more.
Take, for example, Hill City, a men's athletic brand launched last fall by Gap. It has a Facebook community with over 1400 people. How are they using this community? By having men test out their new products before launching.
5 full weeks of testing the athleisure brand, wearing the clothes at least 2-3 times a week, and performing activities in them.
What are they getting out of this? Feedback and data! Valuable data!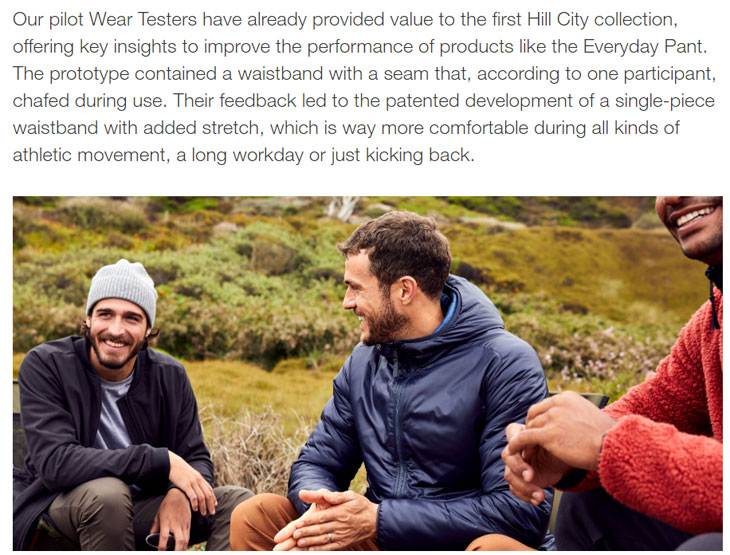 Facebook ads
If we're talking retail marketing strategies, there is no way we can skip Facebook ads. Use them to reach your target audience.
As a piece of advice, test different advertising solutions, then keep track of your metrics (e.g. clicks, engagement, sales, etc.) You can also observe the numbers and use them to determine your ROI. In this sense, you'll figure out which ad types are right for your business and how much to budget for them.
Sure, in theory, all sounds idealistic and pretty simple, right? Thing is, there is no recipe that works well for everyone.
But we like to give out real life examples of how you can get creative and use Facebook ads in your retail marketing strategies.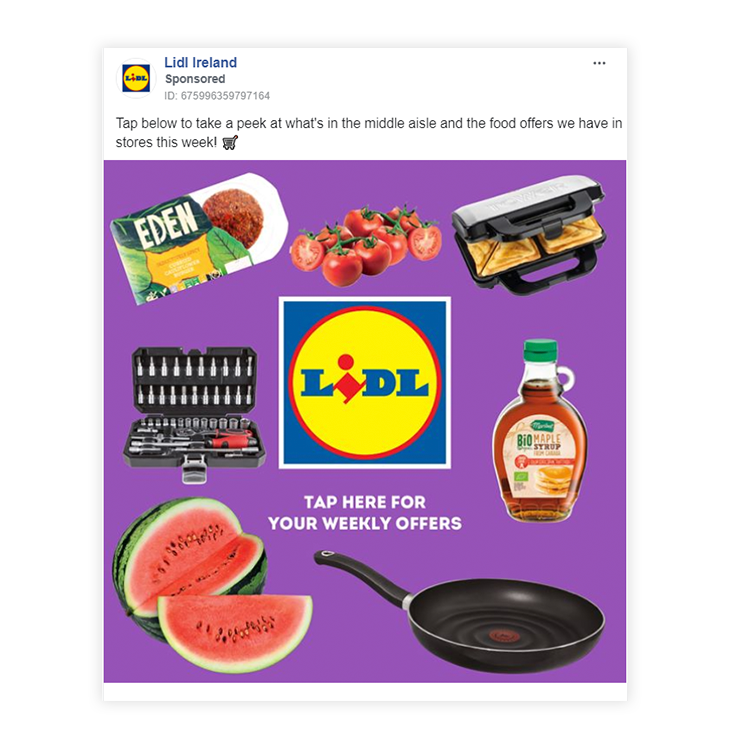 Here's how one of the biggest European retailers, Lidl Ireland, used Facebook ads to recreate the feel of printed leaflets and got 10X return on ad spend.
By running immersive full-screen ads optimized for mobile and designed to capture the complete attention of their target audience, Lidl Ireland got a 2.3% increase in overall turnover at trial stores in Ireland. Using Instant Experience ads, people could swipe through carousels and explore products, all in a single ad that moved the customer a step further the shopping experience. From social media to Lidl's website to explore more weekly ads. All in one single Facebook ad.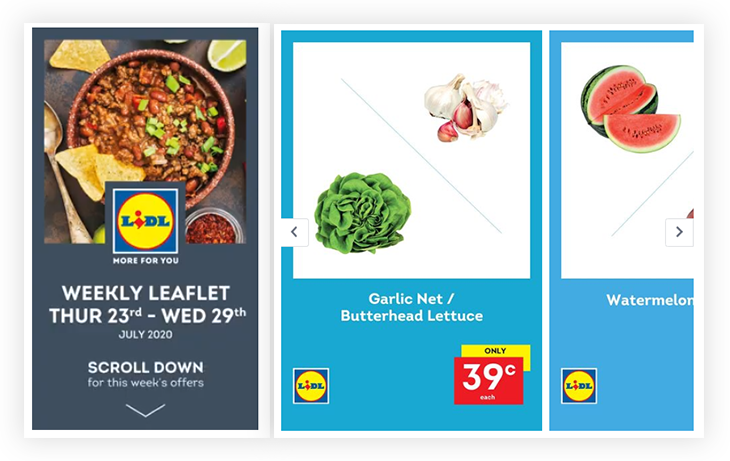 Sure, the aforementioned example is not for everyone. But, what every retailer, big or small can do, to fully take advantage of all the Facebook ads options is to create a "Shop" tab within their business' Facebook page. Highlight your products, provide SEO optimized descriptions and allow your customers to make a purchase with just a few clicks.
Facebook makes it even easier to advertise on their platform with the help of Dynamic Ads. It may sound complicated, but in theory, this is a system made to simplify your life and bring a better ROI.
The only thing you need to do is to upload your product feed and set up your campaign once. Yes, that's correct. Instead of creating an ad for each of your products, you create an ad template that automatically uses details from your data feed for products you'd like to advertise. Any retailer's dream, if you ask me.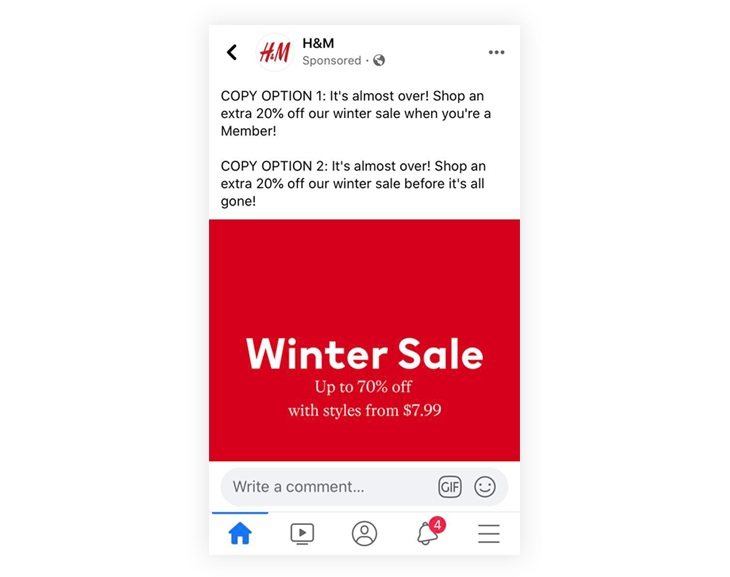 Taking something out of all these examples and marketing strategies, you must test and see what works best for your retail business.
Let's take, for example, this H&M ad. It's unfortunate that this went live, but it's perhaps the best reminder that reinforces our idea. Test, test, and then test some more!
Instagram
This social media platform has over 800 million monthly active users, so you should definitely choose it to promote your business. Start with curating your visual content flawlessly. Create a clear brand aesthetic, so that people notice from the start who your brand is. Take for example ZARA. You can instantly observe from their posts what kind of clothes they produce and sell.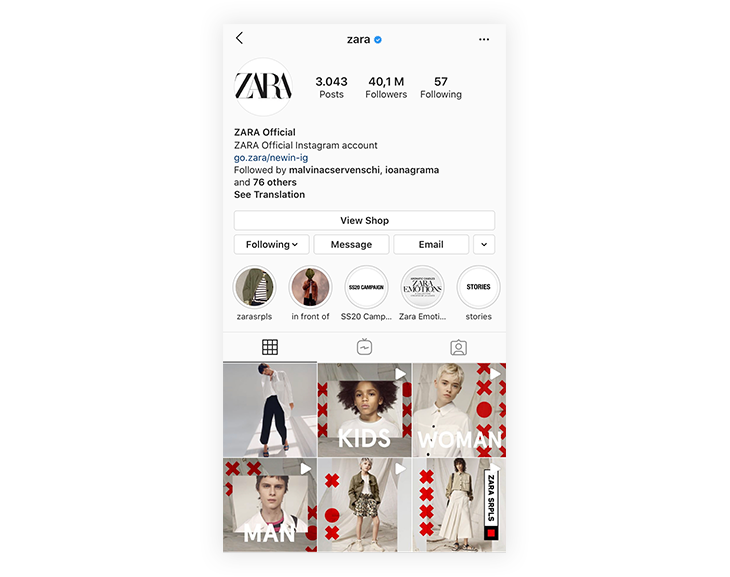 But don't stop here. Take your brand story to Instagram Stories. Use them to give people behind-the-scenes glimpses or showcase new products and projects. Lucky if your brand has over 10k followers. Use the swipe up button to make a more smooth transition between social media and your website.
You can also keep some stories forever on your profile by choosing the Highlight feature.
Another thing you can do with Instagram is to hashtag up your photos. Hashtags are relevant to your brand and they help your photos arise in front of people you'd like to become customers. But don't put them right into the caption. Post your photos without hashtags and immediately comment them. It looks more neat and professional.
More than hashtags, Instagram is packed with features to help ecommerce businesses thrive. Like Instagram Shopping Product Tags. Besides the fact that Instagram is a visual platform, you can fully transform it into a sales tool. How? Let's explore further on.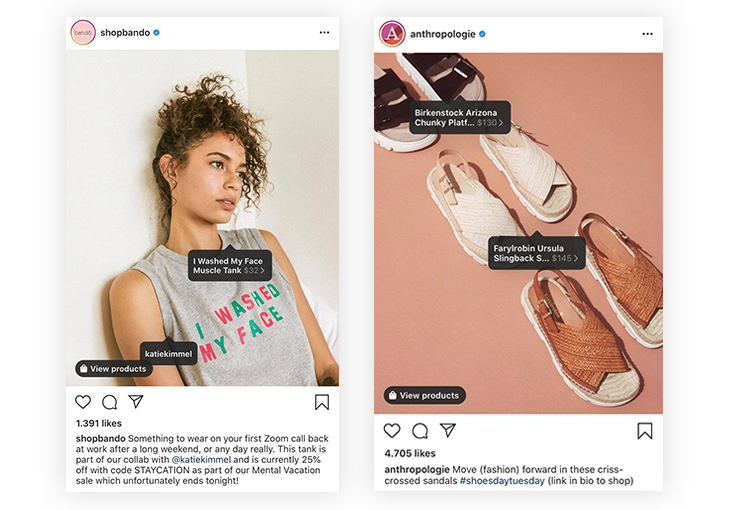 With 130 million Instagram accounts tapping on a shopping post to learn more about products every month, if you're in the retail business and you own a business Instagram account, you simply can't miss out on this opportunity. Especially since people no longer have to leave Instagram for check out. You can do it all within the Instagram ecosystem. Read more about how to set up Instagram shopping.
The ultimate tip when using Instagram as a sales tool for your retail business is to make sure you don't over do it. Keep in mind to follow your brand's aesthetics and don't be too salesy. It will push people away.
Pinterest
For a better shopping experience, choose Pinterest to market your business. Like Instagram, Pinterest relies on curation. Create curated boards that make it simple for both potential and actual customers to navigate to things they're interested in. Take J.Crew for example. They have created specific boards for specific issues: summer clothing, prints, stripes, jeans, shirts, etc.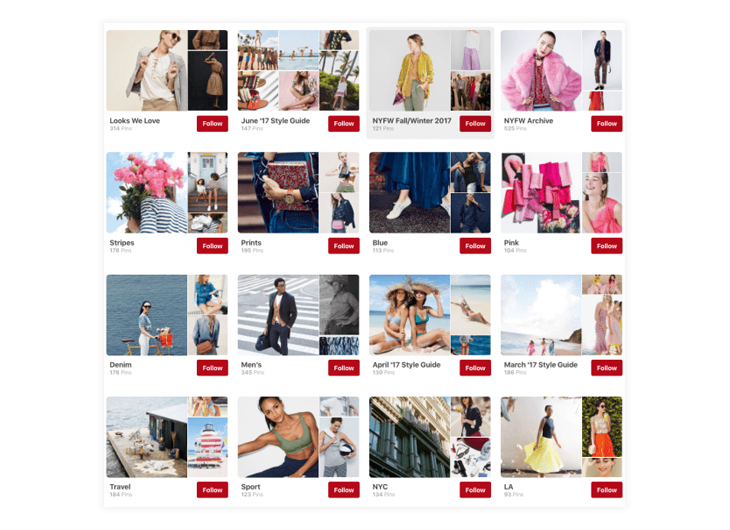 Keep in mind that Pinterest algorithm doesn't surface your content very fast. Sometimes, it can take up to 5-6 months for your content to really start appearing in people's feeds. As a piece of advice, don't pin only your things. Get more social by also pinning things on your boards from others. Make sure they always fit your aesthetic. You don't want to ruin your well-arranged boards.
Don't stop here. Drive sales from Pinterest with the help of Buyable Pins. They contain up-to-date pricing info and can easily lead users to purchase. Unfortunately, this is a feature currently available only in the U.S.
2. Strengthen your email marketing
Believe it or not, when it comes to reaching new customers in real-time and targeting specific customer segments, email marketing is the most effective online retail marketing strategy, with a 4400% ROI. Let's see how you can take advantage of this opportunity.
Think like this: new customers need an introduction to your brand, while your existing ones need to feel they're appreciated. The best thing for achieving these goals is to create specific campaigns targeted to each type of customer. You can send first-time buy offers or giveaways to people who haven't purchased yet in order to attract them. Then, identify your existing, but inactive customers and win them back with a retargeting marketing campaign showing them what they're missing.
This type of retail marketing strategy really does miracles! The best way to keep your customers engaged with your brand is to send them weekly or monthly newsletters. Tailor them depending on the season, age, interests, and others. See this example from H&M: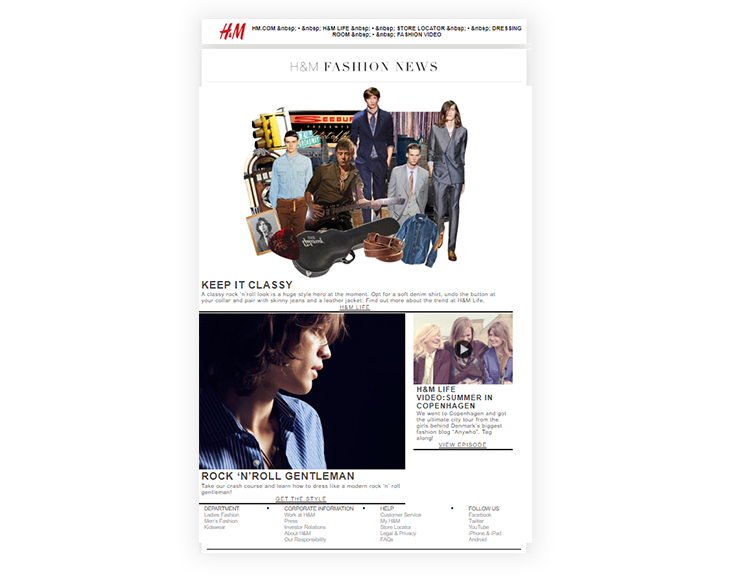 Keep in mind that email automated marketing campaigns include unique content. A stay-at-home mom should receive an email that showcases your new line of kids' clothing, while a young student should receive emails with fashionable T-shirts and jeans. Each mail can also contain unique promotion codes, making it easy for you to track redemption rates and compare results.
3. Run Google shopping campaigns
When thinking of a great retail marketing strategy, please do take Google into consideration. Especially now since Google is trying to give a helping hand to retailers during the pandemic crisis. So, the good news is that it is now free for merchants to sell on Google.
Ok now, if you are not familiar with Google shopping ads, let's clarify a bit what this means.
When somebody searches for a product, Google displays the products they believe are most relevant to what the consumer is looking for. And the entire shopping process is pretty simple: retail business owners need to have eCommerce capabilities on their website and start listing their products through Google Shopping Ads.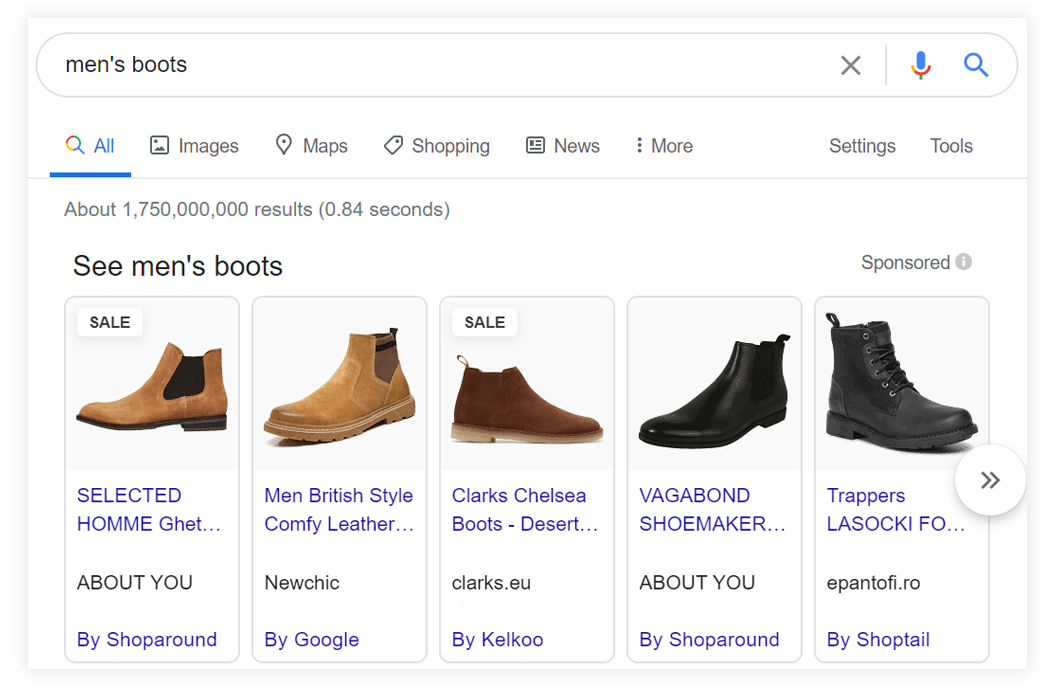 For your next Google shopping campaign, you should take into account a few aspects. Firstly, make sure your products of similar value are organized together so you can easily allocate and adjust budgets in a logical manner. Grouping together your best sellers will help you capitalize on online sales.
Secondly, always use high-quality ad images. Even if this seems obvious, it's highly important to mention it, because there are many marketers who neglect the quality of their ad images. And let's be serious, this is exactly the first opportunity to catch the attention of potential buyers.
Finally, gain votes of confidence on your products through a sea of 5-star reviews and show them off. Why? Because reviews drive sales. 88% of purchasers say they trust online reviews as much as personal recommendations.
4. Consider influencer marketing
An important retail marketing strategy you should consider these days is to use influencer marketing for unique and value-driven content. A nod or endorsement from a popular celebrity or singer carries more weight than traditional advertising. Why? Because people tend to believe the recommendations of sources they know, like, and trust. A partnership with an influencer can drive brand awareness, traffic, and most importantly, sales.
When choosing the most suitable influencer for your business, keep in mind that working with micro-influencers can be more efficient than booking big star celebrities. Also, you should pay attention to a few details.
First thing first, read this very attentive: An influencer and their followers don't always fit the same mold. Let's take this example. A Victoria's Secret model may have a following that consists of 80% men. That's probably not the right audience if you wish to sell swimsuits in the U.S. It's important to choose not just the influencer, but also their audience.
Next, keep in mind that you should always be flexible. Influencers are more likely to work with brands that offer them some flexibility. Allow them to put their personal stamp on posts. This way, your posts will be more genuine and enticing.
Make sure you're always tracking your results. Give influencers unique redemption and promotion codes. It's easier to measure the efficacy of influencer campaigns, and will also help the influencer and their followers to feel like they're part of a special project.
5. Price strategies
Pricing strategy is the key when talking about retail and wholesale. We're pretty sure you've seen this retail marketing strategy in action, even if you didn't notice it at the time.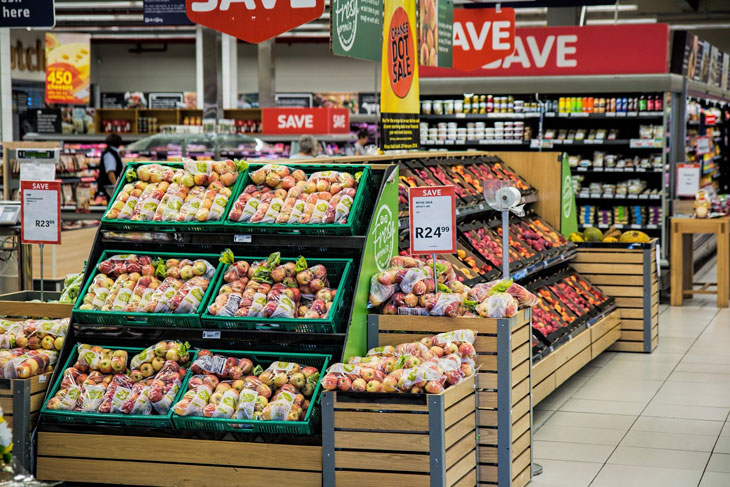 A study by the University of Chicago sustains that number nine has a magical and psychological effect upon people. Many retailers know this and take advantage of it. Apparently, customers perceive the prices that end with 9 to be lower than they actually are. The study explains that if an item costs $4.99, it is related to spending 4 dollars instead of 5 dollars.
There's also another price strategy called high/low pricing. Initially, retailers set the prices higher, and then they lower them when the product life cycle reaches a decline stage. Every retail business uses this strategy because it gives the client the idea that they made great deals and bought cheap products.
Everyday Low Prices (EDPL) is a retail marketing strategy that drives sales like crazy! Retail stores attract customers by offering lower prices regularly without waiting for special occasions such as Christmas, Easter, or Black Friday.
6. Automate your product catalogs
We talked about prices, it should only make sense to talk about product catalogs.
As a retailer, you must have tried all the conventional methods to bring in-store traffic. Still, even to this day, catalogs, printed or digital, are a powerful marketing tool.
However, making catalogs is no easy job. But, lucky for you, there's something you can do to streamline this entire workflow. With Flipsnack you can automate the production of your product catalogs.
Just like Dynamic Ads on Facebook, there are a few things you need to do in order to connect your product feed to your Flipsnack workspace. Once you set everything up, the entire process will automatically update products within your catalog, without you having to manually do so. Magical, right?
So, before you consider all the other retail marketing strategies, keep in mind that the standard product catalog can still be very effective in driving in-store traffic. Be it online or physical ones.
Conclusion
With everything going on in the world now, it seems like nowadays running a retail business means always thinking at least one step forward. Perhaps faster than many other industries, retail business is constantly changing as customer's behaviours are constantly evolving, especially in times of crisis and lockdown. So, you need to have your eyes wide open and keep up. With the latest marketing promotions technology, social media trends, influencers, and so on. 
Since the very beginning, retailers have struggled with the same problem, which is a fairly simple one: getting more sales.
What has changed and will continue to do so is how to do this more effectively and efficiently.
Yet, if there's one thing that you have to remember from this entire piece we put together on retail marketing strategies is to test and see what works best for your business. As we said, there is no one size fits all recipe.
Let us know what you've tried so far in the comments below and what worked best for you.