30+ retail marketing tools you need to try in 2023
Besides staying on top of the game in the retail industry, it's essential to know what retail marketing tools you need to try. But with so many out there, you begin to wonder: "What do I need?", "Which retail marketing tools could help me get started?", and "Why should I pick one over the other?". These types of questions come to your mind, and the panic slowly, but surely, sets in.
No more. In this article, I did the legwork for you and I've come up with a list of 30 retail marketing tools that could help your brand reach its goals faster and more efficiently. Therefore, you can make a more informed decision when investing some time and money into new tools.
With the right retail marketing tools, you can create more engaging marketing materials for your campaigns, use professional accounting advice, do payments and transactions in seconds, see real-time statistics about your business performance, and many, many more. These are only a few benefits of the retail marketing tools I'm going to tell you about.
So let's begin, shall we?
30+ retail marketing tools you need to try
Each retail marketing tool is properly described so you can understand exactly what it does and how it could help your business. But to make the job easier for you, I've divided all the 30 retail marketing tools into 6 main categories that each retail business should have.
Here's a list of the main categories:
Click on the one you're interested in and jump ahead.
Retail marketing tools
Facebook
Instagram
LinkedIn
Twitter
Flipsnack
We'll take them one by one and get into more details.
Facebook
The first one on our list is the goldie Facebook, used by over 2.89 billion monthly active users. Your brand should definitely be where people are, right? I'm sure you're already familiar with a personal Facebook account, but if you haven't considered having one for your business, now's the time!
Facebook is like the ID Card of your brand. And it's basically the place where you're presenting the whole marketing mix of your brand: product, promotion, place, and price. Basically, you add photos of your products in a product catalog shop, promote them through Facebook's ad campaigns, and add the prices. This is especially great for startups or small business owners that don't have enough money to invest in a professional website to sell their products.
Worried about posting something that only your colleagues will like? I should tell you that yes, if you want to increase brand awareness and eventually sell through Facebook, then you should invest some time and money into promoting your content. Setting an ad or just a boost post on Facebook by adding your payment card details is a walk in the park. No matter the business size, you should definitely consider using Facebook to get your brand known out there and to sell your products or services in a fast way.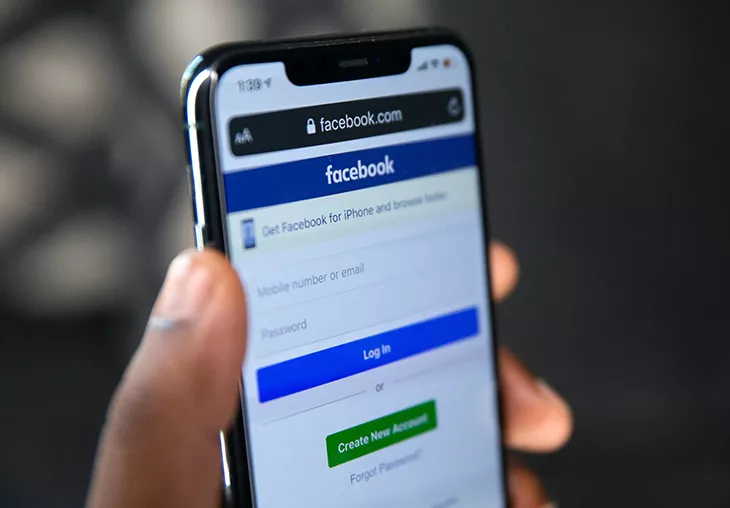 Instagram
When we talk about retail marketing tools that you should use, we cannot miss including Instagram. This platform has taken over the world – literally. Don't get me wrong, it's not a bad thing, in fact with the great features Instagram has, brands have never been closer to their audiences.
The entertainment and fun elements Instagram has brought to businesses are just insane. Brands can now easily get closer to their audiences through posts, stories, IGTV, reels – and who knows what's next?! It provides the perfect opportunity for businesses to show some behind the scene photos with their followers, some live moments within the company, or any other type of content.
Not only this, but you can also get to know your audience better, what their likes and dislikes are, and not to mention that you can easily boost your sales by adding prices and direct links to your website, and even making ads. There is a lot more to say about how this platform could take your retail business to the next level, but hopefully, you've already figured that out. If you don't already have a business account – which would definitely shock me, add Instagram to your retail marketing tools list ASAP.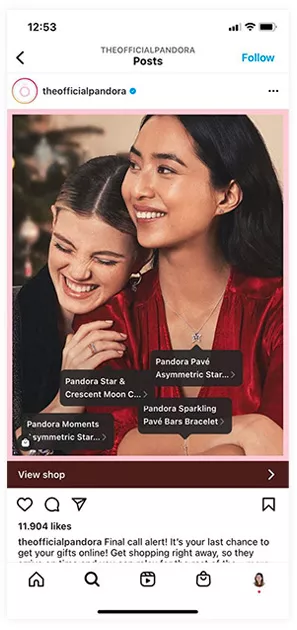 LinkedIn
While Instagram was the place of ultimate fun, LinkedIn is the place where you show the professional side of your brand. But with a twist of cool posts, of course. You can think of LinkedIn as a professional document that contains details about what is your business, what it does, and how it helps people.
LinkedIn builds credibility in your brand, but firstly, you'll have to decide with what purpose you're going to use it. If you're looking for people to hire or have a new job position available, LinkedIn is a suitable platform to find eager people to work for your business with their Open for Business feature.
But they also have lots of great features such as selling, connecting with people, and tracking what others are saying about your brand. And just like Facebook, LinkedIn also comes with groups and communities that you can join. It will be easier for you to find marketing ideas, see what the competitors are doing, and spot trends. So make sure to include LinkedIn in your must-have retail marketing tools list.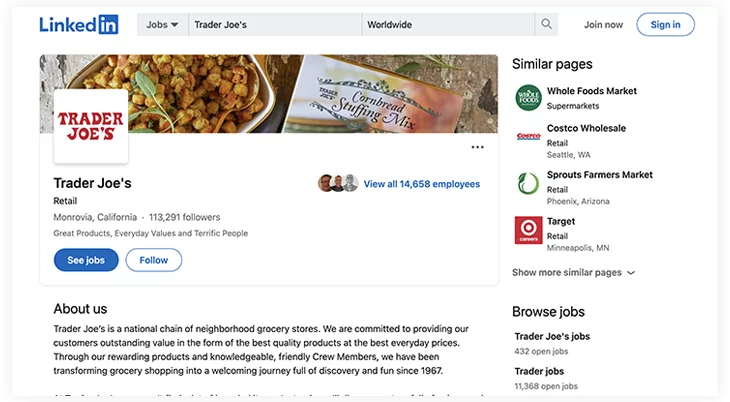 Twitter
Twitter is the place where you can easily interact with your customers and an opportunity to get more personal, fun, and engaging with your audience. There are a lot of cool trends happening on Twitter, so make sure to be a part of that.
Lots of brands add encouraging messages to one another, sending love and letting their audience see that is not everything about competition and being on top, but about being professional and supportive of others as well. And let's admit, there's still enough space for every retail and wholesale business on the globe.
Make sure to use Twitter for your retail marketing strategy as it can help your brand get more recognized and even increase a wider audience. Walmart, Balenciaga, and Old Spice are there. What are you waiting for?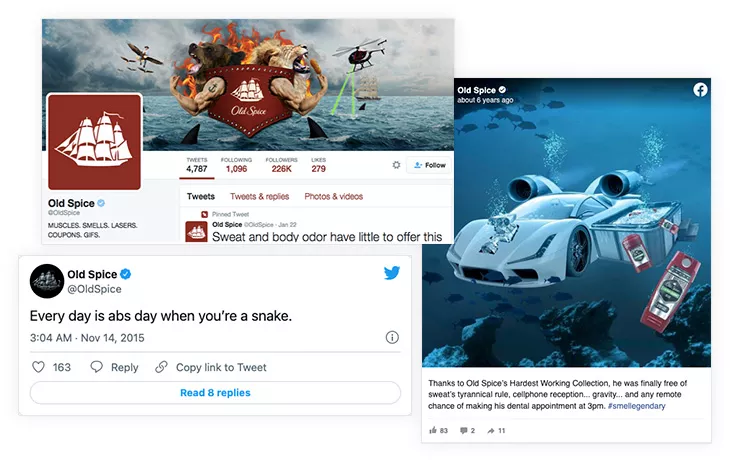 Flipsnack
The last one from the retail marketing tools list is Flipsnack. We all know the hard work of driving more sales. Well, not anymore. By using Flipsnack as your retail marketing tool you can give your customers a whole new digital shopping experience and easily convert them from visitors into customers. How? With appealing and professional content!
In Flipsnack you can easily create interactive retail marketing materials from catalogs, brochures, lookbooks, and magazines to flyers, newsletters, and more! All these content materials you can make within seconds. You only need to upload your PDF document and give it a 3D flipping effect or try their wide variety of pre-made templates, to begin with.
In their Design Studio, you can add interactivity through elements such as buy buttons, price tags, captions, videos, photo slideshows to make your next product catalog design outstanding! Basically, any kind of marketing material can be taken to a whole new level so you can easily impress your clients.
And there's more. You can automate the tasks of making catalogs, track the performance of your publications by using their statistics and even embed the publications right on your website. Other great features? Yes, Integration with Shopify, Google Analytics, and Google Tag Manager for further insights.
Now let's move on to our next category.
Accounting software tools
Quickbooks
Zoho Books
Freshbooks
Xero
Kashoo
Odoo
Quickbooks
Quickbooks is an accounting software package created by Intuit that provides personal, business, and tax management solutions. Businesses can use Quickbooks to automate processes like invoicing, payments, accounting, and more. These features make it easier to manage and track your business's finances.
Quickbooks also provides customers with a variety of finance-related features. Each can help small and medium business owners handle their company's accounting.
Finance and accounting are the most critical parts of any business. Initially, you can limit them to spreadsheets; however, with an increasing span of business, automation in accounting is a must. If you are looking for effective financial management software for your Magento 2 store, then you can try Mageplaza Quickbooks Online.
Mageplaza Quickbooks Online is a cloud-based financial management software that saves you considerable time and effort in managing business finances. It offers synchronization of all information, including customers, sales, products, payment documents, taxes, payment methods. As a result, you can manage essential data more efficiently. Thanks to this software, managing finances and optimizing business cash flow have become easier for Magento 2 store owners.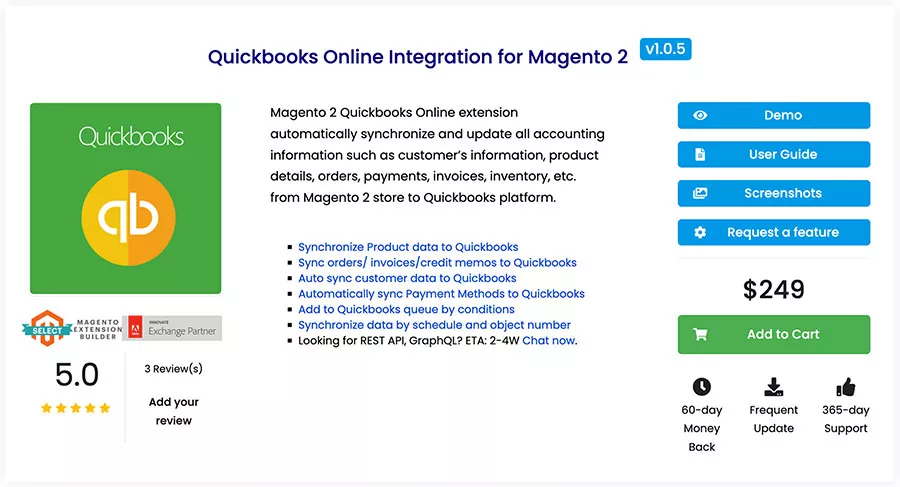 Zoho Books
Automating tasks, making data accessible, simplifying taxes, reducing data loss – all these sounds amazing, right? Zoho Books is a great end-to-end online accounting software tool that you should immediately try. It helps retailers to easily manage finance, accounting, taxing, and even online payments while it also automates the whole business workflow.
This app is especially great for business owners that don't necessarily find themselves quite the accounting experts.
Besides all that, Zoho Books allows its users to manage multiple timesheets and keep track of reimbursable expenses. It basically offers the whole accounting package a retail business would need. Not to mention the intuitive interface so that everyone can easily figure out how to handle the app.
They offer different kinds of plans from Free to Premium which is great especially if you want to experiment with new accounting software. Make sure to check them out!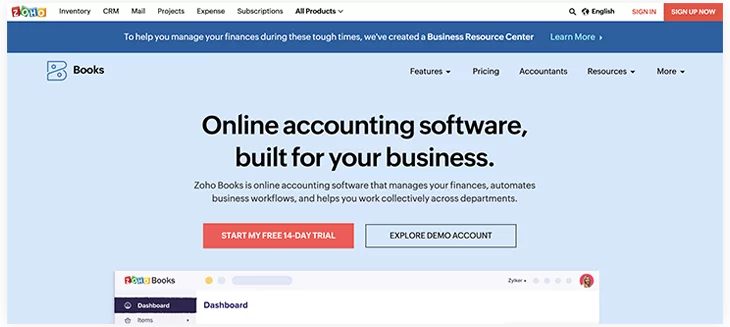 Freshbooks
FreshBooks is an online accounting and invoicing service that helps brand owners save lots and lots of time. It automates daily accounting activities, payment acceptance, expenses tracking, billable time tracking, and financial reporting. And these are not the only ones, believe me.
When it comes to accounting software, it's important to keep in mind that the one you choose supports integrations with other platforms as well. If you wonder why it's because of how easy it's to manage more applications in just one place. Lucky for you, Freshbooks supports integration with quite a few platforms like Shopify, Hubspot, Dropbox, Gmail, Gusto, Proposify, and Hurdlr. Told you they've got a lot.
Anyways, using an accounting program that helps your retail business grow efficiently is highly mandatory. And that's exactly what Freshbooks does, it takes billing out of your hands and puts it on autopilot. Don't forget to check out their pricing plans and see what works best for you.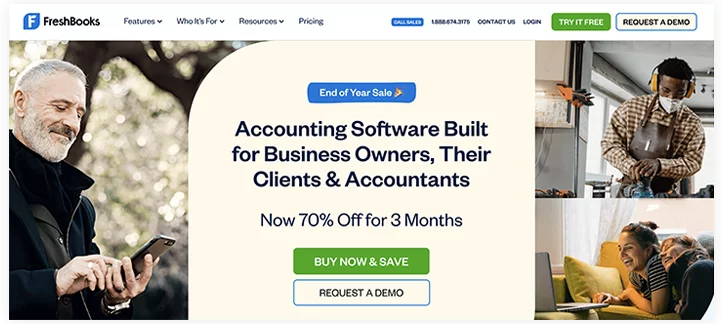 Xero
Another great accounting software tool is Xero. It has an all-in-one solution for small businesses but it can be used by big ones as well. The cloud base accounting software helps to automate tasks such as reporting and invoicing, accepting payments, and tracking projects.
They come with a great system for accountants and bookkeepers alike as they'll be able to easily connect with clients, manage projects, and see specific insights – these are the solutions every retailer wishes for in an app.
But as I previously said, Xero can be also used by business owners and what's great is that they can connect their bank account and see the cash flow reports, invoice information, and how transactions perform. Xero it's great as it calculates tax payments and you can make payments right from the app, which makes filing taxes a much easier job. And the best part? You get to access all of these in one place. If you have a retail store then make sure to check this accounting software.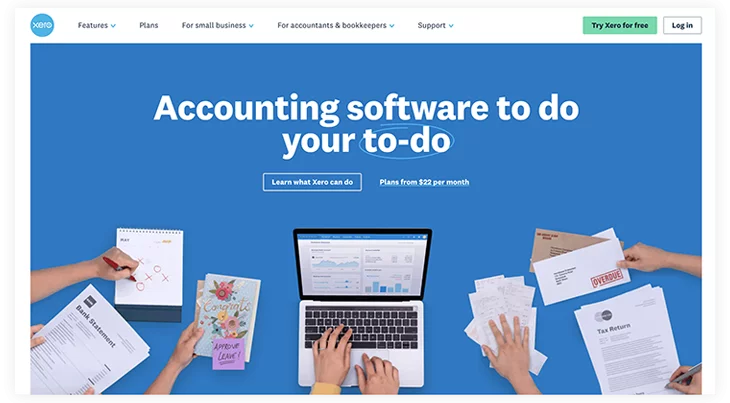 Kashoo
As we've already established, finance tracking is a must for any retail business – no matter the size, so it's essential to arm your brand with a complex accounting software solution. Kashoo comes in great help for small business owners that don't have enough time or expertise to keep track of their brand's accounting situation.
And let's be honest, accounting can sometimes be overwhelming, especially when you just need to automate one or two small jobs and get on with making money, right? No worries, their great accounting software will do all the job for you. You can easily track incomes, payments, expenses, and even automate your accounting workflow while using built-in safeguards to ensure your numbers are always accurate and up-to-date.
Kashoo also has a team of professional accountants that are always there to help their customers figure out what they need. So if you don't know exactly what you need for your business, you can easily address someone from their team. Definitely give them a try.
Odoo
The last accounting software is Odoo. It addresses small and midsize retail businesses and it's used by over 7 million businesses. Now that says something, agree? This cloud accounting software has so many great features such as managing bills and expenses, bank synchronization, invoicing, and many more.
Having statistics, earnings reports, balance sheets, or cash flow statements is what every business owner should look for in an accounting tool. Besides the accounting solution, Odoo also offers marketing, warehouse management, and project management solutions. It's no wonder their app is used by so many users as they come with lots of diverse solutions for brand owners.
Therefore, if you're looking for a one-stop diverse solution for your retail marketing strategy, then check this out.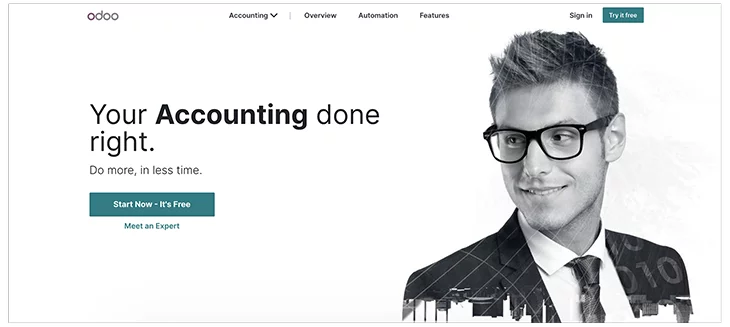 CRM software tools
Hubspot
ClickUp
Monday
Pipedrive
Mailchimp
EngageBay
Hubspot CRM
If you haven't heard of the Hubspot CRM, maybe you've been living under a rock. Because let me tell you, my friend, their customer relationship management software is just fantastic. This tool can arm your sales team with time-saving solutions, it provides email tracking and notifications, prospect tracking, meeting scheduling, and also live chat. What is the best part of using it? 100% free! I think this pretty much says everything.
If you wish for even deeper features, they also offer enterprise software for marketing, sales, customer service, content management, and operations.
The Hubspot CRM comes with a visual dashboard that offers real-time information of the sales funnel and you can easily track customer interactions. This retail marketing tool has lead generation and email marketing automation features and you can even see how your emails are performing. Also, marketing automation is in general very useful to lots of businesses especially when you need to measure performance, so have this in mind when researching for tools.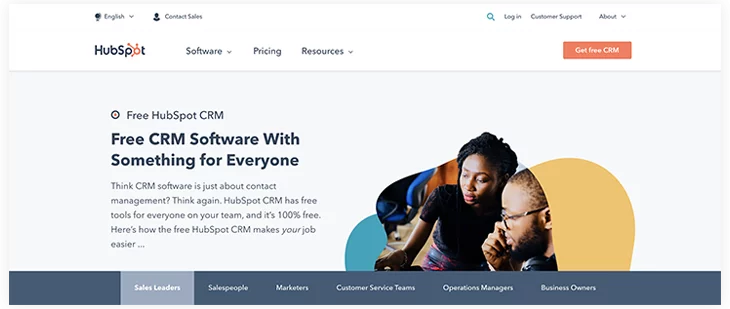 ClickUp
Next on our list is the ClickUp software tool. Customer relationship management is not an easy job to do but with ClickUp you get a complex tool that enables teams with features such as: managing the sales pipeline, account management, data visualization tracking, and many more. 
The app is super intuitive and it requires no coding. Just beautiful widgets and Kanban boards that can help your employees visualize work more easily, be organized, and maximize efficiency as much as possible. So use ClickUp to analyze data for customer insights, work with your clients more effectively, and track statistics to improve upcoming strategies.
Also, keep in mind that you can integrate other CRM tools into ClickUPp for having all your data in one place. And even Google uses it, which is pretty safe-explanatory, right?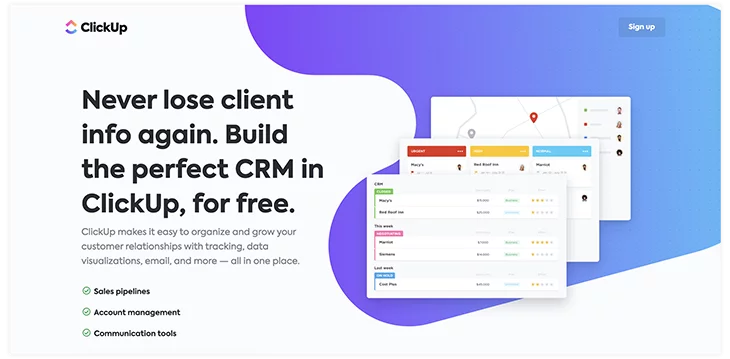 Monday
Keeping your teams properly organized and offering a great shopping experience for your customers is a high priority. By using Monday – a CRM software tool, you can enable your teams to collaborate and communicate projects and tasks more effectively. It has many features such as automated notifications, workflow automation, time-tracking, multiple views so teams can easily get faster results for their ongoing projects. 
It's important to keep an eye on what features CRM software offers, so your employees would enjoy using it. In the Monday app, team members can share files, images, boards and it even offers integrations with Jira, Google Drive, Mailchimp, and others. The interface is friendly, fun, and intuitive so no one would have a hard time understanding it.
Give your teams a great CRM software tool like Monday to improve their communication and collaboration on plans, projects, or tasks. It's already used by brands like Coca-cola, Hulu, L'oreal Paris, and others. So make sure to give this app a try.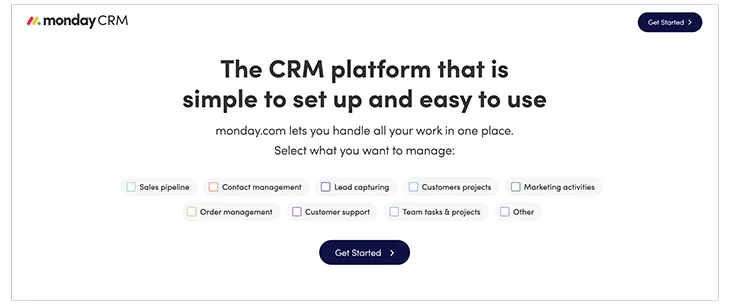 Pipedrive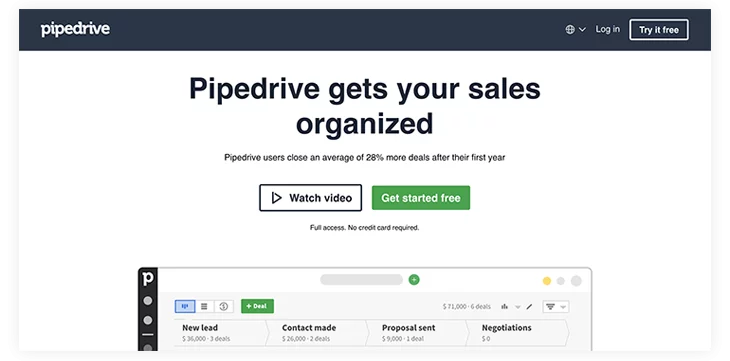 Mailchimp
Even though Mailchimp is primarily a MAP, the platform offers some great CRM solutions for the retail industry which work perfectly fine for freelancers, start-ups, and small businesses alike. It has mixed features that suit marketing and sales departments as well. 
Their audience dashboard shows pre-built segments like top locations, recent sources of growth, common tags, and even customer lifetime value (CLV). Basically, you can get a complex view of your audience, growth, engagement, and revenue reports that will help you discover patterns in your audience behaviors and see what's working with your marketing strategy. 
So if you want to improve your strategies, make sure you have based data to know exactly what to change, update or push forward. What's great is that you can also integrate other enterprise CRMs like Salesforce, for instance.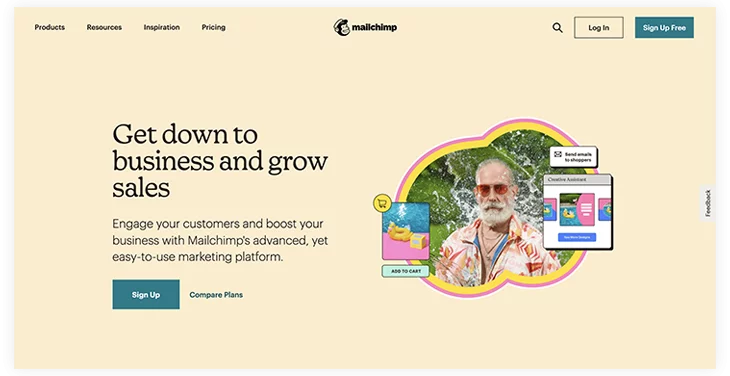 EngageBay
EngageBay is your one-stop shop when it comes to handling the nitty-gritty of running a small business. It's like a Swiss Army knife in the world of marketing, sales, and customer service. On the marketing front, it's a robust platform that offers everything from email marketing and social media promotions to landing pages, essentially automating a good chunk of your marketing tasks. It's like having your own dedicated marketing team, just without the extra personnel!
When it comes to sales, EngageBay steps up its game with features that allow you to track and nurture leads. Imagine keeping a close eye on potential customers and giving them the tender loving care they need to convert from prospects to actual customers. It doesn't stop at bagging customers, though; EngageBay extends its utility to the customer service domain, ensuring you retain your hard-earned clients with top-notch service.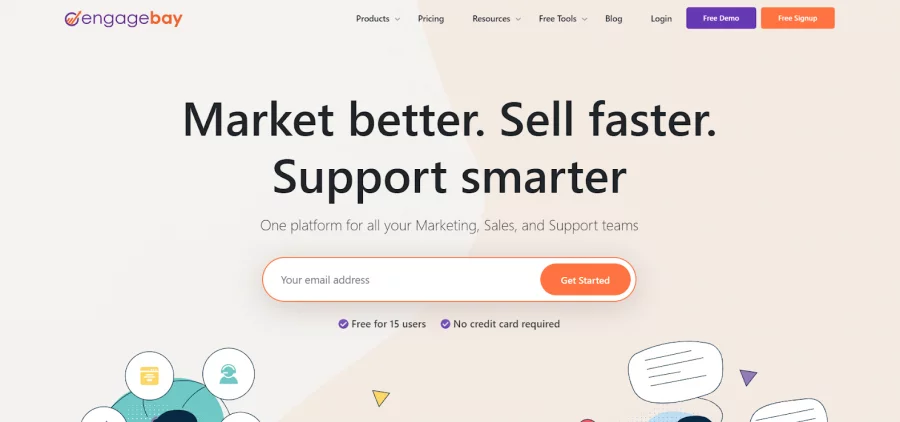 And the cherry on top? EngageBay is designed with the small business owner in mind. It's user friendly, doesn't have a steep learning curve, and won't leave your wallet empty. Plus, it's customizable, so you can make it fit your unique business style like a glove. As a bootstrapped entrepreneur or small business owner, having a super affordable all-in-one CRM tool like EngageBay at your disposal can be a game-changer, significantly easing your workload and giving you more time to focus on growing your business.
E-commerce software tools
Wix
Shopify
WooCommerce 
Squarespace
GoDaddy 
Wix
Wix is loved and known for its super accessible and intuitive landing pages solution. You can easily create and manage a website without needing to pay a professional designer to do it. Now that sounds quite amazing, right?  
It's also fun to customize your website by using their wide variety of templates that have video backgrounds, a lot of font styles, and even animation so you can display your beautiful products or items in a stunning layout design. But no worries, you can also edit the template to suit your own brand and style and you can add your brand's logo and maintain the brand's consistency.
If you didn't realize this yet, Wix is great to use as your e-commerce software tool as it offers the perfect e-commerce portal to display products, manage orders and payments. Having a beautiful website can improve your chances of selling more products. Customers love a great design and they even tend to spend more time on it because of that. So definitely take a look at Wix when you're in search of an e-commerce tool for your retail business.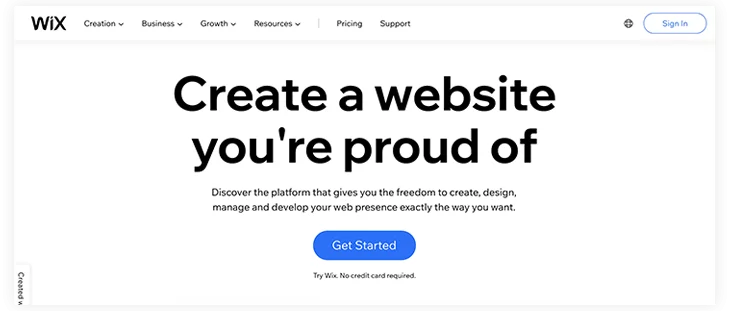 Shopify
Shopify is another great option to try for your e-commerce software tool. In just a few minutes you can have an impressive online shop by using Shopify's website builder. No need for hiring a professional web designer as you can easily design a website by yourself. Promise you that their app is super intuitive so no worries are needed. This comes in great help especially for small business owners or start-ups that can't invest a lot of money in web design.
Shopify also helps retailers to sell their products online and easily reach their customers. This web-based e-commerce platform has an integrated mobile POS system which is pretty great for having more tools in one place. Businesses can quickly manage their in-store transactions as well as at markets, pop-ups, and trade shows. 
And the best part? You can integrate your Google Analytics and use Shopify's analytics module to track sales, clicks, visits, and more insights. Make sure to give it a try and convince yourself how easy and fast you can accomplish things by using Shopify.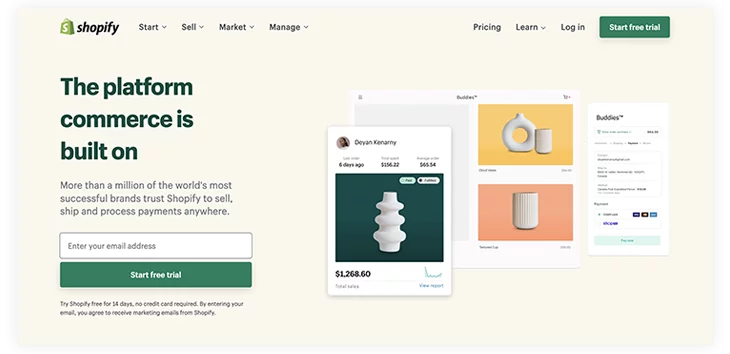 WooCommerce
WooCommerce helps retailers to create e-commerce websites by using pre-made themes, templates, product-page layouts, and checkout-page designs. As I already mentioned, taking good care of how you invest your money, especially at the very beginnings of a business, it's an important step. So instead of paying hundreds of dollars to a designer, try WooCommerce and design the website yourself. 
Besides that, store owners can use the platform for order management, customer management, and sales optimization as well. To sum it up, WooCommerce allows users to sell physical, digital products or goods online in just a few clicks. 
By using this platform you can offer customers different shipping options such as pick-up, local delivery, and others. Moreover, you can integrate Paypal and Stripe for the payment integration functionality. When you're in search of e-commerce tools and want to spice things up when it comes to retail marketing tools, keep this in mind as well.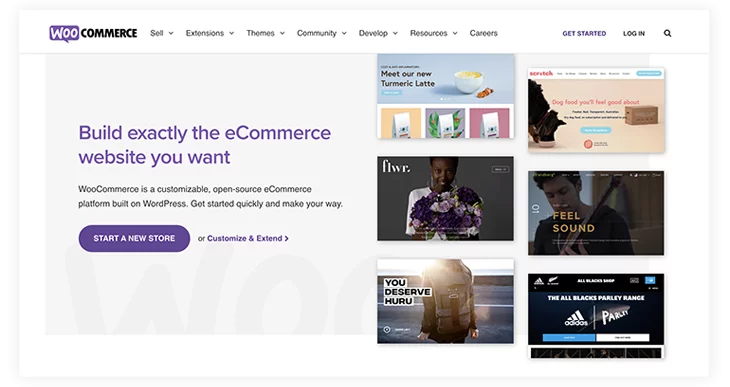 Squarespace
Squarespace is a super intuitive website builder. In fact, you don't need any technical expertise to create a stunning e-commerce site for your business as it's super intuitive and offers great templates, to begin with. With a simple drag and drop, you can achieve a website design that would look like it was made by a pro.
This platform also comes with features such as email marketing or scheduling software tools, so if you're looking for a platform where you can accomplish more things at once, make sure to check this one out. Having a professional-looking website increases your chances of selling more products as people will spend more time on it. Did you know that Elon Musk's The Boring Company has used Squarespace to build its website? If this works perfectly for Elon's company, then you should give it a try for sure!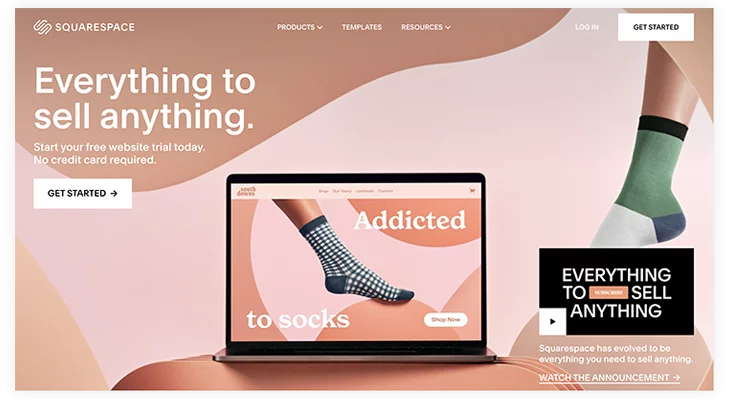 GoDaddy
The last example of an e-commerce software tool is GoDaddy. It's great for people that don't consider themselves very tech-savvy. The process of creating your e-commerce website is fast and they have quite a few features to make the final design outstanding. 
Having a great design to display your items and products it's very important as this will be the first thing people will notice about your brand – especially when you don't have a physical store. Make sure your website is clean and that it represents your brand perfectly. Of course, brand consistency is vital throughout all your social media channels, so have this in mind while designing your website. 
And don't forget about the customer experience your users will have on your website. Assure yourself that it is an easy-going one as it will help you in selling more products. 
GoDaddy also offers email marketing, social media management, a CRM solution and you can use it even as a content creator for designing posts. Give it a try to see how it will impact your retail marketing strategy.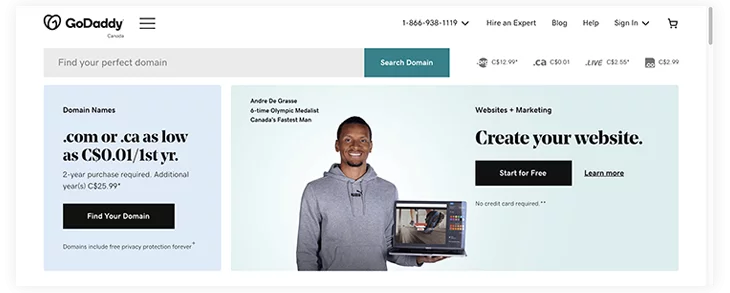 Retail management software tools
Quant Software
Price2Spy
Prisync
Qminder
Bindy
SafetyCulture
Let's talk about each one. 
1. Quant software
Quant software is great to use for improving your overall retail management strategy. The platform has a lot of features that enable business owners to handle the combination of retail and sale management spaces more efficiently. 
It offers optimized planograms according to sales, advanced reporting, connection to (semi) automatic ordering, a modern web interface for planogram distribution and communication, and many, many more. Test the Quant software and see if it suits your retail business needs.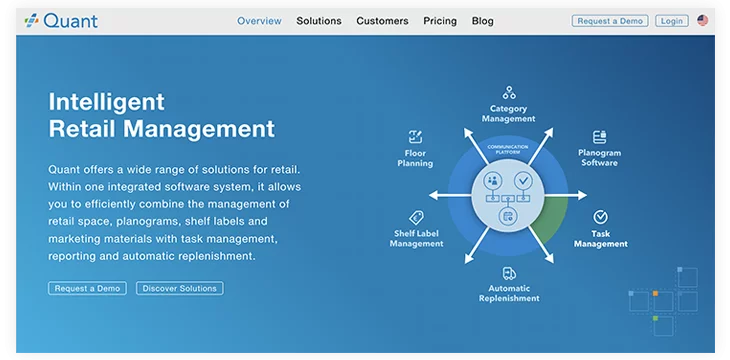 2. Price2Spy
The next one on our list is Price2Spy. How cool is that name?! You can already figure out what this tool does and how it can help you. Spy the prices of your competitors, right!
This retail management software tool addresses small and large online retailers and it basically offers solutions to monitor prices, track statistics and make comparisons. Being in the retail industry is already challenging, so this tool will help you to easily identify competitors, see the price differences, and therefore, help you to better market your position. 
Moreover, you'll be able to gather all the pricing information and be more up-to-date with the latest prices your competitors have. There are a lot more great features that will improve your overall retail management strategy so make sure to test Price2Spy out.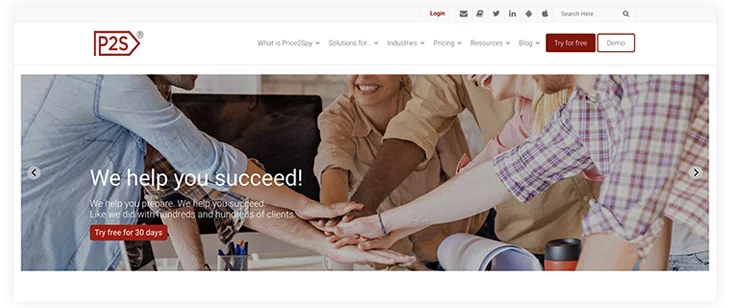 3. Prisync
Prisync offers great price optimization and merchandise management tools. Users can easily report data, track the competitors' prices and stock levels. The purpose of this tool is to help businesses set smart price decisions depending on the market and obviously, to help them increase their profits.
The platform has quite a few features that you can also use such as checking stock availability monitoring, seeing insights about the pricing analytics, and even turning on email alerts and different kinds of notifications.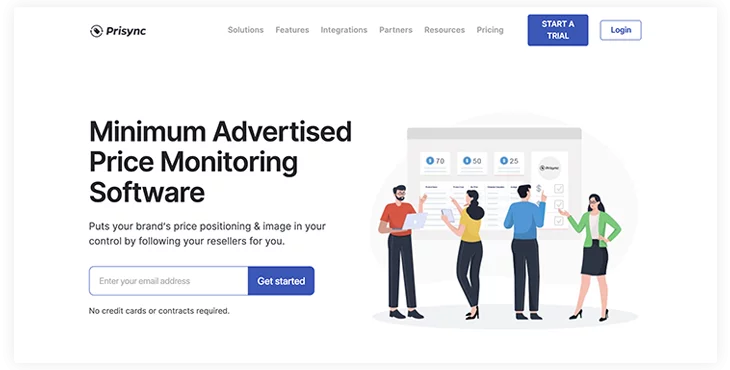 4. Qminder
Qminder comes with a great solution for retail management for both single and multi-location businesses. They have features such as helping retailers with their customer engagement, workflows, collecting data about each visitor, and even offering a real-time overview so you can make better decisions.
The analyzed data and statistics are a vital part of your brand's growth strategy. Assure yourself that you use a retail marketing tool that offers concrete insights and details. Therefore, you'll be able to make data-based decisions for different marketing strategies.
With Qminder you also can enable your service management, daily operation, and see concrete performance reviews. The platform even integrates with API to feed all the data into your CRM or BI system. When in need of a retail management software tool, make sure to give it a try.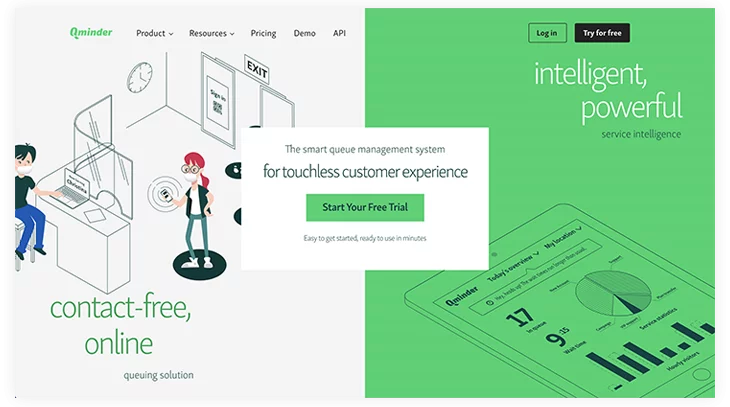 5. Bindy
Bindy is another option that you should take into consideration. The app helps to automate tedious and time-consuming tasks so you can work smarter and more efficiently. Bindy offers forms, maps, charts, calendars and helps to gather all the data. Therefore you can improve your retail management strategy based on informed decisions.
They've come up with lots of features such as customizable forms, set permissions, share data, real-time information, and more. So make sure to check it out!
And now let's move on to the final category.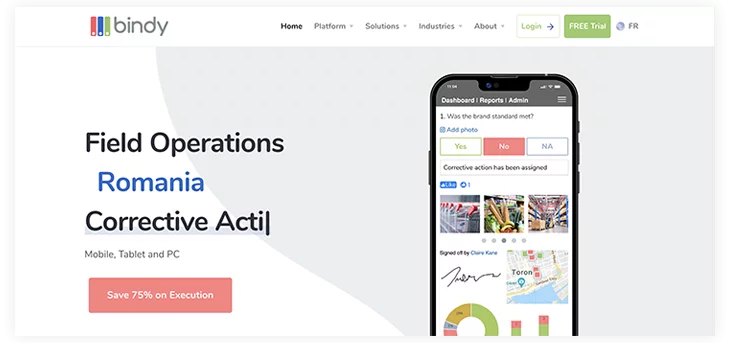 6. SafetyCulture
SafetyCulture, formerly known as iAuditor, is a flexible platform that provides various features for retail management, including inventory management, asset management, and reporting. This platform is available as a web-based software and mobile application, and it simplifies the process of managing safety and quality standards in retail stores. With SafetyCulture, retailers can easily track and monitor their performance while identifying areas that need improvement.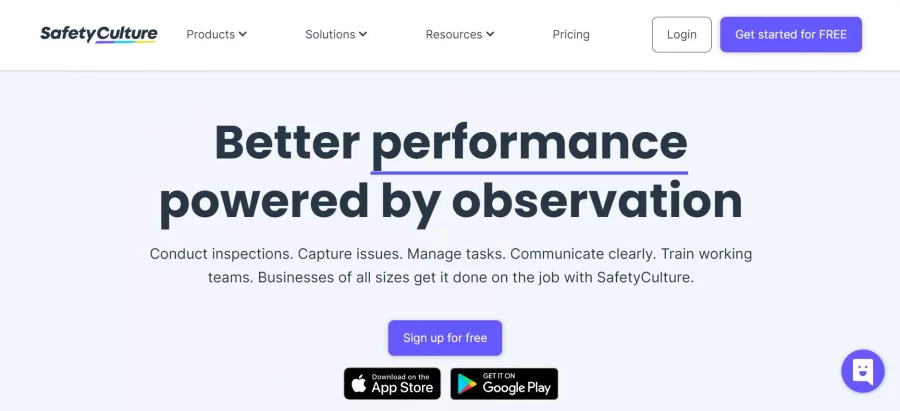 Retail POS software tools
Erply
Stripe
Paypal
Apple Pay
Google Pay
As previously, we'll talk about each one of these.
Erply
How great is it to live in a digital world where you can make payments instantly? Erply offers a key element for any retail business: a point of sale – also known as a POS system. Besides this, the platform also offers some customer databases and inventory management solutions.
The platform has all the functionalities of a POS system like free stocking, invoicing, and dashboard apps. Most importantly, Erply offers secure payments for shops, integrations with Shopify, API, basically a retail POS that's flexible, accessible, and super functional. Definitely worth a shot.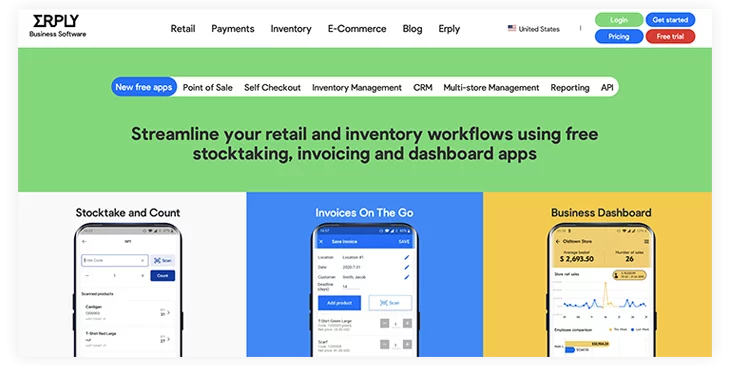 Stripe 
I'm sure you've heard of Stripe as it's used by millions of businesses of all kinds and sizes. It has a set of unified APIs and tools to accept payments, send payouts, and manage everything about your online business.
Stripe is also great for enabling your business to accept international debit cards, credit cards, and currencies. You can also use it for both web and mobile payments – which will be for sure greatly appreciated by your customers.
The platform offers what any business would need: a professional retail POS software tool that offers customers an impressive customer experience.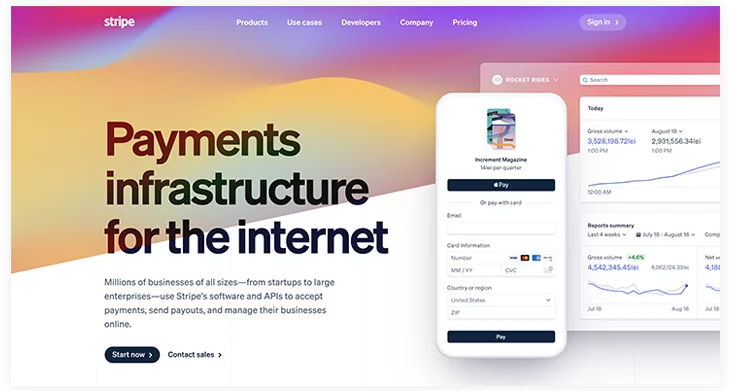 Paypal
Paypal is another great POS software tool. It enables businesses to pay and accept payments through an online portal while keeping financial records private. Paypal can be used by individuals, businesses owners, and users can easily shop and make transactions overseas by simply adding their card details. 
By using Stripe, business owners can accept payments from over 200 markets with just a single account. For easy payments and transactions, make sure to check out Paypal. 
Apple Pay
Apple Pay is great for retailers that already run their business with several Apple devices. The app has a near-field communication system so customers can securely transfer funds to your Apple devices. Even though you can only accept payments from customers with IOS devices or from those that have set up their Apple Pay account, if you use more Apple devices, then it might be a good idea to consider it. 
Keep in mind that you'll need an additional merchant account provider as Apple is not one of them. So you'll need to pay that transaction fee, but at least, Apple doesn't charge any additional fees. 
Google Pay
With Google Pay, you can easily make payments and manage your money transactions. The app allows businesses to accept payments without any fees. The best part is that anyone who has a Google account or a Gmail address can pay with Google Pay. 
Similar to Apple pay, Google Pay is not a merchant account provider, so if you don't already have one, you'll need to set one up separately. Make sure to give Google Pay a try!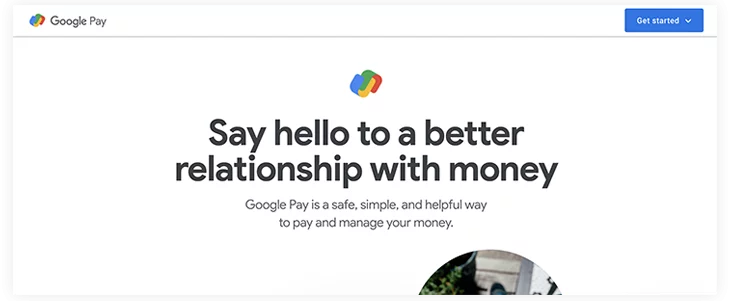 Conclusion
It's been quite a ride, thank you for sticking with me till the end. Hopefully, you'll find these retail marketing tools helpful, but if you're interested in finding more, then take a look at some digital marketing tools or real estate marketing tools recommendations. You're still not quite sure what tools to use? No problem, start by making free accounts and experimenting with these platforms to get a sense of what they do, how they perform and choose the one that fits your brand. 
By using the right combination of retail marketing tools, your brand can accomplish tasks and projects faster, set clear and documented strategies, and finally, reach its goals. Give yourself some time and find out exactly what your brand needs. Then, choose the appropriate retail marketing tool and make history!