40+ digital marketing tools you need in 2023
Just like a carpenter needs a saw and a drill to build a house; a marketer needs various digital marketing tools to drive more traffic and convert potential leads into customers. Trust me; I know what I'm talking about; I've been in this field for several years.
But I also know that it's not an easy job to pick the right tool with so many out there. The world of marketing is quite a big one, and sometimes it might be overwhelming to keep up with all the new tools, trends, tips, and tricks that appear every day.
That being said; I've decided to come up with a list of 40 various marketing tools that you should try for 2023. Some of these tools are used by me and my colleagues here at Flipsnack; so this article is also written from a personal perspective and experience.
To be honest with you, it was really stressful and time-consuming to try different tools until I found the best ones; that's why I think this article gives you a great starting point and can also serve as a solid and powerful marketing stack.
I've divided this list of 40 marketing tools into different categories; so that it's easier for you to spot the tool and category you're interested in.
Let's get started!
40 digital marketing tools you need in 2023:
Marketing collaboration & communication tools
Jump to the marketing tool category you're interested in by clicking on it.
Email marketing tools
GlockApps
Stripo
Mailgun
Intercom
Hunter
Mailchimp
SendX
Moosend
Let's take them one by one and get into more details.
1. GlockApps
The first one on my email marketing tools list is GlockApps. Being an email deliverability and spam-testing tool at the same time; GlockApps helps you find out exactly why your emails get blocked or arrive directly into the spam folder. Besides this, you'll also discover different ways to fix this problem before sending your message to your subscribers.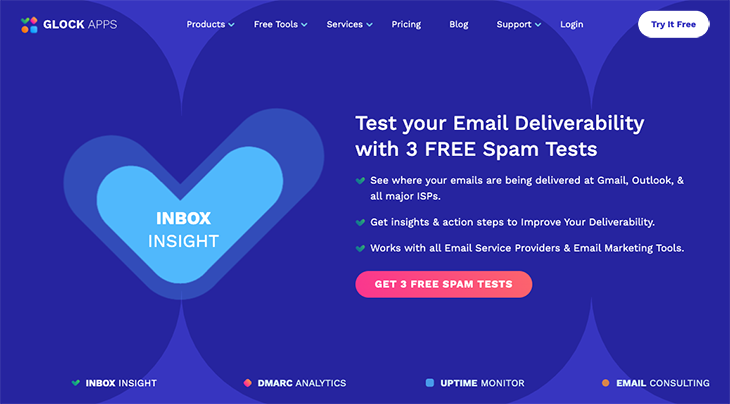 What differentiates GlockApps from other email spam checkers? This tool requires you to send your message to various "seed" email addresses to check the spam score for your email content, the reputation of the email/domain you send from, authentication; and also real email placement across a multitude of ISPs. In their opinion; it's highly recommended and important to send a test email from the same place you'll send your actual campaign from.
Deliverability is a crucial aspect of Flipsnack's email marketing. Therefore, it was extremely important for us to find the best spam testing tool. In GlockApps, I found more than just a spam testing tool. It is a one-stop-shop; where I can easily perform spam tests as well as check the deliverability rate for all our emails before sending them into the world. It provides all the insights I was looking for, such as HTML code, images, links, and spam content. And the best part is that they also provide action steps that you can take to fix any problems there might be. Check out Flipsnack's case study to find more about how GlockApps helped our emails reach their inboxes!

Diana Roscau, Email Marketing Specialist @ Flipsnack
2. Stripo
This drag & drop email template tool helps you customize your own emails beautifully and professionally. No need to worry about the design skills; Stripo ensures you that your emails will look stunning.
However, keep in mind that Stripo offers two different types of editors. One is made specifically for marketers or anyone else with no design experience at all; and the other one – the HTML code editor – is made for email developers. So make sure you choose the right one when creating the next email campaign.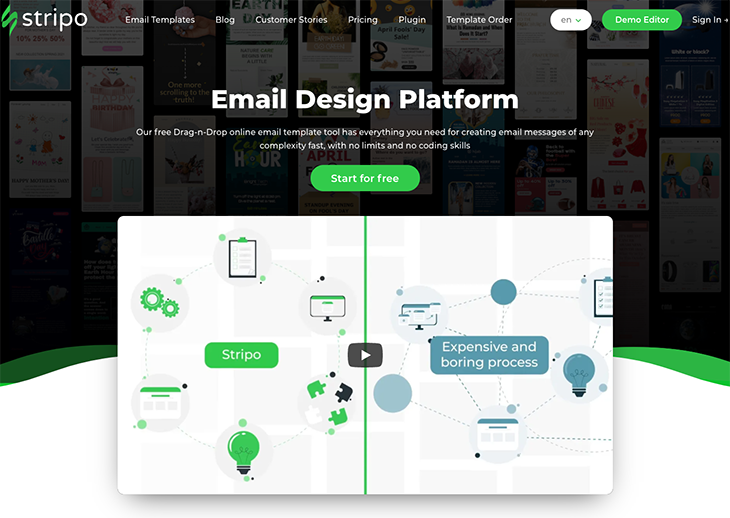 Besides offering 300+ email templates, Stripo is also packed with add-ons for embedding, interactivity, and smart features. Moreover, it integrates with HubSpot and allows you to export your emails into the CRM with just a few clicks.
Prior to Stripo; we were sending emails that were limited to an in-house created HTML format which we could only manually change and adapt. Stripo has provided us with an easy-to-use online email template tool that has everything you need for creating email messages of any complexity fast, with no limits and no coding skills.

Diana Roscau, Email Marketing Specialist @ Flipsnack
3. Mailgun
Even if it's presented as an email service for developers; Mailgun also serves the needs of both marketing and sales teams.
In a nutshell; Mailgun is a transactional email service that allows you to send, receive, and track emails using its powerful API. Not only you can send transactional emails; but you can also monitor their performance and optimize them to get higher engagement rates.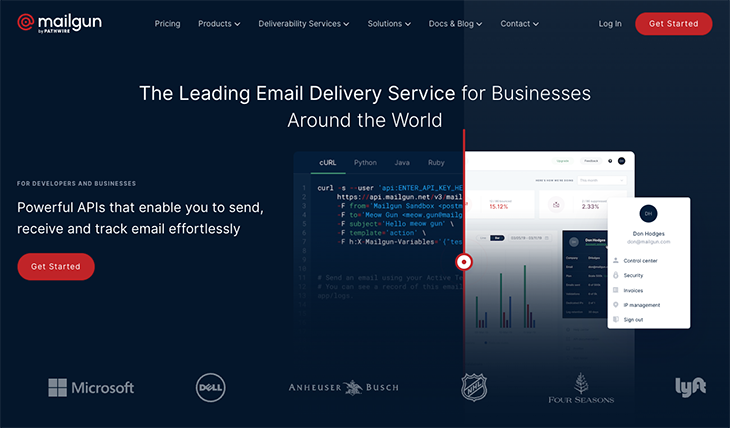 By offering you insights into analytics, you can see how Gmail, Yahoo, and other providers handle your messages. That being said; you'll be able to reach high delivery rates and keep your transactional emails out of the spam folder.
Mailgun, the platform through which we send all our transactional emails; offered us from the get-go the possibility to set up a dedicated IP where our reputation would be unaffected by other senders. This dedicated IP gives our emails the best chance of landing in the inbox which is extremely important to us, especially since we are talking about a very important type of emails. Check out Flipsnack's case study to discover more about how we improved our user experience by sending emails with Mailgun!

Diana Roscau, Email Marketing Specialist @ Flipsnack
4. Intercom
Intercom is much more than just an email marketing tool. It's a customer messaging platform that allows businesses to communicate with both their potential and current customers through a widget that you can easily install on your website, app, or even social media.
But that's not all. Intercom can also do wonders for your live customer support. Everything is managed through a Team Inbox, allowing customer support operatives to handle different discussions at the same time.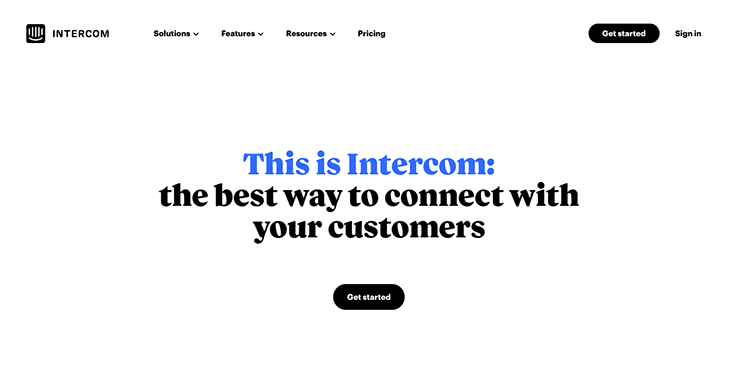 And the great news doesn't stop. Intercom powers up the in-app messages your clients see on your website and can also power up your help center. We, here at Flipsnack, are using Intercom for all of the benefits mentioned above. So trust us, we know what we're talking about!
Besides using Intercom for our live customer support; we have also managed to successfully integrate our email marketing campaigns in it and correlate our emails with in-app messages that we send on our platform, to give our users an overall smooth experience while navigating our website.

Diana Roscau, Email Marketing Specialist @ Flipsnack
5. Hunter
Hunter helps you connect with other professionals by allowing you to find and verify their email addresses, as well as reach out to them through cold email.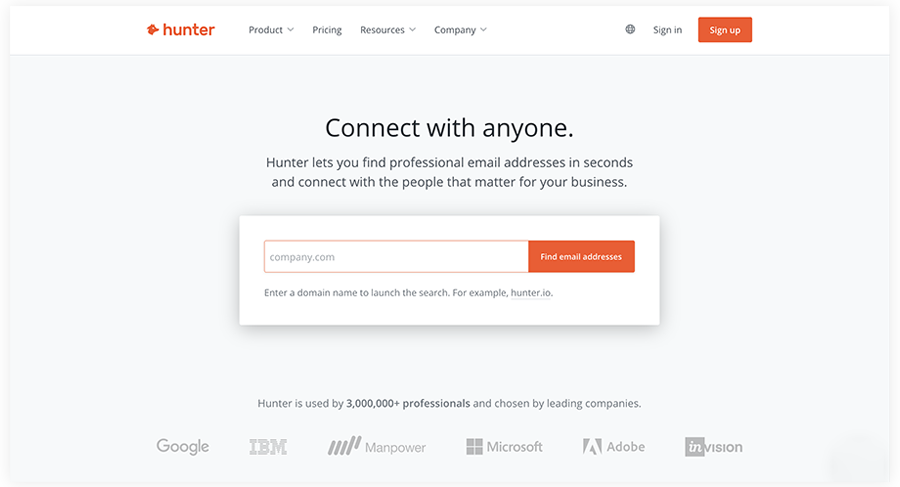 You can use Hunter's Email Finder and Domain Search tools to find email addresses using a person's name or domain name. There's also the option to find email addresses in bulk.
The Email Verifier tool helps you make sure email addresses are valid and safe to reach out to. It performs multiple checks for every email address, including the format, MX records, SMTP server, and more.
Hunter also offers Campaigns, a tool designed to help you set up and run cold email campaigns.
6. Mailchimp
Mailchimp is an all-in-one email marketing tool that allows you to create meaningful email marketing campaigns. With the help of its pre-designed email templates and drag & drop functionality; you get the chance to draft professional emails and drive more sales. Moreover; you can manage and track multiple email campaigns in real-time to ensure that all your emails bring the desired results.
Besides being super easy to use, Mailchimp also comes with a complete package. You can build your emails with images, GIFs, personalized fonts and then develop A/B testing for these emails to choose the one that garners the best outcomes.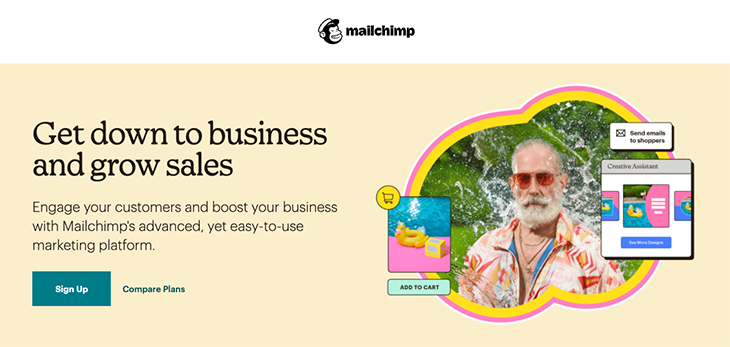 What's even greater is that they offer a free email marketing service plan perfect for any small business on a limited budget. It allows up to 2K contacts, one audience dashboard, segmentation tools, basic email templates, as well as basic reporting. However, if you want to exceed these numbers and features, I encourage you to check their premium plans.
7. SendX
SendX is an Intuitive and affordable email marketing tool. They pride themselves on enabling marketers with one of the simplest UIs in the industry. SendX provides unlimited email sends with every plan, powerful automation capabilities, and best-of-breed email deliverability. We also feature one of the biggest email template collections from across the web with over 1500+ templates.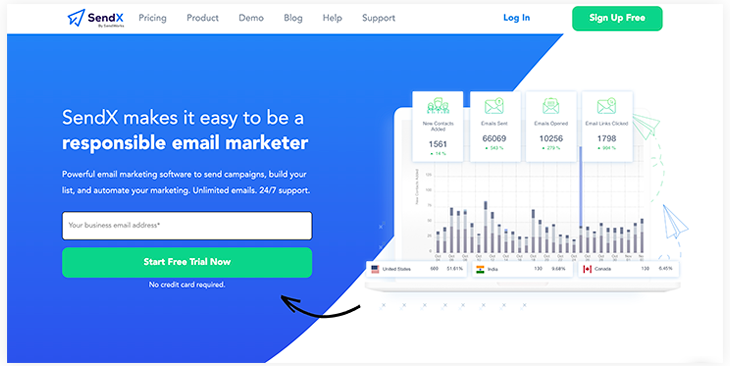 With SendX, you can make your marketing go into auto-pilot mode. Segment the customers on the basis of demography, subscriber behavior, and more than 25+ other parameters.
A customer will be able to reach subscribers through drip campaigns packed with triggered emails, web forms, mobile-optimized emails, autoresponder emails, customer surveys, etc. You can broadcast email campaigns, and receive detailed reports on valuable campaign performance insights like clicks, opens, and more. 
8. Moosend
Moosend is an email marketing and marketing automation platform that helps you create and curate email marketing campaigns that make sense to your audience in no time. With a short learning curve and an intuitive Drag-and-Drop email editor, the platform promises beautiful, targeted emails that drive just the result you need.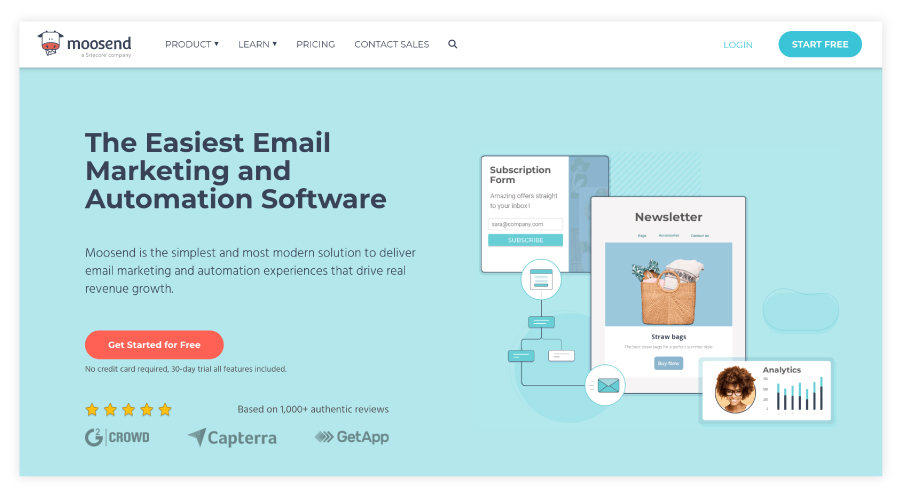 The platform also sports a wide variety of email templates, if making one from scratch isn't exactly what you want. These templates are fully responsive and customizable to your audience's liking. Moosend's platform also allows you to create a healthy email list and generate leads with its landing page and subscription form tools.
Moosend's prices start at $7/month, billed annually. The platform also gives you the opportunity to test its capabilities and decide whether it would be a good fit, as it offers a free 30-day trial, no credit card required.
Digital marketing tools
Google Tag Manager
Google Analytics
Campaign URL Builder
Hotjar
AdStage
Instapage
Zuko Analytics
Let's take them one by one and get into more details.
1. Google Tag Manager
The first digital advertising marketing tool I've put on this list is Google Tag Manager, a tool that you must have when running Google Ads remarketing campaigns to increase your conversion rate.
To clarify this for you, the GTM allows you to create remarketing audience lists quickly and easily. All you have to do is just insert a single tag code snippet across your website's pages. Then; after you've created the tag and installed it on your website, you can make and run as many campaigns as you want through your Ads account.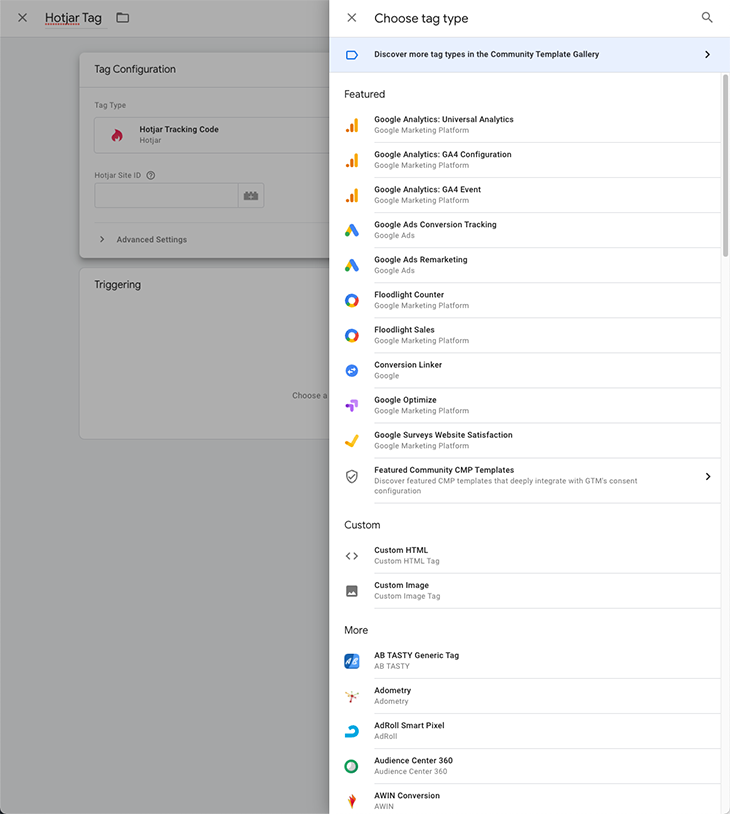 Moreover; GTM is vitally important in your Ads campaigns because it gives you the flexibility to define triggers to capture specific data. For instance; you can track when a user loaded a page, when a CTA is clicked, or even when a user completes an action or journey.
GTM is a tag management tool that helps us configure and instantly deploy tags on our website from an easy-to-use web-based interface. We use it mostly to install various tags from advertising platforms; such as Google Ads remarketing code & conversion code, Facebook pixel, etc. This helps us create retargeting audiences and set up different conversions according to each campaign and what needs to be tracked: orders, sign-ups, lead form submissions.

Paul Romancsak, PPC Specialist @ Flipsnack
2. Google Analytics
Google Analytics is one of the best free advertising tools you must use in your digital marketing strategy for your 2023 campaigns. It takes nothing more than just a few minutes of your time to add the Analytics code to your website. With its help, you'll be able to track every action of your visitors.
You'll know who is coming to your website, from where, and on which of your pages they're spending most of their time. Moreover; with Google Analytics, you can set up goals to track conversions, build an eCommerce setup, and even track events to understand your user engagement better.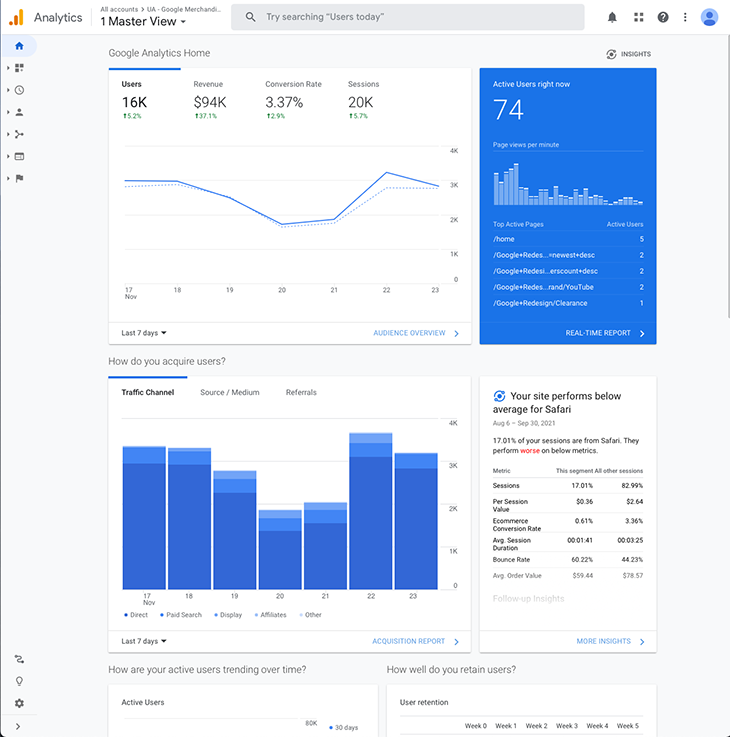 So, if you're not already using Google Analytics, make sure you install it today. With all the vital and valuable data that it gives you, you can adjust your future marketing and advertising strategies in such a way that you capture the best results.
Google Analytics is a tool that helps us understand our website's visitors and their behavior. It offers a lot of metrics about the results of your campaigns, important statistics about the pages they visit, actions they do, and their path to reach conversions. This tool is essential when it is about user tracking on a website. It can help us make important decisions not only in our future ad campaigns or website optimization, but also when it comes to our business.

Levi Rencsik, PPC Specialist @ Flipsnack
3. Google Campaign URL Builder
Every marketer wants to make sure that their ad campaigns bring in the best results. That being said, it's high time you used the Google Campaign URL Builder.
This free advertising marketing tool tracks your campaigns' performance and determines if they are effective or not. All you have to do is add a tracking code to your URL, and based on this code; you identify how your users are getting to your site. This tracking code is a combination of your campaign parameters and your campaign URL.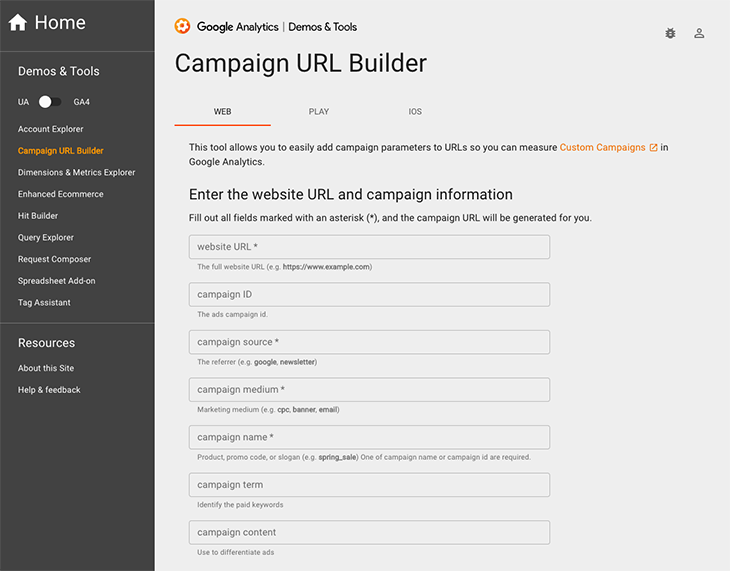 It's crucial that you use Google Campaign URL Builder, especially in your paid marketing campaigns. Since you're spending money, you should definitely know what's getting you the best results. But before getting started, make sure you have goals set up in Google Analytics.
URL builder helps us track our Ad campaigns much better. With its help; we can add special data in the URL of the landing page that we use for the campaigns, and this process helps us track the traffic. As a result, we can monitor the results of our campaigns much more accurately.

Levi Rencsik, PPC Specialist @ Flipsnack
4. Hotjar
When you're a marketer professional; you have to analyze and understand your users' behavior when visiting your website and landing pages used in your campaigns. Hotjar is a behavior analytics tool that allows you to gain better insights into users' behavior with features like heat maps and visitor recordings.
With the help of these visual heat maps and visitor recordings; you can understand what your users want and how they interact with your landing pages. Hotjar visually represents your visitors' clicks and scrolling behavior, offering you the opportunity to see what kind of content they enjoy most so that you know how to optimize the conversion rate.
But that's not all. This digital marketing tool also allows you to ask questions to your visitors and get direct answers about how they're interacting with your website and campaign landing pages.
Hotjar is a behavior analytics & website heatmaps tool. It can be really helpful to analyze how users are interacting with your whole website or specific pages. After implementation; it's easy to see where the users are clicking/tapping the most, what position they scroll on a page, and even where they move their mouse on the screen. We are using it for A/B testing different landing pages; especially when changing one element or section of the page. For example, the header/headline/buttons and the visual at the top of the page.

Paul Romancsak, PPC Specialist @ Flipsnack
5. AdStage
This digital marketing tool helps you automate, create, and manage your PPC campaigns across all major PPC platforms (Google, Facebook, Bing, LinkedIn, Instagram, Twitter, Yahoo, YouTube) from a single point.
Moreover, it also allows you to report on your results. With the help of its visual features and powerful automation tools; AdStage should be used by both PPC experts and newbies in this advertising field.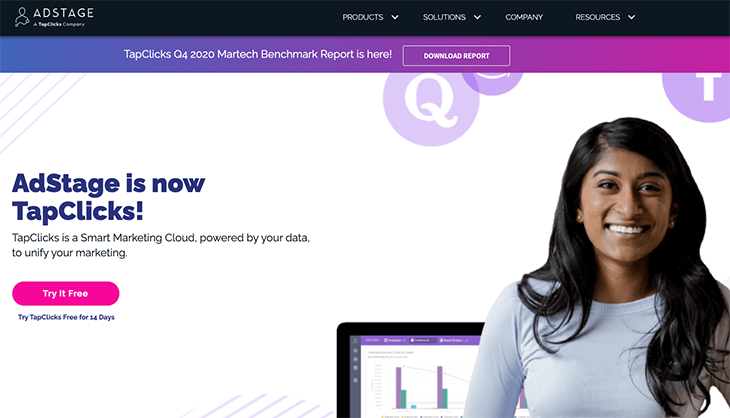 This app will automatically rotate or schedule new ads for specific calendar dates or based on performance metrics. This way, you'll no longer have to do the tedious job. Instead, you'll have plenty of time to work on your more creative projects and tasks.
6. Instapage
Instapage is the most advanced landing page platform on the market. It helps marketers and agencies get up to 400% more conversions from their digital ad spend. Unlike other single-product solutions on the market, Instapage includes six products and hundreds of features built specifically to help you increase your advertising conversion rates.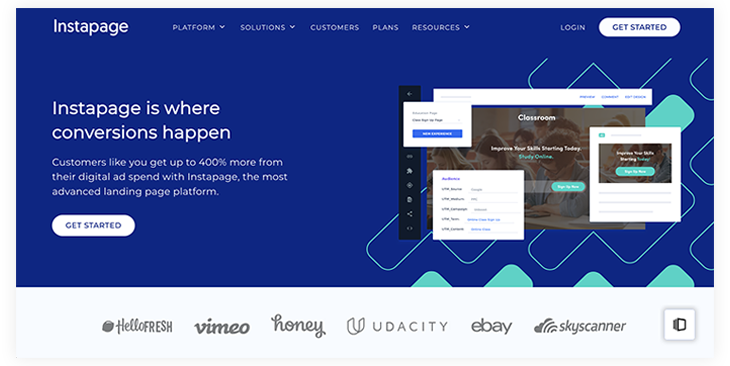 With Instapage, marketers can create relevant, fast-loading, on-brand, mobile-optimized landing pages and experiences using the 500+ customizable layouts without a developer.
7. Zuko Analytics
Around 2/3 of online form visitors abandon rather than complete the form. Zuko is a form analytics platform designed to fix that and increase form and checkout conversion rates.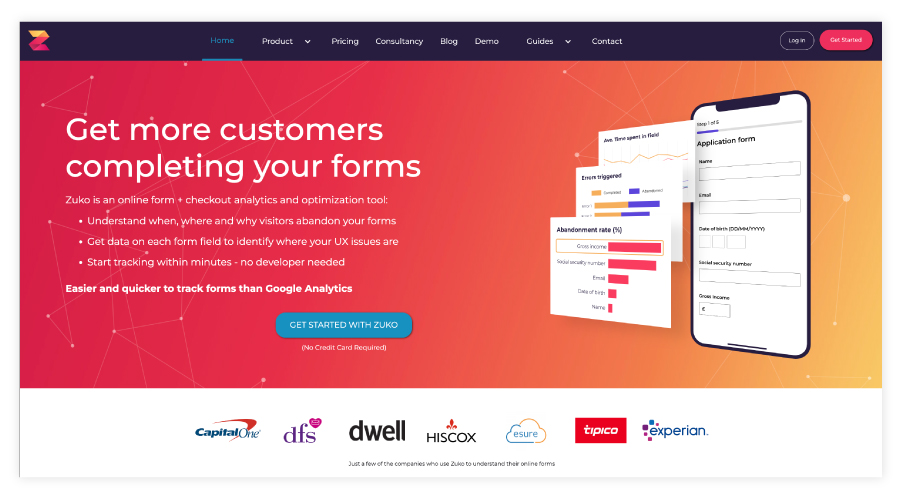 Its interactive reports and exportable data show you when, where, and why users are dropping out of your forms and never coming back. Armed with these insights you can fix the issues and get more people to complete your forms.
Zuko is the only specialist form analytics platform on the market so it's a great choice if forms are critical to your customer acquisition efforts.
Social media marketing tools
Later
Sprout Social
Loomly
Buffer
Hootsuite
Social Status
Planable
Oktopost
Statusbrew
Predis
Pallyy
Sotrender
Let's take them one by one and get into more details.
1. Later
This is a social media scheduling tool packed with lots of features. Whether it's most suitable for Instagram posting; you can also use Later to schedule your posts on Facebook, Pinterest, TikTok, Twitter, and even LinkedIn.
Since it's a marketing tool designed especially for Instagram, it focuses on visuals, of course. But Later also offers other outstanding features such as hashtags and keywords for content research. You can plan your content calendar and save all of your media in the asset library. Add notes, labels, and stars to every media to easily find what you're looking for. It's a great way to filter your content.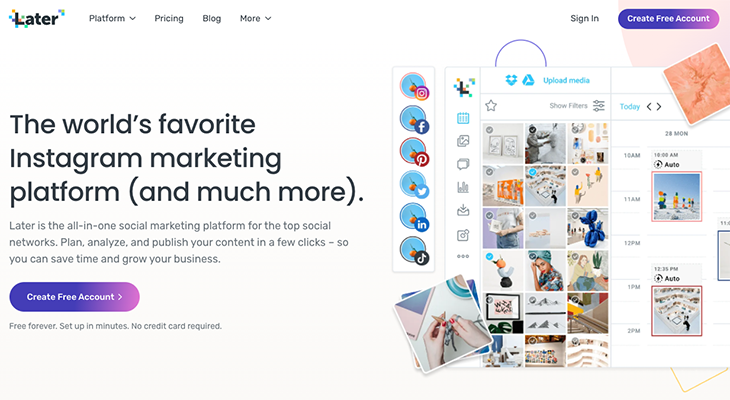 Additionally; you can use this library to save evergreen content and schedule your posts however you want in a stipulated time.
Later helped us organize our work better, mainly because of its scheduling feature. So now we are more efficient and have more time to concentrate on creating engaging content for social media. Also; having all the features like planning, posting, analyzing results available on a single platform saves us a lot of time.

Alexandra Varodi, Community Manager Specialist @ Flipsnack
2. Sprout Social
The second social media marketing tool on my list is Sprout Social. This tool helps businesses organize their content calendar in only one place; allowing them to publish and schedule posts across multiple platforms; based on when your followers are most active.
Besides this, Sprout Social also makes it easy for you to collaborate with your clients. For example, they have a Smart Inbox to respond on time to all your social media messages.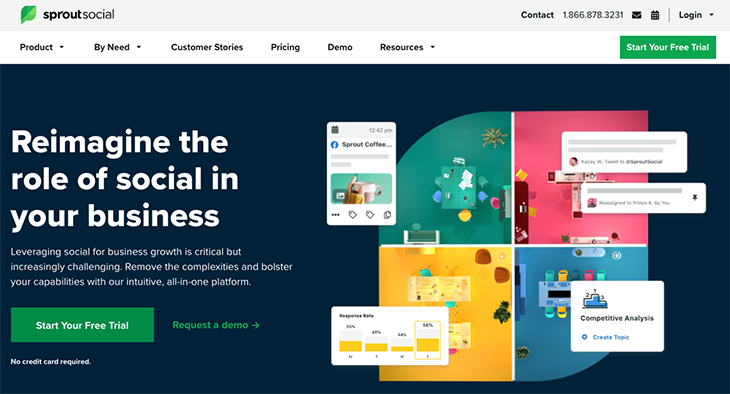 But that's not all. This marketing tool also comes with a full suite of social analytics; giving you the possibility to identify your top-performing posts and most successful social campaigns. Coupled with other unique features, you can also uncover trends, hashtags, and new opportunities to engage with your visitors.
3. Loomly
Loomly is a social media marketing tool that describes itself as being a "brand success platform." It is ideal for smaller businesses with small social teams that want to organize and collaborate on content.
With features such as built-in calendars, deadlines, and workflows; Loomly makes it easy to both schedule and manage your social media posts. This tool also curates fresh content ideas for your visitors based on trending topics and Twitter conversations as a bonus feature. Amazing, right?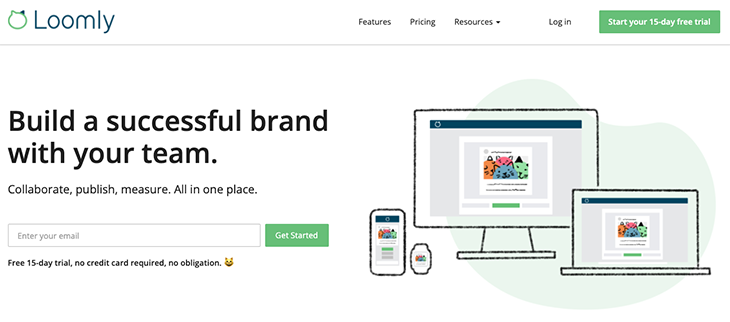 But the most significant part is that Loomly has a clean and easy-to-use interface that makes the navigation accessible and friendly even for the not so tech-savvy people. It's also super affordable for solo businesses and smaller agencies, so you should definitely give it a try.
4. Buffer
Buffer is another popular marketing tool that manages multiple social media accounts using just one dashboard. With just a few clicks; you can integrate all essential social media platforms – Facebook, Instagram, Pinterest, and LinkedIn within this app. This makes it easy to manage all your social media channels better and engage quickly with your customers.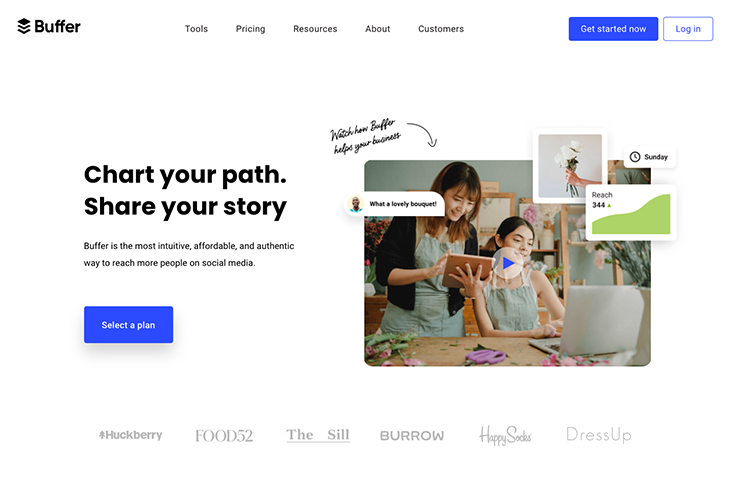 Draft posts, then schedule them, and also analyze the performance of all your social media campaigns. Buffer gives you the opportunity to increase the brand awareness of your business and drive customer engagement to a whole new level with the help of their social media inbox.
This social media tool can do wonders for your business because it has a simple and clean interface. It also has affordable premium plans, and an intuitive setup flow, making the collaboration between you and your team pleasant.
5. Hootsuite
Last but not least, Hootsuite is the fifth social media tool that's on my list. With its help; marketers all around the world have the opportunity to schedule social media posts in advance, saving them a lot of precious time.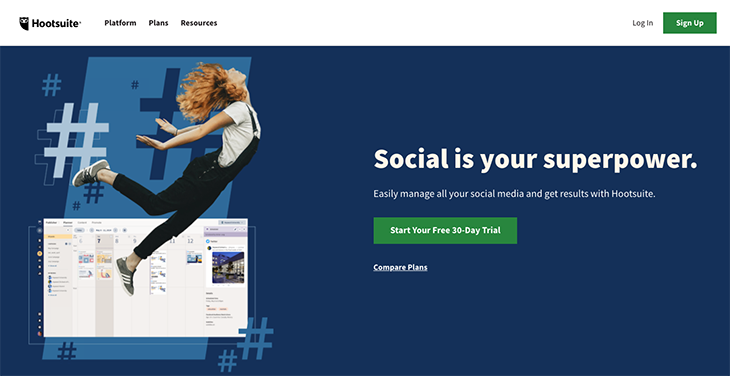 It's super easy to manage your social media teams effectively with this platform. Hootsuite allows you to set different permission levels for your team members and control what they can access. This way, you're making sure that everybody is on the same page when it comes to branding.
If you choose Hootsuite, you'll be able to track the performance of your social media content. This tool calculates ROI, conversions and also tracks public conversations about branding and other subjects that might interest you and your business.
6. Social Status
Social media marketing relies on data insight and reliable analytics. That being said, Social Status is the leading social media analytics tool for marketers and agencies alike. It supports all the main social media channels including Facebook, Instagram, YouTube, TikTok, Twitter, and LinkedIn.
You can also track your Facebook and Instagram ad campaigns and split performance between paid and organic. Social Status also supports competitor analysis and influencer tracking.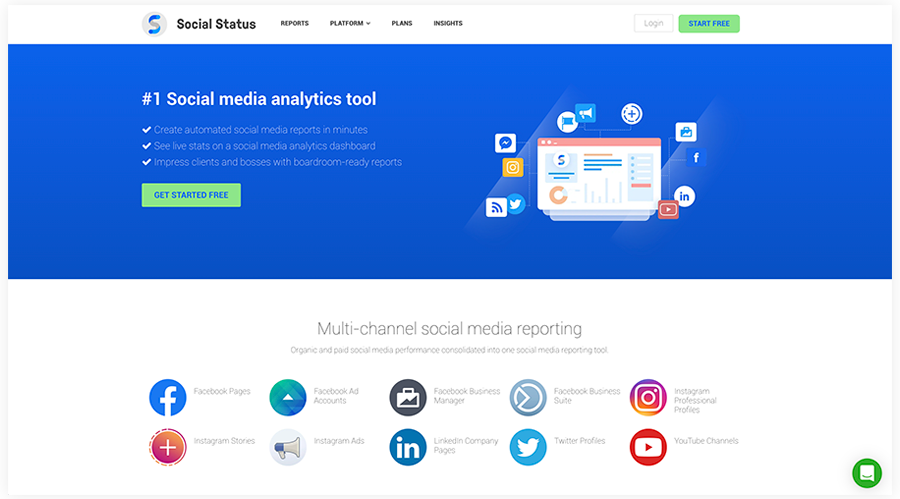 Reports can be exported to PDF and PowerPoint as well as straight to CSV. Best of all, agencies can white label and fully customize the reports for their clients.
7. Planable
Planable is a social media collaboration tool that helps teams create better content, together. Created with marketing teams in mind, Planable allows you to plan your content calendar, review upcoming posts, create social media mockups and schedule posts for 7 social media platforms (Facebook, LinkedIn, Twitter, Instagram – grid, stories and reels -, YouTube, Google My Business, and TikTok).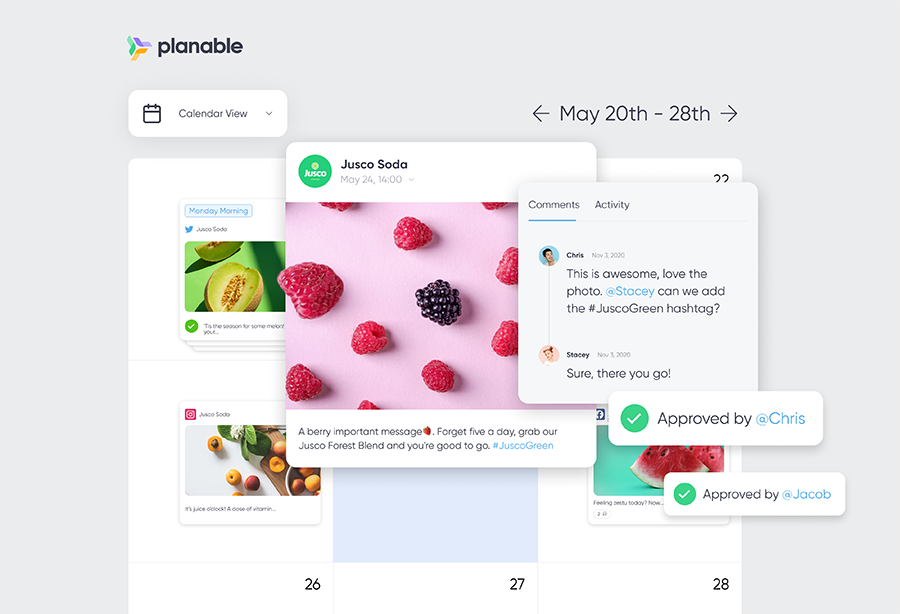 What makes Planable stand out from other social media management platforms is its collaboration-centric approach. Planable is the ultimate tool for in-house marketing teams and digital marketing agencies who are looking for a way to streamline their approval flow and scale their marketing efforts.
8. Oktopost
Oktopost is a full social engagement suite built with B2B brands in mind. With sophisticated publishing and a complete visual content calendar packaged in a user-friendly interface, Oktopost makes scheduling and publishing on social media easy.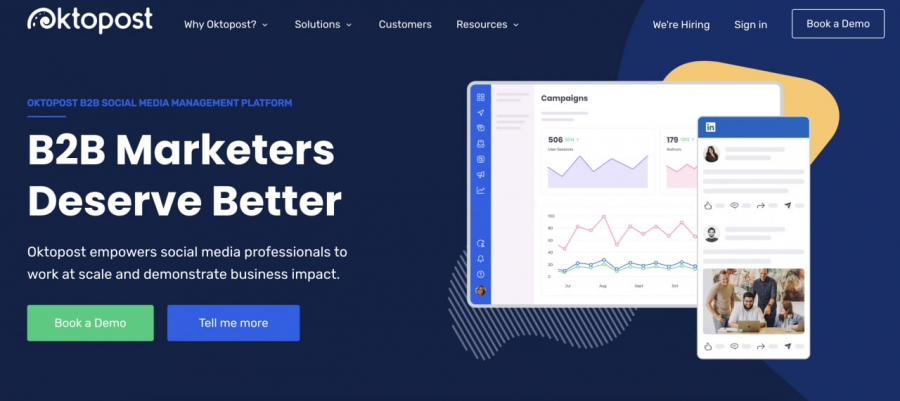 However, what sets Oktopost apart from other social media management platforms is that it offers much more than simple social publishing. With Oktopost, you can transform your employees into brand ambassadors using their employee advocacy features. Their social listening and monitoring tools mean you'll never miss another opportunity to join a relevant conversation on social.
The best part is that Oktopost brings your social metrics under one roof, with customizable and buildable reports that you can export in a variety of formats. This means you can build and keep track of the metrics that matter most to your company. Oktopost offers the ability to trace your social impact in a scalable way.
9. Statusbrew
Statusbrew is a social media management platform that unites all your social media channels to bring your team together and allows you to create automated workflows to boost social media efforts. You can connect Facebook, Instagram, Twitter, LinkedIn, Youtube, Pinterest, Google My Business, Appstore, and Play Store with the Statusbrew app.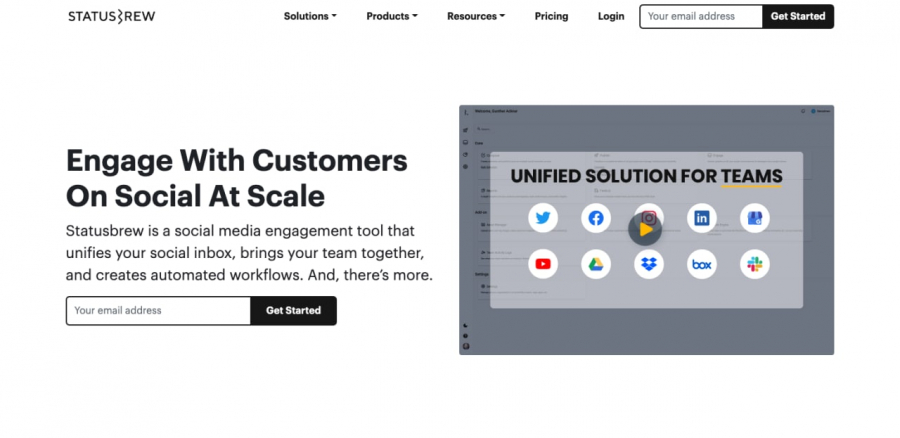 Whether you're running 10 or 1000 ads, all your comments will be delivered in real-time to your Inbox. Reply quickly to the customer's queries and manage conversations effectively with Intelligent social care to reduce the first response time and serve a better customer experience. This tool ensures tracking and capturing every possible social metric that will assist your business in analyzing the performance data.
10. Predis
Predis.ai is an AI-based social media content-generation tool that generates publish-ready social media posts in seconds.
Just enter a short description of your business or service, and the AI analyzes the input and generates content ideas, posts, videos, captions, and hashtags. The creatives can be easily edited with the built-in creative editor. You can schedule or publish the posts directly to your social media platforms.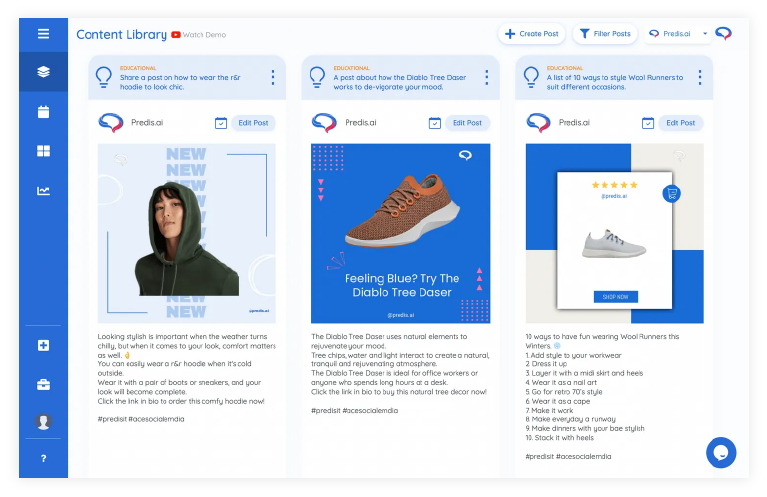 With AI competitor analysis, you can get insights into your competitor's social media performance. Get your competitors' content types, themes, most used hashtags, post timings, engagement statistics, and much more.
11. Pallyy
Pallyy is an all-in-one social media management platform built for brands and agencies that's easy to use and affordable. Pallyy has all the features you would expect to see in a social media management platform from planning and scheduling your content with easy-to-use tools, to replying to comments, creating a bio link, creating reports, and viewing your analytics plus tons more.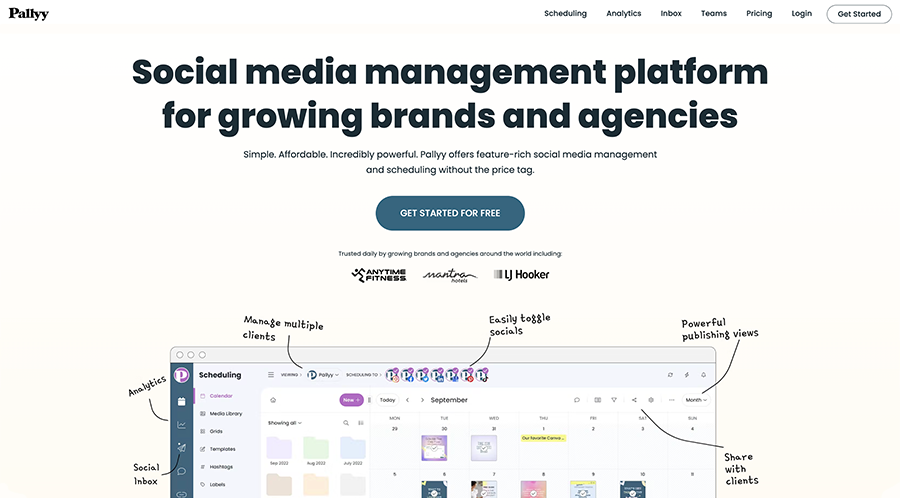 Pallyy also takes the hard work out of managing multiple social media profiles. It's designed for agencies so that you can add all of your clients, and switch between them seamlessly while also working with your team collaboratively thorugh leaving comments and assigning posts + approvals.
Pallyy is one of the more affordable management platforms with just one price point of $15 per social set (same as a client) per month and $29 per additional user.
12. Sotrender
If you're looking for all-round social media analytics, Sotrender is the way to go. It enables you to thoroughly analyze any Facebook, Instagram, Twitter, or YouTube profile. Examine your profile growth, dive deep into user demographics, study their engagement, and identify the content they enjoy most. To master your social media strategy, track competitors' profiles, create comparison groups, and generate quick, actionable reports that will take stock of your findings.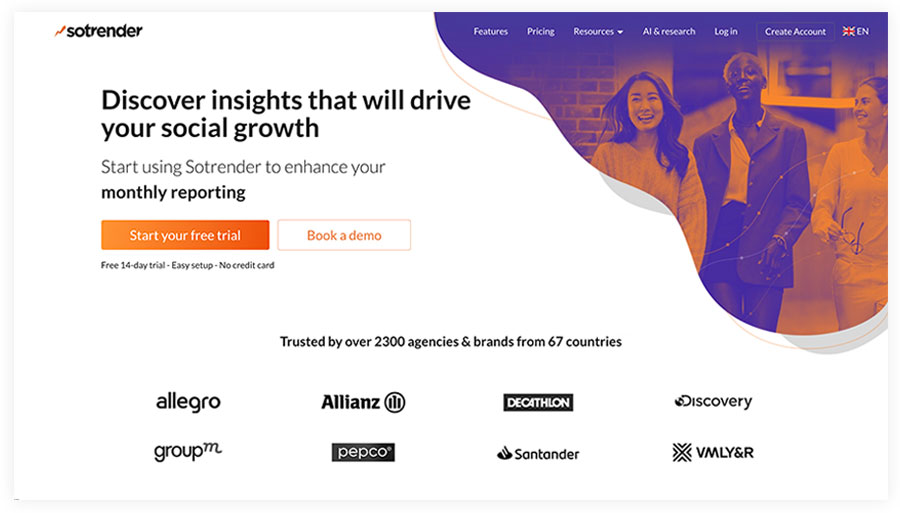 What is more, with Sotrender Ads you can monitor and report the results of your Facebook and Instagram ads with ease. If you're looking for an alternative to Facebook Ads Manager, Sotrender Ads may be a great choice. What's unique is that it gives you a hint about your competitors' median ad expenditures as well as campaign objectives that they choose most frequently.
Content marketing tools
Flipsnack
Yoast
Storydoc
involve.me
Google Keyword Planner
Google Search Console
Outgrow Quiz Maker
PandaSuite
Grammarly
BlogHandy
Let's take them one by one and get into more details.
1. Flipsnack
You can't blame us for putting ourselves on top of this list! That's because Flipsnack is more than just a content marketing tool. It's a complete digital publishing tool that allows you to create all kinds of publications by simply uploading your pre-made PDF or starting with a template.
However; for the sake of this article; I'm going to concentrate today on Flipsnack as a great content marketing tool that helps you create powerful marketing ebooks that you can later distribute to your target audience.
That being said, choose Flipsnack in your quest of improving your lead generation marketing strategy. Put all your quality content into a marketing ebook and make it interactive with the help of our Design Studio. Add hyperlinks, images, videos, shapes, and even call to action buttons. Of course, the more interactive you make it, the more attractive it will be!
However, the primary purpose of a marketing ebook is to collect relevant leads. Flipsnack allows you to add a customizable lead form to your online publication. Select a few pages as a preview, and then let your readers unlock the rest of the ebook by submitting their email addresses. Just like in this example over here:
See? Besides being a content creation tool, Flipsnack also allows you to collect leads through gated content. Hook your readers with the help of your marketing ebook and turn them into prospects with just a few clicks.
2. Yoast
This is a crucial content marketing tool that you must have. More than just a tool, Yoast is a viral plugin that works with both Classic editor in WordPress and Gutenberg. Besides being super easy to use, it also helps you optimize your content for search engines.
This plugin helps you choose cornerstone content, focus keywords that increase your ranking, individual content URLs, and internal and external links to boost your blog article. And as if it weren't already enough; Yoast also evaluates your page readability and gives it a Flesch Reading Ease score.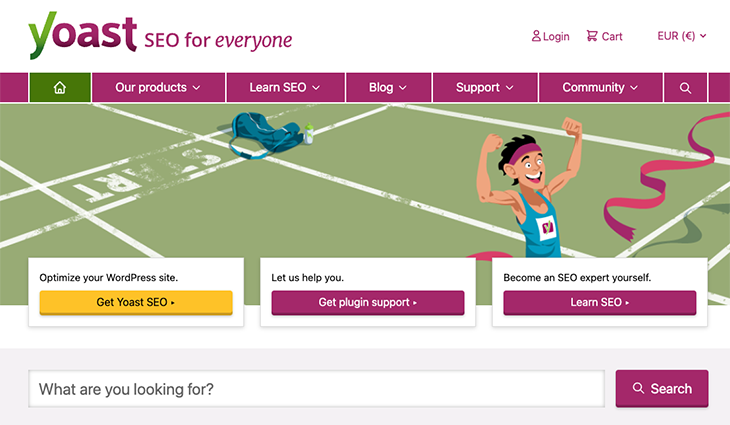 Every two weeks; Yoast is updated to reflect Google's algorithm so that you can always have the latest news regarding SEO!
Yoast is probably one of the tools that we couldn't live without because it makes our lives so much easier. All our content team relies on the Yoast plugin for WordPress to ensure all the content published on our blog is SEO optimized. Besides making SEO easy to understand; we can easily identify what needs to be refined if we have an issue with readability. This app highlights the text that needs improvement. It also links to resources on their website where we can easily learn more about the issue.

Adelina Noge, Content Marketing Coordinator @ Flipsnack
3. Storydoc
This is a content creation tool for the entire spectrum of content marketing, whether it's product one-pagers, white papers, case studies, or sales landing pages, this tool will get you the best results in the least amount of time.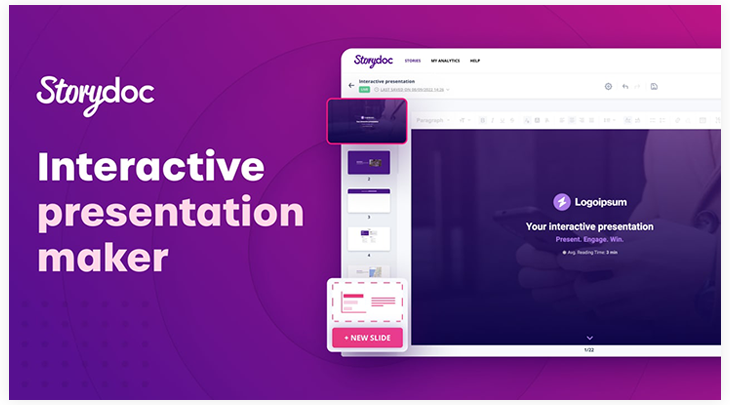 Storydoc is a new kind of content marketing CMS that makes it easier than ever to create interactive content with animated data visualizations, multimedia, and embedded lead generation tools, like forms, chats, or scheduling.
This tool is a content marketer's go-to when it comes to creating storytelling content that users love reading and can also have fun playing with as they scroll down the page.
4. involve.me
involve.me is a customer engagement platform offering an online no-code builder for interactive content. Using involve.me you can create, having no coding skills at all, a wide range of interactive content elements to share across your channels.
In just a matter of minutes, you can create:
Lead generation quizzes, personality tests, and other fun quizzes
Price quote calculators; loan rate calculators, BMI calculators among others.
Forms (including payment forms using Stripe or Paypal)
Surveys such as the famous NPS® survey
Product configurators
Landing pages
and more!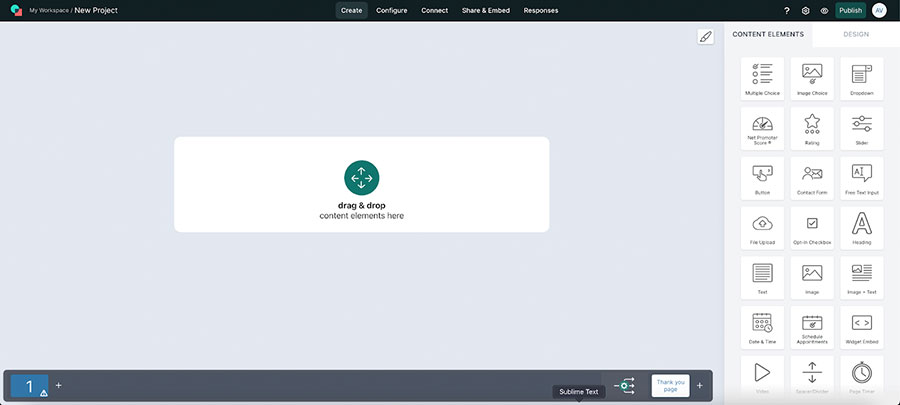 All of the aforementioned interactive content types can be created easily from scratch or simply by using one of the 200+ professionally designed templates included in the tool. All elements can be customized fully to fit any branding style. After publishing your projects you can easily share them as links or emails, embed them on your website, or include them in pop-up windows.
When you start getting users engaged with your projects, you can use involve.me's advanced submission tracking and analytics to help you understand how your audience interacts with your content.
If you wish to use content for lead generation, growing online sales and understanding your audience better, involve.me will help you achieve that. Try involve.me, there is a free-forever plan.
5. Google Keyword Planner
If you've been in the marketing field for a few years; I'm pretty sure that you've heard about this fantastic content marketing tool. Google Keyword Planner is the keyword research tool that will ultimately bring more prospects to your website.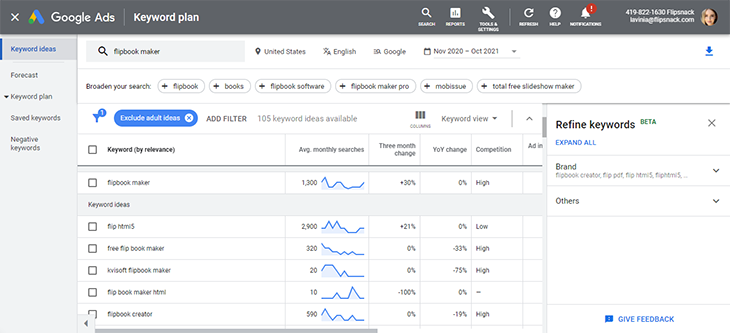 Powered by Google, this free marketing research tool can be used in two different ways. First, you enter a keyword and get some keyword ideas and suggestions. In the second one, you enter a list of keywords and get the metrics, including search volume ranges.
Google Keyword Planner is a handy tool for both your landing pages and blog articles. Besides giving you keyword ideas and suggestions, it also shows you their exact search volumes and competition. This way; you'll be able to always insert the best keywords in your online content, and you'll also increase the conversion rate.
I can't imagine how I would be able to write a copy for landing pages or blog articles without the help of Google Keyword Planner. Besides offering me the best keyword suggestions and ideas; it also gives me insights into how often these keywords are searched and how they have changed over time. This way; I can narrow my keyword list down to the ones that are indeed relevant for the piece of content I'm currently working on.

Lavinia Buciuman, Content Writer Specialist @ Flipsnack
6. Google Search Console
Google Search Console is another must-have tool for anyone working in the marketing field. It brings you information about on-site issues, lists the keywords you rank for in Google, and even shows who links to you.
Moreover, Google Search Console is excellent at identifying your underperforming content. For example; it shows you the pages or blog articles that get low clicks, views, and impressions and have a low average position in Google. This way, you know exactly what kind of content you need to update to perform better.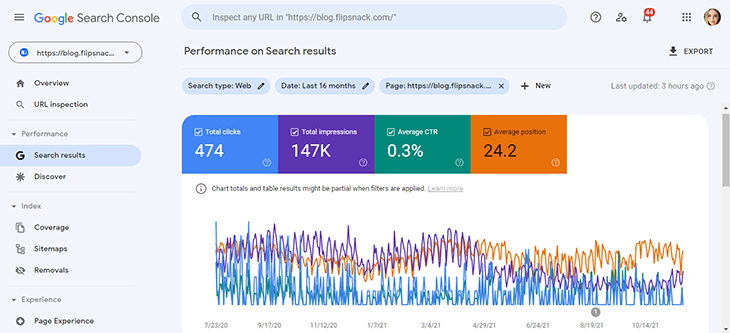 Another great thing that this marketing tool brings is that it allows you to add a sitemap that can help you get crawled by Google Bots and tell Google to recrawl a site or pages that you've just re-optimized.
Google Search Console is an excellent tool for keeping track of different statistics; such as clicks, impressions, or average positions in search results. In addition; it allows us to see how well a page is performing over time, and we often use it to see which pages require a content upgrade.

Sergiu Vidican, Content Writer Specialist @ Flipsnack
7. Outgrow Quiz Maker
The Outgrow Quiz Maker is one of the best interactive quiz builders you will find in the market. You can create interactive quizzes in minutes without any coding knowledge and respond to your customers' most crucial questions promptly in the buying process. Outgrow's quizzes, chatbots, calculators, polls, and assessments help your customers evaluate their needs. In return, you get relevant lead information. It is the most optimal step in the buyer's journey between the first visit and the final purchase.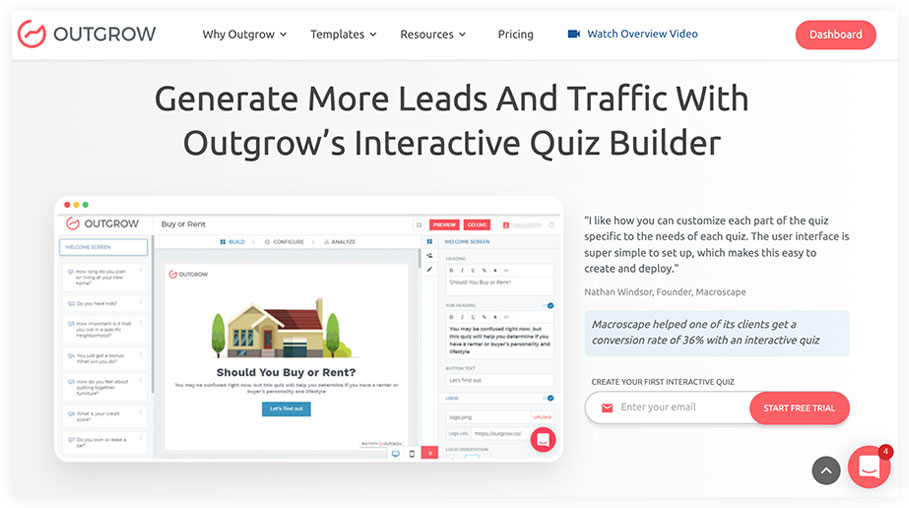 Moreover, you can track responses, send automated responses, analyze your content piece's performance, and get recommendations to improve your content piece. Outgrow's quizzes are a great customer intelligence tool that helps in customer profiling and boosting lead generation by providing personalized recommendations based on user responses.
8. PandaSuite
If you need to build an app or create interactive content without coding, don't hesitate and have a look at PandaSuite. This powerful drag-and-drop editor gives you the greatest of creation to build digital projects adapted to your needs. Add your own design and play with +40 interactive components (pop-up, scrolling, image recognition etc…). You can publish to the web and export as an app for mobile (iOS, Android) or desktop (Windows, MacOS).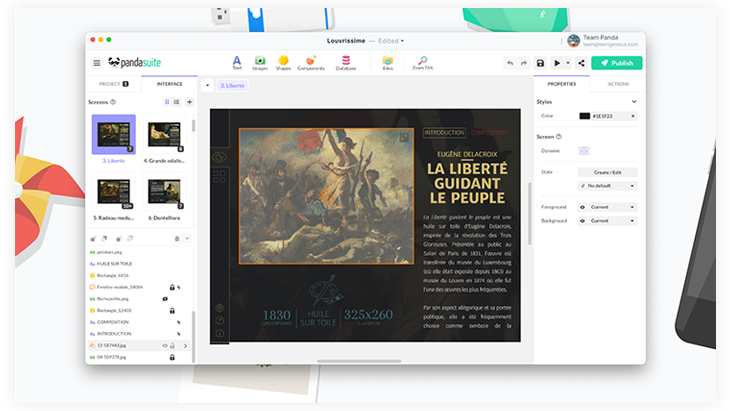 You can build digital magazines, quizzes, mobile apps, and interactive presentations and become a Panda Master using their help center and video tutorials.
9. Grammarly
The last marketing tool on my list is Grammarly, of course. Since I've been a content writer for four years; I know the importance of mistake-free blog posts, landing pages, and any other type of written content.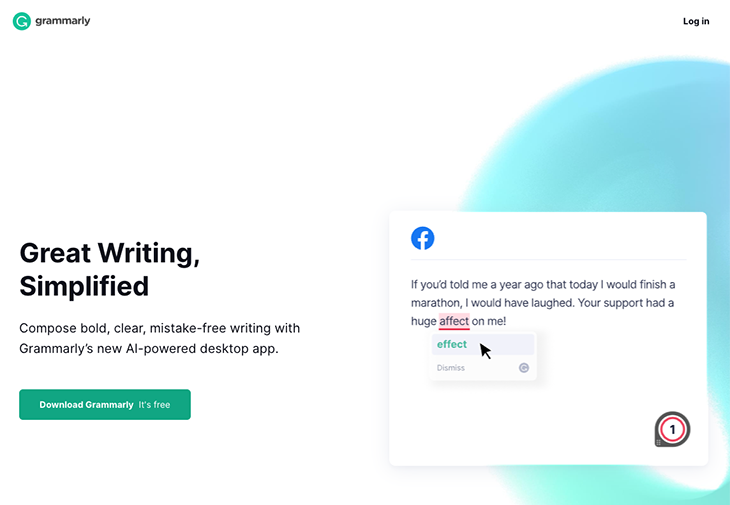 This is a very easy-to-use tool. All you have to do is copy and paste your text in the program and wait for Grammarly to check your spelling and grammar issues. It also gives you suggestions for better expressing and delivering your messages. From my point of view; it's one of the best content marketing tools that help you create flawless texts and improve your writing professionally.
You can do lots with its free version, but I encourage you to opt for a premium plan for in-depth text analysis.
When it comes to making sure each text is written correctly and without any grammatical errors; we always choose to use Grammarly. It's an easy and fast way to achieve mistake-free writing. And on top of that, Grammarly also offers suggestions to improve texts and communicate the message more effectively.

Delia Blaga, Content Writer Specialist @ Flipsnack
10. BlogHandy
If you need to integrate a blog into your existing website or create interactive content without coding, BlogHandy is a great tool to do the Integration of the blog to your existing website without having any coding knowledge with just 2 lines of code. Once you integrate the blog, it directly adapts the CSS from your existing website and lets you manage posting and scheduling using the proper SEO analysis. The easiest way to improve brand awareness using the right content strategy with this tool.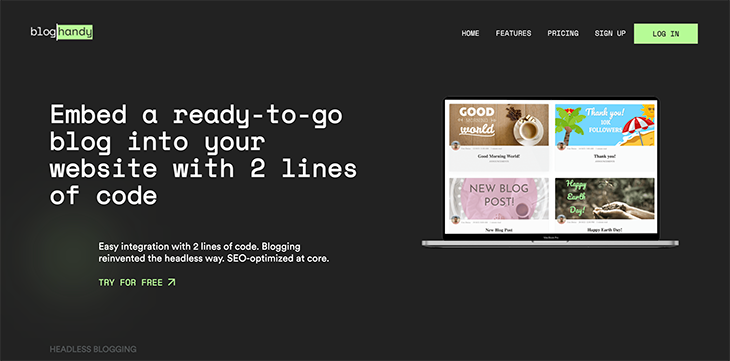 You can create a blog for your website without WordPress with a user-friendly interface and can optimize your content with SEO analysis, can do social sharing, commenting, and seamless integration with this tool.
Video marketing tools
Adobe Creative Cloud (Premiere Pro, After Effects, Audition)
Soundstripe
Milanote
Vimeo
Clipchamp
Spott
Loom
Let's take them one by one and get into more details.
1. Adobe Creative Cloud (Premiere Pro, After Effects, Audition)
If you're in the video marketing industry, then it's a must you take advantage of Adobe Creative Cloud. All of its three tools – Premiere Pro, After Effects, and Audition can do wonders for your videos.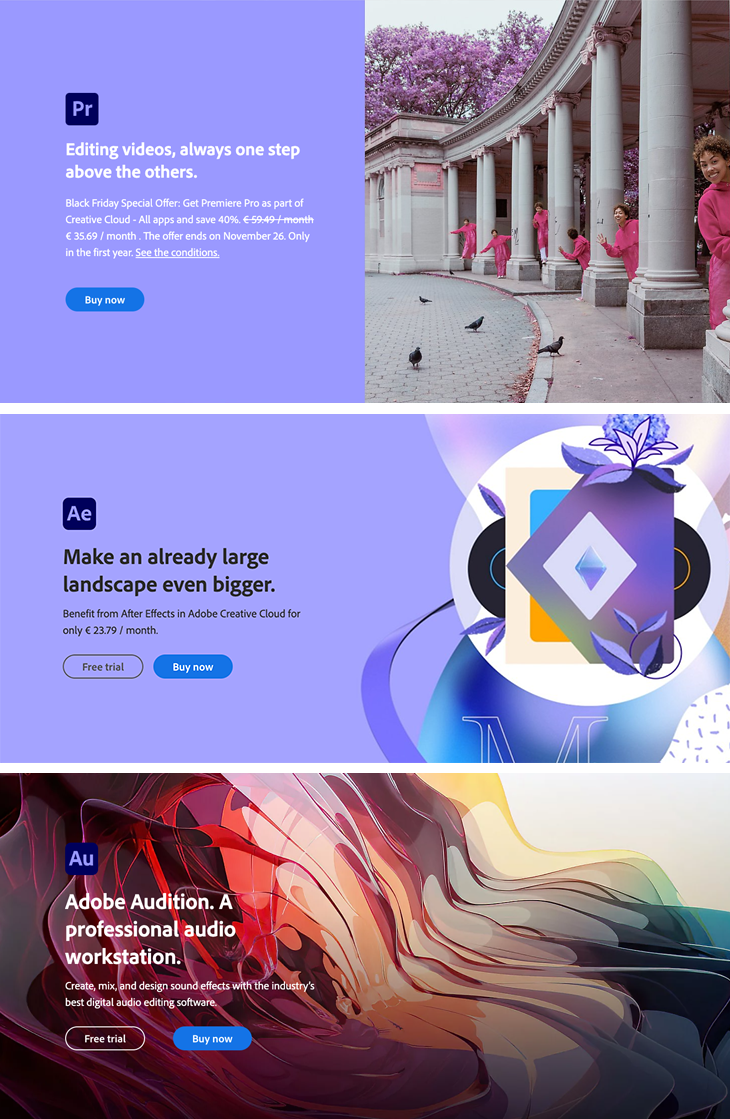 Adobe Premiere Pro is indeed a staple video editing software that's both versatile and affordable. Moreover, you can take advantage of its plenitude of features. Start by uploading your footage, then curt and rearrange scenes however you want. Make sure to add some audio, transitions, and change the colors a bit and adjust the lighting. Then, you can feel free to export your video anywhere. See? The possibilities are endless with this video marketing tool!
Adobe After Effects is another essential tool for anyone involved in video production. So; whether you're a motion graphics designer, an animator, or even a video professional; it's high time you downloaded this software. It has a timeline and a user-friendly interface that makes the animation process much easier and quicker.
The third video marketing tool from Adobe that I want to present to you today is Adobe Audition. With a substantial audio restoration and enhancement capability, this software supports both noise reduction and sound removal. You know how important these features are, especially when recording in a noisy environment.
Creative Cloud helps us bring to life all of our videos and animations. Because all the softwares is tied together in an ecosystem we can easily develop our workflow around it and easily work on video editing, animation and vector graphics.

Razvan Micorici, Motion Designer Specialist @ Flipsnack
2. Soundstripe
Soundstripe is the second video marketing tool that I recommend. And for a good reason. They offer more than 70.000 professional stock videos for every industry and subject matter. Moreover, these videos are available in the most popular formats – SD, HD, 2K, and 4K. Some of them are even available in 5K, 6K, and 8K.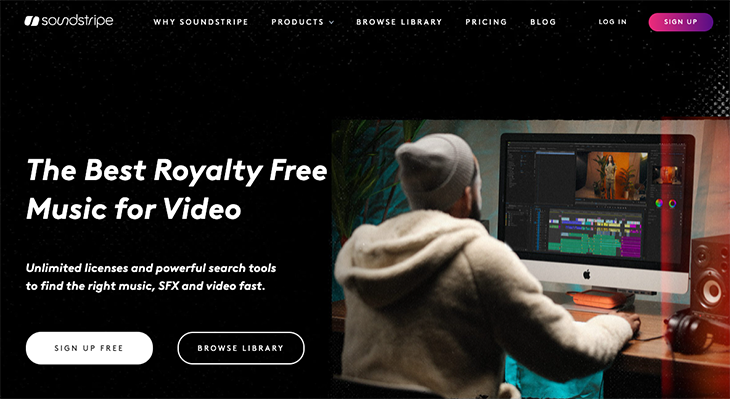 With an easy-to-use interface; this software is really great at playlist curation, giving you the possibility to choose your music according to your pace and genre. You can even add different parameters like how long the audio needs to be. So; if you're looking for a specific type of duration for your video; keep in mind that you can totally do this with a simple search.
Thanks to its diverse music database; Soundstripe helps us find the perfect music and sound effects for every project we are working on. And on top of that, it can seamlessly integrate into our workflow with the help of the Premiere Pro plug-in. That way, we can easily browse, choose and edit every song we want without leaving the editing software. Check Flipsnack's case study to find out how Soundstripe helped us choose the best soundtracks for our 10th-anniversary campaign.

Razvan Micorici, Motion Designer Specialist @ Flipsnack
3. Milanote
This is an excellent and easy-to-use video marketing tool that helps you organize your ideas and projects into visual boards. Having an intuitive and elegant design, Milanote gives you the impression that you're working in a creative studio.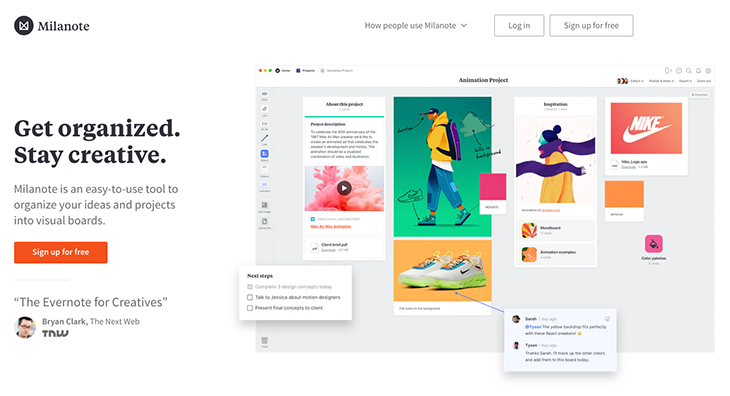 And the best part is that you can do a lot with its free plan. You can create one hundred notes and to-do lists, upload ten files, save ten images, and also add links from the internet. Moreover; you can share an unlimited number of boards with your visual colleagues, and they can both see what you're doing and edit in real-time.
So; the next time you think about your video marketing campaign, make sure to use Milanote in the process of planning, organizing, and structuring your video!
Like other project management tools, Milanote comes in handy when organizing and developing creative ideas. However, unlike other project management tools, it is specifically designed for creative and visual projects. We, here at Flipsnack, can very quickly gather mood boards, create storyboards, and brainstorm ideas by real-time collaboration. It really helps us to better organize our thoughts before every video we're starting to work on.

Helga Fock, Motion Designer Assistant @ Flipsnack
4. Vimeo
If you're working in the video industry, then I'm pretty sure you've heard of Vimeo. An online video collaboration and distribution platform, Vimeo has the fastest, customizable, and embeddable player. Moreover, it shows you exactly who is watching your videos, at what time, and from which country.
Speaking from the perspective of a marketer, Vimeo can do wonders for your video marketing strategy. It allows you to embed your videos anywhere you want, add clickable CTAs to capture emails and track your video stats to see what precisely makes your audience interact with your video content.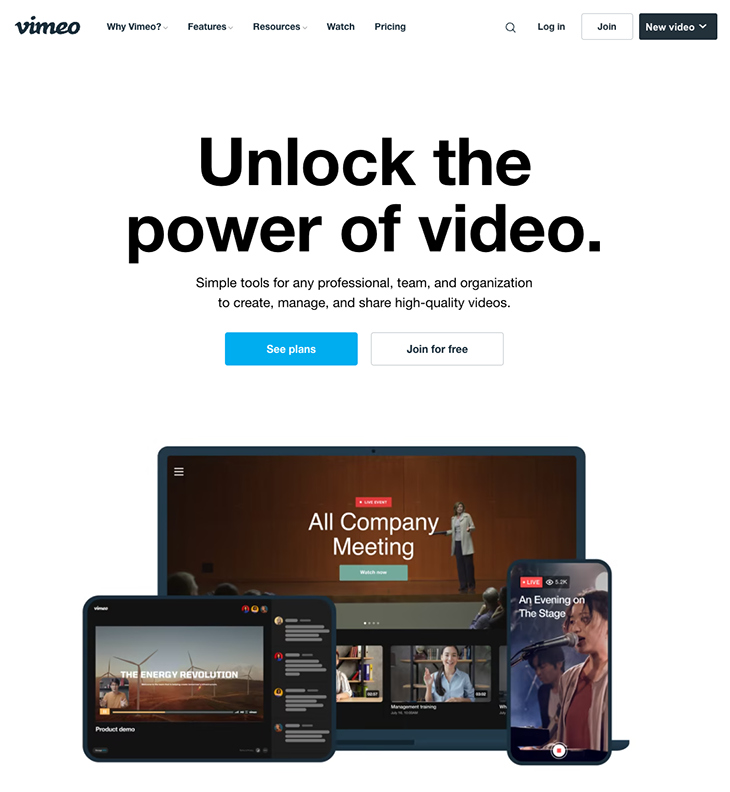 And the best part is that its free plan offers 5GB of storage. Enough for your personal use. However; I advise you to purchase a premium subscription to add more to your storage limit and unlock the analytic features I've presented before.
5. Clipchamp
Creating and customizing videos has never been easier, thanks to Clipchamp. This web-based video editor is an ideal marketing tool for those who wish to expand their reach through customized video content.
Clipchamp is an in-browser video editor which allows you to trim, cut, split, merge, adjust speed, add captions, and so much more. If you create promo videos, product demos, or any other video for your product or service, this is an essential weapon to have in your video marketing arsenal.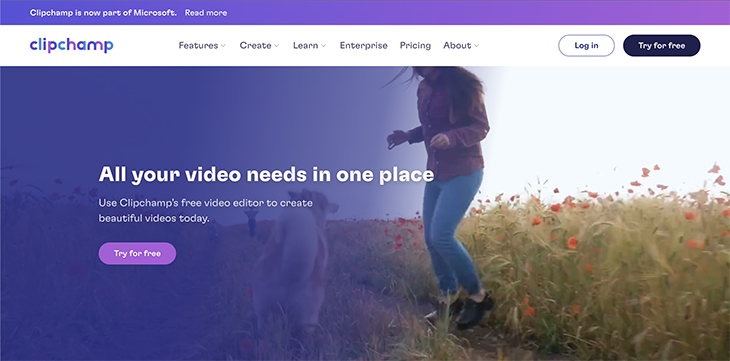 Despite its advanced tools and features, this application has a very simple interface. Both new and professional marketers will find it fun and easy to use. You can export watermark-free 480p resolution videos directly to YouTube, TikTok, and LinkedIn with just a click. Now you know why it's quickly becoming a favorite among digital marketers and creators.
6. Spott
What is Spott?
You have to do 3 things very well to be successful online.
Make great content
Make sure you publish it on the channels your audience is on
Ensure that once you have inspired your audience, you allow them to act on that inspiration by allowing them to convert through interactivity.
SPOTT focusses on that 3rd step. SPOTT is a solution allowing users to get more value out of their published content by making it actionable and measurable in a multichannel environment.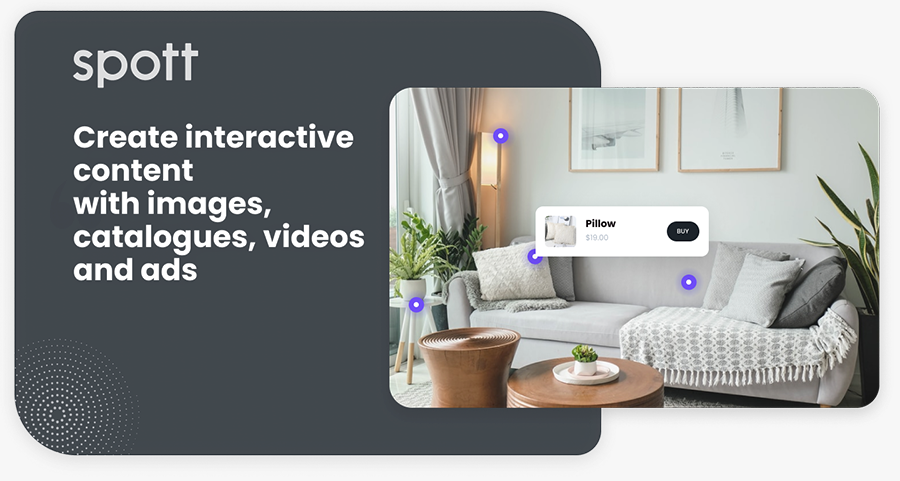 With our Spott software you can insert shoppable links to (360°) images, pdfs and videos, get newsletter subscriptions, link pdf documents or show off with your latest promotion. You can easily add an interactive layer to all your images and videos. Make your videos, catalogs and images interactive. Add call-to-actions, tag products, get newsletter subscriptions and increase conversions. With Spott, you'll get more out of your published pdfs, images and videos by adding interactive elements making your content actionable & measurable.
Code with interactive video example:
7. Loom
Last but not least, Loom is the fifth video marketing tool on my list for today. A free Chrome browser extension; Loom permits you to create screen capture videos, while you can also record what you're doing with your front-facing camera. So it's an all-in-one video communication tool that you can use in various contexts.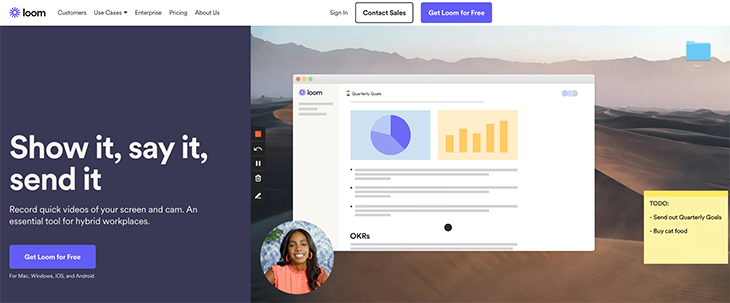 But that's not all. Right after you've done with your video recording; you can make cuts wherever you want and then share your work directly through a link. Or; you can also download your original video for free to keep it on your computer and access it whenever you need it.
Another great thing about this platform is that it allows your audience to react to your video by adding comments and emojis. You can also respond to those comments in real-time. Sounds incredible, right?
SEO marketing tools
SEMrush
MOZ
ScreamingFrog
Buzzstream
10Web Booster
SE Ranking
Ahrefs
Let's take them one by one and get into more details.
1. SEMrush
An all-in-one SEO tool; SEMrush is a must whether you're a total beginner or a seasoned expert in this digital marketing world. This great platform will help you do your keyword research and help you track how your site is performing. Moreover, it will check your rankings, analyze your backlinks, and tell more about your direct competitors.

SEMrush also gives you the opportunity to track the position of your keywords and explore new keywords you can rank for. In addition; this tool offers plenty of keyword suggestions and ideas so that your landing pages and blog articles will be optimized with the most relevant content.
Furthermore, SEMrush has some useful courses for SEO beginners, and they are free. This way; you'll be able to learn from the best and improve your knowledge in such a manner that you'll rank higher on Google.
The SEO toolkit provided by Semrush is a valuable asset for our team. Our website and content evolve all the time. We put a lot of effort into innovating and offering our visitors and customers unique experiences; which comes with many challenges in terms of technical SEO. Semrush allows us to spot any technical issues through their Site Auditor quickly; be aware of negative trends in organic rankings evolution in real-time or identify keyword, content, or link-building opportunities. For more details about how we constantly use Semrush, check out Flipsnack's success story!

Radu Mirea, SEO Coordinator @ Flipsnack
2. MOZ
The second SEO marketing tool I've chosen is MOZ. This platform provides many options for SEO and website monitoring. That being said, you can monitor your site, check keywords, do keyword research, and even check your site's domain authority.
Another great thing worth mentioning is that with the help of the Moz Bar – the free extension you can use on Google Chrome – you get to know in which way to optimize your page. For instance; if you've just optimized one of your pages, you can use this tool to see how well you did by offering a score from 1 to 100.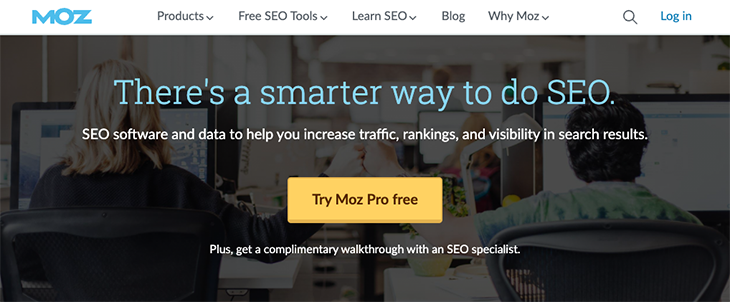 MOZ determines which of your pages you should emphasize and which keywords you should target. As a complete SEO tool; I can say that MOZ is somehow like a roadmap – it shows you what you need to do and shows you the results along the way.
If you are serious about SEO and want to build links and get more traffic to your website; I recommend using Moz. You can start using the free SEO tools from Moz to search and prioritize the best keywords for your site, find linking opportunities (and compare to competitors), and many more. In addition, I use MozBar (Chrome extension) daily to check different websites' link profiles, domain authority, backlinks, and spam scores.

Adrian Domocos, Link Building Specialist @ Flipsnack
3. ScreamingFrog
This SEO marketing tool is made to crawl pages, validate links, and provide information about any errors or warnings regarding your website. Moreover, you can customize ScreamingFrog to your own needs, thanks to its various features. But keep in mind that this is a powerful and go-to tool for technical SEO; so you must have some knowledge in this regard.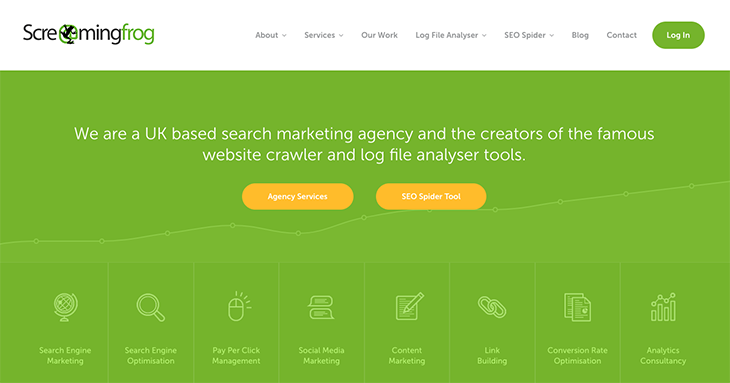 With the help of this SEO platform; you get to know insights of your pages that need to be optimized to rank better in search engines and find duplicate content or export data from XML Sitemaps.
The best part about ScreamingFrog is that it has a freemium model that allows you to crawl up to 500 URLs. However; if you want to crawl all of your URLs and unlock more advanced features, you should pay for a premium package.
When it comes to quick checks of very specific technical aspects of our website; ScreamingFrog is the right tool for me. Finding broken links or internal links pointing to a particular page of ours; for example; or generating an XML sitemap, ScreamingFrog is extremely fast. And it can go beyond the usual checks that you can perform with most technical SEO tools if I need to look deeply into our site's status. It's definitely a tool I'm delighted to have at my disposal because it can run on multiple Operating Systems.

Radu Mirea, SEO Coordinator @ Flipsnack
4. Buzzstream
Buzzstream is another SEO marketing tool that's worth having if you're working in this field. This email outreach software with an integrated CRM allows you to send personalized and efficient emails, bringing great outreach results to you.
Believe it or not, it's the CRM that makes Buzzstream this special. It keeps track of your contacts and conversations history across many platforms. This is something that most outreach tools don't do. Moreover; Buzzstream shows you if the receiver has opened the email and allows you to follow up each discussion so that you won't lose track of the relationships you have already built.
That being said, I could say that Buzzstream is an effective tool for finding influencers and potential prospects. While you're browsing through different websites; you can add new bloggers and social media profiles to your database and conduct outreach that will look personal and real.
In terms of SEO, Buzzstream is a must. This tool has become essential to our work because it automates the entire process. From researching prospects, finding contact information to keeping track of reply rates, it works wonders. It is an intuitive and efficient management tool that helps us save time and better understand how our outreach campaign is responding.

Silvana Costa-Danciu, Link Building Assistant @ Flipsnack
5. 10Web Booster
Next on the list is 10Web Booster, which is a tool for speeding up your website. Why is it included in a list of SEO tools? Well, we know the importance of speed for Google when it comes to ranking high. In fact, Google has confirmed that low page speed scores are a "huge missed opportunity" since when users encounter slow websites they are "much less likely to find what they are looking for or purchase from you in the future." Improving your website's speed positively affects your rankings, user experience, and conversion rates.
So 10Web Booster is more of an indirect SEO tool that works by directly affecting your site's speed. 10Web Booster automates WordPress website optimization to reach and maintain a super fast website. As a result, you get:
90+ PageSpeed score
Improved Core Web Vitals
Higher search engine rankings
Up to 7% boost in conversions
Up to 40% boost in visitor engagement
Up to 53% mobile traffic engagement boost
There are two options with 10Web Booster: Free and Premium. In the Free version, the plugin automatically optimizes the frontend speed of any WordPress site, bumping it up to the 1% of the world's fastest loading websites that pass Core Web Vitals assessments. In the Premium version, you would move your website to 10Web's AI-Powered WordPress Hosting to automatically optimize your backend speed. Remember, caching and optimization plugins cannot boost your website's speed from the backend because WordPress core relies entirely on your hosting solution to reach and maintain a super fast website.
Use 10Web Booster to hit two birds with one stone: significantly speed up your website, and automatically improve your SEO!
6. SE Ranking
SE Ranking has created a truly universal SEO platform. It's suitable for both beginners and professionals in the field and offers an impressive set of instruments. Researching keyword quality and finding new ideas, getting insights into your rankings and traffic, checking the backlinks of any website, finding out about your competitors – these are some basic things you can do with the toolset.
Among other features, SE Ranking has useful Backlink Checker and Competitive Research tools where you can analyze backlink profiles and get to know the other players in your niche.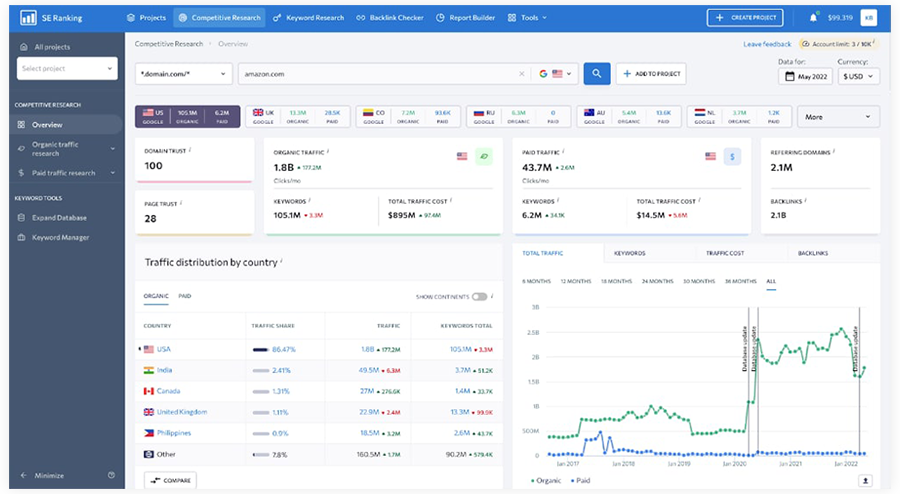 Rarely can a toolset include checks for on-page, off-page, and technical SEO so neatly. SE Ranking is very close to the ultimate optimization tool. The interface is very intuitive and this is something that I like a lot about SE Ranking.

I'm fond of their Competitive Research. The knowledge about your competition is crucial, and this tool has just about everything you need on one screen, ready to be compiled into a neat report.

Radu Mirea, SEO Coordinator @ Flipsnack
7. Ahrefs
The fifth SEO marketing tool is Ahrefs, a powerful and industry-leading SEO platform that helps you boost your website traffic. It's one of the most sophisticated platforms because it offers lots of great features such as keyword research, link-building, tracking rankings, traffic analysis, website audits, and also competitive research and analysis.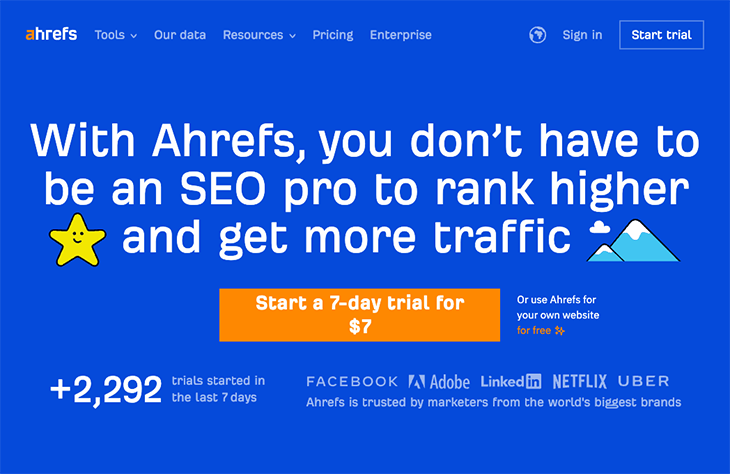 With so many features, Ahrefs can really help you expand your digital marketing efforts and completely improve your SEO efforts. But keep in mind that this tool is a bit techy; so you'll need to invest some time learning it before knowing how to properly use it.
However, there's another thing that I want to tell you about this platform. Ahrefs is kind of a pricey tool, but it's worth it. Whether you're an SEO freelancer or an SEO professional working for an agency, you should give this software a try.
Marketing design tools
Adobe Creative Cloud (Photoshop, Illustrator, InDesign)
Figma
Unsplash
Gimp
Vectornator
Sketch
SVGator
Let's take them one by one and get into more details.
1. Adobe Creative Cloud (Photoshop, Illustrator, InDesign)
I've already mentioned Adobe Creative Cloud to you when I presented the video marketing tools. Just a few paragraphs above.
However; the Adobe Suite is a complex one, and besides the tools, it offers for video; it also has some tools especially made for design. Let's see some of them.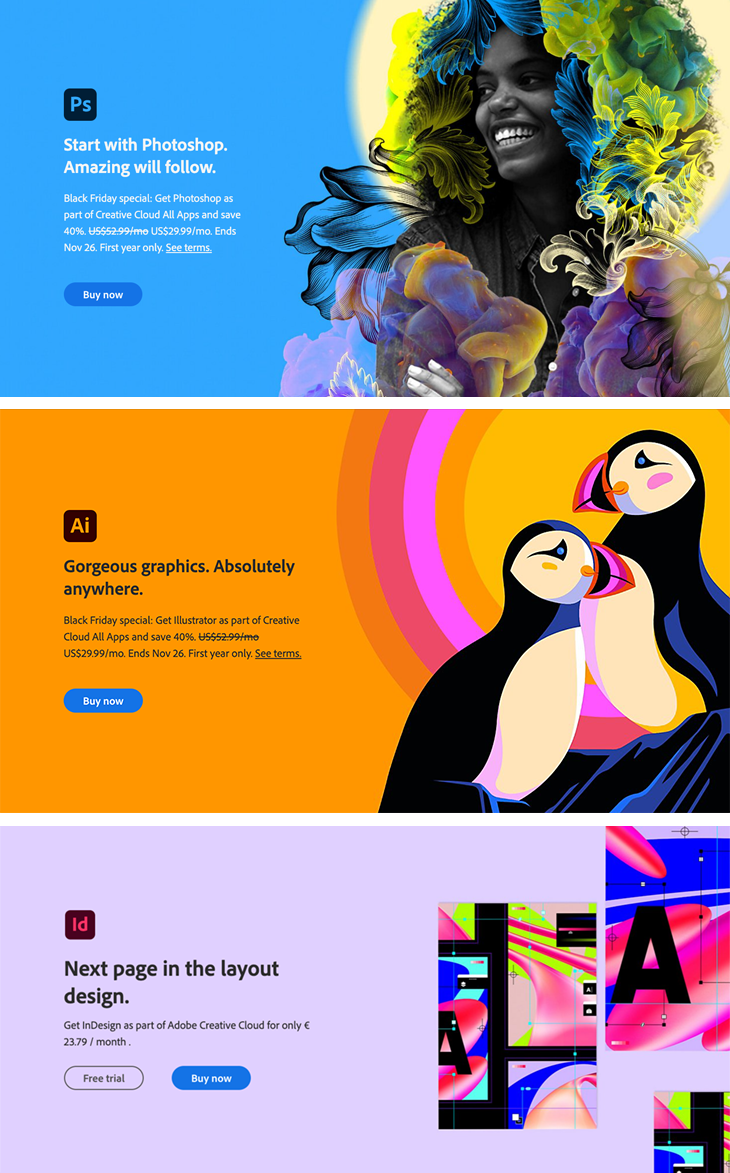 The first one powered by Adobe is Photoshop, of course. This marketing design tool offers so much more than just tweaking your photos. You can edit and compose raster images, graphics, and text in multiple layers, edit text and vector graphics, and even create 3D graphics.
The second one I want to talk about is Illustrator. Basically, this is a drawing program based on vector graphics. Artists, illustrators, and graphic designers love this tool because it allows them to create complex illustrations from simple graphics such as logos, icons, or infographics.
The third one is InDesign. This is a page layout tool that you can primarily use for print, but it also has digital publishing capabilities. Graphic designers and other artists worldwide like InDesign because it allows them to create all types of visuals such as magazines, brochures, flyers, newspapers, books, ebooks, presentations, and the list could go on.
We use Adobe Creative Cloud on a daily basis; from photo editing to creating our brand identity assets, icons, or illustrations. Adobe products are intuitive, efficient, and have time-saving tools. In addition, they are constantly adding new features, facilitating our creative process.

Florentina Boc, Graphic Design Coordinator @ Flipsnack
2. Figma
The second marketing design tool on my today's list is Figma. A web-based graphics editor and prototyping tool; Figma is generally used by designers worldwide to create prototypes, wireframes for different projects, visual identity systems, and so on.
One great thing about this platform is that it works directly in the browser. This way, anyone in your team can easily access projects and work on them anywhere and on any device. It's a great flexibility feature for people who work remotely or need to collaborate with their colleagues most of the time.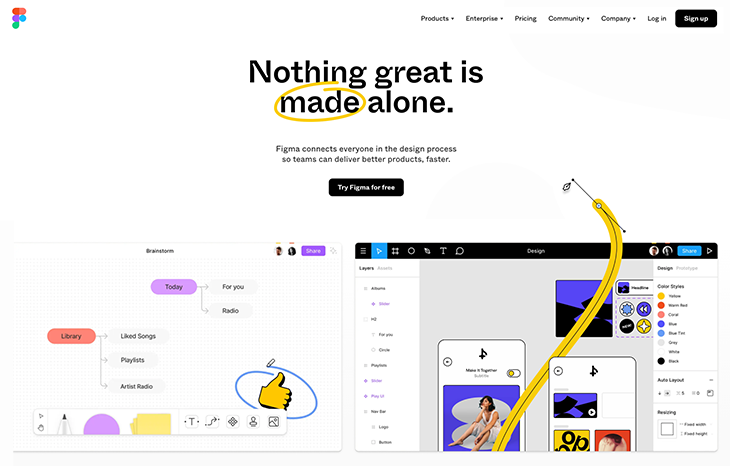 Besides being such a helpful tool, Figma is also an easy-to-use platform with a user-friendly interface. For example; each person working on a specific project has a named cursor, so you know who and what that person is doing. You can also see who's viewing and editing if you're looking at the top of the app. Moreover, if you're clicking on somebody's avatar, you'll see what they're viewing at that moment.
So; whether you're an experienced designer or someone just getting started in this field, Figma is simple enough to help you learn as much as possible while doing professional work.
Figma it's our daily bread in matters of researching, creating prototypes, and testing. Every feature has been forged in Figma since its very early phases. At the same time; we are using the platform to conduct user research, stakeholders meetings, plan meetings, organize sprints, create quick charts and flows. All of this is possible because of a good user interface, a great experience, great tools (such as auto-layout, components, plug-ins, and so on), and good collaboration between design team members.

Daniel Bondas, UI/UX Designer Coordinator @ Flipsnack
3. Unsplash
Unsplash is not precisely a marketing design tool. Still; I've put it on this list because it's a very common platform used by marketers and designers worldwide (us included!), and it's somehow connected to the visual field.
So; as you already might know, Unsplash is a free website that provides thousands of high-quality and professional photos for anyone who wants to use them. The people who sign up in the Unsplash community can also upload their photos so that others will use them. This way, you gain more visibility and popularity. And it helps you a lot; especially if you have a blog or own a product that you want to be noticed by as many people as possible.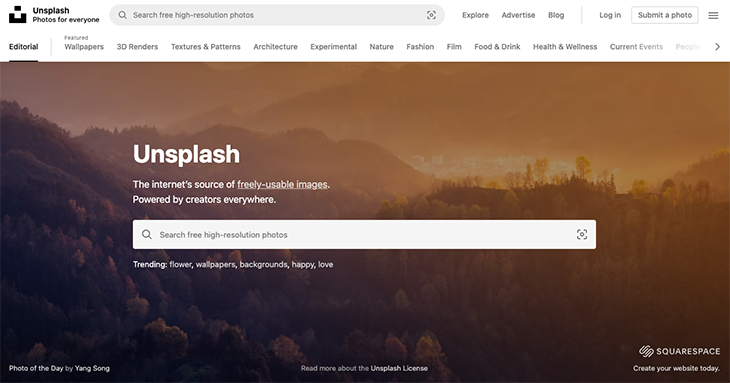 Moreover, Unsplash can also help you in your marketing strategy efforts. For instance, we here at Flipsnack are currently working on a link-building project. We're uploading photos with our environment-friendly office and colleagues and waiting for publishing platforms to use them in their content. This way, we will approach them and ask them to credit us through a link to our homepage.
Besides this; our designers at Flipsnack also use photos from Unsplash to create all types of templates that our users can personalize directly in our Design Studio. See? Told you this is a complex digital marketing tool.
I really enjoy using images from Unsplash for the templates I'm creating for Flipsnack. I can choose from a multitude of different categories, and I like the fact that they always have good quality and make my templates look much more professional and realistic.

Erika Borza, Graphic Designer Specialist @ Flipsnack
4. Gimp
Gimp is another popular marketing design tool that deserves to be on this list. Similar to Photoshop, Gimp is completely free software that supports all file formats. Moreover, it gives you the flexibility to quickly create new designs from scratch and distribute them on various platforms.

With a user-friendly interface, Gimp makes it easy to customize any design you need. So; whether you're a graphic designer, an illustrator, or even a photographer; you can use Gimp, and rest assured that it will help you get your job done effortlessly.
This tool gives you permission to retouch and restore all your images and transform them into personalized creations. Moreover, you can produce icons and graphical design elements for different mockups or user interface components.
5. Vectornator
Free design and illustration tools are few and far between, so let us present Vectornator. A 100% completely free to download app for iOS devices only. Yes, we are talking to you Mac, iPad, and iPhone users.
Vectornator was created by a team of designers and developers who wanted to share their knowledge with the community. They believe that everyone should be able to create beautiful designs without spending hours learning complex software.
But, not only is it free, but it is also one of the most intuitive vector design software out there that is suitable for any designer to use – no matter their skill level. All you need to do is drag and drop your image onto the canvas, and you are ready to go!
Once you finish creating your illustration, you can save it in many different formats. You can also export your work directly to HTML5 Canvas using JavaScript. This means that you can embed your artwork on any website or blog.
If you aren't sold on Vectornator as a design tool just yet, then let us present a couple of the software's key features to you.
First and foremost, they have an auto trace feature that automatically copies any image you upload. Secondly, they have a fully customizable pen tool with gesture controls that allow you to change your node types. Thirdly, they have functionality that means you can create any custom fonts you wish.
Just when you thought it couldn't get any better, we are here to tell you that Vectornator is constantly updating its software, and they have a comprehensive design blog on how to get the most of all their features.
6. Sketch
We're closing in on our last few marketing design tools with Sketch. Considered to be a vector-based design program, Sketch makes the whole process of designing websites easy and fast. Besides, it also has the functionality that allows you to export files in multiple formats.
Another great advantage of Sketch is that it lets users keep their designs consistent by having all of the page designs for a particular site in one file. This way; you don't have to worry about getting disorganized or too overwhelmed by so many files you need to open.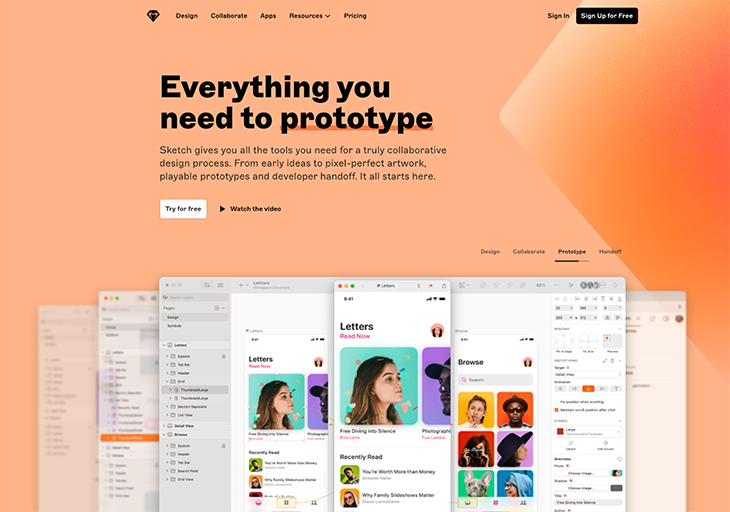 But that's not all you can do with Sketch. Feel free to create any animated timelines you want, turn wireframes into UI elements; and even transform screenshots into realistic mockups. Then; with the help of vector editing tools, pixel-perfect precision, and other 100 plugins; you're just a few minutes away from creating the perfect design.
7. SVGator
SVGator is an online animation software that lets you create animated illustrations, logos, icons, backgrounds, and other visuals without any coding skills. The keyframe-based tool has a thoughtfully designed, intuitive interface packed with all the advanced animators to create stunning animations for the web and for mobile apps. One of the main advantages of this tool is that it supports interactivity, so you can set your animation to start on hover, on click or on scroll.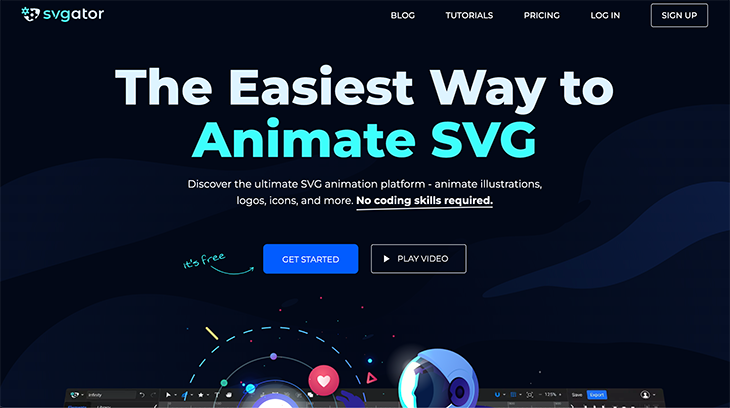 While you are focusing on creative work, SVGator is generating the code in the background and you can export a single SVG file at the end, either in CSS or JavaScript. Other export formats are also available, if you prefer to create an explainer video or a funny GIF.
Another great thing about SVGator is that it has a monthly free plan so you can explore all of its features and export a few animations before buying a plan.
The SVGator no-code interface is intuitive and the documentation is flawless. It only takes a few minutes to create something truly incredible. SVGator allows me to take my designs to a whole new level.

Brittany Hargis, Authorized Trainer @Squarespace
Marketing collaboration & communication tools
Jira
Trello
Typeform
Slack
nTask
ProofHub
CoSchedule
Let's take them one by one and get into more details.
1. Jira
The first marketing collaboration & communication tool I want to share with you today is Jira. Powered by Atlassian, Jira is a work management platform that's usually used by agile teams. We're also using it here at Flipsnack, so we know from experience what this tool offers.
That being said; I could start with the fact that Jira helps our various teams(development, marketing, etc) organize and cooperate better thanks to its four great "phases." These "phases" positively impact our teamwork; allowing us to keep everything transparent and under control.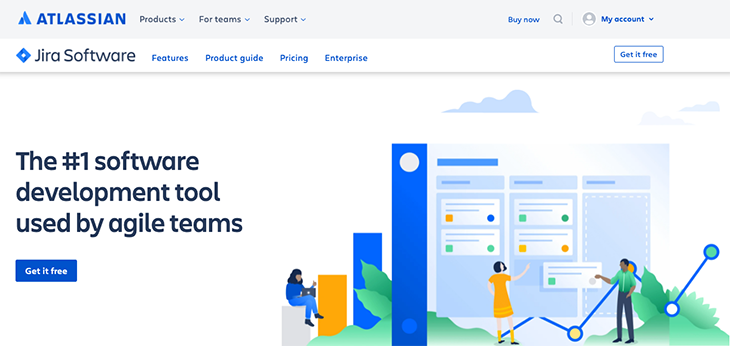 The first "phase" is called planning, and of course, it refers to the tasks we're distributing to each team member. We're trying to split them equally between all team members to have the same amount of work.
The second "phase" is the tracking one. Jira allows you to prioritize tasks and monitor each project. This way, everybody has a chronological order of tasks and knows what comes first and last.
The third "phase" is named release, and it refers to the execution time of the tasks. Throughout the sprint; everyone in your team can change the status of their tasks (to do, in progress, done) so that all members can be updated. This is useful for us at Flipsnack because if someone finished their work earlier; they could always help their colleagues who are a bit behind schedule.
The last and fourth "phase" is the reporting one. At the end of each sprint (work period, in other words); it's helpful to have a report that shows everyone how the team performed during that particular sprint. This way, you'll see what went well and what went wrong and what you need to improve for next time.
2. Trello
Trello is the second marketing collaboration & communication tool used by our design team here at Flipsnack. Also part of the Atlassian company; Trello is great at helping people manage their projects and keeping everyone in the team on the same page. For example; it takes only a few minutes to set up a board, and then you can instantly invite your entire team to the board and start the sprint right away.
Having a Kanban-style setup and fun user interface; Trello allows our design team to set up different to-do lists and tag individual cards from one list to another. Moreover, adding notes, due dates, labels, and members to these cards is super easy.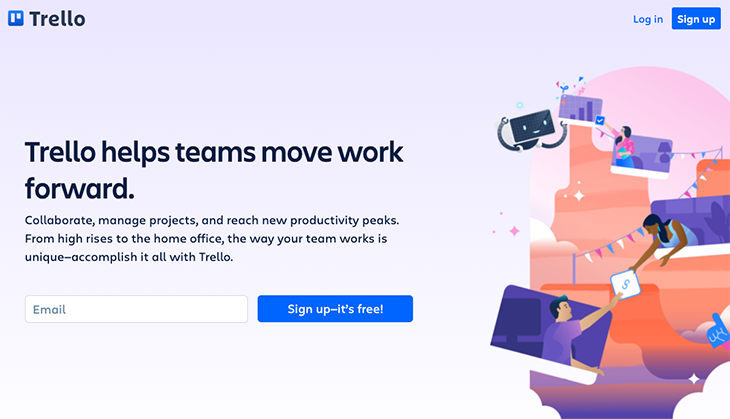 Another great feature of Trello that our design team also loves is that they can easily attach files, links, images, or any other documents to their cards. This way; anyone in the team has a full view of all ongoing projects and can come to somebody's help if they are behind schedule.
We, here at Flipsnack, totally recommend Trello because it's a complete and easy-to-use tool. Any team can quickly transform their ideas into plans, collaborate on more projects simultaneously, organize workflows, and track progress visually and realistically.
3. Typeform
Typeform is a sleek marketing collaboration & communication tool that helps marketers worldwide create eye-catching and minimalist forms and surveys. Even if it's a web-based platform, it doesn't require you to write any single line of code.
The best thing about Typeform is that it has a free version that offers you some great options. For example, you can ask up to 10 different questions in each form and receive 100 responses per month. However; you would need to opt for the premium version to ask thousands of questions and gather information from hundreds of people.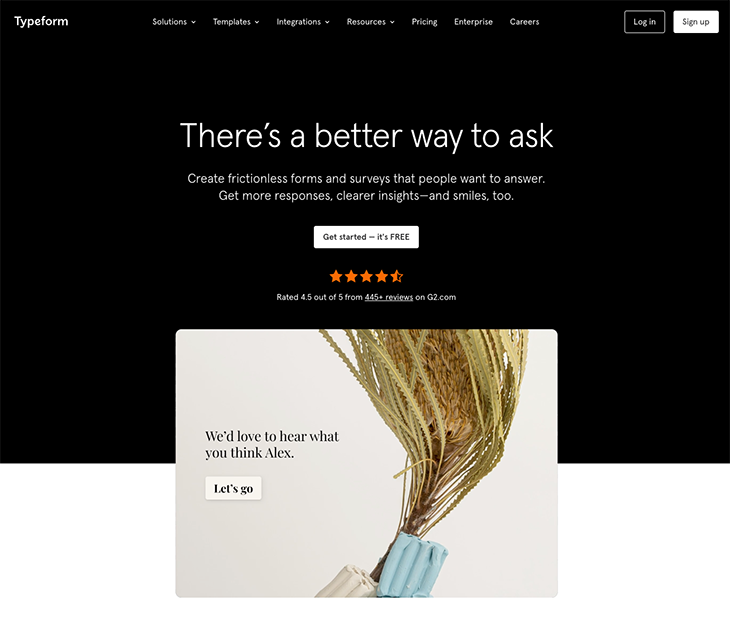 Another great fact about this platform is that the forms are really fun and engaging to fill. Moreover, you can even customize the forms however you want. Change colors, add graphics or images and make these forms fit into your brand standards. Consistency is key!
You can also share your forms through a link on different marketing platforms, embed them into your website, or even create a form for email. But that's not all. Typeform allows you to view the results, as well. So every time someone fills out your form; you can receive an email or even generate a report with all the collected responses and save it for further use.
One of our biggest challenges here at Flipsnack is understanding our customers to deliver better products and services and convert free users to customers. That's why we turned to Typeform to help us solve this problem. We've sent six Typeform surveys based on the roles they signed up with (marketer, designer, business owner, teacher or librarian, student, and others) and waited for their replies. It was essential for us to see how these different types of free users interact with our platform. We wanted to know what they are using Flipsnack for and how. Read the entire Flipsnack's case study to find out what we discovered and get other insights from the story.

Adelina Noge, Content Marketing Coordinator @ Flipsnack
4. Slack
Here it is, the fourth marketing collaboration & communication tool from this long list. Slack is one of the most popular and favorite messaging services in the business world that allows you and your teammates to quickly reply back and forth, avoiding the hassle of emails.
This platform also has powerful features and integrations; making it possible to integrate all kinds of daily tools such as Gmail, Trello, Giphy, etc. So feel free to start a channel between different teams or simply chat with random colleagues. It's a beneficial service, especially when most businesses hire remote workers due to the worldwide pandemic.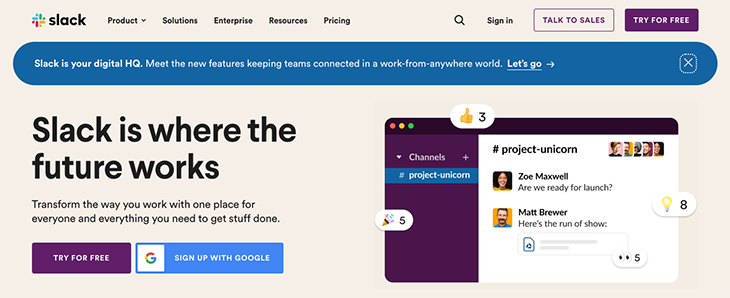 Slack facilitates and focuses on the collaboration between employees and teams but also gives you total freedom to join or leave channels precisely as you need.
Perfect for small or medium companies, Slack is very easy to use and also very helpful. Just try it and see how much the communication within your company will improve.
5. nTask
nTask is a unique project management and team collaboration software. It offers users the ability to collaborate with team members on tasks, projects, issues, timesheets, budget tracking, and risks.
The best part about using nTask is the online meeting management option. Here is where you can plan, schedule, and manage team meetings from start to finish. nTask offers another useful feature related to an online issue and bug tracking software. It does exactly what the name says: tracks bugs and issues. Then in the second step, you can organise bugs and issues.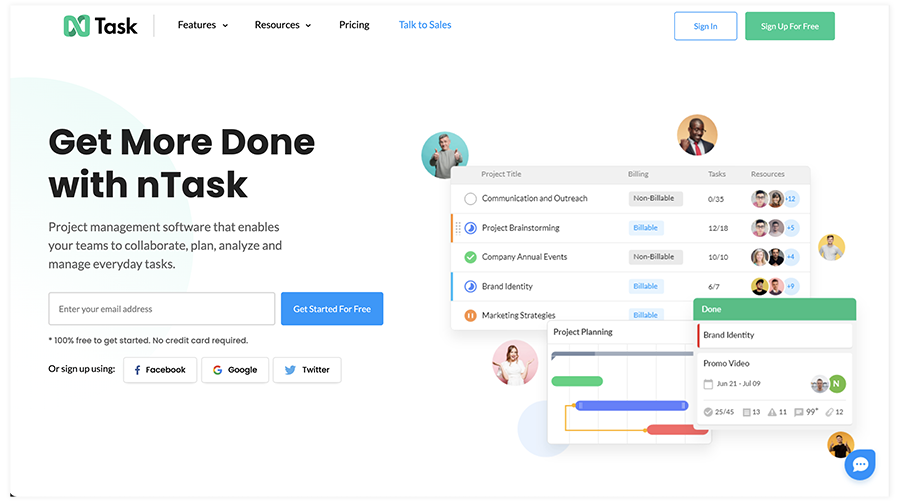 Next, there's the Collaborate feature which helps you move issue resolutions from the developing team to the production team faster. So lastly, you can report and share tracked issues with a click.
nTask has a simple and intuitive interface that makes it easy to manage complex projects. It offers complete project management features to help teams become productive with affordable plans for startups.
6. ProofHub
ProofHub is a versatile and highly functional team collaboration and project management tool that allows teams to communicate clearly while also getting a crystal clear view of pending tasks, available resources, and estimated due dates. In addition, this cloud-based tool comes loaded with a comprehensive suite of best-in-class features to assist marketing and creative teams.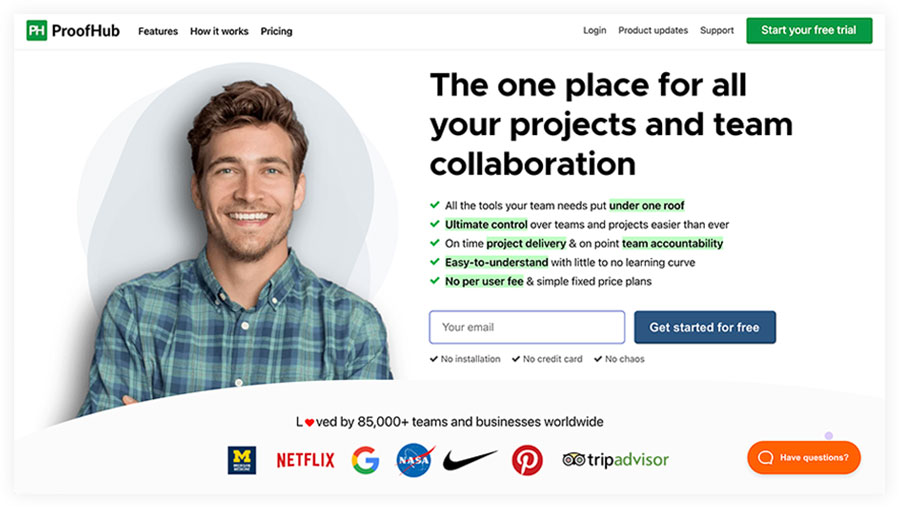 Create custom workflows by dividing your marketing campaign into various stages and visualize workflows using kanban boards. For example, marketing teams may quickly monitor their employees' productivity in finishing assignments through project reports. And, with the use of time reports, how successfully their time was spent throughout different phases of work.
Teams can plan their marketing strategies and product launch schedules or other relevant activities using the ProofHub calendar. Creative teams can collaborate in real-time using the online proofing tool that enables your team members to quickly access your projects at any time and anywhere in the world. Share inputs and get real-time updates on your projects using ProofHub's Group Discussions, @Mentions, Chat function. With all these power-packed features at your fingertips, this tool is a must-have for marketing teams worldwide.
7. CoSchedule
And the last marketing collaboration & communication tool is CoSchedule. As its name already says, this is a famous scheduling and organization app for marketers all around the world. The primary purpose of CoSchedule is to bring all your marketing efforts into only one centralized and interactive marketing calendar.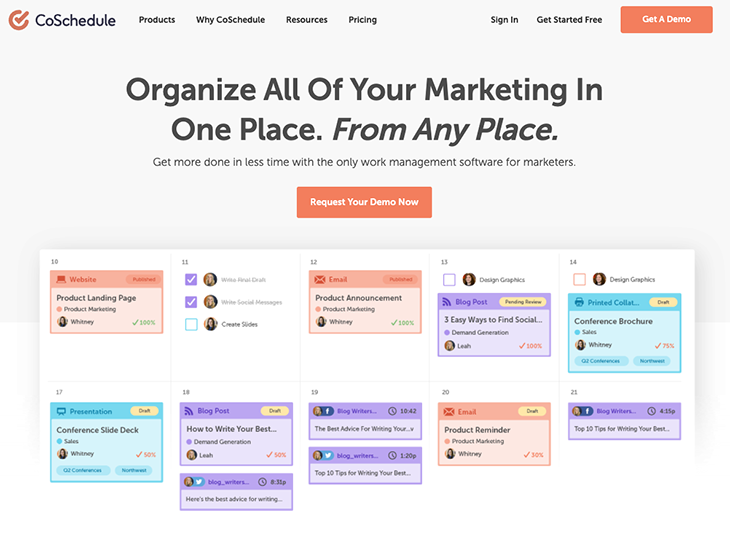 This digital app is very complex; allowing you to plan and execute an organized calendar on all your digital marketing channels. CoSchedule can do wonders for your social media management because; with its help; you can schedule all your social media posts. Moreover, it's super easy to integrate it with Facebook, Pinterest, Twitter, Tumblr, and even LinkedIn.
CoSchedule is packed with some fantastic features. For example; you can work together with other teammates to create tasks, assign tasks to colleagues, edit together with your teammates by using its built-in text editor, and you can also upload videos and see their previews. Plenty of features to make you choose this marketing tool, don't you think so?
Conclusion
We're living in a modern and technological world where everything is continuously evolving.That's why it's crucial for managing marketing campaigns to use innovative and helpful marketing tools to make sure you're making every effort to grow your business and transform potential leads into premium customers.
That being said; I'm hoping that today's list of 40 marketing tools will help you get the success you're trying so hard to seek. Of course; there are also other useful tools, but I've tried to mainly stick to the ones that helped our digital marketing efforts here at Flipsnack.
Keep in mind that not all of these tools might work for your business because every business is different, and what works for others might not work for you. But, I'm counting on you to use your best judgment and pick the tools that most suit your business needs.
Would you add other tools to this list? Are you already using some of these tools? Share your thoughts with us in the comments section below.