How to share PDF documents online safely
It happened to all of us: we tried sending a large PDF via email, but failed and had to choose Google Drive instead. Moreover, when working with sensitive information, merely sharing a PDF online isn't safe. You don't know who else will get access to that document, or who decides to share it with other people, too. On the other hand, perhaps even the ordinary PDF documents contain information you wish to keep private.
No more back and forth with the designers, to make your documents suitable for email. Leave the frustrations of your workflow being interrupted behind, and simplify the sharing of PDFs. You can turn your PDF into an interactive online publication and send the associated link to your recipients, with just a click.
We understand the need for a safe, easy and protected way of sharing your classified PDFs online. All of that without worrying about unwanted views. Luckily, you've stumbled upon the right piece of information, which will show you how to share PDF online in a few steps.
What type of PDF files can you share?
When it comes to which types of PDF files you can share, there are a lot of options available. Whatever document you want to share as a PDF format, but it's too large, there is an easy solution. From catalogs to brochures and magazines or internal documents, you can share each of these in a secure and data-protected manner. Depending on your specific needs, you can choose one of the following:
Catalogs (product catalogs, business catalogs, etc.)
Brochures (business, event, real estate, etc.)
Industry presentations (real estate listings, business reports)
Publishing materials (magazines, newspapers, e-books, etc.)
Internal documents (newsletters, onboarding materials, employee guides, etc.)
Professional document templates (portfolios, business proposals, etc.)
Marketing materials (brochures, flyers, etc.)
How-to guides & tutorials (cooking recipes, first aid, etc.)

What is the best way to share PDF files?
You can easily convert a large PDF into an online flipbook – the PDF alternative of choice, shareable via a link, in just a click. Not only will you stop sharing difficult to load and download PDFs, but you'll also offer a smooth reading experience. All within a safe environment. Here's how you can do that with Flipsnack.
There's a cool thing you can do when uploading the PDF in Flipsnack and turning it into an interactive flippable publication. You can either upload a single document or merge multiple PDFs, if you wish to combine information from more than one source. So, let's take a look at all the ways you can share a PDF as a link, with your preferred audience.
1. Distribute via direct link or full-view link
By converting your PDF into an HTML5 flipbook, you can share its link with a click. Both options make it easier for you to distribute your content wherever you want, with whomever you want. All you need to do is upload the PDF and share the link.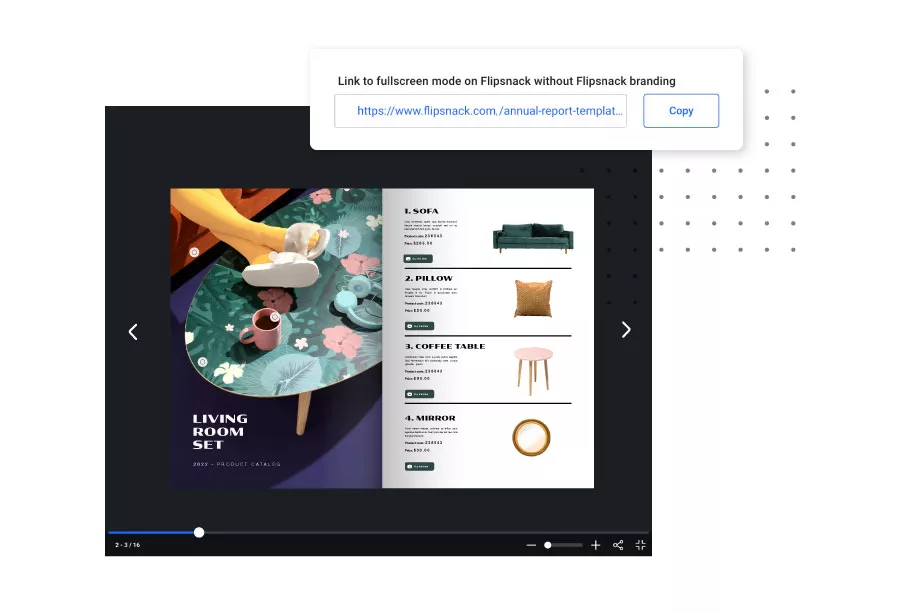 However, the full-view link eliminates any distractions for your reader. This means that when your recipient will open a catalog link, the flipbook will appear in full-view mode. You add to the viewer's experience, especially with the 3D flipping effect and clickable internal links. Ultimately, learning how to share PDF as a link is as simple as the copy and paste function.
When you're sending out PDFs and they're unsecured, the information can be easily leaked. You don't want that. Maybe you are a lawyer sharing information with your client. Naturally, you don't want confidential data to appear anywhere on the web. The only way to view an unlisted flipbook is to have access to its direct link.
More than that, it's not indexed by any search engines and it will not show on your profile. However, always check your PDF thoroughly before sharing the pdf online using this option. For example, you won't be able to change it later on from Public to Unlisted.
3. Send a password-protected PDF
Sometimes, you want to add an extra layer of security to your confidential data, such as financial records or social security numbers. In this case, you can password-protect your flipbook. The only way someone will be able to access the document is by inputting the password. You won't have to worry about sensitive information being leaked or shared with the wrong person. Cyber resilience measures are something that's often forgotten about, even with dozens of possible threats.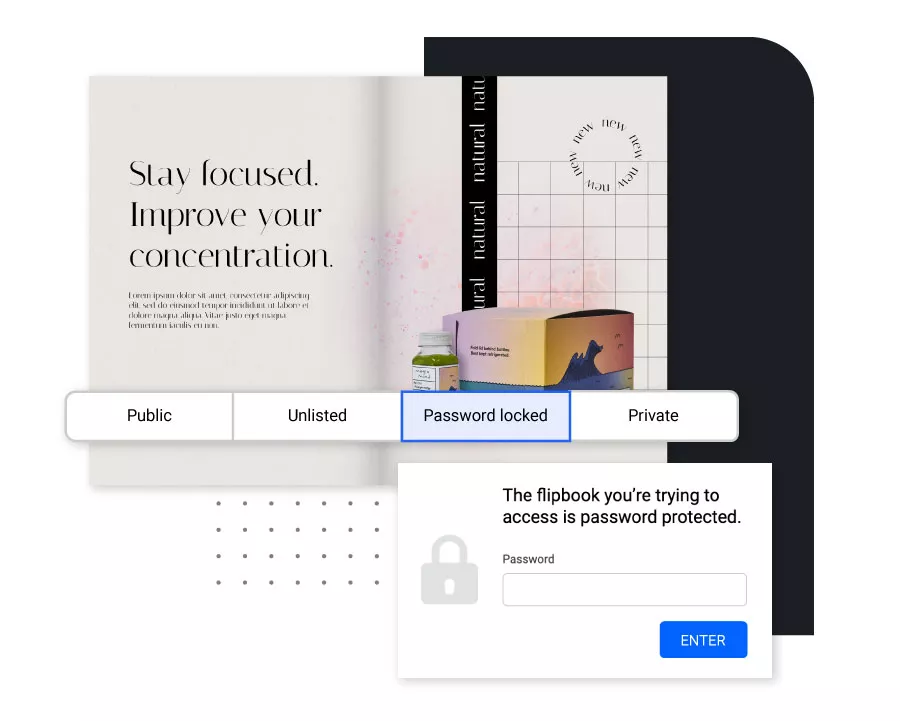 4. Share with specific people via email
Maybe you need to send a business proposal to a client, privately. Then this option fits like a glove, since it's secure and you make sure it reaches the right recipient. Or perhaps you have a monthly newsletter you send out and you want to personalize your PDF before that.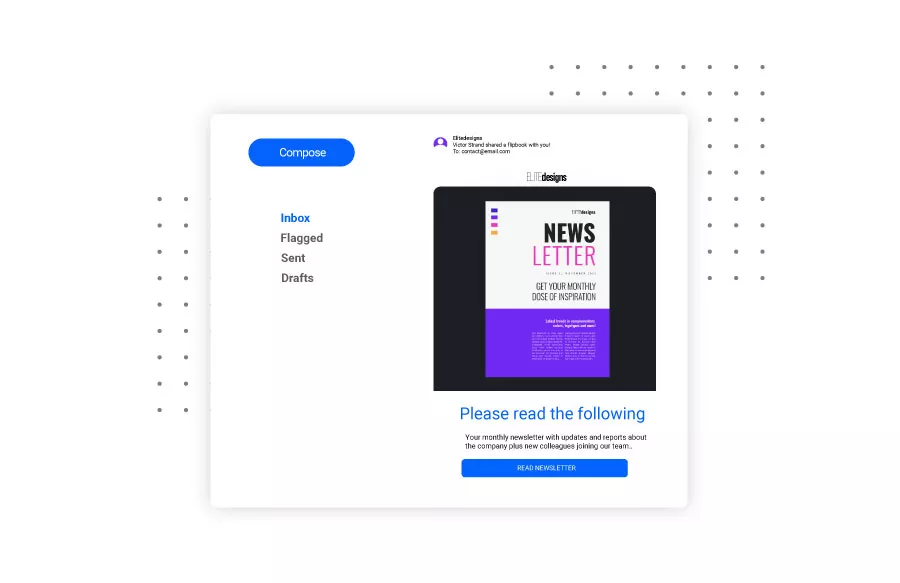 You can upload any PDF to Flipsnack and customize parts of its appearance and branding. Set the background color, enable PDF download, and auto-play if you wish. Add your brand logo, so you mirror your business on every document. When you're ready to share the PDF file online, follow the simple steps from this article about sharing documents via email.
5. Website embed
This PDF sharing website option is especially useful for PDF catalogs or event flyers, brochures. Anything you wish to showcase on your company's website. You'll be able to grow its reach and make sure as many people see it as possible. The only thing that your website visitors have to do is flip through the publication and gather the relevant information. For more step by step instructions, read this article about website embedding.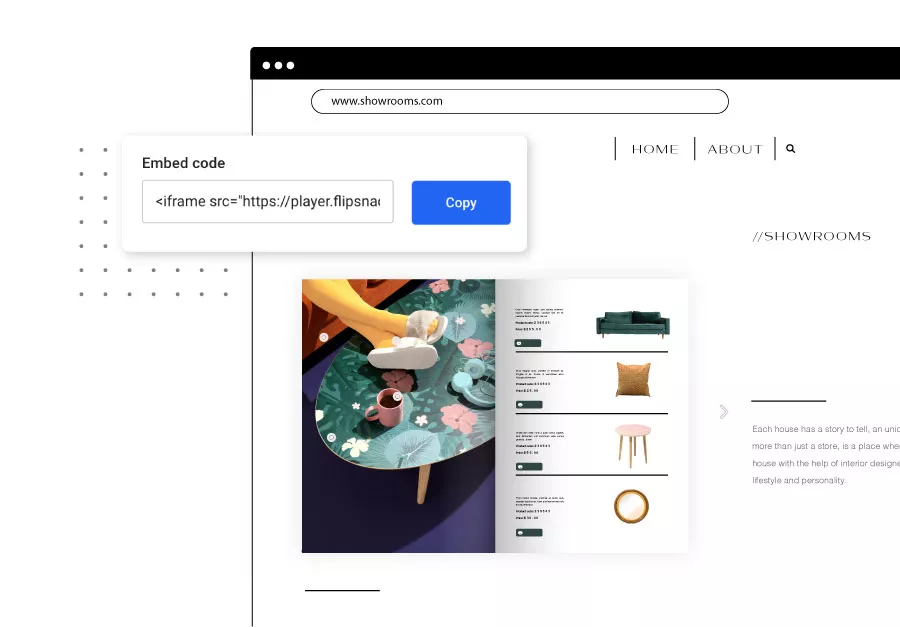 6. Share a PDF on social media
When you think of how to share a PDF on social media, it can be tricky. You can't drag and drop the PDF as you would do with a picture, so converting it to a digital flipbook is the easy option. Simply upload your PDF to Flipsnack and select whichever social media platform you prefer.
However, keep in mind that Twitter turns a link into an interactive flipbook. This will encourage your followers to interact with your post and experience a different type of content. When it comes to sharing a PDF to Facebook, the process is just as easy, requiring just one click.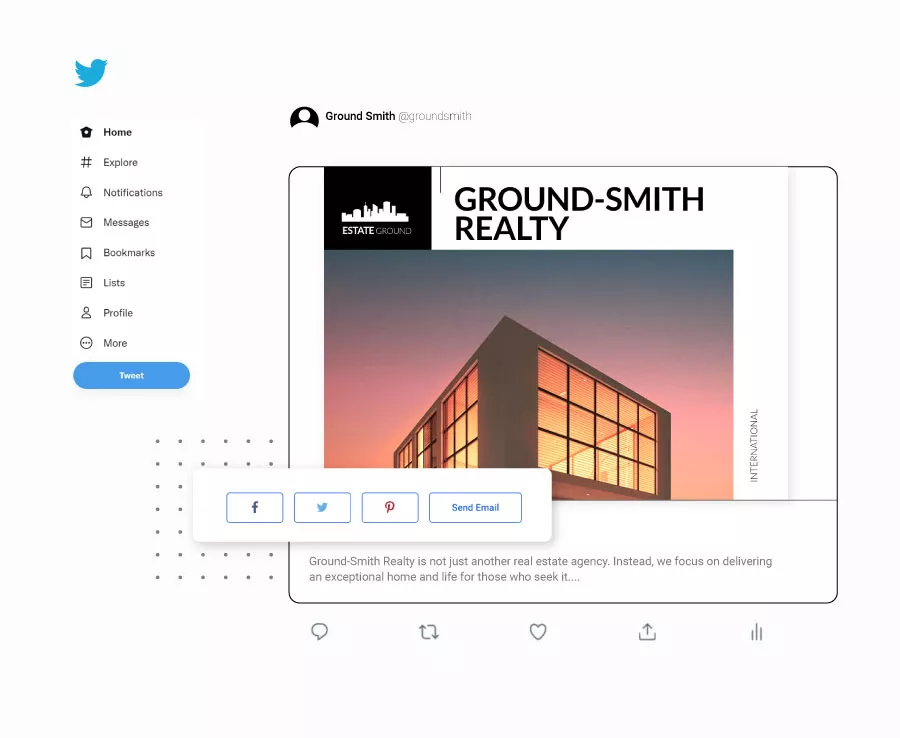 If you work in the real estate industry or in any marketing company, you can use social media to spread the word about a new property listing or a product. Find out more about how easily you can share your publication on social media and spread the word about your business or event.
Benefits of sending PDFs through Flipsnack
When you consider Flipsnack as your PDF sharing tool, it's important to be aware of the benefits flipbooks bring to your business. From privacy and security to access to statistics, you can rest assured that your recipients will enjoy the professional format.
Here are the benefits of sending PDFs through Flipsnack:
Apply a 3D page-flipping effect
Enjoy privacy & security
Experience mobile-friendly PDFs
Tap into the power of statistics
Make quick online updates
1. Apply a 3D page-flipping effect
When you upload your PDF documents in Flipsnack, you automatically get the 3D page-flipping effect. The transformation of PDF to flipbook adds value to your reader's experience especially when you add a sound effect to the flipping feature. Nothing makes the whole experience more real than using a PDF page-turner software.
2. Enjoy privacy & security
As we've already mentioned, this is the most important aspect when it comes to sharing PDFs online. When you choose to share a formerly large PDF, which is now a protected flipbook, you decrease the data leaks chances drastically.
This is particularly important for companies when communicating with their employees and shareholders. Valuable information cannot be passed down casually, through a vulnerable channel.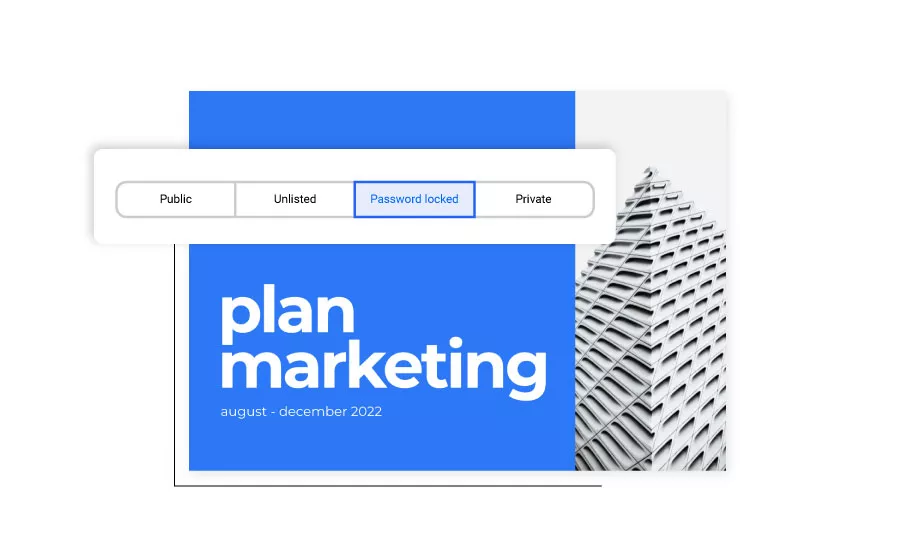 Without further ado, there are four secure ways of sharing PDF online, which add an extra layer of protection to your confidential documents:
Share via direct or full-view link
Unlisted
Share via email
3. Experience mobile-friendly PDFs
For mobile readers, Flipsnack offers the same immersive experience, with optimized interface. You don't have to worry about modified documents, if opened on one device or another. Mobile-friendly documents mean that they're designed to work exactly the same, across all devices.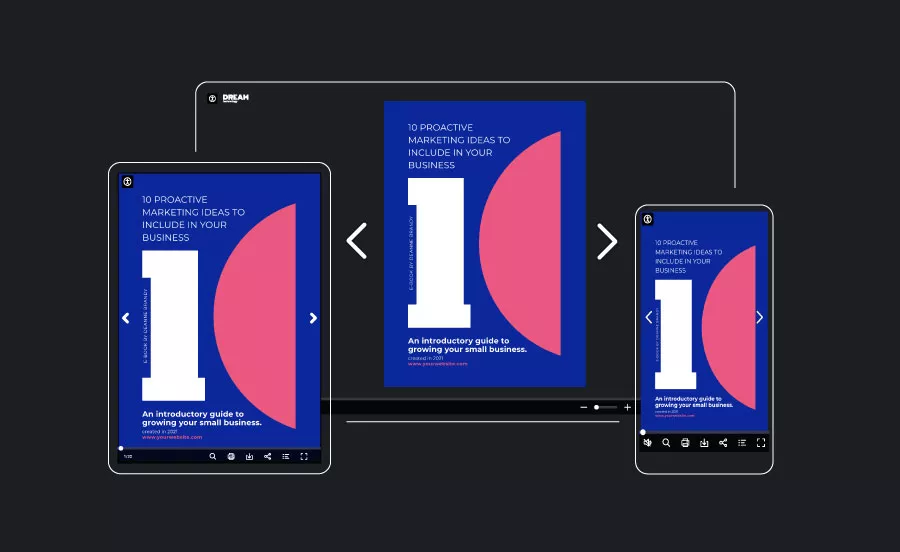 Once you send out your PDF using one of the privacy options, you don't know what happens to it from there on. This is why it's useful to track its performance through statistics. If you send a flipbook to multiple people, you can see who opened it, how much time they spent reading the document, and what elements they clicked on. You'll have a better idea of the type of content to share in the future, in order to continue engaging with your readers better. There you have it: PDF tracking made easy with flipbooks.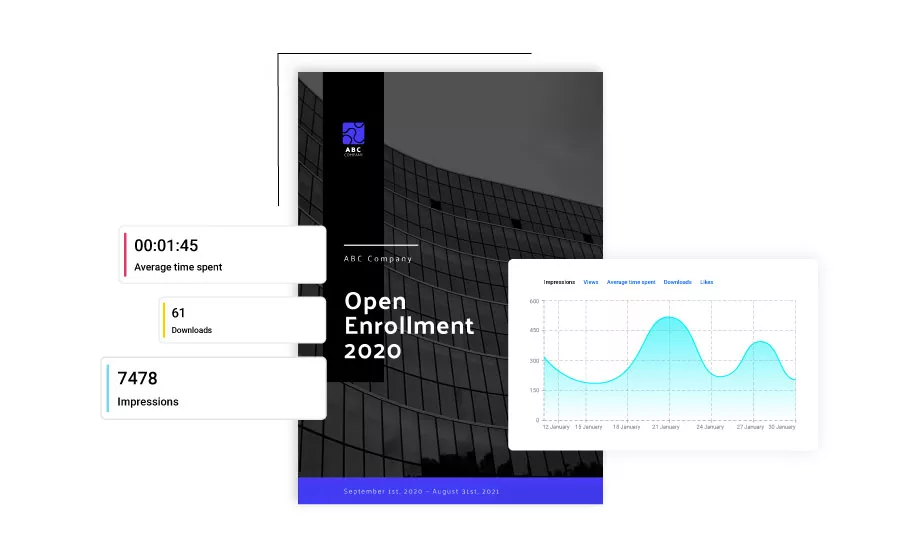 For more granular statistics, you can connect your Google Analytics account to Flipsnack, and have all the important data in the same place. Based on this, you will be able to make the necessary changes, targeted on specific sections from your document.
5. Make quick online updates
You already sent the converted PDF to flipbook, but forgot to make some final changes? Using the old methods of sharing, you wouldn't be able to do anything about it. But there's no need to worry about this with an online flipbook, since you can easily come back to your publication and edit it.
Update anything from text to links, images, and other interactive elements you might want to add. The cool thing is that after you make these changes, you don't have to resend the link. The changes will automatically be applied when you click on Publish and everyone will be able to see the updated version instantly!

Conclusion
After everything we touched upon in this article, I think we can draw a few conclusions together. First off, Flipsnack offers plenty of secure and easy sharing options, so your documents can remain private when shared online. More than that, you can track their performance through statistics, like we mentioned before and make targeted changes.
It's time to leave the unsafe, large PDFs behind and start protecting your data better. If you're also interested in how to make your PDF interactive, we have you covered. In the end, when we talk about how to share PDF documents online, the one thing to remember is that the security factor is above how fast you can do it. Ready to share your PDF online securely? Easily use one of the options above and control to whom you're sending your private documents.