Getting started with sales enablement strategy
Imagine it's a warm and breezy day on the Amalfi Coast, and you're full of joie de vivre. You're enjoying dinner – some delicious pasta – with your special one. But as soon as you reach to take the first savory bite, your phone starts buzzing. No, it's not some colleague or employee that forgot you're on holiday. Instead, it's a cold call from a telemarketer that wants to sell you a product. How frustrating, right?
Someone thought to sell you a product you're not even interested in buying. Probably, your first thought is: "What the heck?". Then you begin to wonder: "Wait a minute. Have I shown any interest in this kind of product?", "How do they have my phone number?" and you get lost in a state of contemplation.
This situation is precisely the reason we're here to discuss sales enablement strategy. In 2021 cold calling is just not working anymore. When you empower your sales team to reach qualified leads and align the communication between the marketing and sales departments, they can succeed without these old marketing tactics.
So without further ado, let's talk about sales enablement strategy, what it is and how to get it started inside your company efficiently.
What is the sales enablement strategy?
Before going into the specifics of sales enablement strategy, we have to know exactly what sales enablement is.
Sales enablement is the process of bridging the gap between sales and marketing. Basically, the marketing department has to work together with the sales department towards the same revenue goal. In some companies, you would call this a "revenue team."
Sales enablement also refers to offering your team the best resources, tools, materials, and opportunities to close more deals. This process includes all the content you're producing on your website, the leads provided for your sales team, and almost anything that could help sell your product or service more effectively.
For this to happen, you have to implement a solid sales enablement strategy, especially if you don't want one of your employees to be that annoying telemarketer.
So when it comes to implementing a solid sales enablement strategy, you have to do as the great Maya Angelou said: "Do the best you can until you know better. Then when you know better, do better."

Developing a sales enablement strategy is a never-ending process. You and your team will consistently learn to improve, change, or add things to boost sales. It all comes down to nurturing your leads further down in the sales funnel. I don't entirely agree with this "sales funnel" saying, but I'll get into that later.
However, what is essential in having a sales enablement strategy is that your marketing and sales team will learn how to communicate and collaborate to achieve your company's overall goal.
Who is in charge of sales enablement?
Some of you might consider that sales should be in charge of this. Or maybe the marketing team, since they're the ones doing all the content and the marketing strategies. Let me end this debate and tell you: both teams are responsible for a smooth sales enablement process. At least, this should be the case.
This happens mainly because you need great collaboration and communication between these two teams for the sales enablement strategy to work. You've heard that saying "communication is key"? Yes, it is.
And here are a few reasons why you should encourage your marketing and sales departments to work together:
Both teams have to establish the resources needed to make the selling process easier.
Both teams have to make sure those materials help the customers see the benefits of buying their product or service.
Both teams have to implement a strategy and do reviews or retrospectives to see what worked best, what didn't, and what they can improve.
The marketing department will be responsible for offering resources and content specifically designed for your sales team to use with potential leads. While the sales team should be in charge of the way they handle potential leads. And try to convert them into paying customers.
The content materials made by your marketing team can take the form of blog posts, white papers, guides, ebooks, and so on. I'll get into more details about these a little later. But keep in mind that all the content has to be made with a specific purpose and target audience. So your teams need to know exactly what resources they need, who they want to reach, what are the qualified leads, etc.
This means strategizing. To put together all the elements that contribute to make the sales enablement strategy work.
The main elements of a sales enablement strategy
So far, so good. If you made it here, you already have a better understanding of what sales enablement is.
But what exactly are the main elements that make a sales enablement strategy work?
Clear goal
Specific target buyer
A content strategy
Let's take them one by one and get into more details.
Clear goal
Without a clear and precise goal, the company's growth goals will not be achieved. A well-established sales enablement strategy without goals will probably lead to nowhere.
So if you want to create a solid sales enablement strategy, educate your teams around it, maintain it, and expect to deliver outstanding results, as with any other project, you will need to set goals. SMART ones. Oh, and make sure that everyone involved in the sales enablement process is well aware of them. Besides presenting them once every quarter, you may want to remind people, from time to time, why goals are important without putting too much pressure.
You've probably set goals before, so you know about the importance of setting SMART ones. SMART comes from Specific, Measurable, Attainable, Relevant, and Time-based goals.
Let me give you a few examples of some SMART goals to use as a starting point in your sales enablement process:
Bring in 10 SQL every month in Q2.
Identify and contact ten prospects each week who spend upwards of $30,000 per annum on digital marketing services.
Reduce the average close time on deals from a month to 3 weeks by Q4.
Set clear goals so that everyone in your firm knows what they have to do to achieve them.
Specific target buyer
Even if we already discussed setting clear goals, this is not possible without knowing your target buyer very well. With an emphasis on WELL. From the inside-out. Targeting the right audience is crucial to doing any kind of business.
Instead of interrupting someone's holiday with a cold call, make sure your sales team contacts and reaches the right potential clients for your company.
When I'm talking about the right potential clients, I'm thinking about the easier prospects to convert into buyers or take them further down in the sales funnel. Speaking of which, remember when I mentioned that I'm not a big fan of this concept. So let me explain a bit further.
Your relationship with your customers doesn't end after they made an acquisition. As a matter of fact, now is the time to pay careful attention to how they interact with you.
Nurture this relationship further. Ask about their experience with your product and see what the feedback is.
Not so happy? One mistake, and they're as good as gone!
Imagine your relationship with your customers as a circle – where the process is a continuous one, a never-ending one. Now, this is, in my opinion, the correct way of thinking. And, the truth be told, it's the only way you should think about marketing and sales in 2021.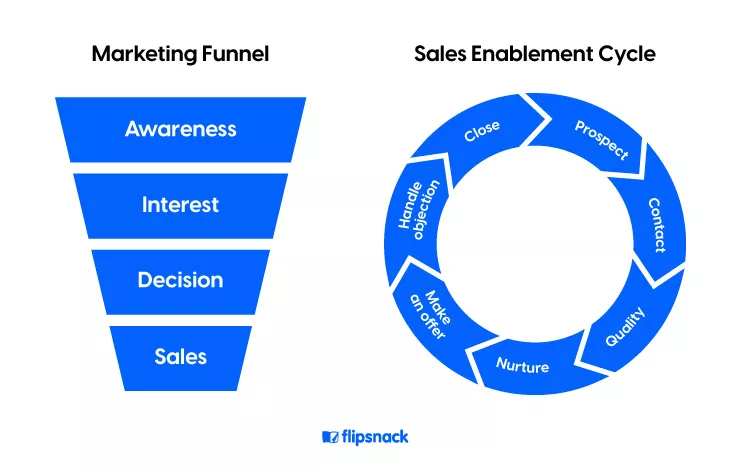 Sales Enablement Cycle
Let's see the sales cycle stages that happen when you have a circling approach in mind instead of the funnel one.
The sales cycle stages are:
Prospect
Contact
Qualify
Nurture
Make an offer
Handle objection
Close
And speaking of customers, I'm sure your sales team already knows your company's buyer profile probably better than anyone else. Having all the insights from your sales team about your buyer personas can help the marketing team bring in more qualified leads. Again, great collaboration and communication between these two departments can smooth out the sales enablement process. This step reminds me how important it is to have a lead generation strategy.
Lead generation is the process of attracting a potential buyer's interest to receive enough information and data about them and then contact them. A great lead marketing strategy can bring you qualified leads. No matter if we're talking about marketing qualified leads (MQL), sales qualified leads (SQL), or product qualified leads (PQL), it's important to strategize for each one specifically.
A content strategy
In the old way of doing business, sales teams were considered the company's fuel. However, this is not the case anymore, and this very little piece of content that you're reading right now is actual proof of that.
As I said, your salespeople are the ones constantly in touch with leads. Do yourself a favor and listen to what they have to say. A great part of the insights you'll need for building a killer content strategy can come from them. Have both teams work together to develop a content strategy that can be a starting point for your sales enablement strategy. If I didn't stress this enough throughout this article, I'm saying, once again, communication is the cornerstone of getting started with your sales enablement strategy. So don't disregard the importance of collaboration and communication.
How to get started with your sales enablement content strategy?
Think of this content strategy as pieces of sales collateral that are meant to inform and convince users in ways that they can get a better understanding of what you're trying to sell them. All this before they ever ask for a free demo, a trial, or decide to buy something from you.

Just think about it. When a person wants to buy a product/service, they head over to Google, where they'll type in a particular query. If your website and your content are SEO optimized, you'll be lucky enough if they landed on your website. In case you didn't know, this is also part of your content marketing strategy.
All the blog articles, landing pages, case studies, guides, ebooks, even your help center articles and videos are part of the content strategy to convince users of your capabilities. So remember to create relevant content and persona-driven sales materials for each stage of the buyer's journey.
Let your marketing teams create case studies about how other companies use your product or services; it will be well worth it as social proof. Write help center articles or make video tutorials to help first buyers in handling your product with ease.
Five steps to developing a successful content strategy for your sales enablement strategy:
Audit your existing website content
Grab insights from both marketing and sales teams
Look into Google Analytics
Align your content with the customer's journey
Analyze and review data regularly.
Don't get too promotional
One thing you should always have in mind is to make sure that throughout all your content marketing strategy you offer enough information about what your business does and how your service or product can help customers. And try not to be too promotional. At this point, you need to facilitate your customers with a complete view of your business even before they reach the sales department. Let that sink in for a moment and think about the significant impact all your marketing strategies have on sales.
Therefore, I encourage you to create and provide educational content to help your prospects already know your products/services qualities when they reach the sales team.
You shouldn't forget that once you implement a content strategy, the next step should be reviewing it. Doing retrospectives should be a vital part of any strategies your teams implement. You can't improve what you don't measure, right? That's why planning retrospectives with your teams will help track performance, analyze different tactics, and improve, change or add ideas that can boost the sales enablement strategy.
As I previously told you, a comprehensive sales enablements strategy is a continuous process. Implement great content, track performance, and enhance your sales enablement strategy.
Getting started with sales enablement strategy
Now let's explore the process and valuable tips to getting started with an effective sales enablement strategy.
Make sure marketing and sales are aligned around the same sales strategy
One of the critical elements, when you want to implement an effective sales enablement strategy, is to ensure that your teams are perfectly aligned. We've already established how important it is for sales and marketing to define specific targets and objectives so that all their efforts go in the same direction. They have to establish exactly the purpose of a campaign, their target audience, what they want to accomplish through it, and so on.
The following step is to focus on the buying experience. It's essential to understand each step of your buyers' journey and offer them enough resources. But also keep in mind to provide support materials for your sales team to make the selling process even more accessible.
If you're in need of ideas for improving the collaboration between sales and marketing teams, you can do marketing and sales meetings (I call them smarketing meetings) where both teams can share knowledge, procedures, and insights. Or you can use common boards like Miro, Trello, or Milanote, where you can set the goals and objectives.
Another great solution can be using a digital asset management solution like CELUM. It enables marketing and sales teams to easily locate files and share content without using email. So boost your sales enablement strategy by testing different platforms and tools to see what works best for your business.
Create relevant content for sales enablement
As we already established, you need sales collateral and relevant resources to have an efficient sales enablement strategy. Therefore, each piece of content that your marketing team is producing has the opportunity to facilitate the sales process. But don't forget that it's important to make your content materials easily accessible for your sales team. They should be able to access them from anywhere, anytime.
From how-to guides, ebooks, whitepapers, landing pages, help center articles, training videos, FAQs, buyer persona, features cheat sheets to call scripts, and content training materials for sales reps, all these can be considered sales collateral.
Use Flipsnack as your sales enablement tool as you can create all kinds of content materials for your sales team and offer easy access to them. Yes, you can do all this on just one platform.
Flipsnack basically offers everything you'd need to create professional materials in no time and to share them with your teams easily. From ebooks, digital brochures, booklets, and presentations to adding lead forms to gate your content and collect leads. We even offer you a variety of templates to make the whole process faster and easier for you. But wait, there's more. Flipsanck also provides you statistics. And to be honest, this is a really great feature, especially since we're talking about sales enablement.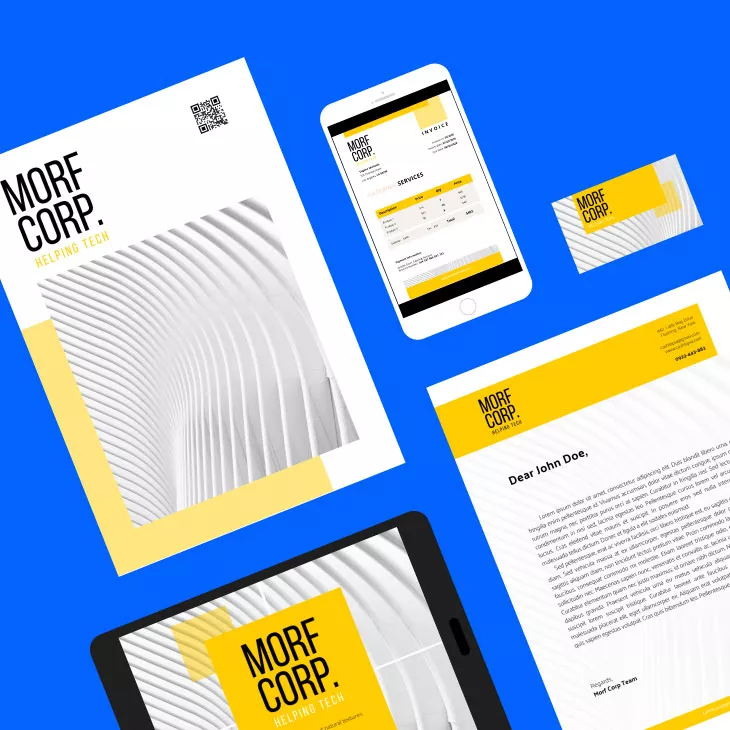 In the following paragraphs, I'll show you all the ways through which you can use Flipsnack to get started with your sales enablement strategy and create professional content materials to help your teams reach their goals and your company's ROI.
Brochures
You can use brochures for so many different purposes. Actually, if you're not quite sure where to get started, as boring as it may sound, a well-crafted brochure could be the beginning of your sales enablement journey.
Make a brochure with the overall description of your company as part of your awareness funnel. You can also make an internal brochure to keep your marketing and sales teams on the same page with your mission, statement, values, and objectives. It could be an important piece of content to remind how important it is for each team member to communicate effectively.
It's also a great idea to make brochures to present your product or service's best qualities and features. Through this kind of brochure, you allow your customers and potential clients to get to know who you are, what you do, and what you offer instantly. It can be the perfect sales material for sales reps to send clients when first reaching out.
We're talking here about digital brochures. The possibilities with digital brochures are so many, and you could reach a broader audience by using them.
In Flipsnack, it's easy to make one either if you want to make it from scratch or by using one of our brochure templates. Oh, and if you have some brochures as PDFs, upload and give them a 3D page flipping effect.
Let's take, for example, this company brochure template. Open it in our Design Studio and add your own information and photos and make it your own. What's great about Flipsnack is that you don't need to be a great designer or to have professional design skills because the whole process is really intuitive. With an easy drag and drop, you can edit, add or delete whatever elements you want.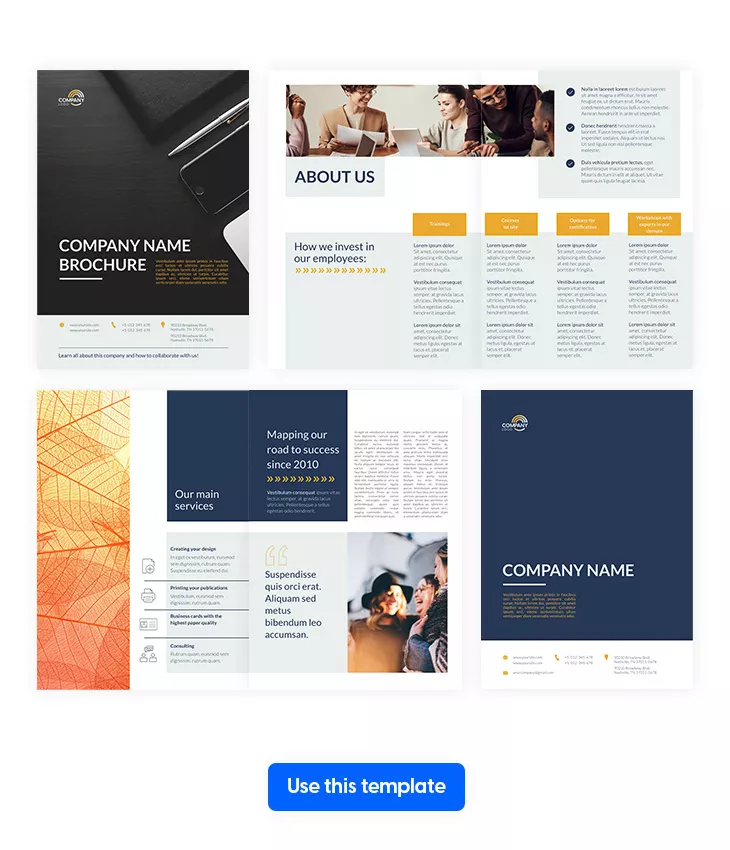 Ebooks and booklets
Ebooks and booklets can give readers content value and your credentials as problem-solvers in your field while you also lead them subtly to your product or service. These are also easy ways to achieve more leads. I'm not talking about ordinary leads, but qualified ones that will actually be interested in your product and service.
However, to make these work more to your advantage, you'd need a lead generation strategy. As I previously told you, lead generation is the process of attracting potential customers and collecting data to contact them afterward.
So use marketing ebooks and booklets to offer relevant know-how on a subject you have insights on and knowledge about. This is called "gated content." Basically, if you want to reach more leads, you'll have to also implement and add lead forms in your lead marketing strategy. Let me briefly explain how this works: you will craft high-quality content for a niche audience you're interested in collecting information about and converting them into becoming your customers.
Let me give you an easy-to-follow example. You're a podcast agency looking to expand your client base. Create an ebook about 2023 podcasting tactics and trends. People who are looking for this kind of content are probably good prospects for your business. Add a customizable lead form and ask for their data in return. 
Focus on offering your target audience the information they couldn't find elsewhere. People really appreciate it when they see something useful, so even if they have to fill a lead form offering some details about themselves, if they feel they can learn something new, it will be like a fair exchange.
Create ebooks and booklets in Flipsnack
In Flipsnack, it's super easy to create your ebook from scratch or by uploading your PDF, adding some interactivity to it to make it more interesting and engaging, add customizable lead forms, and sharing it with your audience on any platform (email, social media or embed it on your website). But it doesn't stop here. Collect data through a CSV and use it further in your sales enablement process. We also offer you the possibility to add lead forms so you can collect prospects' data and then hand them over to the sales team.
Click on the booklet template below and notice the lead form I added. It's important to require a name, email address, phone number, and if it's useful for you, maybe even add a country or region section to know exactly where they came from. Of course, the required fields can vary depending on what data and information you need about prospects.
Guides and presentations
I think digital guides and presentations provide the perfect opportunity to make more tutorial and educational types of content. Not only for your customers but also to help your sales team with support. Here, your marketing team can offer further details about how to use your product or service best.
However, sometimes this kind of content material can be quite boring. To avoid that, make your presentations and guides entertaining and keep your customers curious and engaged by using charts and shapes.
What if I told you that in Flipsnack, you could add interactive elements like video widgets, photo slideshows? Or, if you want to bring a little fun twist, you can even add gifs. There are so many things that you can do to make this kind of content material more engaging. Our designers transformed a business presentation template into a great interactive and entertaining one. Just flip through it and see all the cool elements you can also add in your presentations.
Case studies
A well-written case study can be more efficient than ten blog posts. Moreover, showing people how other companies successfully used your product is social proof that's hard to go unnoticed.
Case studies are usually part of the awareness stage and also the consideration part of the funnel, for a good reason.
A case study helps the prospect:
Get more familiar with your company, product, or service
He sees that his problem can be solved
Easier said than done, and I have to agree. It will take a good content writer to get the job done, but you also need a good story. Contact some businesses that have had a good experience with your product and offer some incentives. I'm sure they will be more than happy to take part in this.
Here's how to craft a good case study as part of your sales enablement strategy:
Start with a catchy headline that will make people want to read it.
State the problem in simple terms
Outline how your client tried to solve the problem before.
Present how you managed to solve this client's problem
List the results he achieved since using your solution
Because I love some good examples and I understand the true power of them, this is a customer story we have on our website. It talks about how Flipsnack helped Newell Brands—a leading global consumer goods company, with over 20 worldwide known brands—switch from printed to digital catalogs and save up a lot of money.
Whitepapers
Whitepapers can be your marketing team solution for providing more detailed information about the product or service your company has. These are usually addressed to potential customers, and they come in great help to your sales team as material support when they plan on sealing a deal with a client.
Just like ebooks, they can serve great as gated content to help you get more leads.
Even though they can be quite lengthy, as they offer all the information that could entice your potential customers to be interested in your product or service, they don't have to be boring. Head over to Flipsnack, upload your PDF with your whitepapers, and transform them into interactive ones. Not only you'll offer your clients the necessary information, but you'll do it more engagingly.
What's great about Flipsnack is that not only you can do all kinds of content materials, but you can make them engaging and fun. Get closer to your customers, rise above their expectations, and use content materials that actually help and improve the sales enablement process.
Make sure sales materials are easy to find
All the content materials mentioned above come in great help for your sales enablement process. However, just having these materials is not enough. You have to ensure that your content materials are easy to find anywhere, at any time, by anyone involved in this process.
Therefore, making sales materials easily accessible is one vital step for improving your sales enablement strategy. Just imagine, that one of your sales employees has a meeting with a client who requires further information on a subject for which your marketing team made an entire guide.
Unfortunately, it can't be found anywhere. So instead of sending the guide directly in the meeting, your salesperson has to excuse himself/herself and promise the client a follow-up with the document. This is not great scenery. Who would want to buy your product or service if they see you're not properly prepared and organized?
No worries, in Flipsnack, you can create workspaces with your employees and give them access to all the content materials they need. Because the organization part plays an important role when talking about sales enablement strategy, in Flipsnack, you can use folders to arrange each material in the right category.

You and your team will be able to easily share the materials directly from the platform wherever you need. And, of course, you can make some materials unlisted and only share them through a link with your prospects. Or make your materials password protected or share them only with specific prospects.
You can set the privacy settings according to your needs and make sure only the right people can have access and see your sales documents. But the best part is that your teams will have everything they need in one place.
Conclusion
As you can see, Flipsnack could be your sales enablement solution when you want to easily create professional materials and to have all the gated content in one place. I hope this article will help you in getting started with your sales enablement strategy. Say goodbye to the "cold calling" days and embrace a comprehensive sales enablement strategy.