Interactive catalogs: How to increase sales with shopping links
Interactive catalogs are the next big thing. Keeping up with consumer's expectations is a full-time job in 2019. Especially if you have an eCommerce business. You always need to be informed with the latest trends so that the "add to cart" process is as frictionless as possible.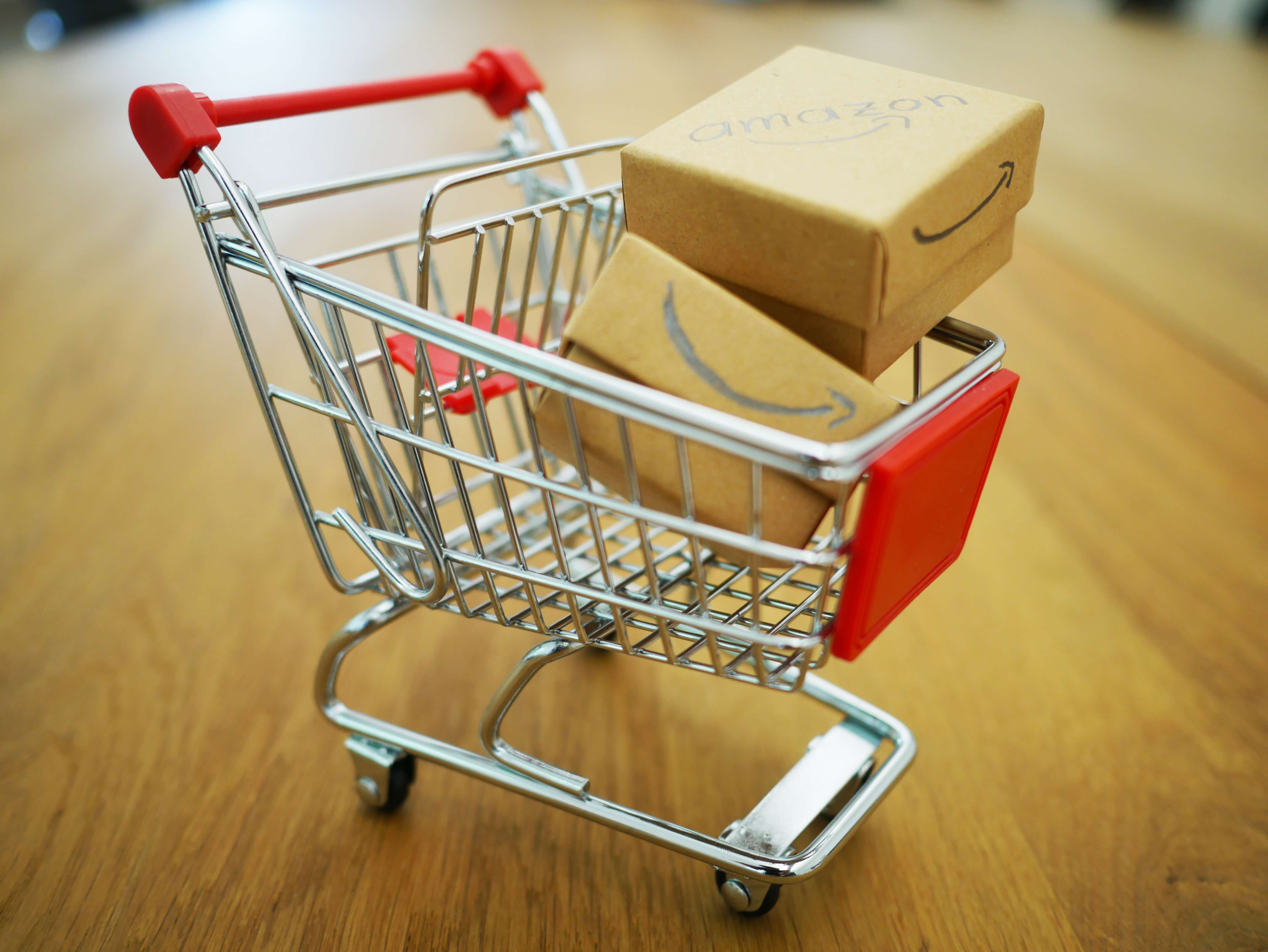 One way to step up your eCommerce game and increase sales is by adding interactivity in your digital catalogs. How? Through shopping links mainly. But not only. In this article, we will dig deeper into what it takes to design a successful interactive digital catalog to help you boost sales and increase awareness of your products through interactivity. Sounds cool? Keep on reading!
Print catalogs making a comeback
Print catalogs are not dead. And probably never will die. Even if we live in a digital age, there is still something so pleasant and nostalgic about flipping through a well-designed print catalog. The experience itself is still very valuable and more personal than online shopping. You get to flip through beautiful pages loaded with stunning photography, circle the products you like and fold favorite pages for later, a sort of old-school bookmarking.
Because an eye-catching catalog is much more than just a selection of products, it's your chance to tell a story about your products. And if you do it right, there's a high chance to convert these readers into clients. The giant e-commerce retailer, Amazon mailed a printed 100-page catalog advertising toys, in their Christmas 2018 campaign. This is just a clear sign that print surely isn't dead. Not yet!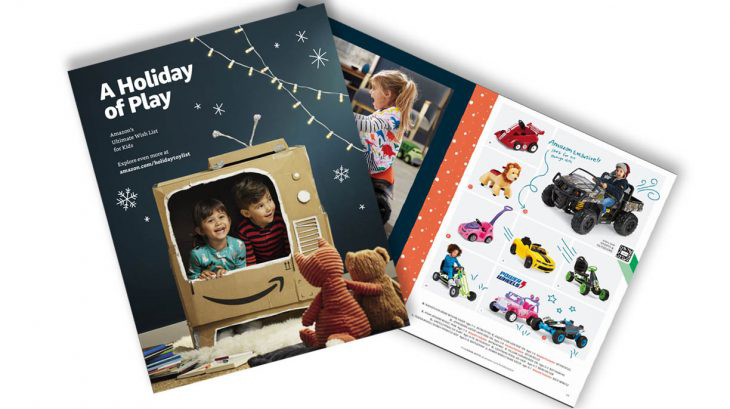 And if you're selling any sorts of products, stepping up your retail game is crucial in order to be competitive in today's fast-moving shopping climate.
Almost as important as having a smooth user experience on your eCommerce store, producing a well-designed catalog is crucial. Even a printed one.
These type of catalogs are a good direct marketing tool even in 2019. They have a high potential of reaching your customers in common areas such as coffee shops, libraries or other stores. Of course, if your target audience is spending time in these places, then having your catalogs being stocked in there could be a good distribution strategy.
Ever been in charge of designing a catalog from scratch? Then you are most aware of the daunting process and the amount of work that goes into it.
Get creative with your catalog
Let's face it! If you've invested time and money to design a stunningly beautiful product catalog, you surely don't want to see it tossed in the nearest trash can.
You probably hired a professional photographer to take luminous shots of your products, a copywriter to write creative descriptions and a designer to help you with all design aspects.
You may want to write in such way that the reader feels something. Make them come in store just to smell that perfume or try out that new summer dress. Honestly, this is the only way in which you can sell something- by telling a story and persuading your readers.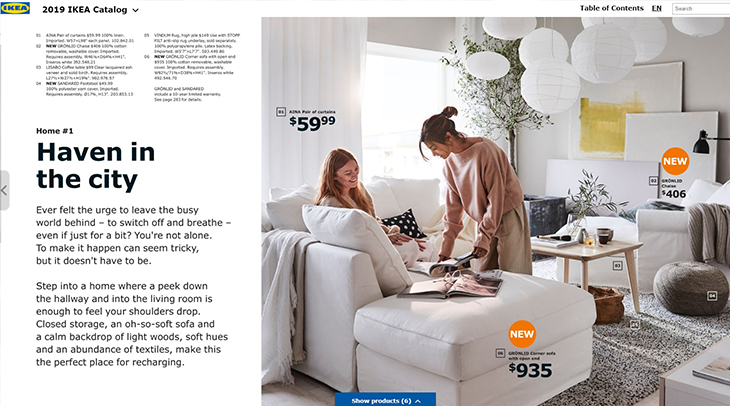 And on top of all this, you need a budget for your advertising endeavors. Not to mention your distribution strategy that needs to be on point in order to make the most out of it. Besides a good marketing plan, you also need a pretty big budget that goes into printing and distributing your catalogs.
So, it makes sense that you don't want to see all this hard work go down the drain.
Increase your eCommerce potential with interactive catalogs
We can't talk about catalogs in the glory days of 2019 and not give enough space for the new kid in town: the digital catalog.
Why are digital catalogs so popular nowadays? The main reason would be that they go well within your eCommerce strategy. But not only, by combining both printed and interactive digital catalogs, chances are that you will also increase your chances of attracting potential customers and improving the overall customer experience. With online interactive catalogs, you can ensure that your product offerings are always accessible to potential buyers.
Digital catalogs can be a powerful marketing tool that can keep your readers more engaged for a bigger period of time. And mainly because you can always update your digital catalog whenever a product is on sale or out of stock.
We all know how the modern-day consumer suffers from a short attention span. Adding an interactivity layer to your digital catalog through our catalog maker will definitely take your eCommerce strategy to the next level. In a way, digital catalogs make the "catalog to shopping cart" transition more smooth and fast.
Let's see exactly how:
Increase brand awareness
Not only do you get to display all your products in a catalog, but you get to introduce potential buyers to a whole world of products. Your products.
Just think about the beautiful IKEA catalogs. They're much more than just a collection of photoshopped images of minimalist furniture. They introduce you to a new world. By showing how your house could look like if you bought IKEA furniture. Just take a look at the image below. All part of IKEA branding.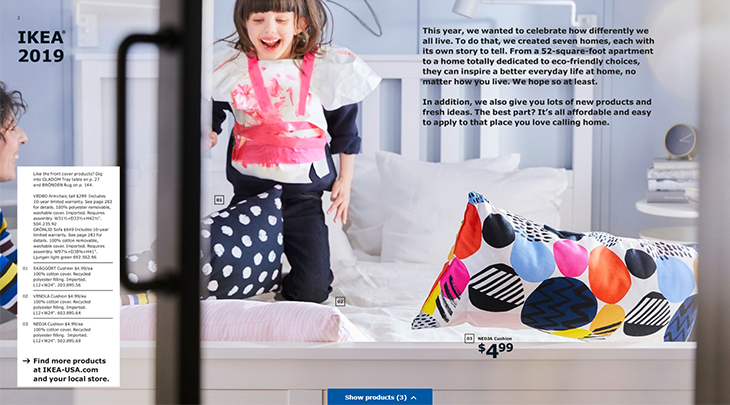 Even if you can't buy products directly through IKEA's interactive catalog, this is yet another powerful example of how you can increase brand awareness and drive in-store traffic.
IKEA had this eCommerce strategy for years and as of recent, they had also built a new app to help make shopping online more facile. The new IKEA app will even allow you to browse products, enter room dimensions for planning, preview items in AR, and yes, even purchase those items. All the in-store shopping options will work within this app, too.
It's safe to say that in 2019 if you're a big retailer like IKEA, you may want to use AR and VR to step up your eCommerce game but don't forget that your clients are also waiting to flip through your catalog. Online or printed, the catalog should remain at the very core of your marketing strategy.
But with Flipsnack you can easily incorporate company branding onto your interactive catalogs. How you may ask? By including your company's custom colors and fonts, logo or white-labeling your catalog's URLs.
Add links and product tags
The star of our article, links, and product tags, is what makes interactive catalogs fun and efficient. It's the best of both worlds: catalogs but… better! Because readers can easily order their favorite products instantly. As easy and simple as a click. More than just this, they can navigate through your interactive catalog using the search option so that it makes the entire shopping process faster and smoother. Adding product tags in your catalog will help you provide more information or promo content about your products and a quick way for customers to shop for products directly from your catalog.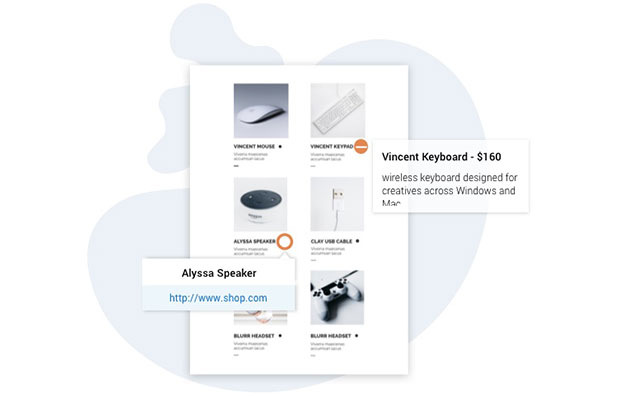 This way, you can turn your digital catalog into a proper eCommerce tool. Not only, but you can also use our powerful editor to add videos, tags, and captions for an extra layer of interactivity.
We here at Flipsnack conducted a survey that proved to be a more in-depth analysis of what it means to publish digital interactive catalogs online. It seems like, according to our survey, Flipsnack clients who used interactivity in their catalogs have seen a sales increase. Using links was the most used interactivity feature in their shopping catalogs. So, if you need to make interactive catalogs that stand out and will help with your eCommerce strategy, make sure to include them in your work.
Easily edit
I guess that the main advantage of an interactive digital catalog is that it's easily editable. No printing and reprinting your work because of a product going out of stock. You can make price or image changes at any time, saving you both time and money. Altering your interactive product catalog online can be done without any additional costs. And you also make sure that your catalog doesn't become outdated.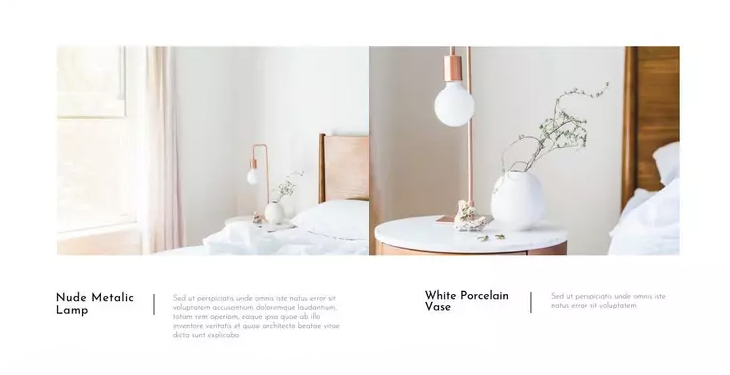 But maybe the best part about publishing your catalog online besides the interactivity layer that can be added is that you can track results. You get to see how many times readers clicked on one of your links or if your readers shared your catalog on social media. These and many other metrics can be easily tracked through Flipsnack analytics and Google analytics integration. Something you are not able to accurately track when sending out print catalogs.
Go big or go home. Interactivity is key!
If you want to make it big in the eCommerce space in 2019, then you need to enhance your online catalogs with interactive features and keep your readers engaged while striving to sell more.
Make use of all the aspects that make a digital catalog more interactive: from adding links, shopping buttons, captions, and tags to incredibly stunning product photography and creative listings. You have to go big or go home. There is no in-between. And while you're at it, Flipsnack makes for the ultimate catalog maker that will help with all your design endeavors.
Let me know in the comments down below: What is it that makes a catalog successful in 2019?