Top Digital Catalog Makers to Elevate Your Business
Today's fast-paced, digitally-driven business landscape demands a deeper understanding of the critical importance of first impressions. In order to stand out amidst fierce competition and leave a lasting impact, eCommerce businesses turn to precise digital marketing tools that help them with their needs, like digital catalog makers.
Whether your brand is known worldwide or if you're a budding start-up willing to make your mark in the industry, digital marketing tools can improve the way you do business. This is why we welcome you into the world of the best digital catalog software, the secret ingredient that has propelled numerous businesses to success.
Let's dive deep into the dynamic universe of digital catalogs. Together, we'll uncover how these digital catalogs can be a driving force that can take your business to the next level by enhancing your brand's visual appeal and driving your engagement to new heights. But first … let's cover our bases.
What is a digital catalog?
A digital catalog is a digital rendition of a product or service catalog, accessible through various digital devices, including computers, tablets, and smartphones. Digital catalogs provide an engaging and adaptable method for displaying information about products or services. They allow you to incorporate elements like multimedia, easy search and navigation, and make changes in real time.
Businesses frequently leverage digital catalogs to exhibit their offerings to a worldwide audience, leading to cost savings by eliminating the need for printed materials and permitting rapid updates and personalized experiences. These catalogs can take the form of websites, PDF files, or seamless integration with e-commerce platforms.
What is a digital catalog maker?
Catalog maker software or digital catalog makers are online platforms that provide users with the ability to transform plain text documents, usually PDFs, into interactive digital catalogs. At the same time, these digital catalogue makers allow management functionality for both the individual catalogs and the teams responsible for their creation.
Aside from the visual enhancements that further engage audiences, digital catalog creation software also allows users to organize incoming data from audience behavior-tracking methods. Other features include multimedia elements, automation, or checkout options, which can differ for different online software. The battle for the best catalog software started a while back as these digital catalog makers continually improve their tools. 

What do companies need from a digital catalog maker?
Businesses commonly seek digital catalog tools that provide features that improve their marketing strategy in one way or another. While features like user-friendliness, customization, and multimedia capabilities are common, and most digital catalog makers have them, some are less so. However, you need to know where to look regarding the following abilities:
Effective search and navigation;
Seamless integration;
Real-time updates;
Analytics;
Security;
Scalability.
Affordability and support are equally crucial factors, with individual requirements depending on the company's industry, size, and audience. Still, hosting digital catalogs and sharing them online is more cost-efficient than printing and distributing them the old-fashioned way.
Regardless of your industry or niche, these digital catalog software programs hold the potential to transform your business. Join us on this exploration as we introduce you to the cream of the crop in catalog-making tools. These are the platforms that will enable you to captivate your target audience, streamline your product presentations, and elevate your brand to unprecedented heights.
Criteria to evaluated digital catalog makers
The following list includes ten digital catalog makers available online for interested parties. In order to compile the information, I have conducted a study to cover the most important aspects of each platform. Based on the needs of those looking for a digital catalog-making solution, I looked into what each platform offers, reviews from G2 and Capterra, pricing, and customers and summarized the information.
There are other digital catalog makers or solutions providers available, but as those looking for these solutions look for them through online search engines, I looked there as well. The following came up most frequently for queries like digital catalog maker, digital catalog software, digital catalog, product catalog software, and variations of these as well as combination with the words top and best. For an even more expansive research, I also looked at what Chat GPT recommends inquirers to use.
To better understand these software platforms beyond what their marketing strategy shows and what online reviews share, I tried them out. For accurate results, I used the same PDF and tested their features to see how they actually work. For each platform, I could access their free offers, but I also took into account what their prices and offers provided based on customer needs and budgets. You'll be able to see that prices vary as do their customer base, so take all of that into consideration when you choose the digital catalog maker you'll use.
What is the best software to make a catalog?
In the dynamic world of digital marketing and e-commerce, having the right tools at your disposal is paramount. Explore our list of cutting-edge digital catalog tools tailored to enhance your product presentations and brand empowerment in the dynamic landscape of digital marketing and e-commerce. Whether you're transitioning from traditional catalogs or seeking an upgrade, these selections have you covered. For full transparency, the order is random, and you can choose the one that fits your needs best based on their capabilities.
Flipsnack
Our digital catalog software offers a streamlined approach to catalog creation, and the first thing we can say about Flipsnack is that it is the fastest PDF converter available on the market. Now, get ready to redefine the art of flipbook creation with the digital catalog software that has it all. PDF upload is just one of the options available, as you can also create a catalog from scratch or use a professionally made catalog template. Your creativity is empowered to take flight without being limited by a lack of coding skills, as they aren't necessary to use this cataloguing software. Create your vision through user-friendly features to increase cost efficiency in the production and distribution process of product catalogs. Use Shopify integration, shopping buttons, or lists, among other purchasing options available in Flipsnack, to complete the circle and further simplify the shopping experience for customers.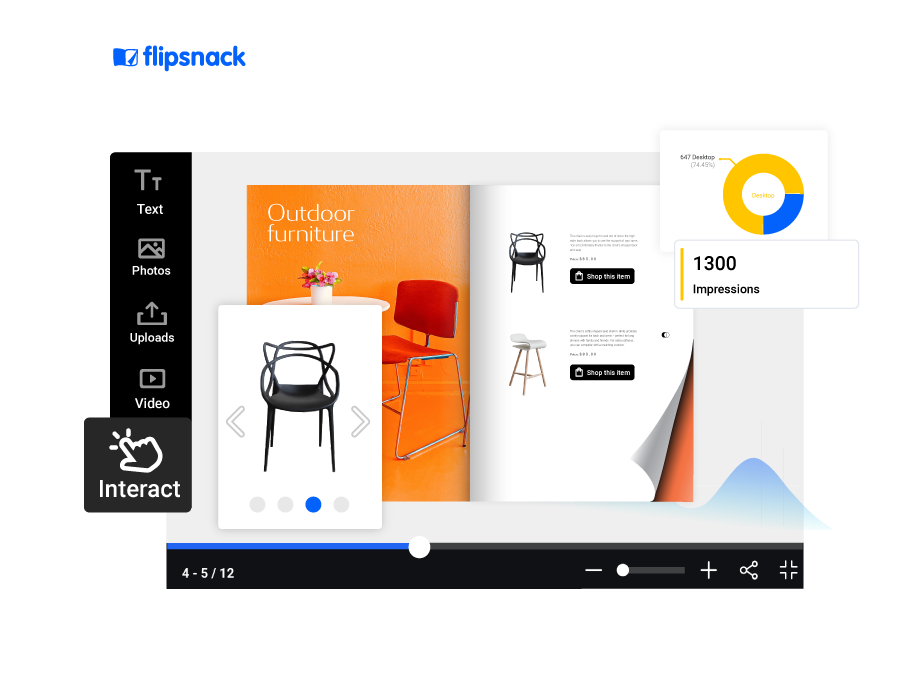 Customize every detail of your digital catalog, from how your customers experience the digital player, controls, and brand to each line of text, media, and interactive elements. An intuitive Design Studio offers a plethora of features that will enhance your catalog, not only by making it more visually appealing but more functional as well. Give your customers the one-stop-shop experience they dream of and gain valuable insights from the data collected. Automated catalogs connect with data sources for real-time updates regardless of impromptu price or product changes – the flipbook link will stay the same. Digital catalog creation and multiple public or private online distribution options don't bring additional charges and will keep your documents secure.
Notable features:
Catalog creation – as the quickest PDF to flipbook converter, Flipsnack makes interactive flipbook creation swift and effortless. Templates and the option to create from scratch are available.
Easy Design – the user-friendly Design Studio allows hassle-free creation for digital catalogs—just drag, drop, and edit.
Interactive Shopping – advanced options like product tags, shopping buttons, slideshows, lead forms, videos, Shopify integration, and external linking for interactive flipbooks.
Privacy Assurance – secure catalogs with password protection, selective sharing, embedding restrictions, and SSO login.
Automation Boost – speed up the process of digital catalog creation by populating your content automatically, eliminating tedious and time-consuming labor.
Pricing – per month at a yearly subscription
Premium trial for 14 days – free. No credit card required
Starter – $14/month
Professional – $35/month
Business – $79/month
Business plus – $207.5/month
Enterprise – $355/month
Custom – requires contact
Used by:
Ratings:
Quote: "An online tool like Flipsnack allows us to reduce costs and the time to market. It allows us to get catalogs in front of our customers fast and easily. So switching over to digital catalogs came as the perfect solution for our needs." Lars Herzog – Newell Brands
Publuu
Publuu is a versatile catalog making software that's built for streamlined content creation. By empowering you to create dynamic digital catalogues from simple and static PDFs, this online tool will bring you closer to your customers in more ways than accessibility. You only need a PDF document and the will to make each creation your own. There are more ways to enhance your prospects' experience through on-brand digital catalogs. Color schemes, logos, and customizable display preferences are some of the ways you get to personalize your catalogs in Publuu. Their security options provide ways to protect your flipbooks from unwanted eyes if necessary, as you can never be safe enough.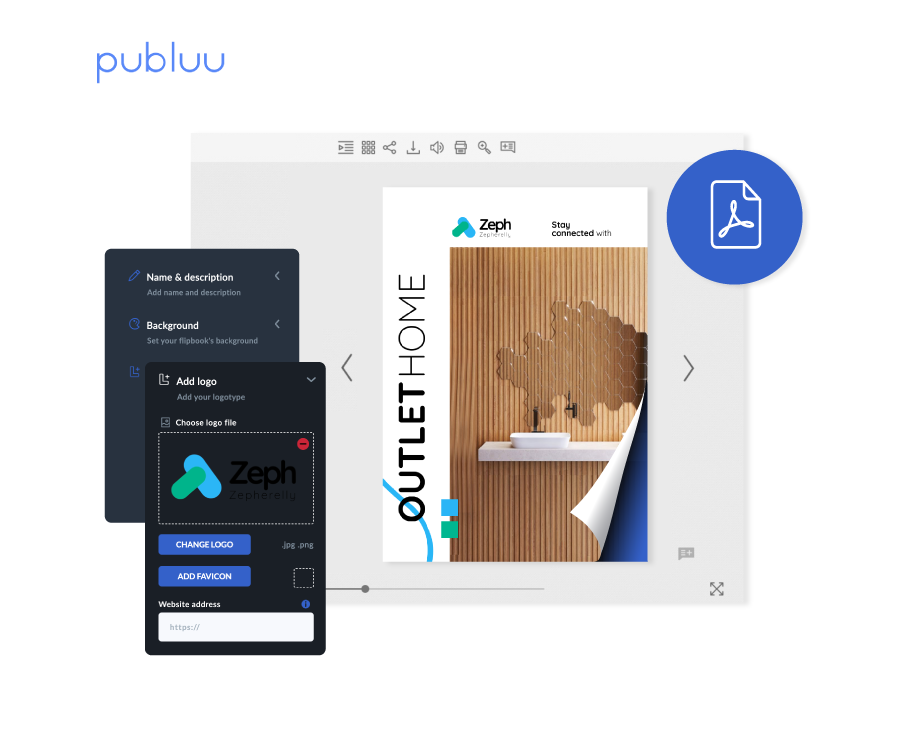 Engage your client base through a responsive design that's available wherever they may be. Elevate their experience through GIFs, videos, or other multimedia elements by sharing them via various online channels. Then, you can monitor them for valuable insights. Take advantage of this easy-to-use digital catalog software to elevate your brand's reach and harness the power of marketing and creative design to create a distinct product for your prospects.
Notable features:
Catalog Creation – the PDF to flipbook converter transforms links automatically, like Flipsnack, but it doesn't offer templates or the option to design from scratch
Intuitive Design – easily create digital catalogs with a user-friendly interface—no expertise required.
Versatile Sharing – share your catalogs through links, email, QR codes, and social media, or embed them for diverse distribution.
Personalized Web Presence – establish a branded website to showcase and publish your catalogs.
Pricing – per month, at a yearly subscription
14 days free trial
Basic – $7
Optimum – $24
Professional – $58
Premium – $117
Used by:
Rating:
Quote: "It makes my life much easier when sharing my online catalogs. I wish I had this tool when I first started my business." – Travis Cobb – Invest More
FlippingBook
FlippingBook's PDF to flipbook converter offers a streamlined approach to catalog creation, exclusively utilizing PDF uploads for maximum convenience. This powerful digital catalog software helps you convert dull PDFs into branded, shareable, and trackable interactive flipbooks. Optimize your catalog's ranking in search engines through SEO-boosting features like title and description options to reach an even wider audience. As a content and lead generation tool, FlippingBook can help you increase conversion rates and transform prospects into faithful customers in no time.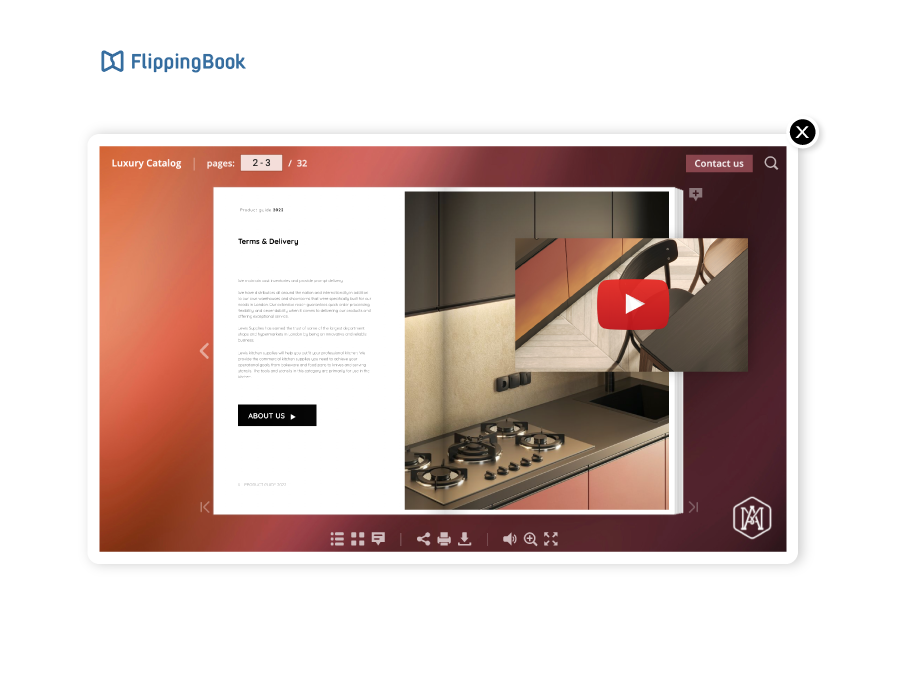 Customize the visual appeal of your catalogs with skin options and branding elements such as logos, background images, and color palettes, and enjoy comprehensive player controls, including sharing, printing, downloading, text selection, and more. Through privacy settings, you can choose your catalog's accessibility, whether it's public, password-protected, or private, with customizable permissions for viewers. Additionally, a lead form with one mandatory field, tailored skip options, and page-specific placement ensures an effective lead capture process. Enhanced by accessibility features and interactive elements like video, links, images, and GIFs, this digital catalog software maker simplifies the process of crafting, sharing, and optimizing digital catalogs.
Notable features:
Catalog Creation – there's the option to upload PDF, that can then be edited and customized, but they offer no templates or the option to start from scratch
Canva Harmony – design in Canva, seamlessly publish to FlippingBook for interactive magic. Enjoy ready-to-use Canva templates.
User-Friendly Interface – effortlessly navigate, whether novice or pro—accessible for all experience levels
Lead and Sales Proposal Tracking – document tracking gives sales teams the tool to monitor engagement.
Pricing – per month, at a yearly subscription
14 days free trial
Lite – €17/month
Starter – €41/month
Optimal – €82/month
Advanced – €164/month
Team – €224/month
Enterprise – requires contact
Used by:
Moore & Giles
Food Huggers
Lampa
Rating:
Quote: "FlippingBook Salespal has given Dayton Parts a competitive edge, as we now have a new format for delivering content to our customers. They get the most up‑to‑date catalogs or product information at their fingertips at all times in one place." – Walter Sherbourne – Dayton Parts
iPaper
As a retailer favorite due to their extensive eCommerce features, iPaper's innovative digital catalog creation software takes your dull PDF catalog and brings it into the 21st century. Through enriching features like videos, images, and interactive actions, a digital catalog enhanced with iPaper will be fine-tuned to your exact specifications to showcase your products and services. Engage your audiences with a product detail view option for additional information or images without having to leave the catalog. They'll fill up their basket, wishlist, or bucket list and have multiple checkout options to choose from.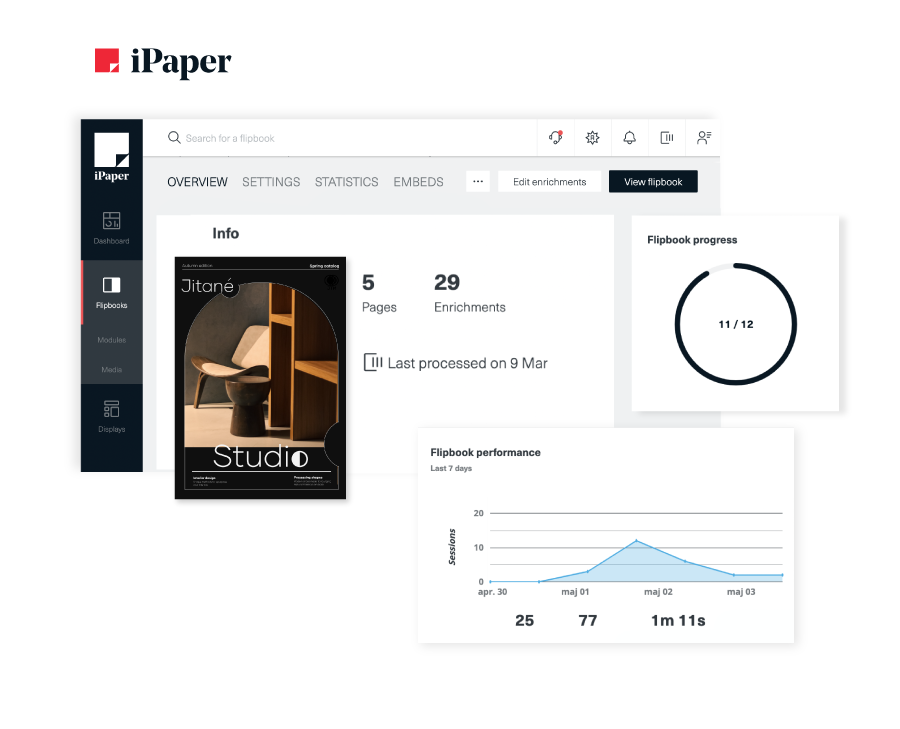 Extensive branding and design elements allow you to ensure consistency for a professional end product that your customers will remember. Ensure it reaches them via their desired channels, as share optimization takes your catalogs wherever you want them to go through extensive options available. Comprehensive statistics, including heat maps, let you dive deep into your audience's viewing experience. Create digital catalogs that reach the market in no time with automation and without any sweat.
Notable features:
Catalog creation – PDF upload without templates or create from scratch options
Enrichment Editor – while many features are present in most catalogs makers iPaper additionally allows flipbook connection, news ticker for additional calls-to-action and forms that support: static text, dropdown, checkbox, checklists, radio buttons, inputs, text areas, email, and submit buttons.
Checkout alternatives – iPaper takes the customer experience to WhatsApp checkout, Shop export, JavaScript integration, Viber checkout, Email checkout, Email sharing, Print, Variant support, and Minor shop settings
Tracking Heat Maps – aside from tracking options like sessions, built-in statistics for entire flipbooks or individual pages, iPaper heat maps monitor areas of interest throughout the catalog.
Pricing – per month, at a yearly suscription
14 days free trial;
Commerce light – €265/month;
Commerce plus – €595/month;
Enterprise – €1,295/month;
Empire – €12,295/month.
Used by:
Oriflame
Yves Rocher
Jysk
Rating:
Quote: "You can be more interactive than in print. I think our brand partners and new customers are very inspired when they can see how to – for example – apply our skin care products. Having that opportunity with iPaper is definitely helping us." – Sofie Gauw – Oriflame
FlipHTML5
The digital catalog software from FlipHTML5 comes with ample versatility regardless of whether you want to upload a PDF catalog, start your publication from scratch, or use a ready-made template. While their free plan is more limited than other platforms, you can choose from various customization options. Still, once you populate your digital catalog with your market offer, make it more appealing either through professional images you can upload or dynamic visuals that will infuse character into your design.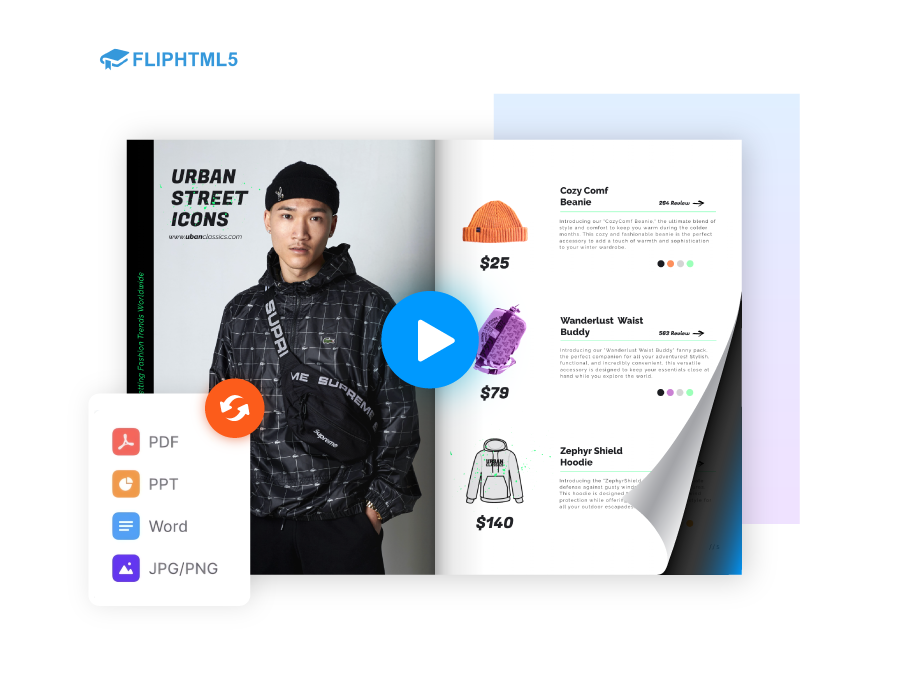 Interactive elements like buttons, hotspots, slideshows, maps, and tables are at your disposal to increase audience engagement. Still, take their experience to another level through seamless video integration in FlipHTML5 that can be achieved by embedding, linking, or incorporating YouTube, Vimeo or even your own videos. Additionally, you can also use audio enhancements or various character representations to achieve a more immersive experience. Regardless of whether you start your catalog creation journey from scratch, fine-tune their templates, or simply enhance a PDF publication through interactive elements, this app gives you the tools to create dynamic digital catalogs in a matter of minutes with little to no technical know-how.
Notable features:
Catalog creation – offers PDF, PPT, Word, Images, WEBP, TIFF upload, start from scratch and template options.
Creative Touch – digital catalogs additionally enhanced through animated elements like stickers and characters.
Shopping Options – through linkable buy, shopping and add to cart buttons, the shopping experience will increase business website traffic.
Pricing – per month, at a yearly subscription
7 days free trial;
Pro – $12.5/month;
Platinum – $25/month;
Enterprise – $83.5/month.
Used by:
Dell
Hervis
Cherry Republic
Rating:
Quote: "As a marketing agency that creates print and digital communications, FlipHTML5 makes it easy for us to display examples of the annual reports, books, Bibles, and print publications in our case studies and on our client's websites. It's the most flexible and comprehensive solution we found." – Brian S.
Publitas
Publitas is a simple PDF converter that gives you the ability to connect with your customers in a digital way by optimizing your digital catalog for SEO ranking through its title and description, broadening your target audience further than sharing links through various online methods can. Turn your digital product catalogs into revenue-driving assets by accessing a global market. Publitas offers an easy-to-use platform for retailers that are looking for a digital solution to their catalog production and distribution.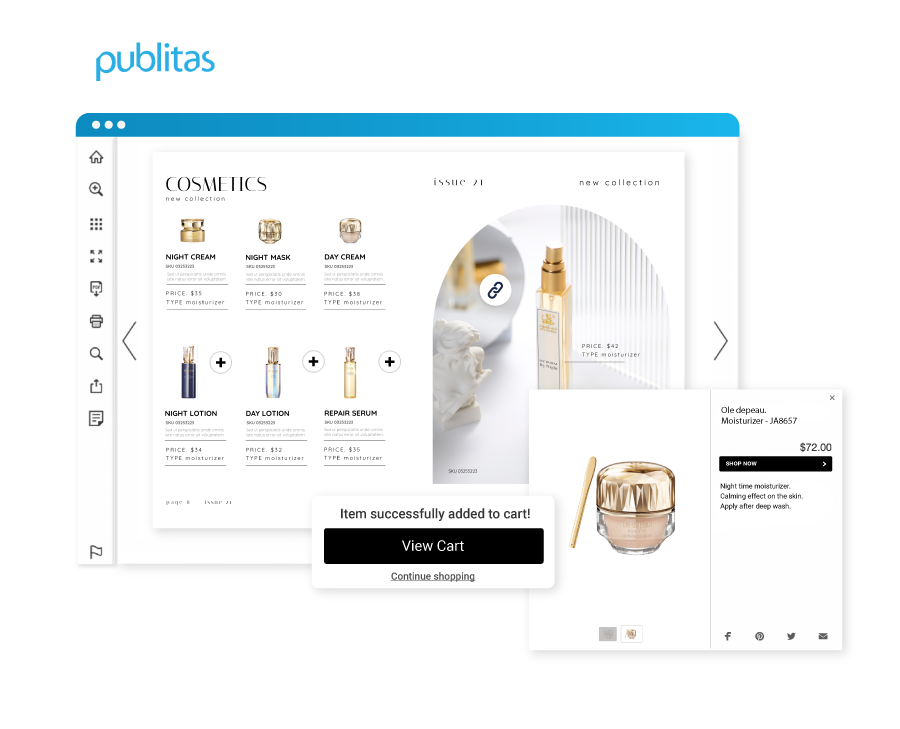 Through dynamic and shoppable elements, you get to guide shoppers through their purchasing experience from the discovery of your offer all the way to their conversion simply through digital catalogs. Include link hotspots to take them to your website, internal flipbook links for better navigation, or videos of your products in action and increase conversions through a complete shopping experience. Do this by simplifying the back-and-forth with your customers by allowing them to order directly through your digital catalog. Check-out solutions such as eCommerce integration, WhatsApp and email checkout, and favorites lists will reduce friction points in your customers' buying journey and provide them with ample purchasing opportunities in a professional digital catalog.
Notable features:
Simple PDF converter – without complications, it converts PDFs into customizable flipbooks
Checkout Solution – eCommerce integration, WhatsApp and email ordering and favourite lists for later purchase are available.
Vertical scroll – as most shoppers use mobile phones, Publitas offers vertical scrolling—no flip-effect.
Pricing – per month, at a yearly subscription
14 days free trial;
Bronze – $29/month;
Silver – $98/month;
Gold – $396/month;
Custom – requires contact.
Used by:
Heartland America
Metro
Staples
Rating:
Quote: "Online catalogs allow us to share our travel adventures and clothing line with a broad audience in a sustainable manner, anywhere at any time." – Gary Penn – PrAna
Marq
While all the other digital catalog maker software from this list start with PDF upload, Marq stands out as it enables users to upload content directly from InDesign. Still, you can also start your digital catalog from scratch or take one of their templates and customize it to showcase your brand and products. Feel free to let your brand identify shine as this software gives you the canvas to do so as a power-packet brand templating platform.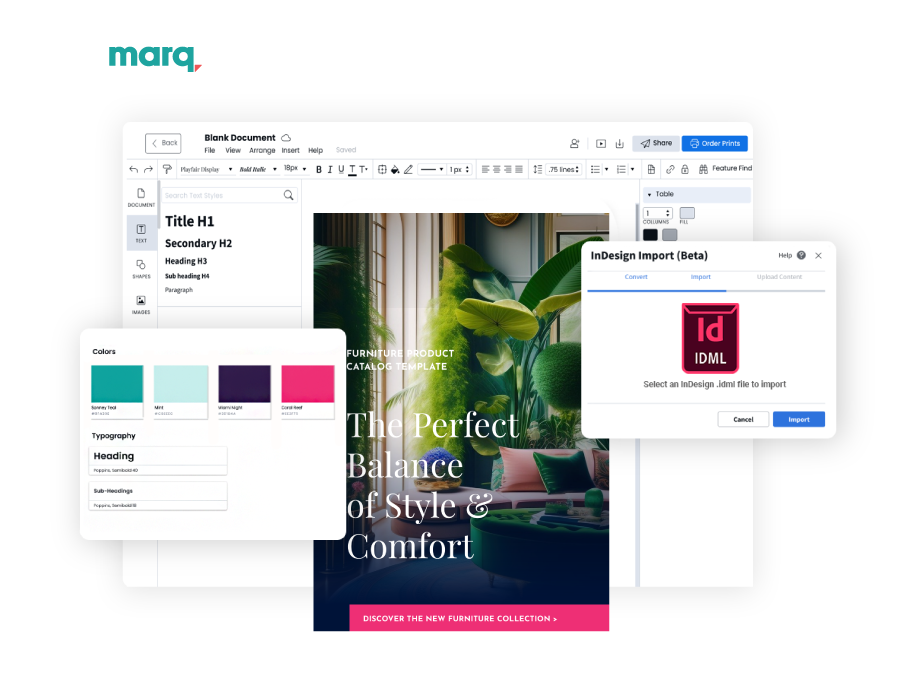 Propel your business by displaying your offer via professionally curated product information, images, and other customizable elements. Seamlessly incorporate tables, smart fields, buttons, and online videos into your catalog to enhance your audience's experience through Marq and ensure brand consistency within set design parameters. Customize your content through smart brand assets, and let the automation magic do its job once you connect data sources for advanced automation across multiple creative elements. Bring all your brand elements in one place and give your creative teams the tools they need to succeed. It doesn't matter if you have any catalog creation experience. The Marq platform works as a one-stop solution for crafting, sharing, and analyzing digital catalogs.
Notable features:
Catalog creation – option to use templates, design from scratch, or upload from InDesign
Smart catalog templates – through smart fields, catalog information can be easily updated
14 days free trial
Pro – $10/month/user
Team – $12/month/user with at least 3 users
Business – requires contact
Used by:
Barfoot & Thompson
Orchard
Berkshire Hathaway
Rating:
Quote: "We're able to quickly customize assets by market and audience, leading to more powerful marketing." – Morgan Turner – Orchard Real Estate
Issuu
Issuu offers a broad range of file compatibility, allowing you to upload content from Word Documents, PDFs, and PowerPoint presentations, along with various other formats. Regardless of what format your catalog is in, you can easily transform it into a simple yet interactive digital catalog for diverse content needs. Issuu also offers the possibility to connect with Canva and InDesign, various templates that you can use and learn to use through their webinar series. The digital catalog-making software will convert your links and logos, easily making it possible for you to integrate your brand elements within the flipbook.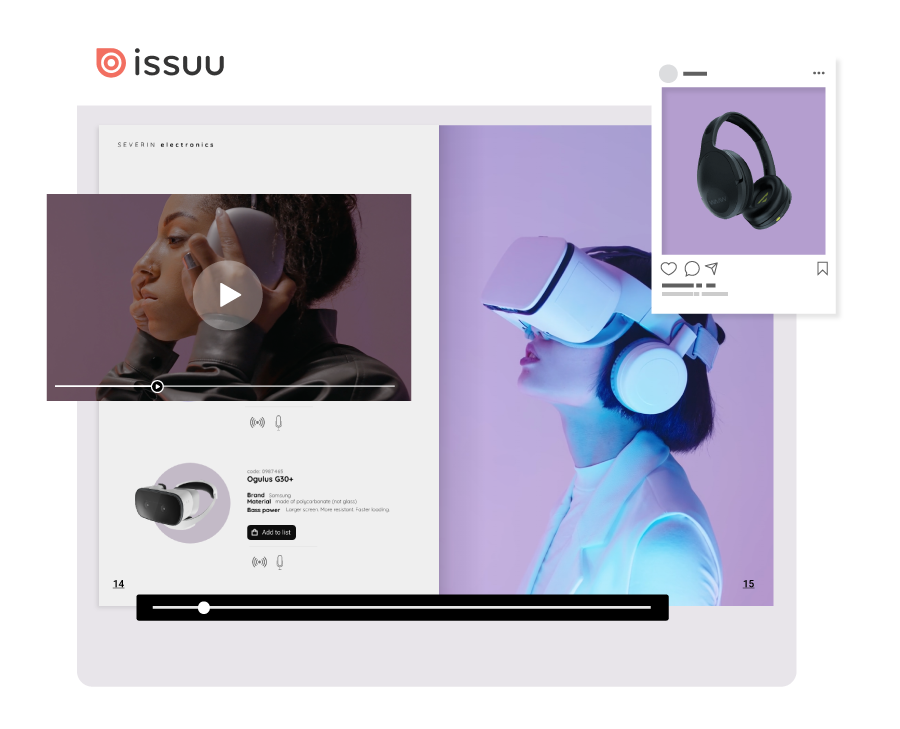 Additionally, in Issuu you can repurpose publications to other formats like articles or social media posts smoothly. There are also content enhancement elements like external linking, shopping links, and page navigation that will give your clients an easy-to-browse catalog that doubles as a shopping experience as well. While Issuu doesn't support video and image uploads, there are plenty of videos available online that you can insert into your flipbook through a simple yet manageable link to give your clients a seamless and engaging experience.
Notable features:
Catalog creation – besides PDF upload, which is the most common for digital catalog software, Issuu also accepts the following formats: Word, PowerPoint, OpenOffice, WordPerfect, Rich Text Format, StarOffice, Google Docs, Google Slides, ePUB, and MOBI.
Connections – the possibility to connect with your Adobe Express and InDesign, Canva accounts, and MailChimp.
Pricing – per month, at a yearly subscription
Starter – $19/month;
Premium $40/month;
Optimum $269/month;
Issuu for Teams/Custom – requires contact
Used by:
Moe's Home
Kapoor Galleries
Guess
Rating:
Quote: "It reduces costs of business by virtually sharing. Plus it saves time, postage, and business supplies ~ envelopes, labels, etc. We are in a virtual world, and THIS is the perfect fit! I can send my catalog through social media to customers & prospects easily. I can even share on my platforms." – Katherine K.
DCatalog
The digital catalogue software from DCatalog takes catalog creation simplification to another level through easy PDF uploads through branding, navigation, and interactivity. Level up your sales through an all-in-one solution that seamlessly integrates eCommerce, order forms, and lead capture features. These features will help boost your business, whether you are targeting the direct consumer or engaging in B2B marketing, and give your customers the online catalog experience they deserve.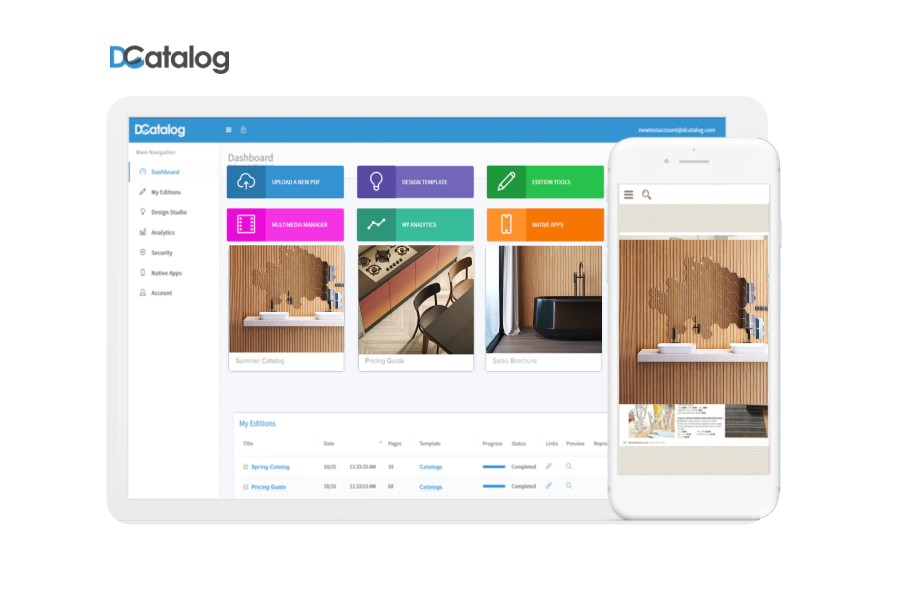 Ensure your brand isn't getting lost in the shuffle through DCatalog's branding elements through logos, color palettes, and URL mask customization. Improve customer navigation through a dynamic table of contents, introductory pages, and bookmarks, while links, videos, pop-ups, and animations will spark their interest further. Detailed tracking will allow you to make data-driven decisions based on how your audience engages with your digital product catalog. Real-time updates will maintain content accuracy, providing your sales team with the ultimate tool to showcase your updated offers to prospective customers, regardless of where they are. Appeal to your audiences through this dynamic, informative, interactive, and effective sales tool and drive conversions across retailers, dealers, and distributors. Receive quote requests, submit orders, and generate sales. That easy.
Notable features:
Catalog creation – aside from PDF upload, DCatalog offers Data Source (XML, CSV, XLS and Google Sheet) to PDF converter
Inventory synchronization – connection between catalog and eCommerce platforms (Shopify, Magento, Woocommerce, CommerceCloud) and standardize the information.
Catalog management – the Stickbook feature optimizes page and flipbook management.
Pricing – can be activated after free trial ends but are not mentioned on their website
Select – 7 days free trial;
Elite – 7 days free trial;
Enterprise- no free trial
Used by:
Rating:
Quote: "We have created a better overall experience for our customers by enhancing both product and service; saving a tremendous amount of money by going digital is a bonus – it's absolutely amazing!" – Director of Creative Services, Market America | SHOP.COM
Paperturn
Paperturn is one of those digital catalog software programs that look like they were invented in the 1990s, but don't let that fool you. While this digital catalog-making platform looks basic, it comes with a punch as it gives you the tools necessary to create engaging flipbooks that can work as ordering product catalogs. Many of its most useful features, like internal and external links, videos from hosting platforms Vimeo and YouTube, uploaded images and sounds, and embeds within your flipbook, are only available in the Pro package, but there's a plus to this.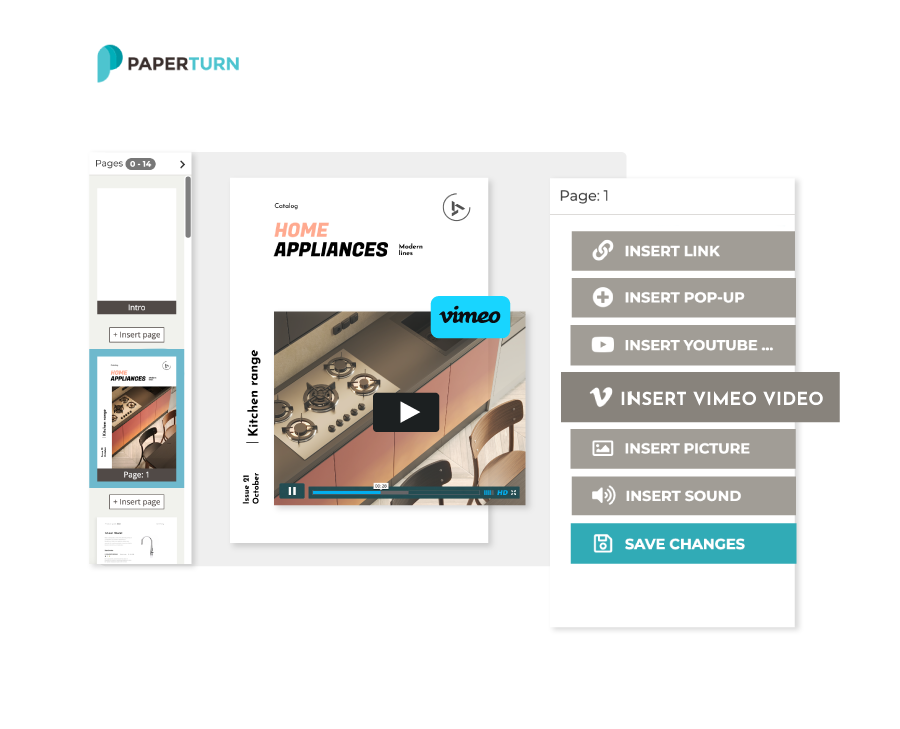 While these features require an upgrade, they are so easy to use that even a senior with limited technical knowledge is able to use them. That's the level of technical know-how necessary for those using Paperturn. But that's not a bad thing because simplicity is, in this case, the key to success. Their shopping cart or wish list features also become available with the upgrade as this digital catalog software checks all the requirements for polished publication to engage prospective buyers. Add the lead form and the data gathered from Paperturn statistics or Google Analytics, and you have all the elements necessary for a professional digital catalog to share across online media channels and reach your audience in no time.
Notable features:
Catalog creation – the only option available is PDF upload.
Accessibility – 100% compliance with ADA and WCAG for users with disabilities.
Pricing – per month, at a yearly subscription
Paperturn Basic $12/month;
Paperturn Pro $24/month.
Used by:
Siemens
Cannuka
Kate Trouw Jewellery
Rating
Quote: "We love this tool. It gives us a unique solution to offer our clients. This is much more than a digital version of your catalog. If you want/need a solution that takes your catalog to the next level, DCatalog is something you should invest in." – Darrel S.
Which is the best digital catalog maker?
I already mentioned above that the list is in no particular order like first to last or some form of ranking order. Still, seeing as many of those who find this article want to find the best digital catalog maker for them, in the next section, we'll rank them based on different characteristics.
You've already seen that not all are the same or offer the same functionalities, so based on what guides your decision, here I'll arrange them based on some criteria with the best three for each.
Pricing: Publuu – $7, Marq – $10, Paperturn – $12
As you can see in the list above, I have specified the pricing offer for each one except DCatalog, which doesn't have the information available. Still, here you have the most affordable options in their respective order for the monthly subscription. Based on the following criteria, you can keep the pricing in mind and decide according to your other requirements.
Interactivity: Flipsnack, Publuu, FlipHTML5
For interactivity, given the wide variety of digital catalog makers, I looked into design options, user-friendliness, and intuition. As these are the most complex digital catalog makers, I'll go beyond the basics: links, videos, images, and audio uploads and look at more advanced interactive elements. While in FlipHTML5, you have animated characters that you can design to personalize your catalog, in Flipsnack, you can add product tags, shopping buttons, popup frames, slideshows, overlays, Vimeo or YouTube widgets, and many more.
Branding: Flipsnack, iPaper, Marq
From the list above, three online catalog makers stand out when it comes to branding. While Marq stands out with its smart field options that allow you to apply smart branding to any template you create, Flipsnack sparks competition through customizable profiles, branding kits, and the ability to connect to your custom domain or subdomain, among others. iPaper is neck in neck as their branding options are exhaustive and proficient as well.
Checkout options: iPaper, Flipsnack, DCatalog
In the list above, I selected the more feasible digital catalog makers available on the market. From that list, given the title of the article, I had to include criteria related to sales functionalities. DCatalog provides the tools to give customers a one-stop shopping experience. Still, iPaper takes the cake with WhatsApp, Viber, email checkout options, shop export, and others. At the same time, Flipsnack comes with shopping and buy buttons and lists for quotable catalogs with orders that reach your inbox seamlessly.
Sharing: Flipsnack, Publuu, iPaper
Digital catalog makers need to promote your products or services, but the way in which you do it can make a difference. These three product catalog software have ample public sharing options: direct link, email, social media, QR and multiple download formats. Still, while they offer a wide variety of security and data protection options through restrictive sharing alternatives, Flipsnack stands out with SSO login or unlisted publications; your catalogs will only be accessible to those who need to access them.
Statistics: iPaper, Flipsnack, Marq
Retailers and wholesalers depend on data to drive business decisions and to better understand their audiences. These three catalog management software take data analysis to a whole new level. While Flipsnack comes with integrated statistics and Google Analytics for optimal results, Marq shows content usage across teams for a more comprehensive story. Still, it's iPaper that takes the lead with their heatmap, so see the areas most navigated and interacted with from your catalogs.
Now, it's time to choose
So there you have it. Now it's your turn to look at your company's needs and select the digital catalog maker that fits your particular needs. Of course, some are better than others, while the cost can also be very different, but all that matters is that you manage to use it to enhance your product catalogs, reach a wider audience, and promote your products or services in a manner that does them justice.

Having to look at these digital catalog apps and analyze their functionality was plenty of fun, but you'll be glad you don't have to go through all of them. Whether it's design features, engagement options, or multiple sharing variations that you are looking for, these tools come with plenty of other functionalities that you can benefit from. Provide your customers with a shopping experience accessible from wherever they are, whenever they want it, with no printing or distribution costs, while you get to scale up your business through valuable insights.
Simplify the catalog production and distribution process by using one of the best digital catalog makers available online. It's rather simple to do once you embark on the journey.