Best flipbook software on the market – 5 fastest tools compared
What makes a flipbook software the best on the market? Besides the tool's ability to convert PDFs into flipbooks, there are other aspects to consider. The need for a flippable interactive document is obvious among any professional who wants to differentiate from the competition.
In this day and age, when everyone is looking for the next fast solution to their problem, it's crucial to keep up with the pace. This is where our flipbook's software converter story comes into play, with all the necessary features to enhance your documents. Our brilliant developers dedicated much time and effort to optimizing the process of PDF to flipbook conversion. I won't spoil it for you, but Flipsnack's tool is at the top of the list.
What is flipbook software?
A flipbook software allows you to create digital publications with a 3D flipping effect, just like a real physical book. This can be done either from scratch, where you create the entire design or by uploading a PDF and turning it into a flipbook. The process of converting a PDF into a flipbook is much easier than one might imagine.
Transform your static PDF into an interactive flipbook
Curious to see how your PDF looks after the conversion? Flip through this interactive flipbook below and get a feel of the true potential of your documents, when brought to Flipsnack.
Backstory on Flipsnack's PDF to flipbook converter
How it all started (a look back on the last 10 years)
Being on the market for over 10 years, we can confidently say that we've always put our users first and made a priority out of paying attention to their needs. This statement is backed up by how much our platform improved and continues to do so, and how fast our number of users has increased.
However, in the beginning of our journey, one of our primary goals was to simply convert PDFs into flipbooks using external tools for every part of the process. Our main type of users were bloggers or small businesses, who wanted to have their PDF turned into a flippable publication. They would most often share it using a website embed on their blog. The way those tools worked is that first, we would have a screenshot of each PDF page, before it turned into the final result.
Then, we thought about exporting the PDF links into the publication, to make it even more engaging. And lastly, our developers improved this process even more by detecting the text so the user can search through the flipbook and find information easier. This part of the process happened before we started extracting the table of contents and having it show up in the flipbook, as well.
One major difference between the old and the new flipping book software is the tools that we used in the conversion process. Everything that happens behind the scenes has been modified and recreated from scratch. The architecture behind our converter and how it functions as a whole have been completely rethought. This significant change determined a speed increase in the conversion mechanism, so that a PDF with over 100 pages would convert into a flipbook in less than a minute. More on that later.
How Flipsnack's PDF converter became the fastest on the market
Before we move on to the main challenges, we should identify the main goals that our developing team set. These two elements are closely related, so we should talk about them in the same context. The two big goals were to improve the converter's speed and the quality level for the converted PDFs.
In order to achieve what they set out to do, they had to figure out a completely different tool used for facilitating the conversion process. At this stage is where they encountered the first challenge: learning how to control this tool. Since the solution implied working with a new in-house tool, the development team had to master a different programming language.
The second challenge was finding the proper architecture for what we wanted to achieve at Flipsnack. What really helped them overcome these bumps in the road was testing different solutions, analyzing what worked and didn't work, continuously optimizing their efforts and findings.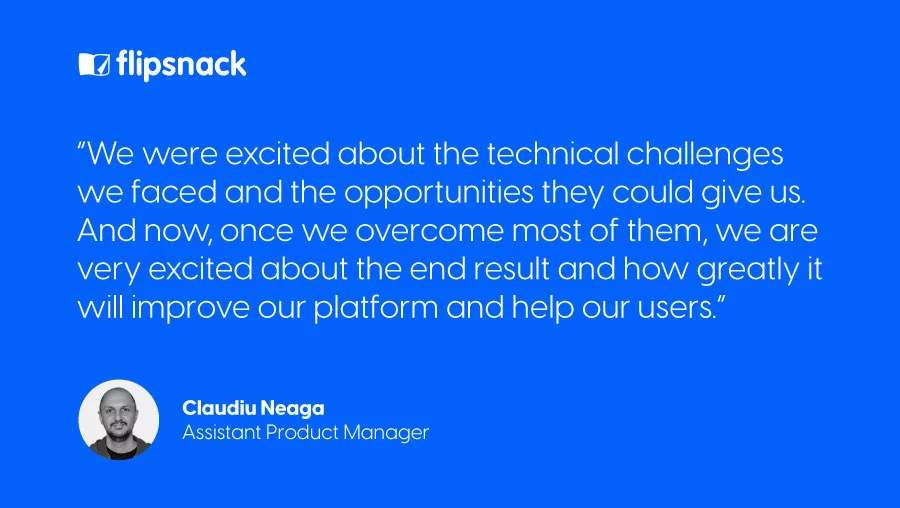 With the old PDF converter, we were limited technically and the rapid increase of users with their added conversions made us even more eager to improve this process. Ever since we switched to an in-house tool for converting PDFs, every part of the process, from uploading to transforming the file, has improved significantly. This is easily one of the aspects that contributed a lot to what makes our tool the best flipbook software on the market.
We value security as much as you
Another constant focus of our developer's team during these past 10 years has been the privacy of our user's publications. We have a well-developed system in place that scans every processed PDF on our servers, which then gets a spot on our protected storage.
Going back to how we changed the entire conversion's architecture, this was another factor that enhanced our platform's security. We're talking about servers, back end, and every technical aspect beyond what our users see on the platform. So you can rest assured that no sensitive legal, financial or company data will get public. Everything that you share is entirely controlled by you, an aspect that ultimately streamlines the communication with your audience.

Insights into the quality of a converted PDF
It's important to mention that we're constantly working on improving the conversion's result. The new convert that we've been talking about was already created in such a way that it would display higher quality. Therefore, this aspect of our converter will provide the necessary context for crispy clear text, as well, in the near future.
Flipsnack's converter today can transform 1k PDFs in 7 minutes
Our tool works very well in this aspect, as well, since the conversion of more files at the same time is possible, quick and without fail. We can notice the speed improvements of the new converter the most, especially in the case of our bulk upload feature.
We experimented with converting 1000 PDF files simultaneously. The result was a conversion time of just 7 minutes. Of course, this time varies depending on the number of PDF pages in each file and if they contain images or not. Converting a PDF with images will take a bit more time than a PDF which includes just text. However, this PDF to flipbook software is still the easiest way to convert your documents to interactive publications.
How does the conversion process work exactly
Now you know more about how we managed to position ourselves on the market and the constant focus on our users' needs. Let's continue with the specifics of how to convert PDF to flipbook in Flipsnack.
Upload the PDF you want to convert or use the bulk upload for more PDF documents.
Customize and brand the appearance of your publication with custom colors and logo.
Publish your flipbook as public or private, depending on your needs.
In just a few short steps, you are able to completely transform your static PDF into an interactive flipbook. It doesn't get easier than this, so make sure you take advantage of this simple way of elevating your documents, no matter the content. Let's move on to sharing this flipbook once you've uploaded the PDF to this platform.
Smooth PDF sharing via link
I think all of us have stumbled upon difficulties when sharing a PDF via email. The size is too large, or maybe the file is not supported by a certain email service. Either way, with a PDF converted to flipbook, you don't have any of these problems. Once your publication is ready to be distributed, you can simply copy the direct link and paste it onto any platform you want to use. Sharing a PDF via link streamlines the entire process, making it so much easier to communicate with your recipients efficiently.
In doing this, you're also making sure that no one accesses your document unless you send them the link for it. Enjoy knowing that you're the only one in control of what happens with sharing any document you upload. Be it private or public knowledge.
Track your converted PDF
Take a step forward in this process by choosing to track any PDF you send out in a simple way. Flipbooks offer you valuable insights such as impressions, views, average time spent, clicks. These statistics will help you quantify the readers' engagement, data which shows the necessary adjustments to your future publications. How? By looking at what elements draw the reader's attention effectively. Insert more of that in the next piece of content you want to distribute with the same audience.
This is also where we notice another benefit of adding interactivity in your PDFs. You can actually check to see how much your readers have engaged with links and image pop-ups you can drop over any part of your design. Even a map can be embedded on the back cover of your onboarding documents. These are just a few examples of what you can achieve with interactivity, but get even more creative with your type of flipping books.
Flipsnack's statistics vs. competitors' statistics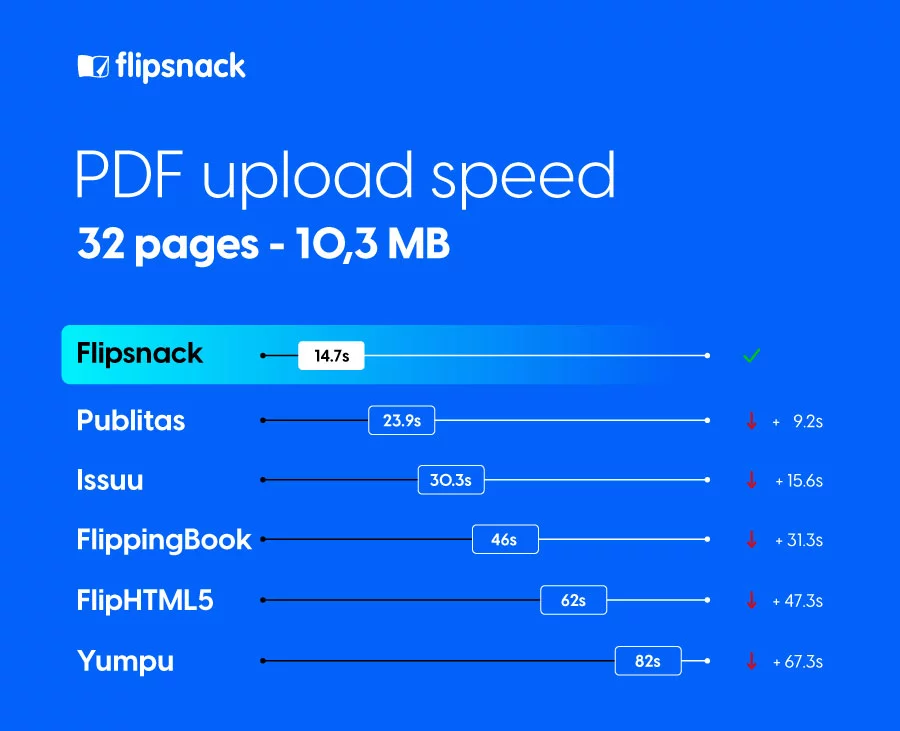 To provide our readers backed-up information, we conducted an experiment a few months into this year. It involved our top competitors, an analysis regarding each converter's speed. The research took into account the number of PDF pages in a file, split into three categories: PDF with 1-10 pages, 10-50 pages, and 50-200 pages. We started with the uploading process, noting the exact conversion time separately for every tool. From all these flipbook apps, there was one that stood out at the end of every test. Can you think of an answer?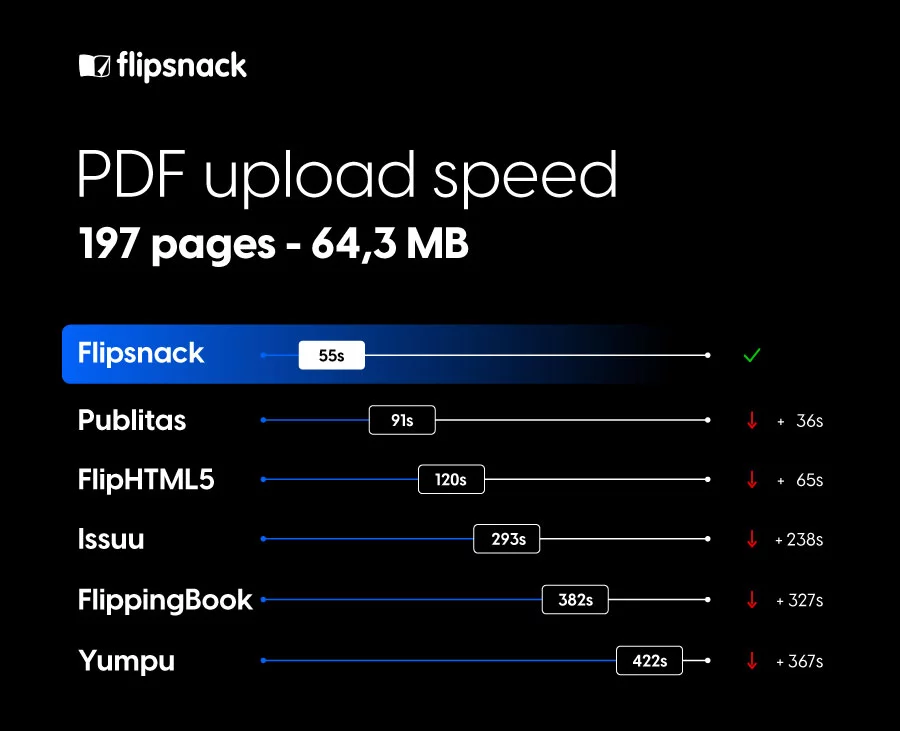 With all this undeniable evidence, you can see that regardless of the number of pages a PDF has, Flipsnack rises to the top. It's even more clear now how much effort was put into making this flipbook software the best on the market. Don't take our word for it, but read on to see what our users have to say about this platform.
See what our users are saying about Flipsnack

We have found an easy way to update our Classroom resources without spending a lot of time or money on improving them. We love being able to quickly and easily convert our PDF's into interactive, browsable magazine-style documents. Much easier to read and also link to web resources and include our video content.

Del R.

Marketing & Communications Manager
Every job I have gone to, I have introduced teams to this software and they are always so impressed on what it can do to elevate our sales pitches and marketing material. This software allows us to stop with the oversized pdf attachments and link engagement information with video content that sets us apart from our competition.

Shannon T.

Marketing Manager
The ease of use of Flipsnack caught our attention since we started using it a few more years ago, we simply upload our internal monthly newsletter and in a few minutes it is ready to share it with all the firm's staff, being able to make it private only for our use internal and highly personalized.
The program is easy to use and I am able to easily upload PDFs and make them interactive. I used to use Adobe Indesign and adding hyperlinks was more time consuming and difficult. It's great that I can enhance PDFs that were created by other team members too.

Ashley F.

Communications Manager
Our documents are really big files, so being able to send the links rather than the files has meant we can now email all our promotional materials to clients really easily!

Thomas T.

Managing Director
Top 10 reasons to choose Flipsnack's PDF to flipbook converter
If you still need some actual hard evidence before using Flipsnack's converter, then take a look at the great features below. Each of them were designed to help you easily convert PDFs to flip books, but with the added interactivity. Keep in mind that if you manage to increase engagement with your audience, whomever they may be, you're already one step ahead towards achieving your goals.
So, here are the 10 reasons for choosing Flipsnack's PDF to flipbook converter:
Free online converter
Content protection
Brand control
Instant preview based on your file
Custom links
Easy sharing
Access to valuable statistics
Fully responsive layout
Interactive format
Update under the same link
Let's take them one by one and see what each of them is all about.
1. Free online converter
The first reason which makes this PDF flipbook maker a great choice is that it doesn't require an installation. Every part of this conversion process happens online and it's a free solution. The only thing you need to do is create an account, as we previously mentioned. When you'll give this flip book app a try, you'll notice all the editing options, which keeps you in control of the document. Use only the parts that would add value to your flipbook, based on what you intend to achieve through it.
2. Content protection
When you upload a PDF document in Flipsnack, you can be sure of its protection. You're the only person who can share the link, publish it publicly or add a password to it. This way, you ensure that any publication will reach the intended recipient. There are a few security options from which to choose, whether you're looking to share an internal newsletter or a business proposal. Any financial or legal matters can also find their place in this flip book from PDF tool.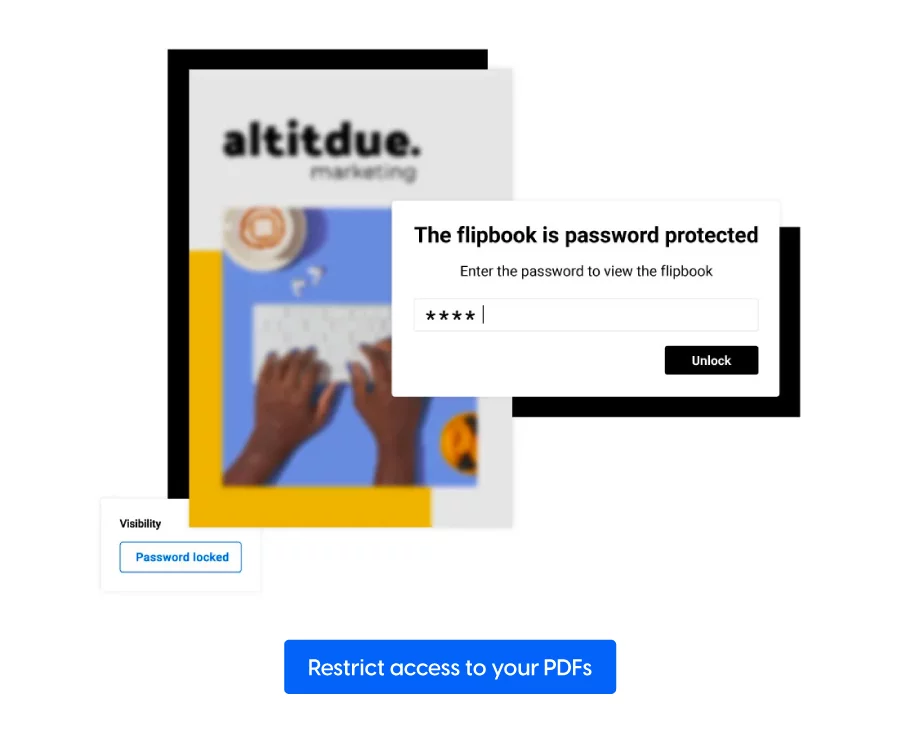 3. Brand control
There are a variety of options for customizing your publication, after you upload the PDF in Flipsnack. You can start with adding your logo and brand colors in the Branding page, for quick access. Then, return to the customizing page to add a background color, and tick certain boxes such as shadow on pages, highlights on links.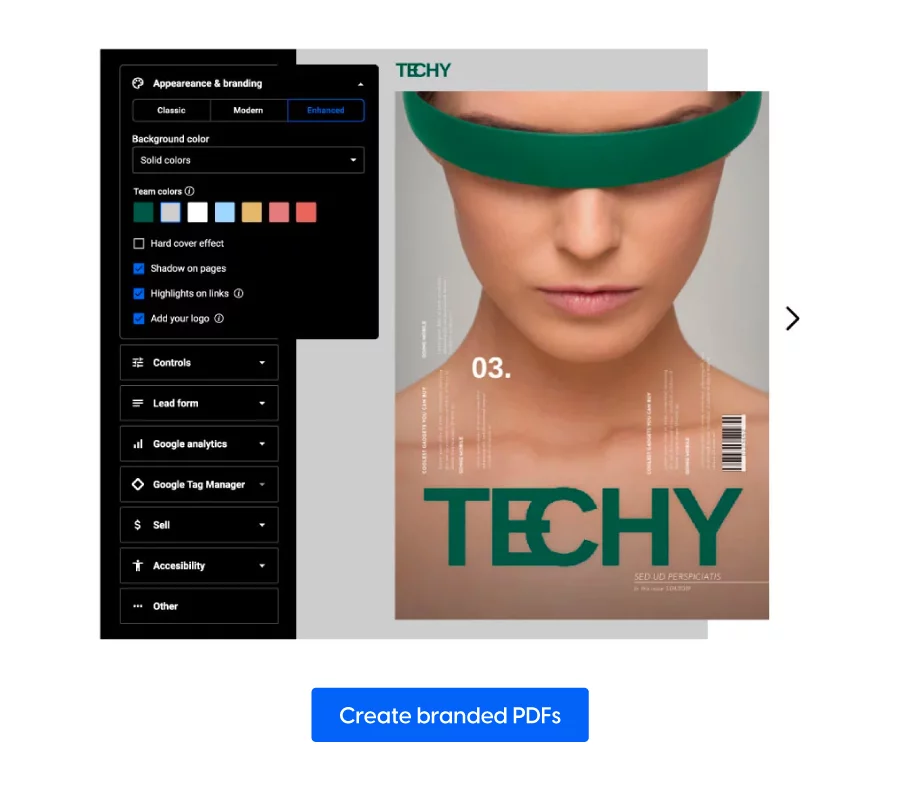 Easily gather any information from your audience with lead forms, which you can add and personalize for your needs. There are also a multitude of other settings, so make sure you go through all of them before choosing the ones that help achieve your goals. This flip book software opens a world of possibilities, tailored to your specific needs.
4. Instant preview based on your file
A really cool thing about customizing your PDF in Flipsnack is that you can preview directly on that page every change you apply. This will help you visualize it better, before deciding on a background color or the lead form's placement in the document.
5. Custom links
Mirror your business on every PDF link you share, regardless of your audience. With custom links, you remove all Flipsnack branding from the link to add your own logo, favicon, before sharing the PDF online. There'll be no trace of this third party in the link you send out to your clients or shareholders. This feature makes your documents look professional, and they reassure your recipients that you mean business.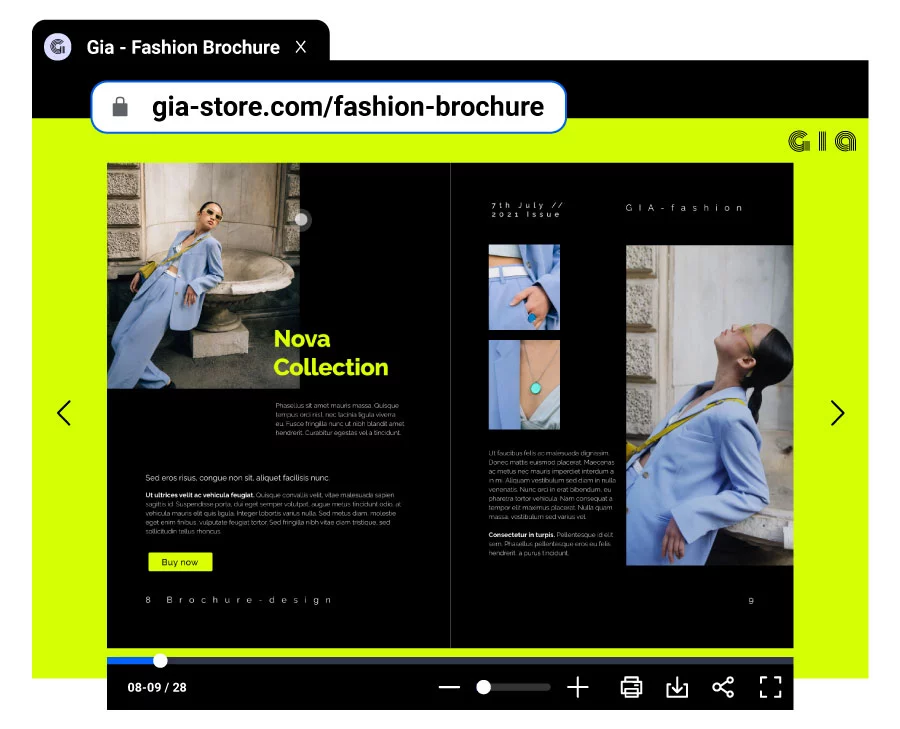 6. Multiple sharing options
The sharing part of this process is undoubtedly the easiest one. There are various sharing options from which to choose, depending on your document and needs. Starting with the public options, you can share it via email, direct link, full-view link. Each of these alternatives offer an immersive reading experience, having the 3D flipping effect and access to the added interactions. You can even convert PDFs into HTML5 and easily embed that interactive publication on your website, for more reach.
Choose to make your PDF more appealing with this flipping book software. Another cool option is sharing from a specific page, when you want your client to see the updated pages of a business proposal. Save your client some time and communicate more effectively.
7. Access to valuable statistics
If the PDF to flipbook process were to stop at the sharing part, you'd be missing out on an entire method used for improving the content you share. By tracking every flipbook you send out, you get incredible insights into what your audience likes and dislikes.
For example, Flipsnack's statistics show impressions, clicks, average time spent, and what devices they used to read a publication. Based on these insights, you can make targeted changes to reach maximum potential in your specific goals. For advanced statistics, you can track visits to your flipbook using Google Analytics by simply pasting your tracking or measuring ID.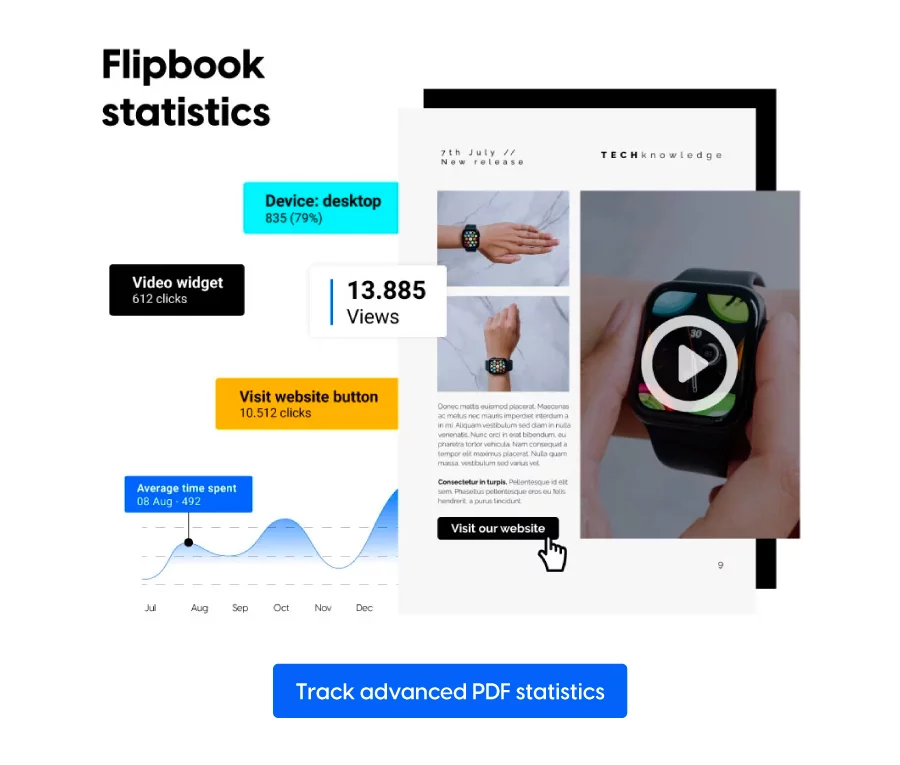 8. Fully responsive layout
When we talk about a fully responsive layout, we include the design and the technical parts behind a website or an app. Flipsnack's flipping book software offers such a layout, that allows the user to access a publication on any device, be it a laptop, tablet or phone. The design is supposed to respond to the user's behavior based on screen size, platform and orientation.
9. Interactive format
This is one of the main reasons why our users choose to transform their PDFs into flipbooks. Our platform offers many interactive elements, which can be dragged and dropped onto a page to boost reader engagement. From links to image pop-ups or photo slideshows (overlay) and embedded content through iframe widgets, you can offer as much content as possible for your readers. Don't settle for the static PDF when this could be the alternative for your document goals.
10. Update under the same link
Already sent your flipbook, but forgot to make some last-minute changes? With our flipbook technology, you can make the necessary changes without resending the link. Your audience will be able to see these modifications instantly after you save the new reading. How cool is that? No more back and forth between you and clients, employees or subscribers. Ease the workload with this simple, but time-saving feature.
Jump into the endless possibilities of flipping PDFs
The advantages flipbooks bring to any business are unbelievable. From added interactivity, which boosts engagement, to protected content, there are really not any downsides to converting your static PDF into a flipping book. What's even better is that you can actually track the PDF's performance to see if there are any necessary changes to make.

Want to learn more about the technical details of creating the fastest PDF converter process? Then head over to a well-curated post with all the behind-the-scenes information only a developer could offer. None of this would have been possible without our hard-working developing team.
Don't sit idly by, watching this opportunity pass you and your business, but give this flipbook software a go. See for yourself how easy the whole process can be.