How to build a trustworthy eCommerce brand
Nowadays running a business without a web presence is no longer profitable. According to Statista, in 2021, over 2.14 billion people worldwide are expected to buy goods and services online. This represents a huge opportunity for any business to expand and build a trustworthy eCommerce brand.
If you are curious to find out more about why building an eCommerce brand is important and how to actually establish one, you landed on the right page. So keep on reading!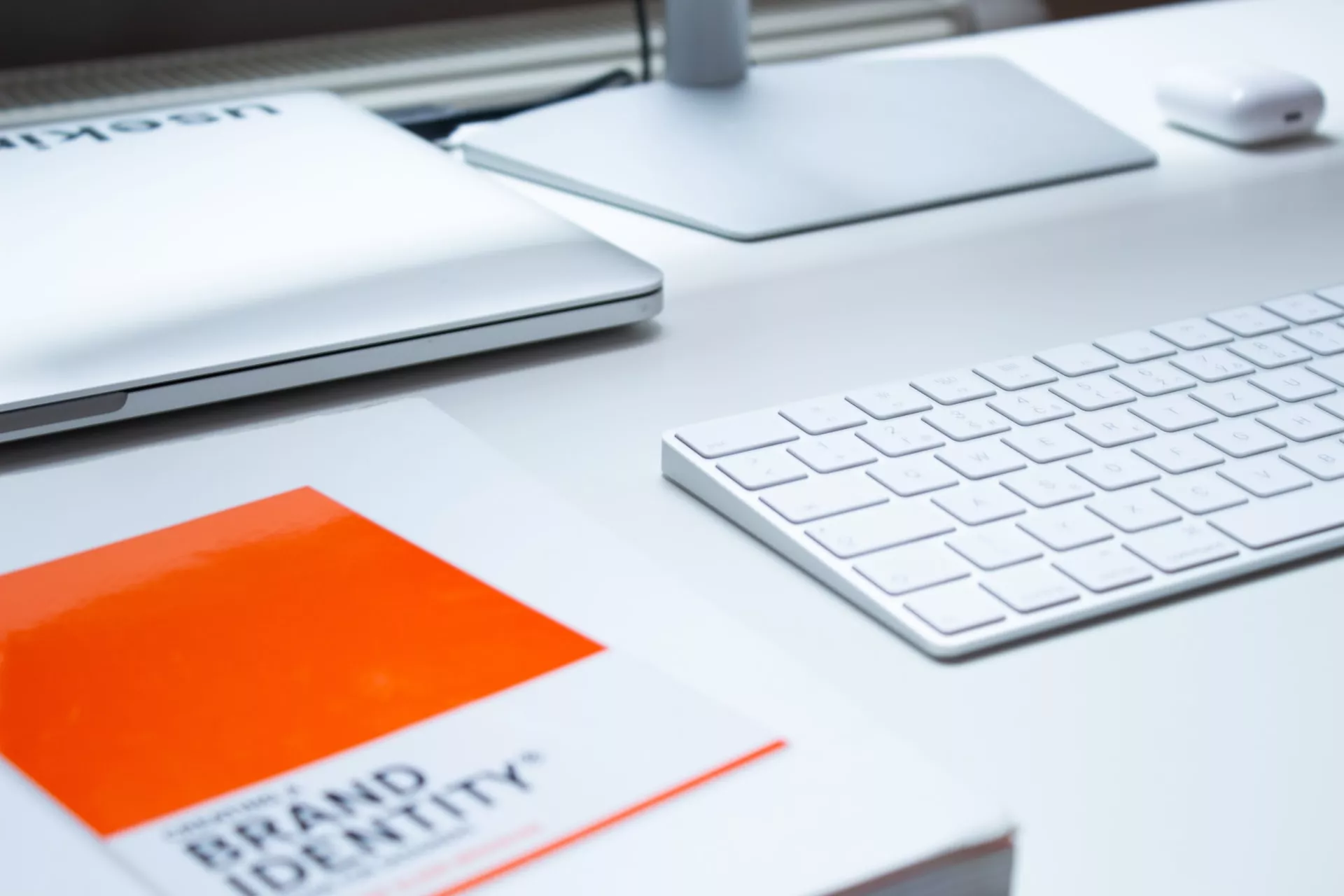 What is an eCommerce brand?
Building a brand from scratch is not the easiest thing to do. As we all know by now a brand is a product, service, or concept that is publicly distinguished from other products, services, or concepts so that it can be easily communicated and usually marketed. Furthermore, branding is the process of creating and publicizing the brand name. Branding can be applied to the entire corporate identity as well as to individual product and service names.
This form of recognition allows a business to grow and thrive in new environments. Therefore when the idea of an eCommerce website became viable, big street stores were able to make a smooth transition to online without shutting down brick and mortar shops. Having established trustworthiness offline, they simply needed to transpose brand values online.
How to build a trustworthy eCommerce brand from the ground up
A successful eCommerce brand comprises a multitude of different elements.
Branding isn't just a logo it's more than a complex marketing strategy.
In fact, branding is a big bold statement about who you are as a company. But, for your business to be attractive to consumers, a clear vision must guide it. eCommerce market is just as crowded as many other spaces. If you want to build a successful online business, you need to learn the ABCs of eCommerce branding.
From creating a great user experience to personalization, below I highlight several ways to build a trustworthy eCommerce brand:
1.Establish your eCommerce brand vision
If you are just starting out your eCommerce branding, having a clear vision of what your brand represents is essential. Is critical to ensure you stand apart from your competitors in the marketplace. Also for a business to be successful is important to be sure that your brand gives meaning to customers and employees. It provides the workers with a common cause and motivates the employees and makes them think out of the box.
For that to happen, you will need to make sure you know your target audience very well.
Let's kick things off with an example. Toms Shoes, the online retailer, known for having a well-established eCommerce brand. Toms' vision statement is to take the responsibility of providing for the comfort of children in impoverished regions worldwide. In this vision statement, Toms recognizes the wish and desire of every child to feel comfortable and accepts this call. The company, therefore, acts as a role model.
For every transaction made, the company donates a good or service to underprivileged communities around the world. By keeping their business model deeply rooted in this act of service, the company easily creates loyal customers out of first-time buyers.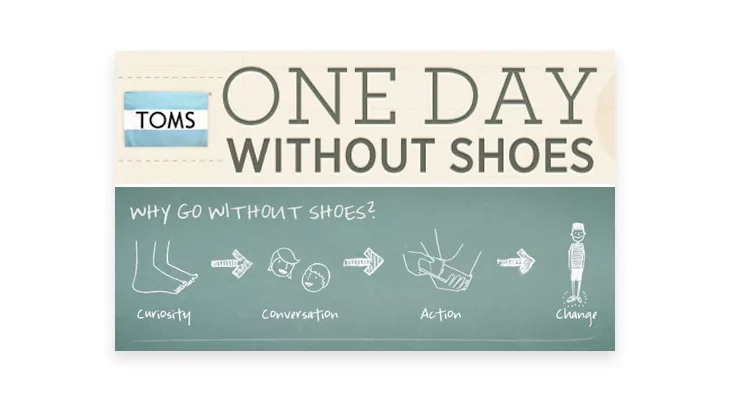 When you are working on establishing your ecommerce branding and vision, there is a set of questions you definitely need an answer for.
Ask yourself:
What are your company's origins?
Why did you create your product in the first place?
What ultimate impact do I want my brand to have on my community, my industry, or the world?
In what way will my brand ultimately interact with customers and clients?
What will the culture of my business
2.What are your main eCommerce brand values?
Customers today can juggle with dozens of choices when it comes to businesses to shop with – so having strong brand values can really help you raise brand awareness and set you apart from many of your competitors. Here are some examples of companies with unique core values that will definitely inspire you.
Amazon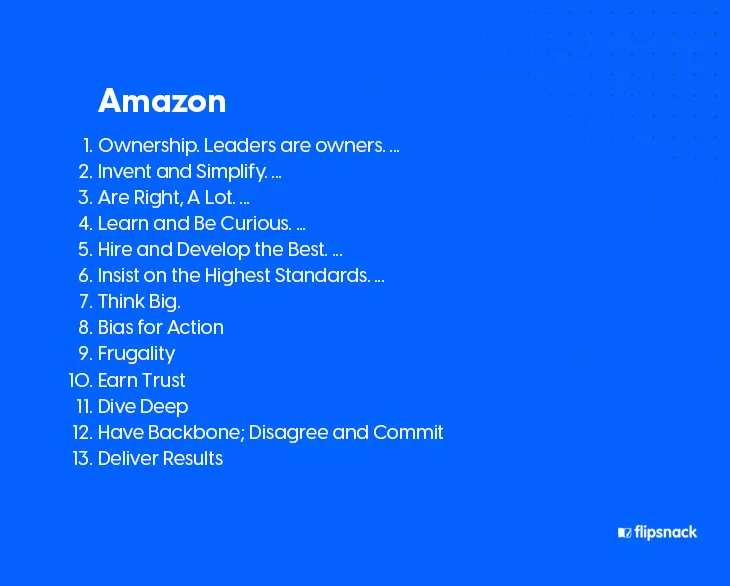 Apple's values according to Tim Cook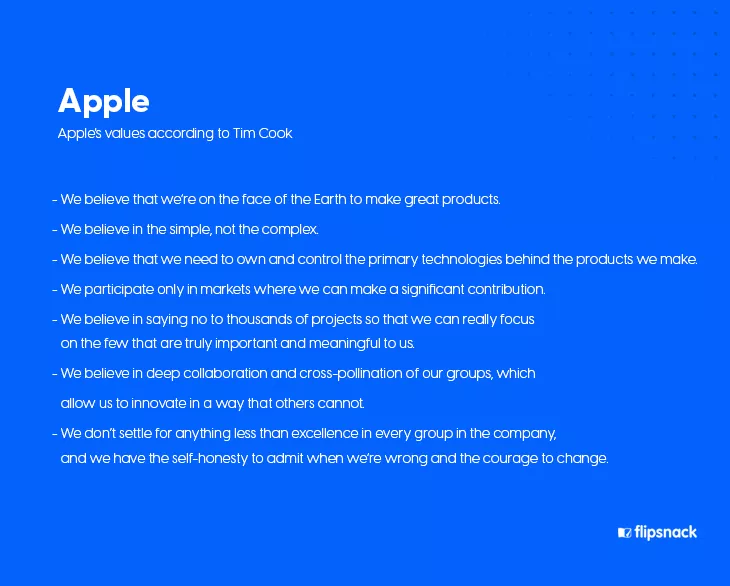 Feel inspired by these complex brand values? Start thinking of the main principles that articulate what you stand for as a brand. If you still feel confused about how you can establish your main values, here are a few things you can do to establish your values in an easy, hassle-free way:
Take into account customer feedback, how they perceive you.
Have a brainstorming session with your colleagues.
Be authentic, don't try to copy another company's values. You are unique!
Make sure you set correct values that stand the test of time.
3. Who is your target audience?
Identifying the right target audience for your brand is one of the most vital pieces of your eCommerce branding process. And sometimes it should be the step you start with. Why?
Strategies that are broad to begin with, are usually less successful than highly targeted market segments. Target audiences are the groups of people in which you want to focus your specific marketing efforts, whether it's through a campaign, ad or on social media.
Have you ever seen a marketing campaign and wondered "How did they get me so well?" Guess what? You're looking at a company that gets its target audience.
Nike's diverse target audience
Let's look at Nike. The leading sports footwear and apparel company in the world. Although this sector can be broad, for the most part Nike mainly targets consumers who are between the ages of 15-40.
The company caters to both men and women athletes equally, and is placing an increasing focus on teens to build long-term brand loyalty. Nike addresses this segment by deploying marketing campaigns about young adults striving to be like their athlete idols.
For example, right before the 2014, World Cup Nike developed a video starring important Nike-sponsored soccer athletes with teenage soccer players. Nike is the leading sports footwear and apparel company in the world.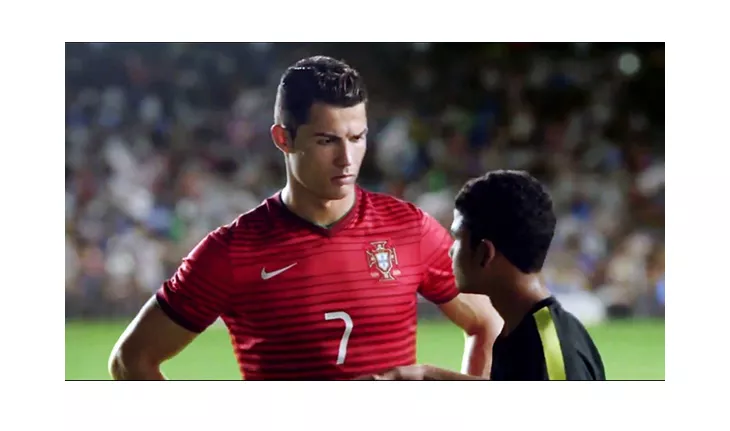 How Fisher-Price went for a specific demographic to target
A great example of a company that did a good job in identifying the right target audience is Fisher-Price, one of the leading preschool product manufacturing companies in the world. Fisher Price's target customer is millennial moms who spend 90% of their time on digital space. The well-known company has recognized the importance of smartphones which have become the main source of information for millennial moms. So, the focus of promotional campaigns has shifted towards digital media platforms like YouTube.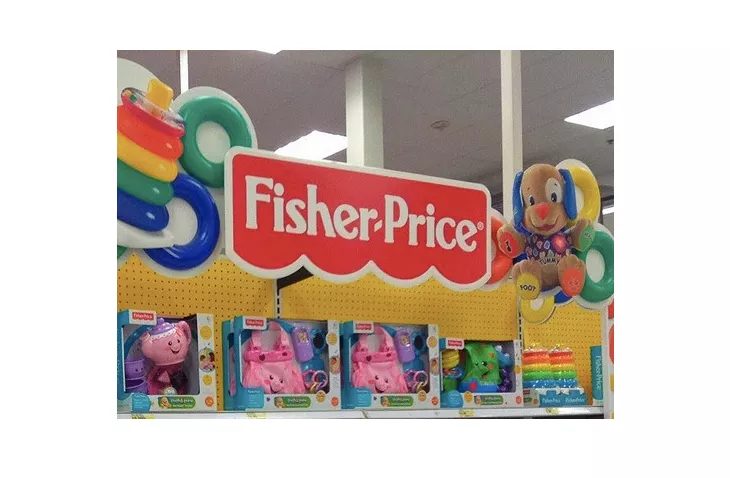 Taking that into account, in 2019 they launched a TV campaign supported by a weighty digital campaign across social media and mum influencer talent.
Let's Be Kids includes a series of video spots that feature a cast of Fisher-Price toys from across the brand's almost 90-year history while tapping Hollywood hero John Goodman to play the role of the classic farmer from Fisher-Price's Little People Collection.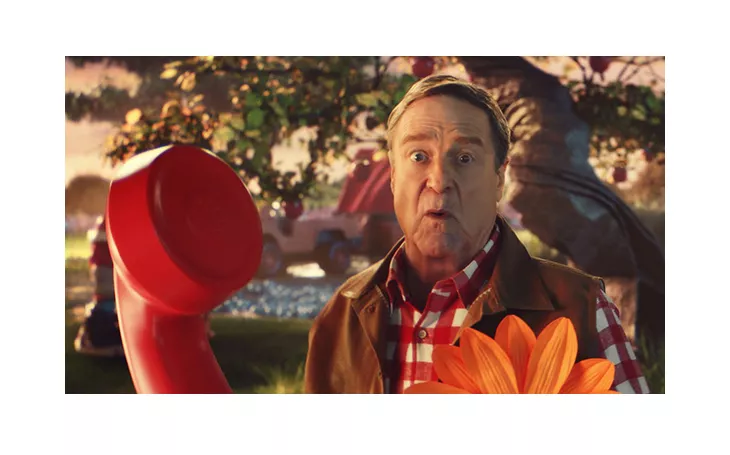 Get inspired by these examples and build a trustworthy eCommerce brand by focusing on finding your target audience so you can stop waiting for buyers to stumble upon your brand and start actively pursuing them with specific brand messaging.
If you still need some guidelines on how to segment your audience, here are the main steps you need to follow:
Check your current customer base.
Start analyzing your product
Choose specific demographics to target. By gender, age, socio-economic status, religion, marital status, location
Create targeted ad campaigns
Get a detailed demographic of your audience
Go for a psychographic segmentation such as lifestyle and values
Apply audience targeting methods based on what you have found
Ecommerce branding for beginners
When it comes to visuals, brick-and-mortar stores have an advantage, because customers have the opportunity to see the product in person, feeling its textures, trying it and then making the purchase. As the owner of an online business- this is the challenge that you face. You have to recreate a smooth user experience, filled with useful visuals.
Here are the most important elements of any ecommerce brand:
Logo
Typography
Color scheme.
Logo
When you're starting your own business creating a logo might not seem like a top priority. Forget about that! Having a logo is an important part of making your brand a successful one. Because the logo often is the first thing that a potential customer will notice about your business, it is crucial that you build a logo that stands the test of time.
Being a point of recognition for clients and an important step in creating a trustworthy ecommerce brand, a logo can:
make a strong first impression
it grabs attention
it separates you from your competitors
creates brand loyalty
can be memorable
If you need a powerful dose of inspiration, take a look at this renowned eCommerce brand with a simple, yet efficient logo
ASOS
In 2007, after 10 years in business, ASOS wanted its brand to reflect the company's growth into international markets and appeal to men, women and kids. They created a new brand vision for ASOS, by prioritizing the spirit back of fashion. The new designs reveal the colorful traits of the brand. It allows ASOS to change in a chameleon-like way, but remain true to its core and maintain brand longevity. The typographic style explores the contrast of the tightly set characters in the logo and affords pace and edge that is particular to the ASOS experience.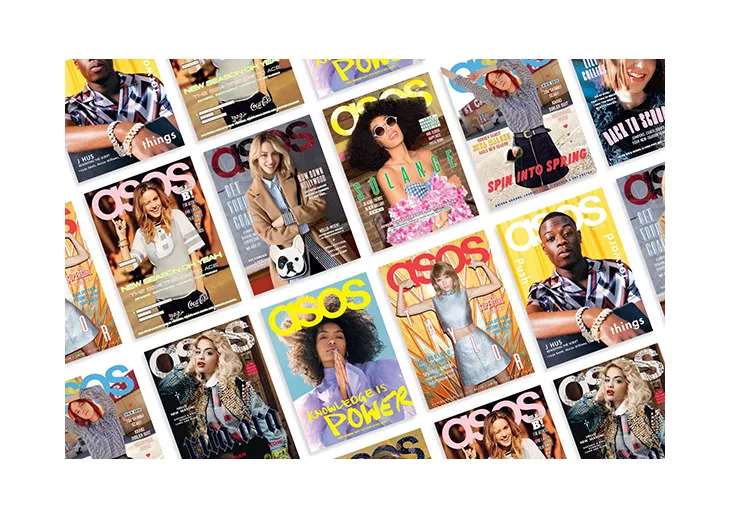 Typography
Choosing the right fonts for your ecommerce brand should be a rigorous task. Why? Because the fonts you use must represent your brand to the fullest while also making sure they're suitable for online and offline use.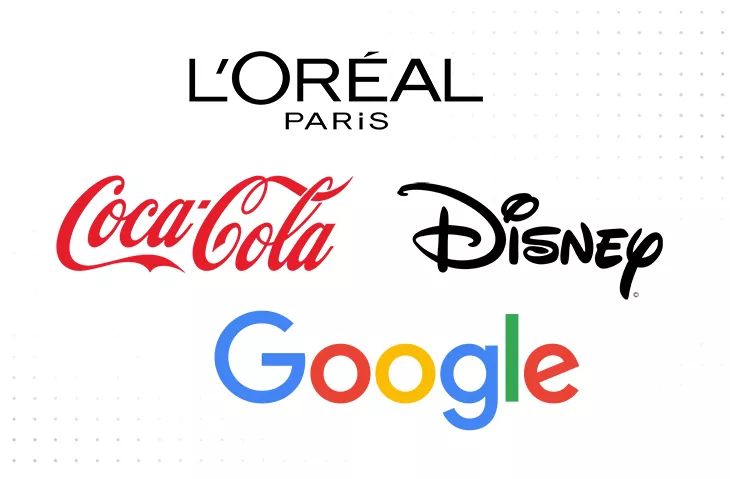 Typography is key to the message being delivered, and brands are exploiting this wide-ranging potential to express themselves. We'll go over some creative styles of typography so you can feel confident in choosing fonts for your eCommerce brand. To create one that's unique to your brand, you should prioritize hiring exceptionally talented graphic designers that have eyes for details either through RPO or in-house recruitment team.
Here are the most used fonts and their traits:
Serif
Serif typefaces tend to be thought of as classic and traditional. For brands that convey a sense of elegance and respectability. Some of the Serif fonts are:
Times New Roman
Garamond
Bodoni
Palatino
Sans-serif
Known for its minimal and contemporary vibes. For brands that create a sense of newness. Some of the Sans-serif fonts are:
Droid Sans
Helvetica
Verdana
Futura
Script
Unique, elegant, distinctive. For brands that emphasize their unique mission
Some of the Script fonts are:
Allura
Alex Brush
Pacifico
Windsong
Handwritten
Artistic, innovative, informal. For brands that present themselves as creative and approachable. Some of the Handwritten fonts are:
Porcelain Sans Serif
Salima
Herbarium
Balqis
Decorative
Dramatic, distinct. For brands that want to instantly grab the attention. Some of the Decorative fonts include:
Authentica
Boho
Blueshift
Boucherie
Now that you learned the basis of what are some of the most used fonts and their meanings, let's get even deeper into the subject of fonts you can use for your eCommerce store, all available on Google Fonts.
Nice ecommerce font pairings you can easily use:
1. Lato Light and Lato regular
One of the most used Google fonts, Lato is currently on more than 9.6 million websites. Insane!
But even if it's often used, that only means you place a safe bet by using it. Even more, there is a multitude of ways in which you can get creative and pair it with other, more interesting fonts so that it fits the personality of your eCommerce brand. We recommend it for fashion and jewelry eCommerce stores.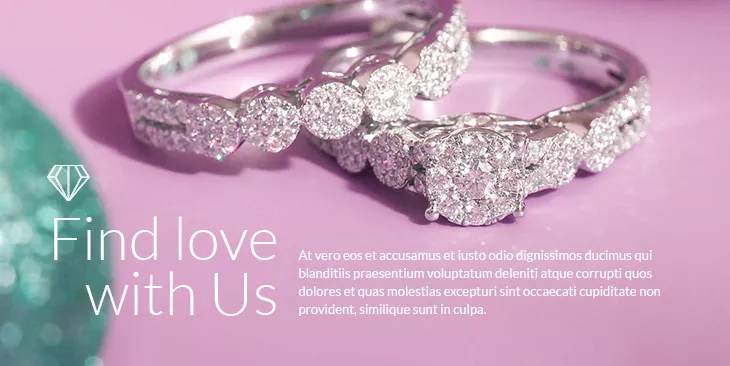 2. Raleway and Roboto
A rather simple font pairing, Raleway and Roboto create a union that can be easily used for many industries. In our design example below, we chose to apply this font pair for a luxury eCommerce store selling watches.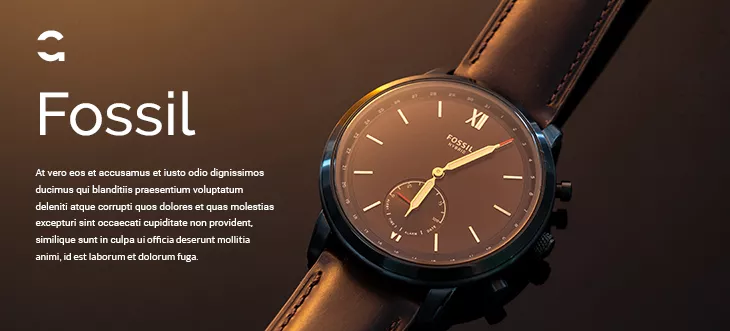 Consistent color scheme
Colors can tell more than you can imagine about your eCommerce brand. The psychology of color can help your business establish loyalty by expressing your true colors and the right emotions. It's no surprise that the most popular brands in the world have a strong association with their logos. Their colors tend to reflect their branding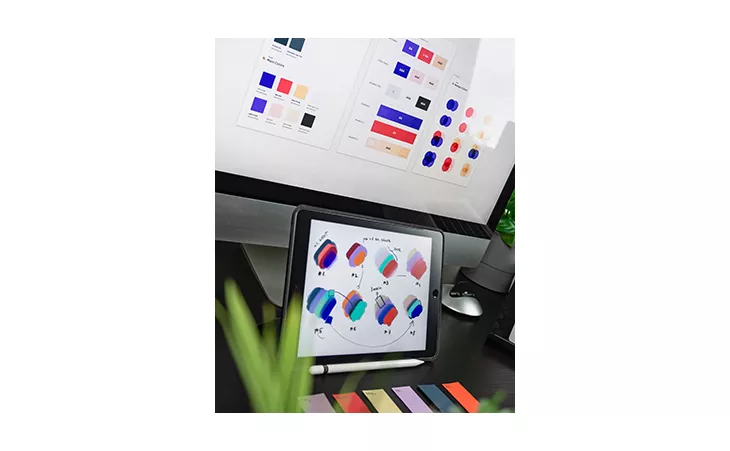 Red
Red evokes a passionate and visceral response. It is a color associated with energy, excitement, and passion. It's one of the colors that is attention-grabbing. Big brands such as Coca-Cola, Canon, Target, Netflix use it.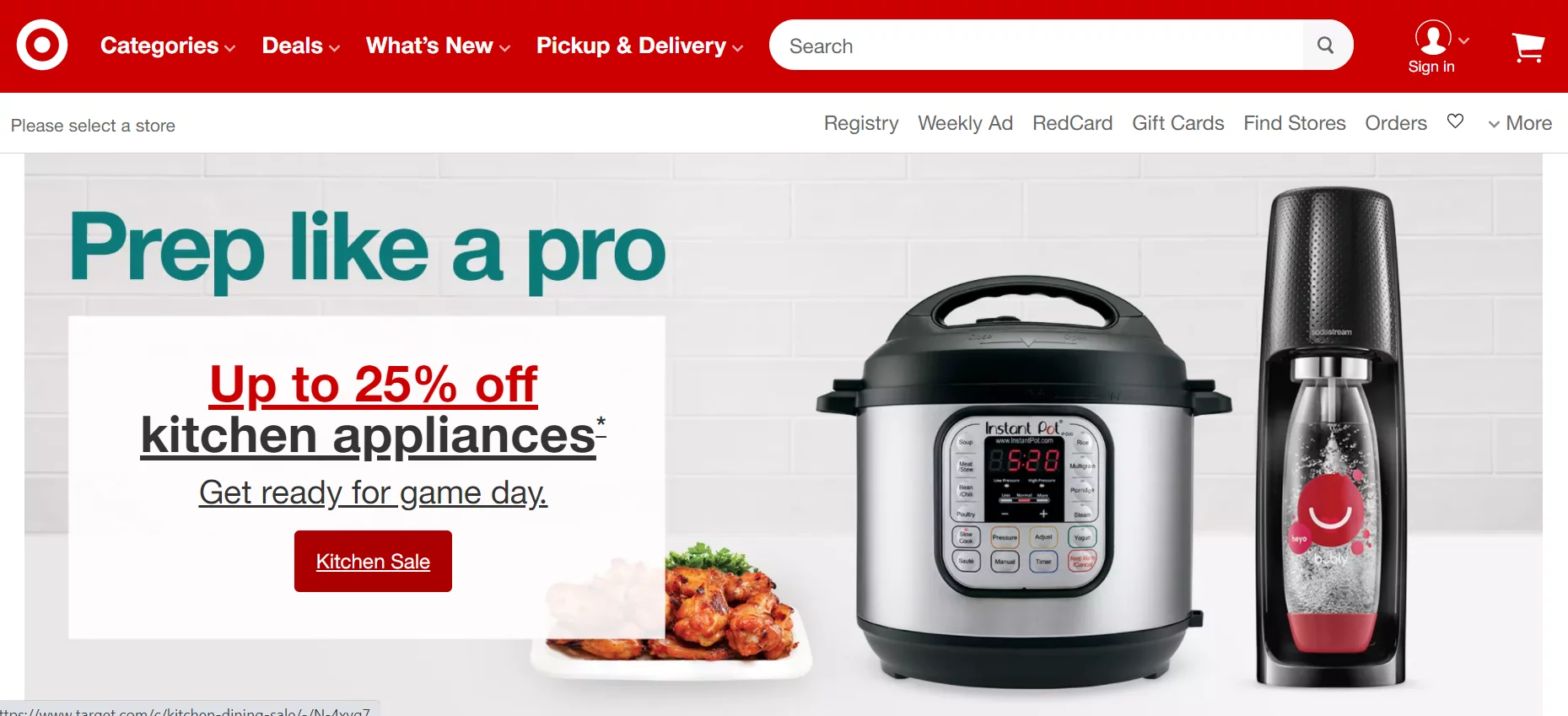 Purple
Purple is a sophisticated color. It tends to be associated with the sense of royalty and elegance. Brands like Milka, FedEx and Cadbury use it.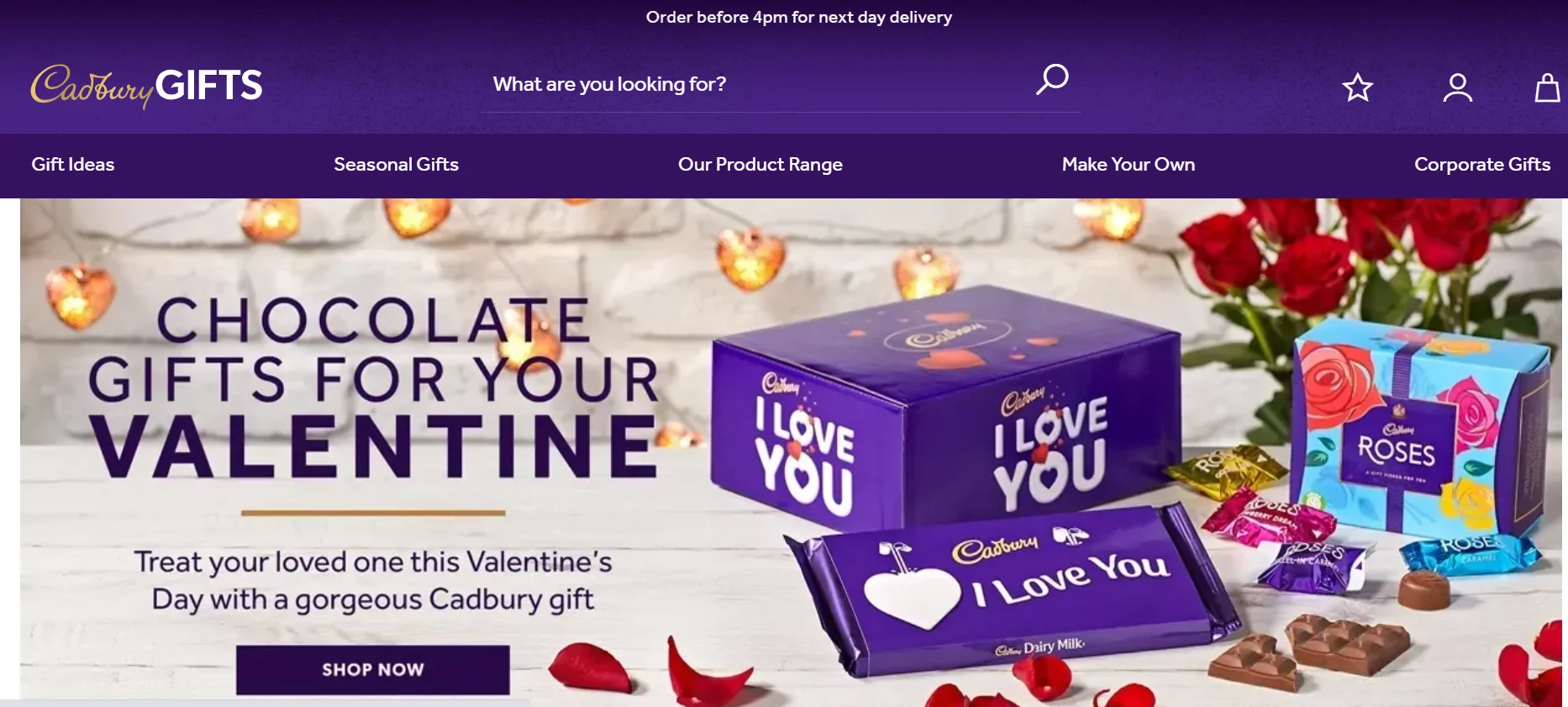 Blue
Blue is also associated with security, and confidence which make a great combination for trustworthy eCommerce brands that want these elements in their message. Brands like Facebook, Intel, Skype and Oreo use it.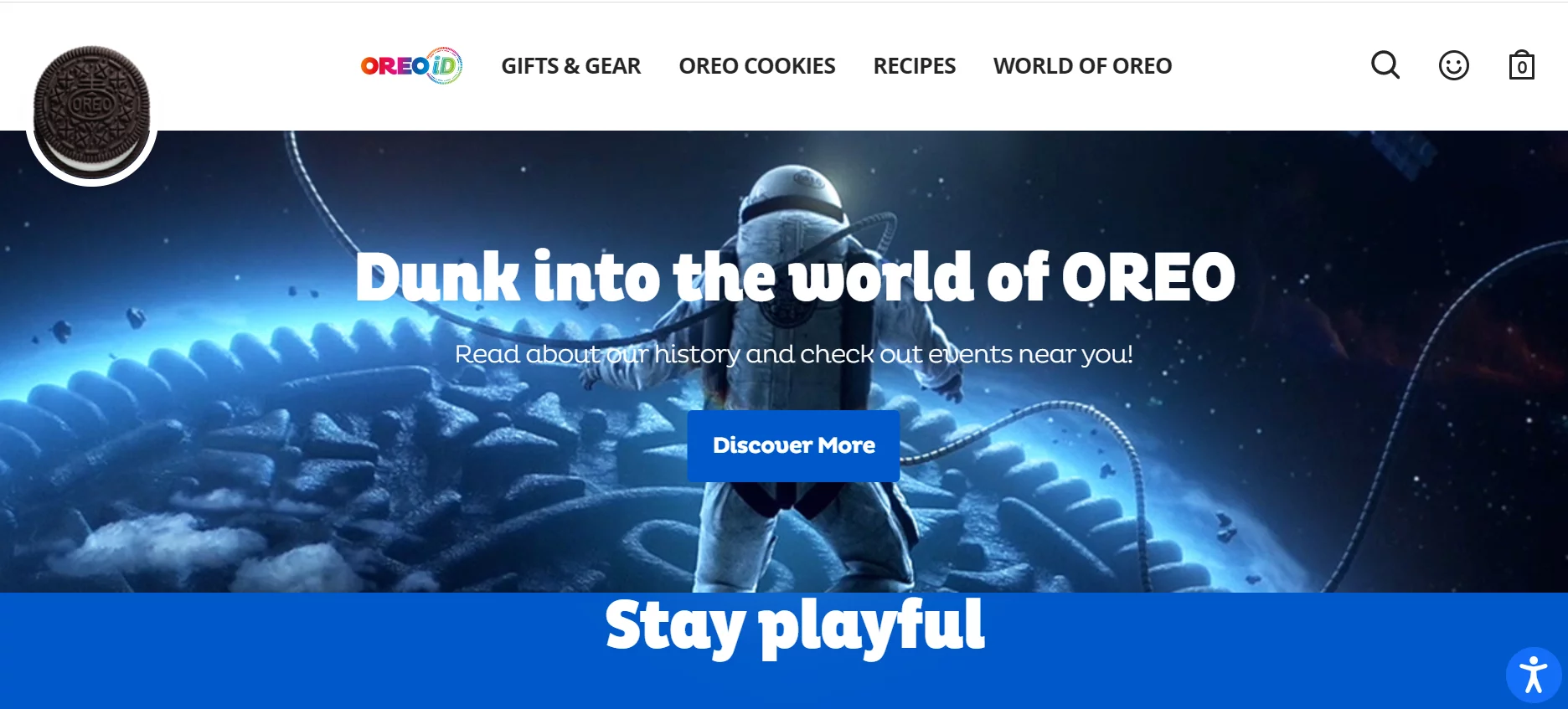 Green
Green is a color that evokes calmness and freshness and tends to be associated with health along with feelings of peace and serenity. Brands like Spotify, Whole Foods, Animal Planet, and Yves Rocher use it.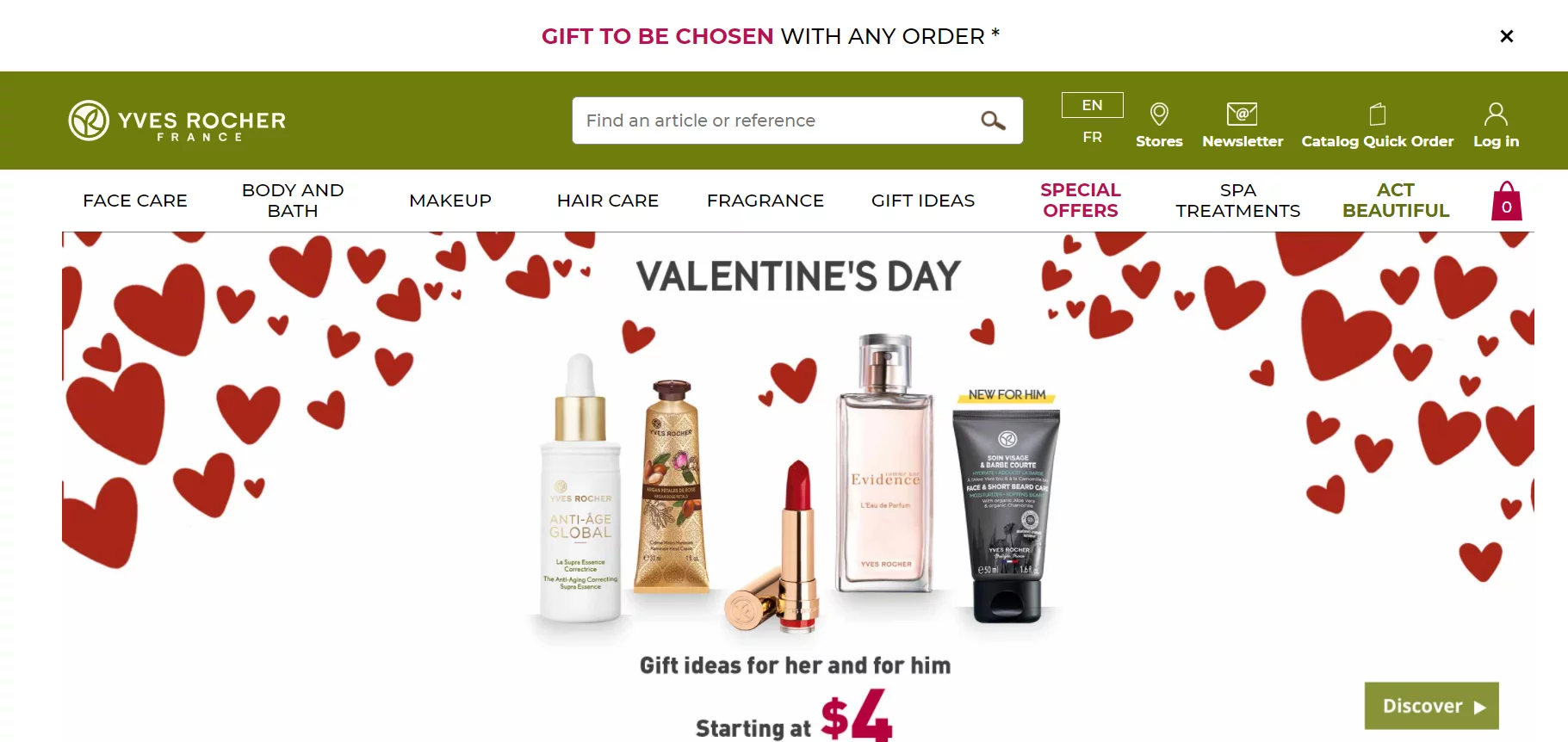 Orange
Orange makes a great color choice for companies that want to blend the optimism and the brightness of yellow and the passion and the energy of red. It is a creative color that creates a friendly feeling. Brands like Mastercard, JBL, and Amazon use it.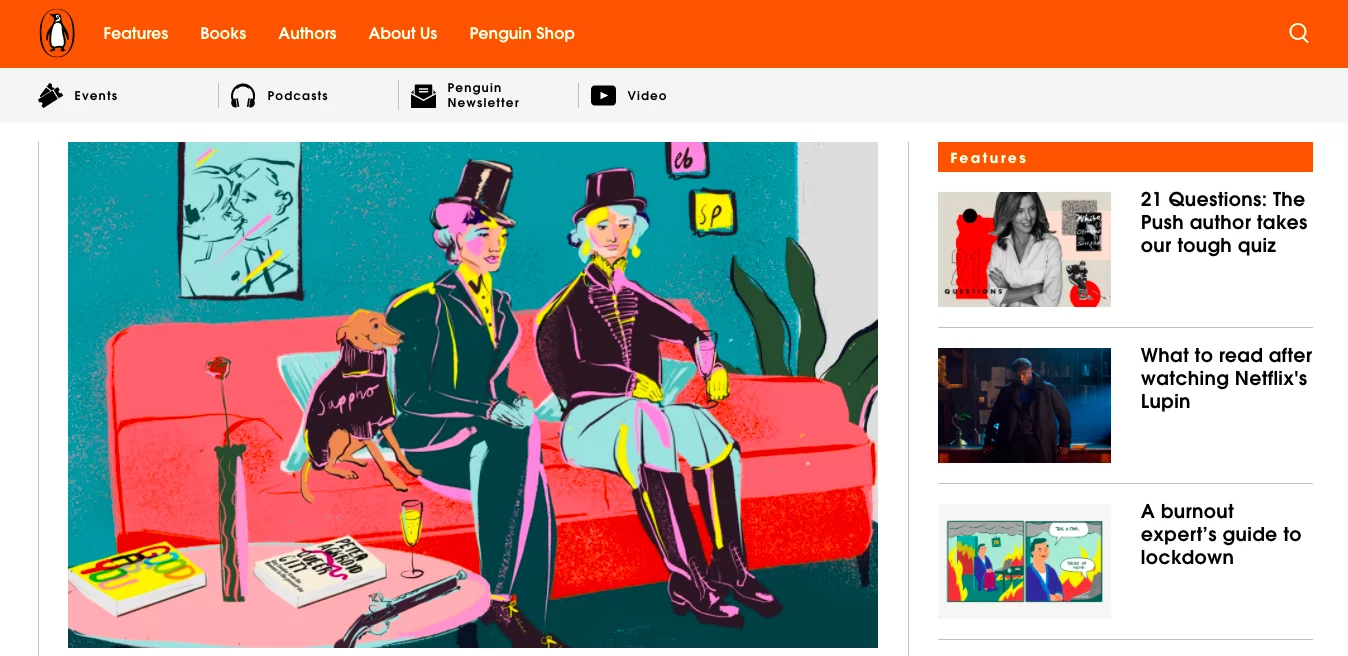 Speak your customer's language
As an eCommerce brand, speaking your customer's language should be like learning to fluently speak a second language. Based on your user's behavior and interests, anyone who's in charge of your website should be sticking to your communication brand guidelines. Start with using templates for creating your brand guidelines is efficient and easy. But if this is a rather hard concept to define, I promise it's not. So, let me give you some brief examples.
Website copywriting for eCommerce branding
Here's a cool website called Yumwoof. You guessed it. Dog food. But not any type of dog food. "Natural pet food". They found a cool niche and all their branding strategy is reflected in that.
Target audience: pet owners, very much interested in feeding their animals the best ingredients.
Here's how this main idea is reflected in the website copy:
You see, it's not rocket science. Speaking your customer's language actually means, getting to know him. Or, if you have a diverse audience, make sure you split that into specific target audiences and create buyer personas. It will make your branding communication process much easier, trust me.
Speaking of this, we mentioned Asos earlier in this article. They're targeting mostly millennials, cool, young, and hip. And speaking their language. Just take a look at their social media posts or product descriptions, the tone of voice is super friendly like you would read a fashion magazine.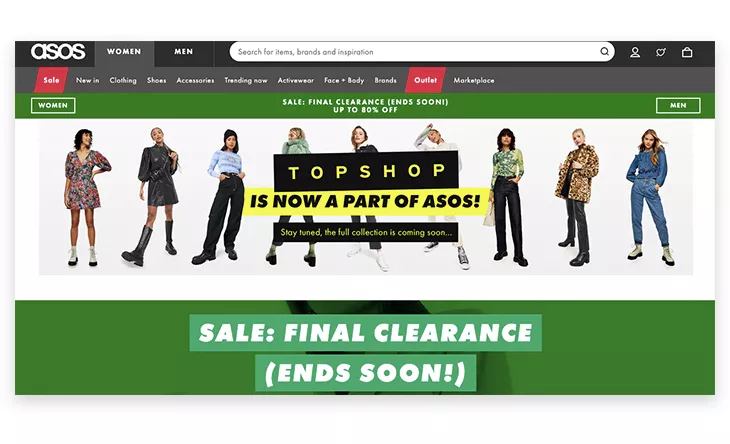 Now, I know what you're going to say, not every business, small or medium, has the same financial power to create such a big ecommerce brand. But there are a few lessons we can take from the successful Asos story.
How to create a successful eCommerce brand like Asos:
Put your customers front and center of your business (take every chance you get to know them better: surveys, social media monitoring, emails, etc).
Exceptional customer experience. Always
Engage with your communities, everywhere.
Reinforce your eCommerce brand through blog content
No matter the product or services you're selling, content should be an essential part of your eCommerce brand. It's a smart manner of communicating with potential customers without hard selling. Creating and sharing high quality free content builds trust with potential buyers and keeps customers engaged and loyal.
In the digital world, content is a combination of the graphical, written, video, and audio information that is presented on your site and delivered to the world. More precisely content is the packaging on your website that presents your audience with information.
But, when it comes to your content marketing strategy, blogging should be home base. Why?
Blogging helps you drive traffic to your website from social media and from SEO.
Blogs give people a reason to return to your website over and over again.
According to Techclient companies that blog are 4x more likely to be found high in organic search results.
Blogging also is a great tool for creativity.
How Fisher-Price is using content to build a long-lasting relationship with its customers
A great example that contains all of the benefits above is the eCommerce website owned by Fisher-Price. Their parenting articles follow this same trend, offering helpful articles for today's families, focusing on how their products can transform early childhood into a more fun and enriching process. This blog also uses a technique that almost all other eCommerce companies could borrow from.
They write content that appeals to Google searches that potential customers are likely to make, like "how to help your newborn sleep like a baby". This is an exact phrase that users may be searching for, and they have a post all about it.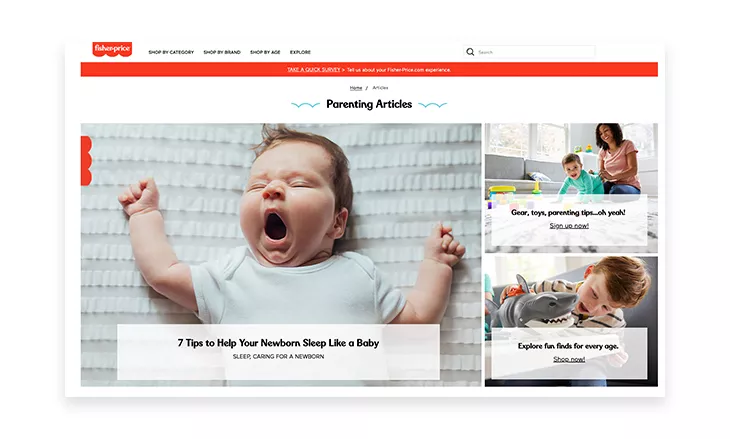 Their blog also contains other great information, like all about pregnancy and outdoor play. They strike the right balance between promotional and helpful so that when they do drop a product link, it feels more like a recommendation from a friend than a sales pitch. Also they definitely know their targeted audience: millennial moms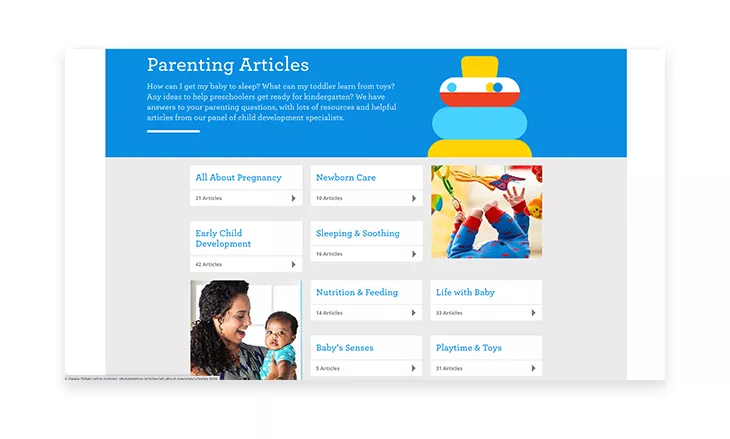 Offer impeccable customer service
For an ecommerce brand to succeed, establishing a well functioning customer service is crucial.
This is how online businesses provide assistance to customers with everything from making online purchase decisions to resolving issues — all while creating a polished customer experience across channels and platforms.
If you are wondering how you can step up your customer service game here are some great practises you can use
Having a well-organized customer service team plays a key role in building relationships and trust with customers. Prioritize customer conversations and equip your team with tools that help them collaborate and keep everyone on the same page.
Use a personalized approach
Everybody wants to get noticed. Customers expect a personalized approach that makes them feel special. So start interacting with them, get to know them better and create personalized offers that best suit their needs.
Prioritize your response time
There is a mechanism to accumulate bonus or reward points and is a factor for your store. It helps to increase the rate of customers returning to buy as well as increasing customer loyalty. For example, if you use the Magento platform, Magento 2 Reward points are a great tool to help you do that.
According to Statista, 12% of Americans rate their number one frustration with customer service as "lack of speed". Customers who choose to shop online are expecting a fast reaction and prompt answers.
To enhance your customer service further, consider utilizing a QR Code Creator tool. QR codes can be generated to provide quick access to helpful resources, such as tutorials, FAQs, or troubleshooting guides. By integrating QR codes into your customer service interactions, you can offer convenient self-service options, saving time for both your team and customers. You should also pay attention to how enjoyable online shopping is for your customers. One way to make improvements is by detecting sneaker bots and eliminating the possibility of diverse fraudsters getting in the way of your loyal shoppers.
Engage your community
Building an authentic online community is crucial for any ecommerce brand. Also, in order to differentiate from competitors and get noticed you have to create a suitable place for your target audience so that they can attach to and actively participate.
But before you dive in, it's helpful to first understand the difference between an online community and a branded online community.
An online community is a group of people with a shared interest or purpose who use the internet to communicate with each other.
A branded online community is a professional network to bring people together around a shared organization-based experience with the purpose of increasing the online collaboration, drive sales an ecommerce website visits
How to build an online community centered around your ecommerce website:
You need to understand your target audience
To build the community around your E-commerce, you need to define in clear terms the profile of your target audience member. In marketing, we call this a customer persona.
Create departments within your community  
Community management is essential for the success of it. Is a great way to make sure everything is running smoothly. For example, your marketing manager will be creating the product calendar for your community. This can include content that encourages community members to buy for the first time or to buy a loyal one to buy a new produ
Choose a community platform
Depending on the number of people you want to want to target you can choose a different kind of free community platform. For example if you want to add less than 100 people you can create a WhatsApp group, an Instagram group or a Telegram one. If you aim higher, create a Facebook group that lets you add +10.000
A trustworthy eCommerce brand always keeps a close proximity to their community. Find a way to personalize each interaction. Follow and like them back. Use first names, both yours and theirs, and keep it as human as possible. No one wants to interact with a faceless cold brand.
An inspiring example of an online brand community that has become a thriving interactive environment in the digital world is Lego Ideas. A community for anyone who loves Lego, that can easily check out proposals, vote on their favorites, leave feedback, and submit their own ideas. In the end, the most popular ones go to market.
Go beyond eCommerce platforms. Digital catalogs
Now that you have seen how you can create your brand identity and learned how to speak your customer's language, Expand your horizons and go beyond eCommerce platforms. Digital catalogs can be a great way to make your platform more visible and present your products and services in a nice manner. You need a publication that can integrate all of your products and boost your company image. That is when Flipsnack comes in handy. With our help, you can create branded digital catalogs from scratch or just upload your PDF and turn it into an HTML5 catalog, easy to share and read on any device. For some added organic search engine visibility, you could even hire an SEO copywriting service!
Luxurious product catalog template
A well-designed catalog can give you an edge in your field and help promote your business, beyond your ecommerce website. We, here at Flipsnack, think that digital catalogs are an efficient tool for anyone selling products or services.
This luxurious product catalog template is just one of many catalog templates you can choose from to showcase your latest collection.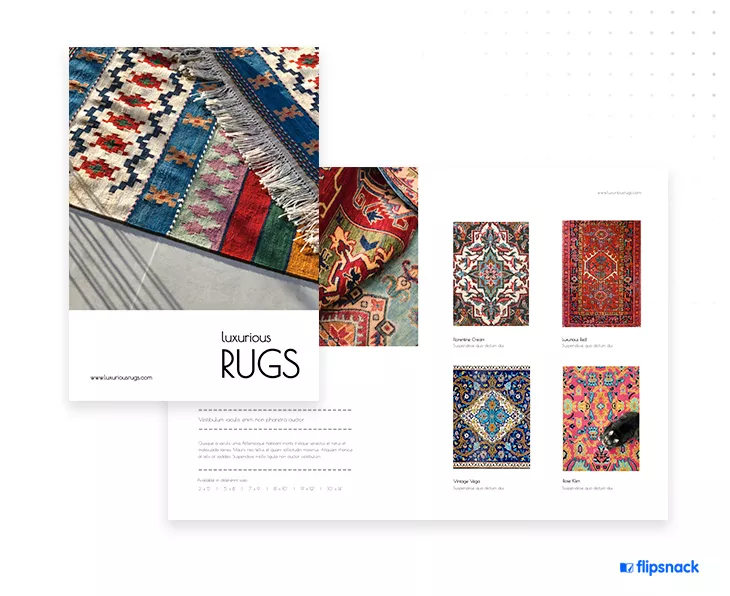 Whatever your product may be, it needs to see the light of day and be distributed as much as possible. Use our drag and drop Design Studio and start creating. Upload professionally looking product photos, play with the text boxes and if you want, for a more complex look, play around with shapes. We have a comprehensive guide on how to create amazing product catalogs online that can surely provide lots of insights! Not to mention you can add videos and 360° product tours, among other interactive features.
Also, if you want to take your business to the next level, take advantage of the product tag feature to make the shopping experience more smooth.
Final thoughts
Building a trustworthy eCommerce brand is a way of telling your customer what your business stands for. The first step you need to take is to establish your target audience, brand identity, followed by learning how to speak your customer's language. Once you figure it all out, you can start presenting your products and services in a nice and efficient manner. Branding for eCommerce is crucial to your success. Start following these steps and let us know how it goes.