Social media analytics tools comparison 2017
A few months ago, my manager asked me to find a social media reporting tool to track and measure our activity on all channels. Most social platforms already provide analytics, but we needed a tool to aggregate all the data in one place.
The first thing I did was type "social media reporting tools comparison" in Google, but unfortunately I couldn't find what I was looking for: an article that would help me find the right tool.
So I signed up to a bunch of tools, activated the free trial and I took notes. This article sums up my conclusions. Your needs might be different from ours so it wouldn't make sense to announce a winner. The tool that we ended up using might not be your best option. However, this article will give an overview on all of your options. (okay, I might've missed a few, and I do hope you will help me with comments)
Below you have the 12 social media tools that I tested. Some of these tools do a lot more than provide reports, so there's a short presentation for each one, and some pros and cons, from my perspective. At the very bottom of the post you have a comparison table that presents integrations, price and free trial availability.
We're not associated with or sponsored by any of these tools. All reviews are based on my own observations. I have tried to get a quote from all of these apps, but I only heard back from a few. Their statements are quoted in the article.  
Without further ado, let's dive into reviews.
#1. Sprout Social
Social Media Management Platform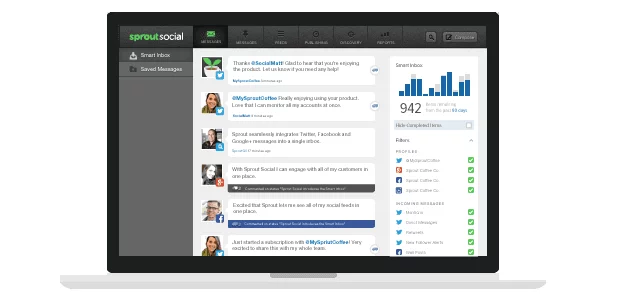 Sprout Social is a powerful social media tool that does a lot more than just analytics. Some other included features are: smart inbox, web mention monitoring, publishing and collaboration
Why should companies use Sprout Social? 
"Measuring the results of your social media efforts is crucial to long-term success. Sprout Social's powerful reporting suite streamlines measurement across multiple social networks, providing key insights to inform better business decisions. We help your team save time, collaborate and simplify the process with presentation-ready reports – helping you communicate the value of social to leaders and clients." – Greg Carollo, Senior Sales Manager, SproutSocial
Pros
Smart inbox – a single stream inbox for all new notifications and messages, across all platforms; it let's you hide resolved messages from the inbox, so you'll always know if there's a message or a tweet that needs a reply

Scheduling option with an integrated calendar

Collaborate with team members

Assign tasks, use tags and comments

For Twitter and Facebook you get very detailed reports & beautiful graphs
Cons
Group stats are limited to Twitter and Facebook

You can't connect Pinterest and Youtube, so you don't get reports for them
#2 Quintly
Social media analytics and competitor benchmarking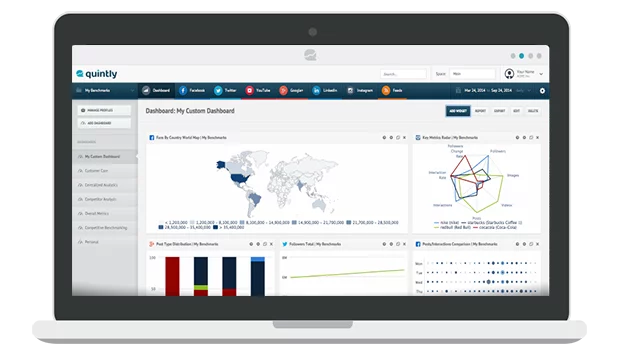 Quintly is all about social media analytics. It lets you track your brand's performance and your competitors' across all networks.
Pros
Centralized analytics – Covers all social media platforms and provides individual reports for each channels, as well as overall metrics, to compare all your social channels

Reports for competitors – You can get reports for any company by simply entering their name or URL, no matter if you are the admin of the page/ profile or not

Tailored reporting – Set up custom reports; select what you want to track in your report, an impressively large list of analytics widgets: 65 for Facebook, 39 for Twitter, 29 for Youtube, 26 for G+, 22 for LinkedIn, 27 for Instagram, 18 for Pinterest and 6 overall metrics

Add more users to get access to reports
Cons
There's no "pre-made" report template with the most important analytics. Choosing widgets takes time, because it feels like there are too many options (over 130 widgets)

The cheapest plan starts at $199, so it's a little bit on the expensive side
#3 Talkwalker
Social media analytics and monitoring platform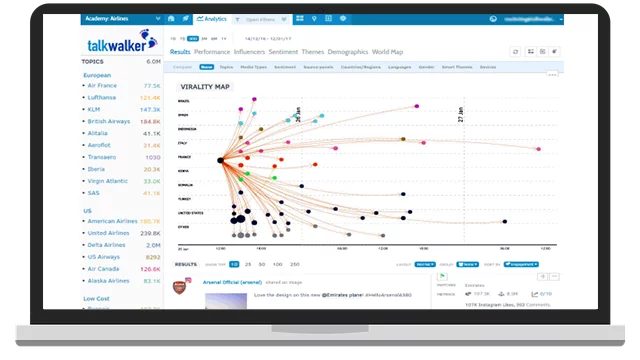 Talkwalker has some unique and interesting features, like a virality map and proprietary image recognition. 
Why should companies use Talkwalker?
"Companies should use Talkwalker if they want to create clear, visually appealing social media reports and distribute reports quickly and efficiently to all relevant departments. What makes Talkwalker stand out from the competition is the flexibility and simplicity of report creation and distribution. Talkwalker's wide range of reporting functionality allows companies to create reports in multiple formats (including Word, PPT, PDF, HTML), schedule reports to go out automatically, add images, video and analyst comments to any report, add annotations directly onto graphs and adjust the size and look of any report element. Our pre-defined report templates for different business needs and data integration capabilities help companies to optimize social media performance and ultimately prove social media ROI." – Christophe Folschette, Co-Founder and Strategic Product Development Lead, Talkwalker
Pros
Centralized analytics – Covers almost all social media platforms

Tracks brand images, not just texts

Helps you benchmark your brand against industry peers

Provides demographic data

Automatic reports, with 30 pre built use cases

Free Social Search, a slimmed down version of the full platform
Cons
Too expensive for smaller companies
#4. SimplyMeasured
Social analytics solution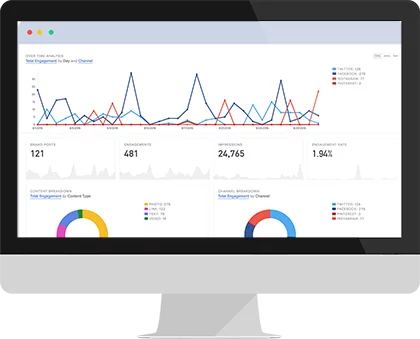 SimplyMeasured looks like a robust analytics tools for social media, for big companies. I signed up for the trial, but they suggested I try their free tools. This is the message that I got from them:
"Thanks for requesting a trial of our social media analytics suite. Based on your needs, we feel that you'd be a great fit for our collection of free reports.
Our pricing packages start at $500/mo and we'd hate to waste your time, but if our free reports don't satisfy your needs please respond to this email with a short description of what you're looking for and we'll be in touch."
Pros
Free tools

which offer individual reports for Twitter, Facebook, Instagram, G+

These reports are very detailed and packed with unique insights (e.g. top keywords in audience profiles)

Beautiful graphs
Cons
Free reports leave out a lot of data about audience growth and interaction

Pricing packages start at $500/mo, targeting bigger companies
#5.  Social Report
Social media management and scheduling platform

Unlike the previous two tools, Social Report is a good option for smaller companies. The focus of the platform is analytics, but it's packed with many other features for social media management.
Pros
Tracks all social channels, and provides aggregated data

Scheduling and posting capabilities incorporated

Tracks mentions from social media and from a few blogging platforms

Automated social replies, favorites, follows and more

Team management and project management (with a premium account you can track multiple projects and add multiple team members)
Cons
You can't reply or engage the audience directly from Social report

The design style of the platform and reports is a bit outdated
#6. Hootsuite
Social media marketing and management dashboard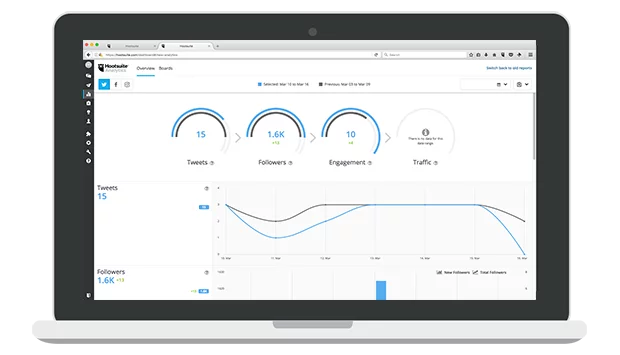 Hootsuite is not a social media analytics platform per se, but I decided to include it in the article because it does provide reports, and it's a very popular tool. We actually use it for scheduling, but we find their reports a bit limited.
Pros
Scheduling and posting capabilities

Content suggestions – a tools that

for content discovery, which suggests tweets for you

Manage teams and multiple projects

Affordable pricing
Cons
The reports are pretty limited and basic

You can only get reports for Twitter, Facebook and Instagram

No aggregate data for all social channels
#7. SumAll
Social media & ecommerce dashboard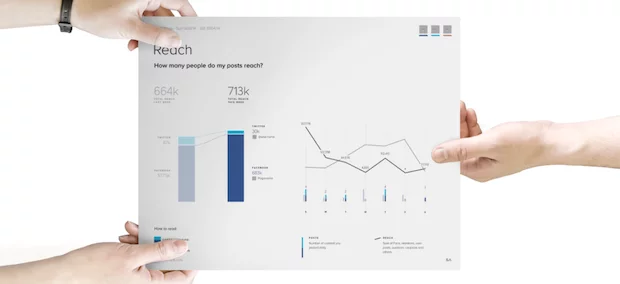 I really like their website (both design and copy). Their reports look very good, and you can personalize them with your own branding. I really like their clean, professional aspect.
Why should companies use SumAll?
"SumAll provides an aggregated view of all your social and marketing data for one business or dozens. The tool is free and gives you your analysis in your inbox each morning. Hard not to use." – Dane Atkinson, SumAll
Pros
Beautiful design

You can set autotweets (eg Thank you tweets) for whenever a particular action happens: follow, mention, etc

Lets you export your Twitter audience data: Time Zone, Network Size, Following, and Engagement

Explore segments
Cons
You get very detailed reports for Twitter, but not as much for the other channels
#8. Mention
Real-time media monitoring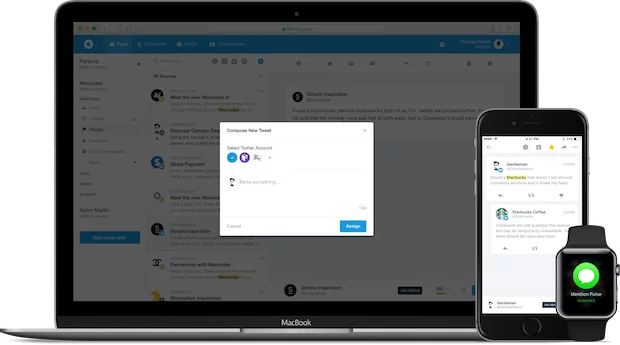 Mention is fantastic for tracking brand mentions across social channels and web, so the reports it provides are around mentions. One of my favorite features is the fact that you can reply to mentions directly through Mention. 
Why should companies use Mention?
"Mention shows you everything said about your brand or your competitors – anywhere online. We help agencies and businesses monitor comments about them on social media and the web, to help them provide the best service to customers, and make smarter business decisions." – Patrick Whatman, Head of Content, Mention
Pros
Monitors blogs, news, forums and Twitter

Set up alerts to get notified whenever keywords are mentioned in real time

Reply to mentions directly in the app

Collaborate – share alerts and assign tasks to your friends or coworkers to improve your online presence

Statistics & Exports – Get a snapshot of your mentions by source, language, and over a selected period of time
Cons
The focus is on and limited to mentions, on web and Twitter
#9. Brand24
Social media monitoring and analytics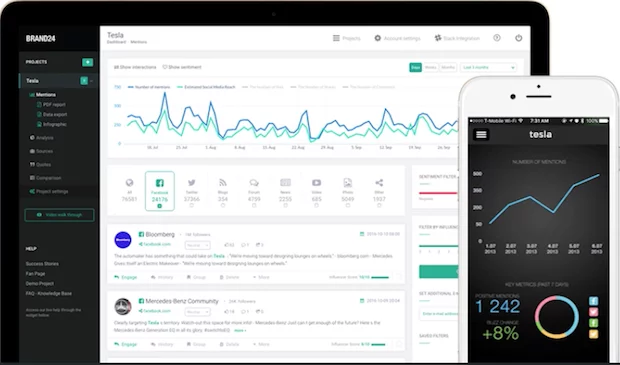 Brand24 is another tool that tracks mentions of your brand across all web, including social networks.  If you need more analytics regarding engagement or audience growth you will have to pair it with another tool.  
Why should companies use Brand24?
"Brand24 is a social media monitoring tool which lets you keep track of what people are saying about you and your brand or product by monitoring relevant keywords. It helps to advance finding leads, brand ambassadors, manage your image and build a loyal community around brands. They can even track what competitors are up to. Brand24 let companies stay up to date on all online mentions as they unfold in real time. The tool's various filters also make it possible to follow online conversations and Influencers that are relevant only to brand's specific projects, while the collected data is presented in clear and concise reports. Companies might also use Brand24 to find the right ambassadors for their brands and identify potential leads: sales, marketing, and otherwise. It's efficient, affordable, and easy to use. A must-have for those who need to track their brand presence all over the web." – Magdalena Urbaniak, Project Manager, Brand24
Pros
Automated PDF reports and "Storm alert" – whenever the number of your mentions grows fast you got a call and exact percentage of this pick

Monitors blogs, news, forums, videos, photos, Facebook and Twitter

Shows the estimated social media reach

Sentiment analysis

Influencer score

Links to reply to mentions

Collaborate – share alerts and assign tasks to your friends or coworkers to improve your online presence
Cons
Doesn't provide analytics about follower growth

Limited stats about engagement
#10. Allin1Social
Social media management and reporting platform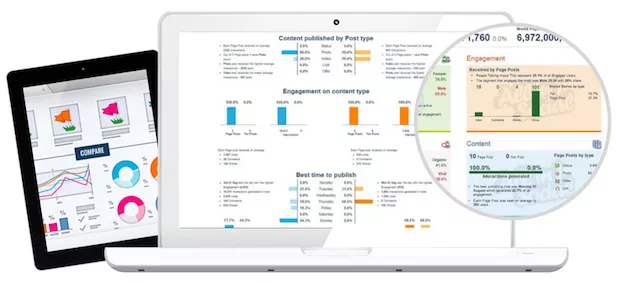 If you need a tool that's equally focused on social media management (publishing, scheduling) and analytics (benchmarking, reporting), Allin1Social might be a great option for you, since it does all of this.
Pros
Scheduling and posting capabilities incorporated

Manage teams

Full stats, imported from Facebook, Twitter, G+ and Instagram

Benchmark – compare your own Facebook and Twitter page against your competitors
Cons
No aggregate data, or comparisons between own accounts

No integration for Pinterest, LinkedIn and Youtube
#11. Brandwatch
Social listening and analytics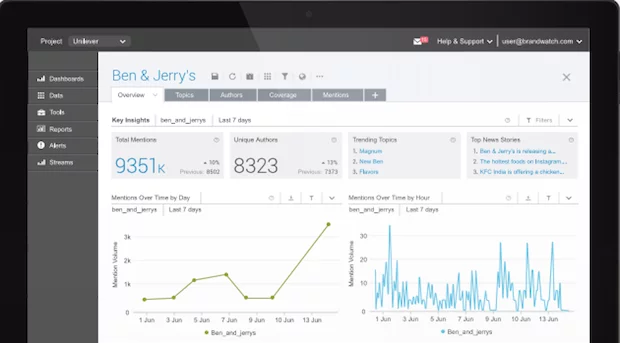 Unfortunately Brandwatch doesn't offer a free trial (they might on request, though not advertised on site), but it seems like a powerful tool for everything social.
Pros
Monitors blogs, news, forums, videos, photos, Facebook and Twitter

Influencer identification

Collaborate – share alerts and assign tasks to your friends or coworkers to improve your online presence

Track and measure campaign performance

Benchmark – compare your own Facebook and Twitter page against your competitors
Cons
No free trial

No pricing

It doesn't cover all social networks
#12. Oktopost
Social media management for B2B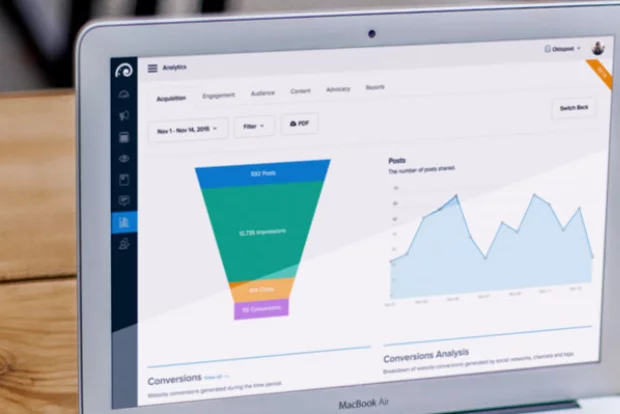 I'm still not sure whether Oktopost belongs to this list or not. When I first landed on their site and read about social analytics I didn't realize that their focus is on social media advertising campaigns. But it is. If you're looking for a tool for social media campaign management and reporting, this is it. It's very easy to use, but it will only track what's published through it.
Pros
Great for campaign impact monitoring

Collaborate – Assign team members to selected campaigns and social profiles

Track and measure campaign performance
Cons
Focus on campaigns

No statistics at all if you don't schedule content through 

them

It doesn't cover all social networks
#13. SocialBee
Social media management tool for training and teams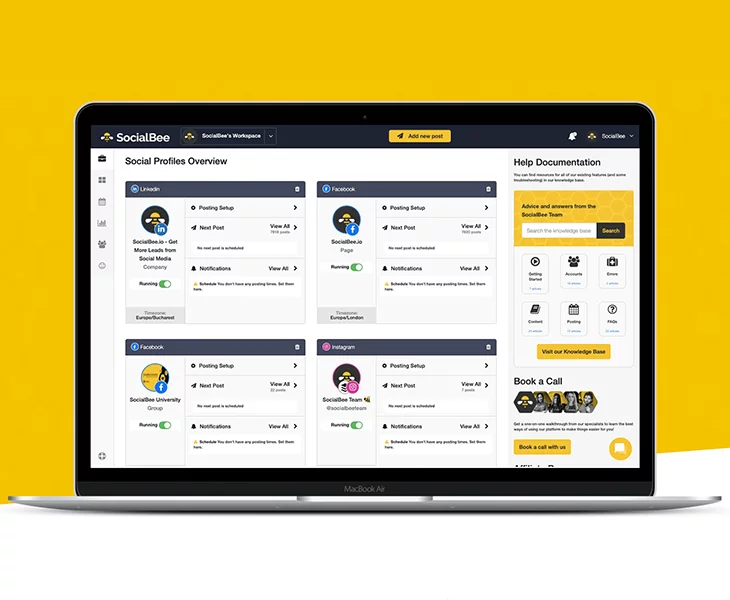 SocialBee 
is one of the most used and appreciated
Social Media Management tools
as it is specifically made for entrepreneurs, startups, small businesses and freelancers who want to be organized when sharing content across multiple platforms. It supports posting on Facebook, Instagram, Twitter, LinkedIn, TikTok, Pinterest and Google My Business, all in one tool.
PROS
Connect up to 25 profiles
Post scheduling tools & automated publishing
Evergreen Posting/ Share-Once options
Import RSS Feeds
Team Collaboration
Over 10+ Integrations
CONS
At the moment, the mobile app is just for mobile reminders
This is it, guys!
Here's a final overview, now that you know all the pros and cons for each SM analytics tool. The comparison table includes the Social channels that the tool provides reports for, the cost (the price for the cheapest plan) and whether there's a free trial or not.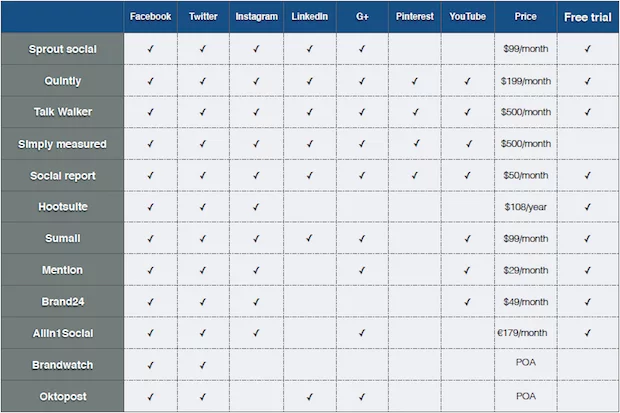 Have you tried any of the above? Let me know what you like or dislike about them.