How to make an interactive PDF in 2023
If you work in an office, it is almost impossible not to come across at least a PDF document each working day. PDFs are part of our professional and personal lives and I cannot imagine how the digital distribution of documents would have looked like without them.
We use this format daily. We share documents, books, portfolios, and catalogs between friends, customers, colleagues, and so on. However, sometimes the classic standardized PDF format seems a little bit too dull and formal for our present days. In 2023, people are more attracted to visual data and multimedia.
They prefer interactive stuff and favor visual information rather than written messages. While standard PDF documents support a few multimedia elements, they lack interactivity.

For a brochure, a magazine, or a portfolio, a greatly-made design and content is a must. However, interactivity could be that one special thing that sets them apart, as it offers extra engagement opportunities for the readers. The answer for this need is simple: digital flipbook – the best PDF alternative ever!
Imagine the benefit of displaying your products in your digital catalog and offering the readers the option to directly purchase what they like. Think about how advantageous it is to read a travel brochure, and then with just a click away to see a video of your possible next destination.
What if I tell you that there is a solution to the lack of interactivity, that you can offer interactive PDFs to your customers, readers, or fans? If you're interested in how to make an interactive PDF, then this article is for you.
What is an interactive PDF?
An interactive PDF is, as you might have guessed, a PDF file that features interactivity options. The file format is the same, you still need a PDF reader to open it.
A regular PDF file might contain hyperlinks, but when it comes to interactivity, that's just about it. It uses text or pictures to deliver the information. On the other hand, an interactive PDF offers a large selection of interactivity features. Video and audio iframe widgets, shopping lists, product tags, embedded maps, social media buttons, are just some of them.
All these elements benefit the readers and your business, so use them to their full potential. Simplify the buying process with a shopping list. Offer extra information with a nicely placed video, or audio button. Place a form on the page, so readers can subscribe to your email campaigns.
How do I make a PDF interactive?
Adding interactivity to your PDF files is easier than ever in 2023.
Several software programs allow you to create interactive PDFs but at the same time, there are online options as well.
If you are a professional designer, then you are most certainly aware of the Adobe Suite and its design-oriented software programs suited for all kinds of jobs and projects, including PDF creation and interactive PDF creation.
However, these software programs are not quite cheap and you require advanced technical skills to use them to their full potential.
If you were wondering how to make your PDF interactive, Flipsnack is the perfect solution for it. Flipsnack is an online service, a professional tool that can help you turn your regular PDFs into flippable, interactive ones. Turn any PDF into an interactive magazine, brochure, CV, flyer, depending on your needs.
You can use our Design Studio for all your projects, without the need to install third-party software or learn specific skills to design professional layouts. Thanks to its intuitive drag and drop feature, it is easier to use than other similar products, such as Adobe InDesign, for example. It is an excellent tool for marketing or travel agencies also.

Here is a great example of an interactive nonprofit newsletter template: it contains interactive elements such as buttons, rich media elements, add hyperlinks, and captions.
How to make an interactive PDF in Flipsnack
Here is how Flipsnack's premium subscription can help you create a digital flipbook by adding interactivity to your PDF files:
Upload the PDF in Flipsnack
The process is straightforward. Upload the PDF file, or simply drag and drop it. What's great about this feature is that you can upload a single PDF file, or upload in bulk. When choosing the bulk option you can opt to merge them into a single PDF file or to upload them as individual files.
Click on the "Editor" button and start inserting interactive buttons in your catalog
Once you've uploaded your PDF, you have different customization choices. Click on the Editor button to reveal the following options.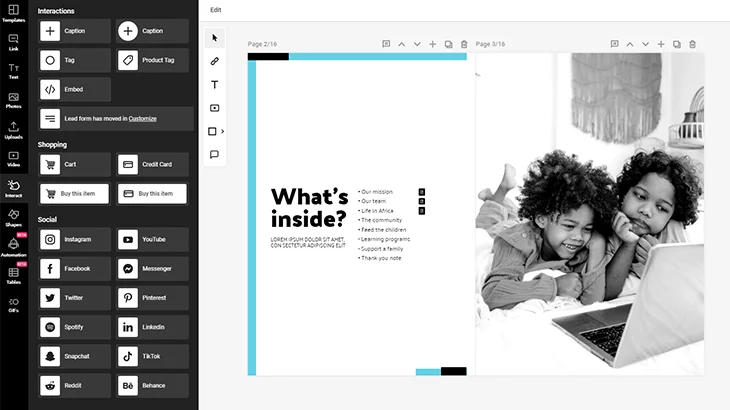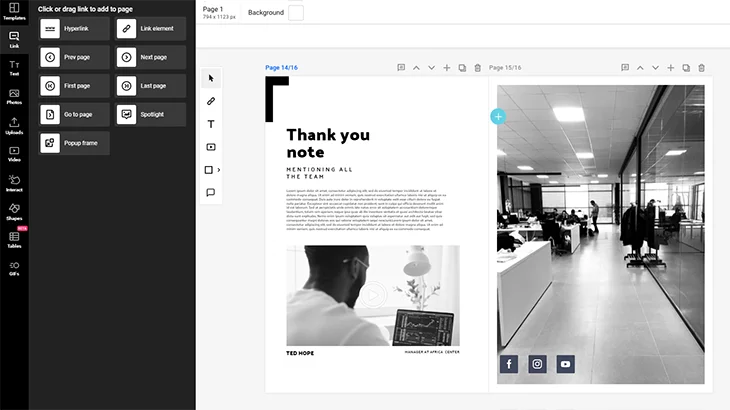 Choose an interactive element, drag and drop it on the document. Once on the page, you can modify its size, and edit its properties.
You can see some of the interactive elements I've added: video widget, caption button, and social media buttons in the above example. The video widget, allows you to quickly play a video on the document, directly on-page. In this template, I've included a short video of one of the Africa Center's members.
The caption button reveals additional information when clicked. In this case, I included brief information about the picture and a link where you can find out more. I added the social media buttons for quick access to useful links such as Facebook, Instagram, YouTube.
Customize and brand the look of your publication
Once you are done with the interactive elements, you can opt for uploading your logo from your computer before sharing the file. For extra interactivity, you could add a web link on your logo; maybe add your official website or whatever link you consider being important.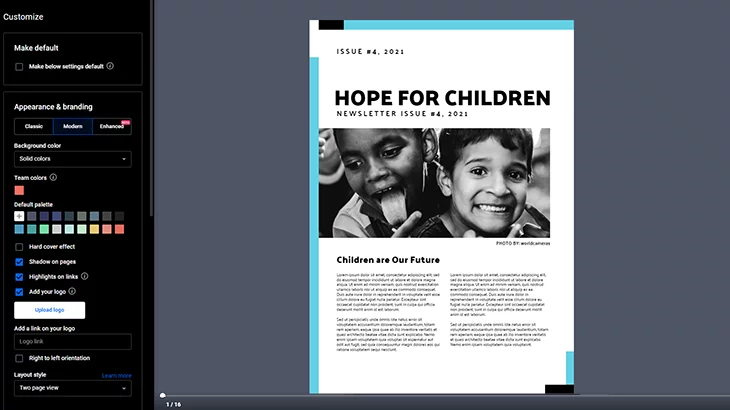 Publish your digital catalog as public or private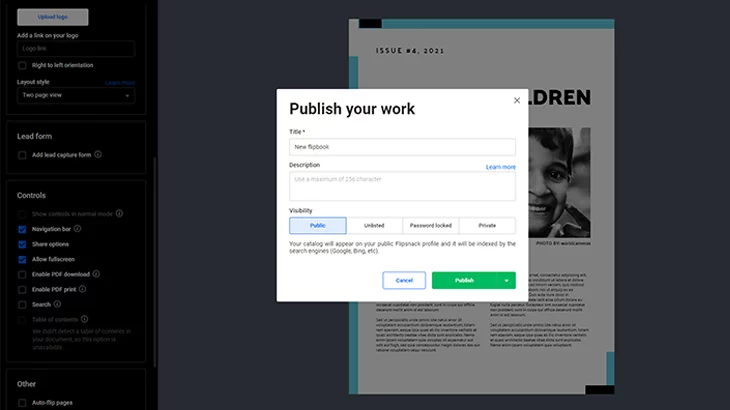 There are different privacy options you can choose from, and each of these options is suitable for different occasions. Click on the link I included to read more about the different publishing options Flipsnack offers, and see which one suits you best. Do you want to password protect it, share it with certain people, or want everyone to access it?
Share the link of your interactive PDF with your customers
Once you are done with the document, all you need to do is share it. We've got you covered here as well, as you can share the PDF via link, via email, on social media, directly embed it on a page. You can even offer a sneak peek of what you've created by sharing the file as a GIF or video.
Reasons to make your PDF interactive
I've provided some information on how to make an interactive PDF, now I want to share the reasons why it's worth the effort to add interactivity to your PDF files. Let's take a look at how an interactive PDF can help you in the following cases.
1. Include virtual tours in your real estate brochures
Imagine you work for a real estate agency and your job is to sell a house. You have an online PDF you share with your clients. It features some text information about the property and some pictures of the house. As far as regular PDFs go, that's what you usually include, right? OK, you might also include a link to your agency, or something similar, but that's about it.
This is where an interactive PDF is suitable for a real estate business. Text and pictures are useful, but imagine the benefit of actually watching a video of the place. Offer some extra information about the property, how it was built, info about the neighborhood, whatever people might want to know.
Or even better, what if I told you that you can include a virtual tour of the property on your PDF? Imagine how beneficial that would be for a customer: visiting each room one at a time, getting a clearer idea of the place. Actually getting a feeling of the house they are interested in buying.
2. Facilitate the selling process for your e-commerce business
Here is another scenario: you own an e-commerce website and send weekly email newsletters featuring your products. Your goal is to make the readers interested in what you offer and then send a list of what they would like to buy.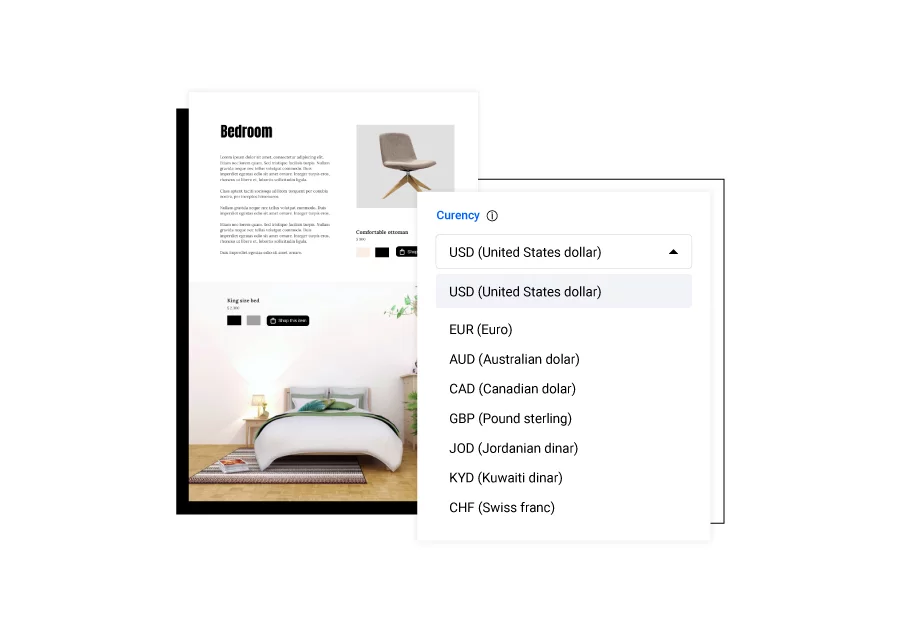 With a regular PDF, there is a lot of back and forth between the catalog and the website, which is counterproductive. The customer has to search for each desired product and then add it to the cart. The process requires a few steps.
I know, maybe I make the process seem like a bad infomercial where even the easiest task seems impossible, but the truth is that nowadays people lack time and patience. If there is a faster option to do something, they will choose that.
With an interactive catalog, you can simplify the process by adding a shopping-related interactive element. Simply place a shopping button or a shopping area on top of the product, and then customize it with the desired product information.
Set the price, currency, quantities, product images, and other useful information. You can also set a click action for these elements: either add to the cart, or a pop-up with the product information you included.
By placing shopping buttons or shopping areas in your catalog, customers can add products to a shopping list, and then download the list directly from the catalog, during the browsing process. The customers stay in the catalog the whole time. Once they have the list, they can send it back to you for a quote, wishlist, or as a shopping order. With a simple button, the process is simplified by a few steps. It might not sound like much, but those steps can make a huge difference.
3. Add extra information in your school presentations
The ongoing pandemic has changed a lot of things, but it probably had one of the biggest impacts on education. Schools across the world were and are still closed in many places, and teachers and students alike were forced to adapt to the situation. It influenced the way students are graded and the way teachers teach.
Instead of taking exams, many students are asked to give presentations. Teaching during lockdown is different, as professors are forced to rely on presentations as well. PDFs are the go-to files for those situations, and making them interactive using an online PDF editor is what sets them apart.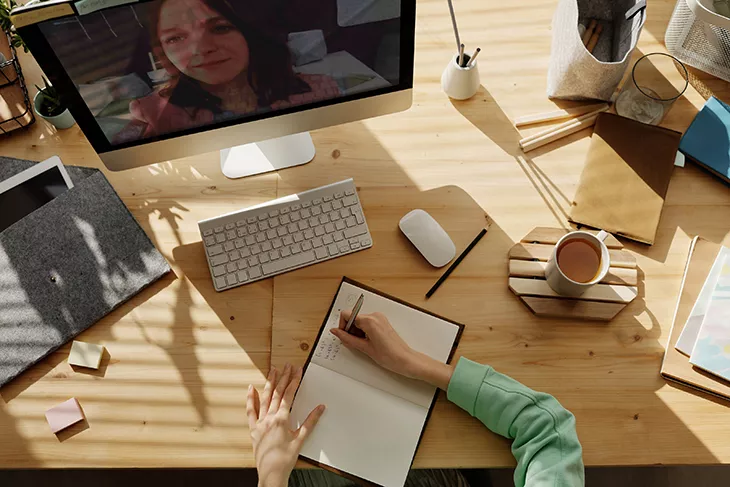 If you are a teacher, you know how easily students get bored. It's difficult to keep them engaged when they are in the classroom; doing so during an online class is even harder. This is where an interactive PDF comes in handy. It offers engagement opportunities. Instead of relying on the old boring format of slideshows with texts and images, you can add audio or video elements to it.
It's easier to get your message across if you rely on such interactive elements. Let's say you give a presentation on an animal. A video of that animal in its natural habitat, seeing how it behaves, is much more educational than a standard picture.
An audio file of a roaring lion offers information a picture can't. The subject of the presentation might be great, but if the delivery is subpar, it won't make a positive impression.
If you need to adapt to times, why not take full advantage of what technology has to offer. If an interactive PDF is an option, why use a regular one? Flipsnack is the perfect online educational tool, and it can be used for all sorts of projects: create newsletters, magazines, brochures.
4. Make your contact details visible in CVs or portfolios
Besides being useful for a business or an educational institution, an interactive PDF is also great for personal use.
You might be a student looking for a job, or a graphic designer interested in landing a future project. What better way to do that than with the help of a neatly-made resume or an impressive graphic design portfolio?
In the article I've just linked, I mentioned the importance of adding social media buttons to your portfolio. The same rule applies when you design your online resume. People lack time nowadays, they are constantly in a hurry. Not everyone might be willing to spend minutes searching for your contact details.
A social media button to Behance, LinkedIn, or a button that redirects to your website might matter more than you think. If you are confident in your work, why not let your possible future employer have easy access to a page which highlights your skills? A video might be counterproductive in this case, but a few contact buttons surely won't hurt.
Let's take a look at what types of publications you can create with the help of an interactive PDF.
What can you do with an interactive PDF?
I've covered how to make an interactive PDF, the reasons for it, now let's see what you can create with one.
Depending on the need and situation, a PDF file can be transformed into many things. It can become a brochure, a magazine, a catalog, and more. Let's take a look at how each of these examples could benefit from interactivity.
Turn plain catalogs into interactive experiences
As I already mentioned, catalogs are a great addition to any marketing strategy. The popularity of traditional catalogs is uncontested, but digital catalogs have great potential as well. For starters, online catalogs reach a wider audience than traditional ones might.
They are also excellent for promoting and selling your products, but offering engagement opportunities to your customers is key. As mentioned, it is essential to streamline the purchasing process; to cut the time between seeing the product and purchasing it. Take a look at the following interactive fashion catalog template which highlights the importance of adding interactive options to your document.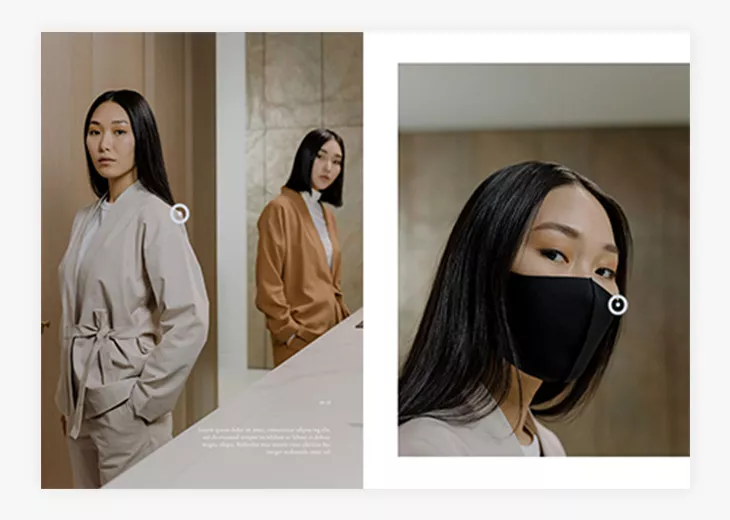 Products have price tag elements attached to them; a click reveals all the necessary information such as title, description, price, and more importantly a link where the product can be bought from. A simple product tag enhances the design, as the data doesn't crowd the page, and it offers direct purchase options.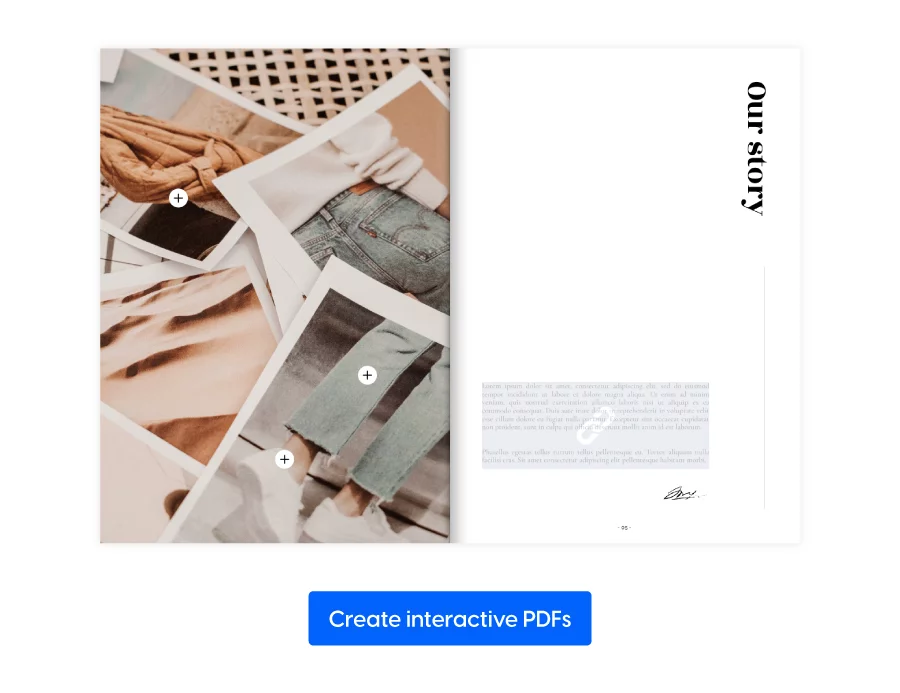 The template also includes captions; these are useful as well. They can contain additional information about the product, a link to similar products, trivia facts. You can use this to add any information your readers might find interesting.
Create captivating digital magazines
Digital magazines are important for online businesses, as the number of people who read printed magazines has been on a constant decline for a while. So what are the advantages of interactive magazines over print magazines?
Accessible – People are constantly online, they can access it whenever they want
Editable – Simply choose a magazine template and edit it to your liking
Interactive – Interactivity enhances the user experience
Magazines can also benefit from interactivity features, and here is a good example. This Flipsnack technology magazine template uses different interactive elements, and each of them enhances the reader's experience.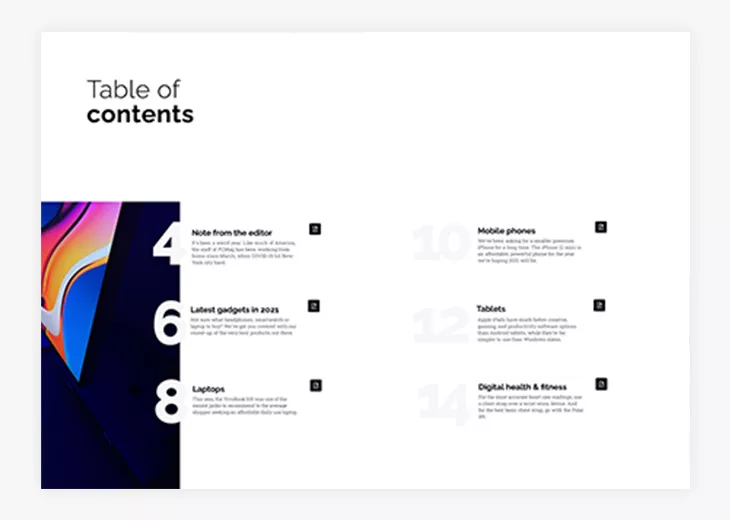 The first page contains hyperlinks for each section of the magazine. Super useful, as maybe a reader is interested in phones, while another one is interested in laptops. This way, each reader can get to the section they are interested in, in an instant.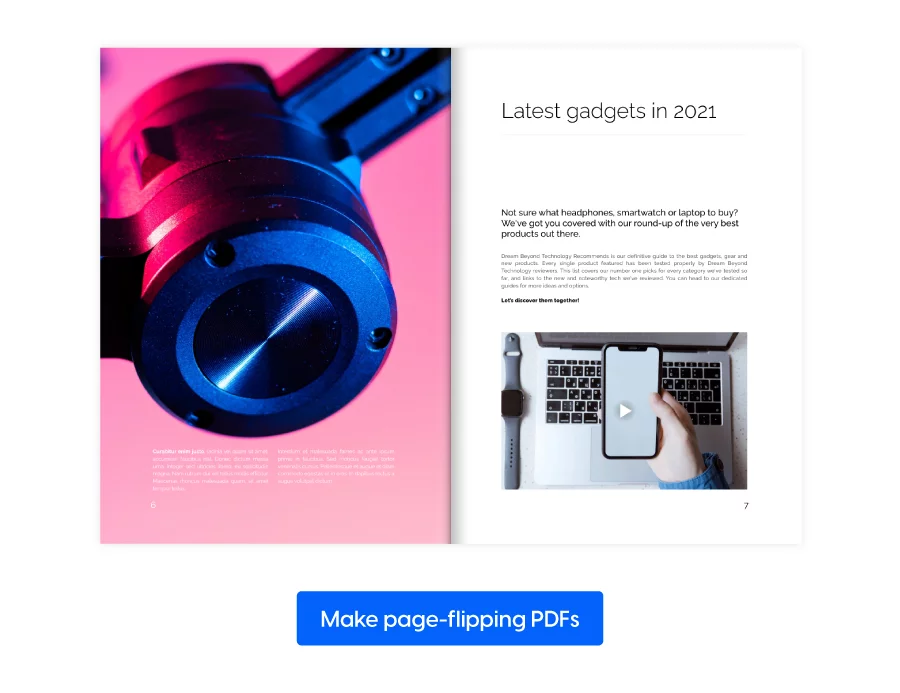 There is a video widget as well, which offers different opportunities. Add a review, key features of the product, whatever you think is worth delivering via video instead of text.
Last, but not least, the all-important social media buttons. If a reader is interested in checking you out on social media, the option is one click away.
Design stunning online brochures
Brochures are a must for any company, whether we are talking about travel, fashion, or real estate agencies.
Unlike a magazine or a catalog, a brochure is smaller. This means that the information needs to be concise and to the point. Whether you design a trifold brochure or a bifold one, it is important to keep the readers engaged and interested.
This is a great example of a brochure that uses interactivity to its fullest potential. Next to the physical address, it contains an embedded map of the location. This makes it easy for anyone interested in making a visit to pinpoint the exact location.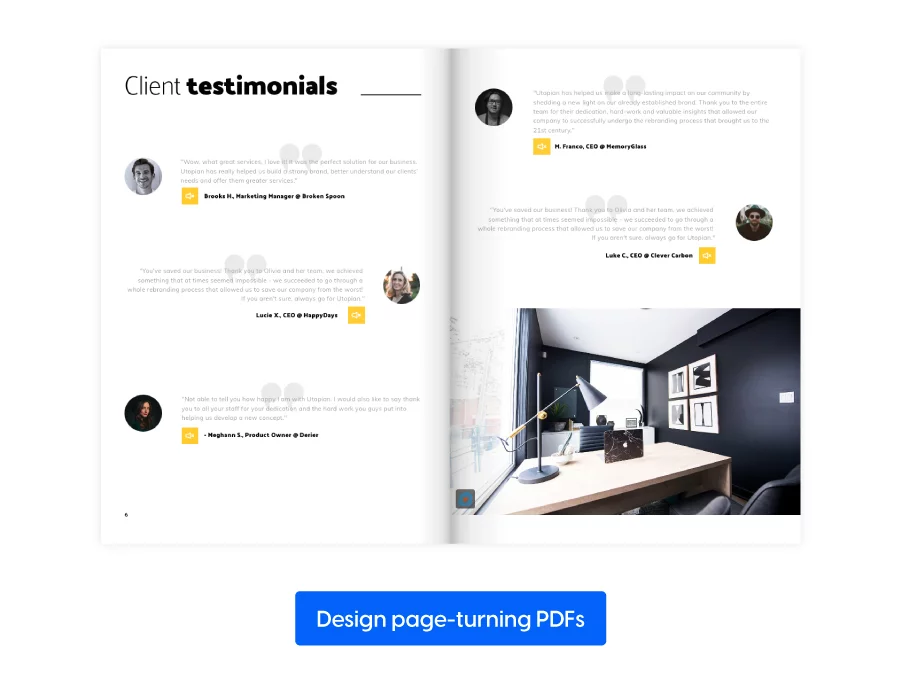 The template also includes client testimonials; both regular and audio ones. Think about the benefits: an audio button allows you to offer much more information than regular text would.
It keeps the design intact, and you can access more information. An embedded slideshow of the building adds that extra touch. It's a win-win situation.
These are just a few of the numerous templates you can use as inspiration for your interactive PDF files.

Conclusion
Interactive PDFs represent a great way to present yourself or your company online. More than that, they create engagement. Through interaction, they allow you to keep your fans and readers engaged and preoccupied.
They are shareable, and hopefully, as I've been able to demonstrate in the article, they are versatile. Think about the different types of publications you can create: magazines, flyers, brochures, catalogs.
They are also perfect for solving a wide range of problems: whether business, educational or personal related ones.
With Flipsnack it's easy to make your PDF interactive; the outcome is professional looking and at the same time entertaining.
What do you think about turning PDFs into flipbooks? Did you try to create such files? How intensive your experience was and how much time did you spend in adding rich media elements? I hope you find my information on how to make an interactive PDF useful.