How to create a digital flipbook the easy way
Flipbooks have become one of the most universal and powerful tools for a variety of industries and uses, and it's never been easier to create a digital flipbook.
The history of flipbooks is a rich one, but it's not all digital like it is today. In fact, the first flipbooks started out as entertaining drawings. The term "flipbook" came from the action taken where you literally "flip" through the book and watch the images change ever so slightly from page to page. This would create an illusion of movement and made for some pretty advanced entertainment at the time.
That being said, today, flipbooks have changed drastically over time, and we're going to be talking about how to create an HTML5 flipbook. Regardless of what industry you're in, or even if you want to make a flipbook for personal use, this guide will have you covered.
What are the advantages of a flipbook?
Think of digital flipbooks as your most versatile marketing tool. Starting from a PDF or from scratch, you can create a digital flipbook and customize it to be essentially anything you need or want them to be. Magazines, brochures, flyers, presentations, and even internal communications documents. You might want to share your PDFs safely or make them interactive. Everything is possible with a flipbook maker.
Flipbooks of all shapes and sizes have helped a variety of people in a multitude of ways. For example, a wholesaler might create a catalog for all their various items and add interactions to help customers decide what to buy. Or maybe a real estate agent creates a brochure for a new house that's on the market, and adds videos of each room to really depict how nice the house is.
The truth is, anyone can find a good reason to use a digital flipbook. Flipbooks can help you save money, they're easy to make, fast to edit, and the sharing options are seemingly endless. They are the perfect solution for anyone looking to make any sort of content online or offline.
The benefits of digital flipbooks based on industry
To really understand why you should create a digital flipbook, and how powerful they can be, let's look at some examples from various industries. We mentioned real estate just above, so let's start with an example from that industry.
Real estate brochure flipbook example
A lot of people might think that a brochure is just one or two pages. In actuality, brochures can be as long as you need them to be. Thanks to this newly-found length, brochures provide the perfect medium for showing off in the real estate industry.
For example, let's say that you have a property listing that has an incredible view, but it really doesn't show up well in a static image. With a digital flipbook, you can insert video to really capture the right perspective. Or, if you prefer to avoid video, you can add a photo slideshow to give each little detail of the house or property the podium it deserves.
With a digital flipbook, you can even brand your materials so that you really stand out in the industry. Insert your colors, logos, and contact information so that people know exactly who you are and how to contact you.
Wholesale catalog flipbook example
Flipbooks are a quick and easy way to display your wholesale items. Instead of publishing and printing new, printed catalogs every time you need a new one, flipbooks can be created, edited, and updated under the same link when they're digital.
For example, in Flipsnack, you can utilize what we call the Shopping list feature. Instead of customers browsing through your catalog, making notes of everything they want, and sending the details to you, they can create a comprehensive list right from the catalog.
Beyond this feature, retailers, wholesalers, and any type of seller can use catalogs through Flipsnack to create, edit, and easily distribute. Add product tags, captions for each item, links to helpful content, spotlight images to help certain items really stand out, and much more.
Business presentation flipbook example
Not every flipbook needs to be used externally. In fact, one of the main reasons people create a digital flipbook is to be shared internally exclusively. Internal business presentations can be taken to the next level with all sorts of interactivity, and easily shared later digitally. Presentations are all about engagement and keeping the attention of the attendees. Flipbooks are the perfect platform for doing just that.
Using a digital flipbook as your medium for a business presentation helps in many ways. Because of the level of interactivity that you can inject into your flipbook, you can increase engagement with little to no effort. On top of that, you can use Flipsnack statistics to see what your colleagues are engaging with, and more importantly, what they aren't.
Project status report flipbook example
With a flipbook, you can even take your business and project reports to the next level. Adding interactivity can greatly increase the engagement levels of your readers, which is very important for a project report. Simply by adding high-quality visuals, nice videos, and internal links, and laying it all out in a colorful and aesthetic way, you can really draw in the attention that you need.
If you're working on multiple projects at once, you can easily create multiple workspaces to keep all your documentation separated. This also gives you the ability to give other people access to certain workspaces. This will help you further organize your projects and keep everyone on the same page with ease.
Medical and healthcare brochure flipbook example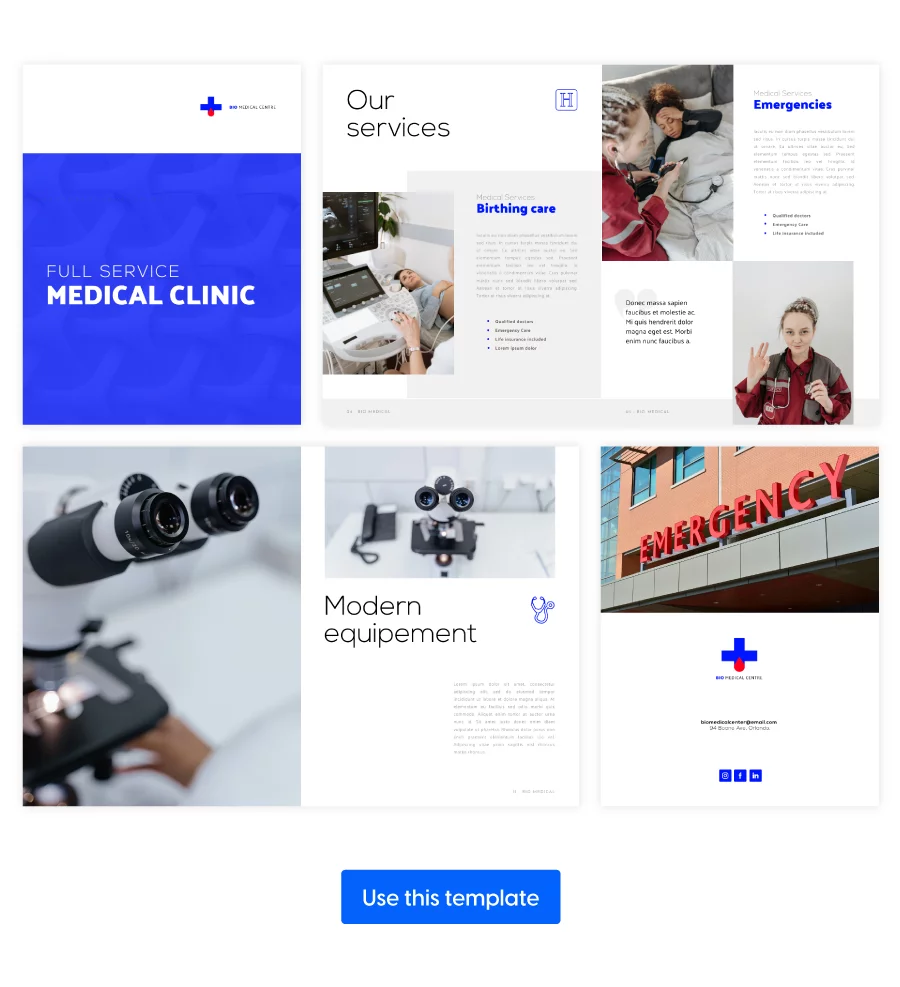 Flipbooks aren't restricted to pure business. Sometimes they can be used for medical knowledge and education. Take this brochure as an example. Using the digital flipbook design, you can easily integrate all kinds of helpful content to keep your patients informed.
Adding interactivity in your medical brochure means that you can insert videos, images, and virtual tours of your medical facility. This can help new patients easily navigate when they come to visit you, and adds that extra level of care that many people are looking for.
Taking your medical brochure to the digital world means that you can quickly edit and update information as it comes out. Instead of having to recreate a whole new brochure (like you would have to do if it were printed), you can simply make the edits and have them updated in real-time. No need to resend any links, update any embeds, or send out another mass email.
Freelance graphic designer portfolio flipbook example
If you're working freelance, then a flipbook can be your best friend. Take this portfolio for a graphic designer as an example. Instead of spending all your time keeping your clients updated on prices and packages that you offer, you can create, edit, update, and share all in one place.
Truthfully, photographers, graphic designers, content writers, and anyone else working freelance can create a digital flipbook and use it to their advantage. In a world where competition is high, standing out from the crowd could make a huge difference. Inserting interactions like videos, GIFs, and hyperlinks is a quick and easy way to really be unique. Add to that the fact that you can create and share quickly and in the same place, and you have a winning combo.
As you can see, flipbooks can be used for a variety of different purposes in business. They are adaptable, editable, easy to share, and highly interactive. This makes them the perfect candidate for anything and everything to do with business marketing, advertising, and both internal and external business communication.
But let's say we're starting from the very beginning. What would that look like? It all starts with a PDF! Let's jump into a step-by-step guide on how you can create a digital flipbook.
How to create a virtual flipbook with Flipsnack
Over the years, many people have found and created ways to create a flipbook animation online. None of those ways, however, quite meet the same standard that Flipsnack does. Flipsnack is the fastest PDF converter on the market, and it offers some incredible interactive options.
But let's not get too ahead of ourselves here. Interactivity will come a little later. For now, let's start with step one.
Step 1: Create your own PDF
The first step to create a digital flipbook is creating a PDF. There are plenty of tools online to help you with this process. Some are paid, and some are free. Even if you aren't a designer, typically this process is pretty straightforward. One of the most popular ones that comes highly recommended if you create PDFs often is Adobe.
Microsoft Word and PowerPoint documents can be exported to PDF. So do Pages, Keynote, and Open Office documents.
Just go to File – Export as PDF or Save as -> PDF.
Another great, free option is Google Docs. In recent years, Google tools have pretty much taken over the internet. They have completely changed the way we all work online. Fortunately, anything you make in a Google Doc can be exported as a PDF and uploaded into Flipsnack.
All you have to do is click on File – Download – PDF Document (.pdf)
To be honest, there are tons of free options for creating a PDF nowadays. Some are more comprehensive than others, but they all basically have the same level of capabilities. Try out a few and see which ones you like the best.
Step 2: Upload your PDF
With Flipsnack, you can choose to upload a single PDF, or in bulk if needed. Since we have the fastest flipbook PDF converter on the market, this will take no time at all. If you so choose, you can also start from scratch, curating every little detail to meet your needs.
To start, simply click the blue, Upload PDF button from your Flipsnack dashboard. From here, you can drag and drop your PDF or select it from your existing files. Need to upload multiple PDFs at once? Click the drop-down menu on the blue CTA, and select Bulk upload.
Step 3: Make it interactive
The beauty of Flipsnack's Design Studio is that you can take boring, static PDFs and add a little spice. Your report, catalog, brochure, or whatever else you decide to upload will go from a still image to a flippable experience. Add videos, GIFs, links, iframe widgets, and more, all for the sake of making your flipbook more engaging and less boring. Our drag-and-drop editing process makes quick work of any changes you want to make.
This is where your flipbook will really start to take shape. Real estate agents might want to upload 360 video tours along with the home descriptions of their listings. If you're a retail store looking to increase your sales, you can add product tags over each and every item, minimizing page clutter and maximizing customer engagement.
Remember when we said that anything is possible with flipbooks? We really meant it! Adding interactions makes you stand out and entertains and engages with viewers at the same time.
Step 4: Publish your work
Once you create a digital flipbook, you have four publishing options at your disposal. All of them come with their own perks, and are as easy as a simple click to implement. Publish your flipbook publicly or privately in an instant.
First, you have public. This is the default option, and it will make your flipbook available on your public profile and have it indexed in search engines.
Next, you have – unlisted. This removes it from your public profile and prevents it from being indexed. Users can only access an unlisted flipbook via direct link.
After that, you have – password locked. As you can probably guess, this makes it so that a password that you set is required before viewing the flipbook.
Finally, you have the option to publish your flipbook privately. This makes it to where you can share your flipbook with specific people only. Selecting this option and then inputting the email of the user will allow them to view the flipbook at any time. It should be noted that this permission can be revoked at any time.
Step 5: Share your new flipbook
Beyond your publishing options, you have a multitude of ways to share your flipbook. Want to embed it on your website? Copy the embed code and have your flipbook readily viewable for all to see on your homepage. Share it through social media, email, or a direct link. It's all possible.
For businesses, being able to share flipbooks and their contents in a variety of ways is important. You have to meet the audience where they're at, otherwise, your content will get lost in the noise of your competition.
What's also important is the ability to make changes to your flipbook and not have to resend a link. With Flipsnack, once the link is sent, all you have to do is make and save any changes that you wish to make. The link that your audience already has will automatically be updated.

With just a few easy steps, you can create a flipbook from essentially nothing. They are such versatile and powerful tools that have quickly become a staple for many people, business and non-business related.
Digital flipbooks have been an easy solution for tons of people in a variety of industries. But, if still have a few questions, then take a look at a few of our FAQs.
How does a flipbook work?
Think of a flipbook as a normal book, just in digital form. The pages turn the same, and you can create whatever kind of content you want for any application.
How to create a flipbook video?
With Flipsnack, you can create a flipbook and download it as a GIF. Anyone who views the flipbook will see the pages turn as if it were a video or movie.
How to make a digital flipbook with photos?
With Flipsnack's Design Studio, you can upload any images you want, and drag and drop them directly into your flipbook.
How to make a flipbook animation on the computer?
Flipsnack is the fastest and easiest way to make a flipbook animation on your computer. Within minutes, you can go from nothing to an interactive masterpiece that engages your audience.
How to make a flipbook online free?
Flipsnack offers a free trial for all new users. Freely create, edit, and test a load of incredible features that will help make your flipbook truly one of a kind.
Get started and create a digital flipbook today
What can we say about flipbooks except that they are extremely useful? Both in business and for personal use, you can use a flipbook for just about anything. Make business reports, or birthday cards. Create a catalog for your retail business, or create a magazine to discuss something that you're really passionate about.
All-in-all, flipbooks have gone from something that was simple entertainment 150 years ago, to something that businesses rely on and individuals use to express their creativity.
If you're not currently using flipbooks in your business, or you're just looking for something better, then there's absolutely no place like Flipsnack. Not only are we the fastest flipbook PDF converter on the whole market, but we offer insane amounts of interactivity and customization options that you just won't find anywhere else.
Use this article as a guide to how to create a digital flipbook, and feel free to reference it whenever you want. Take your business ventures to new heights, ditch the static PDF, and look good while doing it – with Flipsnack!