How to create a digital flipbook (3 easy steps)
So you're ready to create your first flipbook and you need some help learning how to make a flipbook animation. Before I tell you all the steps you should follow to create the flipbook, we'll have to do a little disambiguation. There are 2 very different types of flipbooks, and I don't know which one is the type that you want to create.
A flipbook is basically a little printed book that contains a series of illustrations that create the illusion of movement when your flip the pages really really quickly. Unfortunately, I can't teach you how to make a flipbook animation using illustrations on paper.
A digital flipbook refers to interactive digital publications that copy the look and feel of an actual book in the online environment and have a page flipping animation. It is equally amazing and a whole lot easier to create, in my opinion.
Now that we've cleared that up, we can talk about your digital flipbook, and I'm eager to tell you everything you need to know about page flip animations and making a flipbook from your computer.
Where to start?
Most digital flipbook makers on the market support PDF upload. If you already have the PDF ready on your computer, it should be super easy. But what if you don't? The good news is that your can either:
create the PDF yourself, which is an easy task, or
proceed without it. I'll show you how to make a flipbook online from scratch, because it's very simple.
How to make a digital flipbook
There are many online apps you can use to create a digital flipbook from PDF: Issuu, Yuduu, Flipsnack and more. We recommend you to use Flipsnack to convert PDF to flipbook because it has a few features worth mentioning: no ads or related publication, it supports rich media (in-flipbook videos, audio and more), seamless upload and quick conversion.
Let's talk about how to make a flipbook animation, because that's what you're here for!
Here's what you should do to create a digital flipbook with page flip animation:
Create an account or log in to Flipsnack
Flipsnack is the fastest flipbook software on the market! It's very very easy to use, and you don't need any tech knowledge to make a flipbook animation.
You can create an account for free and even publish the first 15 pages of your digital flipbook for free. Give it a try!
Upload file or create the design
The next step is to produce the content: – upload your files – You can upload PDF or JPG files directly, or – create from scratch – If you decide to create from scratch, this video tutorial might help you. It shows just how easy it is to make a digital flipbook without PDF.
Publish
Now you just need to publish your work in order to flip PDF pages and get an animated brochure. Just before you publish you'll see a preview and you'll be able to make adjustments as needed. That's pretty much it!
The end result in an interactive PDF. Turn pages like a book, like a real book, using our free page turning software!
Here's what a published flipbook looks like:
And this, my friends, is how to flip a PDF!
How to make a PDF document
The most well-known PDF-creation software is Adobe Acrobat Pro, but it doesn't come free of charge. If you have it installed on your computer, I'm sure you already know how it works. Another professional tool that is great for flipbook magazines and digital catalogs is InDesign. This is a premium tool that's worth the money, but you will have to invest some time in learning how to use it. If you already master InDesign, here's a free brochure template that might come in handy.
Fortunately, there are other options. Free even.
Microsoft Word and PowerPoint documents can be exported to PDF. So do Pages, Keynote and Open Office documents.
Just go to File – Export as PDF or Save as -> PDF.
With all of these tools you will be able to use text, images and even page colors. If you're a creative person you will definitely be able to produce a PDF that looks good. I'm not a designer, but I've managed to make some decent looking brochure type documents using only Word.
Here's an image of a PDF document that I created from scratch using just Microsoft Word: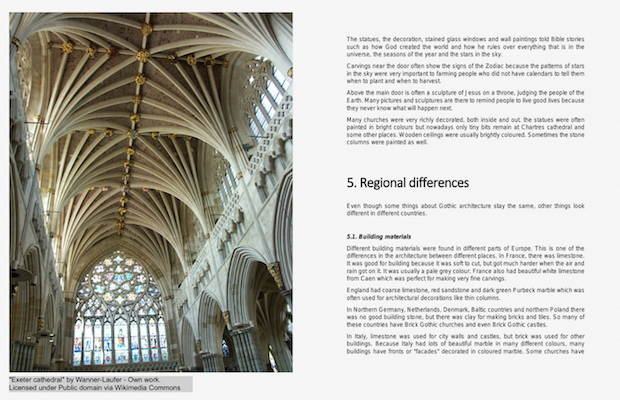 You can easily make some simple, clean layouts using basic document editing tools.
If you don't have of the tools mentioned in the previous paragraph, you can use an online service to create your PDF. A great free app is Google Docs. Simply log in with your Google account and create your document. Once you're finished, go to File -> Download as -> PDF.
How to make an animated flipbook without PDF
Let's assume that you can't/don't want to use any of the services I have mentioned. You can still create a digital flipbook from scratch using Flipsnack, because it features a content editor that helps you create a HTML5 flipbook publication from scratch.
You can choose from a collection of over 150 editable page templates, and you can mix and match them however you want.
Now you know how easy it is to make a digital flipbook with Flipsnack. Give it a try and you'll see the effect the page flip animation has on your online publications! It's so stylish and professional, that you're going to love it!