Standard brochure sizes for print
Planning to make a great brochure design, but you're still confused about the different standard brochure sizes for print and all the folding types? 
For many of us, brochures and flyers are pretty similar. And they are. Up to a point, though. So, in case you searched online and stumbled upon this article, thanks! Please tag along. I'm going to explain all the main differences between flyers, brochures, and pamphlets.  

Because determining the size of your brochure, flyer or pamphlet is the first step you need to take, even before deciding on the number of pages and before you start working on the design, it's crucial that you determine this right from the very beginning. Yes, it's that important. So take this article as a reference to use when you design the next brochure you want to take for print. 
Also, feel free to bookmark or pin any image you find helpful.
What is the purpose of a brochure?
Brochures are a great way to advertise a campaign, get the word out about a new product, or to inform people about an event. I'm sure you've received many brochures throughout your mall visits, so you know what I'm talking about. But if we were to be honest, you probably didn't even bother reading them if something didn't instantly catch your attention.
To simplify, the purpose of a brochure is:
to promote a sale or a product
to advertise an event
to present services
to inform or educate people about specific topics
to have them as reference materials
Depending on your marketing goals, you have to think about your target audience and what message you want to send. Before you even get started, think about how you'll use brochures in your marketing mix. This will help you figure out how much information you need to display in your brochure, so you'd better think ahead in order to choose the right size, design, and folding type.
Maybe you have an event coming up, and you need to make some fantastic event brochures to advertise it and hand them to people on the street. Then, you should go for big, bold headlines and stunning imagery to instantly catch attention. For a real estate company looking to advertise all their properties, designing a trifold brochure may be the best idea because of all the space you have within. For more info on trifold brochures, check out the short video below.
Let me just tell you that flyers and pamphlets are also part of the large brochures family. However, they are called different because they have other sizes and purposes.
But do you actually know the difference between brochures, flyers, and pamphlets? Let me briefly explain.
The difference between brochures, flyers, and pamphlets
Like most people, I didn't know the difference between brochures, flyers, and pamphlets. Mainly because they have quite a few similarities, I guess. But, they're not that complicated.
There are two differences between brochures and flyers:
A flyer offers little space for sharing information (one page) and is often used to promote events or discounts, while a brochure gives enough space to include information and a lot of images.
Another difference is that brochures come in various sizes and foldings, while flyers are a one-page document (front and back).
An interesting fact is that flyers have a short life, while brochures can be around for long periods of time. For example, think about the brochures you usually find at the medical clinics or at the dentists. I'm sure you've seen some.
Most of these brochures are educational materials that inform patients about new treatments or about various diseases. Like "How to treat…" or the ones starting with "Did you know that …?". These kinds of brochures will prove to be quite helpful because you can keep them around for long periods of time, due to their informational nature.
Here, I'll give you a brochure template example you can use.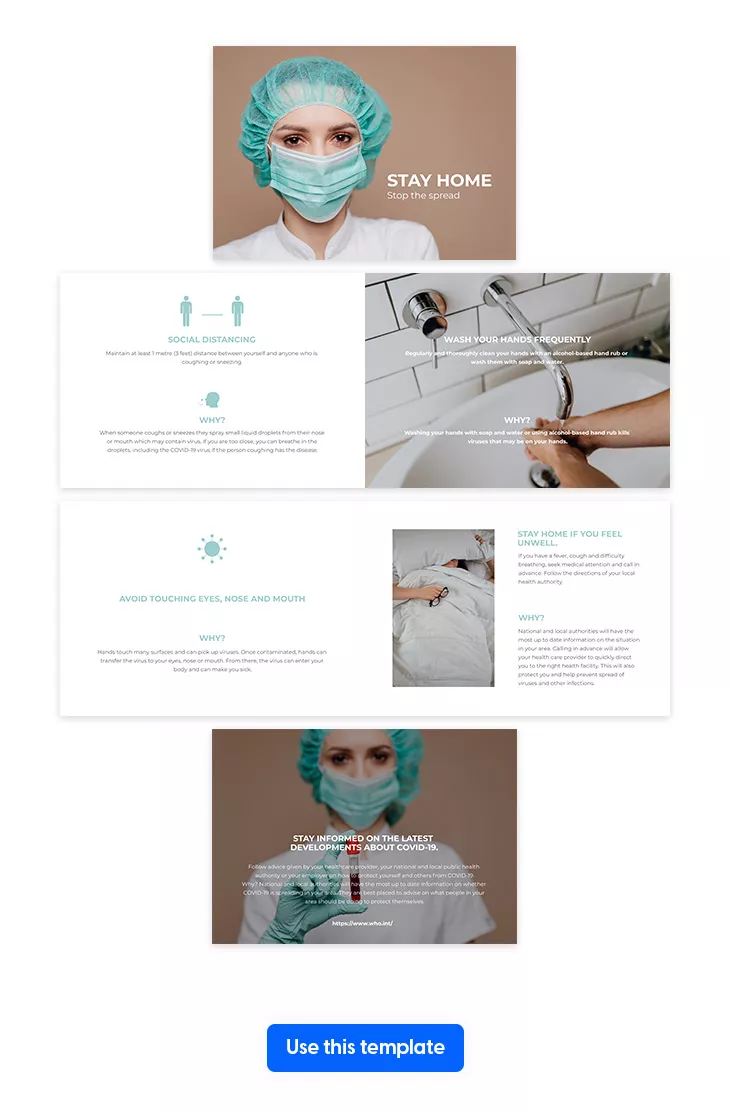 Moving on, a pamphlet is basically a brochure, but a short one. They don't usually have many pages and are used because the information was too long to make it as a flyer or too short to be a brochure. If this sounds confusing, it really isn't. Let me explain.
The difference between brochures and pamphlets is:
The content information in pamphlets presents and describes one topic. Even though the information might be shorter than in a brochure, you'll notice that everything is more focused.
The second difference is related to the purpose. Pamphlets are used to inform and educate rather than to sell.
When to use brochures, flyers, and pamphlets?
Now you already have a clearer vision of what I'm talking about. But let's see how you know when to use each.
There are certain guidelines to follow when you think about choosing a brochure over a flyer or a pamphlet and vice versa.
Sometimes, you think that a flyer presenting your new clothing line would be a great option, but you'll soon realize that it may be too small to include all the information and pictures. On the other hand, it might be a great idea to design a flyer when advertising a mid-season sale.
As I previously mentioned (and I'll probably repeat it), you have to start with the purpose in mind and then choose the brochure type you want. Pamphlets, for example, are great for educating and informing people about a single subject. But if you want to talk about each service you offer, or to address more topics, then choosing a brochure is the best option.
So, I'll make it easier for you to understand when to use brochures, flyers, and pamphlets.
Use brochures when you need to:
Have them as references materials
Promote/advertise products, services
Educate your audience on various topics
Have more pages and printing options
Use flyers when you:
Use pamphlets when you:
Educate people about a certain topic
Describe a service or an event
Inform rather than sell
Again, it's all up to the scope of your brochure and the message you want to send. Now you see why is that so important, right?
Tip: Keep in mind the purpose and the longevity you want your brochure to have. After you have decided on these steps, you can pick the brochure type you're going for.
Standard brochure sizes for print
Now that you've decided on the message and you got it all laid out let's take a closer look at the standard brochure sizes for print.
But before getting started, let me shortly tell you about the folding styles you can choose from when you make a brochure for print.
The most common brochure folding styles are:
Half-fold
Tri-fold
Z-fold
3-panel gatefold
Roll-fold
4-panel accordion fold
Tip: Pick the folding style and the size right from the beginning. It will be easier then to achieve a stunning brochure design according to your folding choice.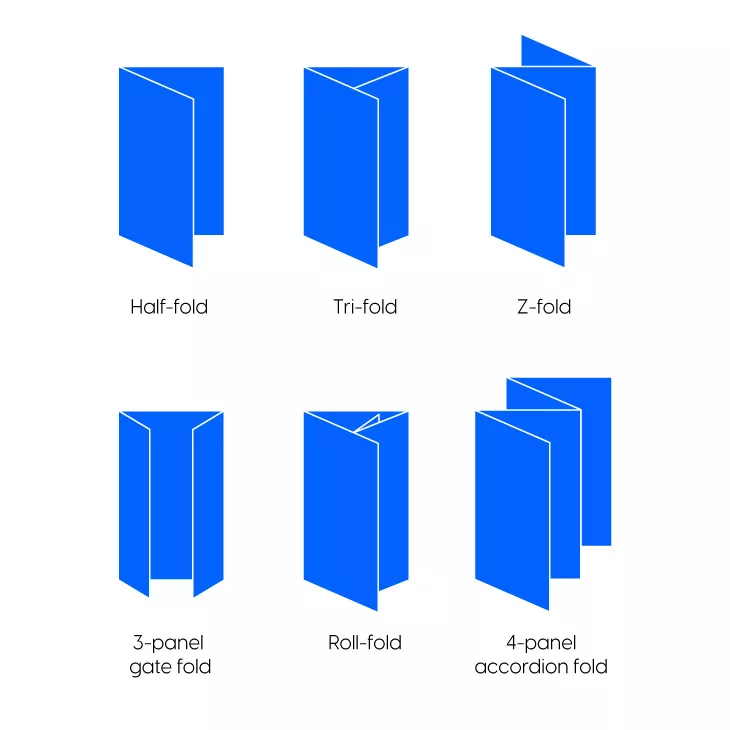 Now let's go back and see what the standard brochure sizes for print are. Because brochures come in all shapes and sizes, it might be challenging to remember all the standard dimensions for brochures in inches or millimeters.
Another issue is the difference between American/Canadian brochure standards (ANSI) and the International brochure standards (ISO 216), which specify the sizes used in most countries.
That's why I did the legwork for you, and I'll give all the details you need to know about standard brochure sizes for print. I'll also offer you some templates that you can use as a starting point.
Wonder why you should use templates? Well, not only do they offer design ideas, but they also have dimensions and bleed already established. So you don't have to worry about this step anymore. And with Flipsnack, you can save it directly for print which means that you'll have the best quality possible for your brochure. Trust me, your files will be ready to be handed over to your printer within minutes.
And now let's see the International and USA/Canada sizes for brochures: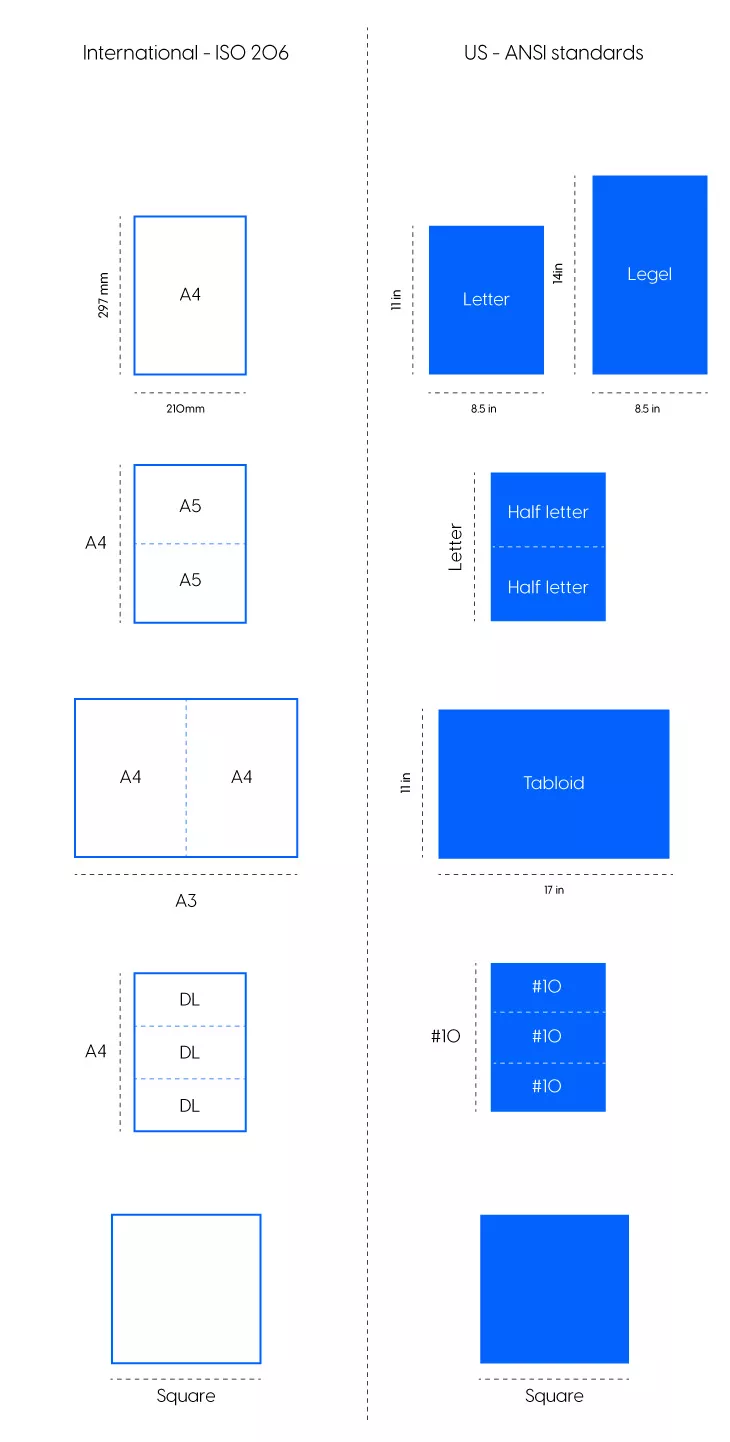 Standard brochure sizes for print
– International
A4
Paper size: 210×297 mm or 8.27×11.69 inches
A4 is one of the most common standard brochure sizes for print that's used everywhere, and it's the equivalent of the Letter size. It's suitable for various types of publications. A4 paper size provides a generous canvas for design, so you can pack a lot of information even on a single sheet of paper.
Let's say you have a travel agency, and you want to advertise a destination. With Flipsnack, you can easily highlight destinations using free travel brochures. Take this template as your starting point. Just make sure you add your beautiful images and some really cool tourist attraction ideas. Click on this template and edit it in our Design Studio. I promise you the whole process is easy with just drag and drop.
Also, this dimension is suitable for this type of content because, as you can see in the template, it offers enough space to include big images and texts without being too heavy on the eyes, right?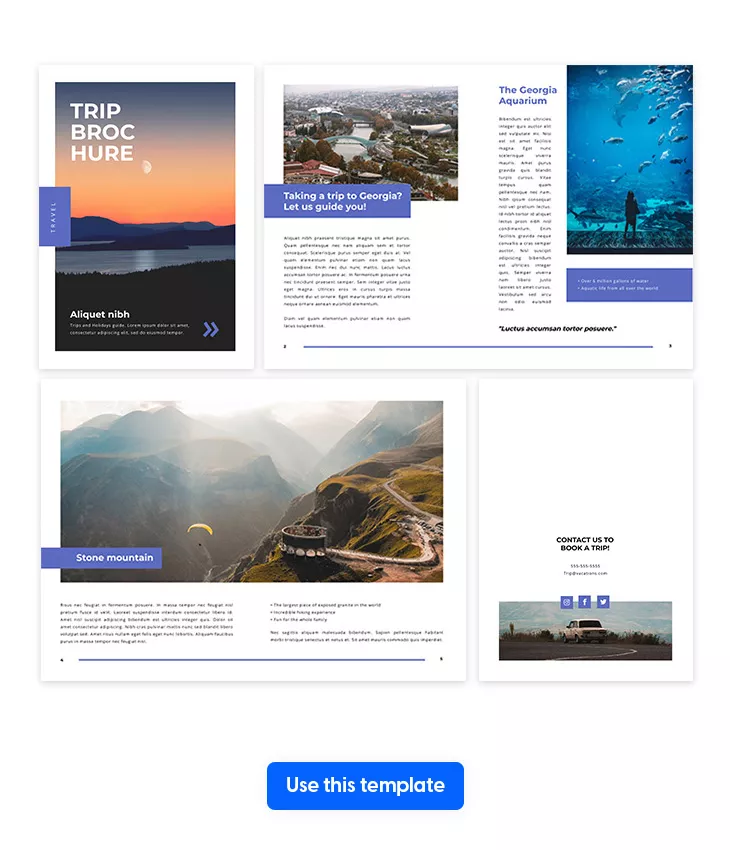 A5
Paper size: 148×210 mm or 5.83×8.27 inches
If you split an A4 in half, you will get the standard A5 paper size. The exact dimensions are listed above. It can be used as it is, or you can fold it in half to get a small bi-fold brochure.
Even if this template is the A4 size, I am going to give it as an example that you can easily use. If you want to make a stunning travel brochure with a lot of eye-catching images that speak for themselves, do yourself a favor and pick it up. Add the most relevant information tourists might need and let the photos stand out. You know the saying "A picture is worth a thousand words," right? So when you have professional images to use, go for it! Customize this template with your brand's logo, images, descriptions, and contact details. When you're done, you can fold it in half, and you'll obtain a stunning bi-fold brochure design ready for print.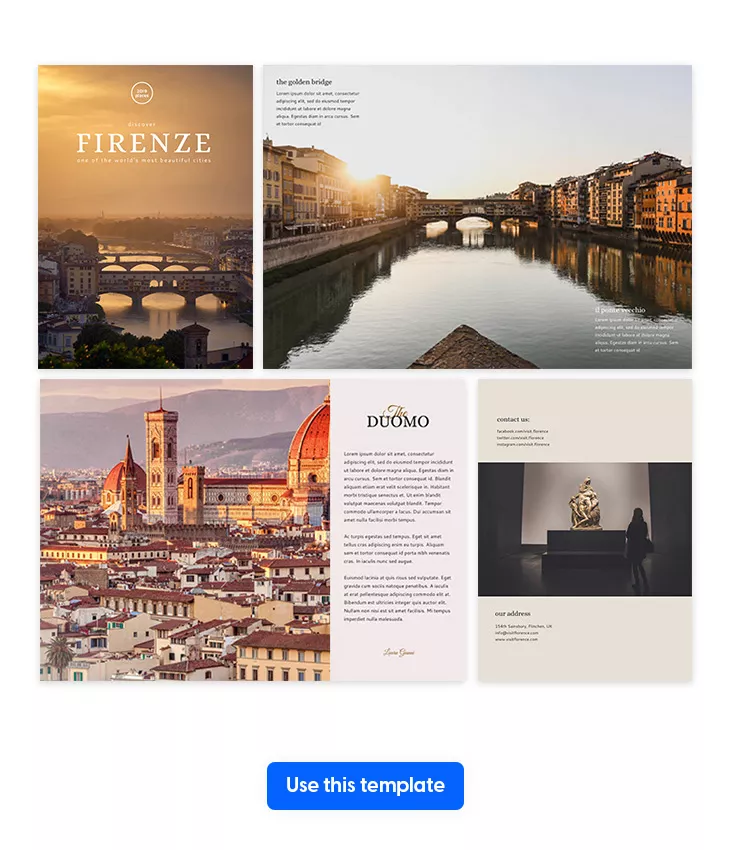 A3
Paper size: 297×420 mm or 11.69×16.54 inches
The A3 is double the size of the A4. It's commonly used for printing double layouts for catalogs and magazines because you get 2 A4 pages out of one A3 sheet of paper. This size makes the perfect canvas for posters as well.
I know it takes some practice to figure out the anatomy of a good brochure design or what are the best typography fonts to use. But, don't worry, it's not rocket science. I encourage you to do a little research before you actually start designing, and you'll be good to go.
DL
Paper size: 110×220 mm or 8.66×4.33 inches
DL stands for dimension lengthwise. The size is a 3rd of an A4. It's very often used for promotional flyers/brochures. Printing a DL flyer is cost-effective, so if you have a huge flyer order for an event or for promoting a sale, you should consider a small flyer.
The flyer template below is probably one of the best examples of flyers I could give you. It's an event flyer that advertises an annual charity event. The design is very much related to the purpose of the flyer as it uses images that best represent the cause. Even if it's a text-heavy flyer, it doesn't seem overwhelming.
When editing this flyer template, make sure you add your images and text, but don't forget to specify all the important information participants need to know to attend your event. Add the date, hour, and place.
You can use this flyer template for any type of event because everything about the layout and design is fully editable.
Standard brochure sizes for print
– US and Canada
Letter
Paper size: 8.5×11 inches
The letter size is widely used for business and academic needs all over the North American continent. The page is slightly wider than the standard A4 and shorter, lengthwise.
The thing about brochures is that they can be a perfect way to advertise any type of business. Like this elegant car brochure template that's perfect to showcase some new cars for a car dealership business. It has a stunning design that's very close to a magazine about cars, don't you think?
If you like it, you should know that our Design Studio awaits. Play around with colors and different design layouts on some pages to give it the desired look for your business.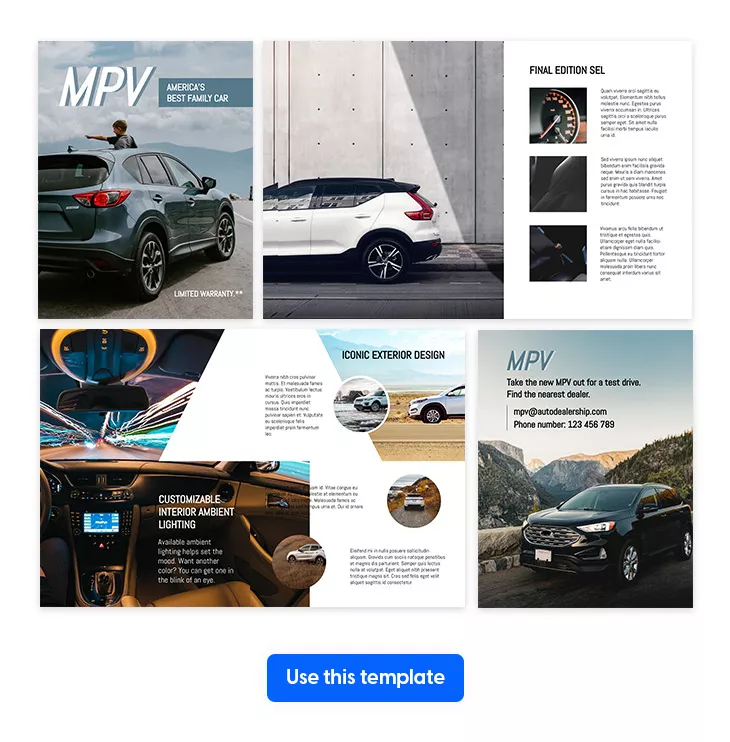 Legal
Paper size: 8.5×14 inches
The legal format is used for legal documents such as last will and testament, living will, power of attorney, the different types of trusts, health care proxy, advance directive, and others. Has the same width as the Letter size, but it has a bigger height. You can customize this dimension in Flipsnack.
Half letter
Paper size 8.5×5.5 inches
No need to go into details regarding the size because the name says it all. Half letter brochures are used for a variety of purposes.
Tabloid
Paper size 11×17 inches
The tabloid is similar in size to the A3, so it is used for posters, small-size newspapers, and – as the name suggests – magazines. You get 2 letter pages out of one tabloid sheet.
The template below has the tabloid's dimensions, but you can get a bi-fold brochure if you print it. It presents a photographer's work and services, but you can add your stunning photography. You can also add social media buttons near your contact details to achieve a more professional look.
Even if you start with this template, you can easily change it in any way you like with just a few clicks. Improve the design or change its purpose by going for a different layout. Everything is at your fingertips.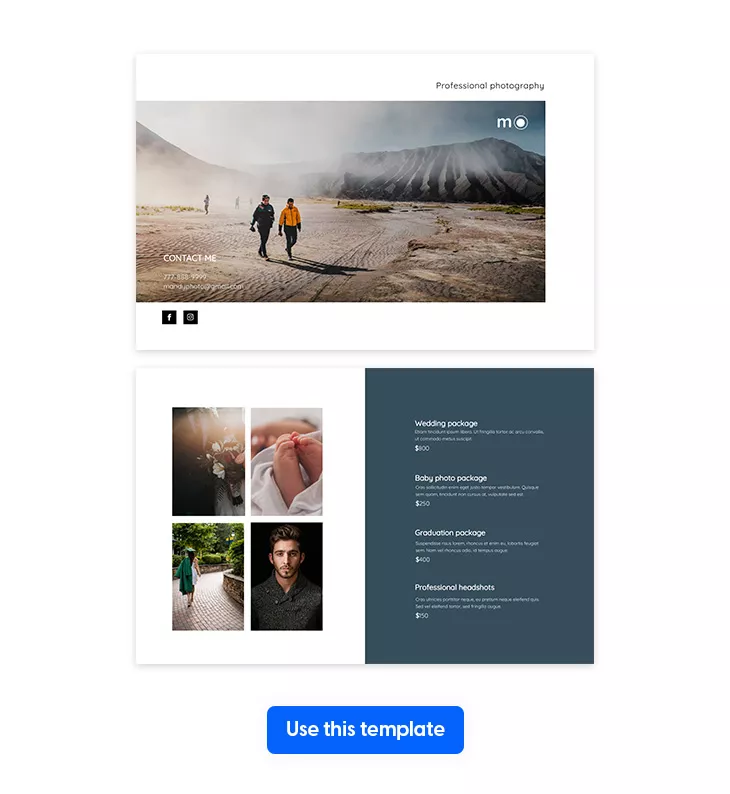 Rack cards / Envelope size flyers
Paper size #10 Envelope 8.5×3.67 inches
If you want to print out a DL flyer in America, you won't have much luck. But if you make an inquiry at your print shop for envelope size flyers, they will know exactly what you need. Ask for a flyer size that would fit a #10 envelope. 8.5" x 3.67" would be perfect.
Rack cards are a great option if you want to include different types of content in the same brochure. Like in this black and white flyer template, for example. You get to advertise a discount while also presenting services and features. Here each panel is used to serve a different purpose.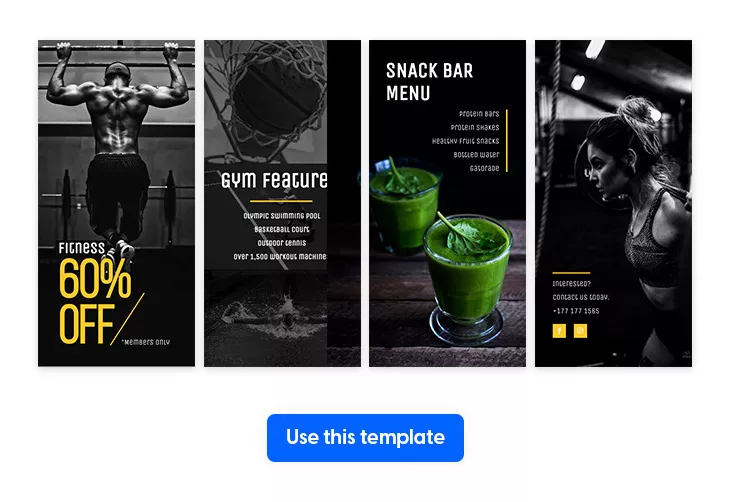 Square
The square shape works well for all various brochures and booklets. Because there isn't an International size standard for square brochures, the size often varies. Many printing houses all over the world offer the option to print a square flyer, so it's best to contact the printing house to inquire about the best size for your design. The unusual shape makes the design stand out.
Just like in this classic spa brochure template. This type of brochure lets you integrate photos and texts while keeping everything minimalistic and elegant. You can transform this template according to your needs. Don't settle just for replacing images and texts. Go beyond and let your creativity flow.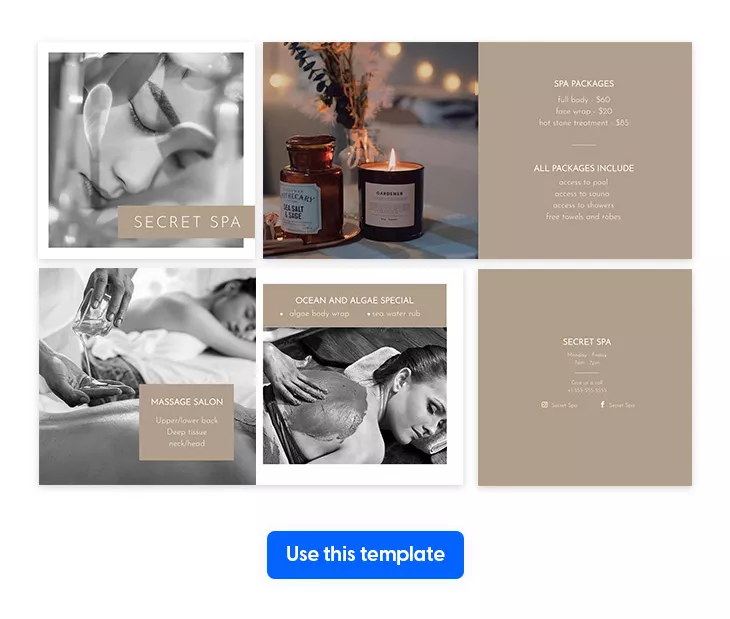 Designing for print tips & tricks
When you design a brochure for print, you need to consider several other things apart from the standard brochure sizes for print.
The number of panels – Visualize how the end product will look both folded and opened.
Printer marks – Don't forget about crop marks and the bleed area.
Color model – The standard color model for printing is CMYK, while the standard color model for the web is RGB.
Resolution – For print, you need a high-quality image. The recommended resolution is 300 DPI for print.
Paper type – There are different types of papers with different finishes: matte, satin, or glossy finish. Choose the one that you like best.
Paperweight – A light paper will always be bendier than a thick one. If you want your brochures to look premium/ luxurious, opt for thicker, sturdy paper.

Conclusion
I hope you found this article helpful and that now you have a pretty solid understanding of the standard brochure sizes for print. So what are you waiting for? Start the design process and apply all the things you learned. Either make a brochure from scratch or use a template from our vast collection. I'm sure it will turn out great when printed!