Prospectus examples to inspire your creativity
Despite it sounding like a Harry Potter spell, a prospectus is actually quite a relevant piece of educational material. They are most often used for schools and universities, but they can also be used as a legal document for many companies. So how do you design one? It's not as complicated as you might think. So with that said, let's go over a few prospectus examples and talk about what goes into creating one.
What is a prospectus?
We mentioned it briefly above, but it's important to have a really good understanding of what a prospectus is before we get into the design.
A prospectus is a document created to present a given business or school. Most of the time, however, a prospectus is used by a school/university to promote their benefits to potential students and their parents.
The prospectus can exist in many forms, but the most common example is a booklet. A booklet, whether it's digital or printed can provide a lot of space for all kinds of information.
What makes a good prospectus?
In truth, there are no rules to creating a prospectus. In fact, as you'll see when we go through some prospectus examples, that not one is the same as another.
There are many ways in which you can design a prospectus. Overall, it really comes down to taste. That being said, take these next few prospectus examples as inspiration.
Prospectus design
Even though a prospectus is completely unique to the school or business that creates it, there are a few ground rules that you can follow to make sure it's top-notch.
Let's start with the basics:
Table of contents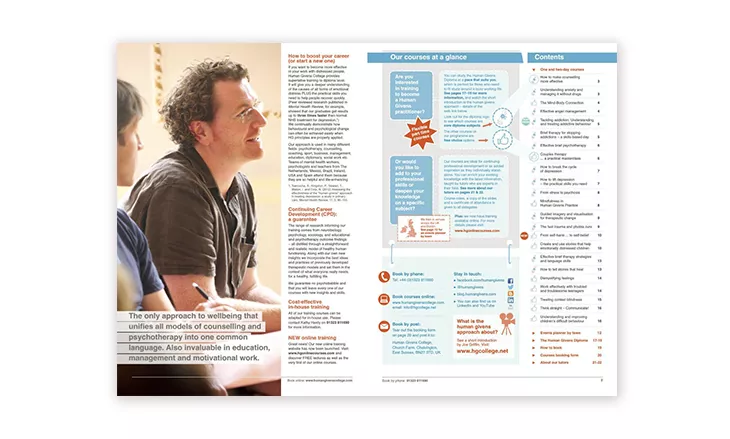 It is absolutely vital that your prospectus contains a table of contents. Especially if you've managed to pump out a lot of pages.
The table of contents, like in any textbook, brochure, or really anything else aims to guide the reader. If someone, student or client, is looking for a specific piece of information, I can assure you that they don't want to spend the next 30 minutes looking for it.
A quick table of contents right at the front can really be useful, and it really doesn't take much effort to create.
Principal's welcome
Many schools and universities start their prospectus with a message from the dean or principal, welcoming all students to a new year.
It's a very personal touch to add, and it let's the student's know exactly who will be leading them through the next big step in their life. It's the perfect way to open your prospectus example.
Contents
We talked about the table of contents, so now let's talk about the actual content in the prospectus.
This is sort of where the differences from school to school and business to business start to shine through. Depending on… well everything, the contents will be different.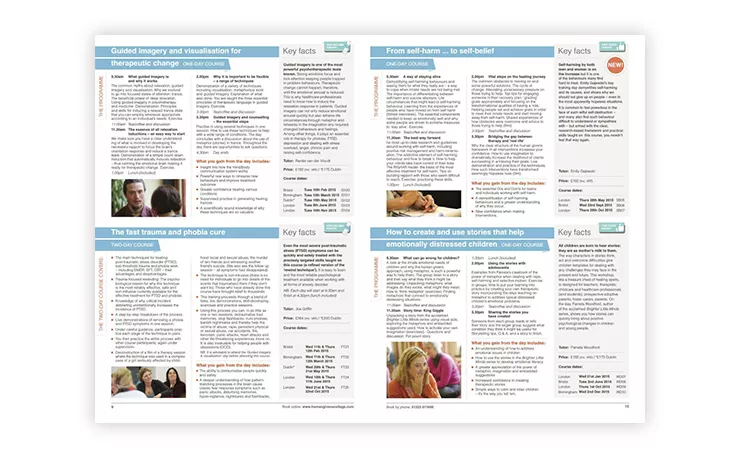 As you can see, there are many different topics being discussed in the example above. It's all in accordance with the student body, and what's relevant for them.
But I do want to give you a little guideline still. Here are some things that you might want to consider adding to your prospectus:
If you're creating a prospectus for a massive university, then this will be a little difficult. But, for new students, it can be very helpful to add a few class times to help them sort out their own schedule.
It doesn't matter whether you publish a prospectus yearly, monthly, or by the semester, activities happen all the time. You could easily add a section or two about upcoming student activities to get the students excited.
The policy section could be added to prospectuses for both schools and businesses. It's like a little rule book that anyone can carry around with them.
There are a lot of details that go into a successful fundraiser. If it involves the whole school, that's all the more reason to add all the school fundraising ideas for the year to the prospectus.
Colors
The right colors in any design can either make it a masterpiece or make it painful to look at. And although a prospectus isn't exactly a Van Gough, it certainly should be appealing to look at.
So what kind of colors should you use? Well, let's take a look at an example.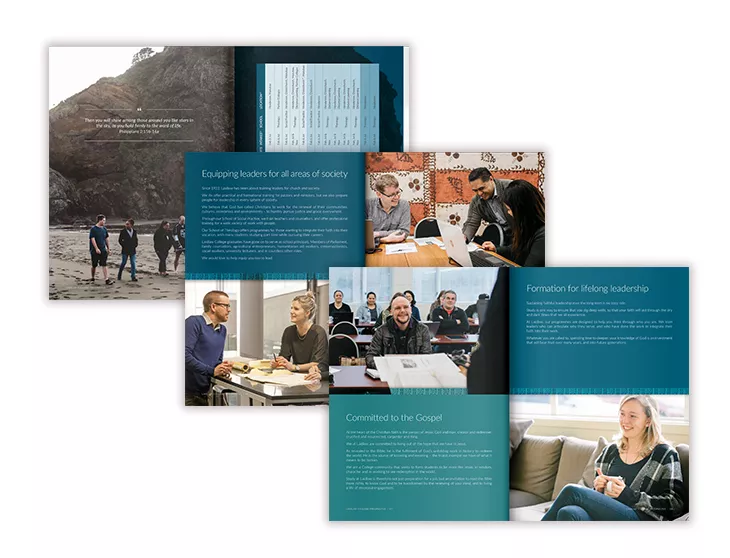 What do you notice about this prospectus example? As far as colors go, they maintain the same color scheme throughout the entire thing. Of course, these are just a few pages of this particular prospectus, but you get the gist.
It's important to maintain a constant color pattern throughout the prospectus. Although most people won't notice your attention to detail, they will certainly notice if the colors don't match.
In the same way that your prospectus should maintain the same color pallet, it should also sport colors that mean something to your school or business.
When talking about a school prospectus, it's very important to use the colors that brand your school. In most cases, students will take pride in those colors and the fact that they represent their education.
When talking about a business prospectus, it's important to maintain brand language, and use colors revolving around the brand.
There's no need to go crazy with colors. Stick to what you're familiar with through school or business, and you should be just fine.
Images
Just like this article would be really bland without images, your prospectus would be, too. Images allow the creator to build and tell a story. Granted, there isn't always a story to tell when it comes to a prospectus, but in many cases, the right images really help.
In the usual fashion, let's take a look at a prospectus example to help us visualize the power of imagery.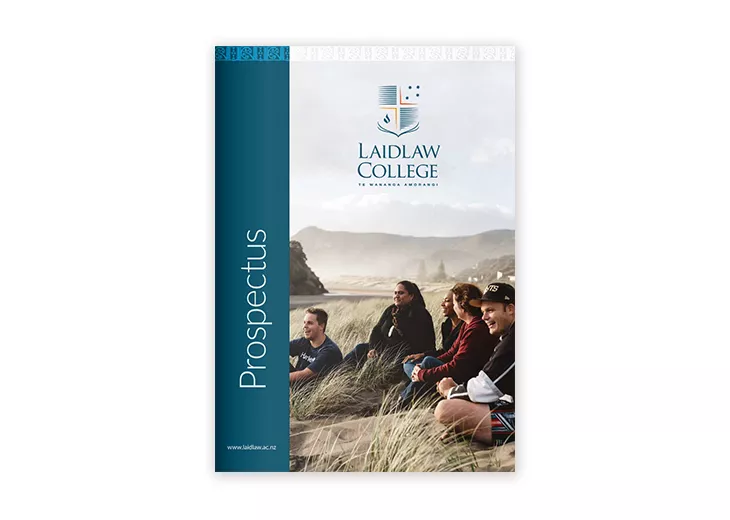 In this image, you can see a simple and powerful image, telling the story of the students that attend Laidlaw College. To be honest, the cover is nothing fancy, but in the same sense, it's the perfect image to begin the story.
As you can see, the image on the cover above portrays a very relaxed and calming environment. It shows students not only together, but enjoying their time. One image can set the mood for the entire story. For potential future students, a nice image like this can be quite the welcoming sight in the sea of stress they're facing. One image can change it all.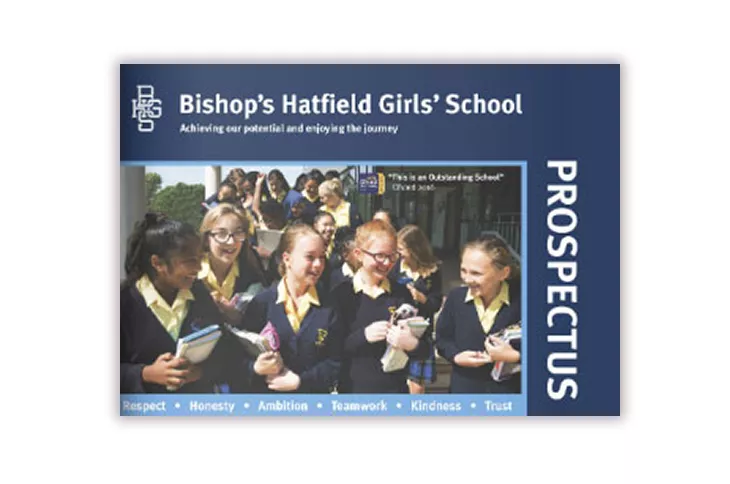 Again with this prospectus example, you can see a simple image that shows the students of Bishop's Hatfield Girl's School enjoying their education. For anyone glancing at the cover, it's a very warm sight to see the students enjoying their time.
But definitely add multiple images throughout. Use them to help guide the reader. Don't flood your prospectus with images, just use them where they're needed. And don't forget to use high quality images!
Layout
We have established that the images help guide readers. But in truth, that's only half of the story. The layout of the prospectus also helps guide the readers.
This really isn't a new concept, nor is it a difficult one, but it is pretty important. Your prospectus should be laid out in such a way that the reader will have an easy time navigating it. It shouldn't be too complex, filled with obnoxious text and images, nor overloaded with bright neon colors that have nothing to do with the identity of the school or business.
So, in a way, I guess you can say that the layout is a combination of all the elements that we discussed above. The right colors, contents, and images placed in the right order makes for the perfect prospectus.
How you can make your own prospectus
Now that you know what goes into a good prospectus, it's time to create your own. We're going to use a combination of all the elements of the prospectus examples above to create our own unique masterpiece.
That may still seem a little daunting to you. After all, we're not all world-class designers (mainly looking at myself).
So what do you do in a situation like this? Cry? Pull your hair out? Well, of course not. Flipsnack is here to make sure your prospectus is as brilliant and powerful as a best-selling novel.
Let's start with a template.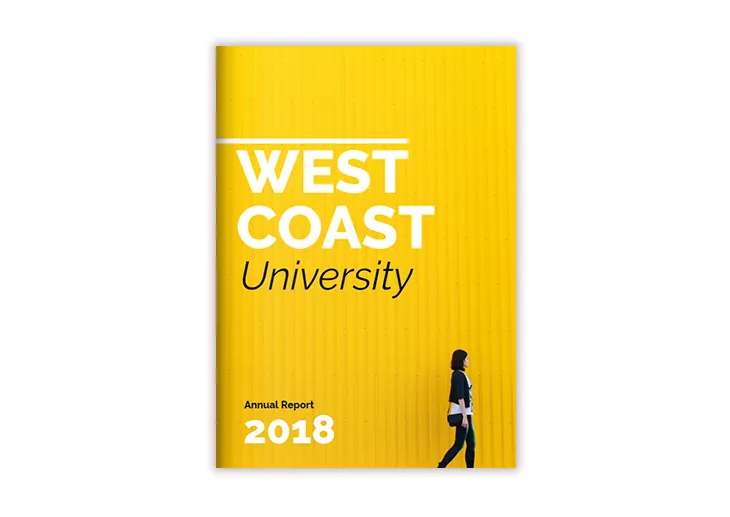 Flipsnack has a variety of prospectus examples ready for you to grab and use as a template. This one above is a great example. It's simple, yet flashy enough to grab some attention. But don't worry if your rival school's color is yellow. You can change any element you see in our templates with just a few clicks.
Remember the very first image in this article? Yeah, the really cool blue and white one. Believe it or not, that is one of our templates.
Our designers have spent quite a bit of time making sure these templates are perfect for anyone to use. Just take a look at this one: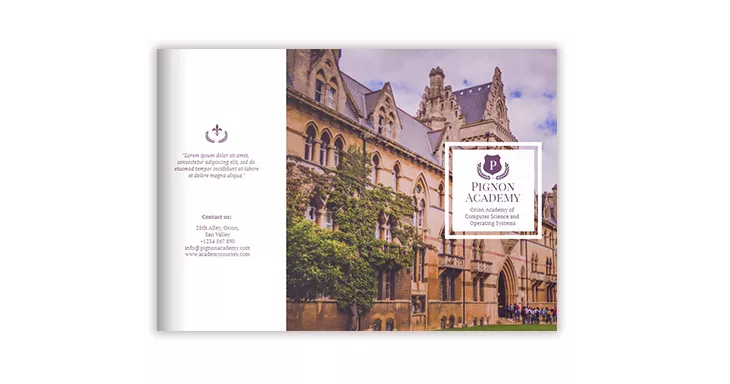 Feeling a little bit more formal? Well we've got a prospectus example for that, too. This template is a little less flashy, and a lot more classy. Not that flashy is bad, it just doesn't fit every school.
With that said, if you like one of our templates, including the one at the beginning of this article, then just click on the image. It'll take you right to our template page where you can browse through all of our templates.
Distribution
Now that you have your prospectus, it's time to distribute it. When you boil it down, there are two ways to do that: print it or distribute it digitally. Now, there are quite a few ways you can accomplish both of these methods, but none are as effective as Flipsnack.
Flipsnack is by far the most inclusive and easy to use software/tool out there for creating and publishing a prospectus. With Flipsnack, you can be as detailed as you want to be, but without all the extra effort it would take to create a prospectus with another tool. You don't need to be a designer or have any design skills at all. All you need is a Flipsnack account, and the vision of your complete prospectus.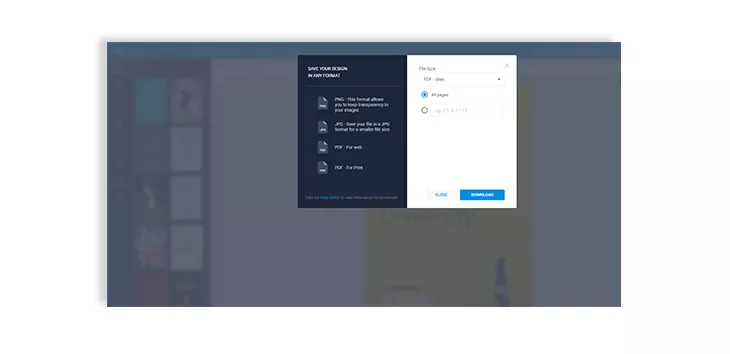 Once you've got all your details sorted, the colors are perfect, and all the images are crystal clear, simply download your creation, print it, or send it around digitally.
What now?
Now, it's up to you to create your own prospectus. Feel free to reference this article as much as you'd like. I built it as a general guide to help anyone through this process. It's by no means all-inclusive, but it will certainly get you started.
The most important thing to remember is to use your own unique creativity. You can use a prospectus for a variety of things: grade school, highschool, universities, and colleges. Just like each application is unique, the style of the prospectus should be unique, too.
Last but not least, don't forget to check Flipsnack out for all of your prospectus creating needs. Our simple, drag-and-drop editor will make creating a prospectus as easy as reading one. We offer a variety of helpful tools to make sure your prospectus comes out beautifully. Who knows, maybe your prospectus will be featured in an article like this in the near future.