How to use Flipsnack as a real estate marketing tool
So we've heard you are looking for a real estate marketing tool to help you keep up with the digital age. It makes sense. Everything nowadays seems to be going digital. You can blame Elon Musk with his self-driving cars for that.
Nevertheless, advancements in technology have made things easier and, dare I say, far more interactive and visually appealing.
That's the whole point of your presence here. Now I am not some real estate agent touched with that godly speech that can convince anyone of everything. That's you! What I can do, and will do in this article, is show you why you've landed in the right place. I'm gonna tell you exactly how Flipsnack can be the answer to some, if not most, of your real estate marketing strategies. Let's dive into it.
How to use Flipsnack for real estate:
1. Upload your PDF – your design journey starts here. If you already have a real estate brochure or PDF presentation, you can simply upload it in Flipsnack and share it directly, or add other various visual elements, different style headers, and interactive features. By interactive we mean virtual tours, videos, maps, and many others.
2. Start with a predefined template – we are pretty sure that we covered every real estate marketing material there is with our templates. We have it all:
3. Edit the template – our templates are your canvas. Feel free to infuse them with your own images, catchy headlines, and unique propositions. Our Design Studio is incredibly intuitive, so design skills or experience are not required. You can do it all on your own!
4. Publish your real estate materials – there are many ways in which you can publish your work, that stem from very private to public.
5. Download and share – choose the way in which you want to download your materials:
PDF download
GIF
JPEG
MP4 and others
You also have multiple options for sharing your materials. Apart from the classical routes for sharing, such as via direct link, you can choose to go for an email newsletter, for instance. Or, if you are into GIFs, then social media is another viable option.
Template examples
Note: There are two fundamental ways to create something in Flipsnack:
By selecting a template
Or from scratch
Whatever you intend to create, remember that you can always do it from scratch! That means you:
Select your page size
Create your own heading styles
Add your desired pictures, shapes and interactive elements
Control the overall aesthetic and layout
Basically, you are your own master
Note 2.0: Like when creating from scratch, you can also edit our templates as freely and fully as you please. They are there to help give you a creative kick-start. Their purpose is to inspire, more than anything else.
Now let's take a look at some template examples:
Editable Modern Real Estate Smart Template
The "smart" concept right here refers to automating the entire process by simply connecting your MLS system to Flipsnack, and with one just click, your information will be transferred onto the real estate template. This is all happening because Flipsnack is a RESO compliance.
After adding your own information, make sure to add your professional photos and branding elements, and you're almost done. Then, just insert some interactivity to make this editable modern real estate smart template pop! It's a great way to showcase your properties through this template, especially if you're a real estate agent.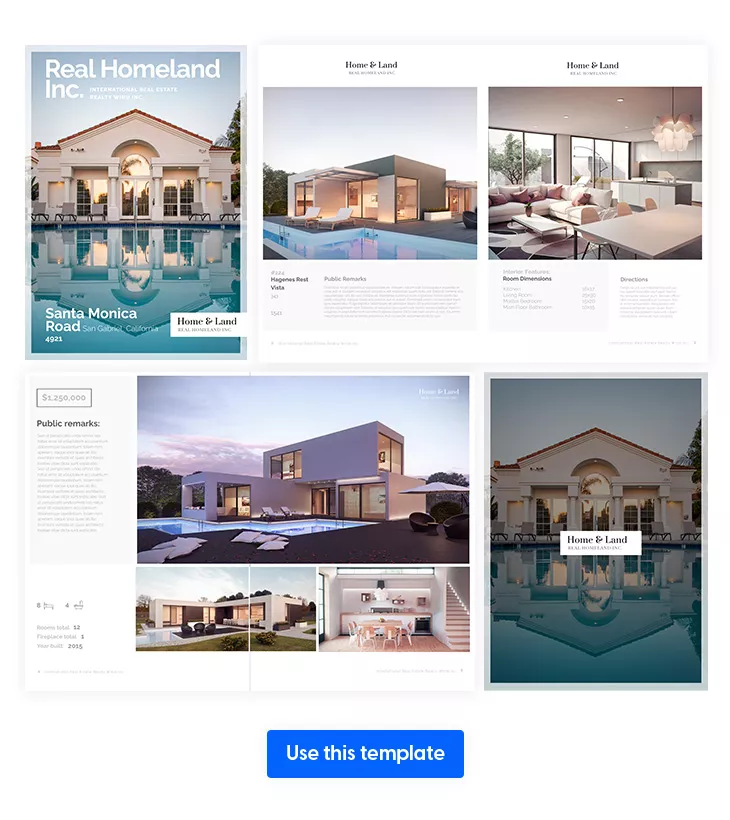 Automated MLS Compatible Realty Brochure Design
This is the second MLS compatible real estate brochure template that you can use in order to advertise your list of properties. All you need to do is hit the "Use listing" button, and your details will automatically populate this template. Then, just drag and drop your stunning photos and make sure to match your branding, and add some interactive elements to increase readers' engagement.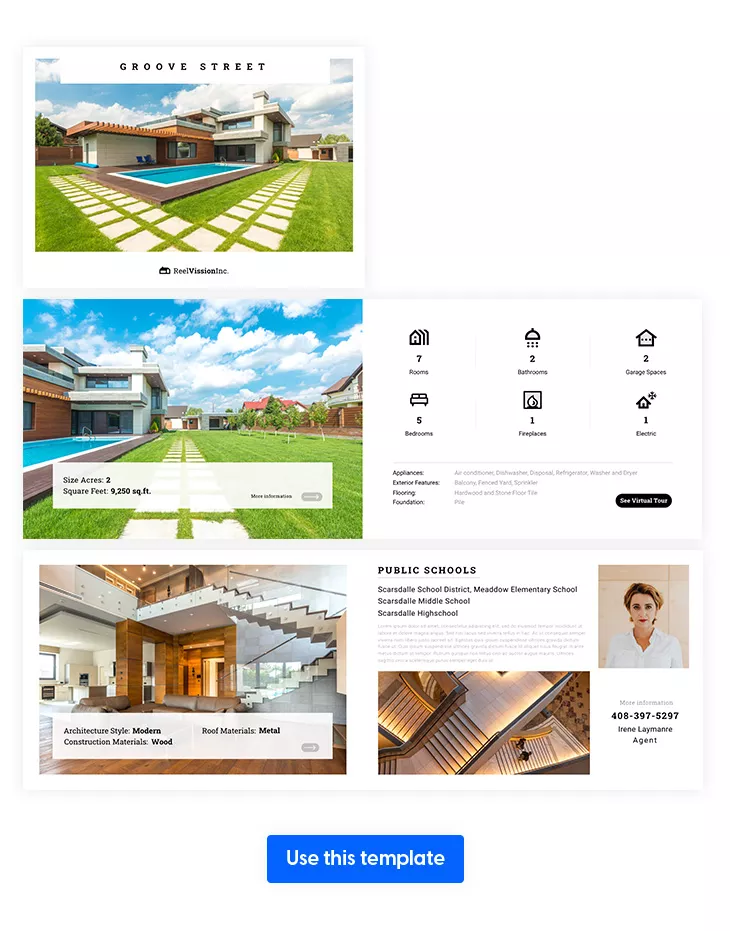 Smart Real Estate Property Brochure Template
Whether you're a new real estate agent or already a successful one, here is another smart real estate property brochure template that you can use in both cases. It's so easy to personalize it with your own content. Since it's created per the RESO system, you just drag and drop your own property details onto the existing layout. However, please remember that you need to use identifiers for the automation process to work.
After you've finished with this, it's also a good idea to match this real estate template with your own branding. And for a more engaging effect, make sure to add some pops of interactivity!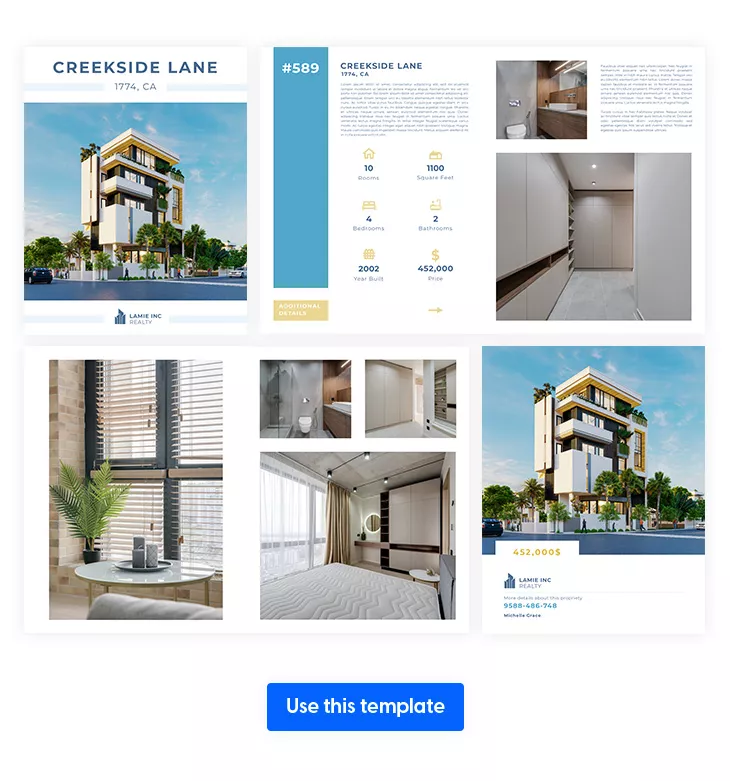 Real Estate Newsletter Template
Great for internal communication, and for keeping in touch with older clients and newer ones. Digital newsletters are a great way for keeping anyone informed about the current offerings and market.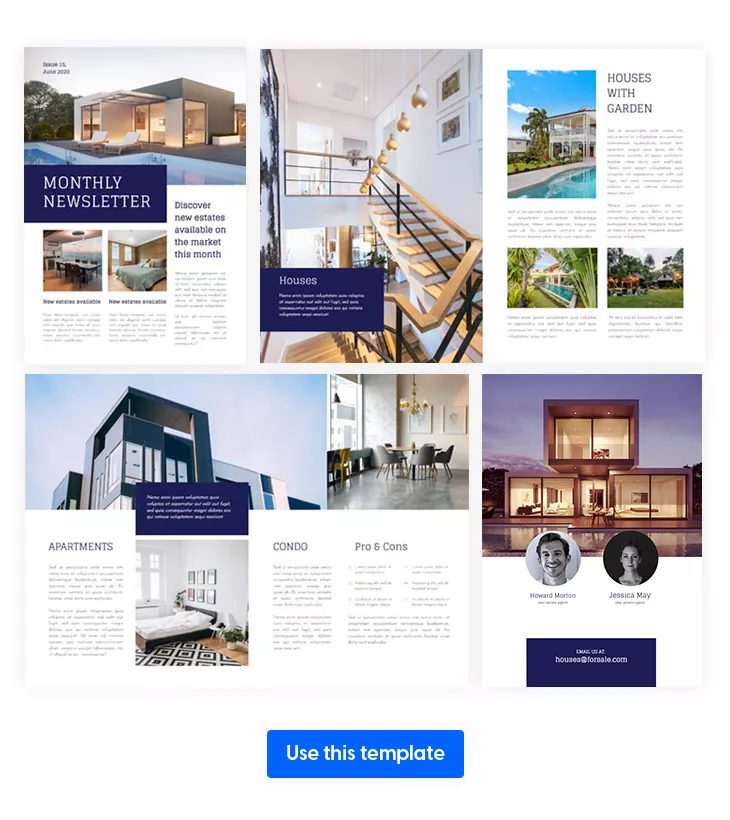 Modern Real Estate Booklet Template
A booklet is one of the most popular ways of presenting something. Be it a house, a company, or anything else you can think of. That's because it allows for an ample showcasing of the most important features and highlights of a listing. With ample space comes ample responsibility, so be sure to use those pages efficiently.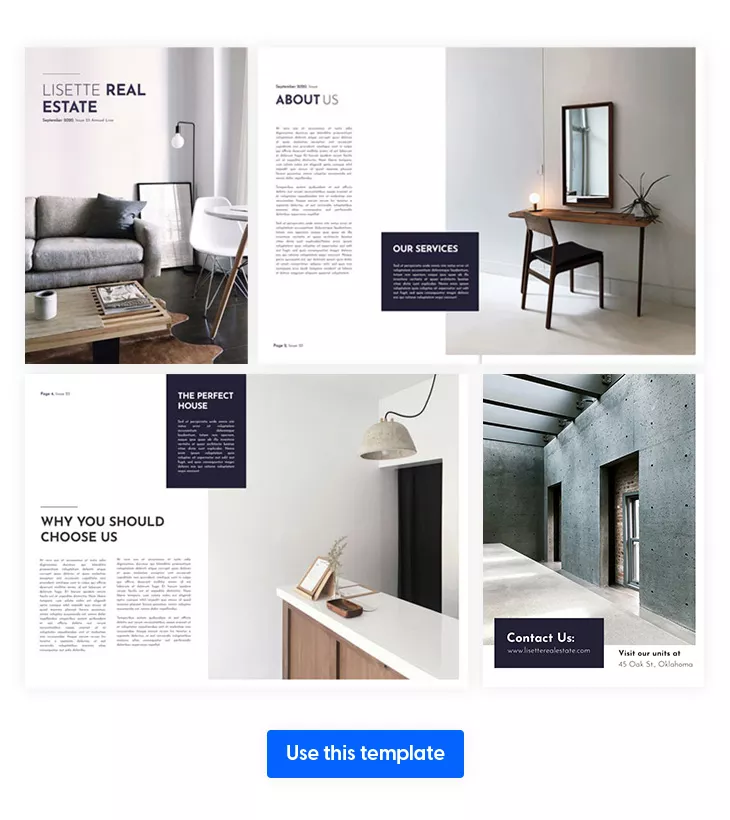 Open House Brochure Template
Ideal for attracting customers to a location, an open house template is designed to entice audiences and make them contact you. Add an interactive element, such as a map, or a virtual tour, to fully secure their curiosity.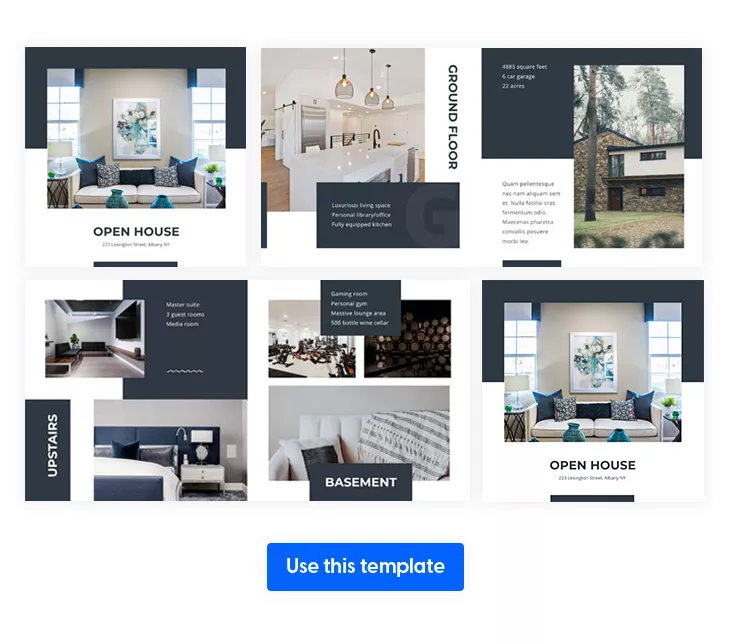 Real Estate Agent Postcard Template
What can be said about this one? Pretty straightforward, but absolutely necessary, nevertheless. Every real estate agent has to have his card ready to meet the eyes.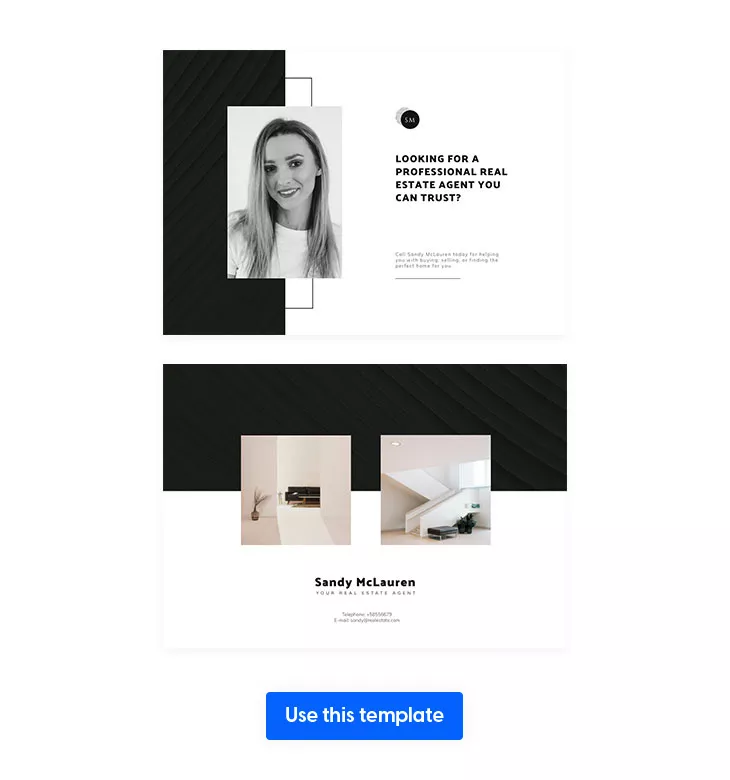 I think those are enough examples. Now you know that we have the templates for you, the questions that remain are: Why would you use Flipsnack for this? How can Flipsnack help you achieve better results? What do we do differently than others?
Those are all extremely valid questions. I will make my own personal mission to answer them as well as I can and, hopefully, show you exactly why Flipsnack is the only option for you.
Getting started
One of my favorite real estate related quotes goes like this:
"A-B-C. A-Always, B-Be, C-Closing. Always be closing. ALWAYS BE CLOSING. A-I-D-A. Attention, Interest, Decision, Action."
If it sounds familiar, then you know it's from Glengarry Glen Ross. I've kept the rest of the quote out as this article is not meant to be R rated. But the message is clear and relevant. Alec Baldwin's character hints at something fundamental:
Attention
Interest
Decision
Action
We're gonna focus mainly on the first aspect: Attention. Let's see exactly what you can do with our real estate marketing tool in order to achieve that.
Using Flipsnack for promotional purposes
Any real estate marketing tool worth its salt must do the following things:
Enhance your marketing materials
Allow you to connect with a broader audience
Be at your disposal at any time
Help make you more memorable
Make your real estate marketing strategies more efficient
Allow you to edit your materials anytime, without depending on a designer
In this section, we'll talk about the first part, enhancing your marketing materials. What exactly does enhance mean in this context?
Amongst many marketing ideas for realtors, oftentimes brochures come to mind. There are others, such as real estate postcards, but for the sake of this article, let's take brochures.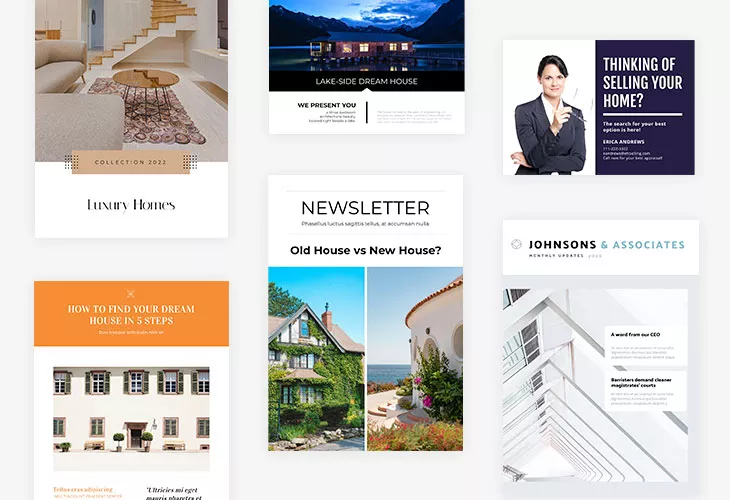 Enhancing your brochure's design or any other material simply means making it more visually attractive and, given that most of our interactions occur online, also interactive.
A real estate marketing tool designed to attract
Flipsnack's Design Studio allows you to edit your real estate marketing materials as you please. You can add pictures, play with different style headings, and add your own branding, among other things.
You already know that branding is crucial and we want to take this to the next level. Start by creating your own brand kit. Here you can stack all relevant branding elements that represent you or your company.
By simply clicking on Branding, just above your profile, you get the option to add custom fonts, colors, brand logos and typography.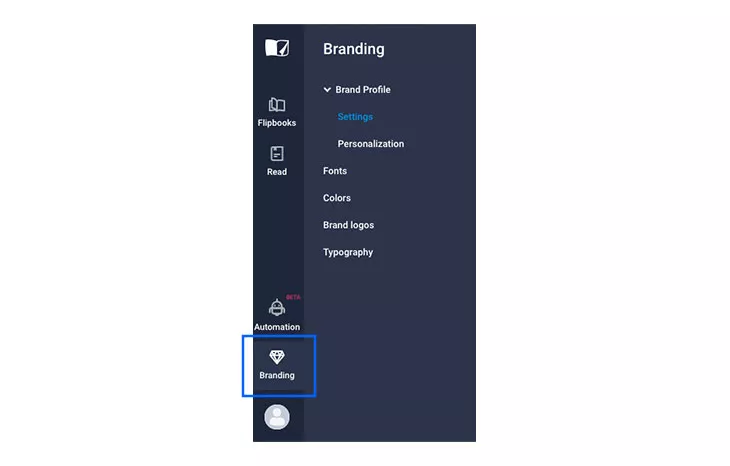 What's the purpose of this?
It helps you stand out from the competition by making your brand immediately recognizable and memorable
It allows you to structure your materials in every way, shape or form, to address any potential client
Adapting to current design trends and speak the exact language of your clients
Making your real estate marketing materials attractive means engaging your audience, capture their interest, and close the deal
Most importantly, it helps maintain brand consistency, and it ensures you that your branding will be respected on every real estate material
This is all fine and dandy from a visual point of view. But what about the content of your presentations? Like with any other business out there, real estate has its own particular usage of the content. To make your marketing materials as attractive as possible, don't forget to entice your audience with great listing descriptions.
Sometimes people have to be told what they want. You can be the one to do so!
Interactivity, a new way of immersing your clients
You can do more than just show and tell. Turning your publications into interactive experiences means engaging your clients and letting them discover for themselves what are the benefits and the highlights of your offer.
There are plenty of interactive features that you can add to your flipbook. Here I'll name only a few that I think are relevant (feel free to bash me in the comments if I'm wrong):
Maps
Virtual tours
Presentation videos
Forms
Photo slideshows
Feel free to flip through the below example to see how all of the above elements work together to form an interactive flipbook:
It really doesn't matter if you are a real estate agent working on your own or as part of an agency. By adding interactive features, you get to approach your clients from different angles. The art of persuasion relies heavily on adapting to your audience's needs and desires. Where words are no longer enough, interactivity is there to help fill in the void.
These interactive elements are called widgets. But don't bother with terminology too much. We've covered at length how to add iframe widgets in Flipsnack.
The main point of interactivity has everything to do with presentation. And you know, and we know, that presentation is everything. Sure, not all properties look like Dwayne The Rock's, but using interactive features, coupled with attractive photos and headlines, can make them look just as classy.
Simply pick one of our real estate templates and go from there. Or create your materials from scratch if you're feeling particularly whimsy.
The power of branding
We already touched a bit upon this when we talked about creating your brand kit. But that's only just scratching the surface, kinda' like Neil Armstrong's first steps on the moon. In Flipsnack, branding is more than just that.
So you know about custom fonts, logos and so on. That's great! But let's dig deeper. What else can you do in terms of branding?
You can set up a custom domain or subdomain
Add your own favicon
Set your headers and footers
Add social media thumbnails

What's more, our real estate marketing tool allows you to create catalogs or real estate brochures directly from your site. All these options are readily available for you.
Right, so far we've covered the visual aspect of your real estate materials. Let's shift our perspective and see how you can organize your entire workflow from the same place. At Flipsnack, when we talk about efficiency we're a bit like a cult, but that's only because we understand its importance. Let's take a look:
Organizing your team and the entire workflow
Remember Atlas? The Greek titan holding all celestial objects on its shoulders. Those things are heavy! But just like Atlas could've needed some help carrying on that task, so do you sometimes need the help of a team to craft those real estate marketing materials.
Flipsnack's real estate marketing tool allows exactly that. Collaboration is at the forefront of any successful endeavor. More minds work better than one, so let's take a look precisely at how Flipsnack's collaboration features work.
Creating different workspaces
Workspaces are dedicated spaces for certain projects. That may not say much but think about it like this:
Say you are a real estate agency operating in multiple jurisdictions. We may have Colorado, New York, Los Angeles, and so on. Now you most likely have available listings for all of these regions. They all are geographically different and have different qualities. What do they have in common? They are all managed by you.
The same goes for our workspaces. You can create a different workspace for every project you manage. It only makes sense that Colorado listings be separate from New York ones.
What this does is allow you to organize your information and manage it more efficiently. How?
Assigning roles and permissions
Now that you have created your workspaces you also need to manage them. First and foremost, add your team members to your projects. You may have noticed by now that by project, we mean workspaces.
Adding members ensures that work is evenly distributed and that each member contributes with his part. This way, you can organize the entire workflow of the project without letting it turn into cosmic real estate chaos.
What are the roles and permissions in Flipsnack? The below list will look slightly like the cast of an old western movie but stay with me:
The Owner – the creator of the account and the sole person responsible with ultimate control over it.
The Administrator – you created different workspaces, but you can't manage all of them simultaneously. Here comes the Administrator into play. He will be the manager of a workspace and have the same access as the Owner.
The Editor – they will be the ones in charge of editing the flipbooks. Remember, they will not have control over adding or removing users from the workspace, view subscription details or make changes to the subscription. They're here to edit!
The Agent – these will be the real estate agents that work the field. They will have access to their own flipbooks to show and present to their customers at any given time.
The Contributor – the strictest permissions of them all, this role has only access to create, edit, and view their own flipbooks. Upon creating his real estate marketing material, they will not have the option to Publish directly, but rather Ask for review. This review has to pass through the Owner, or Administrator, or Editor. Only they can subsequently Publish it.
How do you add members?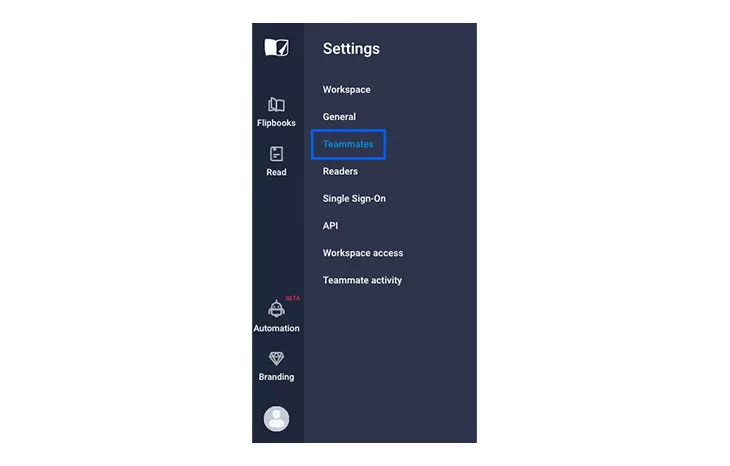 It's a very simple process. Simply click your Profile icon and then go to Settings. From here, on your left, you'll see a Teammates option. Pretty intuitive, isn't it?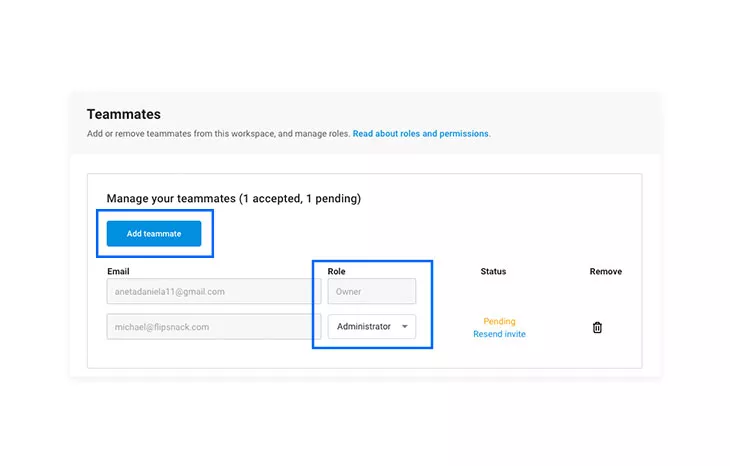 After you've gone through this laborious process, simply click Add user, fill in his email address, and establish his fate, sorry, role, in the workspace. That's it!
How do you remove team members?
Time to start the purge? For removing members, the process is the same as with adding them. Go to Settings, Teammates, and you'll see a list of your current team members. On the right side of their profiles, there will be a very suggestive trash bin. Click on that, and they're gone.
Automation is the word of the century
So far, we've covered two crucial pillars of our real estate marketing tool:
Personalization and branding
Collaboration and workspaces
But this simply may just not be enough. All of this takes time, preparation, dedication, and most importantly, human resource. What if I am to tell you you can get rid of some of those? The process of creating real estate marketing materials doesn't have to be long, convoluted and seemingly endless, and repetitive. That's not a job for a human. It's a job for a robot.
Flipsnack's Automation feature is your answer to that. Efficiency is defined by the most amount of work done in the least amount of time. Obviously, we're talking about quality work. Your real estate agency, your brand as a whole, has certain defining features. Certain colors, fonts, and of course, a unique logo. Creating a real estate digital brochure can be done automatically. I think you see where I'm hinting at.
With Flipsnack's automation feature, you can create locked branded templates designs that are consistent with your brand with only a few clicks. We've talked earlier about roles and permissions. Let's see how that translates into a real example:
The Editor role can be a designer specifically hired to create branded templates for your agents. Your agents will then have access to these templates to edit them for highlighting their listings to their clients. They no longer have to waste time with design, and you no longer have to be worried if your brand guidelines are respected.
So creating a real estate digital brochure effectively becomes a two-click process, in which all of your agents simply have to drag and drop photos into a template. Into your template! That's what Automation means.

How to use Flipsnack's MLS real estate automation tool
If you're working in the real estate industry, then you're surely using an MLS system. What's great about Flipsnack is RESO compliance, which makes it very easy for you to connect your MLS with Flipsnack and automatically populate your branded templates with your own property details, agent information, and more.
This real estate automation tool that we're providing allows you to create real estate brochures quickly and also easily update them whenever you want, without any hassle. With just a few clicks, the entire process is done. Instead of creating new templates from scratch every single time, agents will simply use the MLS-compatible template and customize it to their own wishes—no need to redesign brochures over and over again.
Keep in mind that this is an Enterprise feature, and you'll need to contact our support team to unlock it for you.
What does the process of real estate automation look like?
When in the MLS-compatible template, click on MLS and choose the property you want by hitting the View listings button.
Then, click on Use listing to automatically update the information on the page within seconds.
Drag and drop your picture to change the existing one.
Repeat the process as many times as you need.
Words are words, and they do have their limits. For a visual explanation of the above steps, look at the video below. That's guaranteed to shed more light on the whole process.
Downloading and sharing
To summarize all of the aforementioned info, we now know that Flipsnack is a real estate marketing tool that can help you:
Personalize your real estate marketing materials
Make them interactive
Enhance your branding potential
Collaborate with people on the same projects
Streamline the entire workflow by assigning roles and permissions
Create more in lesser time with our Automation feature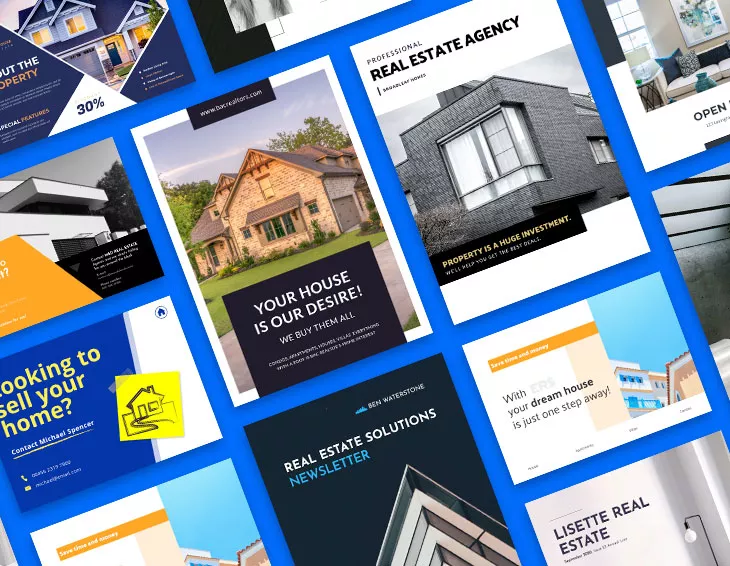 The last logical step is to download and share your materials. Flipsnack's sharing features offer you a vast array of options. You can:
Embed your flipbooks on your personal website
Email them as a newsletter
Via direct link
There are also plenty of download options. You may ask yourselves, 'Why plenty?' Because we want you to be in full control over how you want to spread your information. That should be the point of any real estate marketing tool. And it's certainly ours!
Sure, you can download your real estate materials as interactive PDF files. But you can also download them as GIFs or videos. Why would you do that? For social media sharing, for instance. There are other download options available, so be sure to check them out. Most likely than not, there are more that can work perfectly for you!
That's about it for me, now it's your turn! Whether you're working on your own, or as part of a team, or even if you own a real estate agency, it doesn't really matter. Our real estate marketing tool is designed so it can benefit all in the same way!