Real estate postcard ideas that help you seal the deal
Without any doubt, real estate postcards are important and complex marketing tools that promote open houses, develop relationships with prospective buyers, generate new leads and also build brand awareness. Besides being so helpful and essential, they are also cost-effective and not very difficult to create.
However, suppose you're new in this field and don't quite know a lot about design. In that case, it can be quite challenging to make your own eye-catching and informative real estate postcards. If you don't pay enough attention when designing them, they can end up in the recycle bin before they make it through the front door. But don't worry, we won't allow that.

Today's article will teach you everything you need to know about real estate postcards:
Why are they important
How to design them easily and efficiently
How to make your own in Flipsnack
Keep on reading to discover the fascinating world of real estate, but also some real estate postcard ideas that could help you create an impact in various ways.
Why Real Estate Postcards Work
Before talking about real estate postcard ideas that can inspire you when designing your own, we have to see first why they are so important and why they still work these days. Therefore, as we've already mentioned in the introduction, real estate postcards are great strategies that have been used by successful agents and companies for decades. More than any other real estate marketing techniques, postcards allow you to target local areas with precise accuracy and show your leads you're a market expert.
If you're still not convinced, here are five reasons that prove why real estate postcards work:
Real estate postcards are quick
They generate leads
Real estate postcards are affordable
They are targeted
Real estate postcards offer brand recognition
Let's take them one by one and discuss them thoroughly:
1. Real estate postcards are quick
First of all, real estate postcards are fast. In a world where everybody has busy schedules and wants to accomplish everything as quickly as possible, it's good to know that real estate postcards don't take a lot of time, effort, and energy. Within just a few minutes, you can create your own postcards online, print them, and send them out. Flipsnack can totally help you in this regard, but we'll talk more about this later.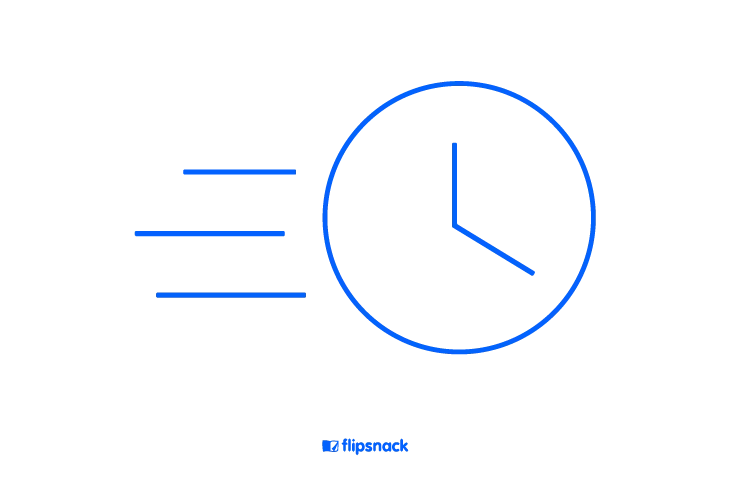 And that's not all. You can do a lot of things with the precious time you save if you choose to design and send your real estate postcards online. For instance, you can think of different successful marketing initiatives and campaigns that can help you increase your real estate profits. You focus on what's most important – which is to build relationships with current and future clients -, while sharing real estate postcards really fast. It's a win-win situation.
2. They generate leads
As crazy as it might sound, real estate postcards can generate new leads, but don't expect to receive a huge amount of traffic and customers right after you've sent the first round of postcard mailing. Keep in mind that it's a work in progress, but totally worth it in the end.
Real estate agents should know that the most effective way to connect to the targeted audience is to send emails consistently. Sending one postcard annually is nothing compared to sending them weekly or monthly. A perfect and successful real estate postcard should contain the agent's picture, contact details, some information about why prospective clients should work with this specific agent, and also one or two recent sales.
Once you start getting new leads from your postcard mailings, you have to make sure you keep everything organized and under control. Store all the information you need about your leads with the help of a lead generation tool that suits your needs. Find the perfect one by looking through the internet. There's plenty of them.
3. Real estate postcards are affordable
One thing's for sure: real estate postcards are cheaper than any other direct mail real estate marketing campaigns. In fact, they are the most cost-effective strategy for getting out a message to your audience.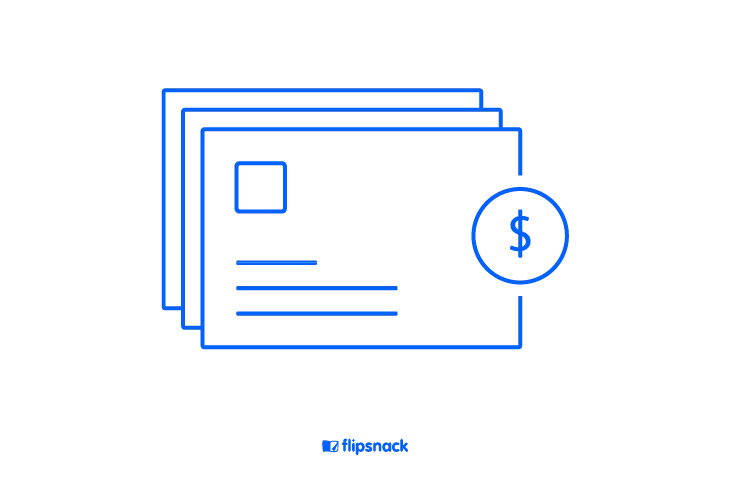 Just think about it. A real estate postcard is a single piece of cardstock, or of paper, if you choose the classic printed method. It has no envelope. That means no stuffing and sealing. The postage also costs less for a postcard. And print costs are lower than other forms of print material. It's pretty convincing, right? With just a few dollars, you can create amazing real estate postcard campaigns that will surely increase your revenue.
4. They are targeted
Another great thing about real estate postcards is that they can be highly targeted. Do you want to speak to possible buyers? Or to sellers? Are you aiming at a certain demographic, such as age group, income range, or family size? Once you have a specific goal for your message and an audience in mind, you can address it straight to your target market.
We advise you to choose first-class mail if you're addressing within a certain niche, and the EDDM option if you want to scatter broadly. Regardless of your choice, one thing's for sure when it comes to real estate postcard ideas: they allow you to speak to hundreds of people through impactful images that are difficult to ignore. And they also help you to keep in touch with your clients of today and those from the past. So, what do you say? Don't you think a real estate postcard campaign it's all worth it?
5. Real estate postcards offer brand recognition
Last, but not least, real estate postcards are crucial because they give you the opportunity to market more than a property. You can market yourself and your brand. Make sure that you retain brand consistency by building a strong and distinct visual identity. Everything that represents your business, starting from your website and social media channels to flyers and real estate postcards, should feature a consistent identity to help you stand out from the crowd in a busy market. Therefore, choose a logo, color palette and fonts that are easily and regularly recognizable.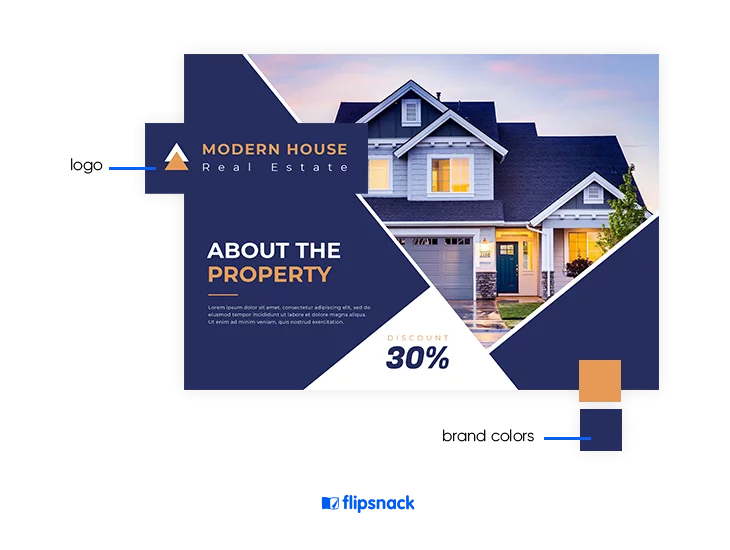 Keep in mind that a professional and well-designed real estate postcard puts your brand in front of your audience, right next to a message that highlights how you can be of service to them. A polished design real estate service such as Flipsnack can help you craft a brand identity that makes the most impact and develops meaningful connections with potential buyers.
Tips & Tricks to Create Real Estate Postcards Up to Date
Truth be told, real estate postcards can make a long-lasting impression if designed correctly. They also have the power to establish new partnerships with clients. But unfortunately, postcards these days look kind of dull and out-of-date. They really don't make you grab them and read them. Let alone to contact the real estate agent who sent you the message.
Keep in mind that you only have a second or two of people's attention before they decide to throw your card in the trash or keep it. Therefore, you should come up with an innovative and well-designed postcard that catches the attention from the beginning. Don't stress too much over this, we are here to inspire you. Check out these five real estate postcard ideas that can help you seal the deal:
Keep the content brief and to the point
Keep visuals streamlined
Insert a powerful Call-To-Action
Keep contact details easy to find
Include relevant testimonials
Let's get into more details and take these real estate postcard ideas one by one and discuss them widely:
1. Keep the content brief and to the point
Don't bore your readers with long, overwhelming messages. Other real estate agent tools and marketing materials like real estate catalogs or real estate brochures are more suited for detailed information, but not postcards. They should be short, quick, and right to the point. 
However, since we've also mentioned the real estate brochures, it's useful to make an indication in this regard. Besides having a lot of postcard templates that you can use, Flipsnack is also an online real estate brochure maker. Feel free to use it whenever you want.
But let's get back now to our main subject. As we already mentioned, one of the most important things when it comes to writing your postcard's message is to have your target audience in mind. Think of their needs, both physical and emotional. What are they looking for and how can you provide it? For instance, if you know that somebody is searching for a serious and professional real estate agent, then you should start your message by emphasizing your vast expertise and great achievements in the real estate domain. This way, you'll catch your reader's attention from the start and it's more likely to gain his trust and contact your services.
2. Keep visuals streamlined
Imagery is everything when it comes to real estate postcard ideas. And no wonder why. People shopping in the real estate market are attracted to the visual elements of a property. But don't overcrowd your postcard with lots of photography houses or luxury apartments. Keep it simple and minimalistic. After all, you only have a limited amount of space on your postcard, so choose wisely.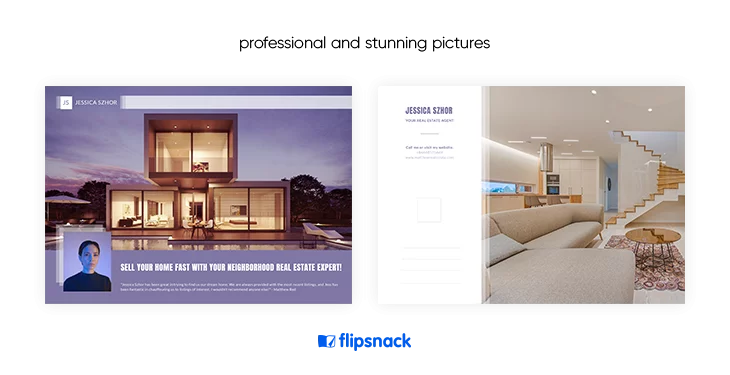 Always impress your audience with original, stunning, and high-quality images. This way, you'll maximize your chances of being trusted by people. And trust is crucial in the real estate business. However, you can also choose some free and professional stock images from Unsplash or Pixabay. These visual platforms have plenty of qualitative pictures for all domains. But if you're going to add stock images, you should definitely mention that you're not selling the houses within these photos. It's important to avoid any chance of deceit.
Or, go for something even better. Rather than inserting a photo with an amazing mansion, use a photo of your real clients in front of a home you helped them buy or sell (with their permission, of course!). It's always a good idea to show people real-life experiences.
3. Insert a powerful Call-To-Action
A CTA is one of the most fantastic reasons to create postcards for your real estate marketing campaigns. It is also an essential component of a real estate postcard. Without a specific CTA, your emails are simply sent out in vain with no clear purpose or means to track the success.
Always think of your CTA as the ultimate goal of your postcard. What do you want your audience to do after they have read your message? Do you want them to give you a call and contact your real estate service, or to check your real estate website immediately and see your greatest accomplishments? Great! Then choose something imperative like "Call today for more information!" or "See us online!". Regardless of how you word it or what you are promising people, just make sure you don't leave the CTA out. So, the next time you'll think about real estate postcard ideas, make sure you'll take this one into consideration, as well!
4. Keep contact details easy to find
When it comes to real estate postcard ideas, one thing's for sure: you can't convert customers if they can't reach you. Think of your postcard like an extra-large business card. The key is to include information that makes it easy for someone to get in touch with you, such as your full name, your company's website, your email, your mobile phone, your office address etc. Assure yourself that you include any relevant contact info so that your audience has a range of options to get in touch with you.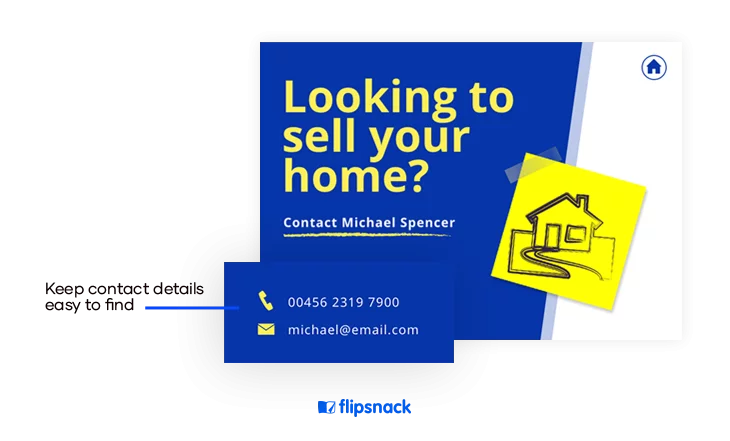 But don't stick only to your personal details. Your real estate postcard should also bear the marks of your personal business brand. That includes your company's logo, brand colors and fonts, and so on.
Before moving on to the next tip, there's something important that also needs to be mentioned. Always pay attention to the color and font scheme when writing your contact details. We've seen way too many real estate postcards that had an inappropriate background color or font that made readability almost unbearable. Make sure you're choosing the right colors before sending your postcard or taking it to print.
5. Include relevant testimonials
Last, but not least, an innovative real estate postcard should contain relevant and authentic testimonials. Believe it or not, testimonials remain one of the most powerful motivators. Especially when it comes to the real estate domain. There's something about hearing about other people's success that makes you think "that could be me too". Or "if he did it, then it means that I can do it, too". People like to read personal messages that motivate and encourage them.
Forget about covering the back of your just sold postcard in irrelevant fluff. Instead, make your postcard more personal and include a powerful testimonial from someone that worked with you and was more than satisfied with your performance. Let your clients boast about the experience of working with you and let others know the real you. So, next time you think about real estate postcard ideas, make sure to add the testimonial part to your list!
Real Estate Postcard Templates
So far, so good! You've learned about the importance of real estate postcards and how to craft them beautifully and innovatively. Now it's time to take some courage, choose a template from Flipsnack's vast and stunning collection of real estate postcard templates, and start customizing your own!

But if you've never truly ventured into real estate postcards before, you might find this task a little too difficult and complicated. And no wonder why. It's really important to know what type of content marketing you can put on real estate postcards. There are x main types of postcards you can send to your target audience, all of which we've got plenty of real estate templates for in our Design Studio.
Check out these six real estate postcard ideas that hopefully will inspire you to create your own:
1. Real Estate Just Sold Postcard Template
The first example on our real estate postcard ideas list is this real estate just sold postcard template. These types of postcards are all about making your presence in the neighborhood known, and specifically, your successes. Every single time you sell a property, you should get the word out about it. Therefore, take this template from here and spread the good news about your accomplishments within minutes. Our powerful Design Studio allows you to customize this postcard to your own needs.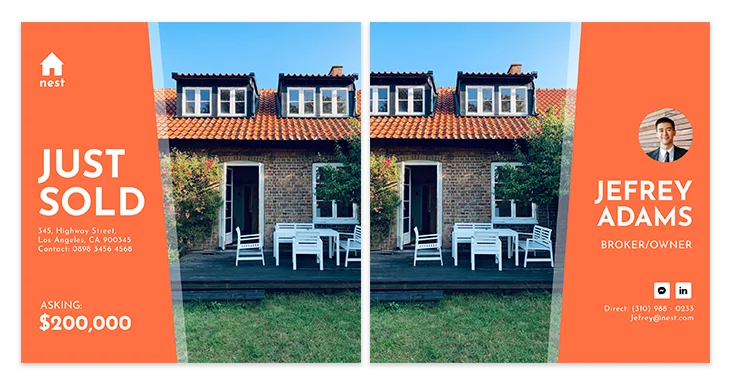 Start by offering your potential future clients a glimpse into the luxury properties you have just sold. But don't do it the classic way, leave a personal feel. People are curious about the new folks who move into their neighborhood, what the inside of their homes look like, and who they might be. That's why you should upload not only authentic and high-quality photos with the interior of the houses, but also images of your real clients who used your services. Add a short testimonial from a satisfied customer and you're golden. One of the greatest real estate postcard ideas is to sell your services while making the sale feel personal!
Besides uploading your realistic images, you should also write some powerful messages that will convince your readers you're an expert in the real estate marketing field. Don't forget to add your personal contact information and social media channels, so that future clients will be able to reach you as fast as possible. Insert an imperative CTA, and finish customizing this template by uploading your own brand fonts, brand colors, and company's logo. Then save your real estate just sold postcard and share it with your neighborhood via email.
2. Just Listed Postcard Template
This just listed postcard template from Flipsnack has two purposes. The first one is to alert buyers in your network of a property they might be interested in. The second one is to alarm the neighbors that you, the local area real estate rockstar, just listed a great new house. And if they're interested, they could be the next owner or tenant of this lavish property.
Take this template and customize it to your necessities with Flipsnack's intuitive Design Studio. Within minutes, you'll have a unique just listed postcard ready to be sent to your target audience.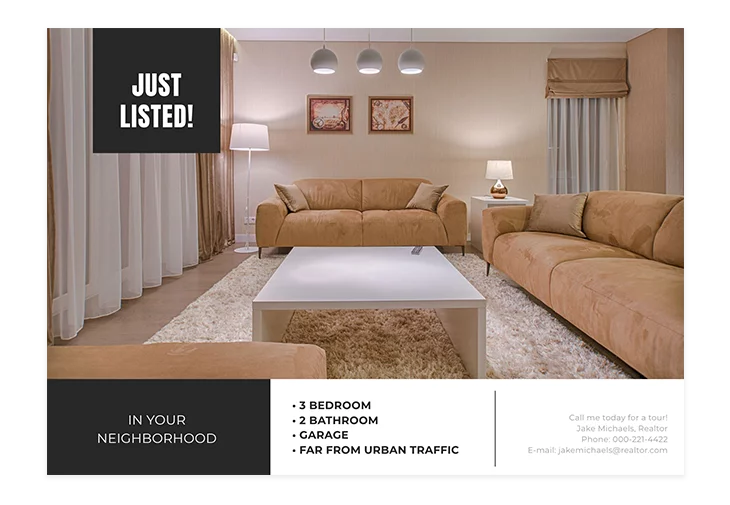 Start updating this postcard with original and stunning photos of the latest properties that you've just listed for sale. Upload them from your gallery within seconds. Then think of the message you want to transmit. Remember that a postcard should always have short, but impactful content. Use catchy headlines such as "Just listed!" or "New listing!" and also insert a strong CTA that persuades people to contact you immediately.
Another important aspect of a just listing postcard is to write short and appealing listing descriptions that catch the attention of your clients. Make sure you're always accurate and detail-oriented. For instance, if the property has old windows, it would be quite dishonest to describe them as "antique." Instead, you can tell the potential buyers that they're simply old and might need replacing. Also, assure yourself to list every chamber the property has. People like to know even the slightest details of the future home they're going to buy or rent.
Write your details, insert your company's logo and brand colors, and your just listed real estate postcard is good to go! Share via email or print in high-quality paper and distribute it throughout your neighborhood.
3. Expired Listing Postcard Template
Some people have a hard time trying to sell their home. No matter how many efforts they do, they just don't find the right buyer. But that's precisely why there are experienced real estate agents that can help them in this regard. With an expired listing postcard template like this one, you can make them fulfill their dream. And the best is yet to come. All of our templates are fully editable, so feel free to make any changes you want.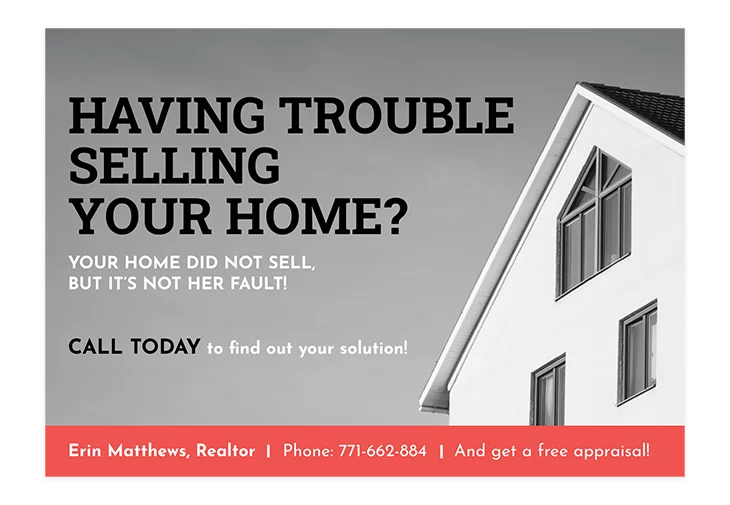 Start editing this example by thinking about its real purpose. You want to show your client that you understand his struggle and frustrations and that you want to offer your services to help him. Therefore, write a message that shows empathy, but also promises to find a solution for your client's problem. A good example in this regard could be "Trouble selling your home? You're not alone! Call today and speak to our professional realtors who specialize in expired listing sales. We promise you we can sell your house for you!" If you also add an imperative CTA that strengthens your message, you're definitely on the right track!
Next to your message, it's good to upload a stunning picture of an extravagant house. You can upload from our stock images. We have partnered with Unsplash, Pexels, and Pixabay to get you the most professional and high-quality pictures. Right after this, you should introduce your contact details, social media channels, and also your personal photo if you want.
Don't forget about your brand colors and company's logo for the final touch. Share your expertise with the help of this expired listing postcard template. Download for free and then send it securely and privately to your target market. Or, print it and distribute it personally.
4. Real Estate Agent Postcard Template
The next example from our real estate postcard ideas list is a more special one. This real estate agent postcard template gets you out of your comfort zone and makes you connect more personally with your clients. Customize it in your style right now.
Keep in mind that the purpose of a real estate agent's postcard is to attract future clients and to conclude contracts. You have to make them believe that you are the best solution to their needs. Start by introducing yourself. Go the extra mile and put a little of your personality or interests into your postcard. For instance, you can say that you love animals or like to travel the world. Inserting bits of yourself helps people feel that they connect with you and that they aren't simply receiving yet another annoying solicitation. In Flipsnack, you can insert all these characteristics about you in a short video and then share your real estate postcard online with current and future clients. This way, people will get to know the genuine you better and you'll be willing to contact you for real estate services.

You should also add your achievements and maybe some short testimonials from clients who worked with you and were satisfied with your performance. Don't forget to insert your photo right to the contact information. Choose the most representative picture of yourself. The one that describes the real you.
Finally, you could also insert some outstanding photos of the luxurious houses you helped others rent or sell. But that's not compulsory, it depends on how much blank space you've got on your postcard. It's better to keep your real estate agent postcard as simple as possible. Take it to print and make sure your entire neighborhood gets your postcard in their mailboxes!
5. Modern Real Estate Postcard Template
If you want to gain an edge on your real estate competitors, you should come up with a modern real estate postcard template like this one from here. With the help of Flipsnack's intuitive Design Studio, you can create the perfect postcard for sending to prospective buyers.
Keep in mind that this modern real estate postcard has a primary purpose – to advertise properties. It's used to promote and showcase the listing, not the agent behind it. That's why when thinking of your message, make sure to first mention the properties and its listing description, then your personal information. Within just a few minutes, you can add your text. Write a catchy headline such as "Luxurious property for sale! Find out more", or "This dream house can be yours. Just call us!". Then describe the property. Don't forget to mention all the important features, such as how many bedrooms it has, or if it has a garage. All these details are crucial for future buyers or renters.

You know what they say: picture or it didn't happen! Same applies here. You cannot describe a property without posting some real and professional pictures. Upload them from your gallery within minutes. Make sure you keep a balance between pictures and text.
When you're done promoting the property, it's time to add your personal information. Write your website, telephone number, company's address, and anything else you find necessary so that your clients can contact you immediately. Our Design Studio also allows you to upload your brand colors and fonts. This is very important when it comes to real estate postcard ideas, so make sure you remember this one.
Finally, take your masterpiece to print, or choose to share it via email. The entire neighborhood will know about you with just one click!
6. Funny Real Estate Postcard Template
Real estate marketing is generally a serious thing. But sometimes you have to think outside the box and use some humor. You'd be surprised to realize that the funny real estate postcards catch the attention of prospective buyers easier than the classical ones. So, benefit from this funny real estate postcard template and use it as a great advertising tool. Our powerful Design Studio allows you to make any changes you want.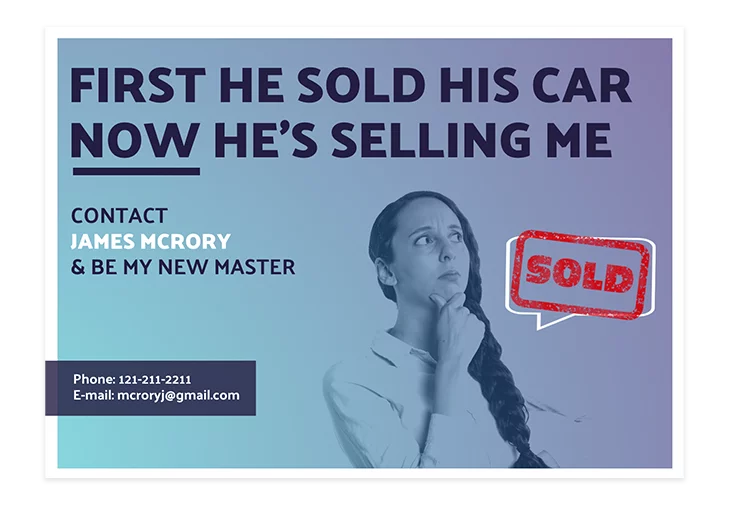 You should know from the start that a funny real estate postcard is both memorable and unique. These are very important qualities that strengthen a brand. A humorous card is very likely to end up on a fridge, which means that your company's name will constantly be at the forefront of the client's thoughts. Hence, make sure you write the most catchy joke in your headline. Something like "I'm made of sugar and spice, and real estate advice", or "I'm not a salesperson, I'm a matchmaker. I introduce people to houses until they find the one they love" could fit your funny postcard. Match your headline to a funny picture you have in your gallery, or choose to upload a professional stock photo from our editor.
Now you should say something about yourself. You can keep the same funny and cordial tone. Jokes and friendly tones help you gain the trust of your clients. Describe yourself as " somebody who wants to become the real estate rockstar of the neighborhood", or "as someone who can get you where you want to be: home". Insert a not very serious picture of yourself, and you've almost sealed the deal!
Finally, take your funny postcard to print and make sure that it arrives at everyone in your community. Or, send it fast via email with just one click.
Create Your Own Real Estate Postcard in Flipsnack
Now that you know all the basics, you are fully equipped to take on the creative mission of creating your own real estate postcard in Flipsnack. It's time to finally put into practice everything you've learned so far. Hopefully, all the real estate postcard ideas presented above will inspire you along the way. Keep in mind that Flipsnack is a professional online design tool for real estate agencies, so make sure you share the news with others that might be interested.
Therefore, the first step to designing a professional and stunning real estate postcard is to select a template from our beautiful collection and then personalize it to your own wish.

But if you've never done this before, initially you might find this task a bit difficult. It's not easy to create eye-catching postcards that will impress your prospective buyers. Nevertheless, don't worry too much about it. We're sticking with you 'till the end. Actually, we're going to show you step by step how to transform a pre-made template into the real estate postcard of your needs, and reveal to you the before and after effect. But enough talking, let's get started. It's time to take your real estate postcard design to the next level with Flipsnack's help!
Make Your Own Real Estate Postcard with Flipsnack's Help
Create an account and log in, and then choose a postcard template. For the sake of this example, we've chosen this real estate marketing postcard template over here.
The next step is to customize it to our needs. We're going to take advantage of Flipsnack's powerful Design Studio and get a complete makeover to this template. Therefore, we're going to upload our own brand colors and fonts. We're also going to change the text with something that we consider more suitable and update the contact information with our own. In the end, we'll also add an imperative CTA that encourages people to get in touch with us.
After we've polished this real estate postcard template, it's time to save it and download it. Then we have to make sure that we print it in high-quality paper and distribute it in all our neighbor's mailboxes. Or, we can choose the easy way and send our real estate marketing postcard to our prospective buyers via email, both securely and privately. No matter how you prefer to share it, Flipsnack assures you that the postcard won't lose its clarity at all.
Before & After Real Estate Postcard Example
As we promised, here is the before and after effect of the real estate marketing postcard template we've chosen. Feel free to use it as a source of inspiration whenever you want. This is how it looks: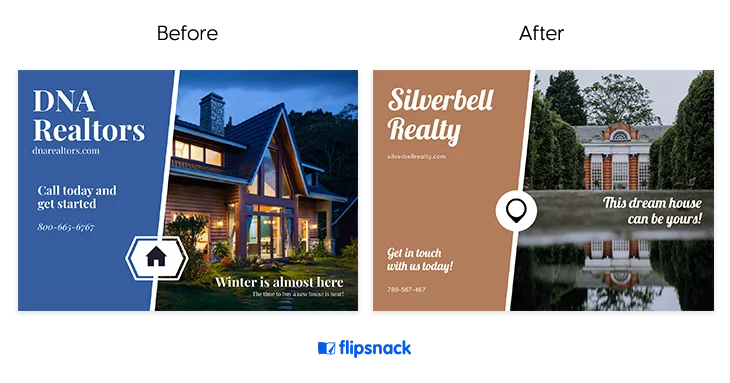 You're Ready
Finally, we have arrived at the end of our journey. Hopefully, you enjoyed it as much as we did and you've understood the importance of real estate postcards and why everybody who works in this field should start creating them. They are powerful tools for marketing, brand development, and lead generation. When designed correctly, real estate postcards have a great impact on any real estate marketing campaigns or strategies.
So, what are you waiting for? Take advantage of all the real estate postcard ideas you've found in this article and start making your own. Flipsnack offers you a variety of beautiful and fully customizable templates that you can edit within minutes. All you have to do is to get creative and bring your amazing ideas to life. Share your masterpieces with us in the comments section below.