How to use video marketing to create stunning magazines
Did you know that 73% of marketers don't use video content marketing as they'd like because of constraints like time and budget? And that's not the only type of content we aren't getting enough of.
Foundr Magazine is asked one question more often than any other: How can I create a digital magazine?
Your customers want these types of content. So what if you could combine them? What if you could make a digital magazine that supports video content? In this post, I'll show you how to do just that. And after we get the practical stuff out of the way, I'll share some stats you need to know.
How to make a stunning multimedia magazine online in minutes
You don't need mad Adobe Suite skills, a bottomless budget or a degree in design. All you need is a few spare minutes and two tools: Flipsnack and Biteable. Let's start with Flipsnack, the tool some of your favorite publishers use to create memorable multimedia magazines.
Make a digital magazine with video elements in 3 easy steps
Flipsnack makes it easy to create a digital magazine within minutes. Here's how it works:
Choose the size and format for your magazine.


You can customize your design by changing the width and height from the right-corner menu.

Choose a pre-designed layout or create your own.
Browse through the pre-designed layouts or create your own using the drag-and-drop editor. You can add text boxes, links, images, video and shapes. You can even create interactions.

Add the video insert to your layout


From the left-hand menu, drag the video box into your design. You can change the size and move it around until it's just right.
Create a mesmerizing video for your magazine in minutes
Now that you've finalized your magazine layout, it's time to think about a video marketing strategy for it. A tool like Biteable makes that easy.
With thousands of pre-made templates designed by top animators available on demand, all you need to do is choose your favorite and customize it.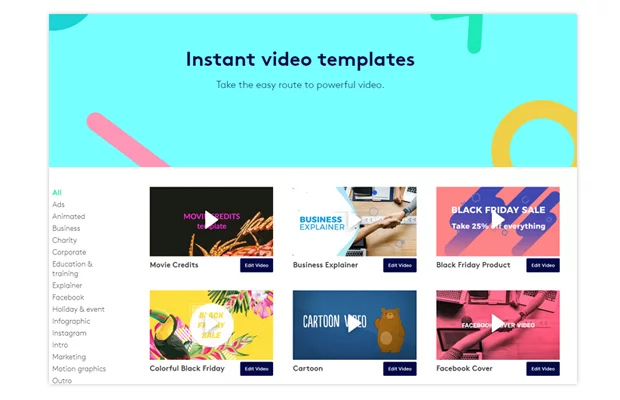 You can customize each template by adding images, footage or audio, changing the colors and typography, adding new scenes and (of course) adding your own copy. You can make a brand new video in less time than ordering a pizza.
But why should I be publishing an audio video magazine in the first place?
People love video. Here are some compelling numbers and reasons why you should consider using video marketing for your digital magazine.
78% of people

watch videos online

every week. Why not tap into that market and let them watch yours?
55% of people

pay more attention to video

content than any other type. This makes video great for telling stories, raising awareness for your brand, and winning viewers over.
Three little tips to make your video work in a digital magazine
When designing a video for a digital publication that takes the form of a flipbook, think about how the reader is consuming the content. Are they on their phone? Do they have their headphones handy? Are they reading this during a break at the office or at home?
You can discover a lot of this information by using surveys or studying your analytics data. But even without the data in front of you, these three tips will help you start off right.
Your video should make sense without audio.
Treat your video magazine the same way you'd treat a Facebook video – make it work without sound

. That way if your reader is scanning your magazine on their phone, they can hit play and still get the full experience without headphones.

Keep it short.
The pages of a digital magazine aren't the best place to include long-form content. That's what video hosting sites like YouTube are for. Use your in-magazine videos to share tease and excite, just like you do on social media.

Match the video's tone to the magazine's design.
Like an image, a video should enhance the page it's on, not detract from it. Match it to your magazine's tone, color scheme, typography, and overall feel.
Whatever you do, avoid this enjoyment-killer
While video marketing should be an incredibly powerful part of your overall marketing strategy, using certain types of video in certain instances can irritate users and drive them away.
So when you are designing a video for your publication, stay away from autoplay. Because 82% of consumers have left a page because a video started playing in the background.
Your video is a treat for your customers, not something they should want to avoid. That's why you need to give them the power of choice over how and when they consume your video content. You'll be surprised just how many choose to hit play.
Video content marketing delights your audience
Instead of creating the same stale content like every other business out there, why not create a digital magazine and use video content to increase its appeal? The extra design doesn't take a long time but it makes your content look like a million dollars.
This approach can be perfect for businesses of all sizes and industries from enterprise SaaS all the way to small mom-and-pop stores. You can use digital magazines as lead magnets, content upgrades, promotional materials or send them to your email list in place of a newsletter. So why not add a digital magazine to your content roster?