A brief history of Valentine's Day. Free templates
Ah, Valentine's day! The celebration many people love to hate and others to be the perfect excuse to get cheesy with their loved ones. No matter how you react to Valentine's Day, there is no chance you can ignore it. It's everywhere. In fact, once December ends and the Christmas decorations come down, all the brands get ready for the next big thing which is most definitely Valentine's Day. And for good reason.
In 2019 only, the overall Valentine's Day sales reached approximately 20.7 billion U.S. dollars, an increase of over one billion dollars from 2018. I'm sure we can all agree by now that what first started as a holiday celebrating love is now more about how much brands sell. Nothing wrong with this. Did you know that authors like Chaucer and Shakespeare popularized Vday and made it this gift-giving holiday it is today?
And have you ever wondered what goes beyond the famous February 14? How did Valentine's Day become this huge, commercial holiday it is today? Let's dig deeper into the history of Valentine's Day and see how all this started.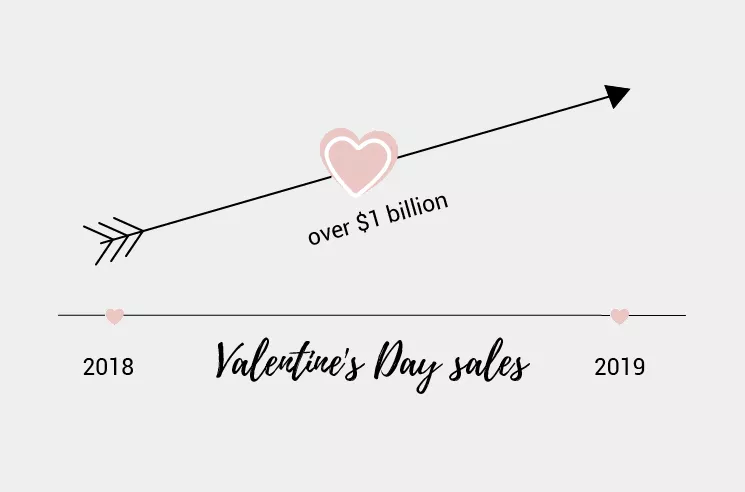 A brief history of Valentine's Day
This pink-hearted holiday wasn't always pink. The origins of this cutesy day are kind of dark and bloody. As far as we could track its provenance, the history of Valentine's Day goes back to the Roman Empire. A time when men literally hit on women by hitting them. And women literally stayed in line for this to happen, believing it would make them more fertile. Kinda crazy, right? Stick with me, it gets even crazier.
According to the legend, what happens next is some sort of ancient version of "The Bachelor". They had this tradition where all the young, fertile women in the city would have their names in a big urn. Then, the city's single men would each pick a name and make a couple with that girl for the upcoming year. When the match was right, often these couples would end up getting married. This crazy ritual was called the Festival of Lupercalia.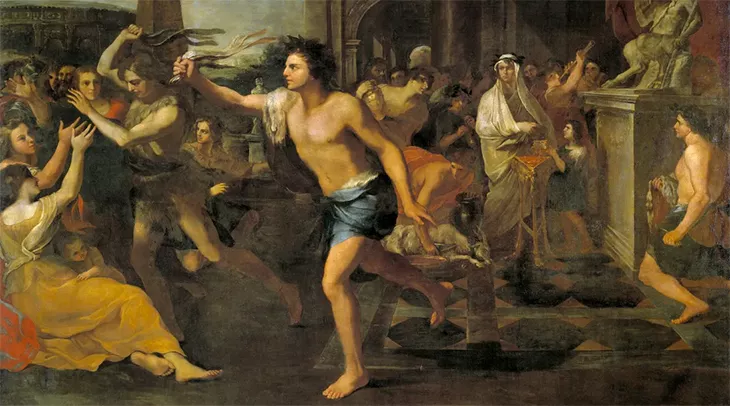 Who was Saint Valentine?

Well, it seems like there was more than just one St. Valentine. Or at least, the history is mixed up a little bit. Because there are, at least, two different stories about who St. Valentine was. According to the first legend, Valentine was a Christian priest who was imprisoned and fell in love with his jailer's daughter. Before he died, he left a love letter signed with the words "from your Valentine."

The second one features, yet again, a priest who ignored the orders of Emperor Claudius of not officiating marriage for young men in his army. He continued to marry couples who were deeply in love and so, the priest got executed exactly on February 14th in the third century of Rome. The history of Valentine's day tells us that this priest wore a ring with a Cupid on it – one of the well-known symbols of this holiday – so that soldiers would recognize him. He also liked to share paper heart cards to remind Christians of their love for God. 

While St. Valentine's story established this holiday to be a romantic one, what truly solidified the connection between St. Valentine and love was a poem by medieval author Geoffrey Chaucer in 1381. Historians consider this poem as being the origin of the "modern" celebration of Valentine's Day.

Why do we celebrate Valentine's Day?
As we've already mentioned before, Chaucer and Shakespeare had a great impact on the history of Valentine's Day. They both romanticized this holiday in their work that much that it gained popularity throughout Great Britain and the rest of Europe. Soon, people began writing and exchanging love letters to celebrate Valentine's Day. The common folk even started to beg divinations to reveal their future romantic partners.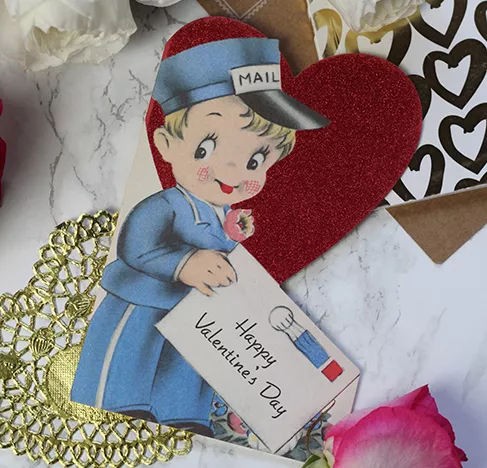 In 1913, a well-known American company called Hallmark began distributing official "Valentine's Day cards". And the celebration of this popular and romantic holiday continued even more: flowers, candies, teddy bears, paper hearts, jewelry, romantic dinners… and the rest is history. February has not been the same since.
Valentine's Day nowadays. How people celebrate it
The celebration of Valentine's Day still goes on nowadays all over the world, in many various ways. Many will break the bank by buying jewelry from reputable sellers such as DiamondStuds.com (great for diamond earrings for both men and women, and other expensive gifts), Diamond Wish (awesome handcrafted engagement rings made in the USA) or Perfame.com (for unique perfumes for both men and women), while others will prefer the simplest gifts: romantic dinners, flowers, chocolate, and Valentine's Day cards. Did you know that people exchange millions of Valentine's Day cards every year? Looks like Hallmark really revolutionized the history of Valentine's Day! And also the tradition of offering red roses on Valentine's Day is a special one. These flowers are associated with the Greek goddess of love, Aphrodite, that's why people choose to give red roses instead of other types of flowers to express their love.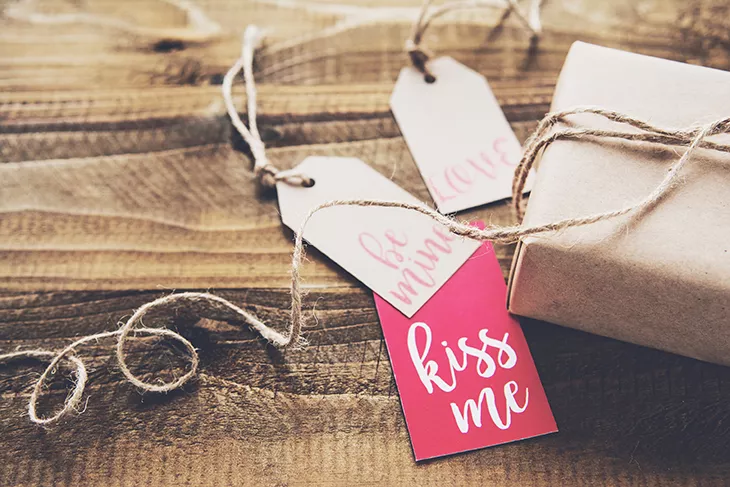 No matter how you choose to celebrate Valentine's Day, keep in mind that there are no rules. It's a totally new era, so you can feel free to celebrate the way you want. A dreamy dinner out, some champagne, going out to the movies, cooking a fancy meal, offering a nice Valentine's Day card, or even hosting a Valentine's Day party…it's up to you to pick the best option. But if you're clueless this year about how to create a lovely-pinky Valentine's Day card to surprise your crush, don't panic! We've got you covered. Flipsnack is here to help you. Our online publishing platform offers you an entire collection of free Valentine's Day templates.
Keep in mind that our templates are not dedicated only to couples who want to share their love with each other. We also offer you Valentine's Day gift guides, menus, magazines, and flyers for all occasions. Let's have a look at these beautiful and free Valentine's Day templates. Here we've chosen only 5 of our best examples. If you want to search for more, then please browse through our entire collection.

Free Valentine's Day templates
1. Digital Valentine's Day Product Catalog
I'm showing you this interactive catalog template so you can firstly experience the magic power of interactive elements. If you already flipped through it, I'm sure you'll agree with me that it is just… stunning, right?
Notice the interactive elements such as captions, buy buttons, and videos that take the entire shopping experience to a whole new level. Imagine your clients flipping through your catalog and being able to easily shop their favorite products and get close views and descriptions of your products.
Any template is fully customizable so you can easily make it your own by replacing images, videos, texts, prices, descriptions, and so on. And if you're not into the clean and feminine layout design, just change the colors and add some bold elements to make it more your style. As I already mentioned, you can edit it however you want. Actually, it's even better if you make it suitable for your company's branding style.
Presenting your products and special promotions this red hearts season with an interactive template could be your next big success. So sell more products and reveal your Valentine's Day offers in a stylish and entertaining way that will for sure get all the attention.
2. Valentine's Day magazine template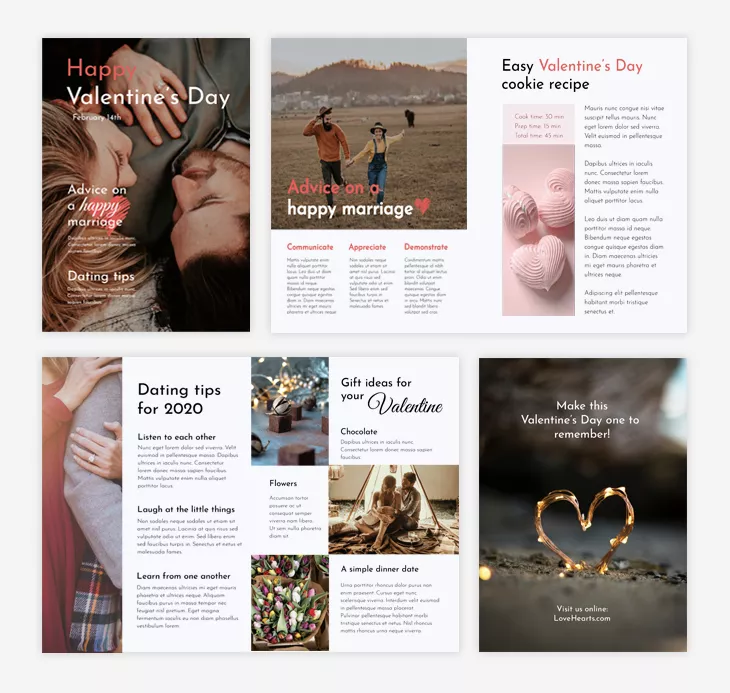 This Valentine's Day magazine template is perfect if you're working in the printing field or just want to catch up with some ideas and advice to make this holiday a special one. There are many things that we could say about Vday, so why not put them all together into this gorgeous layout? People can read interesting topics about the history of Valentine's Day, advice on a happy marriage, or even dating tips. And the best part about our free Valentine's Day templates is the fact that they're easily editable. With just a few clicks, you can change literally any aspect. Texts, colors, shapes, images… you can play around with them and change them within minutes. Check it now.
3. Valentine's Day gift guide template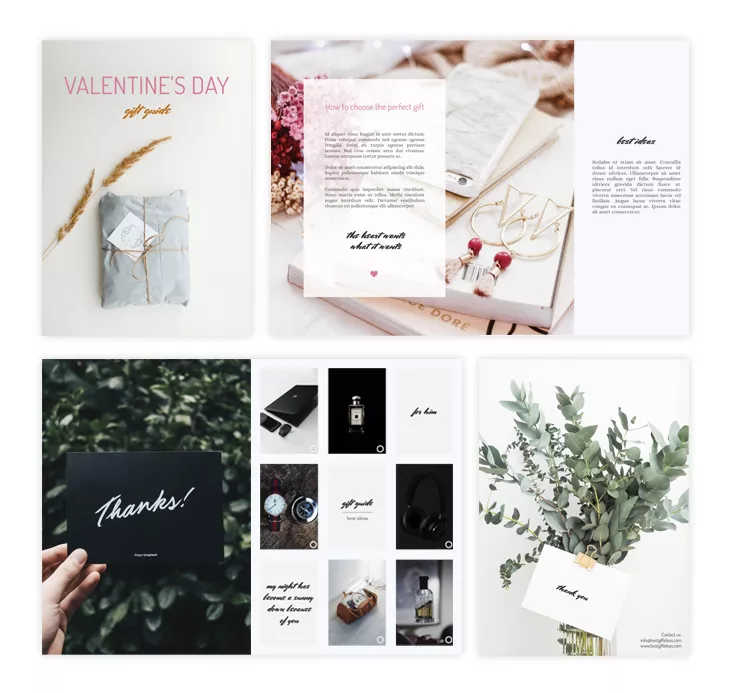 Don't panic, but Valentine's day is approaching soon and lovers all over the world are looking for the perfect gifts for their partners. If you've done your homework this year and have some great ideas for the lost and desperate ones that forgot again about Vday; don't hesitate and put your pieces of advice in this Valentine's Day gift guide template. It's good to help others, right? The layout features romantic and stunning photos all together with a textured white and green background. Simple, elegant, and chic. What else could you possibly wish for?
4. Valentine's Day menu template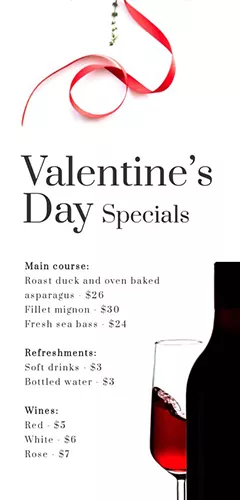 Oh, this Valentine's Day menu template is perfect for every owner of a restaurant, bar, or pub. You have to provide such a menu on holidays like these. Special occasions need to be celebrated with good food and tasty wine. This menu is elegant and romantic, yet extremely appetizing. Insert a short quote regarding the history of Valentine's Day if you want to make this menu look more special. Your clients will love this. But, this menu template isn't just for restaurant owners. Get more romantic this Valentine's Day. Cook dinner for two, buy some great wines or refreshments, and put all the specialties in this Valentine's day menu template. Download it, print it, and put this menu on the table. This would be indeed a very authentic gift.
5. Valentine's Day card template
And here comes the most classical and romantic gift in all history of Valentine's Day: a Valentine's Day card. No matter how boring and old-fashioned these cards may seem, they're always cute and honest. No matter if you want to surprise your loved one with romantic words, or simply be bold enough to express your feelings to your crush, take this free happy Valentine's Day template from us that is suitable for both occasions. It features lots of white hearts that match perfectly the reddish background. If this isn't a real expression of love, then I don't know what is. With the help of our drag & drop editor, you can play around with fonts, colors, shapes, and more. Don't forget to insert some sugary quotes and you're done. Print it and offer this Valentine's Day card template to your crush.
6. Valentine's Day flyer template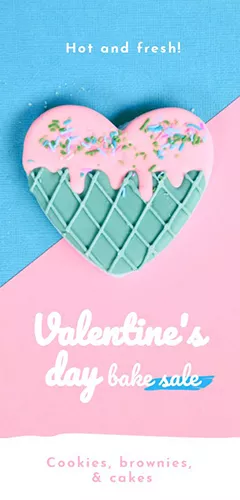 This Valentine's Day, do something special, something extraordinary that no one in the history of Valentine's Day ever did. Organize Valentine's Day bake sale like never before! It's a very good opportunity to cook with your loved ones, to be with your family and friends, and who knows, maybe to earn some money for noble causes. Pick this free Valentine's Day bake sale flyer template from us that looks both yummy and sweet. You have the opportunity to make any changes you want or leave it just like this. Happy with the final result? Download it, share this Valentine's Day bake sale flyer template, or simply print it and spread it everywhere.
Wrapping it up
Valentine's Day is approaching in a few days, but there's no need to worry. Not only that now you're aware of all the history of Valentine's Day, but also you have some free templates that can inspire you for this holiday. We would say that you're more than prepared! No matter how you choose to celebrate this holiday, keep in mind that the only thing that really matters is to be with your loved one. Happy Valentine's Day to y'all! Cheers to love and laughter and happily ever after.
[/fusion_text][/fusion_builder_column][/fusion_builder_row][/fusion_builder_container]