How to make a killer lookbook online with Flipsnack
For many years the term "lookbook" has often been associated with fashion. Because the fashion industry used lookbooks to tell visual stories and market their newly launched products in a way that was different from digital catalogs. In a way, lookbooks had the power to encapsulate the essence of the brand. In print and, later on, through a more video type of format.
Today, lookbooks are more than just a visual marketing tool for fashion brands. But, I'll tell you more about this later on in this article. Also, I will be covering the in-depths of how to make an online lookbook using Flipsnack. We might have something else in store for you: stunning and free lookbook templates. For this and more lookbook inspirational content,  please keep on reading.
What is a lookbook?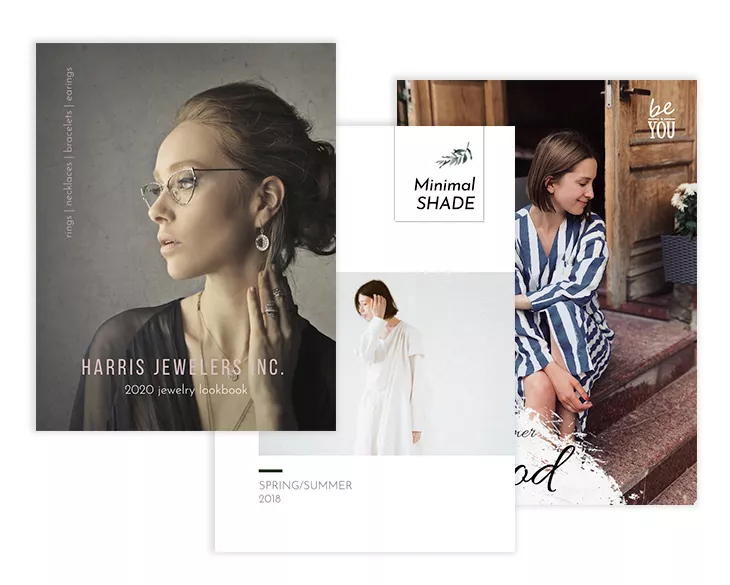 At first, long before everything was digital, lookbooks were print publications created by stylists and fashion brands, usually when a new collection was launched. The main structure of a lookbook mimics a catalog, but is not that much focused on selling. Actually, a lookbook is focused on presenting the overall feel of the new collection through world-class photography. Now, if you're feeling a bit confused, I will make sure to tackle the main differences between a catalog vs a lookbook a bit later. Promise!
In my quest to help you understand how to make an online lookbook I came across some examples from brands using the lookbook format for a different purpose, which is: internal communication. Yes, you read that correctly. Companies like Starbucks use lookbooks for creating dress code guidelines for their employees. So, you see, in a way, lookbooks are used to communicate important messages in a highly visual manner. 
Lookbooks, an effective eCommerce tool
Even if lookbooks were initially made for print, this tool can be perfectly put to good use in a digital world, as well. Many fashion retailers use it in their e-commerce strategies. In recent years eCommerce has evolved in rapid and profound ways.
According to a report published in 2019 by Aaron Orendorff, the founder of iconiContent, the e-Commerce sector is anticipated to have, by 2023 a 276.9% increase in sales globally.
Also, nowadays in the COVID era, running a business without a web presence is no longer profitable. According to techcrunch.com, this year, brick-and-mortar retail sales will fall by 14% to $4.184 trillion and the e-commerce sector will climb by 18% to reach $709.78 billion, representing 14.5% of total U.S. retail sales.
An industry that has always dictated the latest trends in fashion, the largest B2C eCommerce market segment. According to Statista, the market is expected to grow at 8.6% per year and reach a total market size of US$1003.5 billion by the end of 2025.
As buying fashion online becomes more popular, consumers have started to demand more personalization. Customers now are in search of product offers at very affordable or discount prices. So prioritizing personalization can help you increase your customer engagement by matching your new product offers with their interests.
This process is possible with help of marketing automation software or eCommerce tools that aid in achieving personalization.
Tell your brand's story visually
However, if you're not a marketing specialist and you are not ready to introduce complicated tools and plugins for personalization, one way you can make your brand feel more personalized is by using lookbooks, which is still, to this day one of the most effective marketing tools when it comes to creating a specific consumer identity.
Let's take, for example, the fashion retailer COS, best known for its minimalist cuts. They do have a very well implemented e-commerce strategy, however, every time they launch a new collection, they invest effort into putting together a fashion lookbook that helps with portraying how the fashion items they're selling can be styled. And this is not a singular example. Many of the big fashion retailers do this, from the Inditex group, H&M, to more luxurious brands like Gucci or Dior.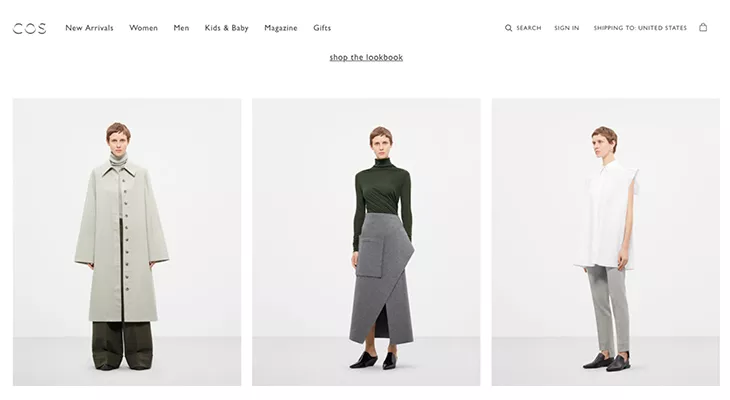 Lookbooks vs catalogs
Whether you're working in the fashion sector or you are a fashion enthusiast, catalogs and lookbooks are an effective way of showcasing your products. But, if you want to promote your business and you don't know exactly why it would be better to invest in a catalog rather than a lookbook and vice versa, keep on reading. We've made it simple for you to understand the main differences between a lookbook vs catalogs.
Catalogs
Firstly, a fashion catalog is used for displaying a clothing collection that offers a detailed product description such as pricing, materials, sizing and measurements. Mainly catalogs are used for wholesale and purchasing needs.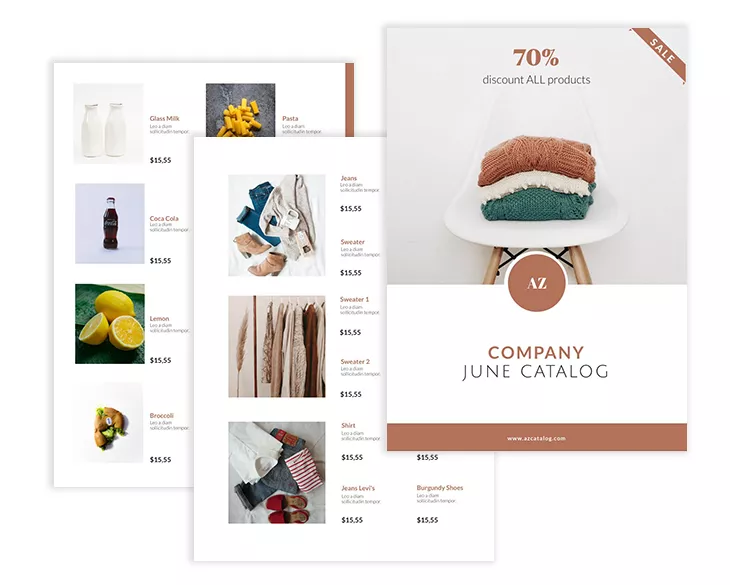 Lookbooks
On the other hand, fashion lookbooks are designed to convey the latest collection of a brand in a creative manner. Their main purpose is to inspire consumers and attract interest from fashion buyers without any bulky information.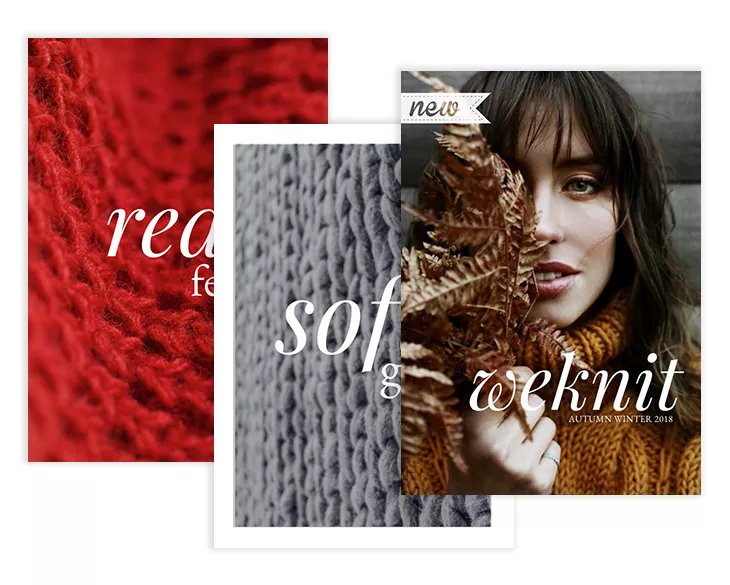 What's the difference between lookbooks and catalogs?
For a more concise explanation, and for a better understanding of how to make an online lookbook, here are the main differences between a catalog and a lookbook, explained in a more visual manner: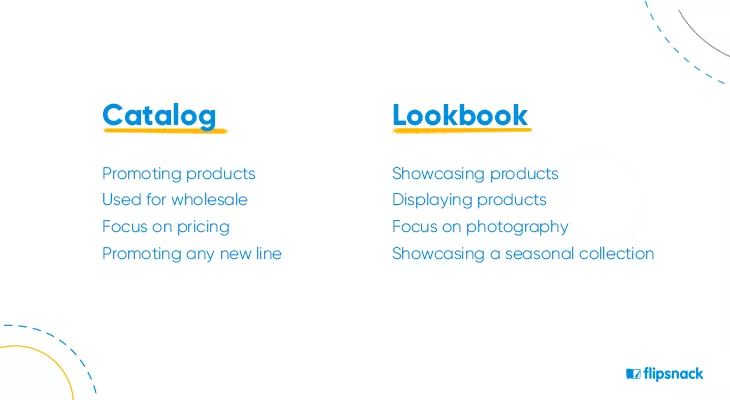 A catalog is where end-user customers see what a certain store is selling. Unlike a catalog, a lookbook is not meant to sell the clothing, at least not directly. It's meant to excite a viewer about a product, entice them to check out the store, website or learn more about the brand. A lookbook creates an emotional connection with your audience, tells the visual story you could be in if you choose to buy the products.
As a great example stands this Puma lookbook campaign. In 2015 Puma established a partnership with Rihanna. The goal was to create a connection with the female audience. For years, Rihanna has been an inspiration for women all around the world. She actively defends women's rights, by writing songs and participating in events. And so, women identify themselves with her. By connecting to Rihanna, Puma made a direct connection to a larger female audience.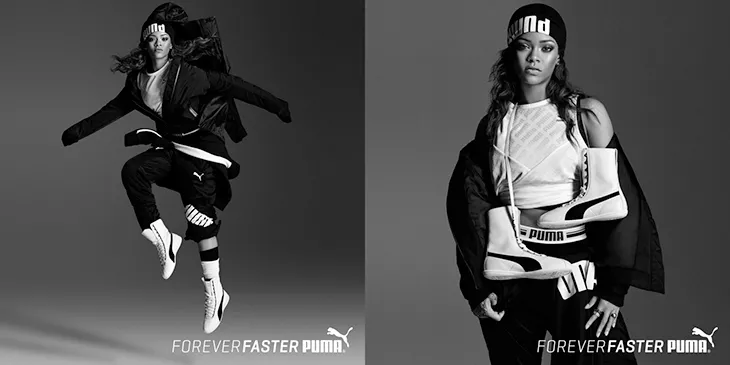 Dress code lookbook for companies
As I mentioned above, lookbooks are also used as an internal communication tool. Take as an example this Starbucks dress code lookbook. A very useful publication that helps the new staff accommodate and understand the internal guidelines of such a renowned brand.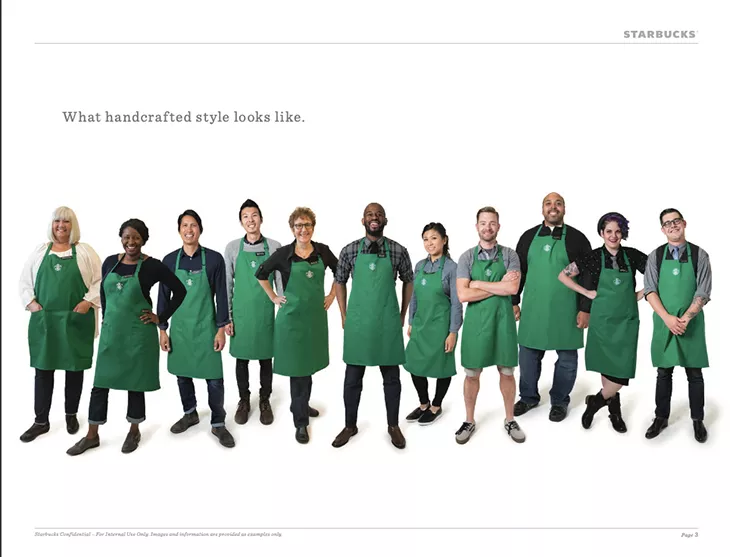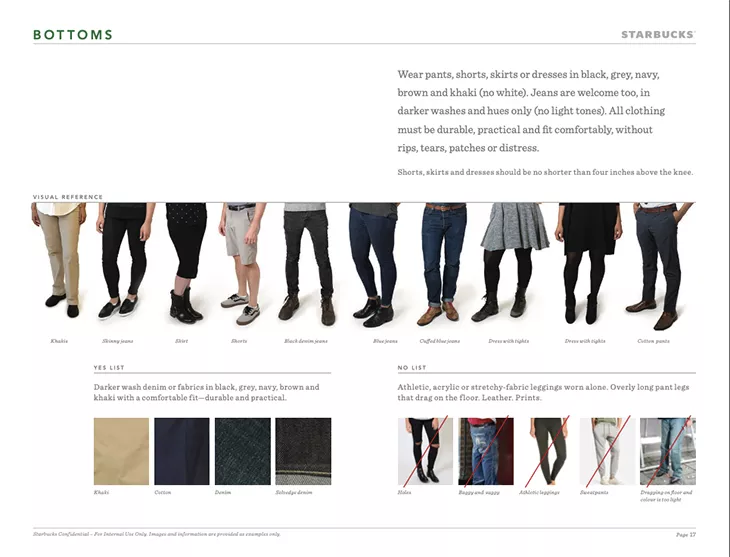 Another good example of this practice is Macy's.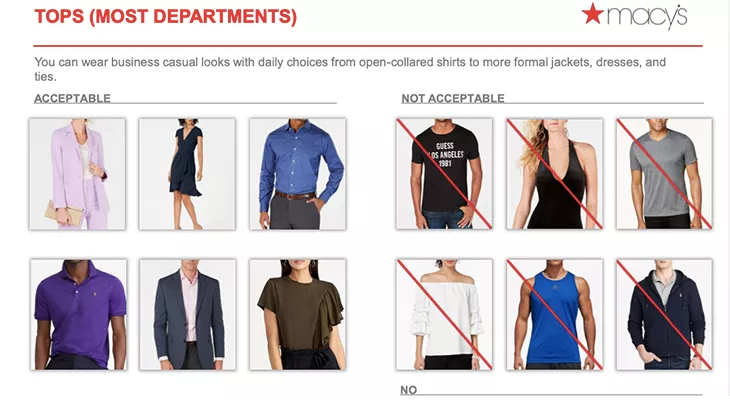 How to make an online lookbook?
If you got to this point of this article, you must be really interested in learning how to make an online lookbook. Do you occupy your time selling clothing or fashion accessories? Whatever the sector or size of your business, right now is the perfect time to showcase your products in a new visually appealing way and share it online with a wide audience.
If you are wondering how to make an online lookbook, here are the main steps you need to take:
Create a stunning cover
Choose a theme that resonates with your brand
Showcase seasonal content
Use Flipsnack lookbook templates
Print it or share it online
Create a stunning cover
What is a lookbook without a noticeable cover? A great one can create a strong impression on any reader better yet, a potential client. When creating a cover for your lookbook, the first thing you should have in mind is choosing the right photos. If you decide to go with a single image, make it big. A bold selection of images like this one from Topshop could be a successful attention-grabbing tool. Or if you decide to go for a photo collage, take as an example this lookbook from Topshop. It features a collection of photos with the main clothing line for the autumn-winter collection.
Of course, it's Topshop, one of the biggest retailers in the UK, so they had the budget for booking Gigi Hadid for the job, but trust me, if you follow our basic principles, you will learn how to create a lookbook that looks just as professional.
First step is kind of obvious. Pick a theme and make sure to represent it in the best way possible, through stunning photography. So either book a professional photographer or follow these tips on how to capture your own lookbook photos, which I've summarized below.
Choose a backdrop that fits your main theme
Position the product or model in good light and clear focus.
Have an eye for details, make sure your products look impeccable
Use a camera lens that best suits your needs: macro for close-ups, or short telephoto for portraits
Choose a theme that resonates with your brand
How to make a lookbook that shows your brand personality? Focus on your main strengths. Let's look at a brand like Burberry.
Heritage, craftsmanship and innovation are at the heart of the Burberry story, as embodied by the iconic trench coat – woven from the waterproof gabardine cloth invented by the founder Thomas Burberry. That is why a Burberry lookbook always will have visual elements that match the color and style of this renowned trench coat. Colors such as light brown, or dark grey enhance this clothing line and convey a dose of elegance and sophistication.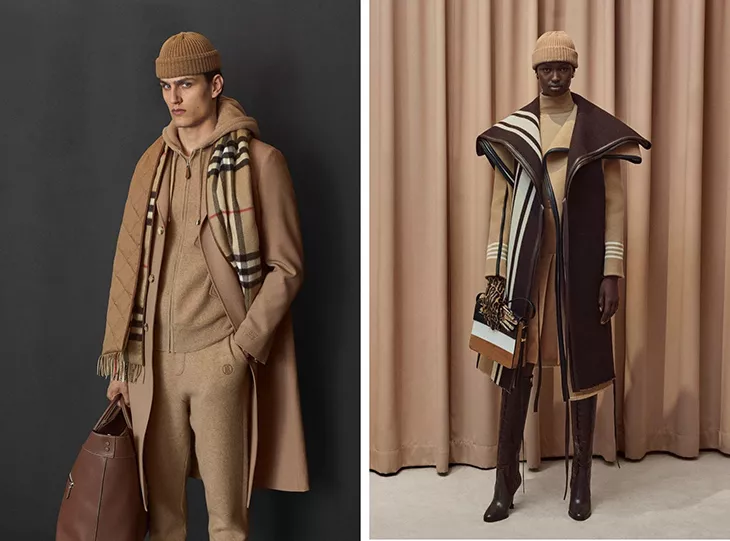 Showcase seasonal content
Seasonal fashion lookbooks are created to provide a customized visual aid of the items for your business that are trending for the season so your customer is styled for perfection. They are an advertising staple for most eCommerce stores. Customers usually buy new items when the weather is changing, so it's the perfect time to send them a lookbook with products for the season.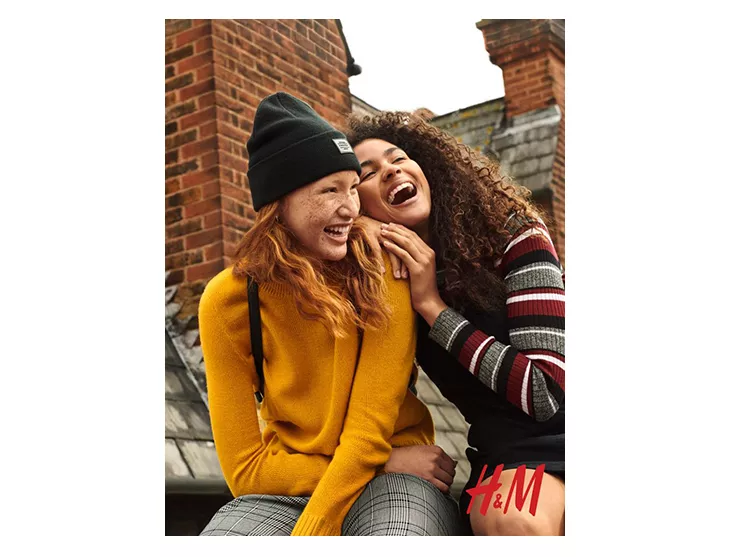 Now, if you're reading this article, you must be into fashion. Then, you probably know about the H&M capsule collections. Like the one with Giambattista Valli or Moschino. Basically, the retailer is giving customers the chance to buy a designers' piece at a fraction of the cost.
For every capsule collection launching, they also put together this big fashion event and create a special lookbook with stunning photos and a little behind the scenes. The story behind the pieces, with a little call to action inviting fashion aficionados to shop the precious items.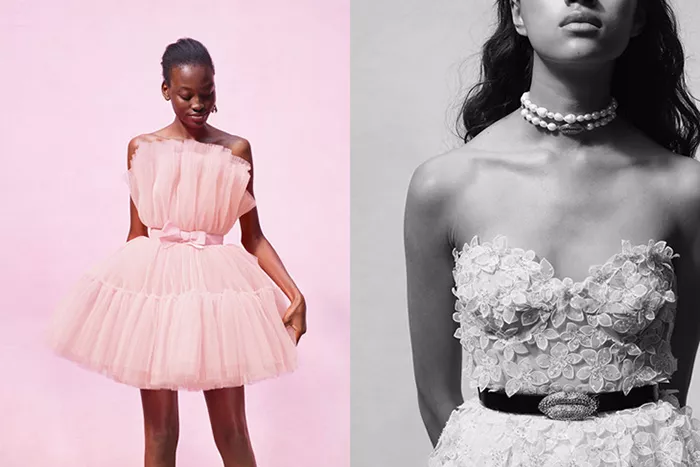 Flipsnack, the lookbook creator
In the digital era, lookbooks are more than a collection of photographs. If a while back ago readers could only look at images displaying your products, now they can actually interact with your lookbook! Now you can add videos, clickable elements, links, and shopping cart buttons to allow people to buy straight from your lookbook. If you are wondering how to create a lookbook for free, then Flipsnack is the right solution for you. We have a wide range of lookbook templates that will help you showcase your products in the most attractive way and tell the story of your brand.
How to make an online lookbook in Flipsnack
First things first, create a Flipsnack account and build your lookbook online, either by selecting one of our free, beautiful templates, or, if you're more of a DIY fan, click the create from scratch button. 
You can also upload a PDF lookbook if you just want to publish it online in a page-turner format and enhance it by adding interactivity elements. To help you out I made a selection of some Flipsnack lookbook templates you can start with:
Kids Fashion Lookbook Template
Are you starting a business with kids' clothing? Then this is your ideal lookbook template. Multicolored and modern, this kid's fashion lookbook template will showcase your products in a flattering and engaging way. Also the color palette, filled with orange and yellow goes perfect with an autumn clothing collection. Because our templates are fully customizable you can also add your own photos, crop to make it fit the layout, then enhance the brightness, contrast, saturation, and tint under Flipsnack`s advanced settings.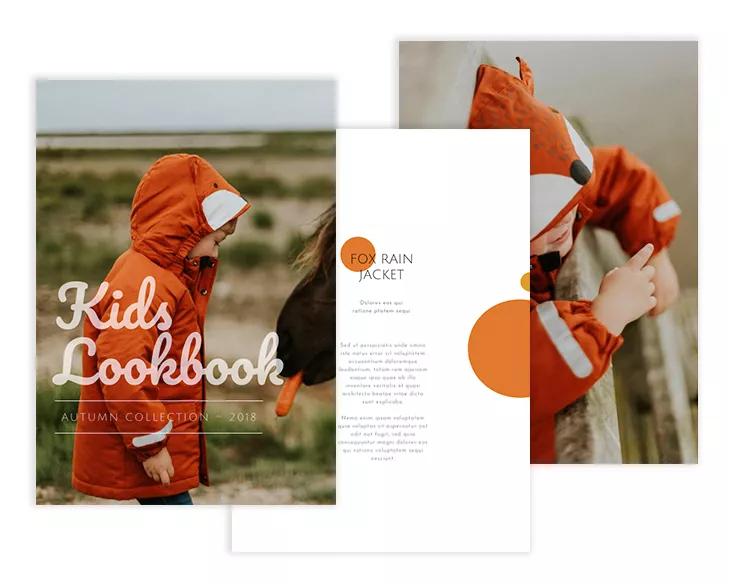 Film Lookbook Template
Traditionally a lookbook goes well within the fashion industry, but there are other sectors that can benefit from this type of publication. For instance, in filmmaking, a lookbook is a collection of photographs selected as visual references to express the director's vision for the look and feel of the film. A director's lookbook is usually shared during pre-production with the key department heads on a film, especially in the camera and art departments. If you are directing a movie or you are involved in the production process get inspired by this film lookbook template. Be creative and add your own photos that depict the mood you are going for color, fashion style, locations and more. Add your movie title and you are good to go. With Flipsnack the process of learning how to make an online lookbook is a walk in the park.
Company Lookbook Template
Remember the Starbucks internal dress code lookbook? If you wish to create something similar for your company, this is the lookbook template that might make your life easier. Take the Starbucks example and personalize this template to match your company's guidelines. Everything about this layout can be fully personalized. From images to logo, colors, fonts and more. When you're done, make sure to take advantage of all sharing options within Flipsnack. Because you can successfully share the final company lookbook securely just with your employees.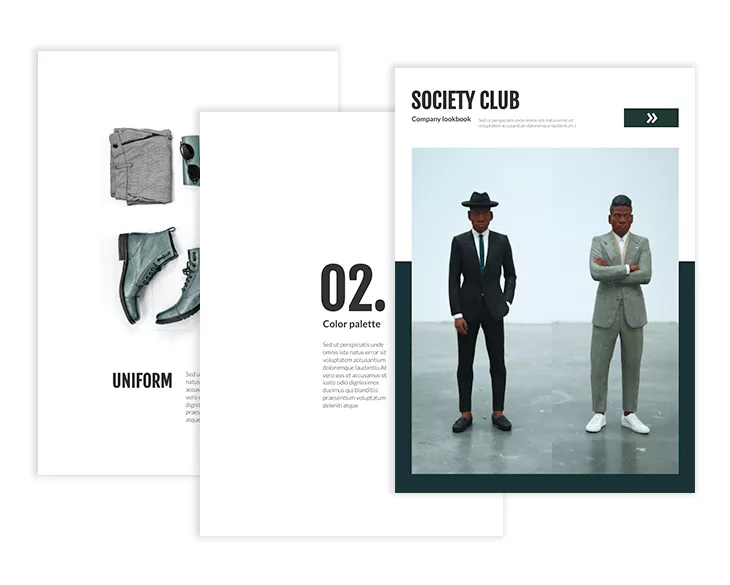 Add interactivity in your lookbooks
What is great about the way lookbooks evolved throughout the years is that they're no longer just a printed piece filled with stunning images. By going digital or integrating lookbooks within your e-commerce store, you can take advantage of all the perks that come with it. One is being able to add an extra layer of interactivity. For example, you can embed videos within your lookbook. This way you can enhance the storytelling. Use world-class photography as a main pillar of your lookbook, but on top of that, invest in a video. Show how your clothing looks on mannequins. Add links, shopping buttons, audio and just get creative with it. Fashion lookbooks are all about creativity. So, get wild!
Lookbook video examples
Just like a lookbook that integrates only still photography, the point of a video lookbook is to inspire customers with your brand's aesthetic and give them ideas about how to wear your collection. There are many types of video lookbooks. The most widely used are the 360- degree ones. This way, customers can get a full view of your product in motion. It's a great method to show off every last feature and benefit of your product.
Wondering how to make a lookbook in a video format? Collaborating with a great director and also a great designer can be a great idea. Let's take the example of Adidas Originals, that has teamed up with director Ben Mor for the official video lookbook of the new Jeremy Scott capsule collection for Fall/Winter 2013. The video showcases the bold new designs for both men and women in an individual and picturesque way.
Publish & share your lookbook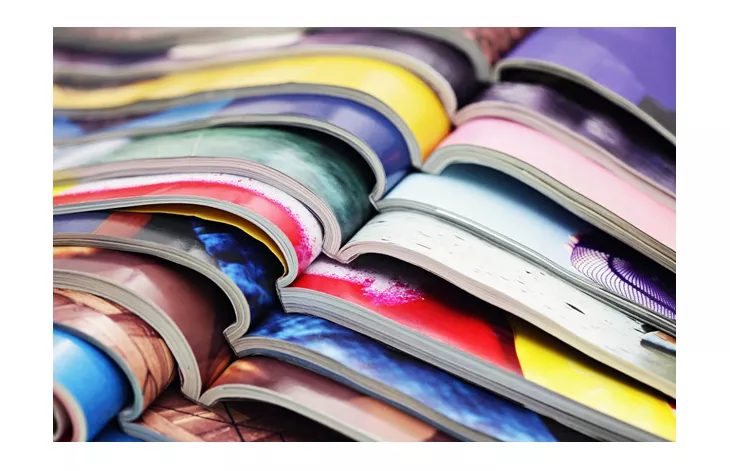 What is great about creating your own lookbook within Flipsnack is that you can save it as PDF and print it on high quality paper.
Or, take advantage of all sharing options available, as shown above. It's crucial to share your lookbook with your existing clients but also with anyone who might have an interest in your products. Identify your potential customers and show them what you're all about.
It's up to you the way you wish to share it. Save it as a video and share it on social media, or as a GIF. You know your target audience better than anyone else! And learn that you can come back and edit your lookbook whenever you want it.
Conclusion
Creating and learning how to make an online lookbook with Flipsnack is an easy and fun process. Be it a fashion lookbook or a dress code one, you just have to maximize the impact of your lookbook by putting your own brand spin on it. Don't let your lookbook feel like it could belong to just any store, make it uniquely yours, we take care of the rest.