How to make an event flyer that gets all the attention
If you're having an upcoming event and want to promote it as best as possible, then you should definitely take creating a spectacular flyer into consideration. But how do you create a successful event flyer when you're not a designer at all and have absolutely no experience in this domain? First of all, you should think about what gets your attention when you first come across a random flyer. Do you like the colors? Do you like the typography? Are you willing to read it with eager anticipation or can you not wait to throw it away in the first recycling bin you see? Pay attention to the details that capture your attention and then use them when it's time to create your own event flyer.

You don't need to spend a lot of money to create flyers that stand out from the crowd. And you also don't have to stress too much if you don't possess design skills. Nowadays there are so many free event flyer templates that you can really use as a starting point. You simply have to pick your favorite, unleash your imagination and create something you're proud of, something you enjoy reading. With a solid content plan and with a lot of practice and creativity you'll succeed in creating a good-looking event flyer within minutes. Just keep in mind the next steps we're going to discuss and give yourself some time. Have fun and enjoy the whole process!
10 Steps that help you create an eye-catching event flyer:
1. Set a clear goal for your event flyer from the start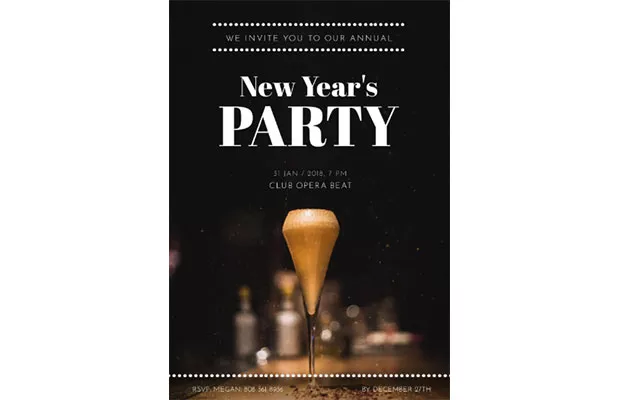 Before the start of your design, you should know from the beginning three crucial things: what you are trying to promote, where will it be distributed, and what kind of budget you are working with. Only after you've answered these three questions can you decide on the size and shape of your event flyer. If you have a clear goal and strategy it will be easier for you to combine content with design in a meaningful way. One common mistake when we speak of flyer design is wanting to put everything in one flyer design. It's impossible to do so. Choose the most relevant elements for your content and visuals and drop the other stuff.
2. Put emphasis on keywords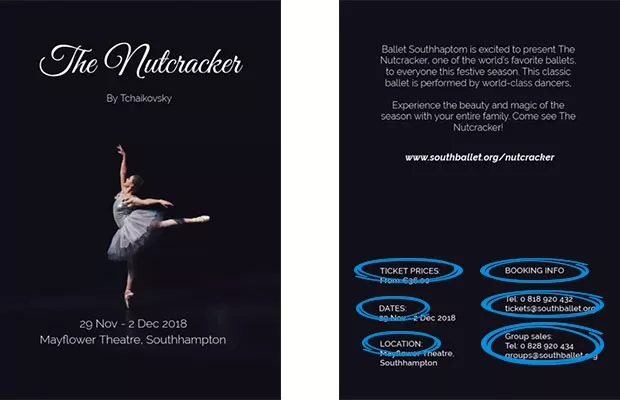 There are certain keywords that can help you sell the information faster in the flyer design. Emphasize them by making them bigger, bolder or brighter than another lettering. The keywords that usually grab the attention are time, date, place, new, free, easy, limited, easy, now, etc. Feel free to add other keywords if you find them relevant for your event flyer.
3. Include at least one Call To Action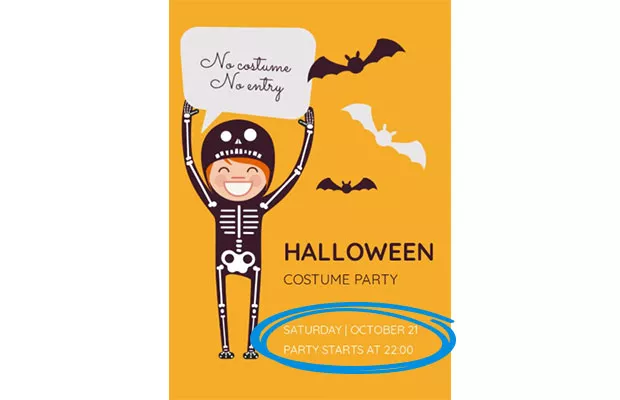 It's crucial to introduce at least one CTA in your event flyer. This is a foundational marketing concept, and it's not complicated at all. If you want your audience to do something specifically, simply invite them to do so by means of an attractive CTA. Create it in such a way that everybody will spot it really easily. Your CTA can be anything from visiting a website to calling a certain phone number or to showing up at a certain place and a certain time. Just like in the event flyer presented above.
4. Design top down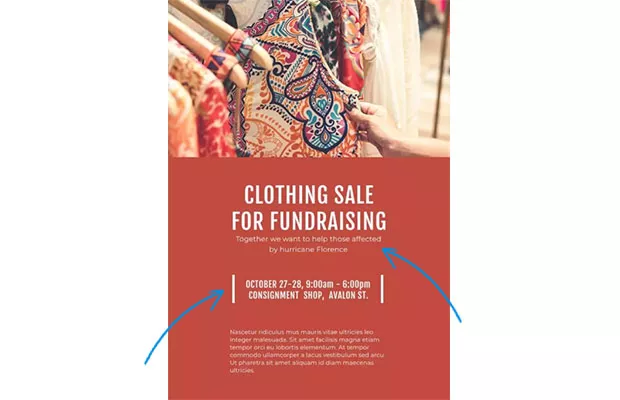 I'm not sure if you were aware of this or not, but the flyers are read from the top down and the design should also reflect this. When creating the content for your event flyer, please keep in mind to start with the most important information at the top of the design and leave the not so important information for the bottom of the page. When it comes to visuals, the same rule is applied. The most impactful images should always take place at the top of the page. There's a very informative example right before this text.
5. Be aware of the color palette you're going to use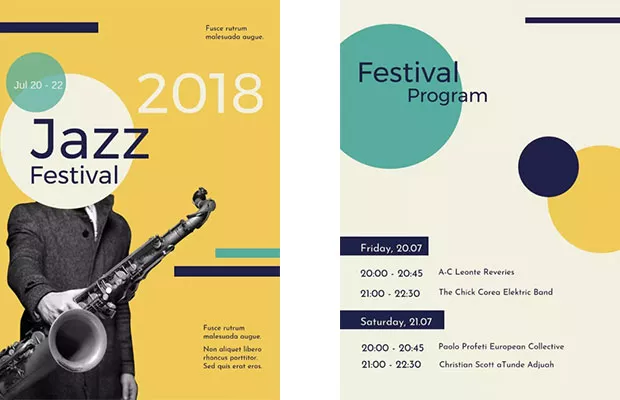 The color part is very important for your event flyer. Choose bold and vibrant colors in your design if you want to get people's attention from the very beginning. But try to mix them in such a way that your event flyer won't look kitsch at all. Use contrasting colors to make the flyer pop! These types of colors will help your readers notice the flyer more easily. And this is everything you could wish for, right? No matter your color choice, just make sure that in the end you'll achieve a color harmony and everything looks clean and nice.
6. Always use high-quality images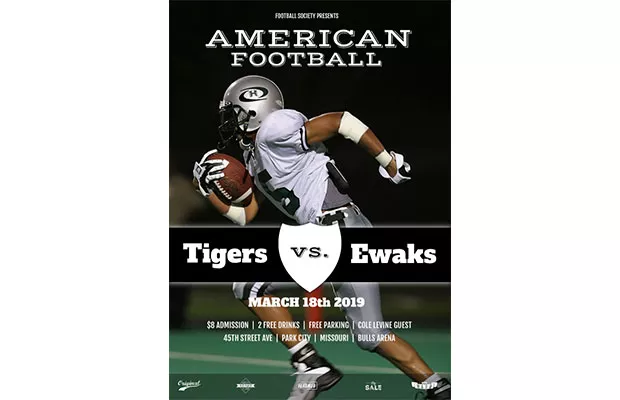 There's no such a successful event flyer without high-quality images! In addition to being high-quality, the images should also be relevant to the information on the page. Choose sharp and clear photos. The readers should figure out quickly what they are looking at. Don't confuse them with weird photos, because they will get frustrated and will throw away the flyer. And this is something you definitely want to avoid!
7. Integrate your branding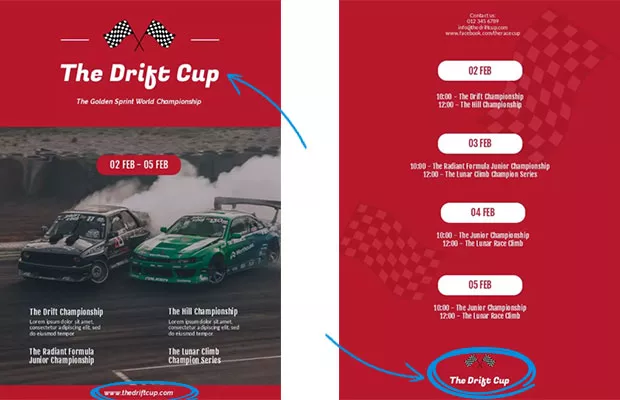 Make your event flyer completely yours by integrating your own branding. You should incorporate your brand visuals, colors, fonts and everything related to your company so that your readers will notice your company or product in the very first seconds. It's all about branding, right? And the event flyer you created is another chance to maintain your brand identity.
8. Always proofread your event flyer
This is a crucial step when creating an event flyer. Never ever print your flyer before proofreading it. When you get the final design, check and check until you make sure that there are no typos. Ask someone else to also take a look at it, someone that is unfamiliar with your content. Also, assure yourself that all the important information is there in the flyer, you don't want all your hard work to be ruined just because you didn't pay enough attention. It can happen to anyone to forget the date, location, or the website URL, that's why it's recommended to always check twice.
9. Print your event flyer at highest quality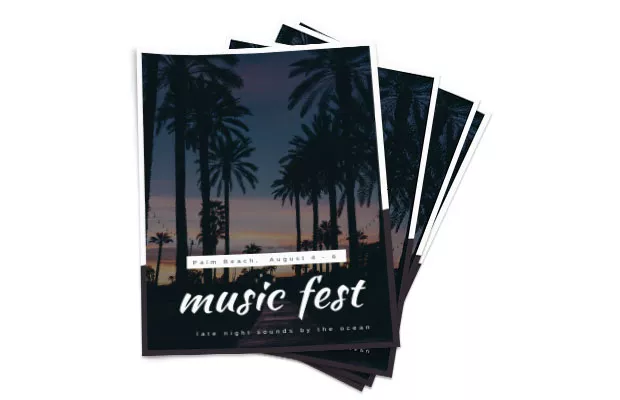 It's print time! All of your hard work will finally be rewarded. Be a professional until the end and choose an experienced print shop when it comes to printing your event flyer. Of course, it will be more expensive than in other places, but also take into account the fact that the quality of paper and type of printing will also be finest. You won't find the best quality for a rush job at a lower price, so choose wisely!
10. Physical vs. digital distribution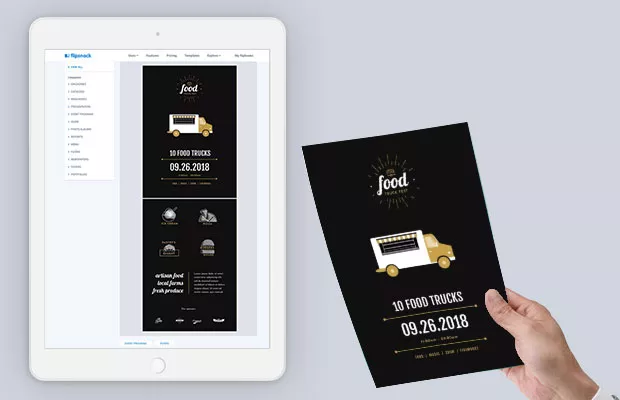 Your work has just begun! The most important part comes only after you've designed your event flyer. Now it's time to make sure that it reaches the right people and your event will be successfully promoted.
There are two ways to distribute the latest news after you're done with the design part. We already discussed the first one: you can print your flyer and then you have to make sure that it will get into the right people's hands, by classical delivery. The second one refers to the online environment. Post your event flyer on social media, share it with as many people as possible because it's free, quick, and there are higher chances to reach even more people.
How to create an event flyer in Flipsnack
Oookay, so I think that you've read enough tips & tricks that will help you create a successful event flyer. Now that you're equipped with so much valuable information, it's time to put into practice what you've read and make your own flyer! Flipsnack is the best event flyer maker that is always at your disposal anytime you need. It features a user-friendly editor that allows you to customize your event flyer exactly as you wish within minutes. And the best part is that Flipsnack provides plenty of free event flyer templates to choose from. They're all professional and varied, so whatever great event you're trying to pull off, we've got you covered! Simply follow this step-by-step tutorial that teaches you how to create event flyers with our editor:
Go to Flipsnack and click on Design it here
Choose the flyer size and click Create
Pick your favorite template and start personalizing it
Add your own text and photos, change colors or add shapes
Click on the download button to save it so you can print it later or click on Make it a flipbook and publish it online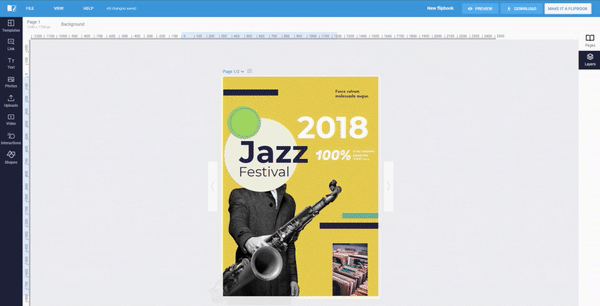 It's so easy, right? Glad you find it that way too! You can always access Flipsnack when in need to design all kinds of event flyers.
We're also hoping that today's article has been a helpful resource and will give you the courage and jumpstart you need to create a professional and successful event flyer. Be creative in the whole process and don't stop until you obtain something you're proud of!