In the spotlight: 10 questions with Arthur – Marketing Manager at QL Hotels & Restaurants
We continue our interview series with Arthur – Marketing Manager at QL Hotels & Restaurants. If you're on the lookout for an authentic getaway while enjoying the best wine and dine experience, then this article is a must-read. Their quaint locations, fine dining, and pleasant accommodation will for sure make your trip a memorable stay. Keep reading to find out some of Arthur's recommendations for charming destinations to visit this year.
1. Tell us a bit about QL Hotels & Restaurants! How and when did it all start?
It all started in the Netherlands about 15 years ago. Our founder, Hein van Beek, writer and connoisseur of fine hotels and blessed with an eye for taste and style, came together with a handful of individual quality hotels. Together they decided to form a collection of unique quality hotels with excellent cuisines. QL Hotels & Restaurants is all about quality (QL stands for Quality Lodgings) and has nothing to do with luxury. It's about the taste of excellent food and spending the night in a unique atmosphere that make a memorable stay. Eating, drinking and sleeping in one location. Fifteen years later, the collection of QL Hotels & Restaurants boasts more than 130 hotels in 8 European countries.
2. How long have you been working at QL Hotels & Restaurants and what's your favorite part about working here?
I'm in my fifth year at QL Hotels & Restaurants. What's my favorite part? What's not to like about visiting the nicest small scale quality hotels? Chances are, you'll find yourself in the most stunning parts of the countryside and meeting the most wonderful people time and time again. People who make it their life's work to prepare the best food and serve the most incredible wines! All at the highest level possible. Just kidding, that's a small part of my job. My favorite part about my work is to discover a special hotel or restaurant. I really can't wait to get behind my computer to let people know this is a MUST.
3. What made you choose Flipsnack?
It's very easy: we needed a way to integrate our QL Magazine on our website. Flipsnack seemed the obvious way to publish the magazine digitally. Your platform is easy to use, so for us, it was clear that we should use Flipsnack.
4. Why does QL Hotels & Restaurants choose to publish their magazines/ guides digitally?
Because it's easy, fast and you can inform anyone without having to send the print version of our publications. For us, it's vital to offer a digital version of our publications through our website qlhotels.com. Once a year we publish the QL Guide (324 pages, in 3 language versions) boasting all QL Hotels & Restaurants and twice a year the QL Magazine, a travel & lifestyle magazine.
5. What's your greatest satisfaction in being a marketing manager?
When I see people getting enthusiastic about one of the QL Hotels & Restaurants! We work closely with the media and high-quality brands. It's such a pleasure to hear that people have enjoyed their stay at one of the QL Hotels.
6. Tell us about one of the challenges you had to overcome last year as a marketing manager.
As the world is changing rapidly, for us it's a challenge to stay up to date. Most challenges are related to online marketing. I think this is no different in any other business.
7. Any vacation destination you'd recommend for the summer that's coming?
As a Dutch native, I should say: come to the Netherlands. Visit Amsterdam for a day or two, and then get to know the 'real' Holland, away from the busy streets of Amsterdam. Holland is so compact, but has such a large variety of landscapes. Almost everyone speaks English, German and/or French and we have a selection of the best art collections in the world. Go to De Hoge Veluwe National Park, the largest nature reserve in the Netherlands, grab a free white bike, and discover beautiful landscapes and also the art at the Kröller-Müller Museum (the museum has the second largest Van Gogh collection in the world). Stay at one of the QL Hotels & Restaurants and experience the hospitality of the Dutch.
My personal favourite is Germany. It keeps surprising me. The food is amazing, and so are the people. I love to visit the historical cities along the Rhine. I know, only for people in touring boats, right? Wrong! A new generation presents its country in a surprising way. Young chefs make the most delightful dishes, using ingredients from their own gardens or with the help of local suppliers. Young German winemakers are taking over vineyards, cherished by their families for centuries.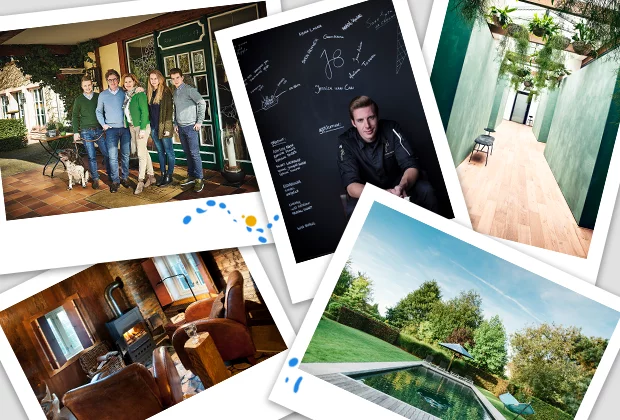 8. What's the most interesting thing you've read/ seen/ listened to this week?
A young chef at one of the QL Hotels (Hotel Vitznauerhof in Switzerland) has earned a Michelin star (highest reward for a chef), six months after opening the restaurant. The chef is originally from Holland, started to cook in a different country and won the heart of his guests, and a Michelin.
9. What is a main goal for QL Hotels & Restaurants in 2019?
It's our mission to let people know that, if you are looking for a great meal or a wonderful place for an overnight stay, you have a choice. It doesn't matter how deep your pockets are. Great food and a good room don't always come at a high price!
10. What do you think is the secret for QL Hotels & Restaurants' success?
People start to think differently about the way they eat and drink, for instance, the chefs at the QL Hotels & Restaurants have been working for years with local and seasonal produce. Many travelers start to make different choices and QL Hotels & Restaurants is a great guide for a surprising and memorable stay!
This has been an amazing adventure and has left us eager to discover more of those beautiful places where QL Hotels & Restaurants provide both excellent cuisine and blissful bedroom comfort. We hope you enjoyed it as much as we did. Stay tuned for our upcoming interviews!