6 benefits of interactive magazines you haven't thought of
By now, almost every traditional printed magazine has made the leap towards the digital world. We can all agree that the future of this kind of publication is, indeed, digital. With 64% of people reading digital magazines on a monthly basis, there is a lot of competition. So, your content should be as interactive, engaging, and interesting to read as possible. You should be focused on creating an amazing reading experience, for your audience to grow, and your interactive magazine with it.
Even though some famous magazines like Vogue still count on print for the majority of their profit, Cosmopolitan has made the leap from print to digital. With reaching 100,000 paid digital subscriptions early on, this success was considered a milestone for all print magazines. It just goes to show that their solid foundation of subscribers will read this magazine on any platform.
Stick around if you want to learn more about these interactive magazines and how you can reap the benefits of adding interactivity in your periodic publications.
What is an interactive magazine?
Interactive magazines include any digital publication that requires an action from the reader. These actions could include: clicks, swipe, or touch to perform different operations. Some examples of actionable elements would be links, videos, lead forms, photo slideshows, pop-up frames, buy buttons and so much more. Take a look at the embedded template below to see how enriched this digital magazine example is, after the added interactivity.
Benefits of using interactivity in your magazines
1. Increase the time people spend reading your magazine
You double and even triple the chances of your magazine being read simply by adding all sorts of interactive engaging elements. And by as many people as you are able to reach with it.
Nobody wants to read a whole bunch of text, with nothing to enhance it. Get the job done with elements like eye-catching visuals, slow-paced GIFs, short videos, or other types of immersive media. Always put yourself in the reader's shoes and try to predict what channel of engagement would work best for your niche and the subjects you tackle.
You can truly take advantage of this benefit when you experiment with your interactive online magazine issues, every time you publish a new one. By doing so, you learn more and more about your audience and what their expectations are.
2. Establish an emotional connection with your readers
This takes me to the next benefit, which refers to establishing an emotional connection with your subscribers. Perhaps you haven't considered interactivity as the element which would help you take a step forward in communicating with all types of readers.
Think about it this way: you prompt the reader to actively click on any interactive element, which you have prepared for him/her in the magazine's pages. In a way, the reader becomes a part of your magazine and thus, feels connected to it.
If this is something you've struggled with in the past, it's time to give interactivity a shot. You will be amazed at how much of a difference it makes with your readers!
3. Strengthen your brand's identity and appeal
One of the most important requirements in any business transaction is trust. If customers don't trust your business, if they have doubts about it being legit, they will not buy from you. The first step in building trust is getting your brand known, and the next step is getting customers to connect with it.
Since we already covered the part of getting customers to connect with your interactive digital magazine, we will dedicate this paragraph to building their trust. Even though this is a long, challenging process, it is crucial for enjoying the success that comes after. You can work in small steps toward winning your customers and differentiating your business.
By adding interactivity to your magazine, you automatically have that "wow" factor. This will ensure that your readers find it remarkable. And there is truly no better way to build your brand than by being remarkable.
4. Drive more sales through shopping tags
There's a whole potential you're not tapping into if you dismiss the power of interactive magazines when it comes to driving more sales. But it's important to know how to do it, so you get the most out of this marketing tactic.
Through product tags and buy buttons, you can actually maximize your profit. Your readers can buy directly through your digital magazine, which can be shared as an interactive flip book, simply by clicking on "shop this item". Additionally, you can edit the product tag by entering the product's title, description, product's URL, price, and images, of course.
Since a magazine isn't the most suitable context for selling products, you can opt for a simple tag, and be more subtle with this section of the digital publication. Stick with me to find out exactly how you can add product tags to your magazine, in a few simple steps.
5. Send traffic from your magazine to your website
The opportunities are endless when it comes to maximizing your online magazine. And the benefits make all the efforts worth it. I think you're already sold on this if we start with how much traffic your digital interactive magazines generate to your website.
By redirecting your readers to your site, there is the obvious benefit of gaining more organic traffic. But there's more: you're educating them about your brand's values and what you stand for. Thus, while you focus on being consistent with the message you send across; you begin and strengthen the trust process.
6. Get to know your readers through granular statistics
Imagine you're doing everything mentioned above, but you disregard the importance of knowing your readers. It is the equivalent of building a really stable boat and then forgetting about the rows. They're the ones that help you go to new places and experience different waters. There's no way you can move forward or achieve your goals without statistics.
Unlike a printed magazine, you can have access to a variety of statistics with a digital issue. From average time spent on a digital publication, to views, impressions, and which elements your readers clicked on. For a more in-depth analysis, you can connect your Google Analytics account to Flipsnack and stick with what's familiar to you. Using this data, you can make the necessary changes to your interactive digital magazine; so it reaches the maximum level of engagement.
Keep experimenting with different interactive elements, until you know what your audience reacts to the most. Now, let's move on to the practical part of this article, where I will show you how to make a magazine interactive using Flipsnack.

How to make an interactive magazine?
There are a few steps you can take in order to make an interactive magazine out of a PDF or if you choose to start from scratch.
Sign up to Flipsnack with your Google or Facebook account.

Upload your PDF or start from a magazine template.

Customize the chosen template with your own content and visuals.

Add interactions, like videos, lead forms, links, photo slideshows.

Publish online or share your magazine with subscribers.

Track its performance through statistics.
What interactive elements can I use with Flipsnack?
Hook your readers with videos
First and foremost, you can add videos to your digital magazine and make it interactive. You can either opt for a video button or a widget that plays directly on your publication's page. For the video button, keep in mind that you can edit the size, so it fits your design. Videos are great to use in a digital magazine for ads because it replaces the old printed format; which only presented a static picture of the promoted product.

Build engagement with links and buttons
Add more value to your interactive magazines with links, shopping buttons, and social media buttons. Once you set a link, you can style it by changing the layer's color and opacity. By the way, we automatically detect and keep your PDF hyperlinks, but you can always add more. Simply drag and adjust an outline over the area that you want hyperlinked and enter the desired URL.
Save space with photo slideshows
This type of interaction allows you to add up to 10 pictures/slideshow, thus saving a lot of space. More than that, you can choose the desired order and set the duration loop. You can always add more photo slideshows, depending on how much context you want to give your readers. Try it out for the next magazine issue and check the performance using Flipsnack statistics.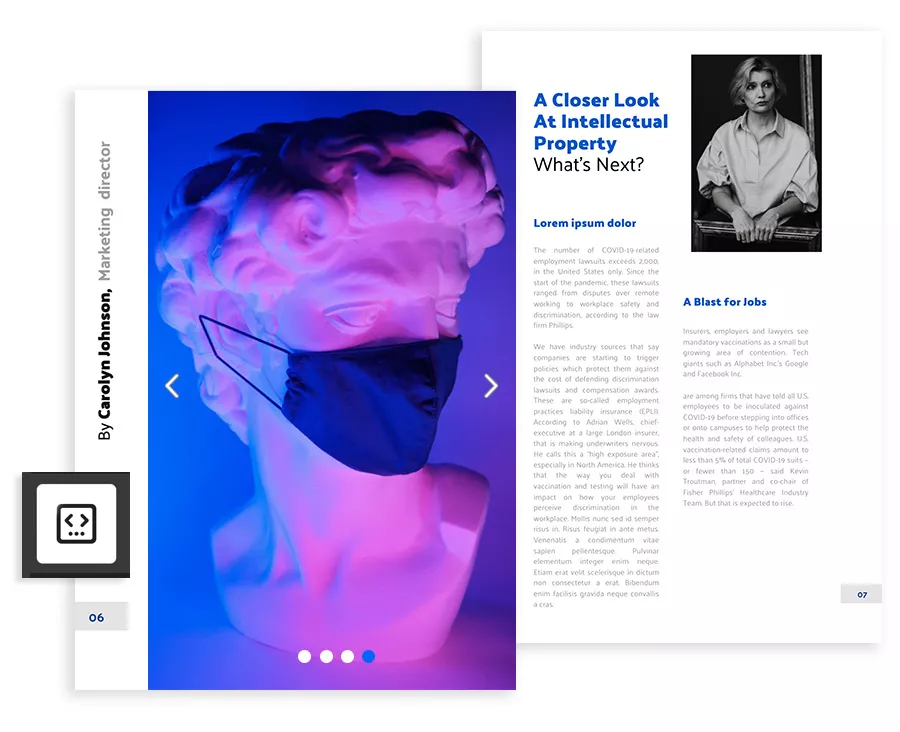 Insert interactive tags and captions
The list of interactions just goes on and on, followed by interactive tags and captions. Both of these elements are useful, as you can offer readers additional information for the items presented in your interactive digital publication. Plus, you can position them anywhere on the page, after you finish customizing the URL, text, opacity, and color. Another cool thing is that you can actually embed a video in the tag's text box using a special iframe embed code. This basically means that the reader won't even notice that there's external content loaded on the page, and every technical aspect will run smoothly.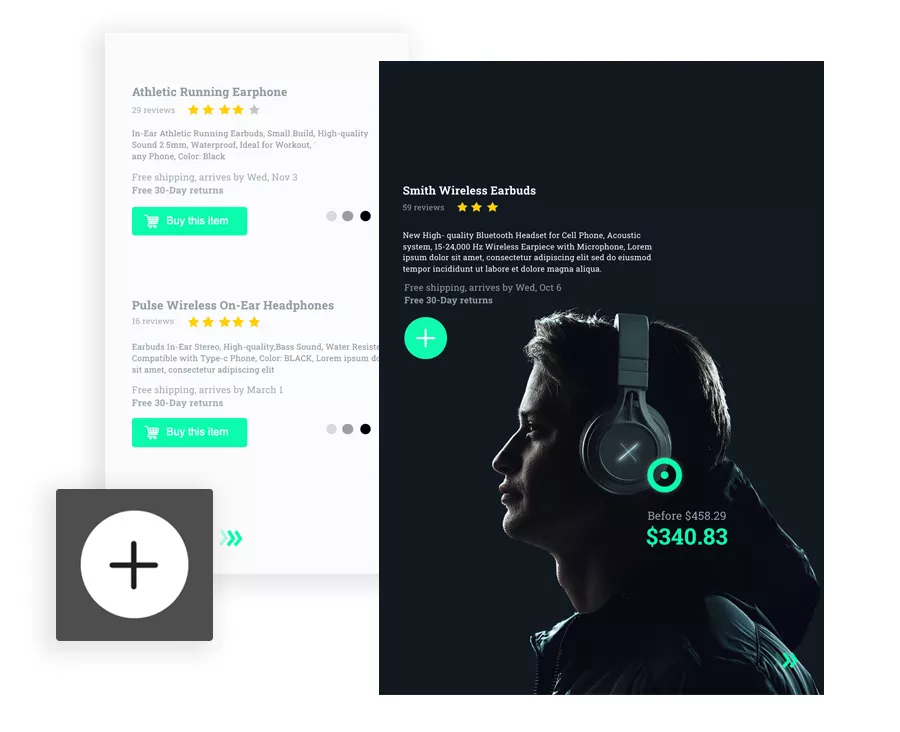 Maximize sales with product tags
Use our Design Studio to include product tags in your magazines, thus, maximizing your sales. Insert the title, description, price, URL, button label, and add up to 3 pictures of the product. Make the most out of that description box by promoting your products, without coming off as pushy. When you're satisfied with how every detail looks in relation to your other sections, move on to the next interaction.
Insert embeds
for a seamless design
By using embed codes, you can embed any content in your digital magazine. This is a subtle way of seamlessly inserting surveys, polls, presentations, slideshows, virtual tours, quizzes, carousels, and more into your interactive digital publications. You name it, and it can be included in your digital interactive magazine. With the same iframe embed codes, you can insert any forms you want, from outside the platform, and easily make them a part of your magazine.

Final thoughts
Just like we've discussed in this article, there are a lot of benefits of using interactions in your magazines. The ones that stand out the most are: people spend more time reading the magazine, you create an emotional connection with readers. Moreover, you enhance the brand's identity and appeal and you drive direct sales through shopping buttons. Interactions like videos, embeds, photo slideshows are a few examples of elements that you can include in your interactive digital magazines.
Now, it's your turn to transform PDF into a digital interactive delight or you can do that even with your printed magazine. With all these resources at your disposal, it's doubtful that you won't achieve your goals. Remember that the best moment to start is now!