How to design a fashion magazine like Vogue [+templates]
Fashion magazines – those lifestyle trendsetters that we flip through every once in a while. They help us keep up with the latest trends of celebrities, designers, and fashion icons. What's the first magazine that comes to mind? Probably Vogue, as it creates trends that the fashion industry follows. It's no wonder we used it as an example for those learning how to design a fashion magazine.
From idea to publication, there's a long way to go. Still, fashion magazines aren't only fun; they are also necessary in today's digital world. Digital fashion magazines appeal to today's digital audiences through interactive elements. Vlogs, video interviews, and abundant content help them trump their printed counterparts. Vogue uses its digital platforms to promote its brand, and so can you. Here's a tutorial that shows how to make a fashion magazine in 3 minutes. Enjoy!
It may be challenging to do at that level. However, designing a digital fashion magazine like Vogue applies the magic of the online world to your benefit. So get your drawing board ready, and we'll take you through the entire process and then some. Learning how to make a fashion magazine is one thing. Doing it in digital format requires some knowledge of how digital marketing works. Let's explore the hidden world of fashion magazine creation and make your own digital version with less hassle. But first, we'll need to cover our basis.

What is a digital fashion magazine?
Digital fashion magazines are improved versions of printed fashion magazines designed, published, and distributed online on a platform and stored on servers. Additionally, audiences can read digital fashion magazines on electronic devices like computers, tablets, or mobile phones.
Publishing digital fashion magazines instead of their physical counterparts comes with some benefits. Not the least important are the financial and environmental incentives. In terms of aesthetics, knowing how to make a fashion magazine digital enriches your issues with features that offer an immersive reading experience.
When digital magazines were first produced in the 1980s, they were known as diskzines (or diskmags). Publishers distributed them through floppy disks sent in the post that readers would enjoy at home on their computers. It may surprise you, but those executable program magazines included animations, music, and other forms of multimedia.
Vogue, the fashion magazine that the fashion industry follows, ventured into the digital world later. The technology wasn't available in average households. Still, Vogue doesn't only set fashion trends but marketing trends as well. It does not shy away from revolutionary changes either.
How Vogue revolutionized fashion magazines?
For Vogue to become the magazine that sets fashion trends worldwide, it didn't only need great photography, fashion articles, and well-dressed models. Arthur Baldwin Turnure, the founder of Vogue, knew how to make a fashion magazine stand out because it gave more than people expected from a fashion magazine, pushing boundaries in both fashion and culture.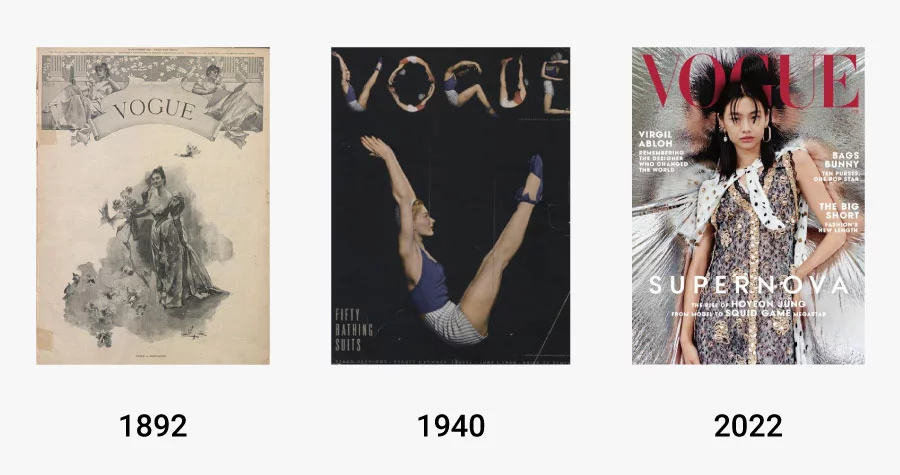 Throughout its 130-year tenure, Vogue collected a series of firsts, showcasing and creating groundbreaking moments:
In 1926, the magazine debuted Coco Chanel's Little Black Dress;
In 1967, the Yves Saint Laurent iconic Le Smoking Tuxedo, designed for women;
In 1988 they paired haute couture with a pair of jeans;
In 1998 they featured a First Lady on the cover.
From 1892 to the present day, Vogue grew into an internationally acclaimed magazine commonly referred to as the Fashion Bible. The magazine's history entered pop culture through the best-selling book and Oscar-nominated movie "The Devil Wears Prada."
Vogue worked with the biggest brands across the web when the digital age came along. Influencers, celebrities, and social media's power helped it steadily adapt to the online world. By mixing mediums and providing content to subscribers worldwide, Vogue continues to be more than just a fashion magazine. At the same time, it upholds its reputation as the Number One fashion publication. No wonder we chose it as an example for an article to teach you how to make a fashion magazine.
Fashion magazines in the digital revolution
Over the past few years, industries had to expedite their digital transformation as the pandemic precipitated this need. Transitioning to online channels, adapting the value chain, and reconsidering traditional ways of doing business proved particularly distressing for the fashion industry.
Still, digitalization wasn't a new concept for the industry, brands, and retailers. They either became digital leaders or laggards regarding online sales. Implementing these changes resolved long-time issues that the industry was facing. Furthermore, the versatility of digital fashion magazines outweighs the best of what is available through print. One only needs to look at what digital commerce shows and see the limitless possibilities of digital solutions. Through that, we can understand how the industry can benefit from its digitalization.
Digital commerce
E-commerce took over the market in a big way in 2021. 43% of consumers who had never made online purchases went digital for the first time. Furthermore, 30% of Gen Z and 36% of Millennial consumers are less likely to shop in-store in the future. Stores go directly online.
If brands know how to make fashion magazines digital, it's easier to reach their audience. 73% of teenagers in the US specified the easiest way to reach them with fashion trends is through social media. Particularly Instagram. Of course, you can quickly promote digital content on social media, but we'll tackle that aspect later in this article.
Digital solutions
The fashion industry is the second-largest polluting industry, but they are implementing steps to lower this standing. Consumers' behavior changed with the demand for increased brand responsibility. Climate awareness pushes for lower carbon emissions, and print does the opposite. Fashion magazines can be the first step towards green marketing and benefit from it.
A digital fashion magazine doesn't only feature exciting articles and stunning models but a wide range of interactions. For example, readers can order products directly from the photograph, and 3D rendering shows them clothing articles from all angles. Additionally, blockchain technology takes transparency to new heights for sustainable, conscious consumers.
The digital transformation of fashion magazines benefits the fashion industry, its creators, and readers in one fell swoop. An added benefit comes with including functionalities. These can track the readers' experience and perception of each issue, but more on this later. So let's see how you can easily make one yourself.
How to create a fashion magazine in the digital era?
We've shared some general information about what a fashion magazine is. We also went over Vogue's role as a trendsetter in cultural growth. We can see how the industry has changed in the digital age. Now we'll go over how this affects the creation of digital fashion magazines.
Vogue managed this transition into digital mediums and is one of the most popular publications. So it's no wonder it's a success story people want to recreate. That is why you came here. To learn how to make a digital magazine online. Up next, you'll find ten steps you can follow if you're wondering how to start your own fashion magazine.
How to create a fashion magazine in the digital era?
Come up with a plan for your digital fashion magazine
Follow the trend with your content
Draft your digital fashion magazine guide
Build your fashion magazine cover
Make your fashion magazine pop with interactive elements
Tell a story through typography
Spark emotion through photography
Create a masterpiece through colors
Proofread the typos out of it
Promote your digital fashion magazine
Let's see what these steps imply and figure out how to create a digital fashion magazine.
1. Come up with a plan for your digital fashion magazine
Before you start designing a fashion magazine, you should look for inspiration in other fashion magazines, online or printed. You can find exciting ideas such as cool type combinations, catchy layouts, or inspiration for a trendy color palette.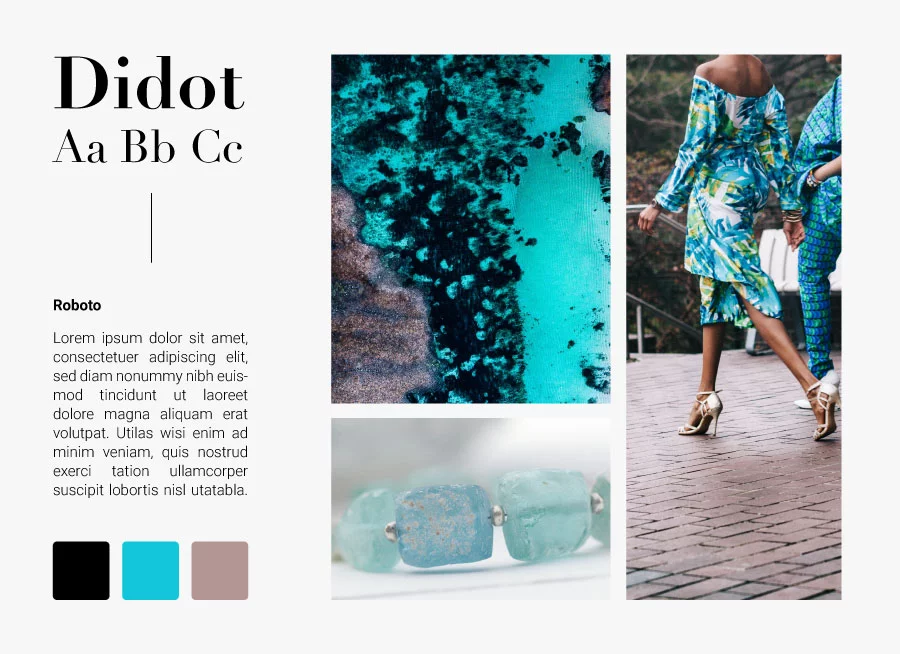 We recommend you use a mood board. This collage consists of images, typefaces, and colors, which will help you define the style of your fashion magazine. This technique will boost creativity, help you stay more organized, find new ideas and keep the same mood throughout the entire fashion magazine. If you're interested, there are a variety of unique collage techniques that will definitely kickstart this process. With that out of the way, you need to go behind the scenes.
Identifying your target audience is the key to a successful fashion magazine. First, ask yourself who reads these magazines and what interests them. The content of your fashion magazine will be dedicated to some types of readers. Therefore, you must define your reader persona and tailor your magazine to them. How old are your readers? What are their purchasing patterns? Do they consume online or offline content? Answer these questions and others to target your audience better. This is essential in understanding your market and catering to their needs.
Tracking and measuring your reader's behavior is simplified through extra functionalities. This will enable you to identify popular content, time spent by readers on each page, and interactivities they engage with. Use this information related to your audience to adapt your buyer persona and content to their needs for future issues. Then, start by establishing a direction for your content.
2. Follow the trend with your content
For fashion magazines, the content is critical. It has to be catchy to grab the attention of the audience. The readers always look for something new, and you should rise above their expectations. Take a look at the topics commonly featured in Vogue for examples of articles you can find in fashion magazines:
Vogue presents the latest trends of the season creatively. Haute couture fashion gives the spark, while runway shows bring the newest trends into the spotlight;
Beauty tips and tricks is where you can find suggestions on how to look better and what products to use;
Articles about people in the fashion industry or interviews with celebrities cover the cultural side of the Fashion Bible;
Health and care is where you can find recipes, lifestyle advice, and information on how to keep a balanced diet. This covers the human side of fashion and the people that enjoy it.
3. Draft your digital fashion magazine guide
The fashion magazine design should structure all the information to interest the reader. Establish guidelines and voice for your written content to help writers adhere to them for brand consistency. Uniformity goes a long way in nurturing a healthy relationship with your readers while you build your brand. When you start designing the layout, you must know the basic elements of a magazine page layout or spread. Here are the most important page elements:
Headline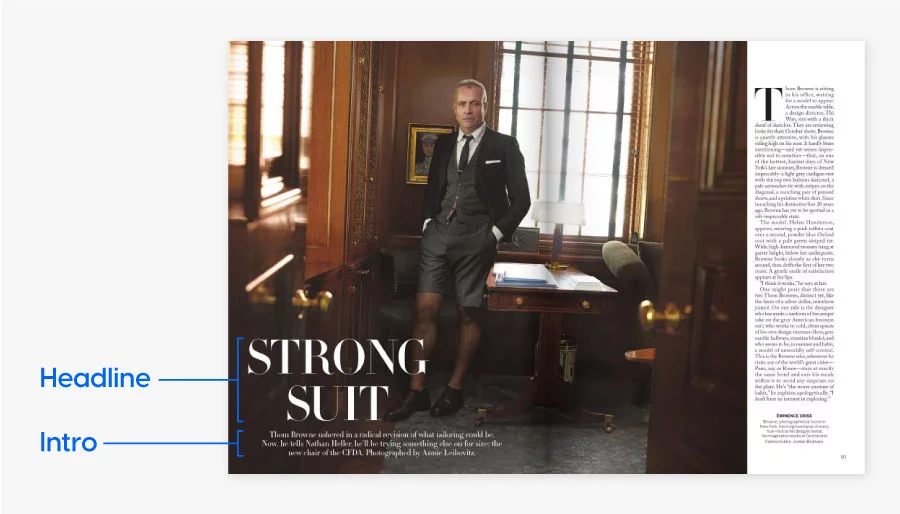 Write an attractive headline and place it at the top of the page to get the attention it deserves. It should be bigger than the rest of the text, so the reader will know which is the most important. Looking through Vogue magazine archives, you'll understand how to organize your texts. You will create a hierarchy for the different content blocks based on importance. For them, headlines stand out on top of photography to connect the visuals with the story. The two often seemed fused, but there's no way to mistake any other body of text with the headline.
There are four critical aspects of a successful headline. First, creativity catches the reader's attention, making your content stand out. Secondly, a clear and engaging angle gives the reader an idea of what they can expect in the body copy. They'll understand why they should read your article, making it stand out from the rest. Third, emotional language provides connection on an emotional level, which is the best way to engage your readers. Finally, you need to leave your readers wanting more.
While it's essential to be clear about your angle from the headline, don't say it all through it. You want your readers to know what the article is about from the headline but also read the entire article. That's your end goal. So give them a teaser that leaves them wanting more.
Intro (kicker)
The intro, also known as a kicker, additional headline, stand-first, or deck, should be distinct from the introduction. It works as a short, one-two summary sentence of the article. From it, the reader should get a tiny hint of what the article contains and sense its tone. You capture the reader's attention through the intro and create a strong connection between the headline and body copy.
The size of the kicker should be smaller than the headline and bigger than the body copy. It can be a different font, like the typography from Vogue issues. The headline is bold and resembles the Impact font, while the intro is a lighter Times New Roman style. The content of the intro works like an extension of the headline. Still, it doesn't duplicate it. The intro provides a deeper understanding. Today's audience skims and flips articles and needs the incentive to continue reading the body copy.
The body copy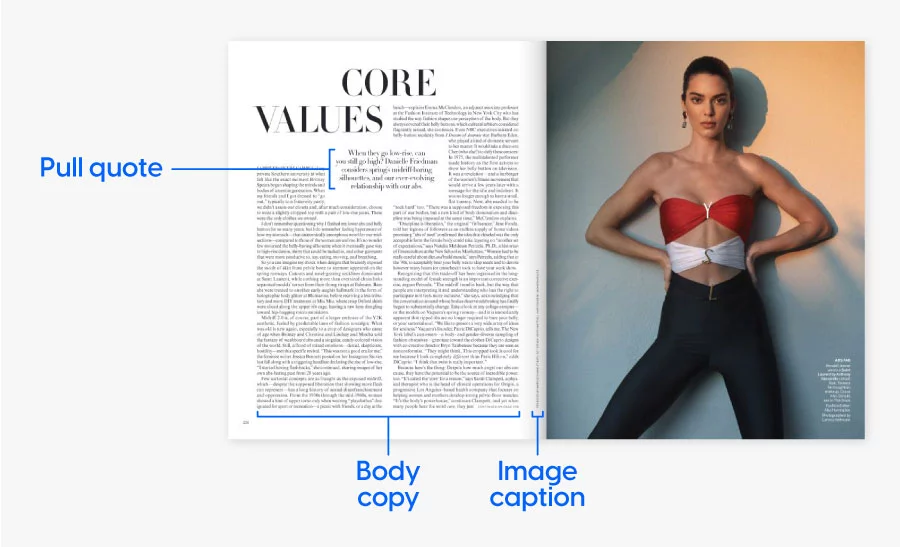 Once you hook your audience, you follow through with the body copy. This section represents the largest part of the article. When you design a template, it should be the first thing to start with. Set the right size for margins, columns, and the text itself. You decide the body copy size depending on your audience's preferences and how you make your fashion magazine layout design.
The format of the body copy comes in paragraphs. Still, a large body copy can become scrollable for digital magazines if the template can't make it fit. You should choose a font family for your magazine that is unobtrusive and easy to read. Serif font is best for print, while Sans Serif font fits digital formats. Keep show-off fonts for the headline, intro, pull quotes, or any other text that needs to draw the eye.
Throughout this section, you address your readers, so the content must answer any questions related to the subject. Research is detrimental, and you should use adjectives sparingly. This is the section where you discuss the topic, and there's little need for embellishments. The primary function of the body copy is to deliver on the promises of the heading and intro. It starts with a clear and concise introduction to the subject. Then, the body copy will address the issue, offer details, and provide informative content. Include subheadings, bullet points, and graphics in the body copy if the content demands to entice your readers further. When you include quotations, use credible sources and valuable quotes.
Keep it concise and to the point. The body copy serves to inform readers and help them form an opinion on the subject. Finally, wrap it all together in a simple format that allows other elements to stand out.
Pull quote
Pull quotes are trendy. They are an attractive fashion magazine design element that you have a lot of freedom to play with. To help them stand out from the body copy, set pull quotes in a different font or design style. They don't need to fall in line with the rest of the text. Place them between the body copy, enclose them within paragraphs or columns of text. They can also be a part of the text but highlighted with a visual element to help them stand out.
Pull quotes can add a different dimension to a magazine article. They can convey the article's essential or exciting part to your readers. Make pull quotes out from the body copy as emphasis, verbatim, or create a summary of the body copy with different words as an excerpt.
Image caption
Pieces of text accompanying and offering details about images are known as image captions. They appear in fashion magazines often because they provide the relevant information the reader needs about photography. It is usually placed over the image or below it. Font, size, and style-wise, the image caption can be the same as the body copy. Still, to avoid confusion, make them slightly smaller. Additionally, image captions work as accessibility features for visually impaired audiences.
4. Build your fashion magazine cover
The fashion magazine cover is one of the most important parts, and you must design it to be attractive. While the content of your magazine builds the audience, the cover drives the audience to buy your fashion magazine. Readers base their purchasing decision on how attractive your cover design is. Therefore, the saying "don't judge a book by its cover" does not apply to magazines.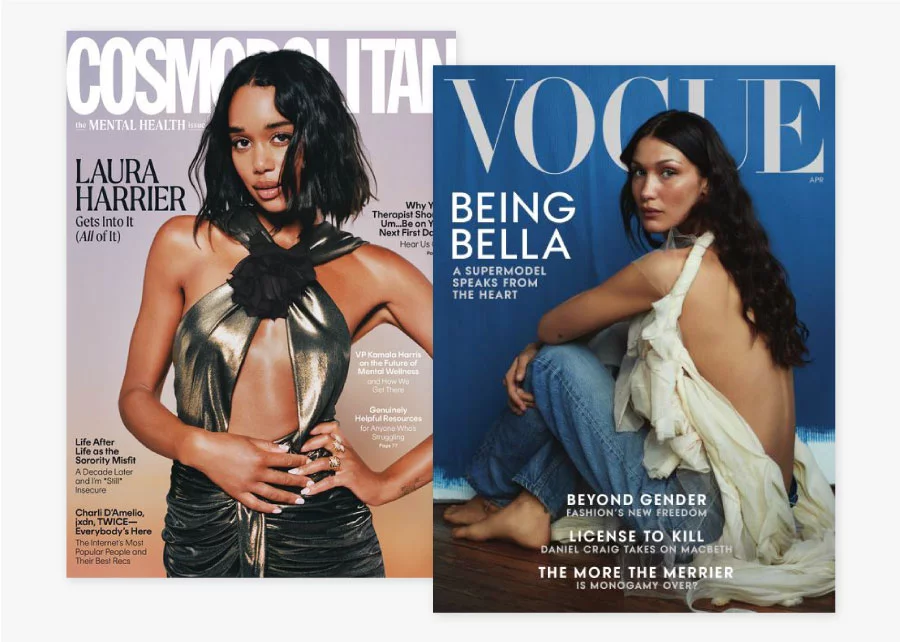 You probably noticed that most fashion magazines like Vogue, Elle, and Cosmopolitan use the same rule in the cover design. They include a background picture – the portrait of a fashion icon, a model, or a celebrity. Use their vast archive for inspiration and learn from the best. Research is the first step in designing a cover that will sell subscriptions. Keep your reader persona in mind as you start the cover design. This will help you efficiently target your audience.
When choosing the cover text, there is one that will always be the same: the masthead. Looking at any Vogue magazine, you'll find the masthead at the top of the cover as it's the magazine's name. Established brands use the same style, font, and size, changing the color occasionally to fit better with the cover image. The additional text should be relevant to the fashion magazine content. Still, a simple design is better if you aim for elegance. Next, use titles to tease articles, quotes for interviews, and cover photos and names for celebrities.
The cover has to be eye-catching. You can play with different photography techniques. Choose colors and styles carefully to highlight the text, and ensure they work with the cover photo. You have to make the audience curious about it and keep it snappy because that's how they will buy it.
5. Make your fashion magazine pop with interactive elements
In this digital era, more and more magazines and books are using digital publishing to extend their audience. If you publish your fashion magazine online, people can read it, regardless of where they are. They can also access features unavailable in print because print is static. Print lets you flip the pages, and that's it.
If you choose to publish your fashion magazine online, we recommend you take advantage of what digital publishing offers. One of the things it provides is interactivity. Making your publications interactive will keep your users engaged and interested in your content. This is a cool idea because you'll lower the risk of boring your readers. But besides flipping through your fashion magazine, a digital fashion magazine provokes readers to engage with the content.
Enhance your digital fashion magazine with runway videos or gifs for an immersive experience. Include a brief interview with top designers your readers can listen to while looking at their creations. With interactive buttons, you can take any advert to the next level. Giving your readers the option to purchase the items promoted in your magazine. Add social media buttons that take them to your fashion magazine's online profiles or the celebrities featured in your issue. Give your readers more ways to access digital content. The spotlight effect makes it possible to see detailed images. Make a slideshow if you want to showcase more photographs than your template allows. These interactions and more will make your fashion magazine design more attractive to readers.
6. Tell a story through typography
In marketing, typography tells readers what they are reading and why that part of the text is essential. Its function is to influence how audiences process information by engaging them. In addition, typography in marketing is used to set a hierarchy and establish the relationship between various text elements.
For fashion magazines, this is made clear from the cover's masthead. Vogue's masthead is part of its brand. From style to letter spacing and size, their masthead is set in stone and unlikely to change. It remains the same across the brand's publications in print or digital format.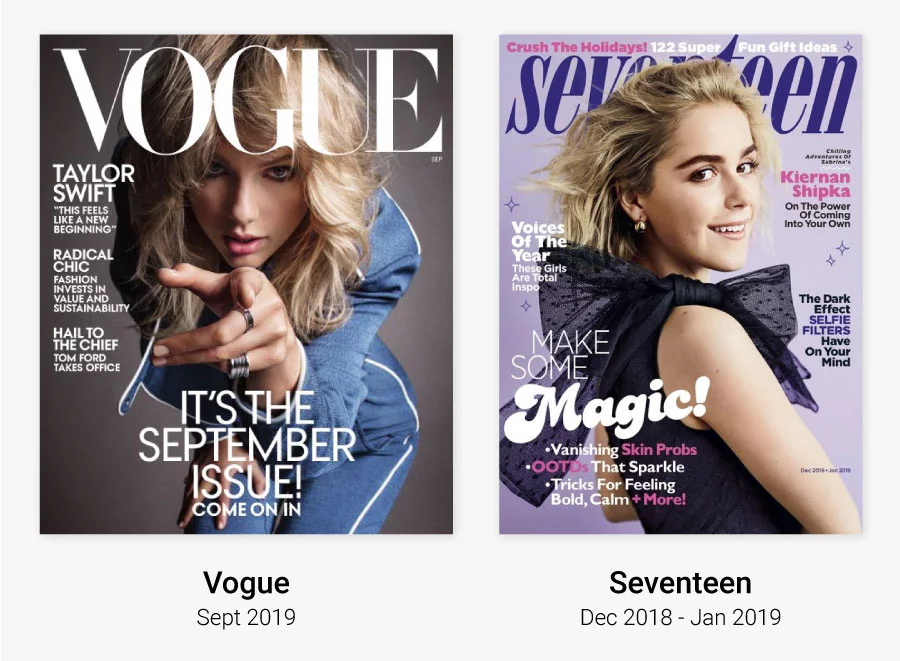 Vogue uses a different style of typefaces than Seventeen. The target audience determines the difference. People who read Vogue are between 20-40 yrs old, so the typefaces are more elegant, classy, and sophisticated. The Seventeen magazine uses extravagant and explosive typefaces focusing on younger audiences. Throughout the article, in digital fashion magazines and overall digital formats, typography differentiates. You'll use H1, H2, and H3 tags to differentiate the text. The first is the most important (title), the second is next in line (kicker), and so on. At the same time, bolded, italicized, underlined, or capitalized text highlights important content, usually within the body copy.
Branding utilizes typography for consistency purposes throughout a magazine's marketing materials. Creating typography guidelines ensures that all writers follow the same pattern, despite employee turnover. This also covers the company's logo, size, spacing, colors, and font families. Ensure you have a license for the fonts you use or the right to use them for free. As a visual element, typography plays a role in aesthetics and complements photography for a seamless design.
7. Spark emotion through photography
When you flip through a fashion magazine, you notice the models' beautiful photos. Photo shooting usually has a concept behind it, and photographers with lots of experience behind them take the photos. So if you want to make a fashion magazine, don't use stock images. Use professional photos. You can notice the types of visuals used by magazines like Vogue from fashion magazine templates. High-quality photography is essential for fashion magazines, and investing in visuals is not a waste. One bad image can ruin an otherwise qualitative issue so take your time and money to avoid this.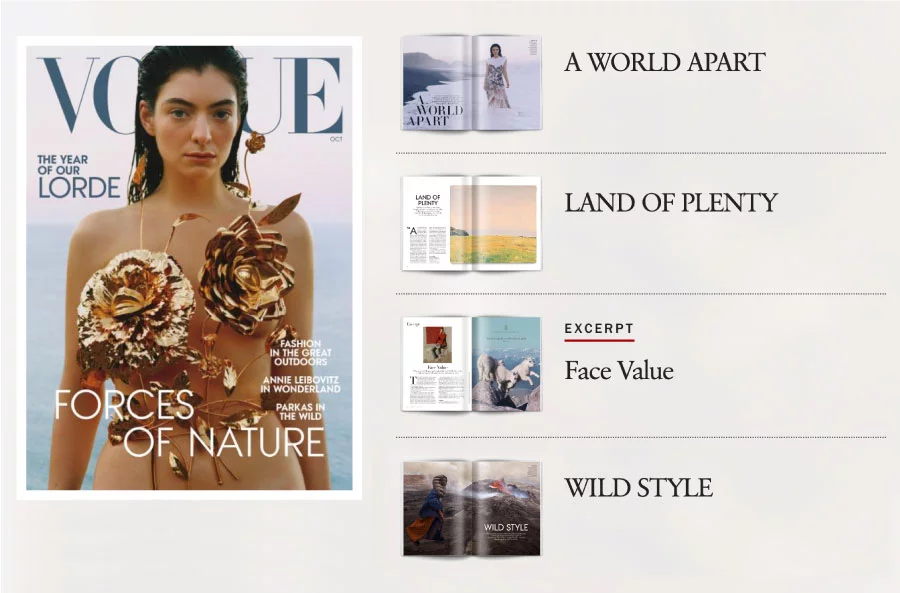 If you are a designer or an artist and know how to use a DSLR camera, go ahead and experiment. Your photos might not look like those taken by the great photographers of Vogue, and that's ok. Surely you can still make something awesome, creative, and unique. A keen eye can help you capture the right imagery for your piece. Editing software can enhance the quality of your photos through filters.
8. Create a masterpiece through colors
Color represents an important element in designing your fashion magazine. In fact, about 85% of your buying decisions are influenced by colors. Therefore, you should respect colors when you learn how to make a fashion magazine. If you have brand colors to include, work them in your style guide. Still, you need to establish a color scheme for your magazine that your team can consult.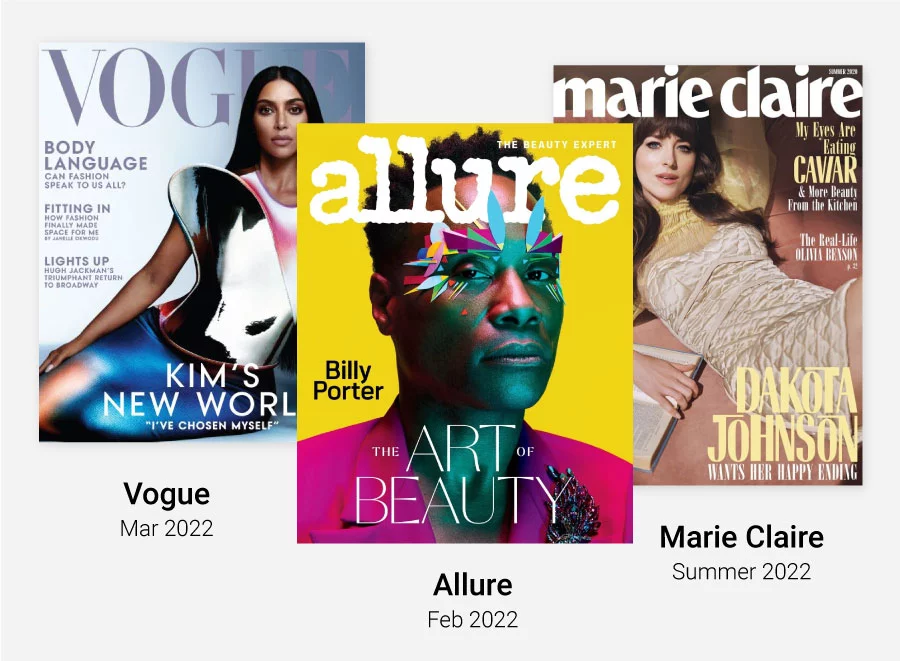 Usually, a color scheme can include 5 to 10 colors, hues, and shades. The colors used for the cover should be tones that appear in the main photograph to create harmony. They can also contrast it to give a different feeling or highlight. Dark on light or vice-versa, matching or complementing the photograph are ways to ensure your cover captures your audience's attention. You should also keep in mind that there's a psychological science to colors as they provoke emotional reactions.
The color scheme isn't limited to two or three nuances. Colors and shades will be used throughout the magazine, not only on the cover. Considering the photographs you will use, lee-way goes a long way to ensure brand consistency and a smooth design. These can be used in magazines to highlight headlines, quotes, and the first letter in each paragraph. They can also homogenize the photographs within the magazine's pages and blend the whole issue.
When it comes to color, less is more, as too many shades, hues and colors can distract from the content. After all, Vogue established itself as the Fashion Bible partly due to its color use. Simple, elegant, classy, and marvelous. Choosing complementary, analogous, or monochrome color schemes can be bold yet elegant, which is what fashion magazines are all about.
9. Proofread the typos out of it
You must check your work when you design a fashion magazine, a poster, or anything else. Fix all the mistakes. If you leave them in your fashion magazine, they will not look professional and harm your credibility. Check all your articles for spelling errors and interactive features to ensure they all work as they should. Then, go back to your brand guidelines to verify if your fashion magazine content adheres to them.
Once you edit it, give the magazine to another person for proofreading. You're used to the content and might not notice subtle errors. Contact professional proofreaders or editors, if possible, to review the content and cover all your bases. To promote your business through relevant and impactful content, you must ensure that your digital fashion magazine is foolproof. Only then publish and send your digital fashion magazine.
Those that know how to make a fashion magazine and how complex of a process it can be will appreciate that they can easily correct any typos in their digital fashion magazine content. It doesn't matter if the issue has already reached its audience. You can fix these small mistakes under the same link that went to their readers under their subscription. You don't need to share it again. The content will synchronize. Still, let's see how you share it in the first place and make it reach your audience.
10. Promote your digital fashion magazine
Now that you know how to create a fashion magazine, we can discuss promoting your masterpiece. Marketing a digital fashion magazine is quite different from dealing with the distribution channels of printed publications.
First, you don't need to worry about the number of copies you print, how the postal office works, and none of those transportation issues. All you need to do is share, make it visible, and promote it through the right channels. But what are those? We'll start with the leading players and follow with ways to build an audience for your digital fashion magazine.
Social media influencers
Social media influencers took over online content. They did this with controversy regarding their involvement in perpetuating trends and promoting content. Unfortunately, even the Fashion Bible was late in accepting these alternative content promoters. This time, the consensus was that Vogue needed to get in touch with the speed of digital evolution. Once their "73 Questions with …" came online, however, they understood the power these promoters hold.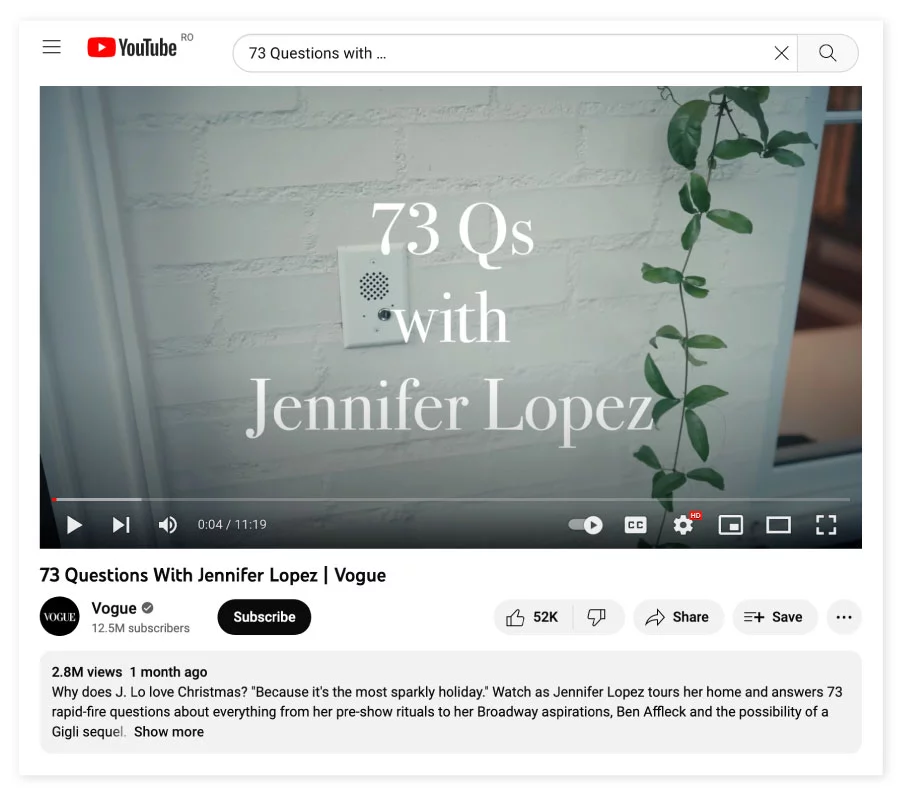 Platforms like Instagram and TikTok can be used as fashion magazines to promote products or the magazine itself. Influencers are curating clothing lines and bringing them to the viewers' fingertips, quite literally. Hence, influencers are integrated into marketing strategies as digital solutions because authenticity and transparency are key elements for consumers. Even YouTube remains a powerful social media tool despite the short attention span of younger generations. It's the second-best search engine online.
These fast-paced, highly-competitive, and digitally-focused influencers create a space for content and reach consumers worldwide. As a result, after years of building their own brands, fashion magazines can reach untapped audiences through influencers. Fashion magazines don't need to create additional content for these platforms. The influencers are doing it.
Build an audience
Make use of every channel available to promote it. Start with a premier edition that you offer for free on social media and other online platforms. In exchange for this free edition, ask for email addresses to follow up with an invite to subscribe. Next, building a website will help promote your content through search engine optimization, allowing you to embed your fashion magazine. Finally, post compelling content on social media to promote your main articles and get people to engage with your magazine. The more people interact with your content on multiple channels, the more connected your audience will be with your magazine. Now you know some important steps to designing a fashion magazine like Vogue. Follow these principles, but don't forget to be creative and always try to make something new. The only thing left is finding a home for your magazine; we've just the place for you.
How to design a fashion magazine like Vogue with Flipsnack
It takes a lot of planning to create a digital fashion magazine. Still, once you go through the steps described above, you will reach the final part. Taking all of that work and putting it to good use.
Transitioning to digital publishing may pose a few challenges, but giving up on print has its benefits. Your production and distribution costs will drop, different digital tools will enhance your print format, and you'll go from static print to an interactive publication that will inspire your readers. It's not always easy, but Flipsnack, one of the best online tools for creating magazines, simplifies the process by giving you access to the best features available on the market.
Through Flipsnack, you can use various routes to reach your goal. Still, the go-to methods for designing the best digital fashion magazines on the market are easy to use in just a few simple steps.
How to create a fashion magazine with PDF upload
With a magazine in PDF format, you can upload it in record time in Flipsnack. Once uploaded, you can transform it into an immersive reading experience for your viewers. You can even upload several PDFs simultaneously if you've been proactive with your fashion magazine content.
One of the best things about Flipsnack is that it's the gift that keeps on giving. Anything can become interactive with imagination, creativity, and the features available. Gone are the days of static PDFs that spark little interest in readers. In comes the age of videos, GIFs, slideshows, music, pop-ups, and tags, among many others.
Once your digital fashion magazine is published, all it takes is one link you can post anywhere. Social media platforms, your website, and your monthly newsletter will be your distribution channels, and copy/paste your postman. It's that simple.
How to create a fashion magazine with templates
Choose a template and brand it

Are you without a PDF-format magazine? No worries. Pick a fashion magazine template from our library and personalize it with your brand and design ideas. You can change anything to fit what you imagined and create a brand kit to ensure consistency throughout your magazine's future issues.

Customize the content and make it interactive

Now it's time you drag & drop your own content because Flipsnack is that easy to use. Replace the visuals with your own and update any written content that will hook your readers in. Interactivities will give them an immersive experience like the printed version will never be able to.

Gain revenue as you share it with the world

From start to finish, Flipsnack takes care of all the stages of publication and even further in distribution. You can easily share or embed your digital fashion magazine through links and connect it to various selling platforms.
Fashion magazine design templates
As we already mentioned the possibility of using ready-made templates, below, you'll find some fashion magazine templates available through Flipsnack. If you're interested in how they work, take a closer look. Get an idea of what is possible through our Design Studio and choose your favorite. Then, it's time to start designing your digital fashion magazine.
Fashion Magazine Layout Template
Color schemes go a long way in creating a theme for a fashion magazine. They work together to ensure the whole issue blends together. With this fashion magazine layout template, your photography either provides a harsh contrast or follows the overall theme.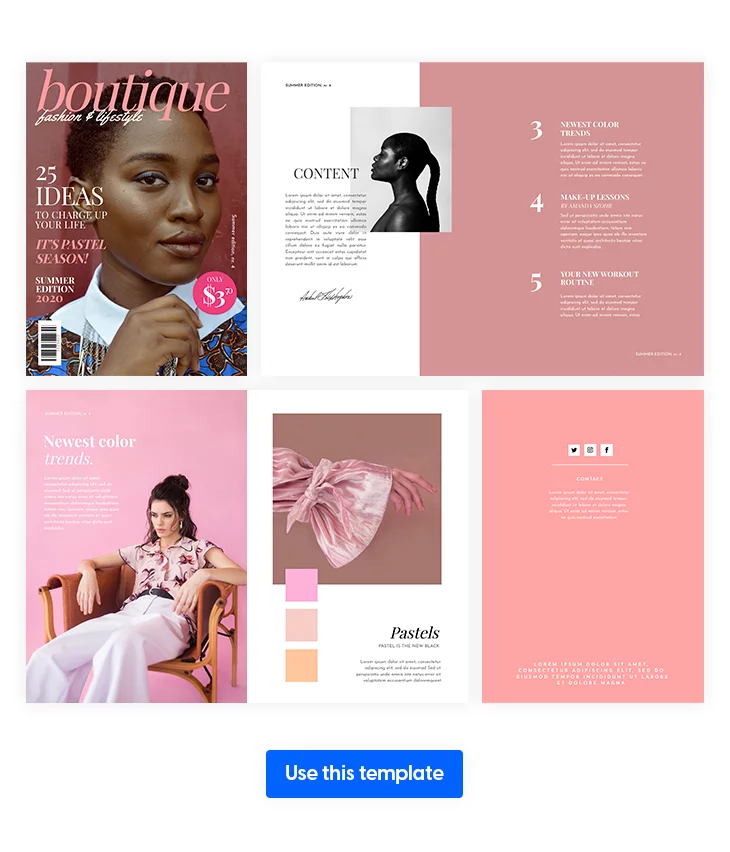 The infusion of pink isn't for everyone. You can easily change it along with any other element, whether a picture, text, font, or size. So, while a monochrome fashion magazine design fits the industry, you can mix and match different colors. Find what fits your brand or style of your choice. Then, customize and share it with your audience through social media or your newsletter.
Modern Fashion Magazine Template
Simplicity in design infuses this modern fashion magazine template with elegance. By sticking to a black & white color scheme, minimalism allows the occasional pop of color to highlight important elements. We chose red, the color of feminine rebellion, for a stylish fashion magazine.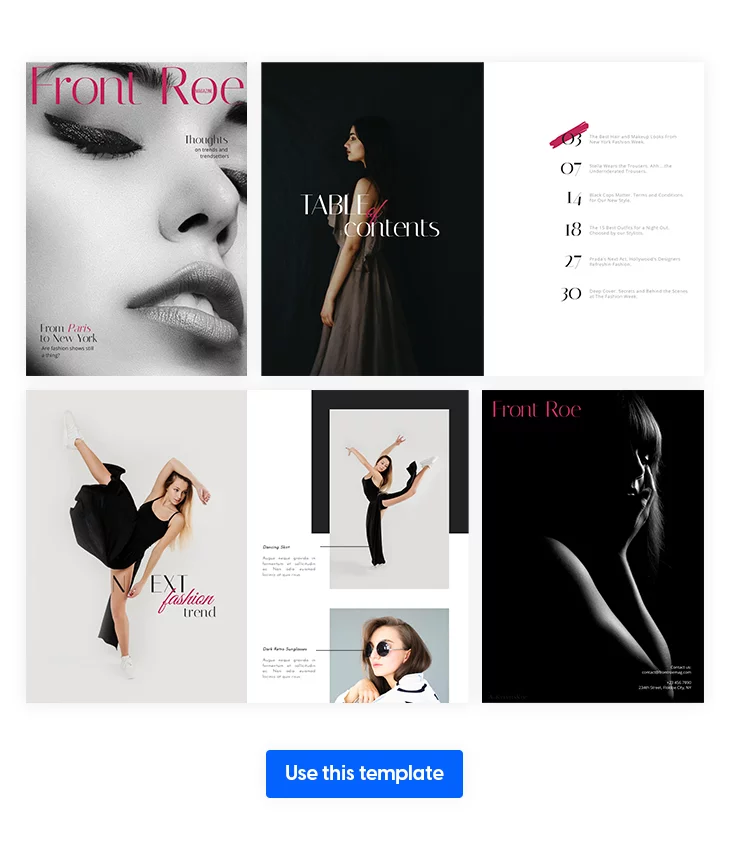 Designing contrasting visuals makes it simple to highlight the aspects that we want to bring attention to. You can add interactive elements on a black & white template without worrying about overcrowding the design. Fashion isn't aesthetically complicated, and your digital fashion magazine doesn't need to be either. Customize it with your visuals, texts, typography, and style. Then share it with the world through a link and a few clicks.
Free Fashion Magazine Template
Through a warmer neutral pallet, you infuse a sense of calm. This free fashion magazine template also matches this through its photography. Customize it with your content to soothe your audience through elegance and tranquility.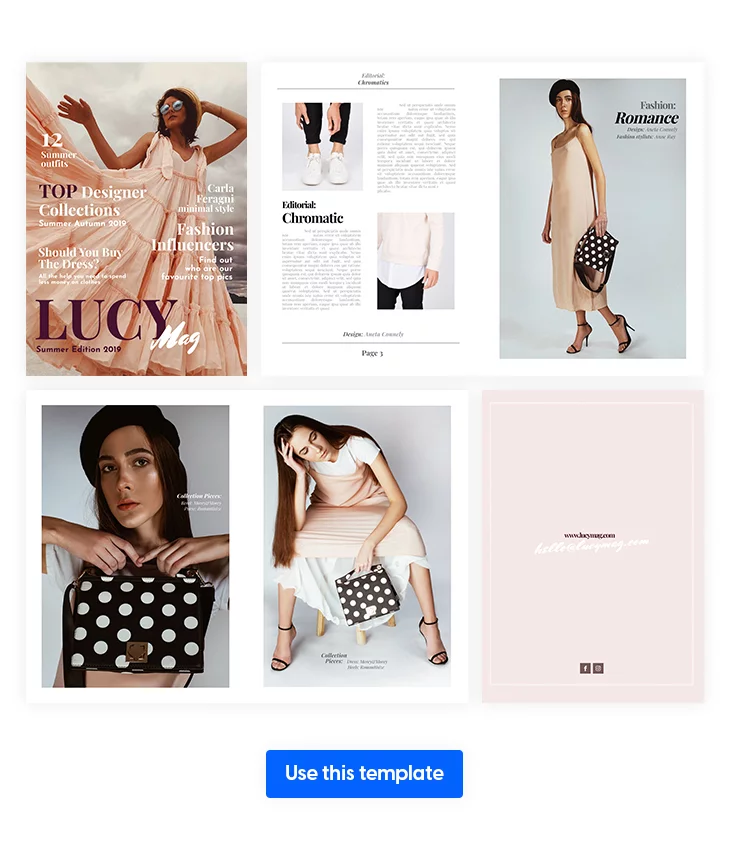 This fashion magazine template matches the color theme from the photography and text. It keeps a simple overall design to maintain elegance. Still, you can change it, however you like to fit your brand style. The fashion industry can be soothing and exciting as styles differ based on the designer. But elegance is combined with innocence through neutral pastels in this fashion design template, taking readers into a dream-like atmosphere. Customize it with your content and share your creation in your monthly newsletter and social media.
Fashion Magazine Layout Template Editable
An adjective commonly used to describe fashion is bold, especially those designs that break frontiers. This fashion magazine layout template editable and provides content for those that want to push the boundaries of fashion.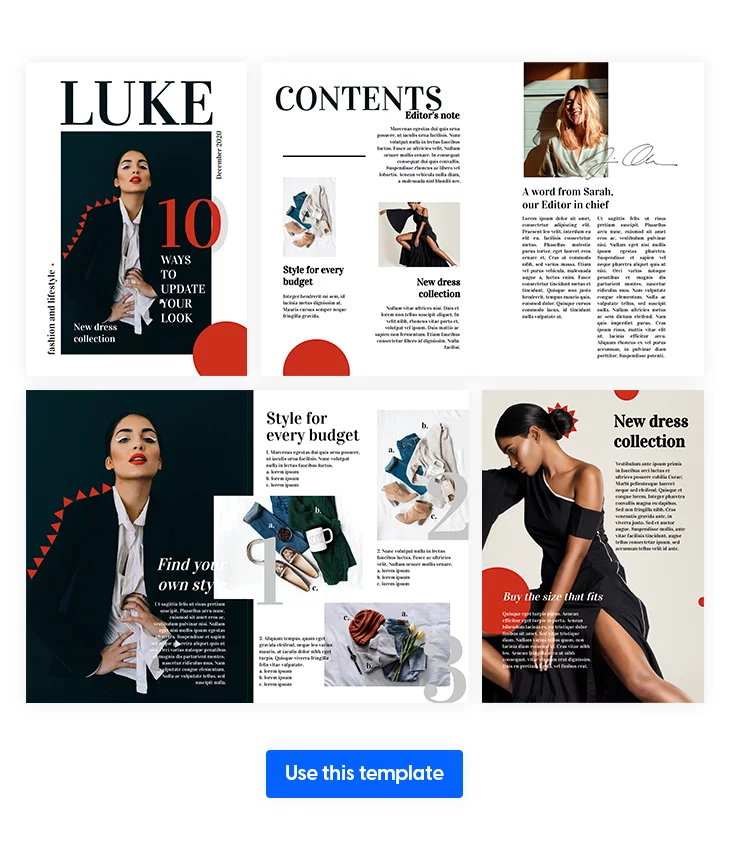 Become a trendsetter through this fearless fashion magazine template, as bold statements require a bold design. Question the status quo and keep your readers on edge as they flip through your fashion magazine issue. This fashion magazine template is not for the faint-hearted. Still, you can make it more approachable by changing the design and adding your content and visuals. People are waiting for a new fashion magazine so give it to them through a simple link.
Can you make money with a fashion magazine?
Seeing as you have a magazine now, once you understand how the digital magazine world works, we take you through the monetary incentives of learning how to make a fashion magazine in the digital era. There's no reason to limit your profits to subscriptions when other mediums can generate earnings for online fashion magazines.
Here are a few that you can implement in your marketing strategy:
Register your digital fashion magazine on apps and newsstands like Issuu, Zinio, and Magzter;
Sell your digital fashion magazine on your website through WooCommerce;
Post it through Shopify to sell copies and subscriptions;
Sell it for mobile readers through Google Play or Apple's App Store.
You can sell advertisements to gain revenue in the form of page spaces. Another advertising option is sponsored articles featuring products, brands, or people. This is less evident and gives you the creative freedom to include the ad on your terms. You can smoothly connect it with a topic of interest. Your revenue can grow or stagnate depending on how well you manage your revenue channels. However, let's see how much money you'll have to invest to get any revenue.
How much does it cost to create a fashion magazine?
The cost of a digital fashion magazine truly depends on the budget you want to spend. It can vary between $0 and hundreds of thousands of dollars. From developing to launching a digital fashion magazine, costs can add up fast, but you could also do it independently. Still, while most of us don't have all the skills necessary to make a fashion magazine from start to finish, hiring a full staff of employees may not be cost-effective from the get-go.
While a full editorial team incurs significant expenses, you can work with freelancers on Upwork or Fiverr, guest writers, and photographers that exchange content for publicity. For a tight budget, use online tools to edit images, and use free stock photos (although we don't promote this). Launching a website to promote your fashion magazine in WordPress gives you a domain name and hosting for $2.59. Other options include Hostinger, which allows you to buy a custom domain for only $9.
The baseline is the more you can do yourself, the more affordable your fashion magazine will be. Invest where you have to and take it one step at a time. The more professional your magazine looks, the more revenue it can gain. Still, don't throw all your money in at once. Make a plan about it and spend wisely.
Push the boundaries in a digital future
While the fashion industry is going through its digital transformation, the marketing side of this industry is following through. It implements features unavailable in the non-digital world. Interconnectivity provided by digital publications makes it possible for these digital fashion magazines to reach anyone, anywhere in the world.

Learning how to create a fashion magazine in the digital era takes practice. The benefits far outweigh the costs, which are also far lower than for published magazines. Keep up with the trends in fashion or create those trends as Vogue has done for over a century. Stay connected with your audience and give them easy access to your digital fashion magazine. Follow the steps described above, make it interactive, and give your readers an experience they will get hooked on. They'll look forward to the next fashion icon expose or fashion designer catwalk debut.
Once you create your digital fashion magazine, get your readers to subscribe to your fashion magazine. The issue will reach them through something as simple as a link. Whether on their phones, isolated at home, on vacation, or on a remote island, the latest magazine will reach them. All without adding to your distribution costs.