Online yearbooks for the class of 2020
The COVID-19 pandemic affects us all, one way or another. Traveling is canceled, malls and schools are shutting down, and everybody is isolated at home since the beginning of this year. This virus has got everything out of sorts, especially the world of education. This period should have been really unique, full of emotions, and special for the class of 2020. Thousands of students all over the world should have prepared to take pictures for their high school yearbooks, enjoy their last days as students and get ready for their graduation and prom ceremonies. But not this time. Instead of filling the auditoriums, gymnasiums, and football fields with graduates and their loved ones; schools have decided to shift to virtual ceremonies or socially distant celebrations at drive-in movie theaters and school parking lots. Students will sit in their cars, watch their farewell parties on a huge screen made for movies and think of which high school memories to post in their online yearbooks.

Nobody would ever have thought that this is what the Class of 2020 will look like. Unfortunately, there's nothing we can do, but adapt and make the most of this strange situation. There are also beautiful things that this pandemic brings. We learn to be more empathetic and compassionate to each other. Speaking of this, there's something extraordinary that's going to happen next month. To give the Class of 2020 a dose of positivity to carry with them as they take their next big steps in life, YouTube will host a virtual graduation event. Barack Obama, Michelle Obama, Jennifer Lopez, Taylor Swift, Lady Gaga, and many other inspirational leaders, celebrities and influencers will deliver inspirational speeches to the 2020 seniors. Students will also enjoy some musical performances during the multi-hour marathon live stream.
Online yearbooks for the class of 2020
Although high school seniors won't be able to dress for their prom and walk across the stage at their graduation ceremony, there's one tradition that keeps continuing: yearbook signing, though not with a pen. Just because you can't physically sign a yearbook does not mean you can't commemorate your high school or college memories with your friends and teachers, right? There's already a trend among students these days: creating online yearbook accounts on Instagram to celebrate their accomplishments, share memories and jokes and leave some encouraging words.
The whole process is quite simple: one student creates an Instagram account for the senior class and then fellow students start posting different photos with them, other colleagues, or high school memories. They also write some funny jokes, describe the photos, or insert heart-melting quotes about graduation. Classmates have the possibility to post in the comments section as a "signature" in the online yearbook.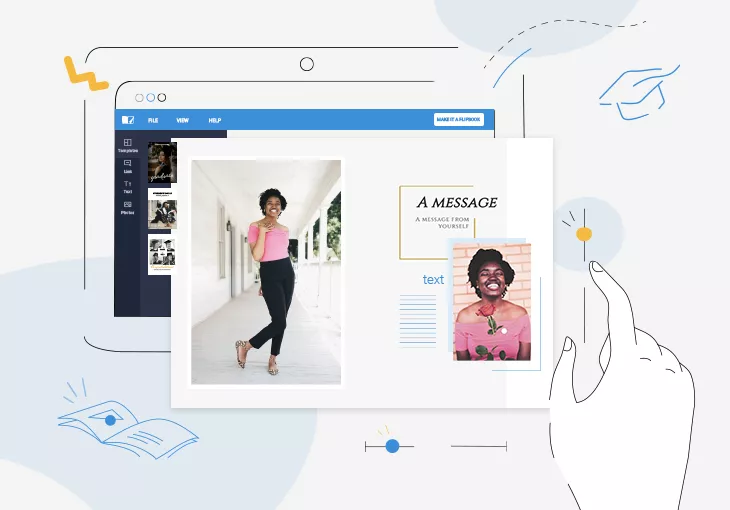 Until senior students will be able to receive and sign their physical yearbooks, the virtual ones represent the best solution so far. Even though they can't be together to celebrate graduation, they can still feel like a community on social media. With the help of virtual photos and comments, students can lift and support each other in these unprecedented times.
Speaking of online yearbooks, there's another remarkable thing happening on the internet these days. The LeBron James Family Foundation and Entertainment Industry Foundation set up a new and innovative project: Graduate Together 2020. It's a tribute to high school seniors whose graduation ceremonies have been canceled due to coronavirus. The famous artist JR has created the biggest online yearbook dedicated to high school senior classes. It's a special project to cheer up and encourage all 2020 seniors. You can find here more details about this initiative and participation conditions.
How to make your own yearbook

We cannot host a virtual graduation ceremony or set up the biggest online yearbook for your senior class of 2020, but we can help you create a yearbook that will look both outstanding and professional. It's really no rocket science to make your own yearbook when using our free yearbook templates. Even if you can't sign your colleagues' printed yearbooks this year; you can still enjoy them when designing and sharing them online. Flipsnack is the perfect online yearbook maker that allows you to distribute your highschool photo album so that each of your colleagues can write you some quotes, jokes, or some memories from the years you spent together as a team. Always look at the glass half-full. Don't let this pandemic situation steal your joy and pride in being a 2020 senior!
How to make your own online yearbook with Flipsnack:
First thing first, you have to log in to our website, make an account, and choose one of our free yearbook design templates. We'll present you some of the examples a bit later, so keep on reading.
After selecting your template, it's time to design it exactly as you want. All our templates are free and fully editable. Customize it with our drag and drop editor. Upload your own photos and high school memories, write some funny or emotional quotes about graduation, apply some colors, fonts, or shapes. You can also upload some GIFs to make your online yearbook look even more interactive. Regardless of your choice; assure yourself that you've created a forever photo album to keep the good memories alive.
As a final thought, save your online yearbook, publish it on social media and share it with your teachers and colleagues. Let them flip it through its pages, enjoy the memories, and ask them to leave you a final message.
Free yearbook templates. Choose the most suitable for your online yearbook
We've made a selection of six yearbook layout templates that are free and easy to use. They work for both high school and college seniors. We really hope they will brighten up these pandemic days. Pick the one you like most and start editing it. It's a really cool process when using Flipsnack. Enjoy the ride!
Modern Graduation Album Template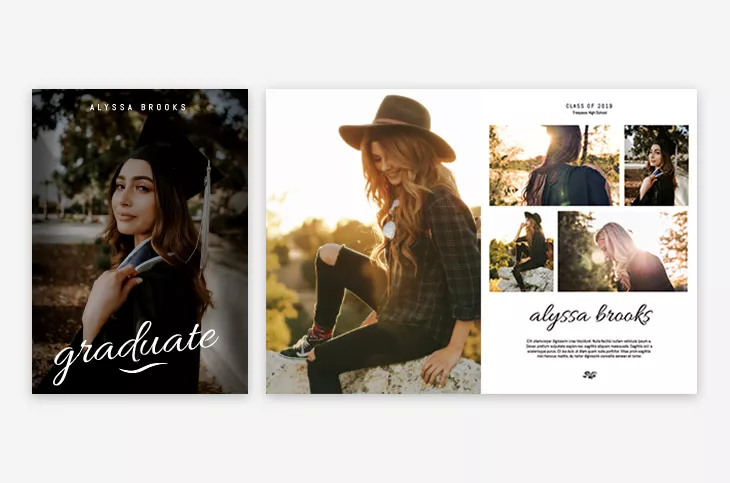 Nothing says "Congrats!" better than this modern graduation album template from here. Commemorate this important day of your life with a suitable photo album. Even if there's a pandemic situation going on outside, inside your heart you're graduating, and this is one of the most exciting feelings. This online yearbook template can be easily used by any student who wants a photo collage as a sweet memory of the good years of studenthood. Share it with your colleagues, friends and family. Grab this modern graduation album template today, and share your memories tomorrow and forever!
Graduation Photo Album Template
Only a few days more and your academic years will finally be over. No more classes, exams, or library study meetings. You're an adult now and you have to prepare yourself for the big challenges that will come in your way. But before doing that, we suggest you should preserve these beautiful years and memories by storing them in this graduation photo album template. The most important moments should always have a special place in our hearts and in a professionally designed online yearbook template. Edit it, share it with your classmates, and flip through its pages whenever you want.
Modern College Graduation Photo Book Template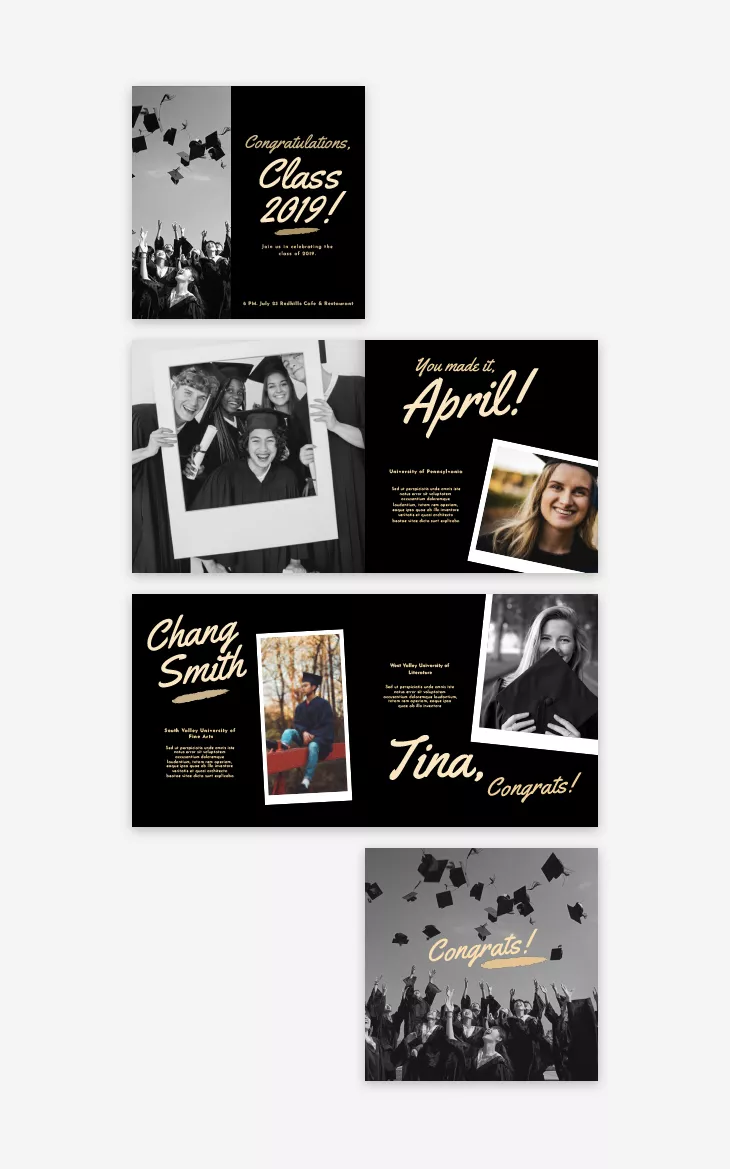 Don't let this coronavirus lockdown steal your joy of being a college senior! You finally made it and you deserve only appreciation and recognition. Gather all your memories and photos and put them all together in this modern online yearbook template. Write some funny quotes, testimonials, upload photos with your classmates or professors…anything you need to create a forever keepsake. Share it online with your entire class and see what they think. Ask them to write to you something that you'll always treasure. Creating a graduation photo album has never been more engaging!
Free University Graduation Photo Album Template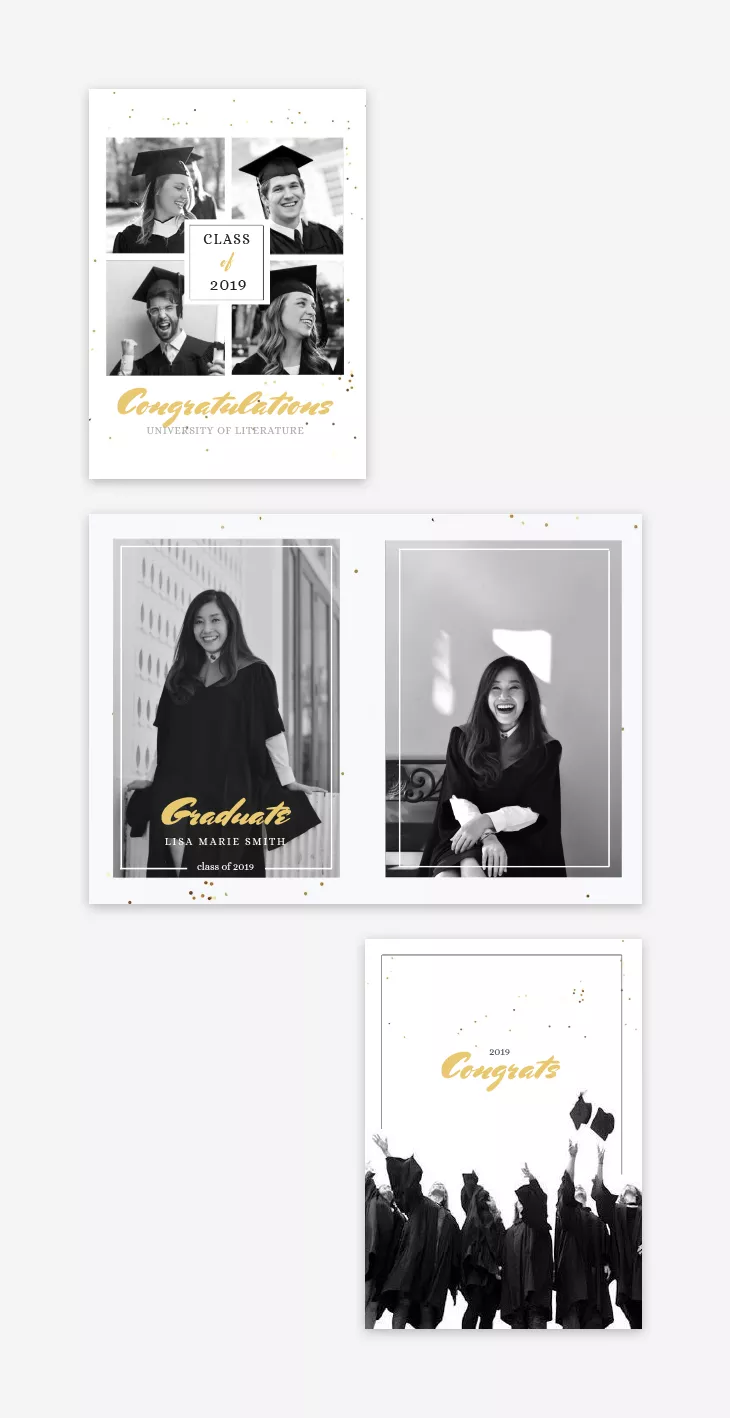 Your graduation day is already here, maybe even sooner that you've thought. It brings you mixed feelings. On one hand you're feeling happy and free, on the other hand you're feeling nostalgic and melancholic. Don't be sad for not being able to celebrate this event together with your colleagues, there's always a second option! You can create your own yearbook and then share it with them so you can enjoy these unique and special moments together. Personalize this university graduation photo album template to your liking in a short time. Add your own memories, upload some photos, write some quotes or testimonials and also choose some brightful colors and fonts to warm everyone up. Make it a graduation photo album that you'll love to flick through it over the years.
Free College Graduation Album Template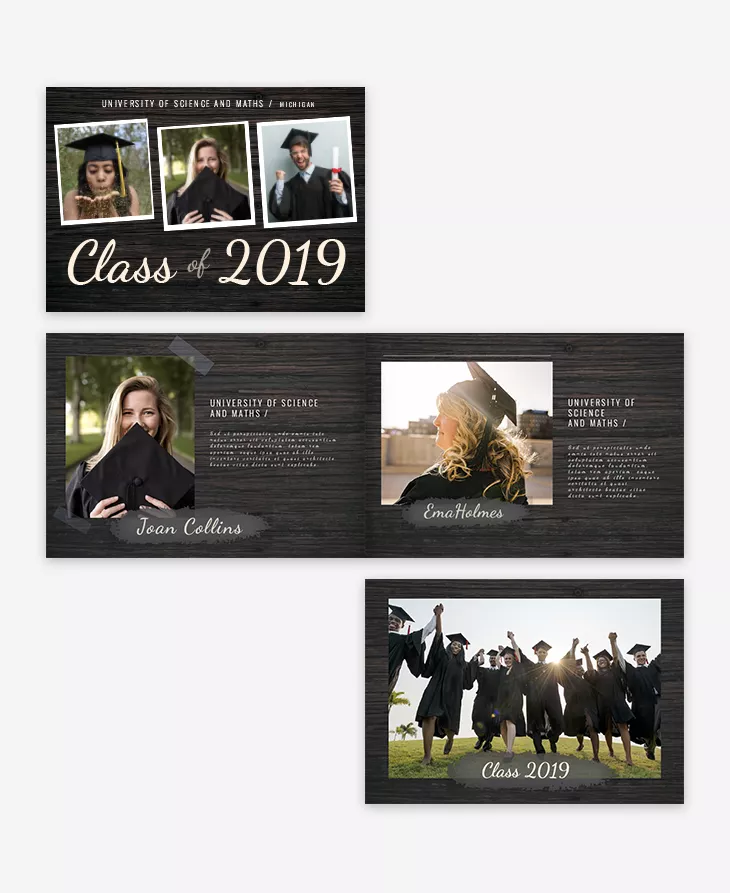 In just a few days you'll no longer be a senior. You'll be a fresh graduate student. Enjoy these times, they are unique and special and they never return. In order to always keep them alive, make your own yearbook with the help of this college graduation album template. Customize this college yearbook exactly as you want it. Add some photos with you and your colleagues and moments spent together, write some quotes or funny jokes you used to say and also choose some colorful fonts to match this layout template. Distribute it to all your colleagues and professors and enjoy these last student days as much as you can.
Happy Graduation Photo Book Template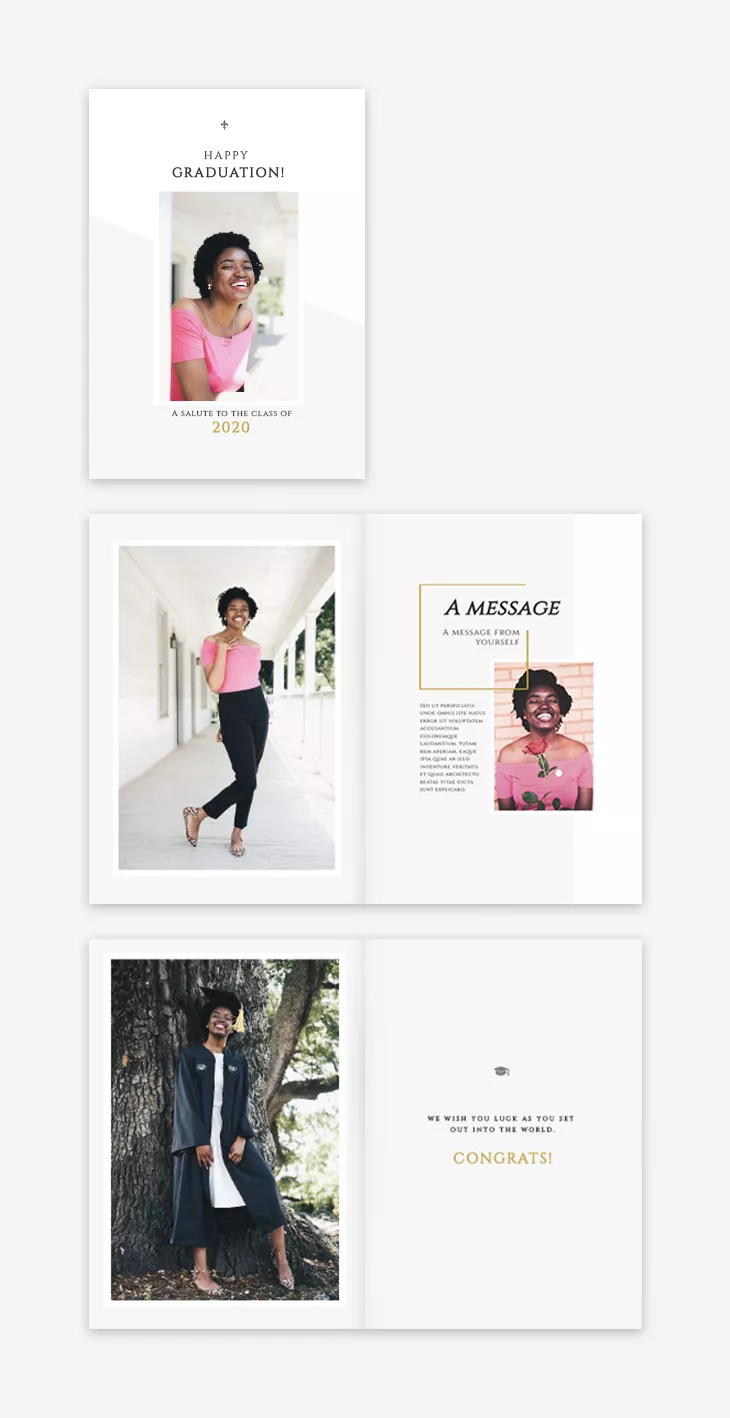 Graduating is a once in a lifetime achievement, and it deserves to be remembered and celebrated. Try to ignore the pandemic situation that's going on in the whole world and enjoy your last days as a high school senior. These years will never come back, so make the most of them. Speaking of this, what better way to celebrate these days than with this graduation photo book template? It has everything you need to capture those incredible memories. Insert your memorable high school photos, funny jokes, captions or even testimonials. Download and share your online yearbook with classmates and teachers.
Final thoughts
Graduation is more than just a ceremony or a prom party. It's a long-lasting feeling that stays with us even after many years. It's a proud moment that honors a graduate's years of hard work and dedication. Don't consider yourself unfortunate for having to graduate during pandemic times. Yes, we know, it must be difficult not to be able to party with your colleagues or to walk across the stage and accept your diploma in front of your loved ones. But embrace every moment as it is, try to accept it, and enjoy your last days as a senior because they're never coming back. Make the most of your graduation day, even if it's going to be virtual. Be thankful for the online tools we've got that help us be together. With their help, we can still stick together. Always hope for the best and think that this unprecedented situation will be gone soon and you'll be able again to share beautiful moments with your dear colleagues.
Cheer up, and stay grateful despite these weird times. You made it so far and this is the most important thing. You have accomplished a major feat and are now stepping into the beginning of your bright future. Celebrate this feast with a personal online yearbook that you can forever cherish. In the most difficult times, these beautiful memories will brighten your days. Choose your favorite yearbook template from our memorable collection and enjoy this beautiful process of creating your own graduation yearbook. Think of it as something special that happens only once in your life. Happy graduation to all classes of 2020! May the odds be ever in your favor!